Music is an integral part of our lives. We listen to it at home when we clean and cook, when we do sports, when we sit in a cafe, when we walk, or when we just surf the Internet. Various songs are played in cafes, pubs and bars, shopping malls and shops.
The reason for this is the brain's reaction to music. With the help of certain melodies and rhythms, you can draw attention to something, relax a person, or push to something. Favorite artists are constantly releasing new albums and tracks (of course, unless your favorite band is Nirvana or Queen).
People with headphones on the street have become so familiar that people without them are perceived as rare. Some people listen to music through an MP-3 player, but most often we do it in the most accessible way – with a smartphone. Built-in players, if any, are often uncomfortable.
You may also like: 11 Free AI Music Generators from Text (Android & iOS)
Therefore, in order not to be left without music when you are not online or just do not want to connect to the Internet, it is worth downloading special applications.
We are ready to help you in choosing such a necessary utility. We present to you the top 5 best applications for listening to music from your smartphone SD-card for iOS and Android platforms!
Poweramp Music Player
Poweramp is a popular music player for smartphones. If music has become an integral part of your life, you can download tracks and whole discos to your smartphone. But playing good music should be good, and that doesn't always depend on us.
If you have quality headphones, that's not enough. You need at least 2 more things to do – setting up the sound and a good resolution of the audio track itself.
Poweramp allows you to get it all at once. If you've already downloaded a song in good quality, you can customize the playback to suit your individual needs. A quality equalizer will be your assistant in the setup.
The application provides different volume levels (30\50\100), 64-bit processing, interference smoothing, and much more. To access the tracks you downloaded to your smartphone you just need to put them in a special folder – Poweramp/Library / Music Folders. Poweramp supports many formats from mp3 to flv, so your music is available in all formats.
It all goes hand in hand with a stylish interface – a bright equalizer, album artwork in good resolution, the ability to customize your theme. Music will be even more enjoyable if accompanied by a beautiful picture and such a wide range of features.
The Poweramp app provides you with a free 15-day trial version, after which you can decide whether you want to use it further or not.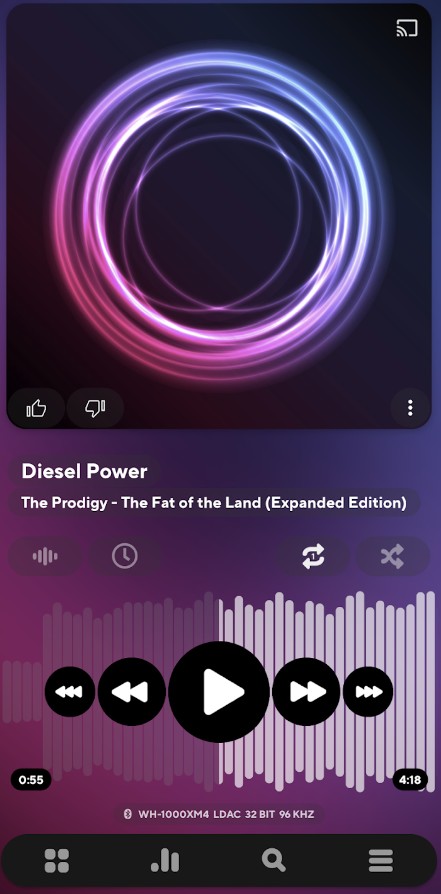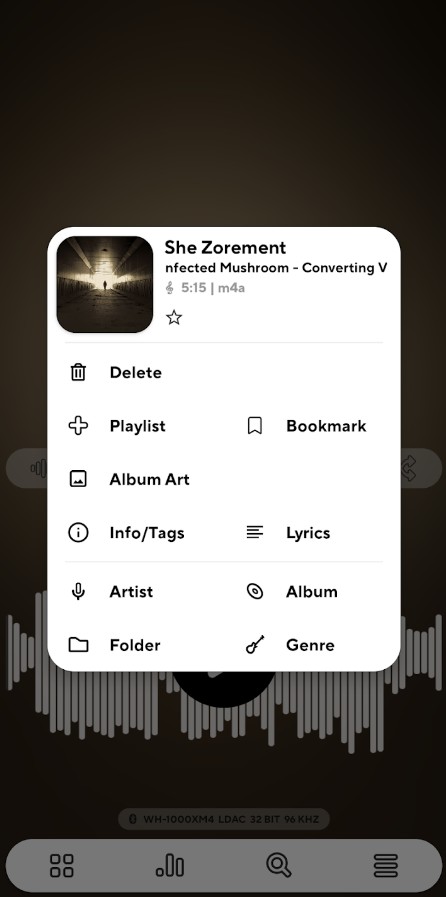 You can also check: 21 Best Offline Music Apps for Android & iOS
Rocket Music Player
The easier it is, the better. This principle was the basis for the designers and developers of Rocket Music Player. The design of the application is made in a minimalistic style. You can view albums with artwork, create your own playlists and sort the tracks by the artist.
All these functions are so incredibly intuitive that even the foolish person will immediately understand where to click. Of course, you can change the standard theme to any of the 30 available ones, but they will still be minimalistic and simple.
With the help of Rocket Music Player you can play the downloaded tracks from your SD-card, and if you do it online – you can even view the rating of songs and albums. Of course, you can also rate any song yourself.
The songs have built-in lyrics, so you can even parse the lyrics in the fastest moment of Rap God Eminem or try to sing your favorite song.
The built-in sleep timer will allow you to turn off the application after a while – for example, if you put on music in order to sleep, set up Rocket Music Player to turn off in an hour. This way you can both sleep and not waste battery power on your device.

VLC
If you've been using computers for years, you're familiar with this orange cone on the logo. VLC is one of the oldest and most popular players on computers, tablets, and smartphones. Now the service is available on both iOS and Android platforms.
VLC is not only an audio player but also a media player in general. The application includes a full-fledged and almost professional audio player that can play many formats offline and online.
You can use the equalizer function, apply filters and process music, as well as play multi-level audio tracks. Adjust not only the volume but also the brightness of your music, as well as its individual settings – bass, high notes and more.
VLC can help you adjust the display of album artwork as well as track playback devices, whether it's a headphone, a Bluetooth speaker or a stereo system. In any case, VLC can play music.
The obvious plus is that the application is absolutely free. You do not need to pay for it monthly, view tedious permanent advertising or start an account – VLC minimizes your inconvenience. Music and a minimum of problems – it's just fine.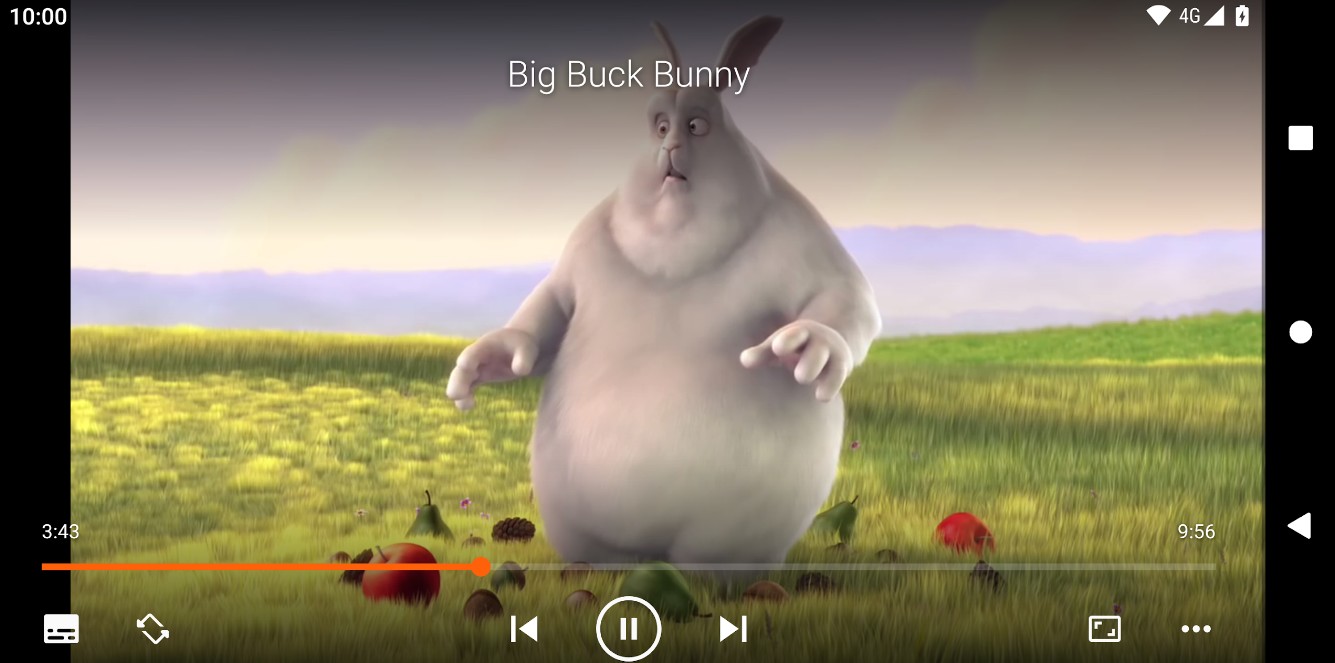 SoundCloud – Music and Sound
If you always want to keep abreast of the latest musical innovations, SoundCloud suits you for several reasons. First of all, you can always find the latest information about new releases and albums in the app.
Secondly, you can find the top of the best tracks that are constantly and dynamically changing. Third, you will be able to find tracks that are just beginning to gain popularity.
"Sound YouTube" – that's what many users call SoundCloud. And it is for a reason – after all, the recommendations and category of the popular are updated according to similar algorithms to YouTube.
But the main difference between the two services is that SoundCloud helps you to play already downloaded tracks or just download them to your smartphone. You get offline access to your favorite songs and singers – meaning you will not be left without soothing and native music during the flight or in a remote village.
If you have access to the network, you can listen to popular podcasts, radio programs and much more – the player is not limited to just music. Add your favorite tracks to your favorites, and if you have also authorized using Google+ or Facebook, the information is automatically synchronized with other accounts.
Full access to your music favorites – all in one application. Download your music and always be on the go with SoundCloud.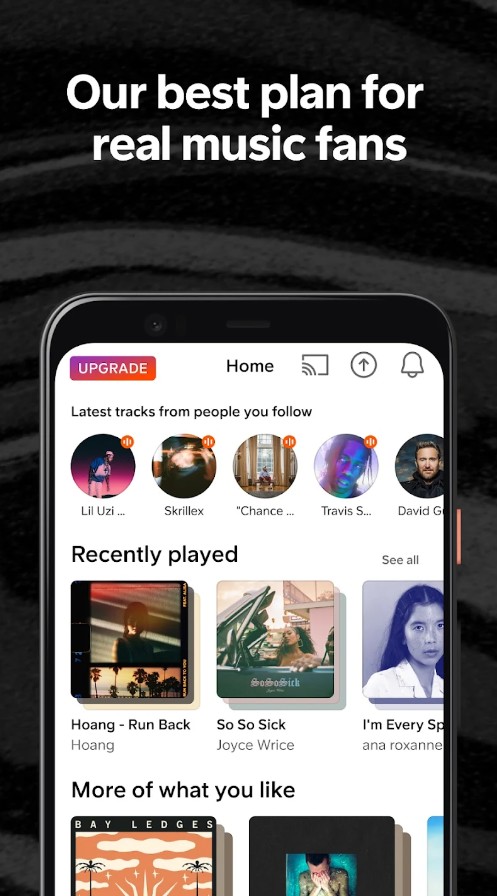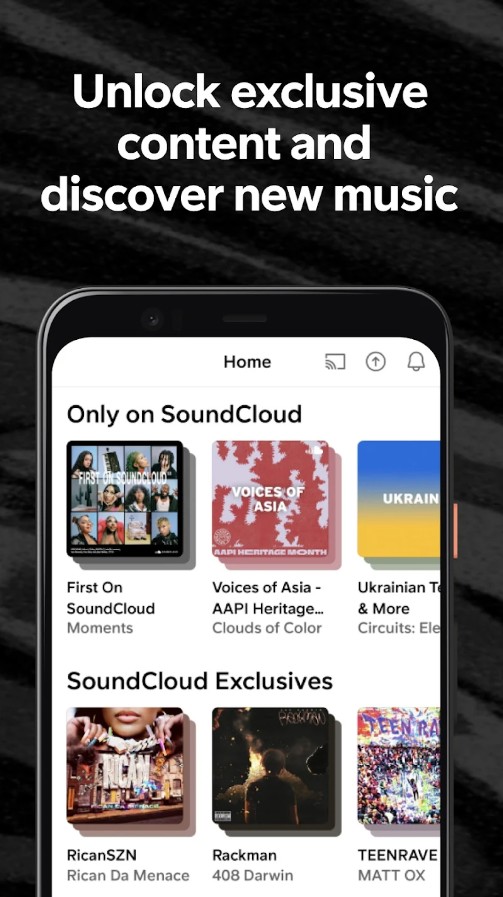 Music Player
The Music Player app allows you to conveniently listen to music that was previously downloaded to the memory of your mobile device. Additionally, an equalizer is available to adjust the sound.
On the main page, you will find all the audio files in the memory of your smartphone. There are four tabs: artist, album, genres, and folder. The first three allow you to listen to music divided into different categories. In the last section, you can access folders in the memory of the device, where media files are stored.
The app has a handy search bar and a shuffle button. If you click on a particular song, you will be redirected to the player window. It allows you to rewind songs, add them to favorites, and customize sound effects.
For those who like to make manual adjustments to the sound, there is a handy equalizer. It can be accessed through the menu in the upper left corner of the work screen. Also, you can select the player's theme. The sleep timer, media check, and settings are also available.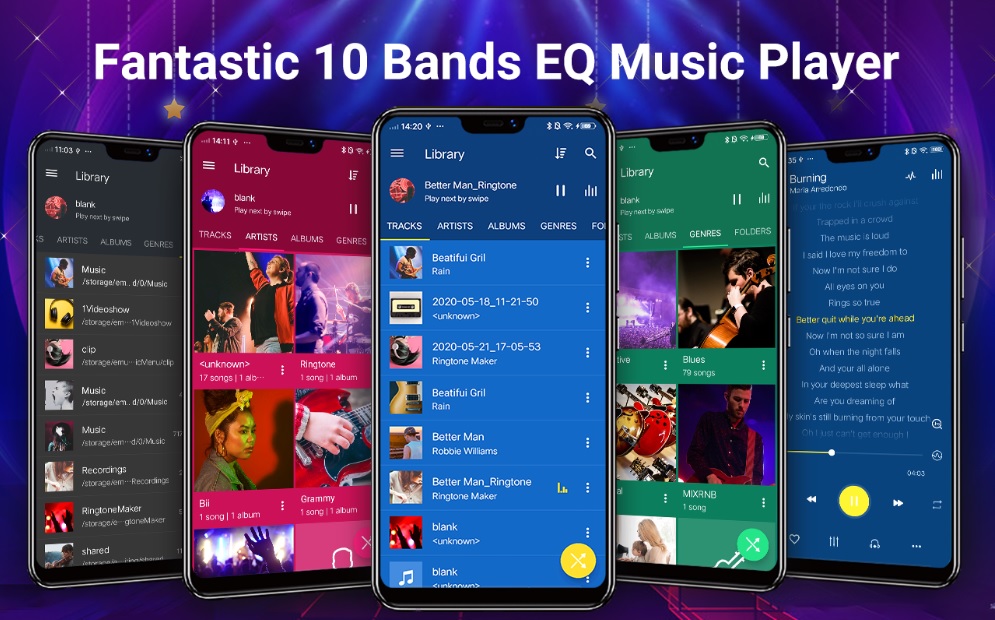 AIMP
AIMP is an audio player that plays tracks that are stored on your memory card. Listen to music whenever you want.
AIMP is a convenient audio player. It doesn't have a built-in music library, the app uses your playlists to play tracks.
Features of the AIMP audio player:
The app supports a large number of files, for example, AAC, ape, dff, DSF, flac, M4A, m4b, mp2, mp3, mp4, mtm, tm and many others (a total of twenty-four file types)
There is a speed and volume control for playback
Built-in equalizer
Supports lyrics and covers of songs (albums)
There is a day and night mode
Sleep timer
Can play music from messengers
You can also delete the file (from the app or directly from the device) or share it with friends.
Of the disadvantages of the app, it is worth saying that this program may not work correctly on M.I.U.I devices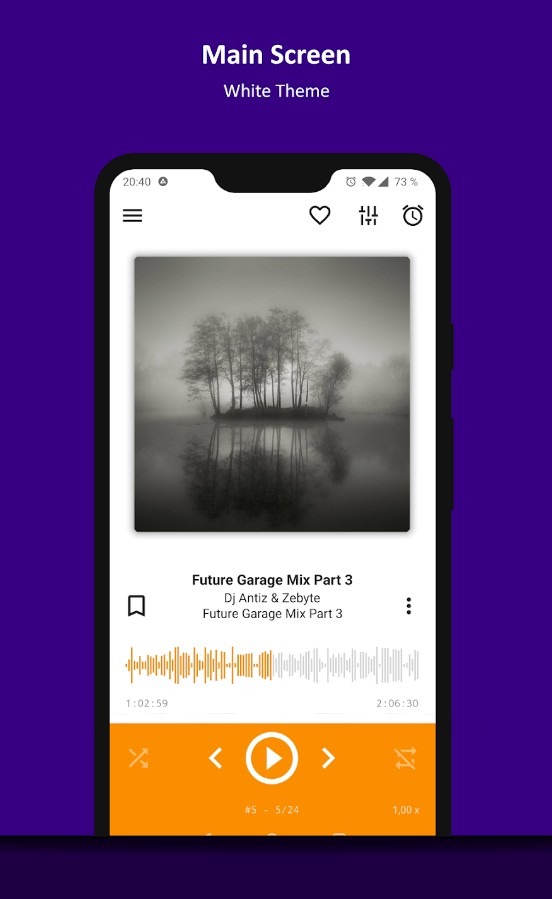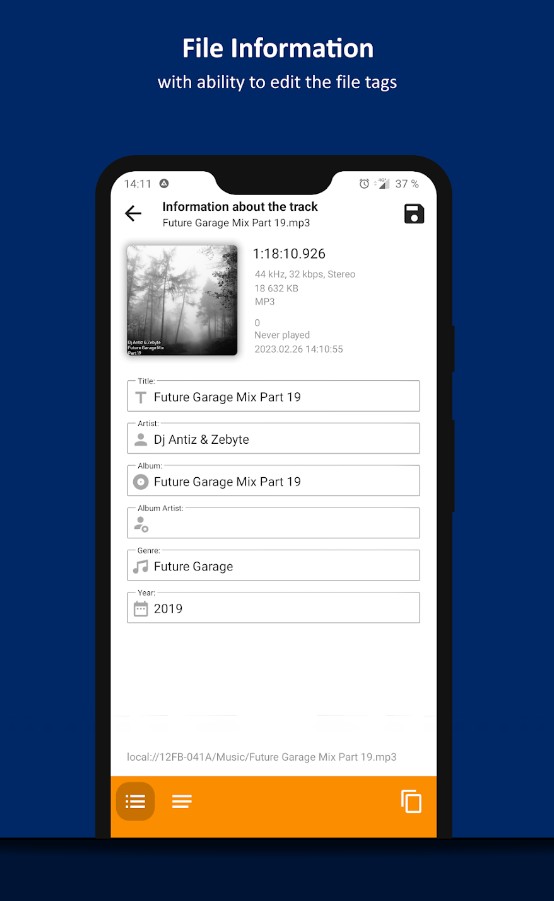 You may also like: 7 Free apps like Spotify (Android & iOS)
Musicolet – Music Player
Musicolet – Music Player is an audio player for playing local files. Listen to your favorite tracks as much as you want.
This app allows you to listen to music that is installed on your device. There is no way to download a file in the app, if you want to install new audio tracks, you will need to download them from another source.
Musicolet – Music Player App Features:
The app can be controlled using a headset
There is a built-in equalizer
User-friendly interface.
If the text is embedded in the file you downloaded, then the app is able to show it to you too.
Sleep timer. You can go to bed listening to music and set a timer in advance – to stop playing music.
You can control the app (turn up the volume, rewind or flip through tracks) even without unlocking the screen.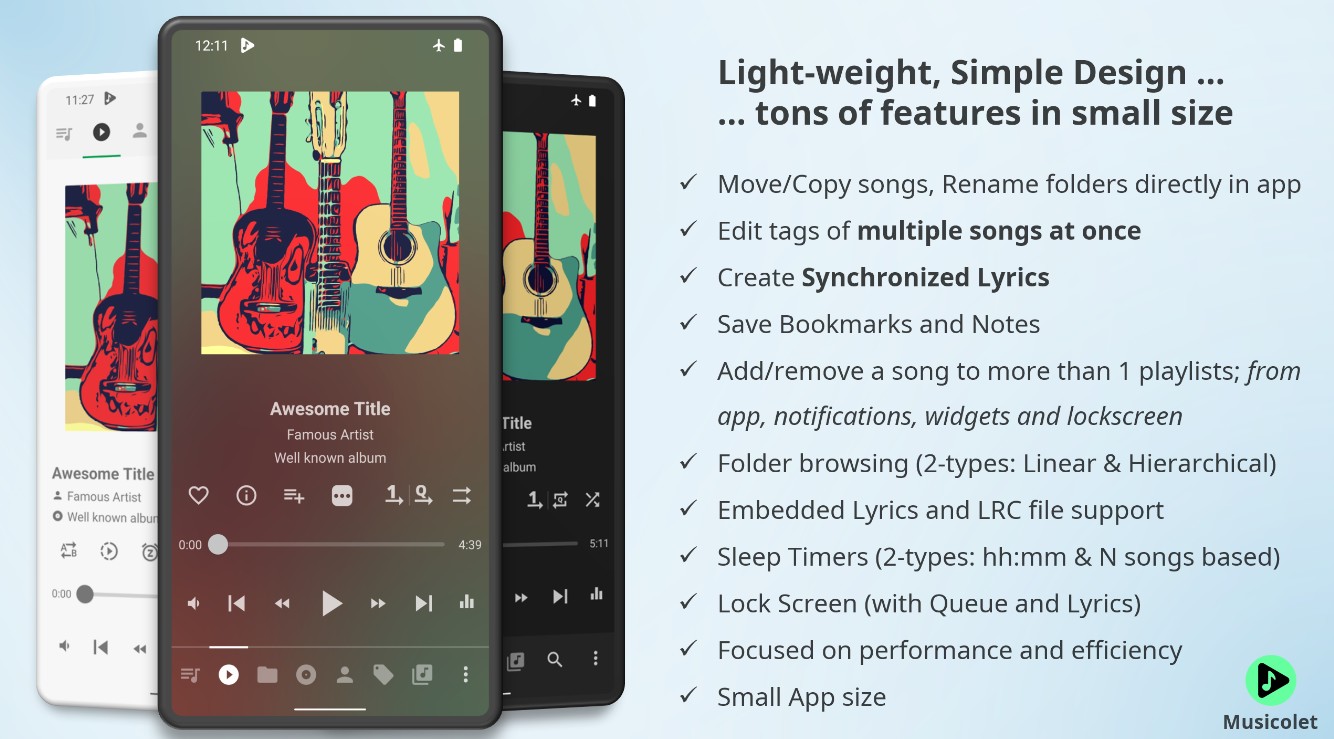 Music Player
Music Player supports an extensive range of audio formats, including MP3, AAC, WAV, FLAC, and more. This wide format compatibility ensures that you can enjoy your favorite tunes in high-quality without any restrictions.
The app offers a range of features, such as creating custom playlists, organizing your music library, and easily navigating through your tracks. It also comes with a powerful equalizer that enables you to fine-tune the sound to your liking, providing an immersive listening experience.
You can enjoy music without interruptions, as the app ensures smooth playback without any glitches. It also supports background playback, allowing you to multitask while your favorite tunes continue to serenade you.
All in all, this app is an excellent choice for those seeking a comprehensive music player.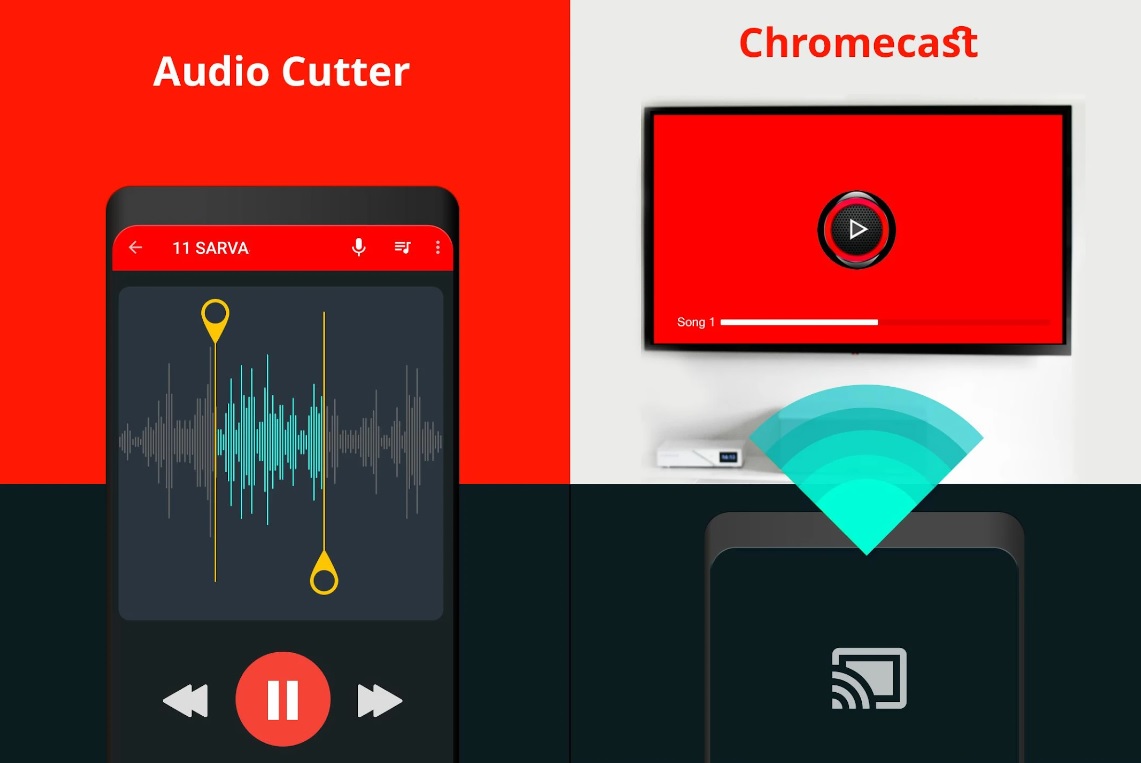 Music player – MP3 Player
Music player – MP3 Player is a music player that can play saved music from your device.
This app has a lot of features that fans will definitely like to listen to music. Powerful equalizer, lyrics support, bass boost and many other features are waiting for you.
Functions in the Music player app – MP3 Player:
All possible audio file formats are supported
The app automatically opens audio files from your device, allows you to share them with friends and family.
Create your own music folders and add your favorite tracks to playlists.
Powerful equalizer with more than twenty presets.
Built-in music editor
The app automatically sorts your audio tracks by albums, artists, genres and folders.
You can extract audio from any video and turn it into music.
The application is also capable of playing song lyrics (if they were embedded in an audio file).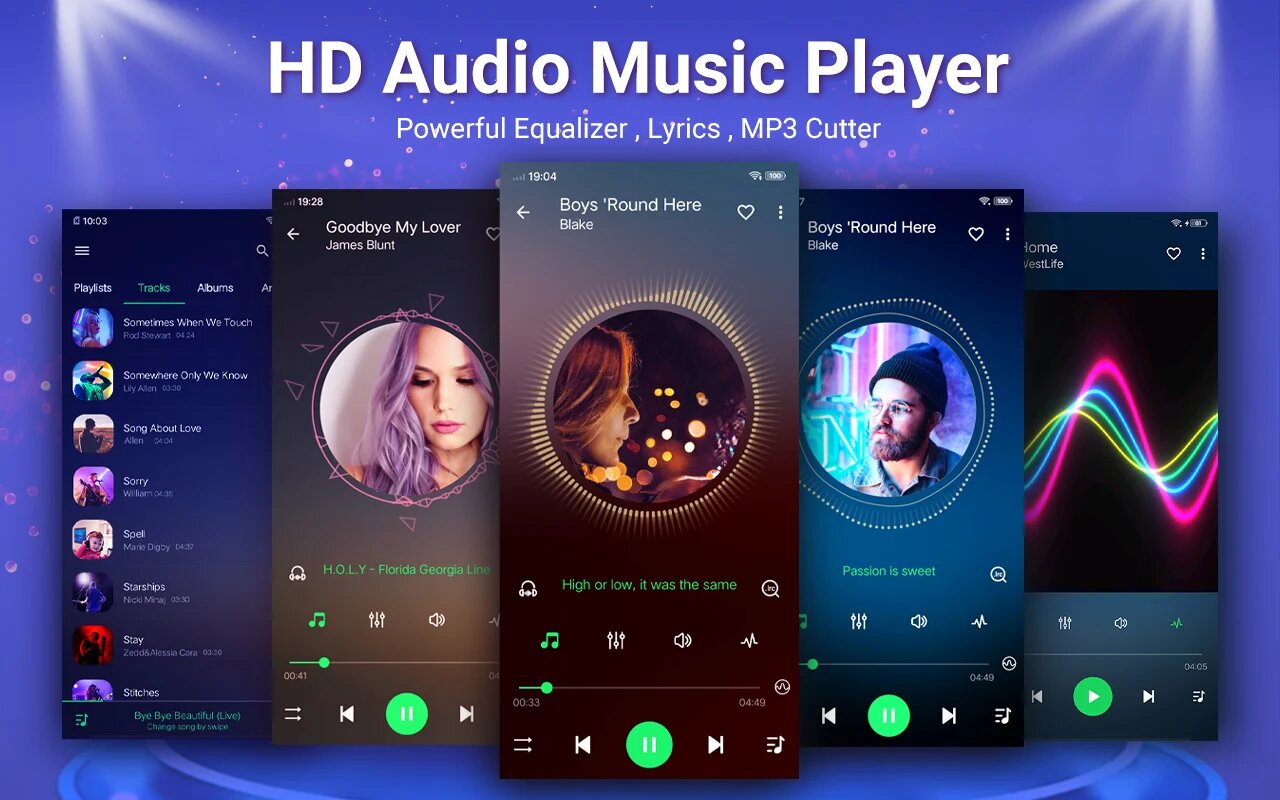 Ever music – offline player
Ever music – offline player is an offline music player. Listen to music from your device without too much hassle.
This app allows you to enjoy music to the fullest. Listen to your favorite tracks, experiment with the equalizer, create playlists and folders with your favorite tracks, share them with friends and much more!
Features of the Ever music – offline player app:
The app supports all popular types of audio files
You can create your own cloud service where you will upload your favorite tracks and share them with friends
It is also fashionable to use the application to play audiobooks. Download the book you need and enjoy.
Built-in equalizer
Playlist manager. With this feature, you can create your own playlists and folders with your favorite audio tracks.
In addition to the fact that you can listen to your favorite music already downloaded to your device – you can search for music in the app through an online search engine. Download your favorite tracks to your device and enjoy them without the Internet.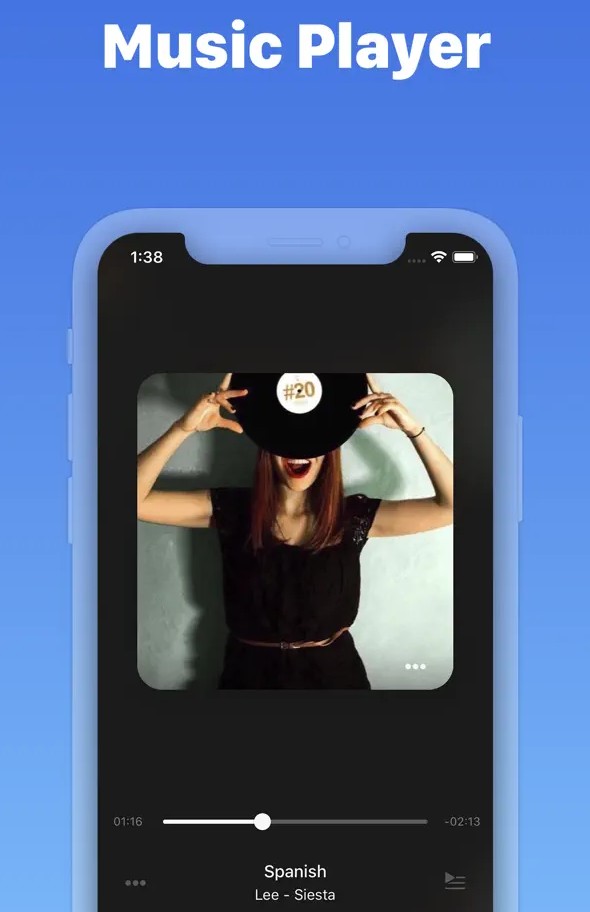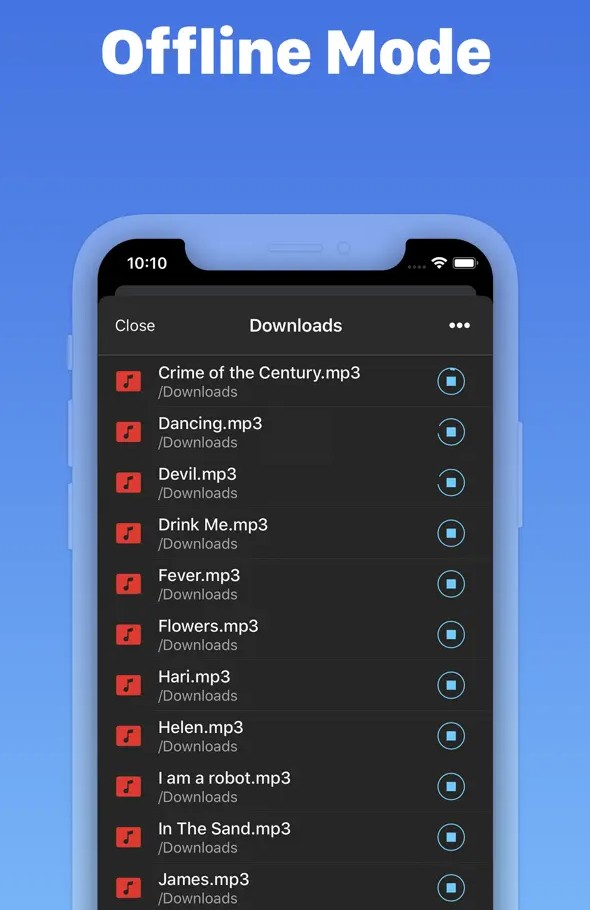 Simple Music Player
Simple Music Player supports a lot of audio formats, including popular ones like MP3, WAV, FLAC, and more.
The app's simple interface allows users to quickly navigate through their music library and effortlessly find their favorite tunes. Thanks to its minimalistic design, users can focus solely on their music without distractions or complicated menus.
One of the significant benefits of Simple Music Player is its lightweight and resource-friendly nature. The app consumes minimal system resources, leading to smooth and efficient performance even on older devices or devices with limited storage capacity.
Moreover, Simple Music Player lets users customize their listening experience. It offers features like repeat, shuffle, and the ability to create playlists, empowering users to curate their personalized music sessions according to their preferences.
So, if you're looking for a hassle-free music player that delivers on its promises without unnecessary complexities, Simple Music Player is the perfect choice for your device.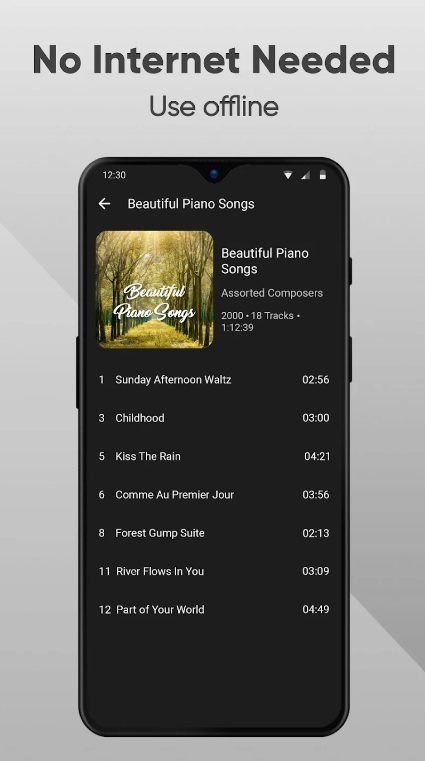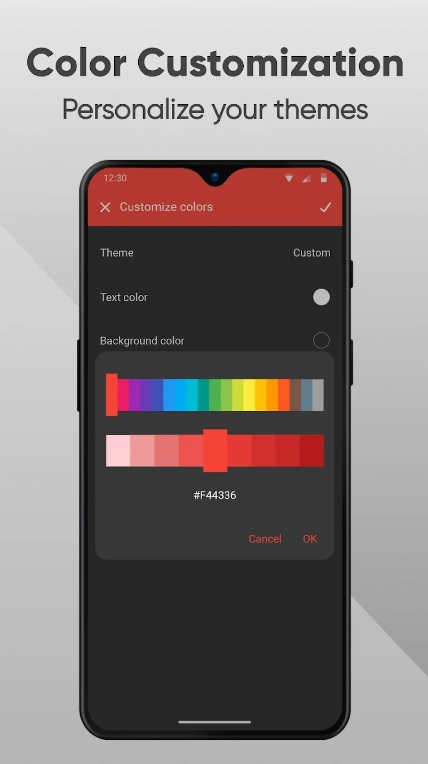 Doppler
Doppler is an audio player for playing music from your device and the internet. Download music and enjoy it even offline.
This app will be the perfect friend for people who can't do a day without music – beautiful design, intuitive functionality, the ability to listen to already installed tracks and download new ones.
Doppler Audio Player Functions:
Supports most popular audio file types
Plays music files that are already installed on your device. Enjoy music even without an internet connection.
If you are tired of listening to your music – download new tracks right in the app! All installed tracks are sent to your device's memory via the Doppler app.
Create and edit your playlists
Wide music library
Supports images (covers for audio files)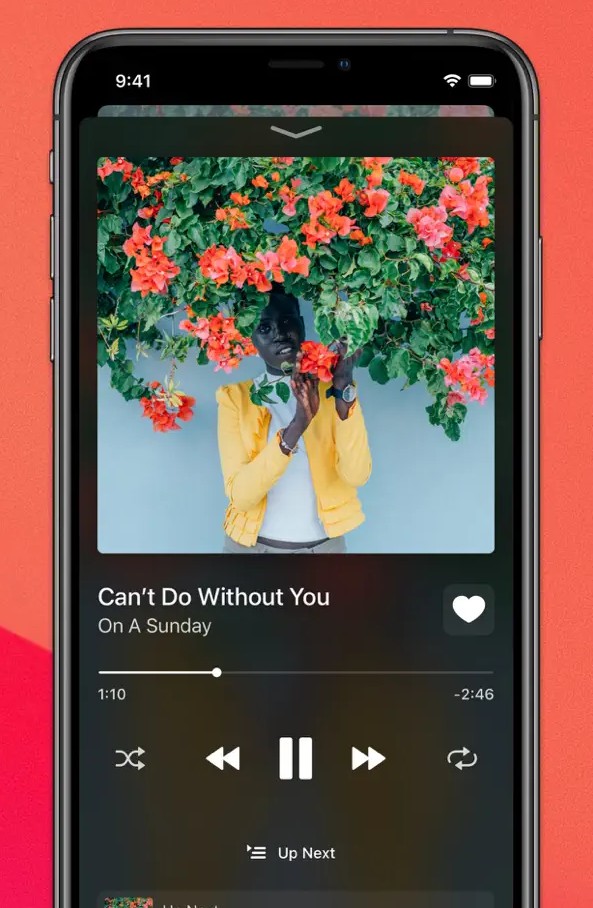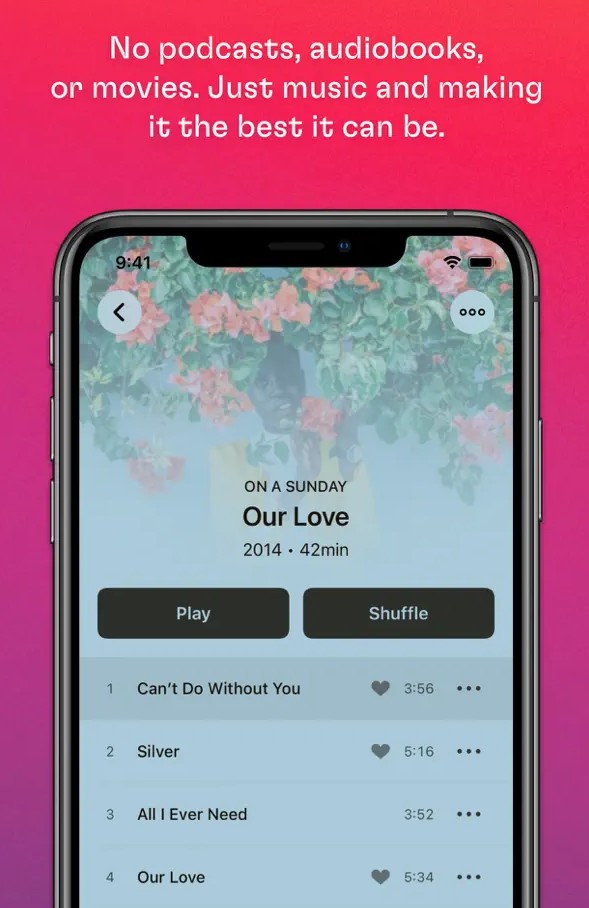 You can also check: 15 Best equalizer apps for Android & iOS (improve sound)
Music Player
Music Player is a mobile audio player for playing your songs. Listen to music offline without restrictions
The main function of the Music Player app is to play the music that is installed on your device. Thus, the audio player does not need internet access.
Functions of the Music Player Audio Player:
Supports a large number of file types
Works offline
Convenient menu (all your favorite playlists in a prominent place)
Built-in equalizer
Share music with your friends
If you want to listen to something new – download music from the online library
Edit audio files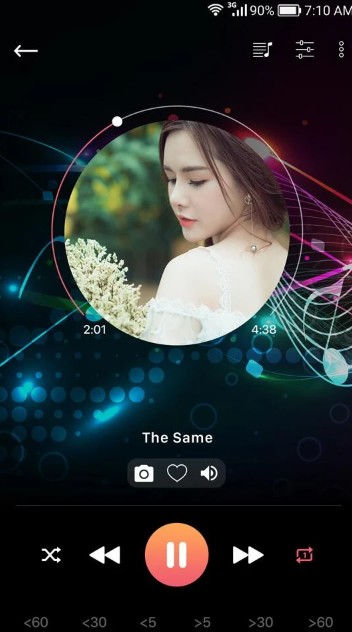 On the plane, on the train or just on the road – the music comes with you. Despite the fact that nowadays the Internet and network are ubiquitous, there are still places and situations when you stay offline.
So that such situations do not separate you from your favorite artists, it is worth downloading music to your smartphone, and to download and listen to it with maximum pleasure and convenience – you should also download an audio player.
We hope that our small top of the best variants will help you to choose the assistant in music playback. And the settings built into the applications will help to improve the sound and make the atmosphere and playback even more enjoyable. All you have to do is choose which app you want to be on your smartphone.