Free 15 drawing apps for Android & iOS
If you are inspired, then it is not necessary to run to the store for paints and canvas. Install one of the applications of this review on your tablet or smartphone and start creating.
New times give birth to new means of expression, and today no one is surprised by the artists who have replaced traditional easels on monitors and tablets. Moreover, a special software allows creating digital artworks of almost any level of complexity. Today, we will talk about some of these tools created for the Android platform.
ArtFlow
Turn your tablet into a digital album for drawing with a set of more than 70 brushes and the capabilities of a modern graphics editor. This fast and intuitive graphics application will allow you to use your imagination in full force and awaken the artist's talent. Support for accessories with pressure sensitivity will turn your tablet into a real canvas.
Functions of color correction, brightness, saturation and many other settings will allow you to fine-tune the final image.
An endless history of actions provides any depth of cancellation right up to the first stroke. Up to 16 independent layers with 11 blending modes for each and a transparency setting. Work with high-resolution images up to 4096×4096.
Individual settings of the fill and opacity for the brushes. The ArtFlow will allow you to simulate the actual behavior of drawing tools. The dynamic change of brush parameters provides naturalistic brush strokes as if you really use real canvas or paper, and a brush or pencil. You can create new layers based on imported images.
Exporting of images to PSD, PNG (with transparency) and JPEG formats will save your creations for further improvement or printing. The functionality of the application is somewhat limited in the trial version, but even this volume of possibilities is more than enough to create real masterpieces of fine art.
Features:
Excellent application performance.
More than 70 brushes and tools.
Ability to adjust color.
11 different modes.
Large canvas resolution.
nVidia DirectStylus Support.
Get it on Android
SketchBook Express
This application is one of the most famous in the world, and this is not only because of the high reputation of Autodesk, but also because it came out before others, many artists were initially used to it, and later did not want to switch to other programs. For 3 years, the developer almost to the ideal established the interface, here everything is thought out literally to the smallest detail. Having such an interface, you do not have to search long and painfully for those or other elements, functions, tools.
The mobile application the SketchBook turns your Android device into a real canvas for creating high-quality images. The program is designed for smartphones and tablets, the diagonal of which is more than 7 inches. The utility is a set of ready sketches and tools for drawing. A lot of pencils, brushes, and effects allow you to create high-quality digital pictures. Touch screens, which are equipped with all the modern smartphones on Android OS, without exception, provide high accuracy and smoothness of the drawing process, as well as allow using multi-scale capabilities (up to 2500%). The screen is able to sense the force of pressing and transfer the degree of pressure to the created drawing. With the SketchBook, the user can work with layers and add inscriptions to the image. The user can save the finished image in the device's gallery, and subsequently, use it as wallpaper for the desktop.
Key features and functions:
The app provides a large selection of tools for drawing.
It allows you to work with layers and add inscriptions.
Ready-made drawings can be put as a background for the desktop.
It has a nice graphical interface.
Easy to use and easy to learn.
Infinite Painter
The capabilities of the Infinite Painter go far beyond the capabilities of the usual concept of the raster graphics editor. An innovative approach to the realization of the idea of a graphic editor using all the advantages of modern sensor devices allows you to get a completely new realistic sense of drawing. At your service, there are more than 100 brushes that accurately simulate the behavior of real analogs or allow you to realize the unique possibilities of digital painting.
Arbitrary color mixing and the use of ready-made palettes, no restrictions on the number of layers, support for stylus with pressure sensors on the surface, all this and much more recently was available only to owners of professional high-value devices. The Infinite Painter on your tablet is quite capable of replacing a graphic studio, and in some aspects of convenience and functionality – can even surpass it.
Undo and redo actions, create high-resolution images, import graphics files and capture images from the camera, tools for creating symmetrical elements, reliable modeling of the behavior of tools for drawing and surfaces – the enumeration of all the possibilities of the Infinite Painter is unable to fully convey the reality of the senses from using this revolutionary software product.
Key features and functions:
An innovative approach to the implementation of the graphic editor.
More than 100 brushes (real analogs and fully digital tools).
Powerful support for working with colors.
No restrictions on the number of layers.
An endless history of change.
Export to JPEG.
Realistic modeling of the actual drawing process.
Get it on Android
Kids Doodle
This graphic application is created specifically for children and is positioned as one of the best in this segment. A carefully designed interface and colorful design will attract the child and help to get the most pleasure and benefit from the drawing process. A set of 24 brushes designed specifically for children, taking into account many factors. Due to this, the child perceives the drawing process with the Kids Doodle as an exciting game, and the lack of skills in the visual arts is successfully compensated by intuitive colorful tools.
The function of reproducing the drawing process leads the kids to delight, stimulates them to further creativity and improves the skills of drawing. An unfinished drawing can be returned at any time, which is ideal for restless children who cannot devote more than five minutes to one lesson. The ability to draw not only on a clean background but also on imported images, opens up, even more, opportunities for a rich children's imagination. Help them upload a family photo into the application, and you will get a lot of positive emotions from the result of their retouching. Ready-made drawings can be published in the social services directly to their applications.
Key features and functions:
Graphic editor for children from 4 years.
A special set of 24 unique brushes.
The play mode of the drawing process.
Cleaning the screen by shaking the gadget.
The possibility of importing images.
Automatic saving of the drawing with the possibility of continuing drawing.
Online publication of drawings.
Pencil Box
The Pencil Box is not just another graphics editor for Android. In addition to standard functions, it supports working with multi-layered animation. The project sizes are no longer limited to the screen resolution of the device. It is not necessary to start drawing from scratch, you can download several graphic files for use as a background or individual elements of the composition. The image sizes can reach 10,000 pixels in both directions, and the number of layers is limited only by the capabilities of your gadget.
The separate setting of transparency parameters for each layer, convenient selection of the active layer, addition, deletion and other operations with layers will facilitate the implementation of quite complex creative ideas. Detailed settings of the brushes, the ability to use stylus and tools for scaling will allow you to create drawings of a high degree of detail and elaboration, which until recently was not available to mobile device owners. The saved projects with all layers and their parameters allow you to return to work at any time and bring the project to perfection. For exporting images, BMP and JPEG formats are available. It is possible to export each layer of the picture to a separate file or export only the visible layers. Tools of undo and redo the last actions will easily cancel the unsuccessful strokes or evaluate the results of changes made to the picture.
Key features and functions:
The universal graphics editor.
The number of layers is limited by main memory.
Tools for animation.
Support for record high-resolution images on any device.
Individual parameters for each layer.
Import images into a separate layer.
Wide choice of settings.
Support multi-touch and stylus.
Art Of Glow
An unusual application Art Of Glow from the makers of Glow Hockey will give you new and unexpected possibilities of using touch Android gadget. The creation of pulsating luminous images will allow you to diversify your drawing experience on a tablet and surprise your friends with the unique cards. The Art Of Glow is equipped with simple settings of tools and sets of luminous paints, which allow the user to familiarize themselves in a matter of minutes. Fireworks, flickering stars, animated text, and many other tools will allow you to create the most unexpected light installations on the screen of your tablet or smartphone. Applications are limited only by your imagination. High detail images, full-color animated glowing particles with smooth animation and endless customization options will turn drawing into an entertaining game with light.
Key features and functions:
Non-standard graphic application.
Drawing with neon paints.
Effect of pulsation and flicker.
The creation of fireworks and flickering stars.
Animated text inserts.
Full-color high-resolution graphics.
Get it on Android
Adobe Illustrator Draw
The Adobe company is a producer of not only very high quality but also multifunctional programs. The Adobe Illustrator Draw was created to build vector illustrations and has no analogs in quality in the Play Market. What is the main difference between vector graphics and common bitmap? A raster image consists of a grid of multi-colored dots (pixels), while the vector image is made up of the simplest geometric shapes described by formulas.
The Adobe Illustrator application meets all the requirements for creating an image using vector graphics. Here we can use various service tools, such as feathers of various thicknesses, a variety of colors, an eraser, the use of layers, etc. All this will help us create a unique product. Also, the Adobe Illustrator interacts with the Adobe Capture CC application. As soon as we finish our work, you can put it in the application you need, and also copy it to the "cloud" with the help which we have an access to your drawings from any device, or save directly to the device. Also, the application works well with Photoshop, that facilitates the possibility of editing. To work with the vector graphics in your smartphone, we recommend using the Adobe Illustrator Draw.
Features:
VECTOR DRAWINGS
Draw by hand using smooth scalable strokes. Zoom up to 64 times to draw small details. Five different pen tips to choose from – each with transparency, size and color settings – for the most accurate expression of your ideas.
ADDING LAYERS
Add complexity, depth, and volume, using up to 10 layers for drawing, as well as a photo layer. For each layer, you can create a duplicate, merge, reflect, scale, and change the transparency.
ADOBE STOCK
Look for the high-resolution images that do not require royalty payments, right in the Draw application. Use licensed images in your projects.
DIRECTLY TO PC
Send the file in a native format to Illustrator CC or PNG file in Photoshop CC. It will automatically be opened on your PC, so you can easily develop your idea.
DIGITAL LINEAR
In the menu "Figures" you can get an access to the stencil with the basic shapes, or paste vector shapes from Capture CC stored in your Creative Cloud libraries. We can use the "Pinch" motion to scale, circle the outline or place a stamp with a double click .
Support for simultaneous use of several styluses (Adonit, Wacom and Pencil by 53 Apple Pencil).
Get it on Android
Artecture Draw, Sketch, Paint
This program – is an extremely interesting application in which each user can create unique sketches, drawings and much more. The application stands out for its professionalism, so boldly start downloading it to your mobile devices. Never before you had such an opportunity as with this wonderful program.
A lot of tools, settings of brushes and samples – all these help the program to become one of the best in its class. So, do not miss the opportunity to use its unique tools. It will be quite easy to understand the application as it has a convenient interface. Thanks to this, even inexperienced users will be able to understand and create their own drawings.
That's why the program allows you to get such advantages in comparison with others. Also, the program allows you to crop or flip photos quickly. This is very easy to do, so even the most experienced user will cope. That is the whole point of the program. It was created for inexperienced people. Everything is built in such a way that you do not fool yourself and immediately start working.
As a result, it turned out that the Artecture Draw, Sketch, Paint – is an excellent application with a huge functionality and a lot of fine settings that will appeal to both professional artists and amateurs who crave to paint on their tablet or smartphone.
Get it on Android
Animation Sketch
Animation Sketch- this is a kind of tool for creating animalistic drawings and pictures, which can then be combined into an animated video. You can save files with individual pictures and videos both to the gallery of your mobile device and to the library of this app, so that you can then share them with other users.
In this app, you will be accompanied at every step by an "assistant" who will be able to explain how each animation creation tool works. Also, at any time you can open the reference materials, which contain all the information about each tool for editing animated images and videos by item.
Animation Sketch contains a huge number of templates, as well as tools for editing animations. for example, you can add frames and toning for the borders of your animations, and also apply certain color filters and light effects to create a realistic picture.
Moreover, you can use tools to increase the color brightness of both individual elements and the entire animation.
Get it on iPhone
Painter Mobile
Painter Mobile is an excellent drawing application for devices running the Android operating system, which will be appreciated by those who only learn to draw and those for whom drawing is the profession of all life. The level of work that will allow you to create this application depends only on your talent, so a large number of tools are available for this. It would be nice to get a tablet and a special stylus for this.
The most important feature of this application is the brushes and modes of their work. A lot of brushes are available. And they all draw in different ways. For convenience, the brushes are grouped into separate categories. For each brush, you can choose the thickness and opacity of the stroke. One more thing, these are the modes of operation of brushes. So, the line can be mirrored or repeated in a variety of projects, which allows you to create very steep patterns. In addition, it is possible to work on different layers, which in the case of a complex drawing can slightly simplify the drawing process. The choice of color is carried out in a color triangle, where a lot of different options are available.
The Painter Mobile is an excellent drawing application, which presents a large number of features. It is more suitable for professional artists, as for an ordinary user to draw something very beautiful will be difficult. The downside is the fact that when there is a large number of layers or complex actions the slowdown is observed.
Get it on Android
AirBrush Paint
Drawing with the help of the Android device has never been so simple and fun. This application does not pretend to be a professional graphics editor and does not offer the user a huge selection of a variety of tools and complex settings. Its dignity is in accessibility to mastering and intuitively understandable interface. The original use of multitouch technology allows you to use all your fingers during the drawing process, which is especially important for introducing children who make their first steps in fine arts. An unlimited number of memorized actions allows using the application as a visual aid for drawing, by step-by-step demonstration of the process of creating a finished drawing in the usual or reverse order.
A set of various original brushes will help to reproduce colorful visual effects and apply non-standard drawing techniques. Each brush can perform the eraser function. Combining different brushes and their properties will allow you to develop your own painting technique. You can save your successful drawings to the gallery for later demonstration. The AirBrush Paint successfully combines brilliant simplicity of user interaction and wide possibilities of touchscreen devices.
Key features and functions:
simple and convenient graphic editor;
ideal for the first steps in the fine arts;
the possibility of drawing with several fingers;
an endless history of change;
a set of original brushes;
each brush is equipped with an eraser function.
Paint Joy
An amazing drawing application for users of any age will unleash your imagination and awaken the hidden artistic talent. A simple graphic editor with a full set of features is designed for a user of any level. With the Paint Joy, the user can fully control the styles and sizes of brushes, colors, and background.
More than 20 built-in brushes allow you to master the technique of drawing with chalk, pencils, various paints and specific digital instruments, such as a neon glow. You can draw on the background of any color or upload any images for later processing.
An interesting feature of the application is the ability to click the play button at any time and see the whole drawing process in fast forward. This can be done with the old works in the gallery as well.
That is, the built-in application gallery does not just save your work, but also allows you to reproduce the drawing process from the start to finish in an animated movie.
The intuitive interface is ideal for choosing a brush and color palette even for beginners. The zoom function makes it easy to work on the small details and allows you to evaluate the entire picture, or to apply large strokes, reducing the image to the desired size. Built-in compatibility with most social networks allows publishing your work a couple of clicks and sharing with friends and subscribers.
Key features and functions:
more than 20 brushes;
drawing on a blank canvas or over a loaded image;
an intuitive selection of brush and color;
zoom function;
save the picture and the animated drawing process;
publication of works in social networks.
Flowpaper
The Flowpaper is an interesting drawing program developed by Diatom Studio. Create your own pictures that will amaze the imagination of friends and family!
With this application, you will feel yourself the creator of abstract painting. It's enough just to show a little imagination and the simplest movements with your fingertips will create unique works! The user needs to select the brush he likes, set the color, define the shape – that's all to get an amazing result. Decorate your favorite photos with unique patterns and share them with your friends.
Naturally, it is worthwhile to understand that if you do not have an outstanding talent in drawing, then you will have to wait for excellent results. The program is distributed in two versions – Trial and Full. The light version of the program has a reduced functionality and assumes only one brush for drawing. If you like this entertainment, then please pay $ 2 and take full advantage of the opportunities.
The main menu is designed in a minimalist design and contains units of visible elements. An access to the menu settings is made in the form of a function key and assumes a wide range of visual design. Unfortunately, the Trial version does not allow you to enjoy all this abundance since the settings are simply blocked.
The Flowpaper is an original drawing tool that allows you to create abstract paintings.
Original streaming drawing technique.
Support for smartphones and tablets.
Realistic physics of flows.
Import of images for processing.
Publication of drawing results.
Restoration of deleted drawings.
PaintUp
The PaintUp opens absolutely new possibilities for fans of digital painting, respecting classical directions of fine arts. With this application, in a few seconds, you can create a masterpiece that can compete with the best works of Van Gogh. The originality of the realization of the idea of drawing consists of the built-in function of the automatic coloring of sketches. Literally, in a minute, you can create a unique landscape or portrait, just indicating the main outlines of objects. The rest the smart app will do for you.
You can forget about shadows, gradients, and semitones once and for all.
A number of additional tools of the PaintUp are designed to further simplify and speed up the process of creating a sketch. Vertical or horizontal symmetry will help to create portraits and images of any other symmetrical elements.
The built-in connection of the application with the online service will allow you publishing your work in one click, and getting acquainted with the works of other users will enrich with fresh creative ideas. The cancellation function will correct errors. A convenient palette of color choices will allow you to select the exact shade. Saving works on the device will allow you to demonstrate your talent without connecting to the network.
Key features:
The creation of masterpieces in a minute.
The coloring of color sketches.
Functions of automatic symmetry.
Undo the last change.
Integration with online publication services of the drawings.
Saving to the device.
Convenient color palette.
Draw and Share
The simple and clear name of this application calls to action: "Draw and share!" You can draw, paste text and pictures, both on a clean screen, and on the background of a downloaded image. All functions are extremely clear and understandable and are in constant availability. The drawing with a finger or stylus has never been so convenient. From the usual photos of a friend or an animal, you can create a fun collage in a couple of minutes and add it with a funny signature.
The user has access to all the necessary brush settings: transparency, thickness, color, pressure. You yourself can choose the appropriate font and arbitrarily arrange the text, even twist it into a spiral. The ready work can be saved and sent using an e-mail or MMS. Minor size and minimum resource requirements allow using the Draw and Share on any smartphone with Android OS.
Key features and functions:
Simplicity, convenience of a small size.
Drawing with a stylus or a finger.
Loading images from a memory card.
The built-in clipart.
Insert text and adjust its location.
Sending pictures in messages.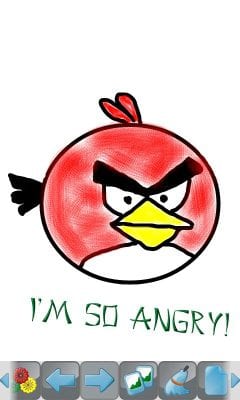 We hope, that the programs offered in this review will be able to interest both experienced masters and beginners of artistic creativity. We would be interested to hear the opinion of professionals about what kind of drawing program, in their opinion, is the best!