If you plan to apply to a university in the United States, you already know that you will definitely have to provide the admissions office with your GPA.
A GPA – Grade Point Average is the average grade of your diploma or certificate that you receive when you graduate. Each university has its own grading and calculation criteria, but generally, there is a common calculation procedure. If you are a future student you may need one of 11 Free Apps For College Students (Android & iOS).
Since different countries have different systems for calculating grades – a 5-point scale, A to F grades, and a 10-point scale – there are different ways to transfer to a single system.
You should also keep in mind that sometimes it is not enough to calculate the average grade point – you may need to transfer to the 4-point system in the United States or multiply it by additional coefficients.
If you don't want to get confused and calculate GPA yourself, you can use the services of specialists or install a special application on your smartphone. We found for you 10 Free GPA Calculator Apps for Android & iOS.
GPA Calculator by Amarneh
GPA Calculator has an incredibly simple and straightforward interface that looks great on screen. It is a really good application for calculating your grade point average per semester, in your diploma, or another study document.
If you follow your GPA from the very beginning of your studies, you will be able to adjust the data in the GPA Calculator and try much harder to improve it.
To edit a grade for a subject, you will simply have to add it to your list and indicate the grade you have behind it. The class of the subject is also edited – some of them may have a stronger or weaker effect on your overall rating.
In the simple GPA Calculator interface, you will find out exactly how to change all the parameters and details.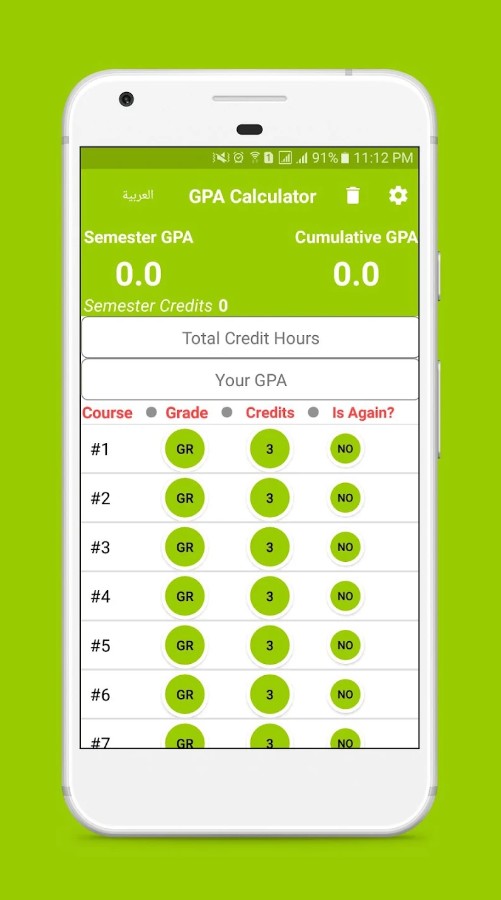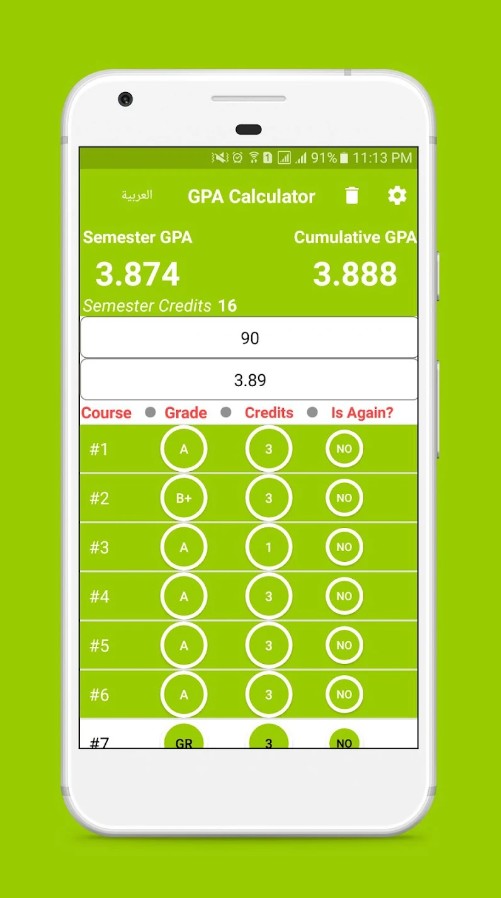 You may also like: Top 10 Scientific Calculator Apps for Android & iOS
GPA Calculator-MyPerfectWords
When you open the app, you'll notice an intuitive interface with various sections in the main menu. The core feature is the GPA Calculator, which allows you to input your course grades and credit hours. With this information, the app calculates your GPA accurately.
There's also a Cumulative GPA Tracker. This feature enables you to monitor your overall academic progress across multiple semesters, helping you stay on top of your performance.
The Grade Scale section provides a reference guide to understand different grading scales and systems used in educational institutions. It's a handy resource for students navigating various grading methods.
Lastly, the Academic Resources section connects students to writing services and academic resources provided by MyPerfectWords, which can be beneficial for assignments and essays.
All in all, this is a decent app that can be useful for you but you can choose even better apps on this list.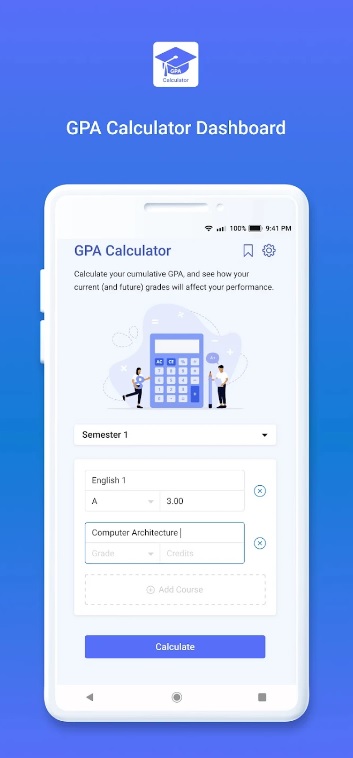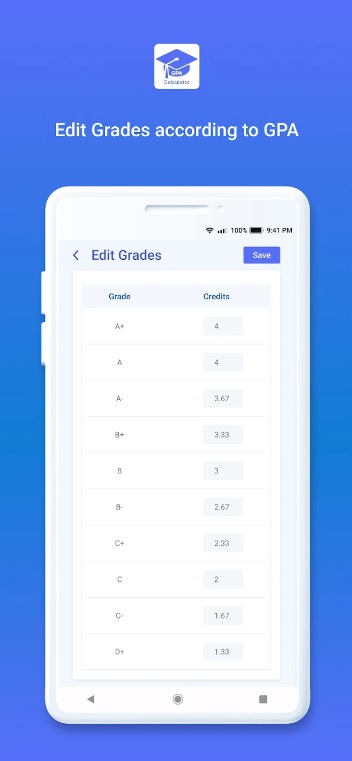 fourpoint – A GPA Calculator
The name of this application automatically speaks for itself – all your scores will be transferred to the system with 4 points. This is the gradation that GPA has. Making calculations is now much easier as you will simply add data about your learning.
Since many universities don't just ask for grades from your diploma or certificate, but for the duration of your studies, you will need to add every semester and course title to Fourpoint.
You will need to add at least one full semester of study along with your grades to begin your calculation. To do this, simply click the + icon, and Fourpoint will automatically suggest a form to complete.
You will also be able to set some nuances that may affect your grade points average, such as assigning a semester that does not affect your GPA or setting an individual weight for each course or course. This functionality, from a simple application, will really help you in enrolling.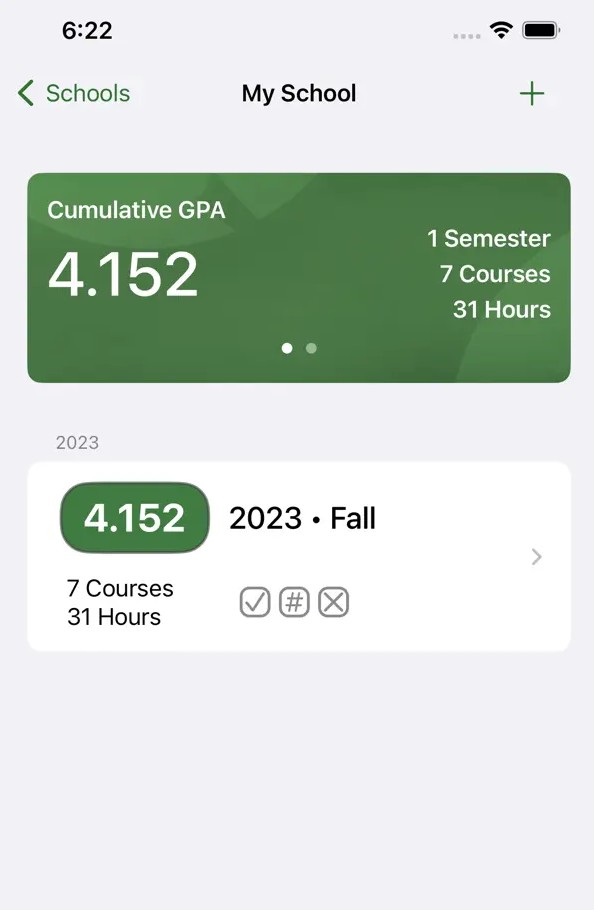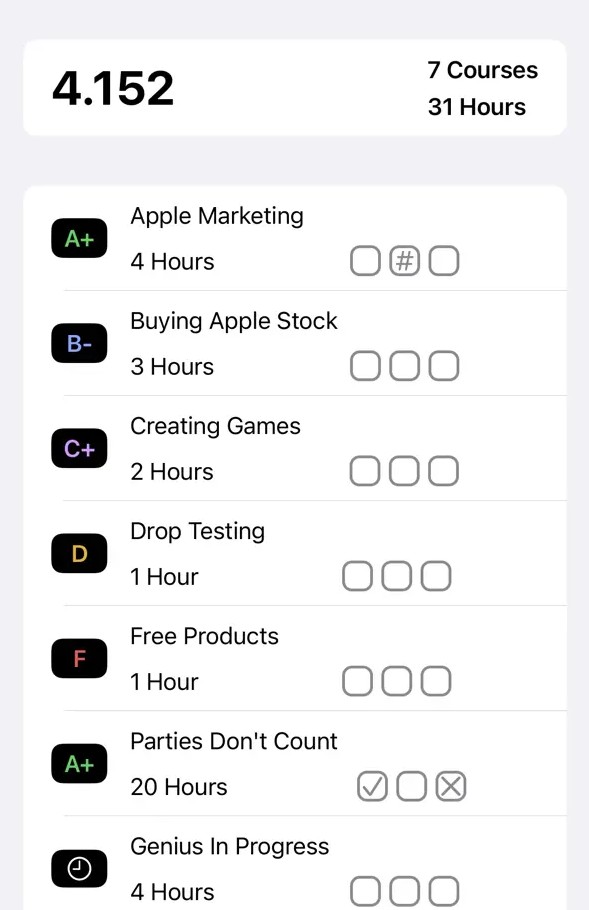 GPA Calculator by Hussein El Feky
While studying at schools, universities, and colleges, you had to accurately calculate your grade point average over the course of your studies. With the GPA Calculator application, you can easily create your own GPA based on your grades.
Note that the application already has some educational programs, which include all data on the weight of the course, its complexity, and so on – you will only have to put your grades in a virtual report card. GPA Calculator will do the rest of the work for you, so you don't have to worry about it.
In order not to lose your data for several years of training, you can save everything you have entered into the application, on the SD-card. You can also export your data here or back it up to cloud storage.
Thus, you just do not need to re-enter the same data. To determine the most accurate score, GPA Calculator supports decimal digits – you will not lose a single percent of your success, especially since sometimes it is small numbers that decide your future.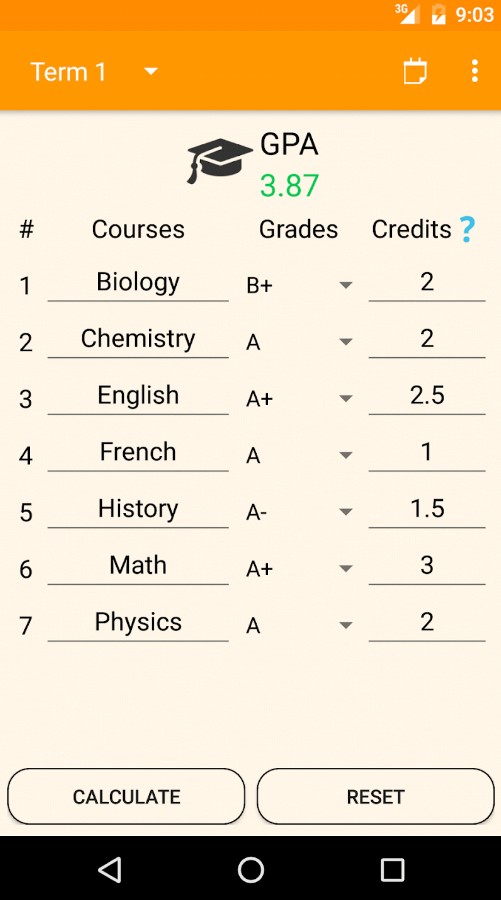 GradeCalc
The GradeCalc app, available on the Apple App Store, serves as a valuable tool for students who want a straightforward way to calculate their Grade Point Averages (GPAs) using their iPhones.
The primary function of the app is its GPA calculator, which enables users to input their course grades and credit hours, allowing for the quick and accurate determination of their GPA. This feature is especially useful for high school and college students who need to track their academic progress.
In addition to the GPA calculator, GradeCalc may offer other options or resources to enhance the user's academic experience. These could include study tips, grade tracking, or academic advice, all designed to support students in their educational journeys.
In general, GradeCalc is suitable for a wide range of users, including high school and college students, as well as anyone engaged in educational pursuits requiring GPA calculations.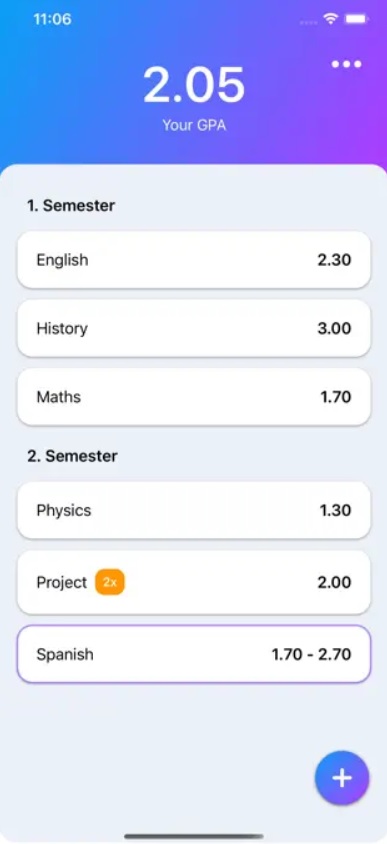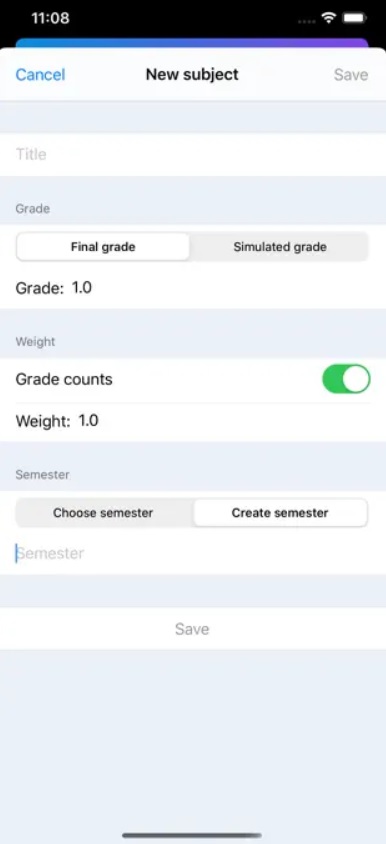 You may also like: 12 Best Exam Preparation Apps for Students (Android & iOS)
GPA Calculator by Shan Nirmala
GPA Calculator is a simple and cute application, which is designed with one simple goal in mind – to help you calculate your average grade point. It is perfect if you need to provide data on your progress and grades for the whole period of study, not just the final results of examinations.
You enter all your scores into the GPA Calculator yourself, adding them gradually, semester after semester. However, you should be careful: the application has one button on the main screen that can simply delete all data from your memory.
Despite all the complex calculations, the GPA Calculator is a clear and simple application. In each semester, you will need to add an item and its name and add your score to the database, so you get all the final data about your GPA.
Thanks to the automatic save feature, you don't have to worry about accidentally closing the application – all the data will be submitted. The GPA Calculator also shows you in detail how exactly you got this result.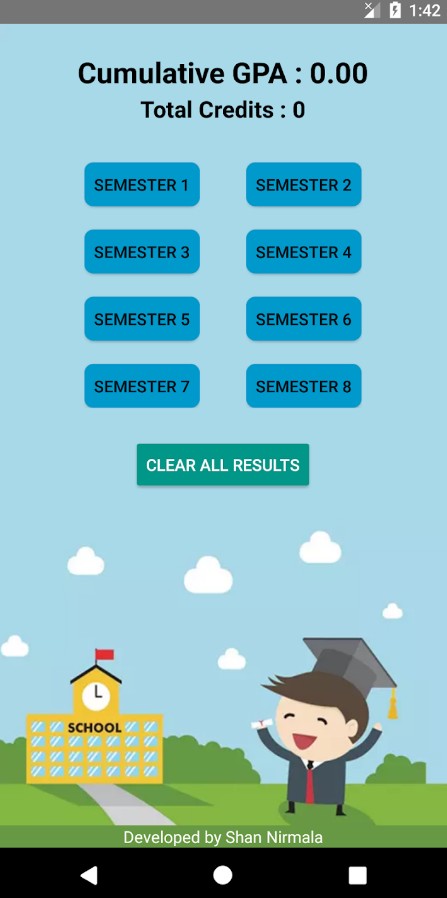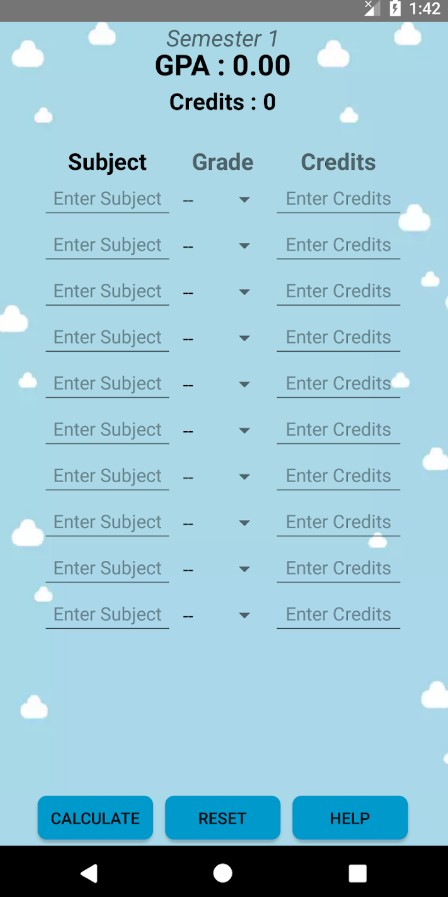 UEW GPA Calculator
The UEW GPA Calculator app is a practical instrument for students at the University of Education, Winneba (UEW). It simplifies the process of calculating Grade Point Averages (GPAs) and offers additional features to support students in their academic pursuits.
The app operates straightforwardly. You input your course grades and corresponding credit hours, and it computes your GPA accurately. This feature proves especially handy for UEW students aiming to keep track of their academic progress.
The app also provides easy access to the University's website pages. This function ensures that students can effortlessly navigate to the UEW website for information and resources.
In addition to these primary functions, the app may offer other features or resources to aid students in their studies. These could include study tips, course information, or academic resources.
The benefits of the UEW GPA Calculator app lie in its simplicity and convenience. It streamlines GPA calculations, assists with finding relevant University information, and potentially provides valuable academic resources, all in one user-friendly platform.
Finally, I would say that this calculator can be your best assistant when you study at university.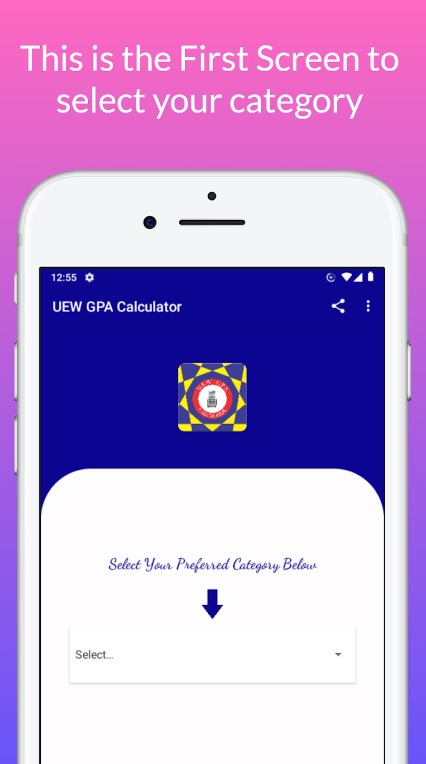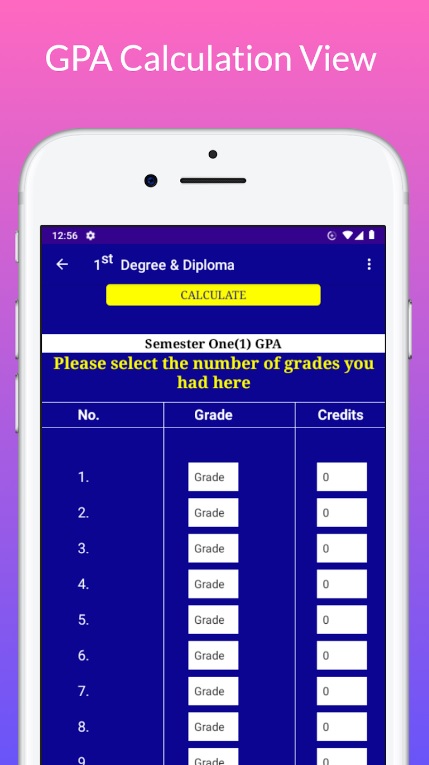 Easy GPA Calculator – For All
The Easy GPA Calculator app is a versatile tool designed to assist students of all levels in calculating their Grade Point Averages (GPAs) with ease. It offers a straightforward and user-friendly solution for students looking to track their academic progress.
The main menu of the app typically includes a GPA calculator where you can input your course grades and credit hours to obtain your GPA. This feature is especially useful for high school, college, and university students who need to monitor their academic performance.
Aside from GPA calculation, the app may offer additional resources or features, such as study tips, grade tracking, or academic advice. These supplementary options can provide valuable support to students striving for academic success.
This app is suitable for a broad range of users, including high school students, college students, and anyone pursuing education or coursework that involves GPA calculations.
In conclusion, I think that its simplicity and accessibility make it an ideal choice for those seeking a hassle-free way to keep tabs on their academic achievements.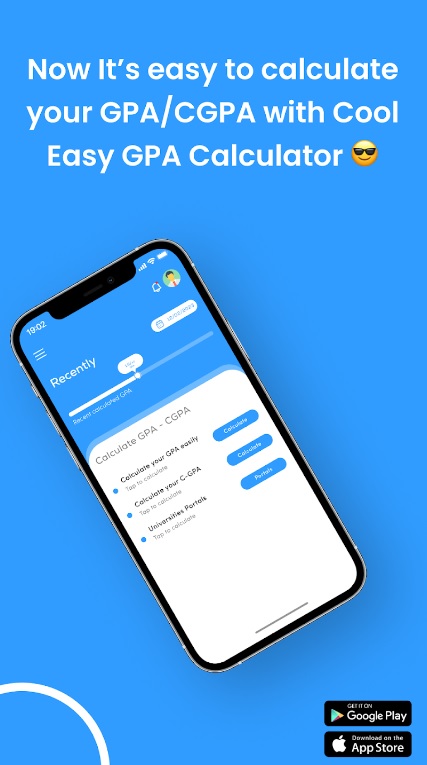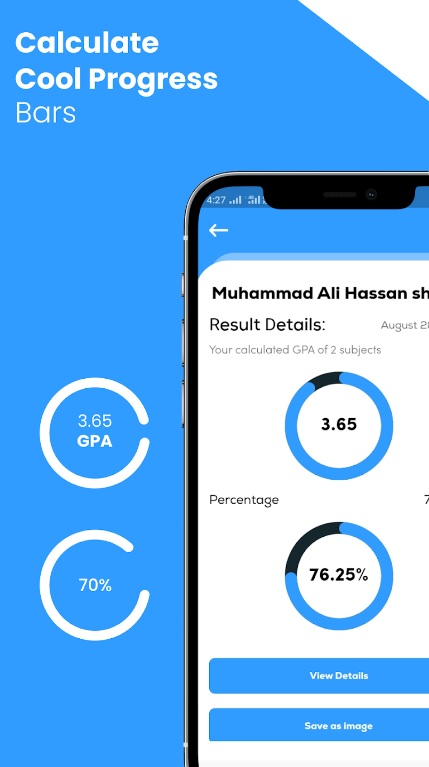 NUML GPA Calculator
Don't be afraid of the too simple NUML GPA Calculator application interface. Despite the simplest and even slightly damp design, this application will allow you to accurately and correctly calculate the CGPA, which is necessary for admission to a university.
In order to get a result, you will need to enter the subjects studied, the hours of study, and the results of examinations and tests. Based on this information, the application will give you the desired figures.
The calculation criteria are accurate and reliable – this is indicated on the university website. In addition to NUML University, other institutions use this system of calculating points – you do not have to be a student or applicant at this university.
The number of grades that will be used in calculations is large, and for this reason, you should not count everything on your own. The NUML GPA Calculator guarantees accuracy in your calculations because a smartphone will do everything for you.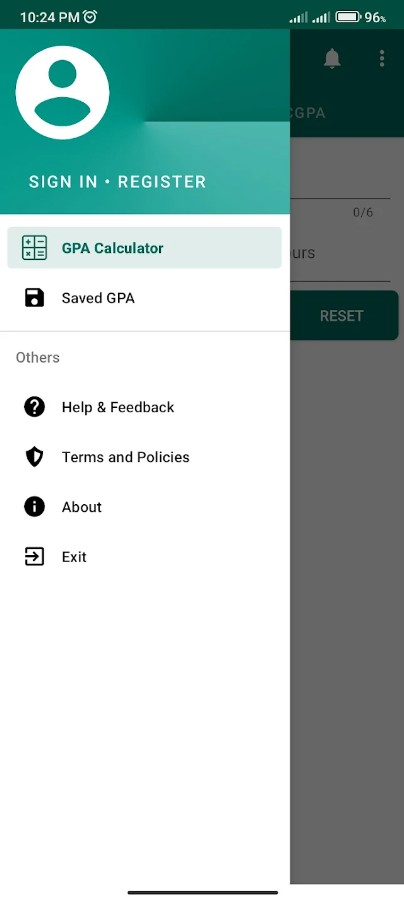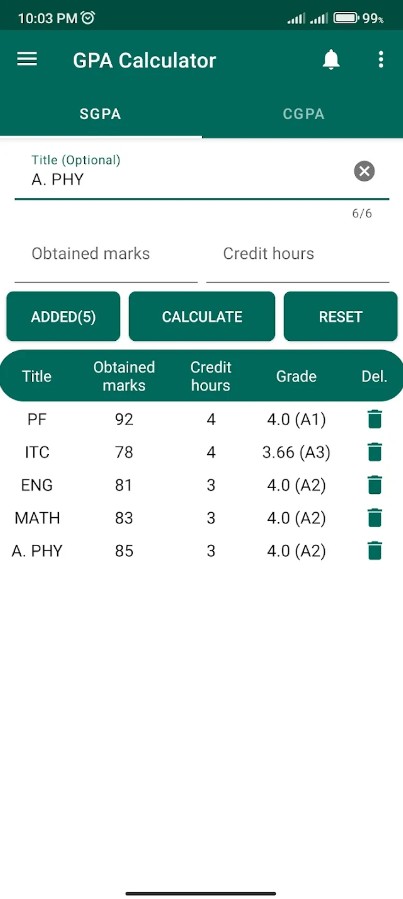 You may also like: 11 Best Revision Apps for Students (Android & iOS)
My GPA[UOM – Eng] by Sachith Kasthuriarachchi
If you are going to study in Sri Lanka, the application My GPA is what you are looking for. It is designed for students in the region, in particular, those who are going to enter the engineering department.
So if you are interested in how good your grades are for admission, then My GPA will give you all the information about it. For each department at the institute, My GPA includes its own modules, which have specific features in computation and calculation.
Using My GPA, you will be able to calculate your own GPA based on your final exam results. This will give you complete information about admissions opportunities at a given university.
Note that the interface of the application does not correspond to such serious actions: everything is executed in a delicate pink color as if a kitty would now appear on the screen instead of documents.
At the same time, you will need to do serious things – add and delete modules of your studies, as well as keep track of your GPA rating.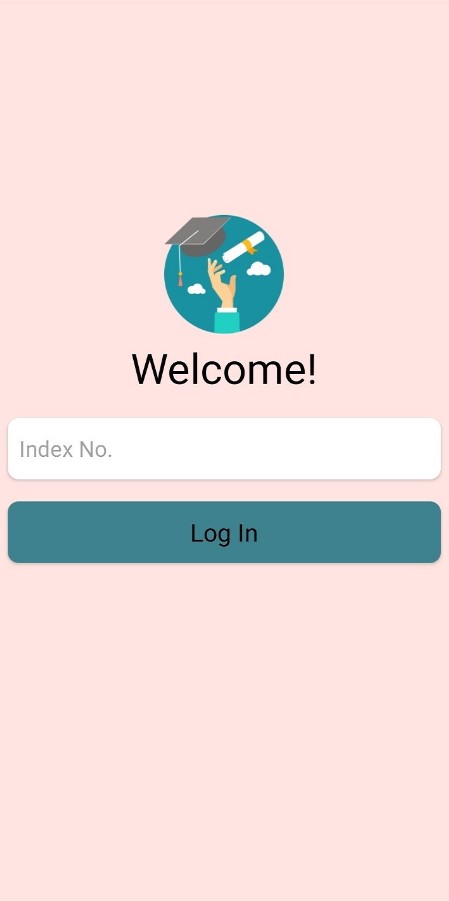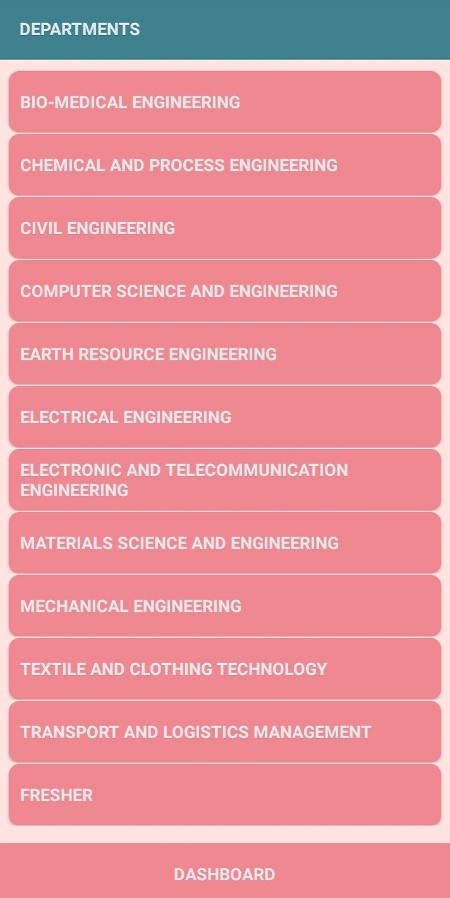 It seems that there is nothing difficult about just calculating the average score of your graduation grades. But because of the different evaluation systems, you can simply get confused when converting, and you can also miss any subject or difficulty factor.
Applications to the university are only submitted once, so you should prepare well in advance. Each institution sets its own requirements for GPA students, so it is better to calculate your grades in advance.
You should include real grades since professionals will still double-check your grades on admission. We hope that our article has been useful to you and that you will now be able to easily apply to the universities of your choice.