Every person is curious to try on different images. How will I look in old age? And if I change my gender? We offer you to try funny gender swap apps from our top list:
FaceApp
FaceApp is a photo editing application that allows you to apply a large number of interesting effects. You can see how you will look in old age, or if you were much younger, or if you had an incredibly bright smile! You can also check how you would look if you were of the opposite sex.
Using FaceApp is very easy; take a selfie and click on any of the buttons at the bottom of your screen. The most interesting thing is that the results are not just realistic, but also they are immediately visible, unlike other similar applications, where the use of a filter takes some time.
The secret lies in the fact that, as stated by the developers, when modifying images an artificial intelligence system is used. It analyzes the photo and skillfully imposes the chosen effects on it.
FaceApp is a very funny photo-editing application that allows you to make changes to your pictures and you end up with funny results that can be shared through social networking apps installed on your smartphone.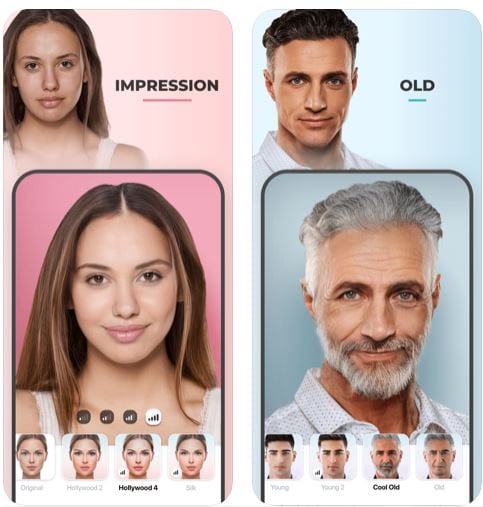 You can also check: 13 Best Baby Face Generator Apps & Websites
Snapchat
An unusual filter appeared on Snapchat, allowing you to literally look like the opposite sex. In social networks, there is excitement, people post "male" and "female" copies of themselves.
One changes a woman's face to a man's face with stubble, and the second, on the contrary, makes men more feminine. The filter for the change of sex immediately became mega popular.
Therefore, carefully examine the photos of attractive people on Instagram and similar social networks!
Find the icons on the bottom right of the "Make a photo" button and choose a mask. You only need a pair of masks, one with bristles and the other with eyelashes. Point the camera at the frames for the face and shoot. Now you can share the photo with friends. You can also change the camera and take a picture of a celebrity.
The filter works only in live mode – you cannot add a photo from the gallery, but with the help of the back camera you can shoot the face from the photo and transform anyone you want, which caused a whole wave of jokes.
In addition, there are many jokes for the sake of creating alternative profiles in Tinder. Therefore, from this day schedule dates more carefully.




You may like our fresh article on this topic: Best Gender Swap Apps
Face Story: Age & Gender Swap
It's a lot of fun to make virtual manipulation with your face and see what you would look like "what if". The only thing is that those apps often are too specific and include only one function – either the face north, gender swap, etc. Here you can find all those features in just one place.
Just upload your photo to the app and choose the option of the action towards it. For the gender swap, just select this category. Face Story will turn a boy into a girl, a girl into a boy, and, being honest, it does that quite good – at least on your edited picture you are not going to look like a humanoid with blurry features.
All the process happens pretty fast so you and your friends won't have to wait for long minutes until you lose all interest before the gender swap works. The only thing is that in order to open all the features of the app you will need to get a paid subscription.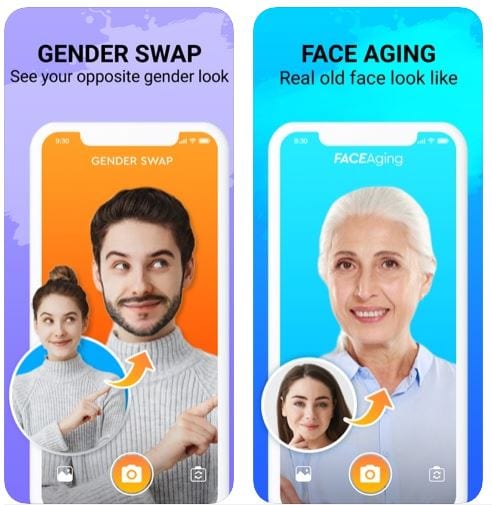 FaceTrix
This is a not-so-popular, but still a decent app for photo editing – when you want to do the gender swap on the pictures. What you need to do is to upload a picture of two persons to the app of different gender and then the app will do the swap.
Or, you can upload a single photo and in this case, FaceTrix will also be able to do the gender swap but it will present to you the version of yourself of the opposite gender.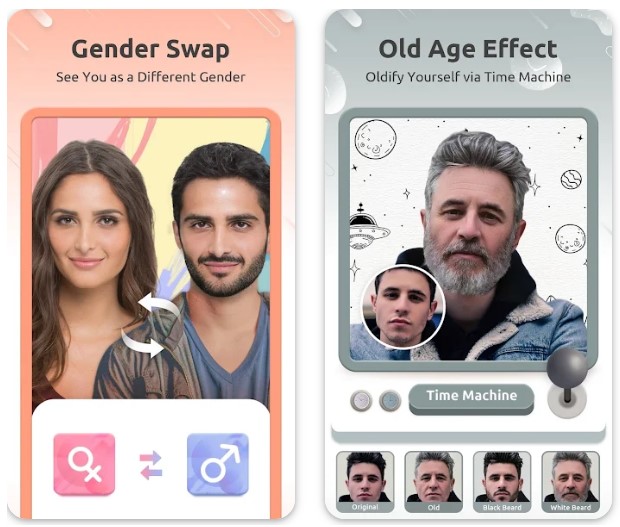 You may also like: 9 Free Silly Face Apps for Android & iOS
Face Swap Booth – Face Changer
Face Swap Booth – Face Changer is an extremely popular face swap application. This application is available for Android and iPhone users. It doesn't represent a specialized program for changing the sex in a photo, but still using its functionality it can be done.
So, for example, you can mix one person's eyes with another person's mouth on any photo, or perhaps give a beard to yourself… The possibilities are endless. You can also face swaps live with your friend in real-time. It's very funny to see yourself as a friend of the opposite sex.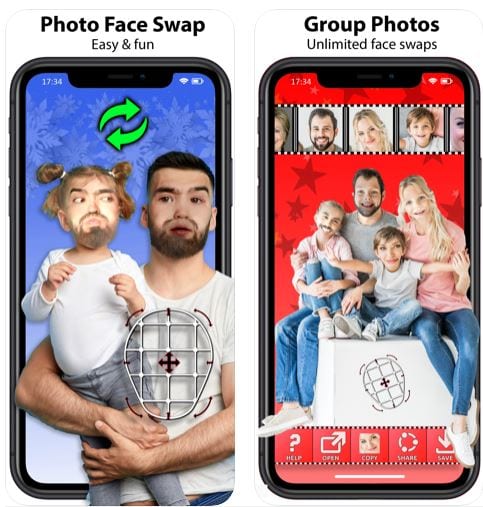 Instagram
It is quite a cheesy-peezy choice, but everyone probably knows that there are tons of masks on Instagram and this platform is one of the first ones that is getting updated in this field.
There are dozens of masks allowing you to swap the gender – you just need to go to the stories section, click on the masks in the lower part of the screen, and then go to the search. In the search bar, you can type in the name of a mask's developer or just the name of the mask that you want to find.
In case when you are looking for a gender swap mask, you can simply type this phrase and the app will find something for you. In order to apply the effect on yourself and record the video hold the big white button in the lower part of the screen.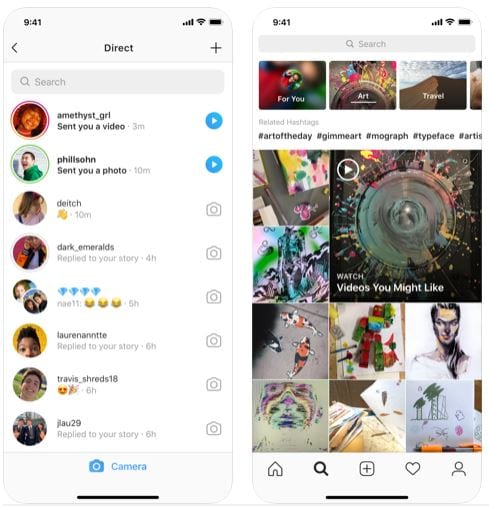 TikTok
Another quite obvious choice for gender-swiping masks, but you know what, Tik Tok is really good as well. In fact, gender swiping maks is one of the most popular in this app. The only thing, it allows you only to switch the gender from female to male one.
Tik Tok is super fun to use. You can apply the masks on your face (visually) and then film videos to the music of your choice. If you decide to post it, the app will be promoting it automatically.
There are hundreds of other different masks that you can try as well. You just need to go to the filming section, then choose "masks" and the section with all the filters will pop up on the screen.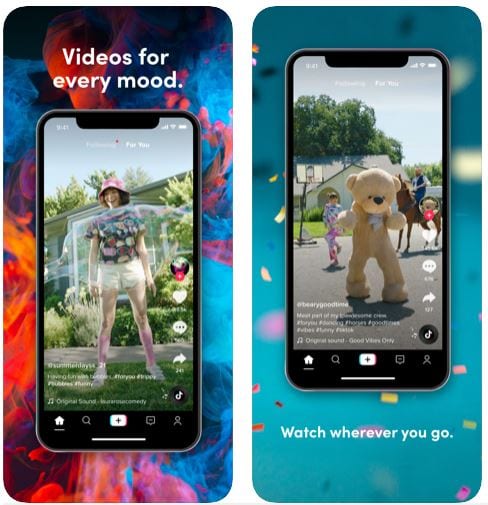 Install, experiment, and do not forget to share the results of your experiments with us!
Face Lab
Face Lab is a face editing app (in photos) that will help you have fun or make your photos even better.
This photo editor has a wide range of possibilities – you can rejuvenate or, conversely, age yourself, decorate your photo with beautiful filters or remove imperfections from the skin.
Face Lab offers you a large palette of filters and ways to make you and your photos more attractive.
Interesting features of the Face Lab app:
Face changing effects. The app has a large range of functions for changing your face – you can change your age in the photo (make it older or younger), you can change your gender
Face filters. This category includes hairstyle modification functions – you can experiment with your hair (change your hairstyle, hair length or color), you can add a beard or experiment with makeup (a very useful function for girls, now if you want to make a beautiful selfie for social networks, you don't have to spend time on makeup)
Face editing. This category includes functions with which you can get rid of skin imperfections: remove pimples and redness, smooth out wrinkles, even out skin tone or add a tan.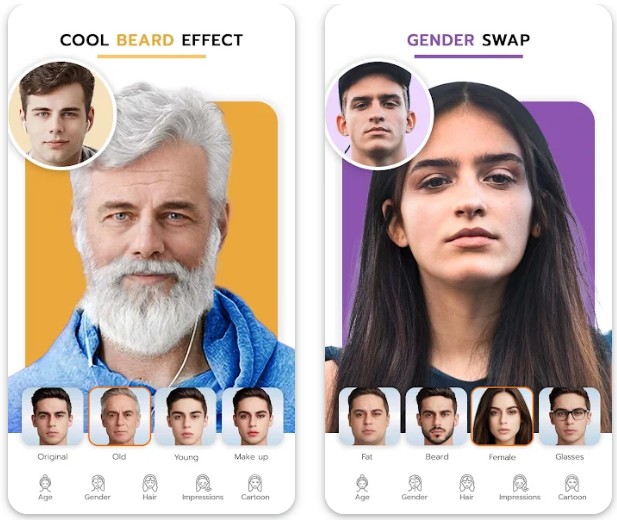 FaceJoy
FaceJoy is a unique face editor where you can swap faces with a celebrity, change your gender in a photo or even animate an image!
FaceJoy is a photo editor that works on the basis of artificial intelligence. With its help, the app is able to make you a celebrity (change your face with your idol), change your image (add makeup or change your hairstyle), change your gender or revive your photo!
FaceJoy Photo Editor Features:
Change of persons. Artificial intelligence in the app is able to swap your face with the face of your friend or famous person in places. Have you ever dreamed of feeling like Angelina Jolie or Leonardo DiCaprio? Now you have such an opportunity.
To use this feature, you need to upload your photo to the app and upload a photo of the person with whom you want to swap faces (or you can choose from the gallery of faces)
Sex change. Are you interested to see what they would look like if they were born a person with a different gender? The FaceJoy app can satisfy your interest! It is enough to upload your photo to the app.
Face editing. With this feature, you can change your image beyond recognition! Experiment with your hair (you can change the shape of your hair, hairstyle, length or color), try on different makeup options.
Animate the image. Do you want to breathe life into a photo and make it move? Easy! Just upload your photo or another person's photo to the app and this image will move as in the video.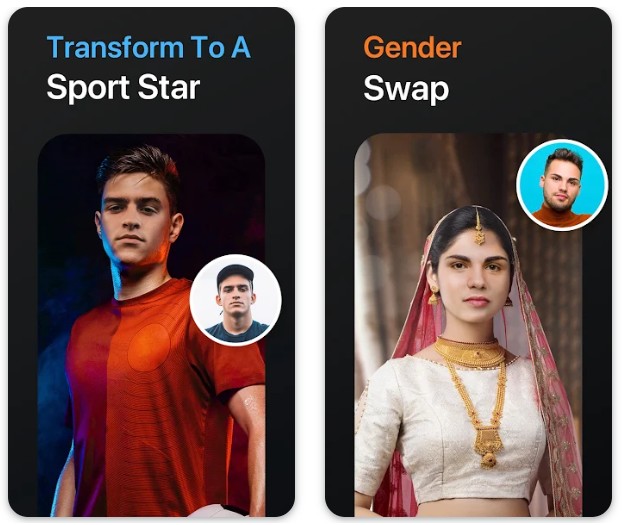 Gender Bender
Gender Bender is an app in which you can become a different person! Have you always wondered what you would look like if you were born a person with a different gender? Now you can find out.
The Gender Bender app can make you a completely different person! Well, actually we're joking, relax. This mobile add-on is able to change your gender in the photo.
The main parameters of your face will be preserved, but they will be slightly distorted, adjusting to the parameters of the opposite sex.
How to change your gender in the Gender Bender app:
Download the photo editor and open it
You will immediately find yourself in the main menu. There are three windows here – a built-in camera (you can upload a photo for changing the gender from your gallery or take a photo directly in the app), a gallery (processed photos will be stored here) and a third window – social networks where you can share your result
To change the gender, upload a photo to the app. Next, specify your gender. After that, the application will start processing the photo. Ready! You can share the result on social networks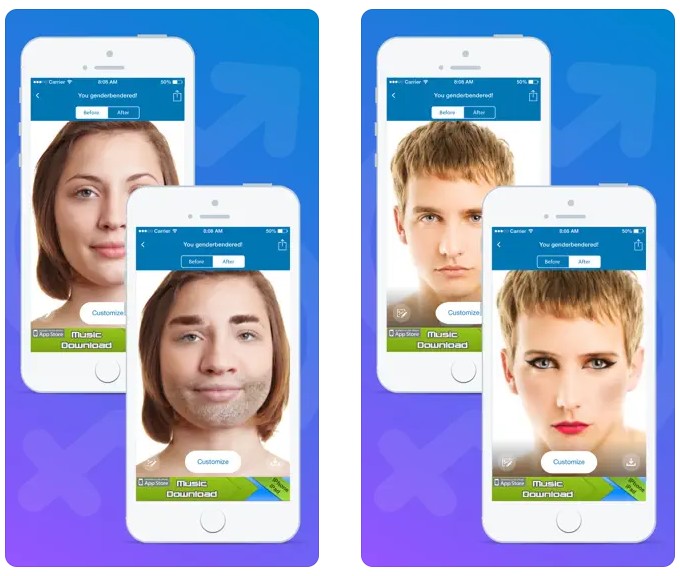 You can also check: 11 Best scary face changing apps for Android & iOS
Gender Swap Face Changer
Gender Swap Face Changer is a photo editor that gives you the opportunity to change your gender in a photo and feel like a different person for a moment. The app allows you to change your gender to the opposite and adjust the photo to your taste.
How to change gender in the Gender Swap Face Changer app:
Download the app and open it
Upload a photo to the photo editor that clearly shows your face.
Select the next item "change gender from female to male" or "change gender from male to female". After that, the app will start processing the photo.
Done! After changing the gender, you can also experiment with makeup or hairstyles.