If you tend to work from home, you would like to always keep in touch with your colleagues. However, it is too hard to communicate by email or call them every time you need something.
By the way, if you are interested in chatting outside work, you need to look at 17 Best Instant Messaging Apps.
In this case, workplace chats might come in handy. Here we collected the best options both for iOS and Android users.
Slack
When it comes to communication and work, Slack is always a good option. Its strongest point is that the app is universal. You can use Slack to share your thoughts and ideas, send fun pictures, or just say hi at the beginning of the day.
The interface might seem a bit too detailed, but there are some instructions. They will help you to understand how Slack works.
Let's see what you can do with the help of Slack:
Communication with no limits. You can do whatever you want in Slack – send pictures and videos, add attachments, and comment on other people's answers.
A developed system of permissions and roles. If you have a big team, and many members need to have various permissions, this is a good option. For instance, you can give maximum permissions for developers and less for testers.
Slack can integrate with over 2000 other apps. You can import things directly to Jira, Outlook, Google Drive, Zoom, or another place.
It is super simple to start. To set up a space for your team, you will need about an hour or even less.
If your team is small, you won't need to pay at all. However, if you need more advanced tools for a bigger company, you have to go pro.
You can use Slack whenever and wherever you want. You can open Slack directly from the browser, use a desktop or a mobile application.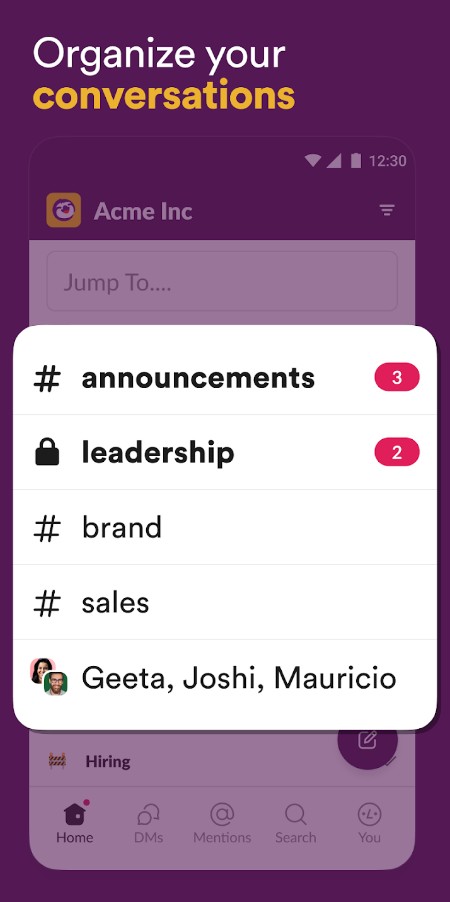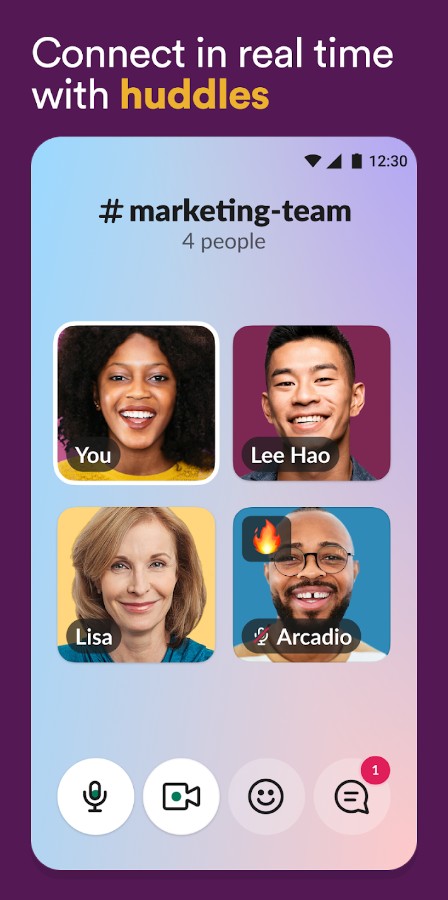 You may also like: 9 Free Team Management Apps (Android & iOS)
Twist: Team Messaging
This is an async messenger for teams. It is a perfect option for small and medium-sized communities.
Even though the app isn't full of functions, it contains all the features typical for chats. Let's review them all:
Create a thread

devoted to each topic. All the messages will be under this topic. This helps you to keep various themes separate.

Invite your team members

into the space. They will see all the messages and be able to respond to them.

Make open channels

. If you need to inform people about the news, this is a great opportunity.

Use notifications

. Sometimes, you want to keep in touch with your colleagues. In this case, make sure you turn notifications on. There are advanced settings to make the option better for you.

The app

can be integrated with Slack

, enabling you to import all the chats. This is truly impressive – you can relocate your team's conversations in a few minutes.
The app supports multiple languages, including French, Spanish, Russian, and many others.
You will need less than 200 MB of memory to get the app and use it effectively.
At the moment, Twist is available on the App Store and Google Play at no cost.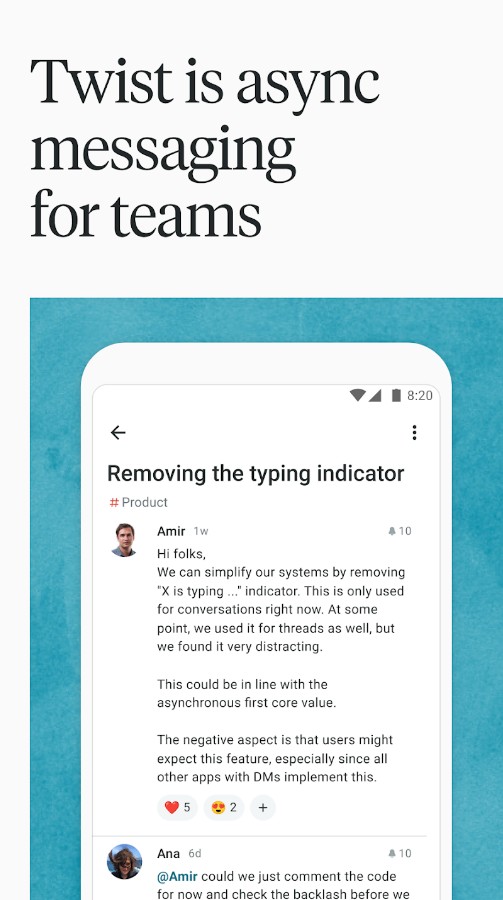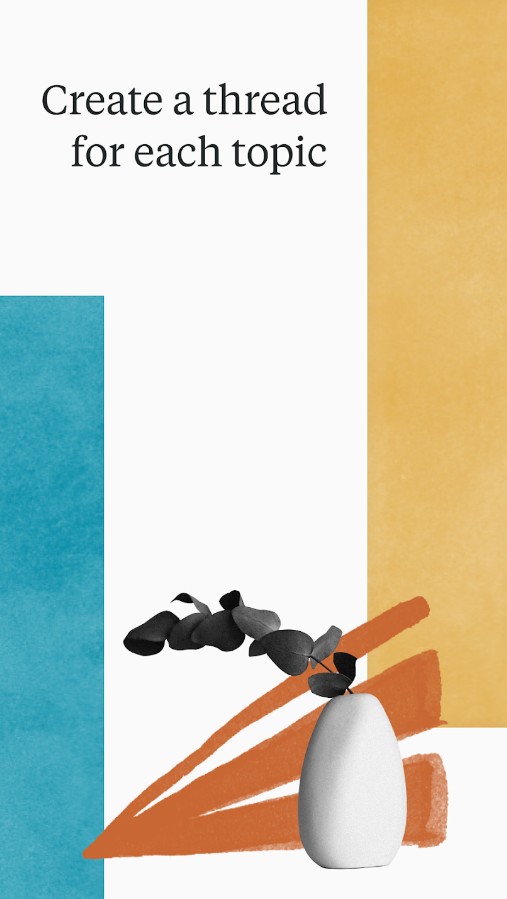 ClickUp – Manage Teams & Tasks
Do you need to manage your team, create plans, monitor the process, and chat at the same time? Then you need ClickUp. It contains powerful options for team building and communication at work.
The UI is also pretty simple and minimalist. It helps you to concentrate on the tasks and chats. Let's take a closer look at the functions provided by ClickUp:
Create tasks for your team and chat with them. This is an instant way of communication. You can do everything on the go – the only thing you need is the app and connection to the Internet.
Create threads and communicate. This is a great way of discussing various topics and just chatting.
Search for any message. Sometimes you remember that your colleague wrote something to you, and now you need to read it once again. Just use the search option! It will find you what you need even if the message was sent long ago.
Check the progress. If you create a list of tasks your team has to do, and they mark the tasks that were already done, you will see the indicator. It will allow you to visualize the progress.
The instrument is truly impressive – this is why over 800 thousand various teams tend to use it, and this number is growing all the time.
You can get ClickUp for your iOS and Android device at no cost.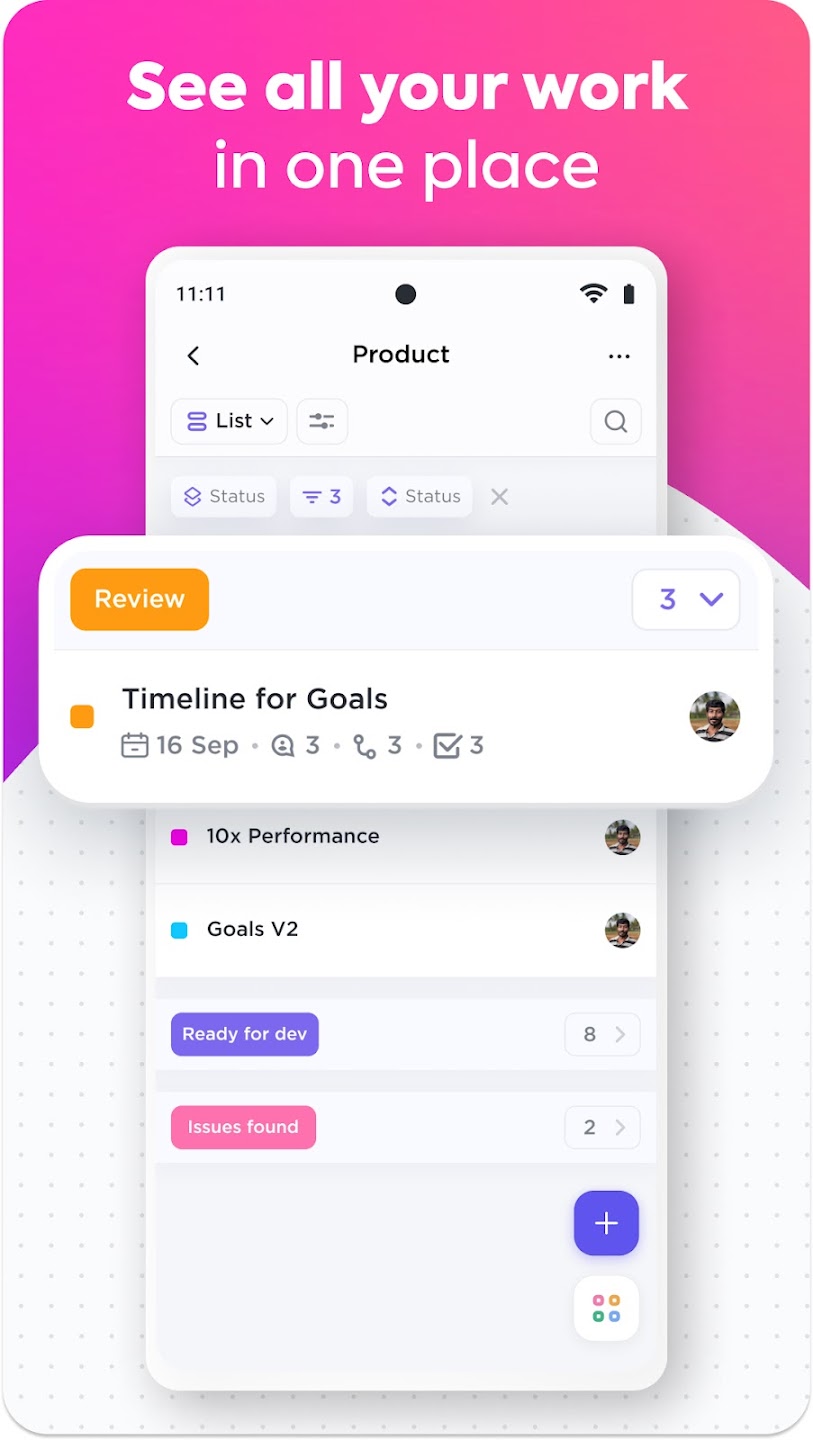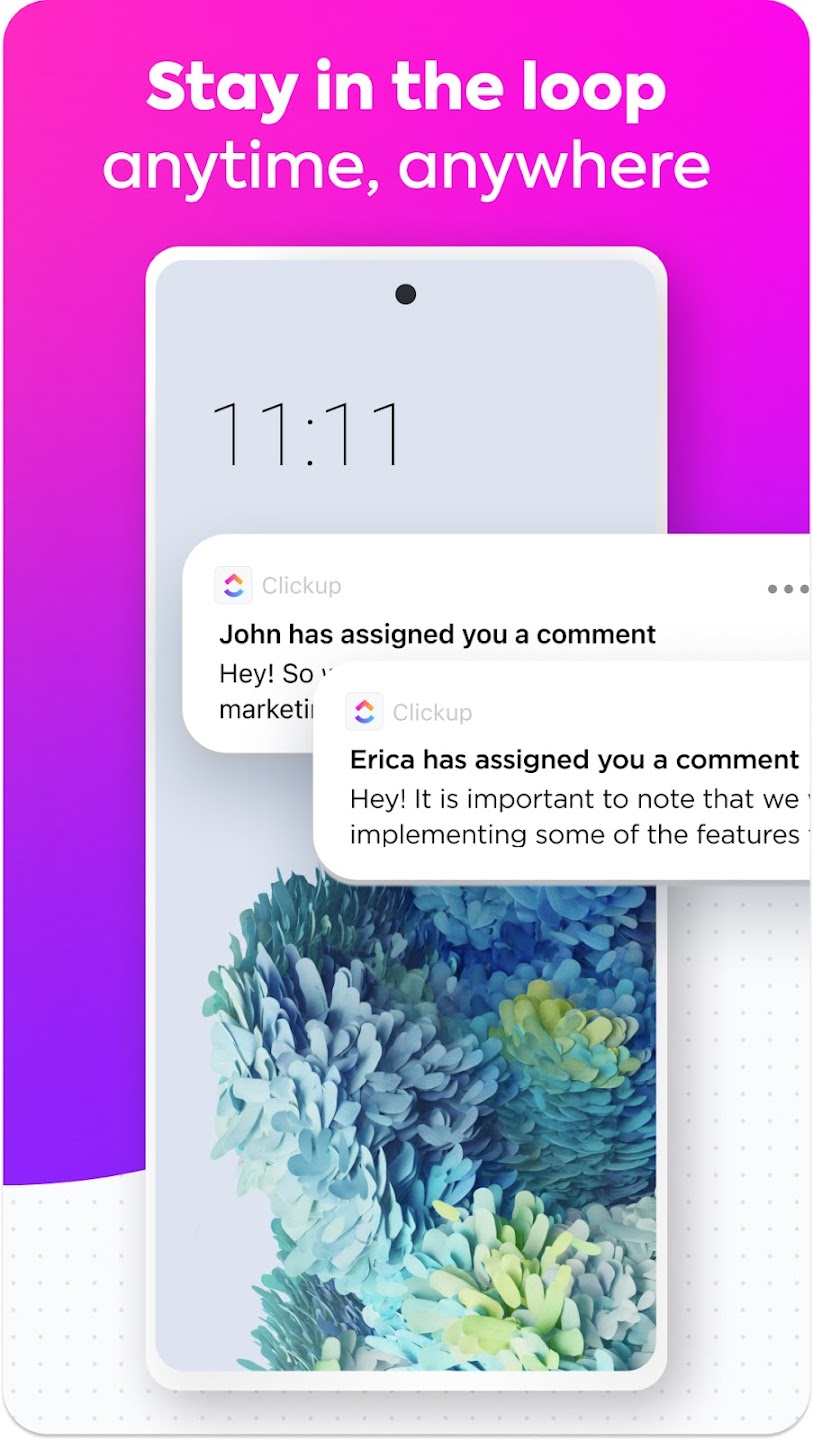 Google Chat
If you don't want to download a universal and powerful tool, and just need a good and simple chat, this one is a good solution for you.
It contains all the options you might need for talking to your colleagues. Let's see what you can do:
Write messages directly

. If you want to discuss something privately, you can always communicate directly. In this case, nobody will see the chat.

Create chat rooms

. You can add as many people as you want to your room. The only condition is to have a Google account.

Integrate with any other Google tool, such as Gmail or Google Drive. You don't need to deal with complicated settings, everything will be performed automatically.
Use search. It might be too hard to scroll the chat back and forth. This is why just use a search and find what you need in a few seconds.
As you see, Google Chat is a great tool for communication with your colleagues. It is simple and fast.
Google will take care of your data and won't give it to a third party, however, it will collect data for itself.
At the moment, you can download the application on the App Store, as well as Google Play.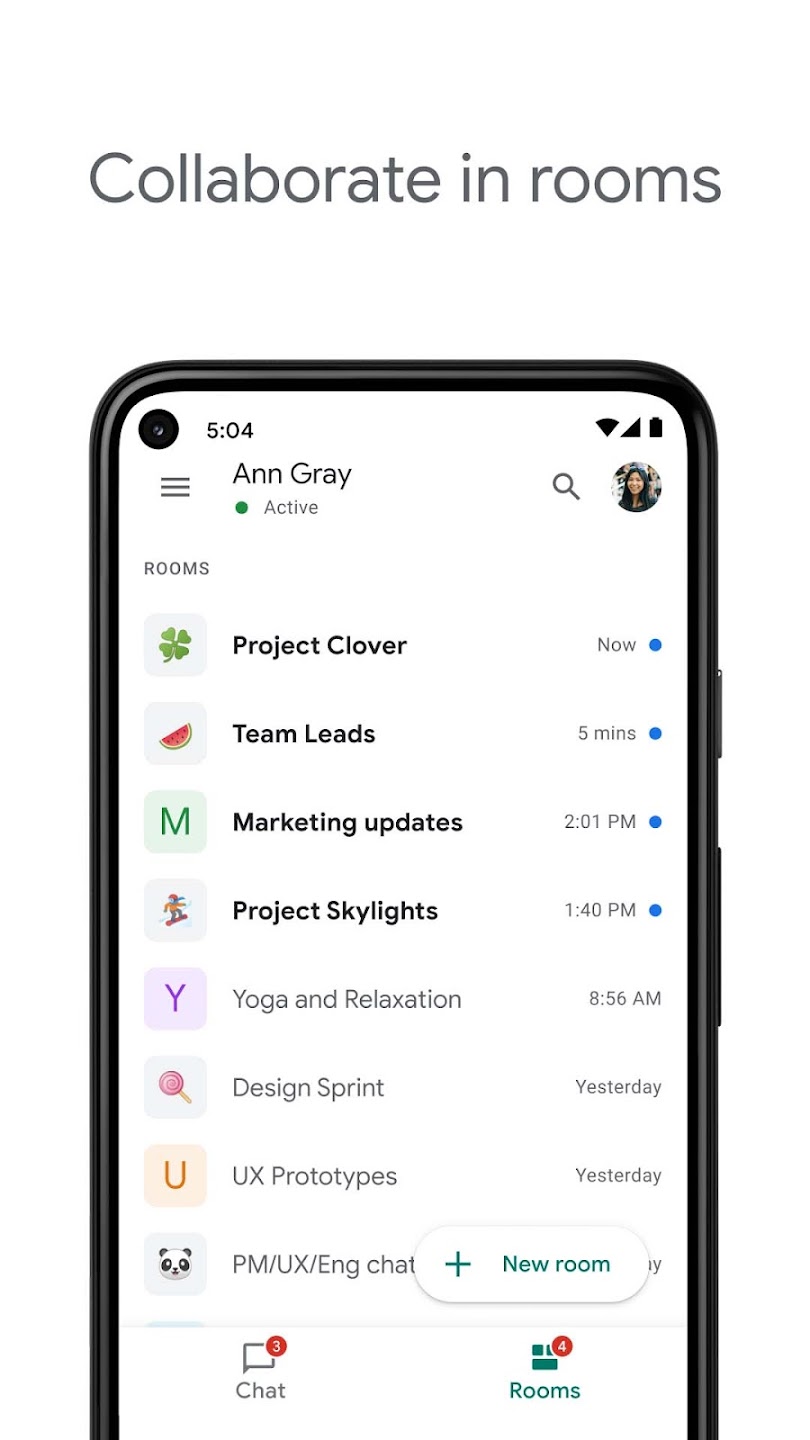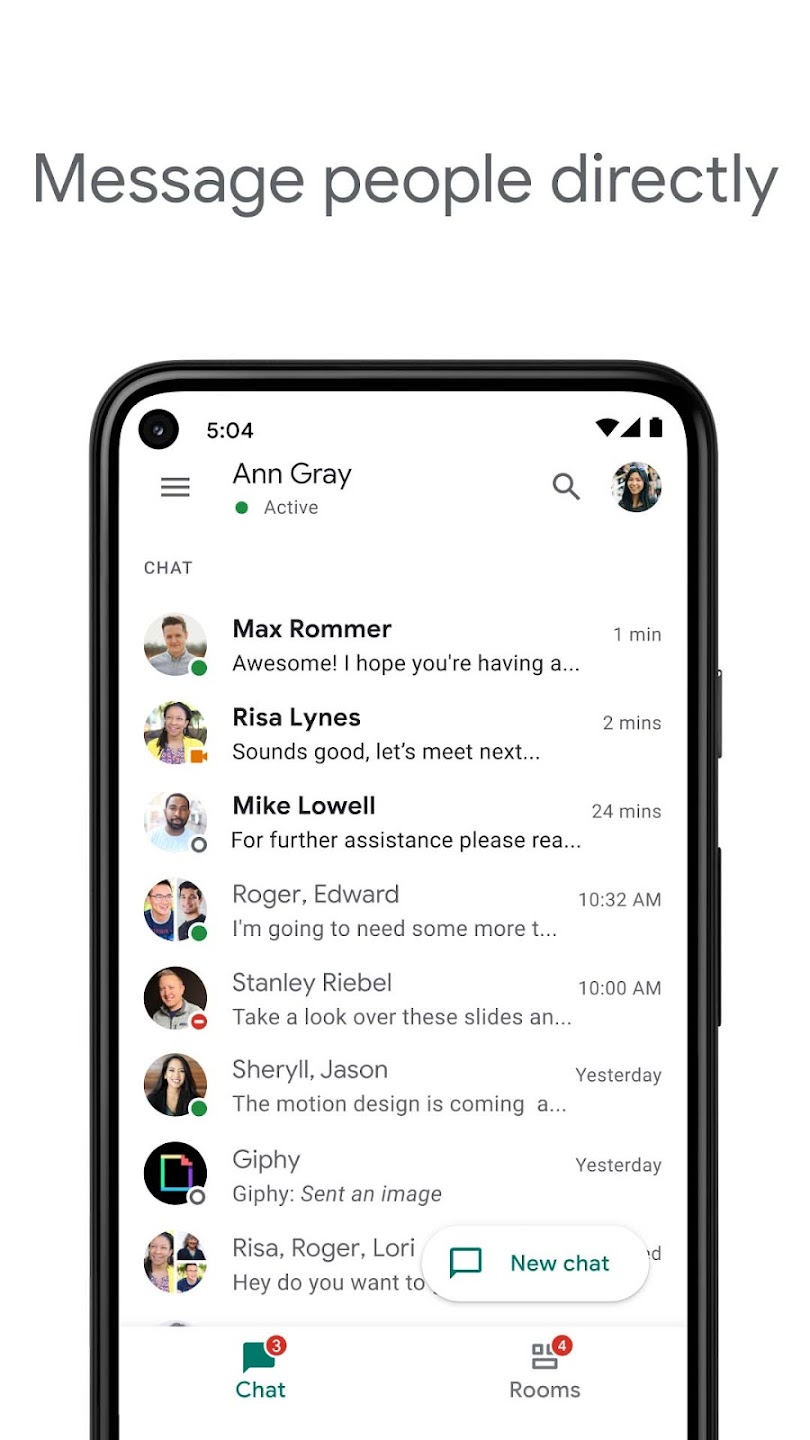 Chanty – Team Collaboration
Here is another application to chat with your colleagues at work. It is easy, fast, and universal.
Chanty is a messenger only. Let's see what you can do with the help of Chanty:
Keep all the chats and communications in one place

. You probably know how hard it is to keep your messages in email, various apps, and sites. Now you don't have to switch between multiple messengers.

Create tasks and assign them to members. This will help you to control the process.
Use search to find what you need in your chats. You can browse through unlimited history. The search works pretty fast, even if the message was written long ago.
Make audio and video calls. Sometimes you would like to communicate faster. In this case, it is better to make a call. It's much faster than writing messages.
Chanty is a good option for any team, regardless of its size. Download it now on your iOS and Android device.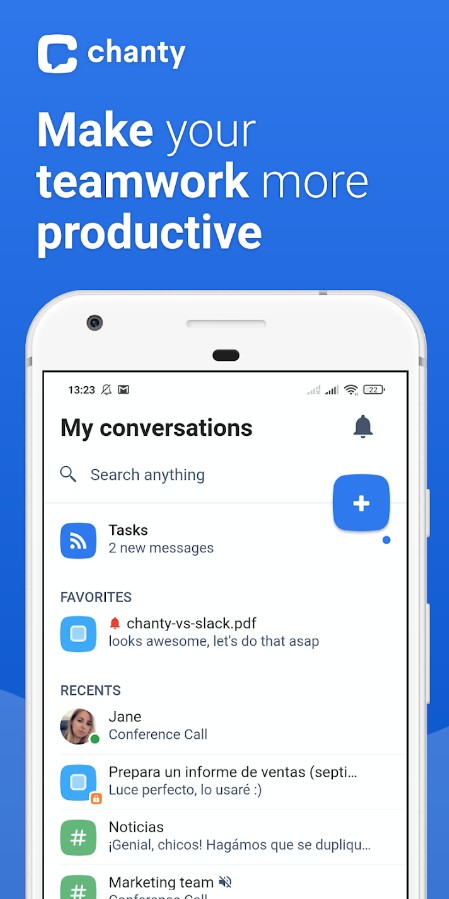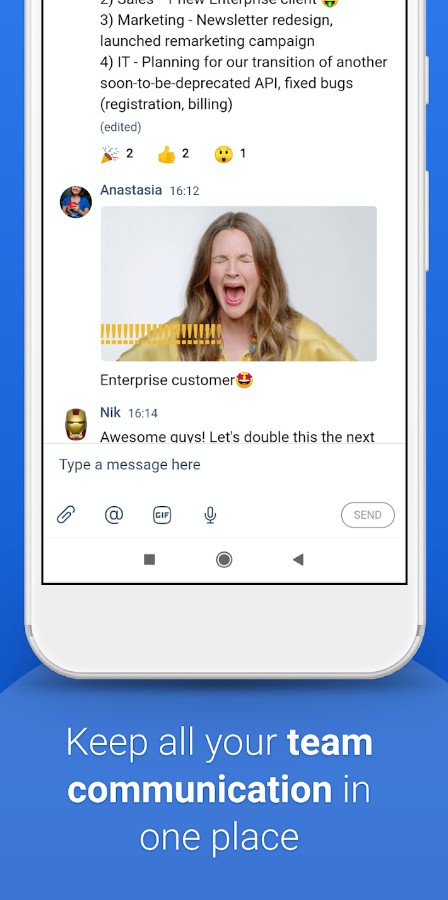 Flock: Team Communication App
It's time to make your communication faster and more effective! With Flock, it won't be a hard task.
It contains hundreds of features, including chatting. However, let's review all the best options provided by Flock:
Group messaging. If you need to discuss important issues together, this is a brilliant option for you. Create a group and add all the members there.
1-on-1 talks. Some problems have to be solved privately. Let private conversations assist you with that.
Hundreds of built-in options to boost your time-management and work results. Try reminders not to forget about crucial issues and meetings.
Integrate with other applications. You can import your tasks from Trello or Jira, download files from Google Drive, get projects from GitHub. It will save you time and energy.
Call your colleagues. Audio and video calls are supported. You can also share your screen as well so that your team members can understand you better.
Flock will need about 100 MB to operate well. It isn't a lot for such an app full of cool functions.
You can download Flock on the App Store or Google play for free.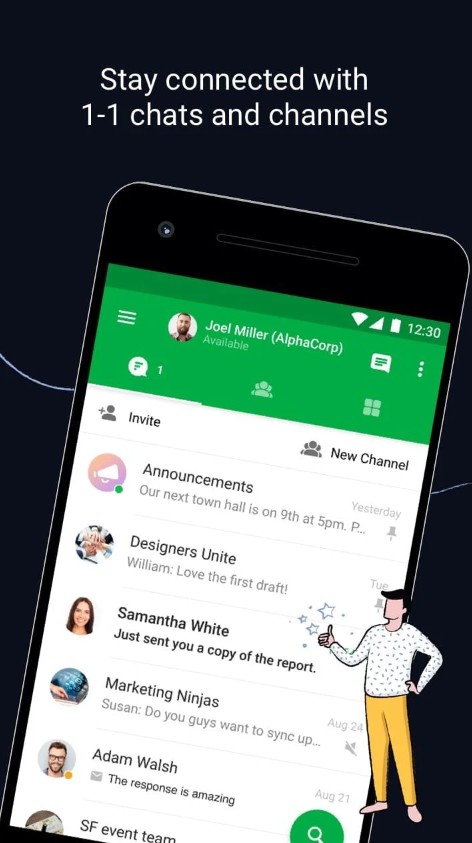 You may also like: 11 Best AI Chat Bot Apps.
Microsoft Teams
Here comes another great application by Microsoft Corporation. We can't say it is made for chatting, but it also contains such a function.
Users love Teams for its simple UI. You don't need any special instructions to get started.
Here are the best options you will explore in Microsoft Teams:
Create groups

. You can make a separate chat for your teams and communicate with them in one place.

Talk to your colleagues privately.

You can write messages directly. This is the best way of solving problems without extra people.

Make video calls

. Sometimes writing messages isn't enough. In this case, just call one person or a group of people.

Open the calendar

and mark the most important events there. You can plan your team's weekly routine effectively.
The application will collect some data about you, including your location, purchases, contacts, and some other details.
Microsoft Teams is pretty big, you will need over 200 MB to install it.
The app is available on the App Store, as well as Google Play for free.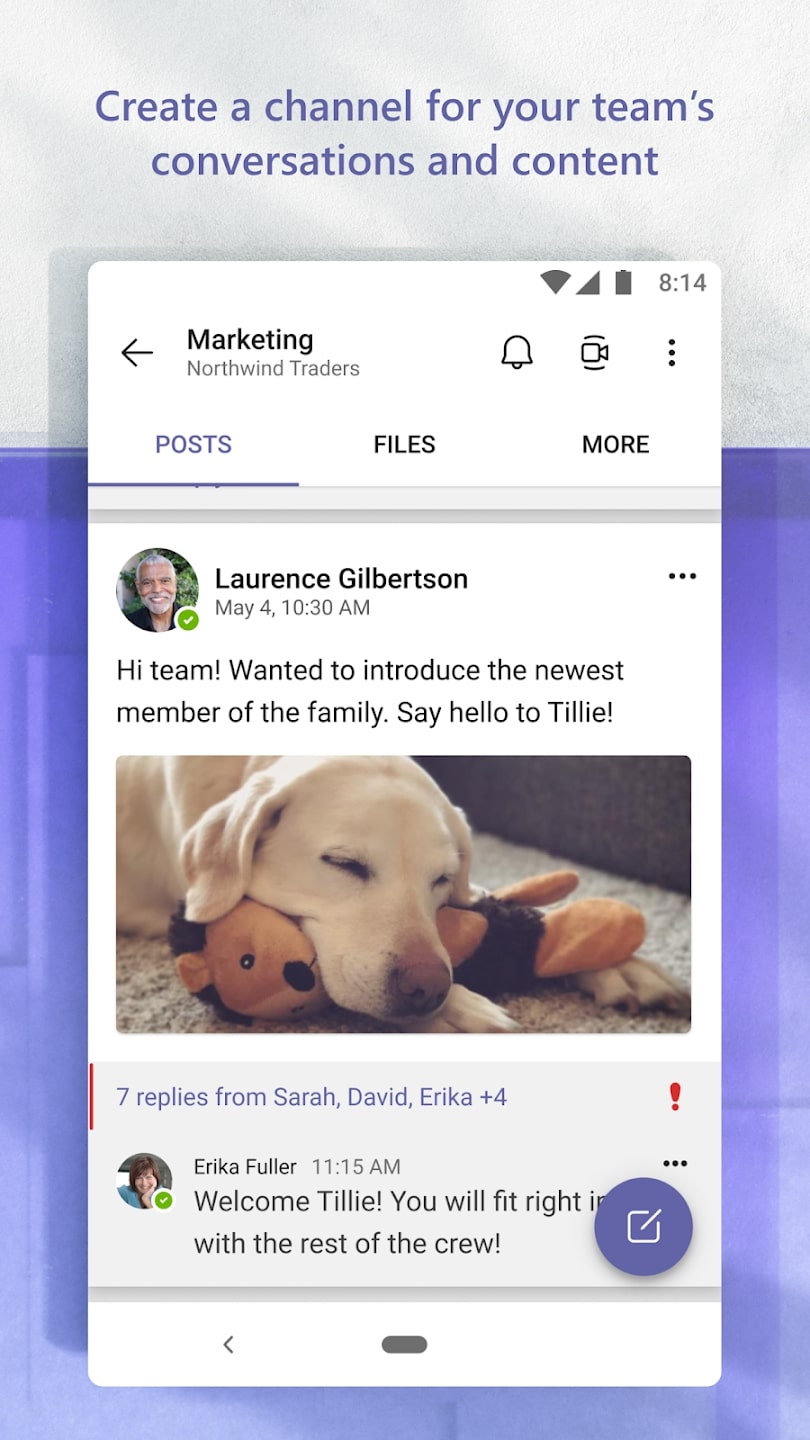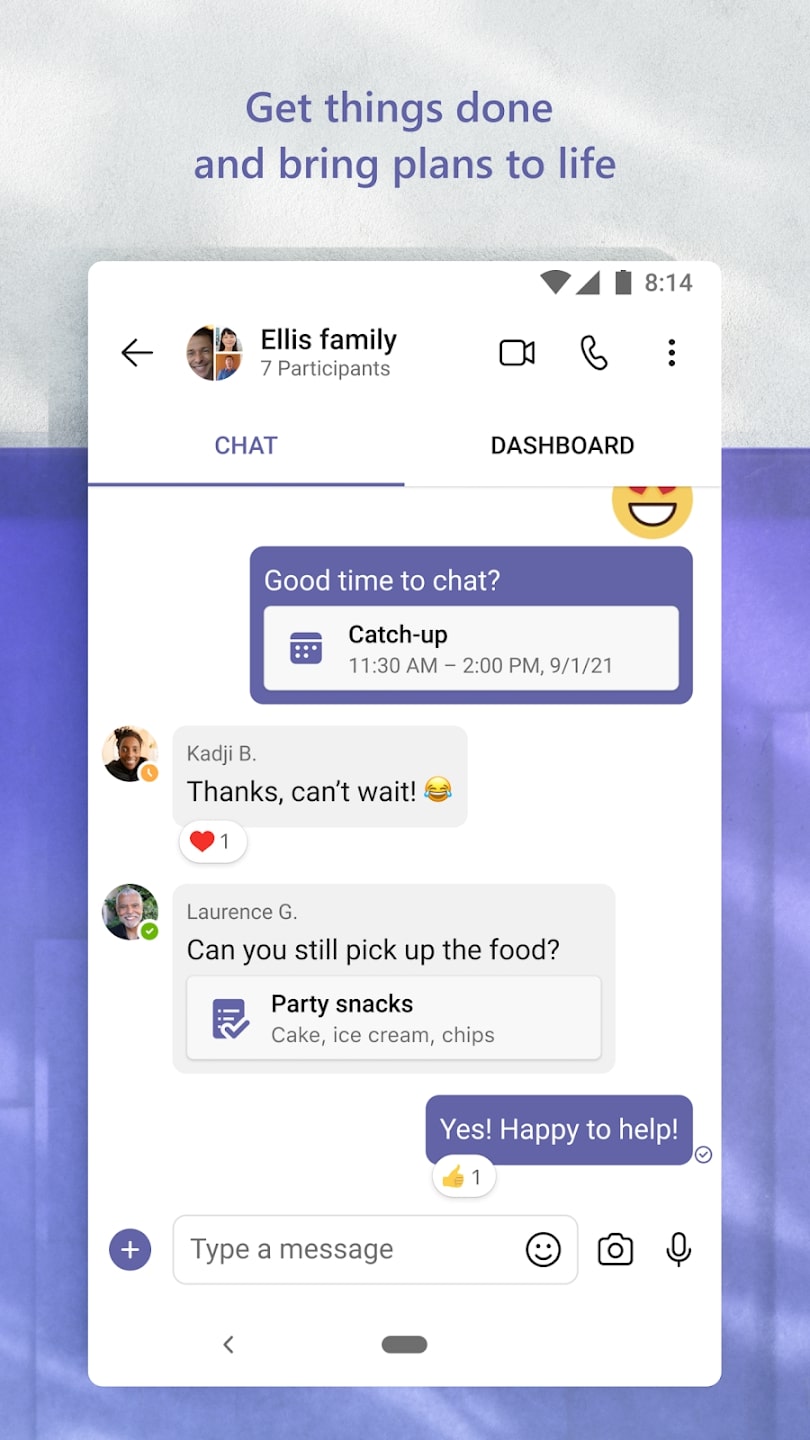 Wire • Secure Messenger
If your team focuses on security, then you need to go for Wire. Even though it is less simple that most of the apps listed here, its security is much better.
The UI is also far from ideal. But if you get used to it, the design won't be a big problem. Now we can concentrate on the options you will see in Wire:
Enjoy an end-to-end encryption. It will ensure that nobody will see what you write in chats. This is a great option if you tend to discuss confidential data.
Share files at the click of a button. You can easily send photos, videos, audio messages, files, and other things.
Call people. You can use Wire just like a calling application. Share your screen, talk to people, make video calls.
Wire is free of charge. Just download it and add your colleagues.
However, there are some downsides you need to know about. First of all, you may have problems with messaging. Sometimes the message won't be sent, even though you did everything right. Secondly, sometimes a contact suddenly removes itself when you try to rename it.
Wire is available for Android, as well as iOS users. Download it and make your chats private.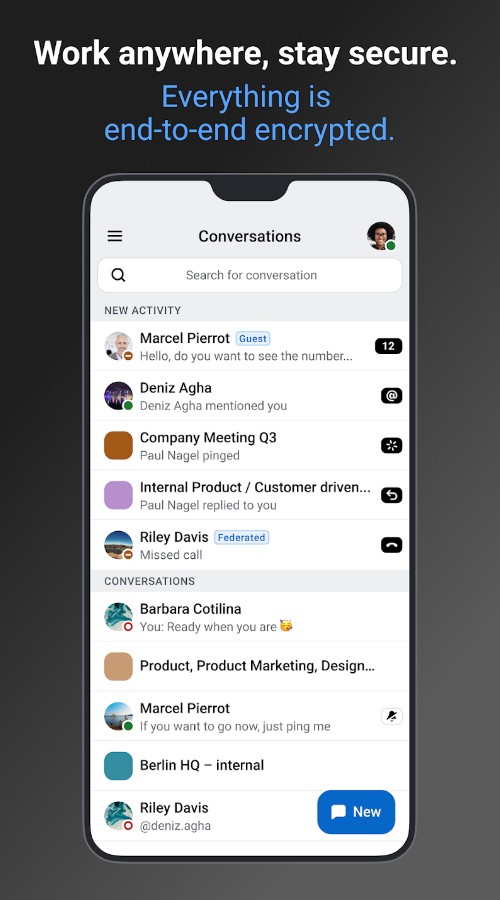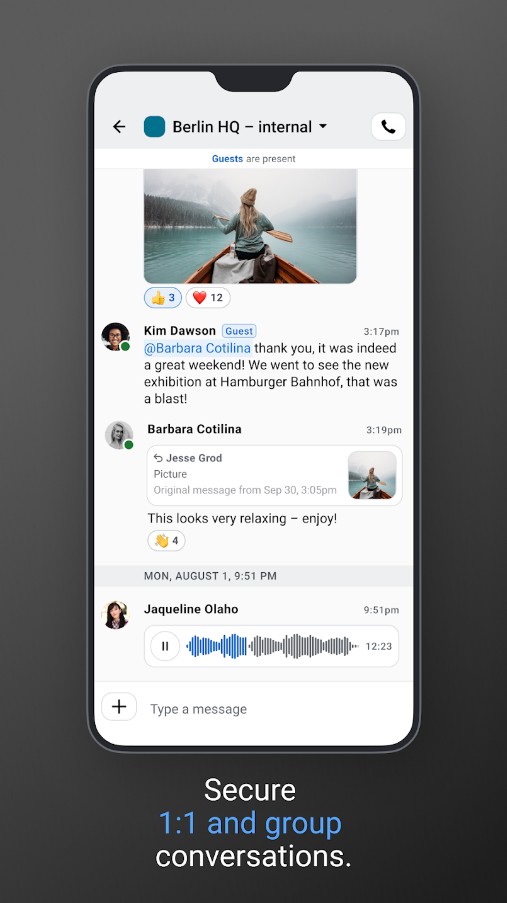 Mattermost
It's time to bring your chats and communications in one place. The app is flexible and easy to understand.
If you need the app for chatting, Mattermost is a great solution. If you need a universal tool for audio and video calls, it might be not the best option. There are some bugs.
Here are the best features you will see in Mattermost:
Plan your work. You can write all the plans right in Mattermost and monitor the progress. What's more, you can also mark the most important milestones.
Chat with people from your team and discuss your project goals. If you have many chats, you can easily organize them.
Share files connected to your project. The messages are encrypted, so the data won't be lost or given to a third party.
Turn notifications on not to miss important pieces of information.
Integrate Mattermost with other chats. If you used another messenger for a long time and you want to keep all the chats – it's fine, you can import these conversations and bring it to Mattermost.
You can get Mattermost and install it on your Android or iOS device. There is also a desktop version and a website if you don't want to download anything. The app is free.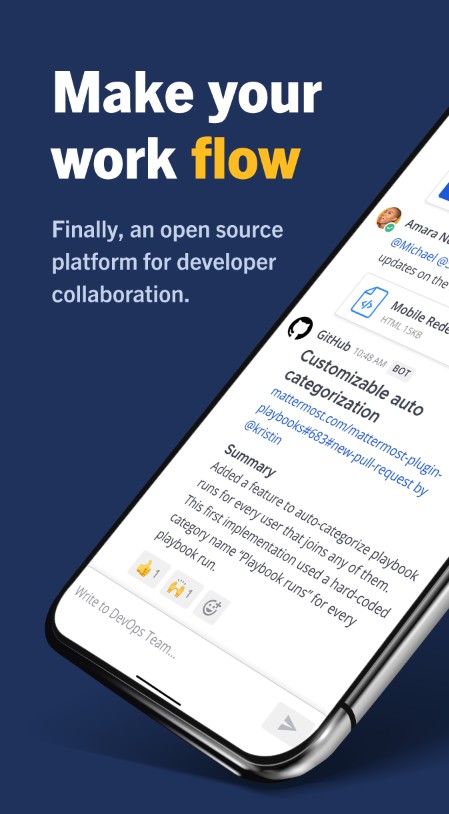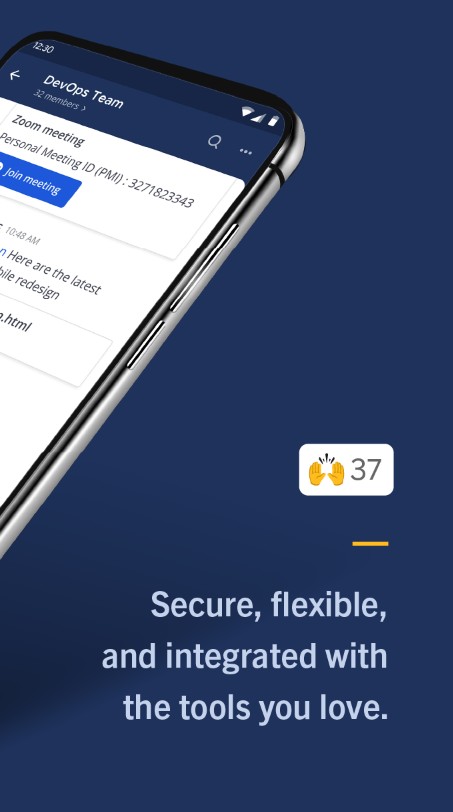 Brosix
Here comes another nice messenger for business purposes. You can use it in your team or department for instant news sharing or solving work problems online.
The main advantage of the app is its security and simplicity. If you need just a chat and nothing more, Brosix is a must.
Let's take a closer look at the options available there:
Chat with your colleagues anywhere, anytime. You can bring your conversations with you, no matter where you are.
Add contacts. If you often have to message the same person, this is a brilliant options you can't do without.
Enjoy full synchronization. If you need to have your chats on multiple devices, such as your PC and smartphone, just turn synchronization on. You have to do it once, and then the messages will appear automatically on all the devices you have.
Share files. What's more, in Brosix, you can share your geolocation as well.
The app is super small – 40 MB is enough to install it on your device, enabling you to use Brosix even on an old gadget.
There are some minor bugs, though. The UI might be confusing at times, and there are also some problems with file sharing..
The application is available on the App Store and Google Play.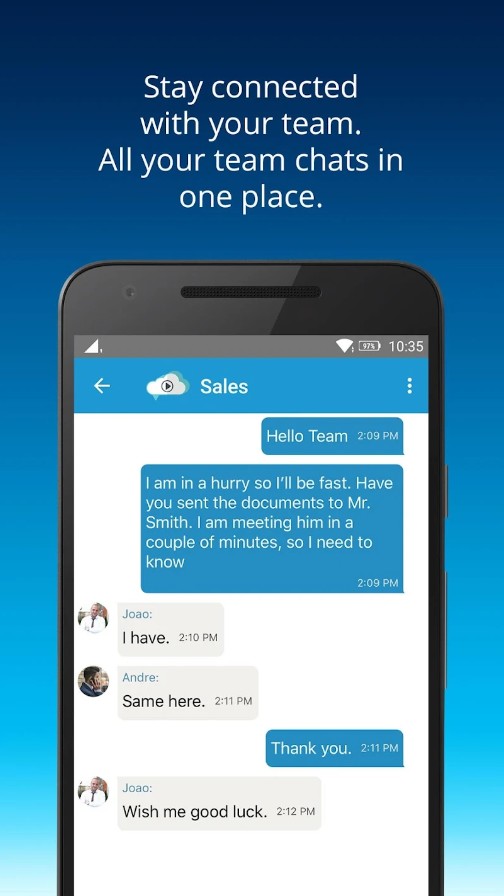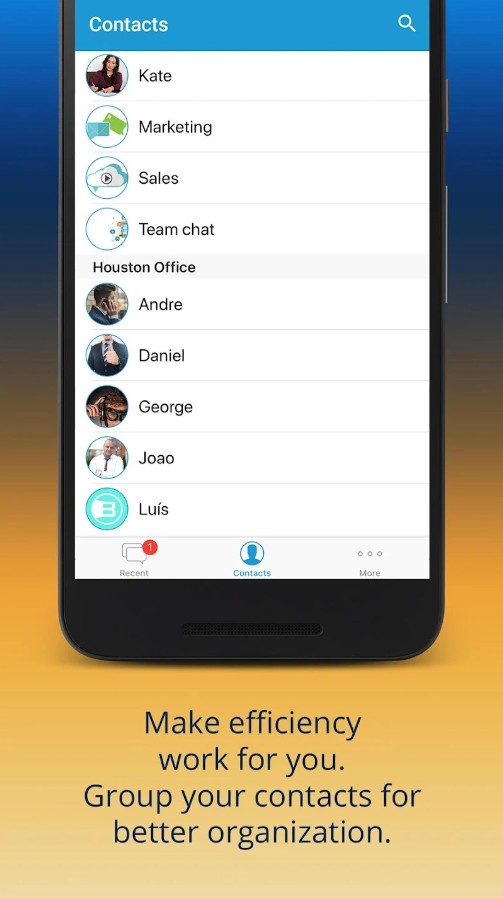 Ryver
If you want a universal team messenger, you should take a look at Ryver. It contains all the functions you might need at work, regardless of the size of your team or its purposes.
The UI is pretty intuitive, enabling you to understand the navigation and options at the first glance.
Let's focus on the best options provided by Ryver:
Create chats with your team members. You can make as many chats as you need for your project.
Make a task board. It looks a little like Kanban, enabling you to see how the whole process is going.
Create threads. It allows you to separate various topics and not get lost among them.
Turn alerts on. This helps you not to miss important messages or a crucial meeting.
Ryver has some bugs connected to refreshing chat messages. Sometimes it might be impossible to see new messages, and you have to close the app and then open it once again.
Ryver is available for iOS and Android users.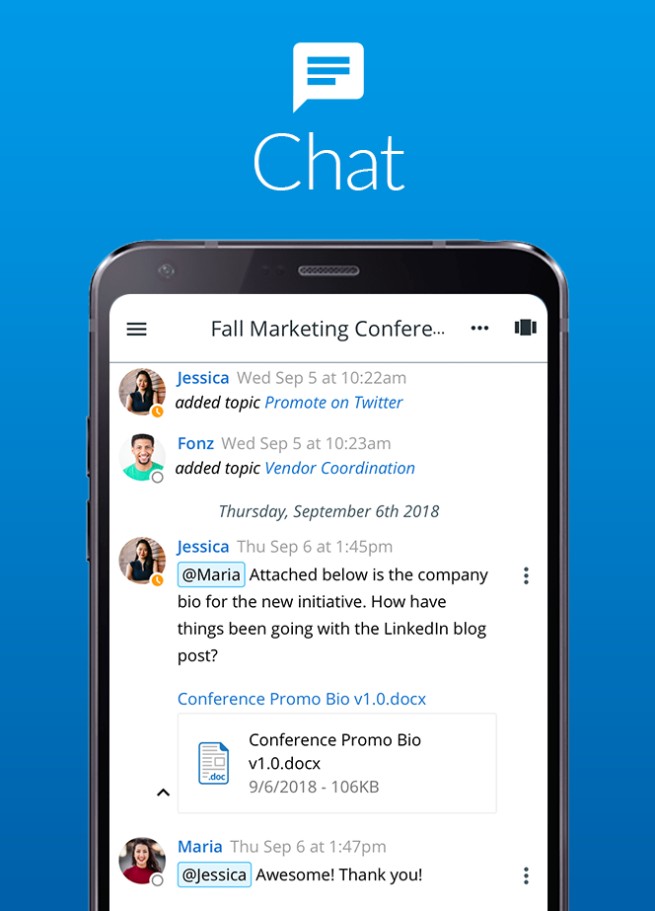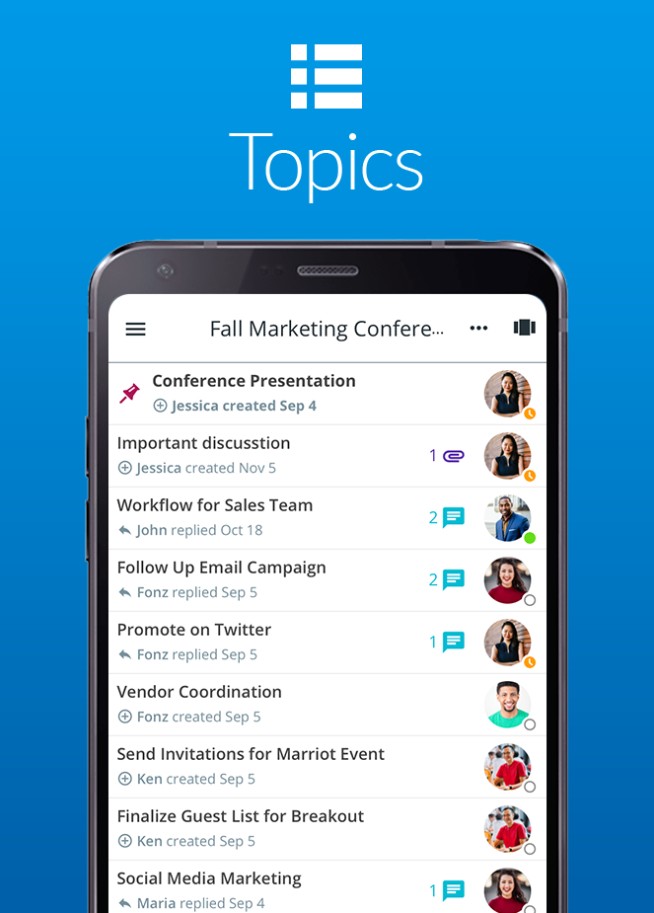 You can also check: 9 Free Team Management Apps
Workplace Chat from Meta
Workplace Chat by Meta is Facebook's attempt at a workplace chat app, so think of it like your favourite band's side project. I consider it an advantage that the app is something familiar: you can log in using your existing account.
The app itself is actually quite simple. It allows you to have conversations with colleague­s, share files and documents, and discuss work-re­lated matters. There are also options to engage in voice­ or video calls and participate in group conversations. Stickers and GIFs are available, too.
The inte­rface is designed to be user-friendly, making it accessible to everyone familiar with platforms like Facebook. The colour scheme­ is predominantly blue, creating a calming environment.
Overall, whether you're conne­cting with colleagues solely for work purposes or sharing cat videos, Workplace Chat from Meta offers a seamless platform for your communication nee­ds.