When you give a piece of jewelry to a loved one, you want it to be unique and beautiful. To do this you can use the following apps, which have many different jewelry designs, as well as the ability to create your own. Therefore, we would like to present to you free jewelry design apps.
And for all of you who like to create and design things, we can also recommend exploring our article about the best logo design apps.
Jewelry Designs
Jewelry Designs is a brand new app that is developed for browsing and inspiring designs of all kinds of jewelry. Looking at pictures of different products can help you come up with your idea or choose from the ones you already have.
Key features:
More than 25 designs of rings, bracelets, pendants, and so on.
Collected jewelry from a wide variety of countries, from Europe to India. There are both the most simple and primitive jewelry designs, as well as unusual ones.
Unbelievably easy interface.
There are traditional country designs.
No need to register or sign in to any accounts.
One big disadvantage is the looks of the app. It is designed in bright colors, which is a bit repulsive and also looks sloppy. However, as they say, everyone has his own look and taste.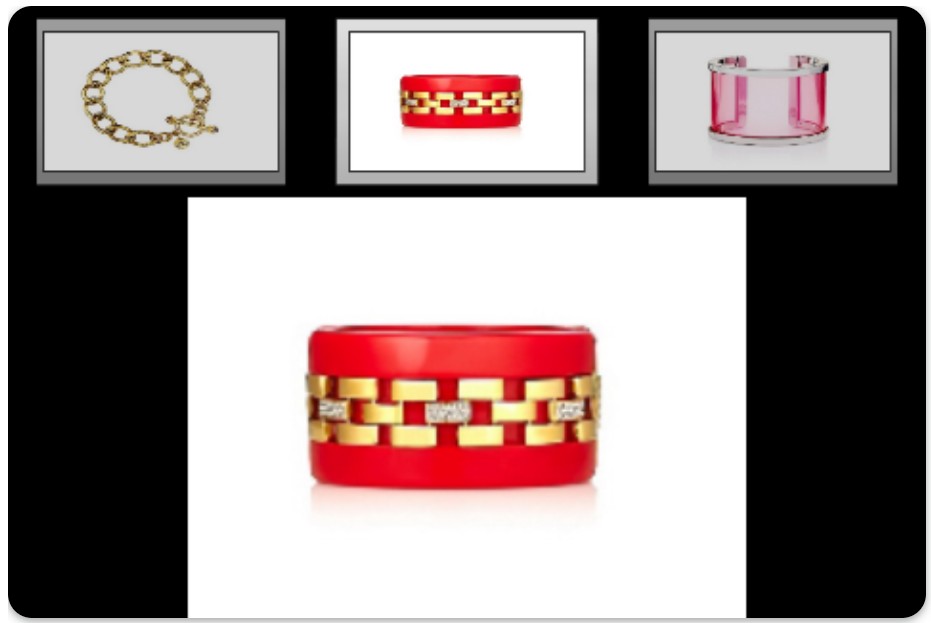 You may also like: 11 Best Wedding Makeup Salon Games for Android & iOS
Ring Sizer by Jason Withers
Ring Sizer by Jason Withers is an app designed to help you find the right ring size as well as see engagement and wedding ring ideas.
Many girls find the rings chosen by their sweethearts to be boring or primitive. This app will just help to avoid such a problem.
No longer will you have to think and translate the size of the ring or to be scolded for the uninteresting design of the gift ring, as everything will already be at your fingertips.
The pros of this app are:
Simple and relaxed design. The gray color is not annoying and looks neat.
More than 150 different wedding and engagement ring designs. You'll definitely find something that you like.
You can get help and ask questions. Technical support is very fast.
Shows the dimensions of the end in a variety of measures.
Simple and easy-to-use interface
Supports U.S., Australian, British, European, Japanese, and Chinese ring sizes. This helps a lot, especially if you want to buy a ring when you're in another country.
One downside of this app is that the only jewelry items here are wedding and wedding rings.
But other than that, the app is great.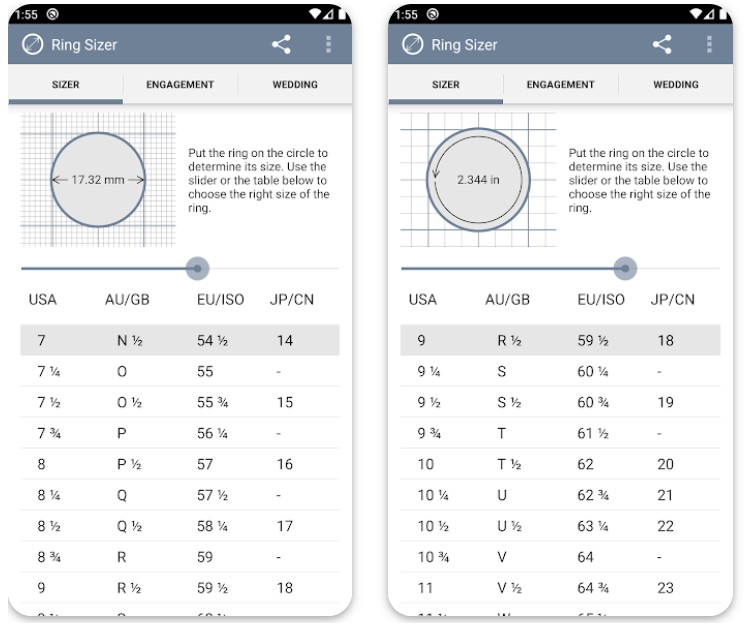 JewelCad Designs
JewelCad Designs is a jewelry catalog app. More than one thousand pics of jewelry a stored here.
This app:
Shows top designs, some of the newest.
All pictures are in HD quality. You can see even the smallest details.
There is a section "Favorites". There you can save the design of jewelry, which you like the most, and then see them in one place. That's really comfortable.
5 categories of jewelry.
You can download the pictures. What is important is that in this case, their quality is not spoiled, as it usually happens.
There are more than 500 different jewelry designs.
Images are available for 3D printing.
The application has a nice dark interface. Does not let your eyes get tired.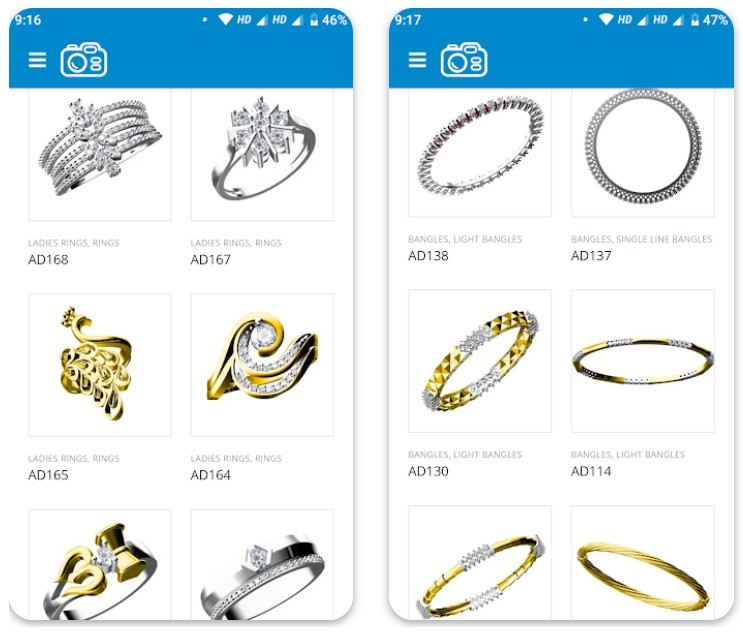 Jewel Disk
Jewel Disk is a "business enterprise" app that offers the freedom and flexibility to browse through jewelry.
This app can be used not only by people who want to buy a piece but also by jewelers with their own jewelry.
This app has the following pluses:
Simple and user-friendly interface. Made in a light style. There are no complicated elements.
Huge catalog of gold jewelry. More than 1000 designs.
More than 64 product categories.
It is easy to contact the author of a certain design. Each jeweler's profile has links to social networks where you can find information about the jewelry you want
The newest products are always seen. Thanks to continuous updates from various jewelers' accounts, there will be the availability of the latest designs.
If you are a jeweler yourself, this app can help promote your business because so many people will see your work. In addition, it is good for increasing profits – if they like your jewelry design, customers will contact you for more information.
Another very necessary detail is when you release a photo of a product, it automatically has a watermark with your name on it. This not only promotes it but also protects your copyrights, which is just as important.
Probably the only disadvantage of this application is even if you only go in to look at the designs and not in the seller's caste, you still need to register before you can use the app. You also have to enter your phone number, and after that enter the pin code that will be sent.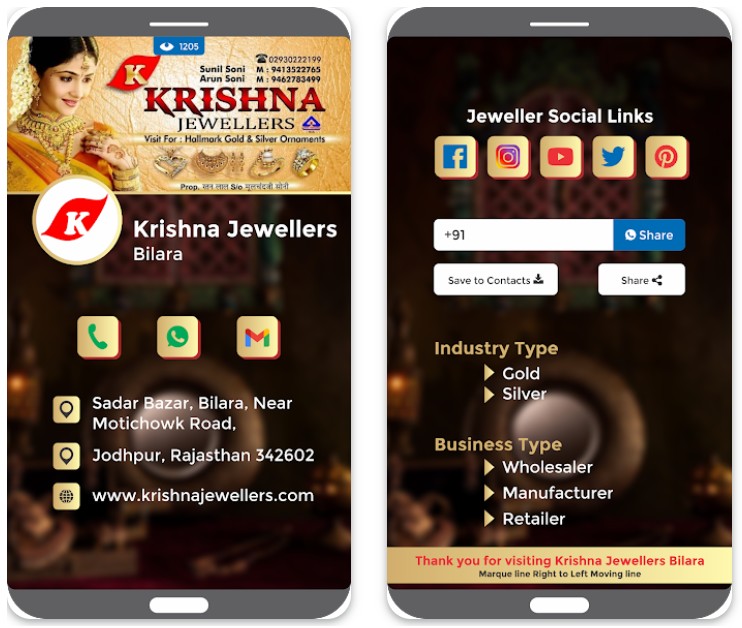 You may also like: 20 Free Android Apps for Designers
Jewellery Design Collection
Jewellery Design Collections is an app that displays the 2018 jewelry collection. Although it was 4 years ago, all the products featured there look incredibly stylish and new.
Key Features:
Over 500,000 different kinds of jewelry. Lots of different styles.
There are both non-traditional and traditional designs from different countries: India, the USA, Europe, Asia, and others.
There is an opportunity to "like" the jewelry you like, and see it in one place.
It is possible to download product pictures and share them on your social media.
There is a possibility to set decorations on your phone wallpaper without leaving the application!
In the menu, you can see all of the available categories of jewelry, and there are more than five. There is also a guide.
Of the disadvantages are not the most user-friendly interface, as well as too simple and boring design. In addition, the app lags sometimes.

Branded Jewelry Designs
Branded Jewelry Designs is an app with an exclusive catalog of diamonds and jewelry. The app serves as an inspiration for creating your own design or choosing from those already available.
Many girls nowadays buy gold or silver jewelry. However, nothing compares to diamond jewelry.
Key Features:
More than 150 brands and 58000 branded jewelry.
All products have links to the website of the brand you like.
All images are of high quality. There is a function to download photos.
It is possible to make a "favorite" list of the jewelry, and also to share them.
New designs appear every week. The application is constantly updated, so all products there are actual.
Styles of jewelry from all countries and regions are collected.
Features such as diamond estimate, size calculation, and listing from various manufacturers.
More than 7 jewelry categories.
Has the ability to advertise your jewelry.
A quiet, discreet design of the application and user-friendly interface.
It is also recommended to register in order to use the application to its full extent.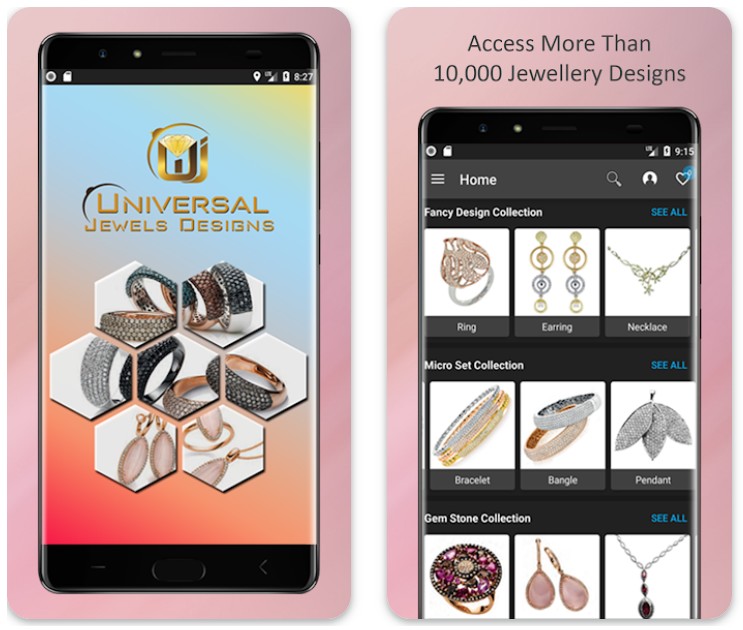 You may also like: 7 Best Design Apps to Customize Your Own T-shirts
Jewellery Designs New
Here is another app for finding inspiration for jewelry design. It is quite primitive and typical for this category, but we hope you will discover something interesting about it.
The main idea of the app is that it contains a number of jewelry pictures.
These are the following types of jewelry that you will find in the app:
necklaces
earrings
bracelets
rings
There are also various categories and styles, including traditional, modern, and contemporary designs.
The app provides high-quality images of each design, along with detailed descriptions of the materials and construction. And since there are not so many features we also have to say that you can share the pics via social media messengers.
Whether you're looking for a classic piece or something more modern and unique, this app has a wide variety of designs to choose from.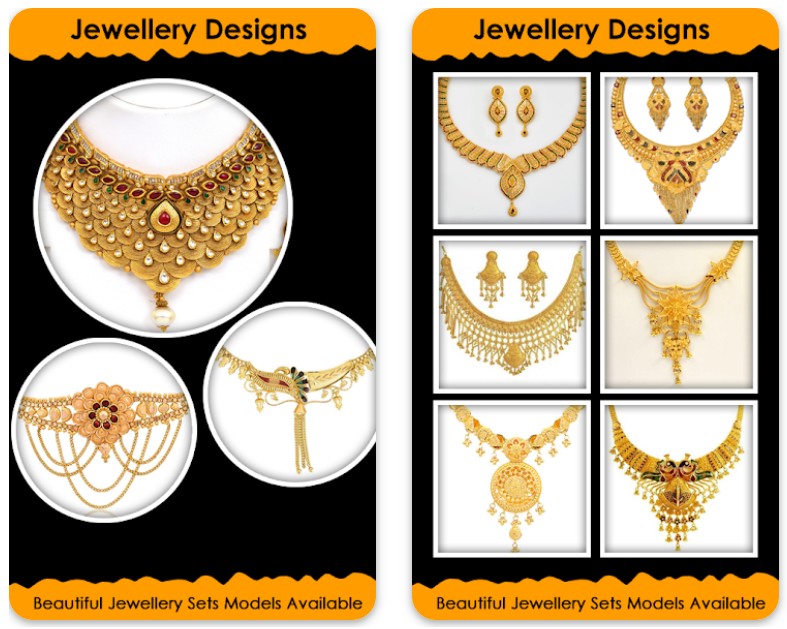 Jewellery Designs
This is another app that just contains a bunch of jewelry photos collection but some users might find inspiration from it.
At the same time, the developers try to constantly update the app, so you will constantly be finding new ideas.
Plus, the app has a feature that allows users to share their favorite designs on social media platforms. What is interesting, you can also directly contact the app developers for custom jewelry designs.
And the free version of the app includes some amount of ads. Users can also opt for a premium version of the app, which removes ads and provides exclusive access to new and unique designs.
In total, this is a small, but cute app. A bunch of jewelry necklaces that it brings is quite nice to look at and the app can be used for professional purposes.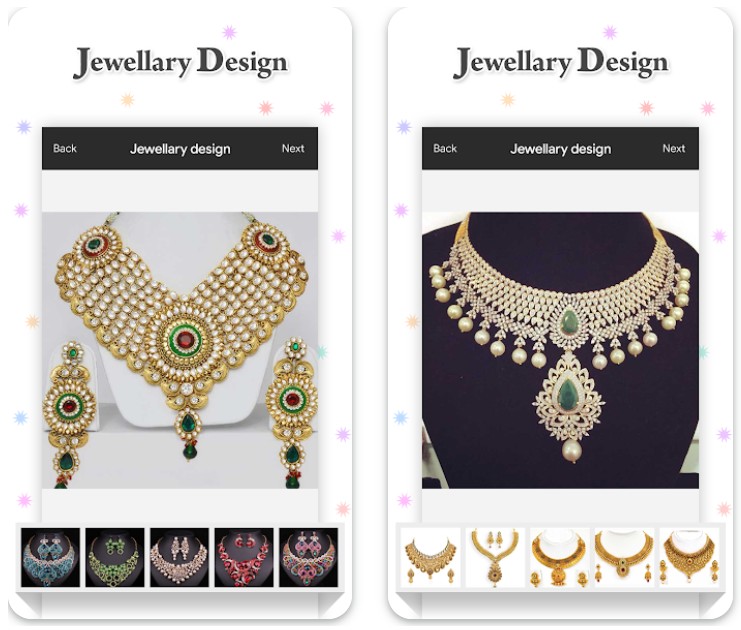 DIY Jewelry Ideas
This is a little bit different app that encourages you to create your own jewelry designs with your own hands. This is basically a guidebook on how to create a jewelry necklace, bracelet, and so on.
Here you will discover a vast collection of DIY jewelry ideas that are easy to make and require minimal supplies.
You can create such things as bracelets, necklaces, earrings, and rings, to find the perfect design for your style. There are also step-by-step instructions with pictures to guide users through the process of creating the jewelry.
And don't forget to bookmark the designs they plan to make and create a shopping list of supplies they need to purchase. And if you found an interesting design idea in the app, you can always save the picture to your phone's library.
The interface design is quite primitive here and the app contains some amount of ads, but this is truly the best option in the category that we could find by far.