Do you like playing games that simulate real activities? For example, football games, singing games, and many others.
However, this type of game can be interpreted as a bottle-spinning one. We also added such apps to this list.
By the way, if you want some other games for kids, try these best moana games.
Meet another type – kissing games for girls! In this article, you will explore great options for iOS, as well as Android users.
Blood Kiss: Vampire Romance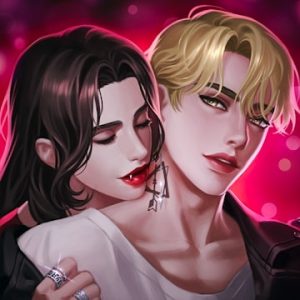 Are you looking for a good kissing game that will make you dive deep into a thrilling plot? Then Blood Kiss is what you need to try!
The plot is based on a story about vampires. What you need to do is to make choices. The plot will transform according to your actions.
What can you do in Blood Kiss:
Explore a mysterious story

and meet four handsome vampires – Dayn, Gray, Ruel, Eden, and a beautiful vamp secretary Dana.

Make

200+ different choices

building the plot yourself. There might be various outcomes so make sure you find them all.

Kiss!

It doesn't matter if you are dealing with a vampire or an ordinary guy, when you're on a date, you need

Choose cool outfits for your character. There are many ways of making yourself unique so feel free to change it.
Please note the app will need some permissions including your storage. This is needed for the pictures and other materials.
What is especially cool is that the app respects your privacy and collects only usage data.
The size is over 200 MB so make sure you have enough free space. The game contains some ads but you can remove them by going premium.
Blood Kiss is free with in-app purchases. However, they aren't necessary for the game itself, they just might speed up the game by skipping some choices.
Both Android and iOS users can enjoy this exciting kissing game full of plot twists.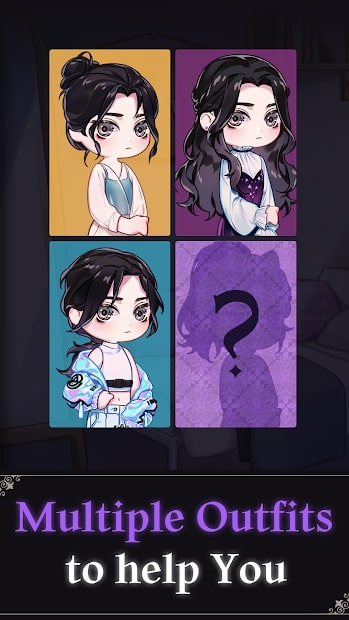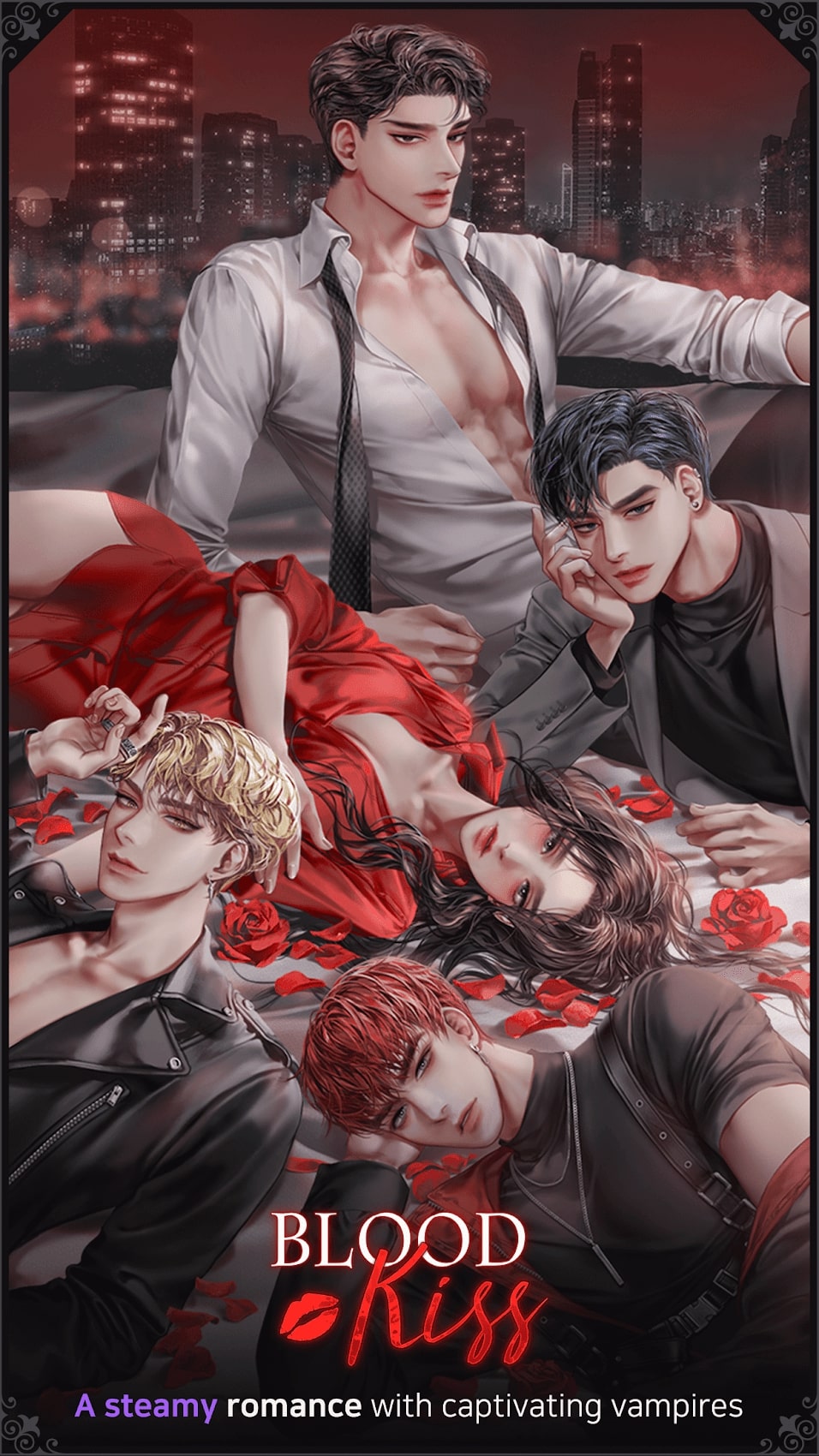 You may also like: 27 Best apps for teenage girls (Android & iOS)
Pose 'Em : Make Perfect Kiss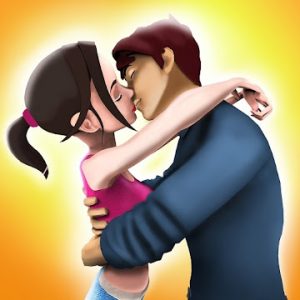 This game is a bit different from the others listed here. In this app, what you need to do is to make the best pose for two people – a girl and a boy. Make sure you do it well so that people look beautiful.
Let's see which poses you can practice in the application:
Kissing pose

. Make these two people kiss each other. Make sure you change the angles of their hands and legs. Place them close to each other.

Make this pair hug each other

. The same rules will apply here. There are no special recommendations, just rely on your taste.
Try other poses: cuddle, propose, sleep, walk, and many others. Use your finger to change the poses. Make a long tap and drag. This will change the angle and the size of the lines. The lines will change the pose.
Some data is used to track you, such as your location and purchases. This info will be linked to you.
The application is available on the App Store and Google Play.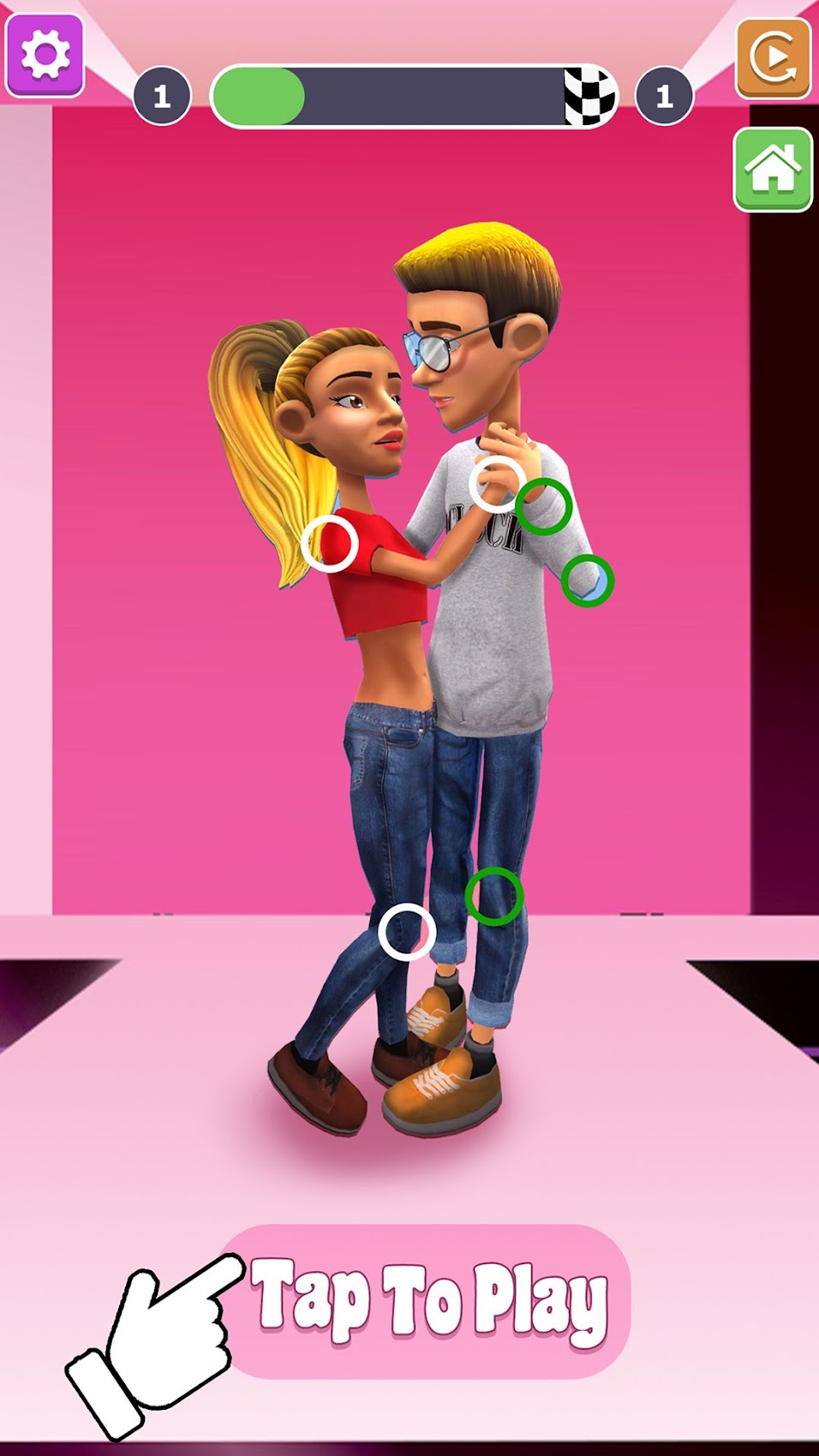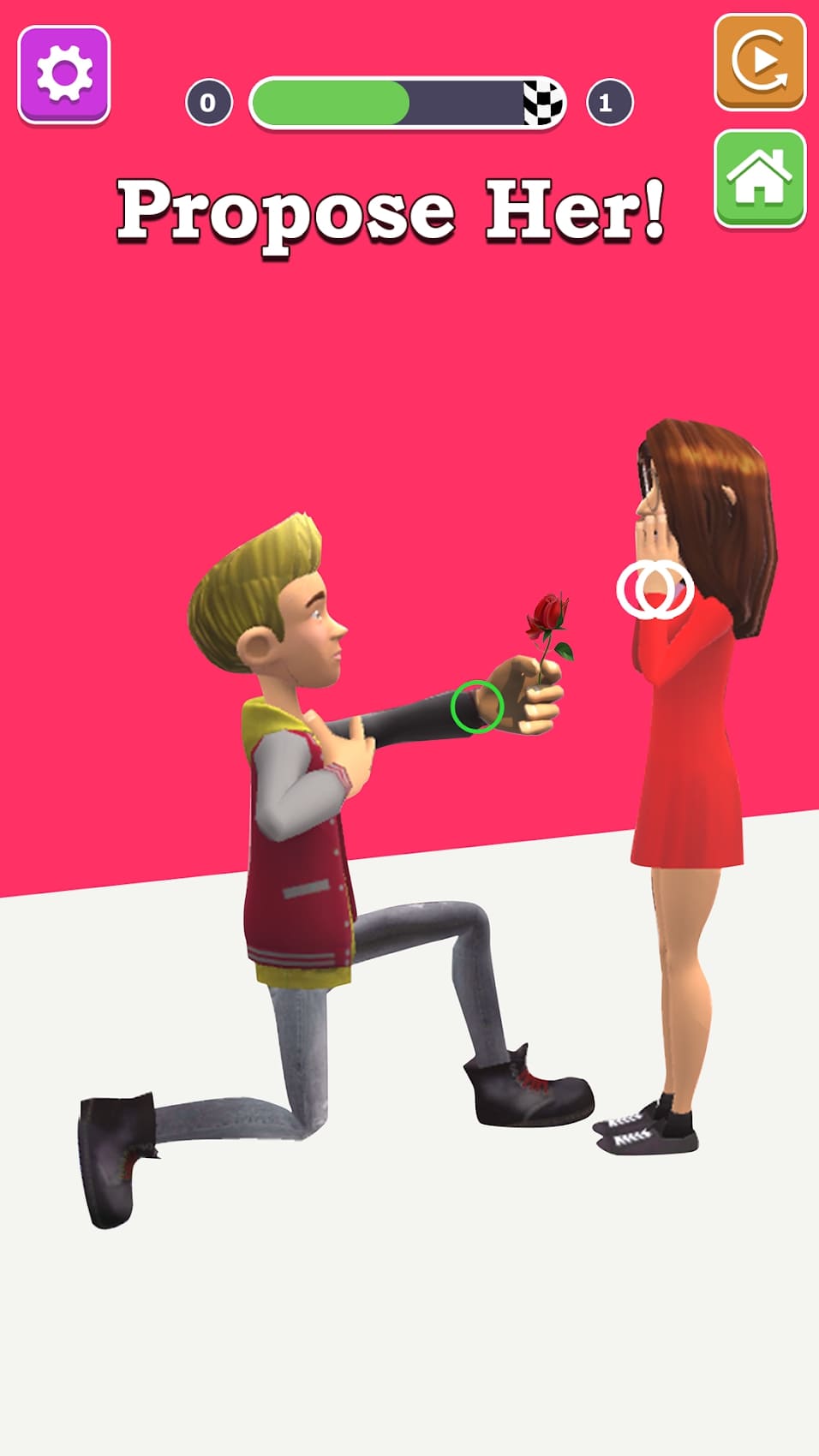 Kiss Me: Dating, Chat & Meet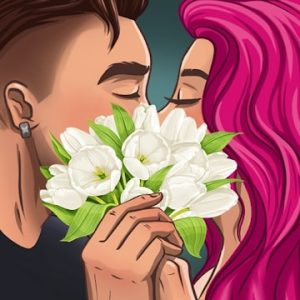 The game is based on the spin-the-bottle principle. This is quite simple – you need to tap on the screen and look at the bottle. Wait until it stops – the person who will be chosen is the one to kiss.
This person has to decide if he or she wants to be kissed by your or not.
The game is super popular among users from all over the world. For instance, there are about 3 million active players. Feel free to kiss them!
However, kissing isn't the only thing you can do in the application. Let's see what else you may do:
Chat with others

. You can choose any player and start communication. You can just chat or flirt with a player.

Colorful graphics

and a

simple user interface

. This game isn't complicated at all, you can start at once.

There are cool gifts you can receive and give others. Make sure you open the app every day to get some new ones. You can later exchange these gifts with other players.
The game is rated 4 out of 5. Users love this app for its cool gameplay and the absence of serious bugs.
Kiss Me is a free game. However, there are too many ads that will probably distract you from the process. It will cost you 1$ to remove them.
The size of the game is pretty small – you will need 12 MB only to install and use Kiss Me.
You can get the app on Google Play.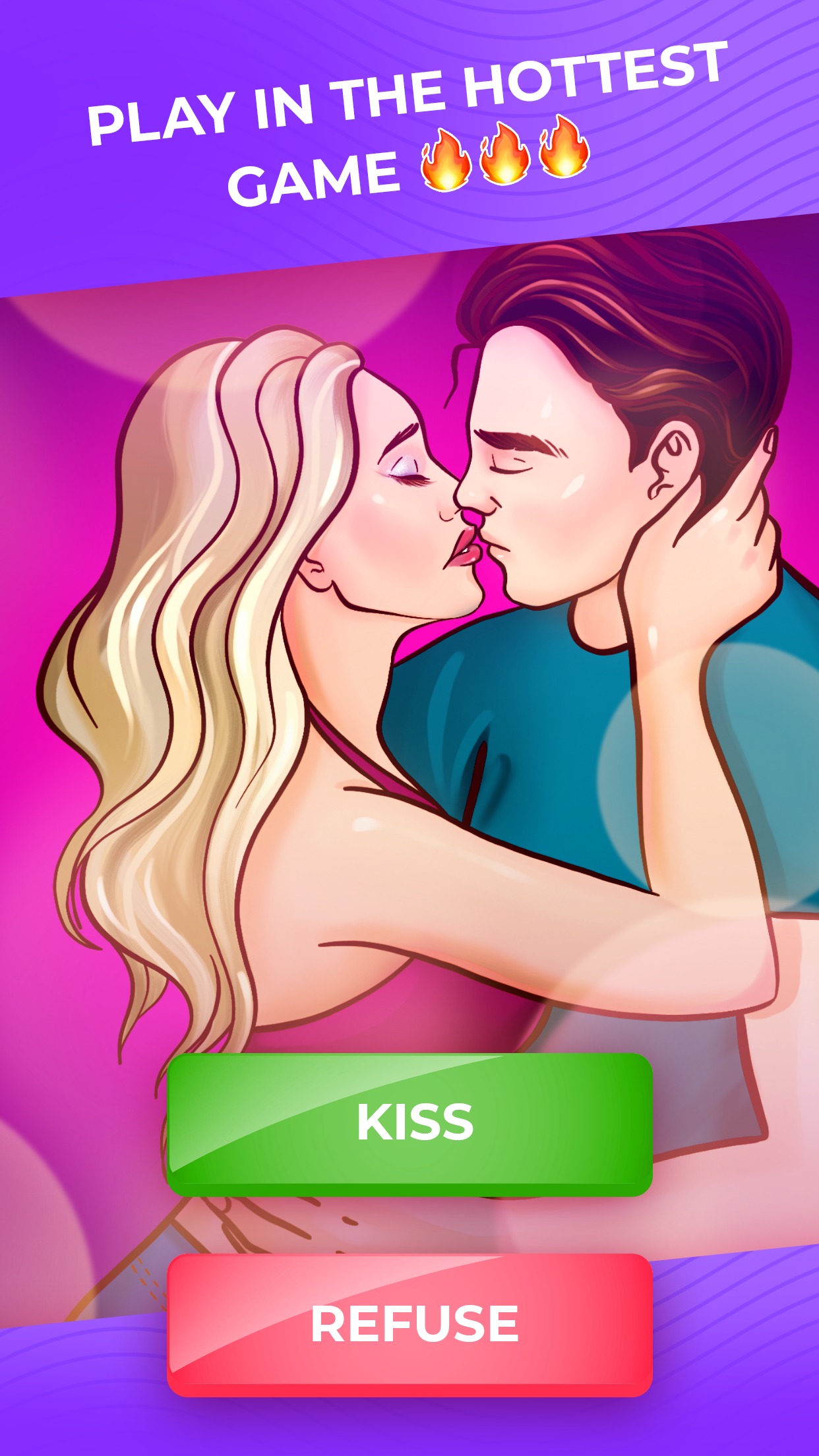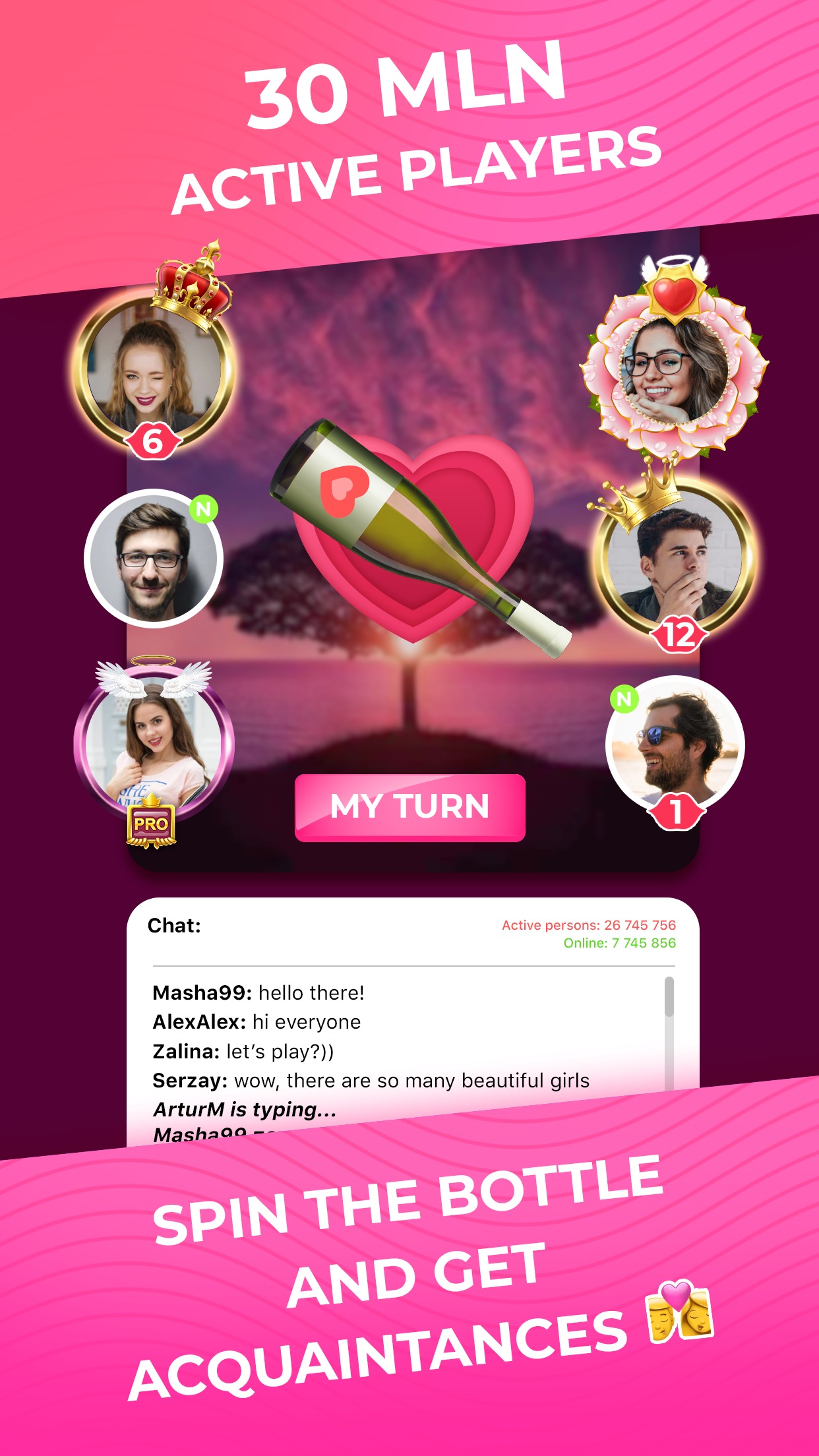 Perfect Date 3D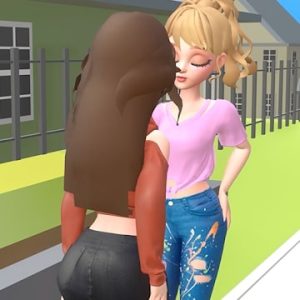 Dating is a fun thing, even if you are doing in the game, not in real life. In this game, you can flirt with others and invite them to different places. However, it isn't enough to go for a date.
You need to kiss your loved one! Do it wherever you can – in a car, cafe, or just on a street.
The game is divided into levels so you can gradually move from the easiest levels to the hardest challenges. There are about 40 levels in general. To go to the next level, you need to kiss your loved one.
Try to go for as many dates as you can. This will help you get special rewards and gifts.
By the way, if you would like to try some cool anime games, make sure you try these best anime simulation games.
The application is free of charge. There are some in-app purchases and ads. However, the purchases will just speed up the process of the game. For instance, you may skip some levels if they appear too hard to go through.
The app can be downloaded on Google Play.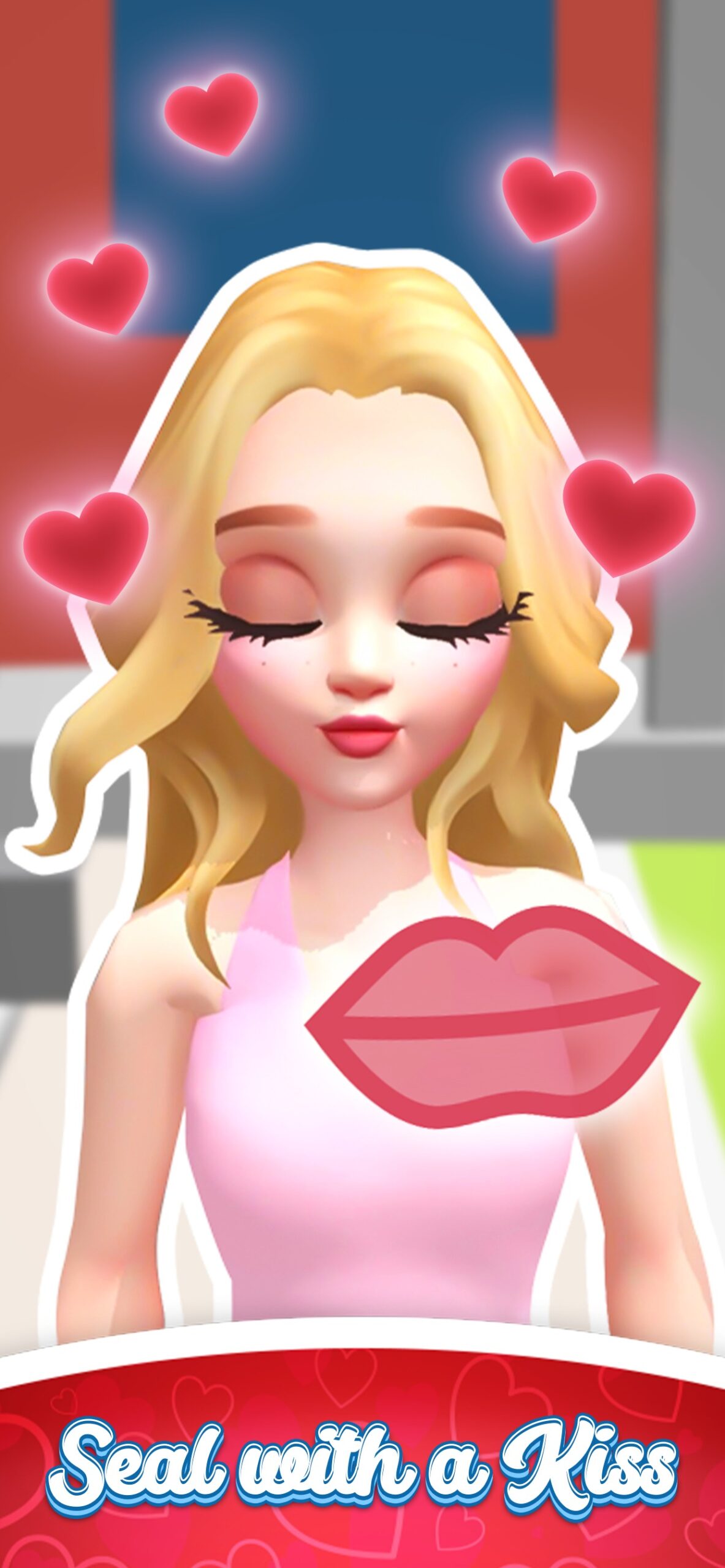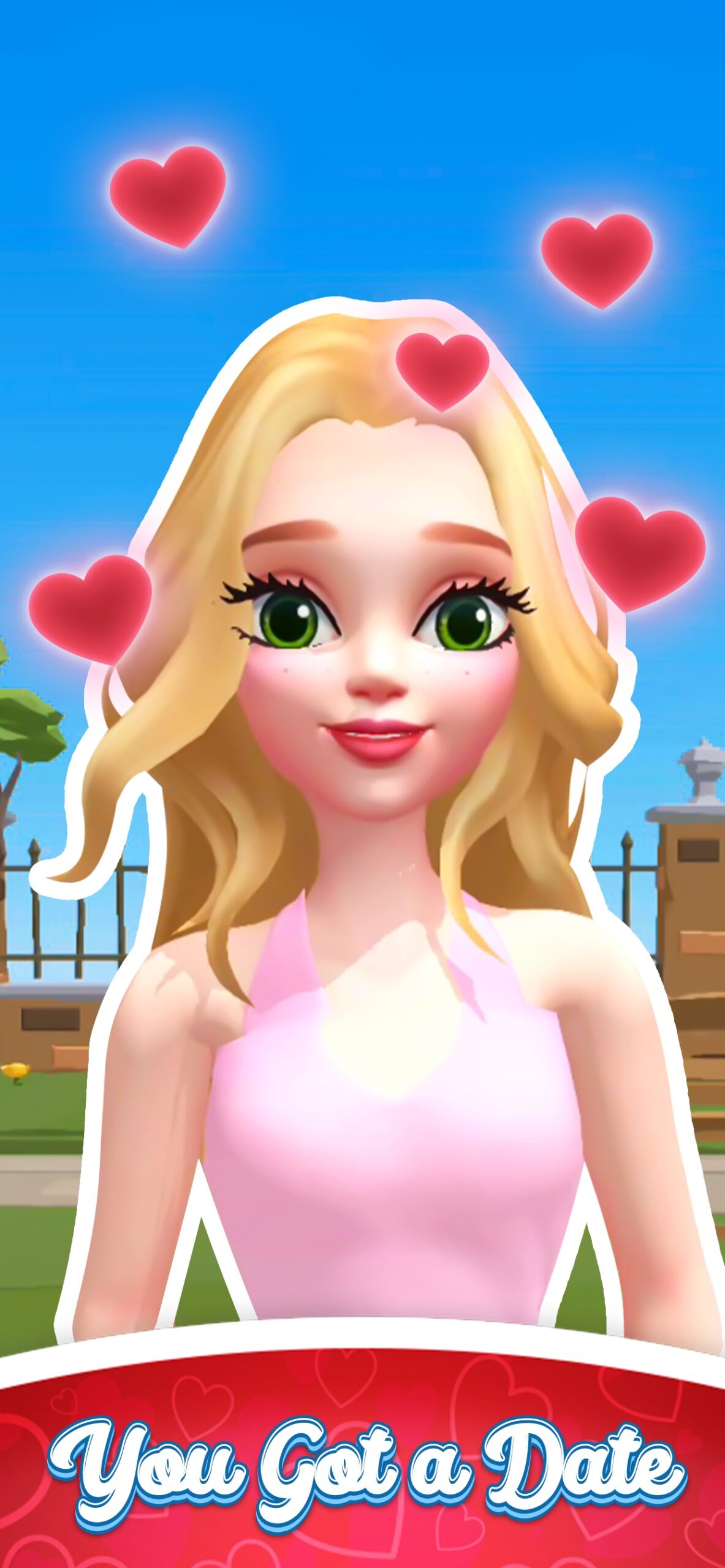 Kissing Game – Kitten Love Games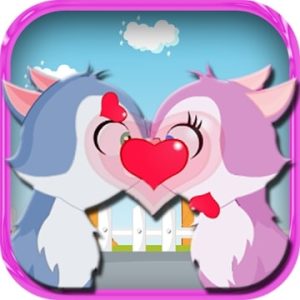 Here is another cool kissing game. However, it is a bit different from the other apps listed here.
In this game, the main characters aren't people but animals. Still, it makes the game even cuter!
What you need to do is to help two loving kittens kiss each other. It's not that simple though! Your time is strictly limited and you need to hurry up. To kiss another kitten, you need to tap on the screen and hold it.
Here are the best features available in the app:
The game is

divided into levels

, allowing you to go from the easiest tasks to the hardest ones. What is more, this feature will also help you to track your progress.

There is

a timed mode

where you will see a time tracker. This is much harder to pass as you have to play much faster and can't make mistakes.
Another cool thing is that the game is super small. You will need about 15 MB to install Kitten Love Fun on your device.
Unfortunately, the game is available for Android users only.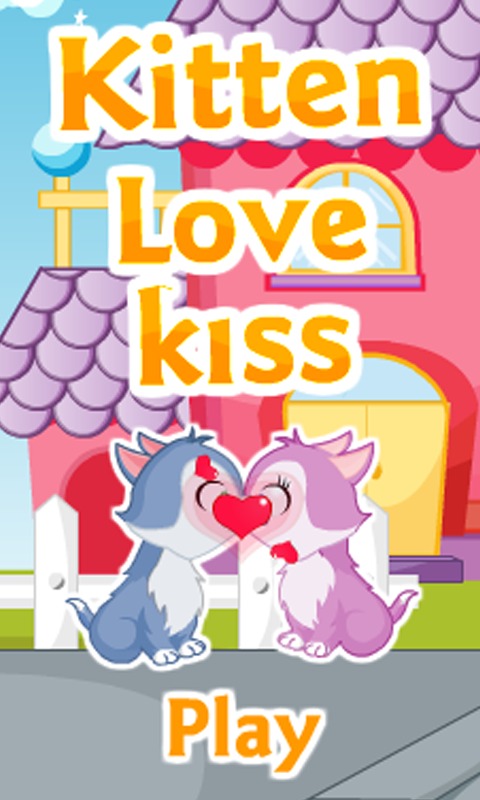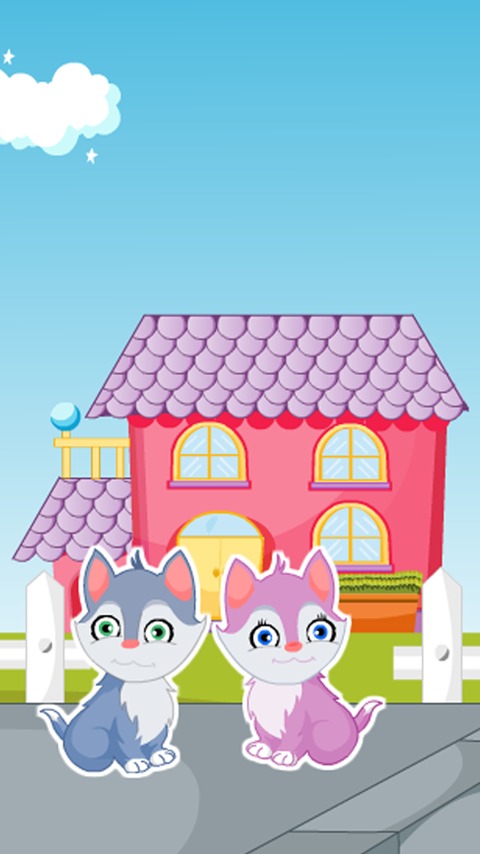 First Love Kiss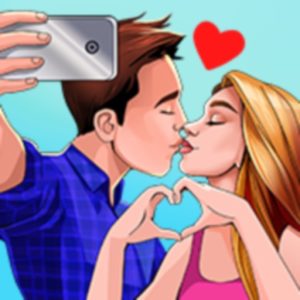 First love is always special. Now you can experience it in the application. This is a life simulating game meaning all the things will happen as if it was in real life. You are a typical girl who falls in love.
This game will make you do a great number of activities just like in real life. What does a girl do before a date?
Well, you need to get ready! Make sure you find the best clothes, do the coolest makeup, and do many other little preparations!
Here are the best features you will see in the game:
Look for

love potion power

. This nice feature will help you to earn points much faster and easier.

Check various places

. You can meet your future partner in a park, in a shop, or even at a bank. What you need to do is to stay active and appear in many locations.
The app is free of charge but it contains some in-app purchases. However, you can also do without them, all the bonuses can be earned manually. It will just require time and energy.
The game is pretty big – its size is about 240 MB. However, it is pretty logical as the number of levels is huge and the graphics are also impressive.
First Love Kiss will collect data about you, including your purchases, browsing history, location, usage data, and other details that will be linked to you.
The app supports a great number of languages, including Arabic, Spanish, French, Turkish, and many others.
There will be some ads in the app. They are not too frequent to appear but still, if you want to remove them, you can pay 0.99$ and get rid of them.
You can download this nice game on the App Store and start kissing!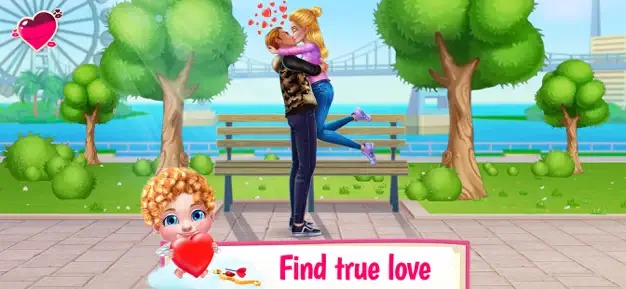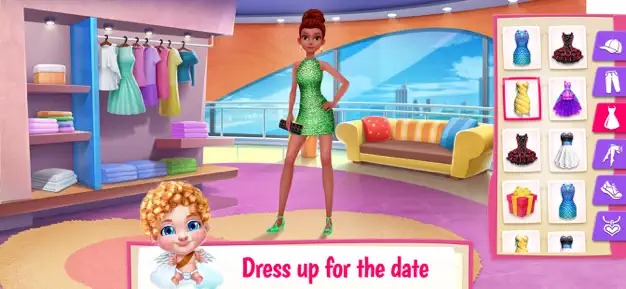 Kiss in Public: Dating Choices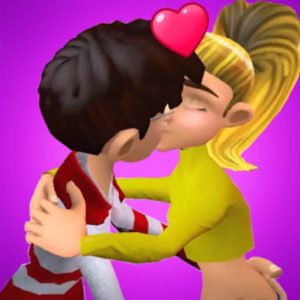 Kissing is easy. But is it too simple to kiss secretly so that nobody can see you? In this game, your aim is to kiss in public trying to avoid other people.
At times you will need to break into your crash's house or follow this person on a street.
This isn't everything. Then you need to find time to kiss. There will be people who might try to bother you, such as teachers, parents, friends, and even the police. But it doesn't matter anymore! Keep kissing your loved ones.
To make you character better, feel free to customize it. Try new clothes, add glasses and cool makeup.
Please note the game collects some data about you, such as your purchases, location, data, and many other details. Unfortunately, there is no way to remove it. What's more, this data will be linked to you.
The size is pretty big – you will need at least 345 MB of free space to install it.
There are also ads that keep the content free for you. To remove the ads, pay 2.99$. This will help you get rid of them forever.


Storylines: Passion & Fashion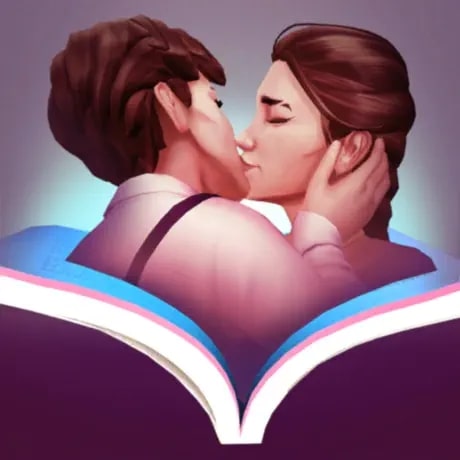 Storylines is a mobile app that allows you to go through exciting and thrilling romantic stories presented in a game format.
Each step you take within the game will influence the development of the relationship between the characters, as well as the outcome of the story.
Each story is a series of episodes that continue depending on your choices. This makes each story dynamic and unique, as each player can live it in their own way.
The app has a simple and straightforward interface, making it accessible and understandable for all users. Choose different characters, and customize their appearance and features. Select images for your players, pass different story mini-games, and earn rewards.
Later you can use the earned game money for in-app purchases. The app is constantly being updated, adding new stories and features for players. Thus, you will be able to choose the most suitable stories for you to go through them and come to an overall conclusion.
Every decision or move you make in the storyline can be undone. You can save your level and come back to it later. Also in the app, it is possible to start passing the story again, which allows you to drastically change the outcome of events.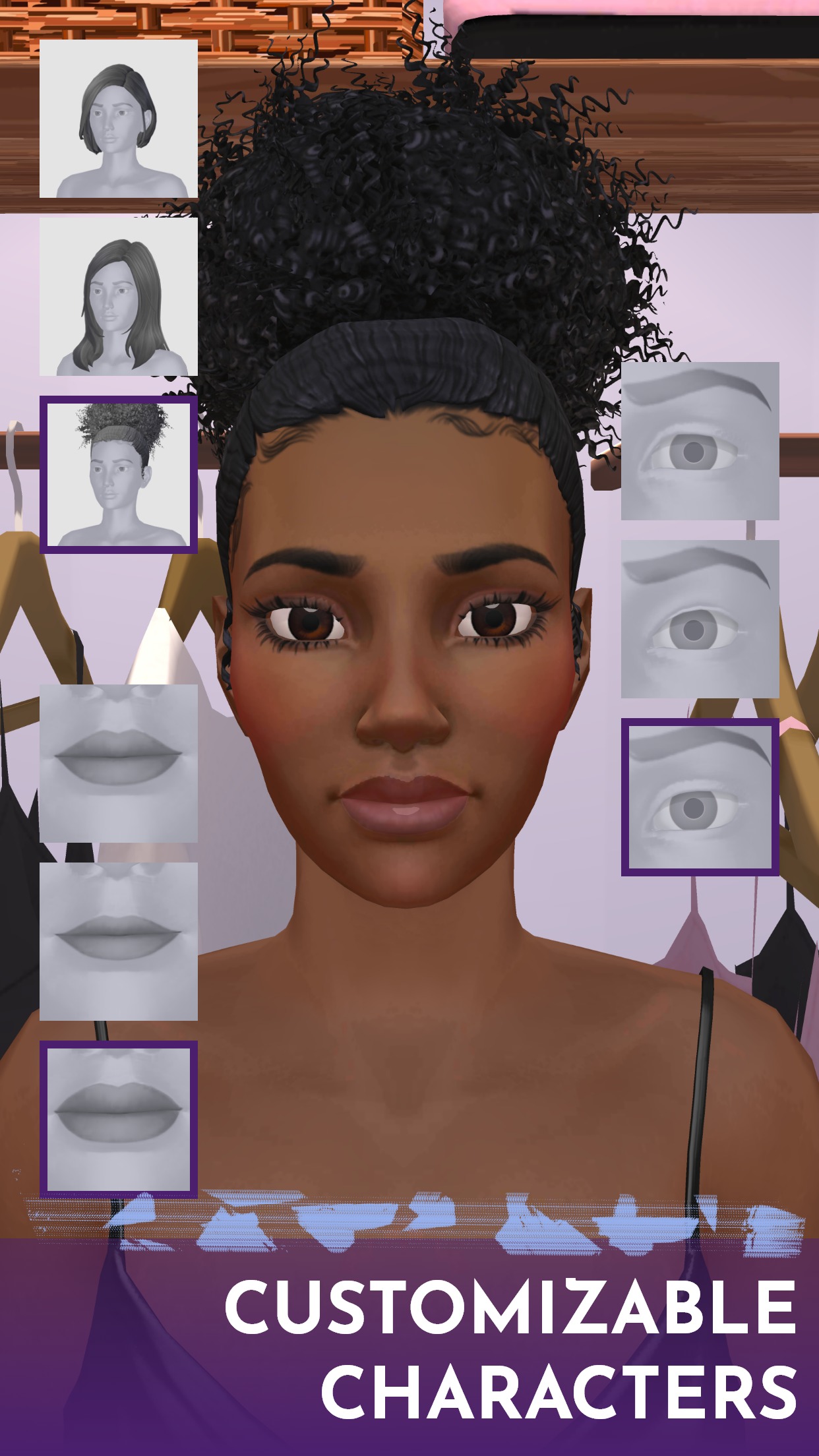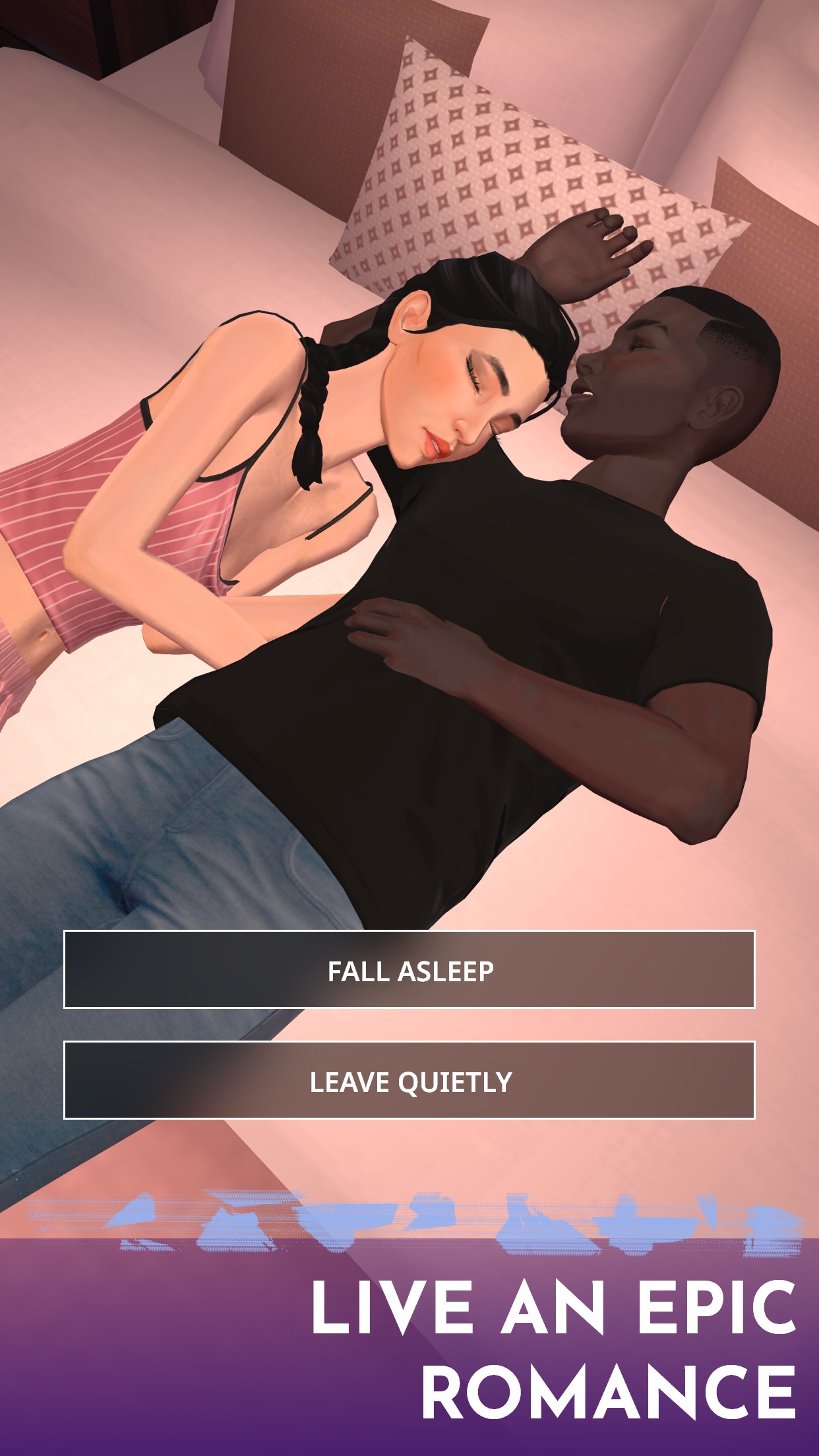 You may also like: 15 Best Anime Video Games for Android & iOS
Journeys: Romance Stories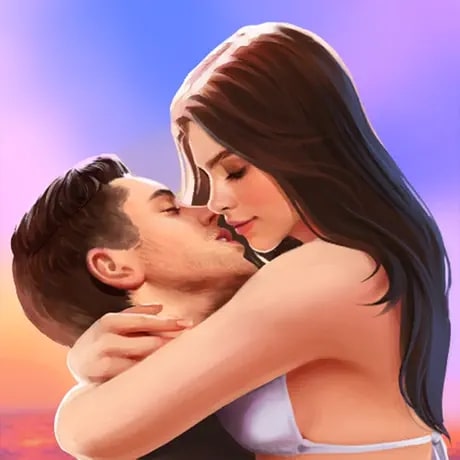 Journeys is a mobile storytelling game that offers you to choose your character, its image, and the outcome of the events of your unique story. It offers a wide range of stories of any genre, each of which will end differently.
The outcome of the story can only be influenced by you with your choices. This will require you to choose the actions of your characters, build relationships between them, and resolve disputes and quarrels.
Choose any of the characters of different appearances, clothes, hairstyles, and accessories. You will also have access to edit the details of each character to make it unique and special.
The app features a variety of romantic, dramatic, and fantasy storylines, each of which you can choose and progress through. During the game, your moves are saved and memorized by the app, so at any time you can exit and continue the story at your convenience.
Here you have to choose not only the appearance of your heroes but also images. Get rewards during the game. Then, you can use them to make purchases or improvements to your players.