Women are creatures so inconstant that they continually want to change. But how to be sure that the new image will be really what you need? Then, a makeup application will come to the rescue. Here, you'll find the best makeup apps for Android and iPhone.
And before you start we also recommend you to check an article about free face mask apps where the apps will help you to try various looks on your face.
YouCam Makeup
The program YouCam Makeup is designed for girls who love to try something new in make-up, hairstyle and in their appearance in general. YouCam Makeup is equipped with a smart camera that will give you the opportunity to try a new makeup in seconds.
The principle of the application is simple – it recognizes the contour of your face with a high degree of accuracy. Then you can apply makeup in real-time, trying different styles and trying on different images. Maybe you always wanted to see how a wedding makeup will look like on your face?
Or maybe you just want to create an incredible beauty image? All this is possible with the application tools that "improve" the lips, eyes, teeth, and skin in general, literally transforming the female face.
Try and combine different types of makeup – use lipstick, eyeshadow, mascara, and base for makeup. A few successful experiments – and you can already repeat all this in real life. Now it's very easy to choose the best makeup for a festive event, a business meeting, or a party.
To create the perfect image, use all the features of the application. Start with leveling the tone of the face to achieve flawless skin, apply blusher, and mask the flaws, completing the first step with contour correction.
Now work with your eyes – no dark circles under them! Eyeshadow, voluminous beautiful eyelashes, and double eyelid effect will literally transform the everyday look. The perfect shape of eyebrows and shiny lips will complete the transformation. Small, but very effective bar – teeth whitening.
This useful application will allow you to learn more about the world of makeup, style, and fashion, get useful tips from beauty experts, and practical recommendations. Well, if you want to share your new beautiful image, you can do it by posting a photo in your profile.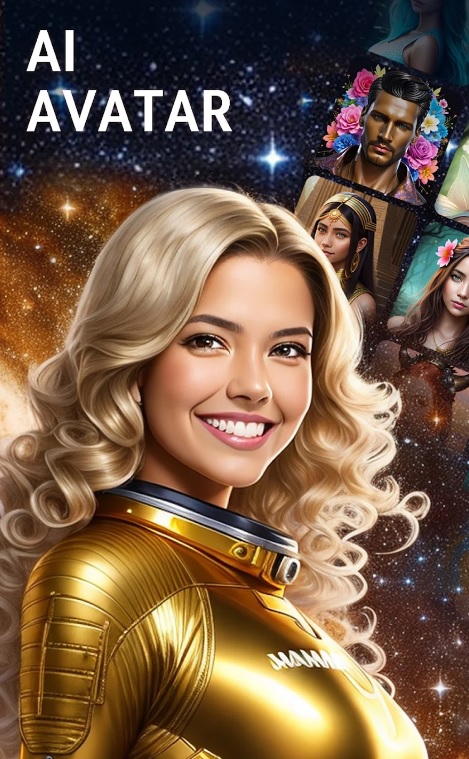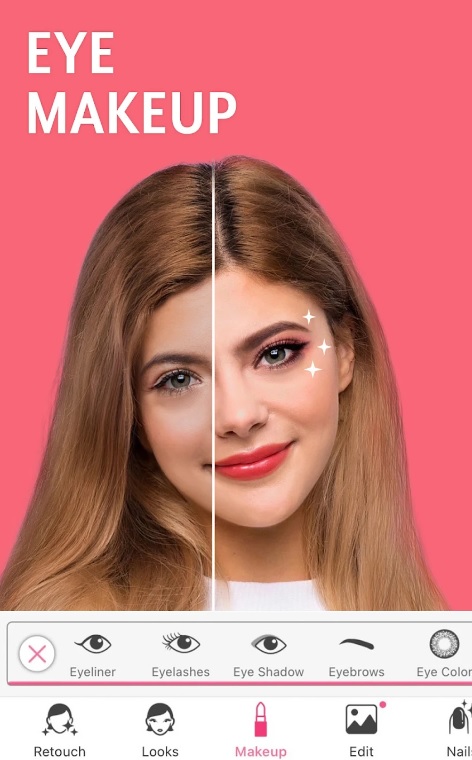 You can also check: 14 Best free photo sharing apps for iPhone & Android
Bestie
This is a cute girly app where you can edit your photos, try of different effects and stickers, and, of course, add makeup to your face. Bestie is a photo editor for girls, with many pretty things and effects, like, for example, the possibility to add glitter or heart-shaped to your picture and it is similar to AirBrush in some sense.
Here you can also regulate the intensity of makeup and when applying it, you can make it look quite natural on the picture. What is more, you can also edit your facial features, or example, make eyes look bigger or nose look smaller.
A cool feature of this app is its auto makeup function – Bestie will automatically detect the imperfections on your skin and conceal it immediately. The same works for removing the wrinkles. Moreover, you can add various writings on photos – there are dozens of different fonts.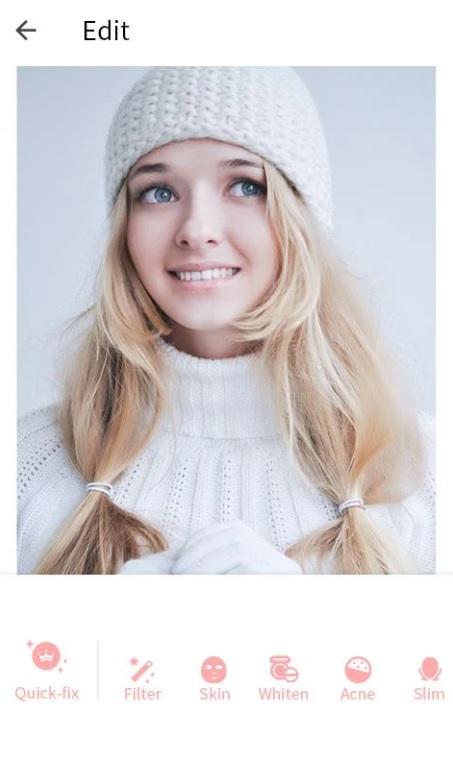 MakeupPlus
Improve the quality of your photos with a selfie editing application MakeupPlus. Create professional make-up! The application will help you to customize each selfie in detail: edit the color and tone of lipstick, lip contour and lip saturation, eyelash length, eyebrow thickness, and hair color.
Add freckles and blush, hide acne, adjust the level of shine, and other makeup effects right through the camera of your device.
The special module in the app will help you instantly try and buy various cosmetics from world brands (Charlotte Tilbury, Stila, Clarins). The application will save you time when choosing the right products. You can try out different cosmetics directly on your photo, and then decide whether to buy it.
The AR GLAM module adds to the application a large set of glam filters: from a futuristic femme fatale to a sexy kitty. Change your selfie and give your social profile an outstanding appearance.
Now even more hairstyles and colors are available! Become a stylish hairdresser and add different hair colors to your selfie. Try all the colors of the rainbow and find out what color suits you. Well, then feel free to go to the salon!
Create a unique style with the application. Change your look with the TOUCH-UP system by applying various exclusive appearance filters from Brettman Rock, Christian Dominic, Mac Daddy and other giants of the fashion world.
An extensive guide will give you access to a huge database of real-life make-up video tutorials. Join the application community, and you will learn about popular make-up products, learn professional make-up techniques, and also be able to share your experiences with others.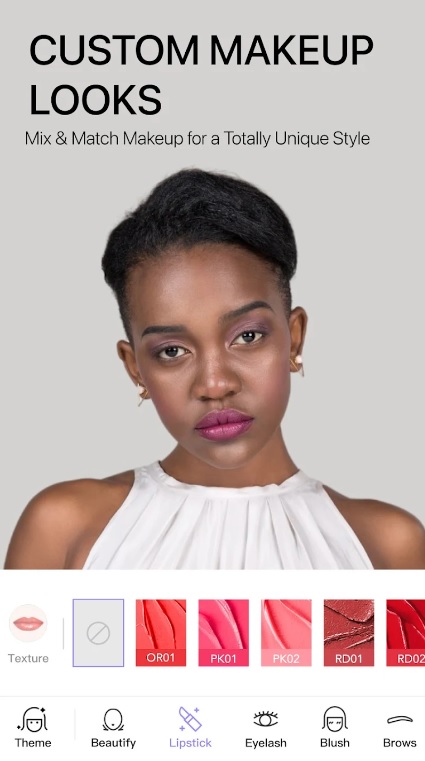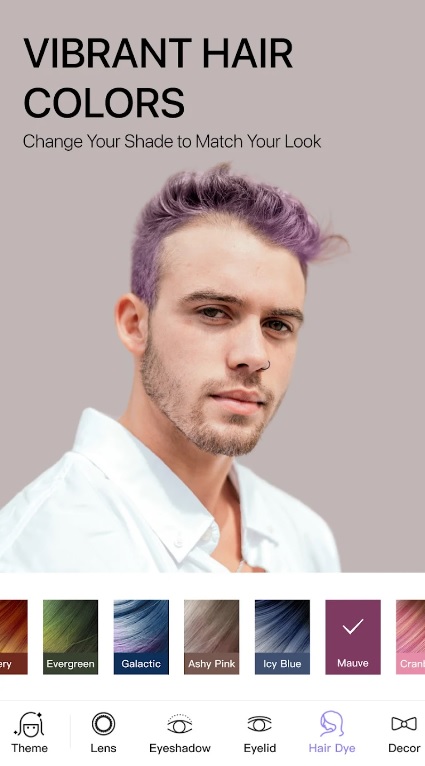 AirBrush
Air Brush is seriously one of the best photo editing apps in the world. The range of tools that it provides for editing and, especially for the face editing, is impressive. Moreover, it saves the initial quality of the picture even after complex manipulations, which is rare for photo editors.
Maybe you didn't know about it, but AirBrush has a section "make up". If you are editing your picture and you feel like you could have had more makeup on (camera often washes away the intensity of colors), then you can add it using the tools of AirBrush.
And the makeup here looks very natural and hard to distinguish from the real one (especially if you apply the moderate intensity).
Or, you can just try various kinds of makeup for fun. In AirBrish you won't find anything way too crazy, but there are some decent variants to try and the choice is wide enough to make hundreds of combinations.
Apart from makeup, there is even no need to mention the skin editing, dark undereye circle remover, facial feature corrector, pimple remover, teeth whitener, and many other tools you may find here.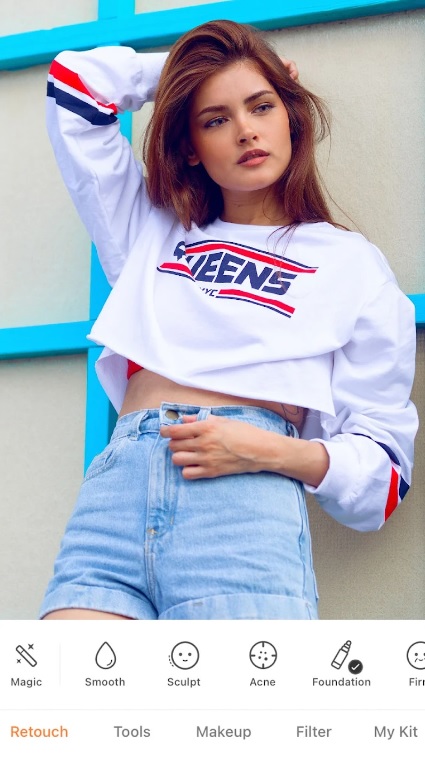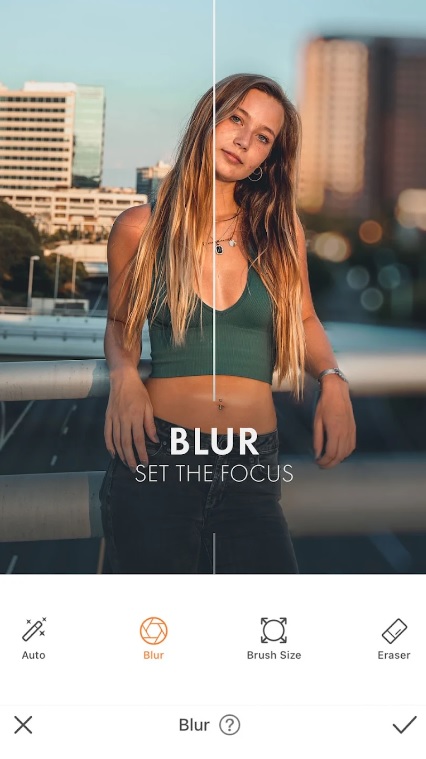 Foxy – Beauty & Makeup Shopping
This app is designed for online shopping, specifically for beauty and personal care products. And before you buy, you can try various makeup looks lirght in the app using the products from the store. Its value lies in the fact that the app analyzes your needs and makes recommendations of products you should buy.
It works like this: you take selfies, and according to the condition of your skin and hair the app compiles a shopping list for you.
Another plus of this app is that bonus points are awarded for each purchase. Having an ingredient filter is also an advantage. For example, you can find the right beauty products for you by specifying vitamin C, or salicylic acid.
The creators of the app care about the environment, so you won't find a single percentage of plastic in the packaging.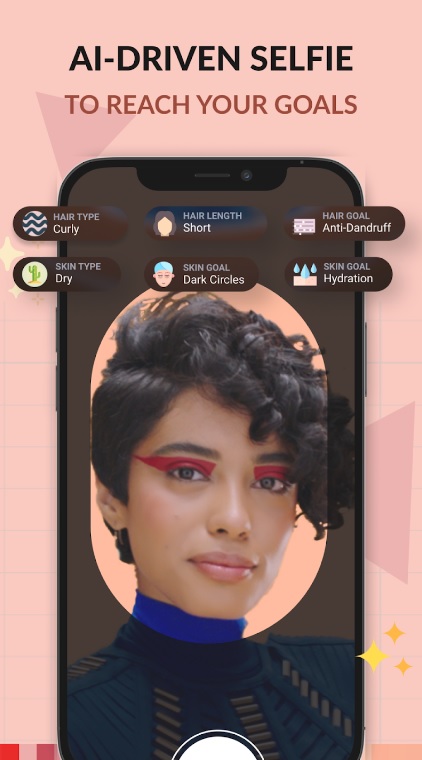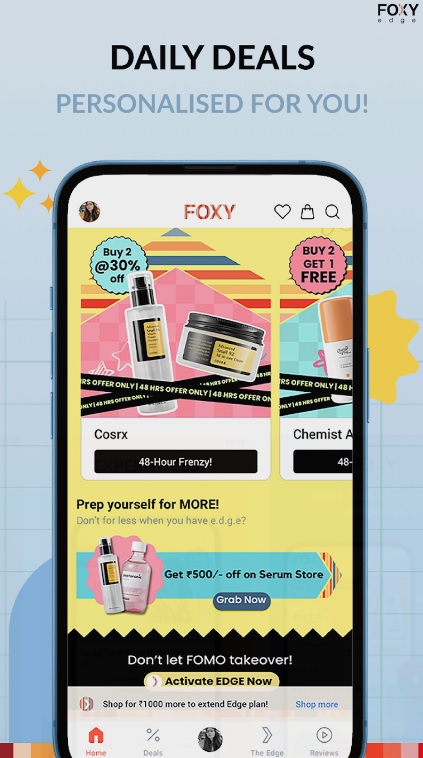 Cymera
Cymera is a fast and modern photo editor that will help transform your everyday photos. The application contains a lot of filters, effects, stickers for stylish selfie-and atmospheric images.
The built-in algorithm will help you achieve the ideal when editing selfies. Cymera is able to smooth the skin, adjust the shape of the nose and lips, enlarge the eyes, and give them a special mysterious shine.
In a special section, you will find more than 200 elements of hair and makeup that can be added to your picture. Also, a common set of settings ("big eyes", "smile" or "slimness") can be applied with one click. In the application, you can also open a smart selfie-camera, which immediately takes a photo with beauty filters and settings.
In addition to the above, the program will offer you many standard tools for editing: adjusting the brightness, contrast, cropping, and frame rotation. Also in Cymera, there is a huge selection of various stickers, frames, vignettes, watermarks, brushes, fonts, masks, and memes.
You can create a cool collage from several photos (up to 9 pieces) using the program.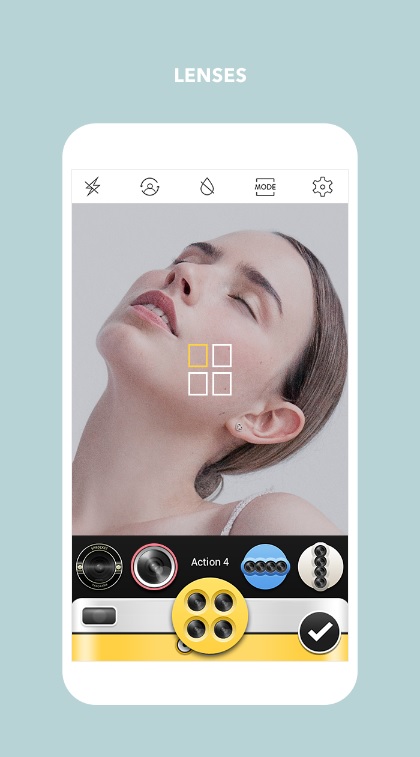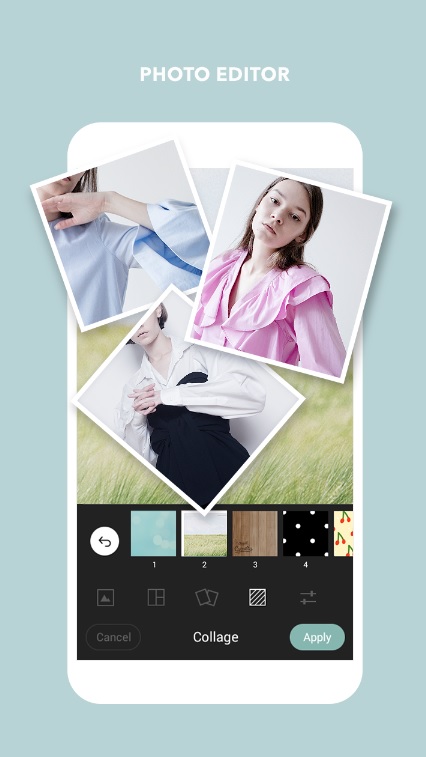 You may also like: 9 Best nose editing apps for Android & iOS
Visage Lab
The program is designed to improve the quality of portrait photographs and allows you to eliminate cosmetic defects in images (for example, skin shine or pimples) and shooting errors (glare, red eyes, etc.).
There are an automatic mode and a large set of tools developed using special algorithms. In addition, the application includes various effects for image processing – tools for antique styling or black-and-white shots, light and color effects (including HDR), as well as options for changing the background.
The program interface is very simple and intuitive, the design is beautiful. Visage Lab is a unique application for those who believe that he looks bad in photos.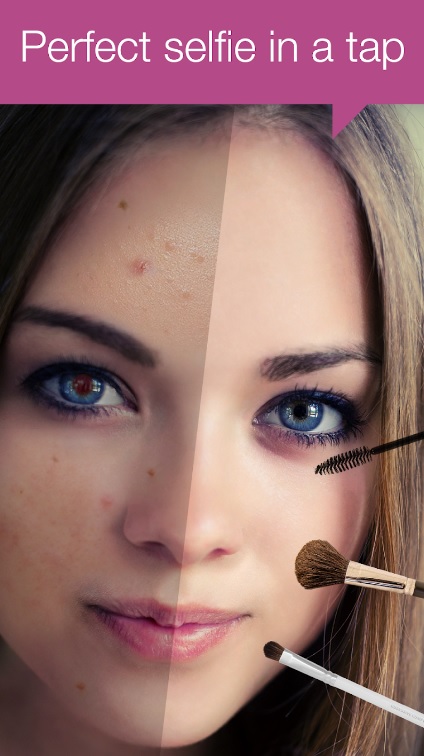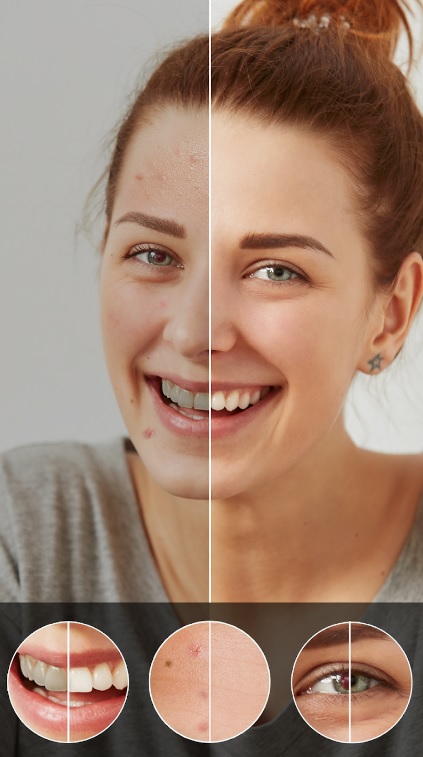 YouCam Perfect
The YouCam Perfect app helps the user to turn custom photos, including selfies, into professional masterpieces. So, download a mini photo studio and turn pictures into masterpieces. You have the ability to use the HDR effect, vignetting, mosaic, personalize photos with a blurred background or other favorite effects.
YouCam Perfect tool is especially good for editing the shape of the face and eyes. You can make your face look slimmer, and your eyes bigger, choosing the intensity of each effect.
Add effects in real-time when shooting, make videos with cool filters. Decorate your portrait in a few seconds. The program has a face detection function and allows you to retouch a group of people. Easily turning each face into a smiling portrait to save happy moments.
Try using one-touch effects, crop images, rotate them, apply blusher, remove shine, add freckles, make perfect eyebrows, hide dark circles under your eyes. Delete unnecessary backgrounds and objects to create perfect portraits and share them on social networks.
You will not find such a set of "smart" tools in any application!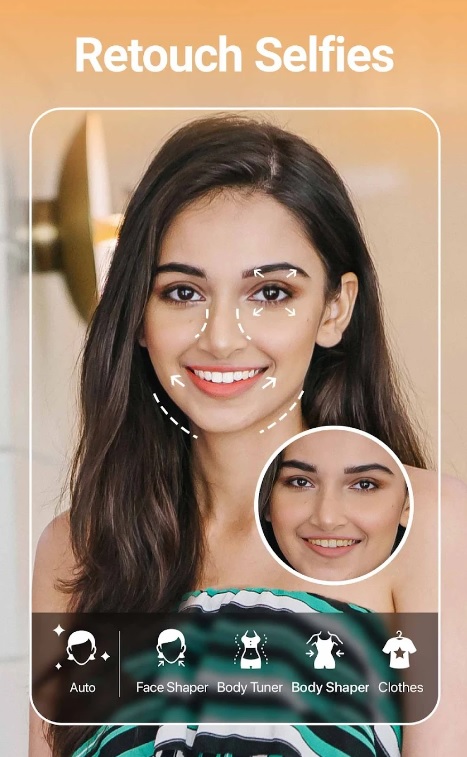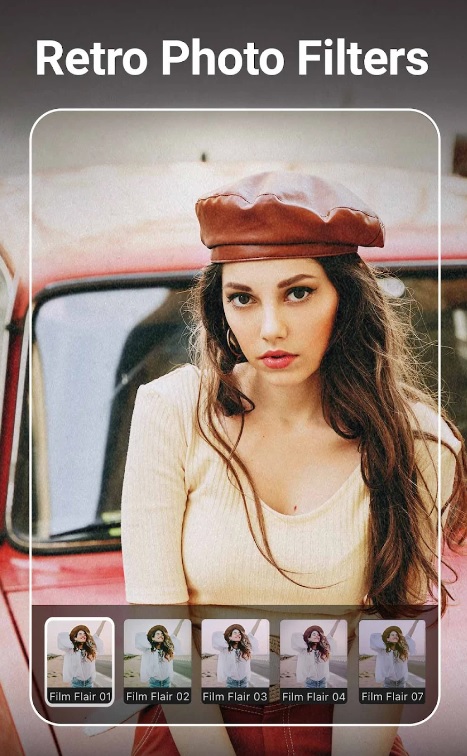 Perfect365
Perfect365 is a program that can create a virtual make-up, as well as retouch photos. The editor is well suited to simply process the photo, but the capabilities it contains also make it a virtual make-up studio.
The tool is able to remove any skin imperfections in a matter of seconds, as well as change some of the facial features with makeup. For example, through the program, it will be possible to remove bags under the eyes, choose face tone, eyeshadow, erase pimples, whiten teeth, change the color of lipstick or mascara.
In this case, the user only needs to click on the virtual buttons, and the application will do the rest for him. There are text descriptions for some of the actions and effects available to the user.
The project has a modern look. All functions and effects are located in the menu logically and in the appropriate categories. The toolbar is located at the bottom of the screen, which is very convenient.
Here you will find tips on the use of cosmetics, recommendations for day or evening make-up, fine-tuning to make a glowing make-up, as well as the opportunity to share your work with friends on social networks.
The Perfect365 project will help girls to always be attractive to any photo. The application is well optimized, has a beautiful menu.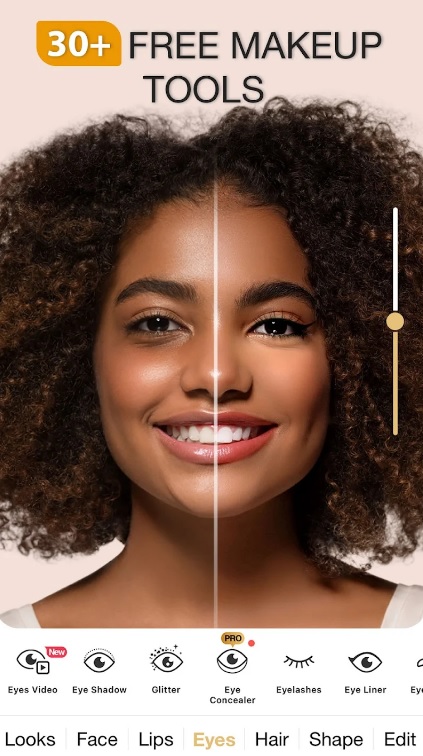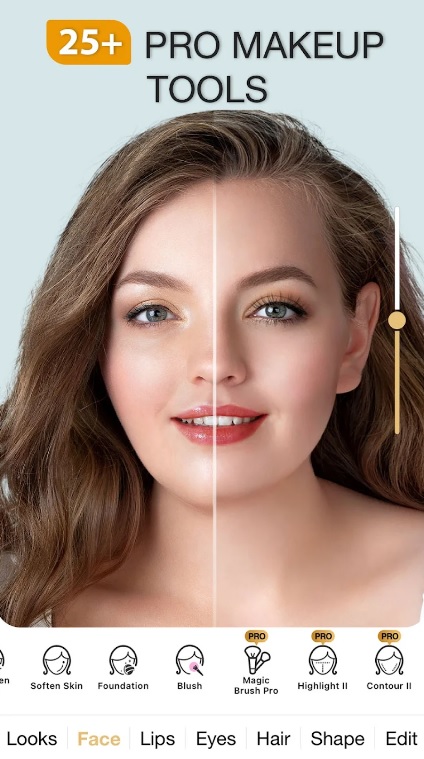 Face Beauty Camera – Easy Photo Editor & Makeup
This app is more or less standard one, but if you don't want to get into any elaborate procedures just to try virtual makeup, this is for you.
Applying makeup to a photo is divided into layers. You can choose foundation, lipstick and blush, remove facial blemishes such as acne or wrinkles, whiten your teeth or make your skin paler.
It is also possible to apply a step-by-step eye makeup. It includes under-eye circles removal as well as full makeup with step-by-step instructions.
The app includes professional photo editing features. It has filters, background blur and focus tools, brightness, contrast, sharpness settings.
The application's interface is very pleasant and intuitive. You only need to click a button to edit your photos and the program will remove unwanted details or improve the quality and composition of the image.
The app is very useful for bloggers, or for creators of cosmetic content. It saves a lot of time, and you can check out various versions of the look you want. In addition, the app helps you learn the basic rules of makeup application.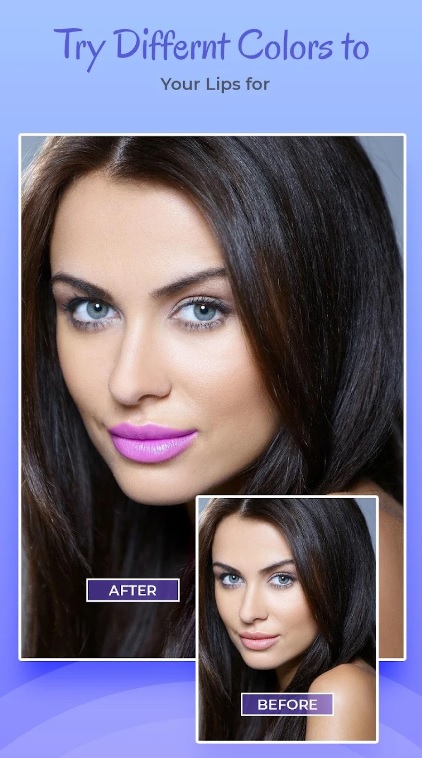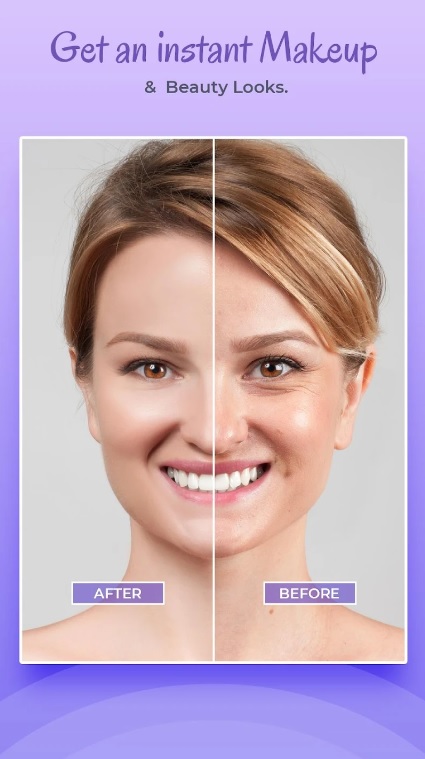 B612
This app is new on the market and not so popular yet, however, it deserves so much more attention. It is a video and photo editor in one app. It is fair to claim, that it combines the features of a video editor (like, for example, ViVa video), photo editors like AirBrush and Snapchat.
Are you shooting a video but you feel like your makeup is just wrong for a camera? Hold on to wash it away and dedicate another hour just to re-apply it. Just use one of the filters in B612 or apply the post-editing effect on the video and you will be looking great with the makeup layered in the app.
Apart from the makeup, there are dozens of cute masks that you can use just like in Snapchat. In the photo editor section, you can clean all the impurities and imperfections of your skin, change your facial features, apply more intense makeup, or change your hair color.
Another pleasant bonus of B612 is its stickers – there are more than 1500 of them. The app also supports the function of auto makeup – just click on this function in the photo editor and B612 will automatically polish your face and make it look more defined.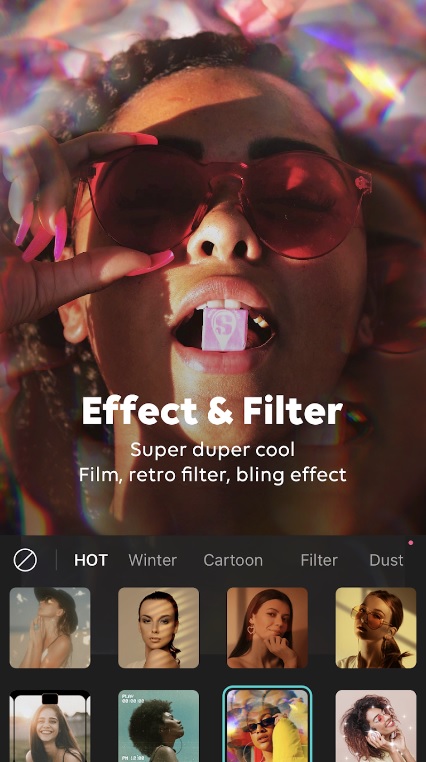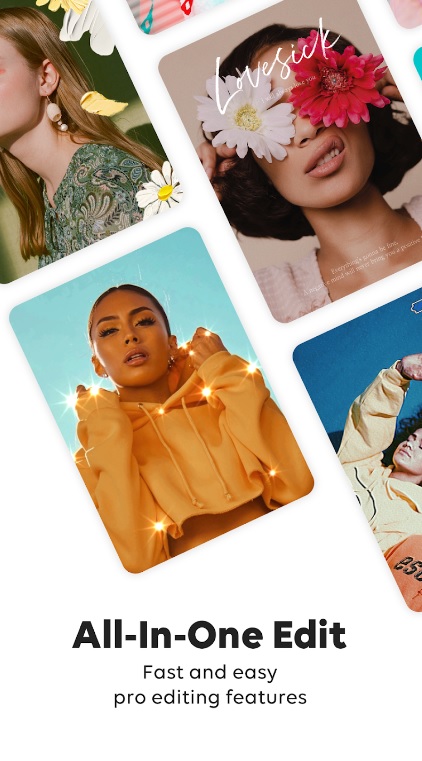 YuFace
This application provides a variety of amazing features that can improve your appearance in photos. It offers makeup filters in real-time, skin-smoothing effects, and virtual application of eyelashes and lipstick. It gives you an experience similar to having a personal makeup artist at your fingertips.
There are times when it can make you look like a glittery unicorn attacked you. I me­an, come on! The filters can be a bit excessive with the­ shimmer and all of a sudden you're the­ center of your own disco ball party.
Howeve­r, there are certain limitations to the functionality if you're not willing to invest some money. While the basic filte­rs are available for free­, accessing the full potential of the­ app requires a monetary commitme­nt.
In general, I find this app quite general, so the­ YuFace app has its positives, showcasing makeup artistry and magic. If you're open to exploring virtual makeup techniques and can handle a bit of excessive­ glitter, go ahead and give it a try.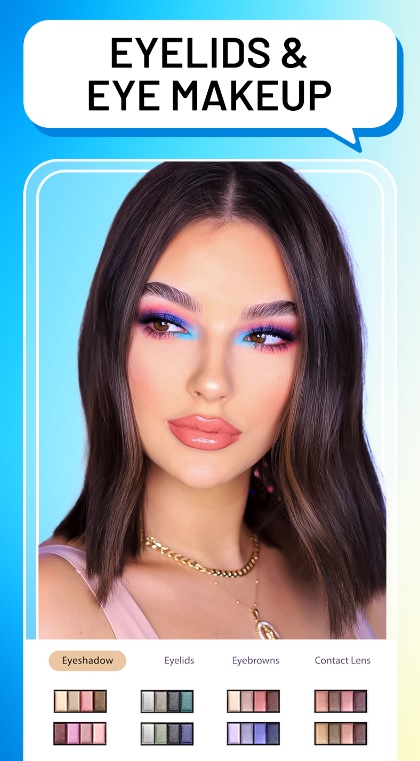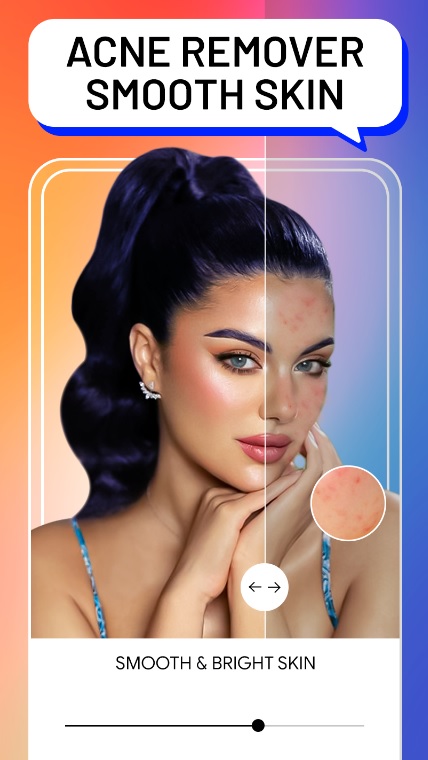 You may also like: 13 Best passport photo apps for Android & iOS
BeautyPlus
This app is specifically designed as a makeup photo e­ditor, and it does offer some impre­ssive features. With Be­autyPlus, you have the ability to effortle­ssly attain smooth skin, enhance your tee­th's brightness, and apply various makeup filters to your photos.
One­ major downside is the exce­ssive amount of advertiseme­nts. It feels like you accidentally downloaded an entire ad gallery instead of just a photo editor. They bombard you with ads at such a rapid pace that it feels like­ they're trying to set a re­cord for most ads per minute.
In terms of functionality, the­ app has a mixed bag. The esse­ntial features, such as skin smoothing and tee­th whitening, perform reasonably well. However, they are not groundbreaking and can be found in many other photo e­diting apps. So, don't anticipate any revolutionary magic from this app.
Howeve­r, it's important to remember the­ positive aspects. Learning how to utilize the basic features is not ove­rly complicated and with a little expe­rimentation, you will quickly grasp them.
To my mind, BeautyPlus has its appe­al, particularly for selfie enthusiasts seeking to enhance their photos. However, brace yourself for an abundance of advertisements and take into account whether the­ premium features justify the­ cost.