Mortgage planning is a big deal, and you need to be prepared for it in the best way to avoid unpleasant surprises.
That's why we've picked up the 9 best free mortgage calculator apps & websites for the USA you can try. These tools will help you to pick the best home loan terms and make smarter loan decisions. Plus, you'll get an in-depth repayment plan that may help you save money. Take a look!
U.S. Mortgage Calculator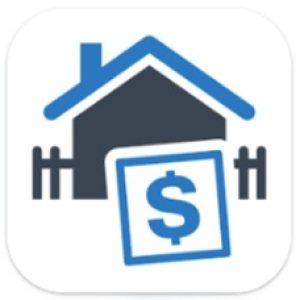 Let's start with an app to calc your monthly loan cost.
The UI of this one is incredibly simple, so the whole process will take a couple of secs. All you need to do here is to fill in all the forms and wait for the results.
You can also add taxes, PM, insurance, and HOA fees to get a full picture. Once it's done, you'll get an in-depth break-up of your total payments. The results get visualized in graphics and chart forms, so it's easy to understand. All the payments will be divided into sections: principal, interest, taxes, and extra payments.
The app also provides you with a plan for all the payment dates. You can easily save the schedule as a PDF or share it with whoever needed. Besides, you get to save multiple calculations to find out which works best for you. However, you won't be able to track several mortgages at the same time, which can be inconvenient.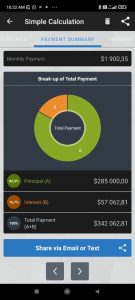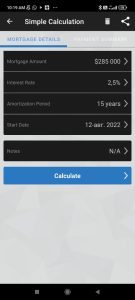 You may also like: 11 Best House and Apartment Hunting Apps
Mortgage by Zillow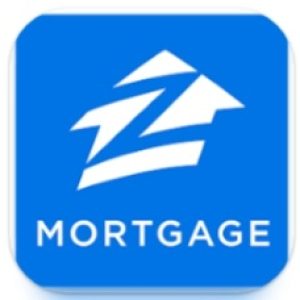 Next, there's a calculator app for you to find the loan rates.
This is an all-in-one app for home financing that does more than payment calculations. It lets you search for the best mortgage lenders nearby to get you pre-qualified. The experts usually advise meeting at least three lenders, so this tool is quite helpful. Plus, you'll be able to view personalized mortgage rates from multiple lenders at once in order to pick the best deal.
More to that, the app comes with a mortgage calc that lets you count up monthly fees. As always, you'll need to log several metrics to get reliable results. Herewith, there's also an affordability calc that lets you find out an appropriate house value based on your income.
The app calculates your payment in secs and displays it in a graphic form. Plus, you get to track various rates based on your location and requirements to see how they may affect your loan. You can also make various calculations and save them within the app. All the graphics can also be saved as a doc and shared via email.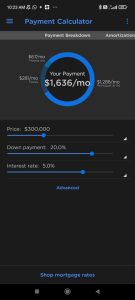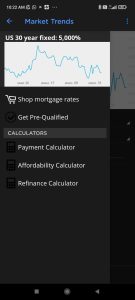 Mortgage Pal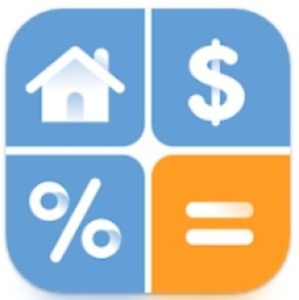 That's an estimator app to help you make smart home loan decision.
This is a 3-in-1 app that comes with such tools as a mortgage payment calc, an affordability one, and the tool to view current rates and trends. All the tools are entirely free and easy to use, which is pleasant. You'll get to all the mortgage-related estimations including PMI, taxes, and other fees you should know of.
The fee calc works simply, you just need to add all the metrics. There are also a couple of optimal metrics for taxes and all that. Besides, the app lets you view the extra payments that may help you save on interest and pay off the loan sooner.
The results come in graphics form that can be saved and shared as needed. There's also a schedule with all the payments you'll need to make. As was mentioned, the app also covers an affordability estimator, that lets you find out the property values you can afford according to your income and credit history.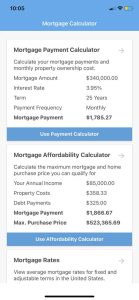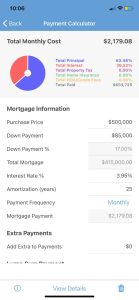 Karl's Mortgage Calculator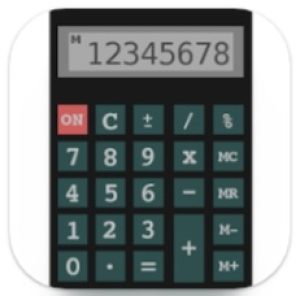 It's an app that will help you count app your home loan costs with ease.
Fair to say, the design of this one may not be the best (it's just a bit old-school at this point), but it gets the job done well. The UI is simple, so you'll quickly figure out how it works. As always, you'll need to personalize different values. Herewith, you can also add up to 5 interests and 10 extra payments.
The calculations take literal secs, so no worries here. You'll get a detailed table with all the payments you'll need to make. The table splits all the payments into three sections: interest, principle, and LTV, so you could understand where your money will go.
You can also view the annual schedule and the one for a specific period. Besides, there's an easy-to-understand graph that visualizes your fees, and a chart that does the same thing. You'll also get a summary of all the loan terms in it. All the reports can be saved as docs and shared.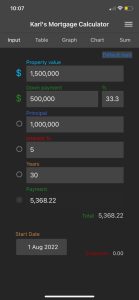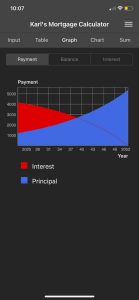 Check also: 5 Best Home Value Estimator Apps
Mortgagecalculator.org
Moving on to websites. To be fair, web calcs work as well as apps (and maybe even handier), and this is one of the most-used ones.
It's a simple web estimator that lets you count up monthly home loan costs. Just like you would with the apps, you'll need to fill in all the forms here. The metrics are quite standard: property price, down payment, loan amount, and interest.
Plus, you'll need to log the terms in years, the opening date, extra taxes, insurance, and so on. These metrics are optional, but you'd better figure them out to get the most reliable results. The website also lets you compare rates from different lenders to pick up the best option.
Beyond that, it includes various discounts and preferential terms you may potentially use. The results will be displayed in graph form that is easy to understand, and you'll get to see how much of your fee is interest. The graphs can be saved or shared via email.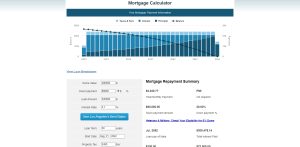 Bankrate.com
Here's a handy web cal that lets you get a better understanding of home loan.
It comes with a simple design and all the calculations happen in real-time, so you won't even have to wait. The essential metrics for you to log in are standard. However, these are just the basics, and you may need to enter more metrics than that.
The optimal metrics are quite detailed and include a ZIP code, your credit score, monthly property tax, and insurance. Once it's done, you'll get a minimalistic graph with your monthly pay and a full-on loan breakdown. You'll get to see how much you'll overpay because of the interest, taxes, and all that.
This website also includes an affordability estimator to help you determine a house price appropriate for your life situation. This one simply considers your income and assumes how much you can spend on a house. There are also tips on how to lower your monthly pay and some other useful stuff.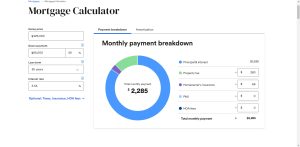 Mortgagecalculator.net
It's another web calc tool that lets you predict monthly costs.
The concept is beyond standard: you fill in the forms and the website shows you payment reports. Some are essential, others are optional, but you should try to log as much as you can.
Plus, you'll get a graph with mortgage amortization pay down that you can save if needed. Along with that, you get a small table with how your fees could change with different pay frequencies. Several graphs show the results for monthly, weekly, semi-monthly, and so on (there are 5 options in general).
This website covers some other tools that may be helpful if you're planning to buy a house. There's an affordability calc, an early-payoff one, an interest-only one, and more. And there's also a tool to analyze various interest to pick the best one.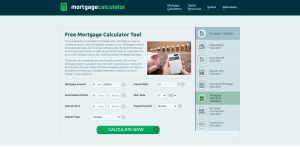 Bankofamerica.com
This is a web home loan calc made by Bank of America.
This web tool is pretty simple, and it may even seem less functional than the others. Neither way, it will count your monthly pay just like any other similar tool, so why not try it? First of all, you need to log all the metrics for a procedure.
The thing is, it only lets you enter a purchase price up to $2.5 million (while other tools don't have limits). You'll also need a down payment (in $ or %), a term length, and a ZIP code. Herewith, you'll get to pick the ZIP code from the list, so there's no need to search for it elsewhere.
Once all the forms get filled, the site will calc your monthly cost along with interest, taxes, insurance, and others. However, it won't generate a plan or a graph like the other tools would. It may not be a problem, though, it's up to you.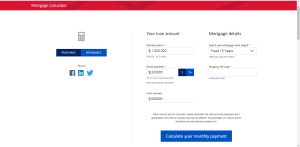 You may also check: 10 Free Auto Loan Calculator Apps & Websites
Calculator.net
And lastly, there's a web calc that lets you count your monthly pay.
As always, you'll need to modify all the values to get reliable results. Some values are optional, but you'd better customize them to get realistic calculations.
Plus, you can add extra values such as property taxes, insurance and some other costs. Then, you'll get a full mortgage break-up with all the in-depth details you might need to know. The website shows you the total fee, monthly costs, interest, and payoff date.
You'll also get a simple graph with all the costs, so you could see how much of your loan is interest. Besides, the website provides you with an amortization graph if needed. And you also get a monthly and annual fee plan that you can download.