You will hardly meet someone who doesn't love listening to music. Nowadays we are used to listening to music on our mobile phones. That is why many of us are searching for free download apps for iPhone or Android.
It should be noted that the most popular and rated music apps are similar for both Google Play and the App Store. Many of them are free, others offer in-app purchases and monthly subscription fees.
Here we have collected all the best free apps for downloading. So glance at the list of the bests in our post and choose any you'd like to use.
Spotify Music
Want to discover new music? Use the app which gives you access to a world of music. Spotify Music is the top free app available for iOS and Andriod now!
It is the best app to listen to the music of numerous genres: classic, rock, pop, r&b, rap, country, etc. You can even listen offline.
Here you listen to albums and artists, or you can create your own playlists of your favorite songs and you will always have music that will suit your mood.
The interface of the app is perfect and smart. Just enjoy having such a great app on your mobile.
Get inspired with personal recommendations, and readymade playlists for just about everything.
You can purchase Premium version that allows you to:
• Play any song, any time on any device.
• Download music for offline listening.
• Enjoy amazing sound quality.
• No ads – just uninterrupted music.
• No commitment – cancel any time you like.
It is up to you which version you will use.
So listen to the right music, wherever you are!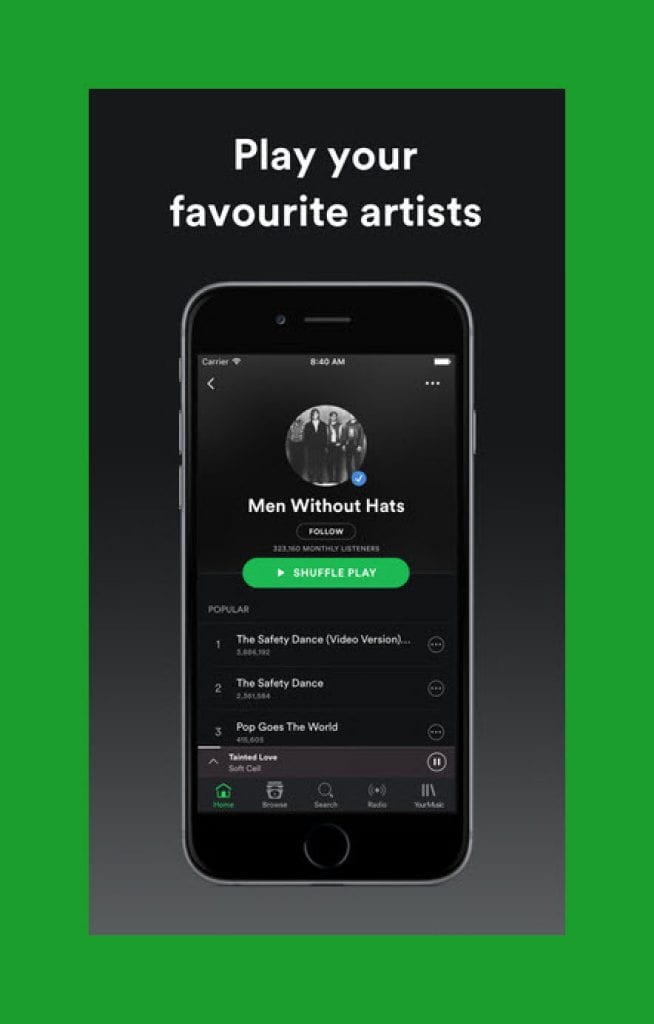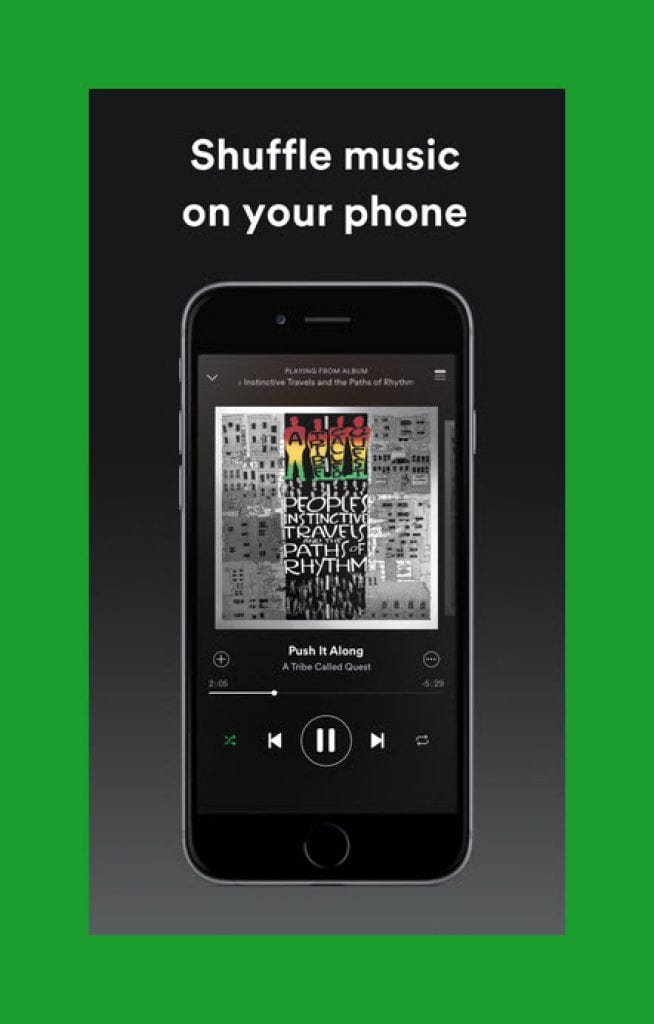 Charge: free or paid
You may also like: 7 Free apps like Spotify (Android & iOS)
Freegal Music
Do you want to have access to music from around the world? Download the Freegal Music app!  Freegal Music offers a huge collection of latest music as well as a number of fantastic retrospective songs. It gives you access to a collection of almost 9 million MP3 songs via your local, subscribing library. The application is completely free and safe.
You can navigate the library for the desired song, then add the song to your library. After that, you can easily access the downloaded song on your device anytime.
It has easy to use interface and a large number of songs to download. Just download the app and have a collection of your favorite music on your phone.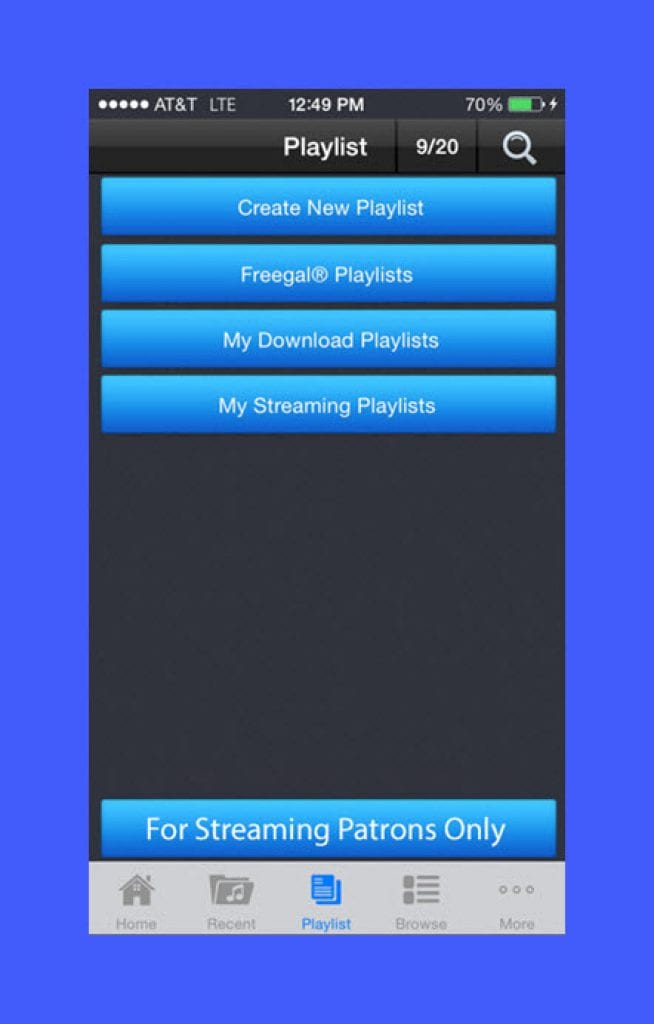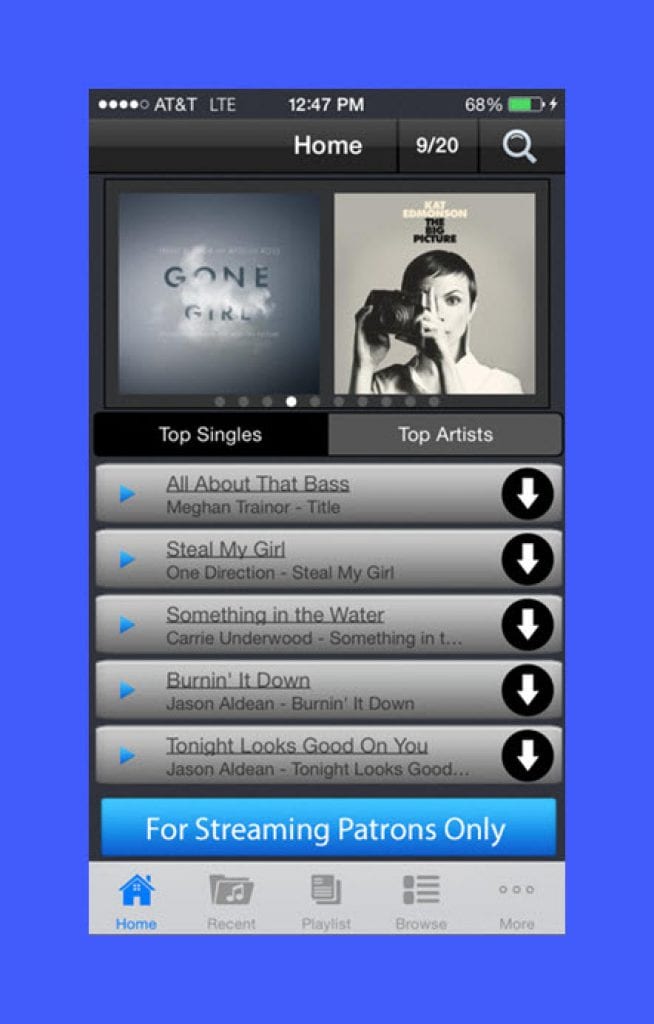 Charge: free
DEEZER
Deezer is an app with an unlimited music stream. You can listen to your favorite tracks without limits anywhere anytime with Deezer.
It has the world's largest collection of different music (from lyrics to new hits and old favorites).
Here are no ads or interruptions, so you will enjoy the music without any problems. What's more, you can create your playlists and share them.
Use flow, the best one-click mix of songs you love.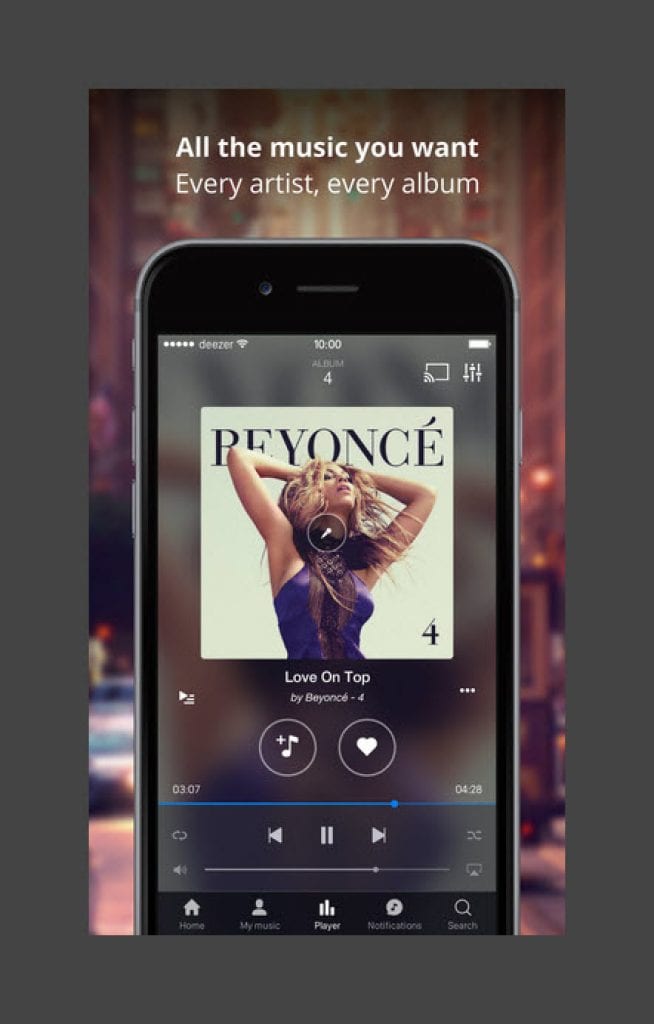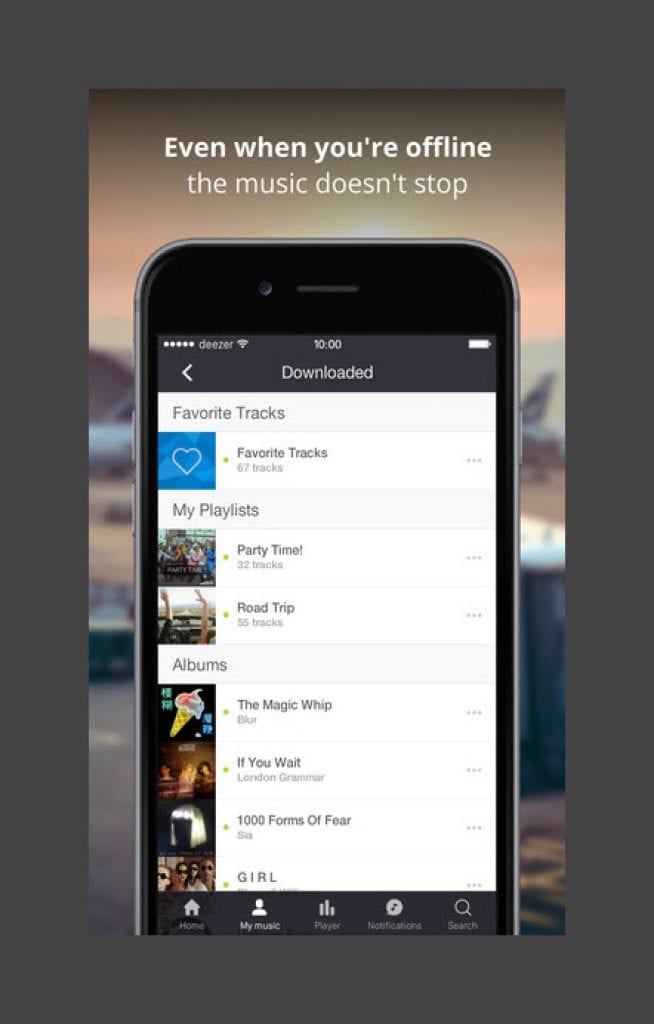 Charge: free
Google Play Music
The most attractive application for downloading music on our list is Google Play Music. It is one of the most popular apps for music lovers because it gives you access to millions of songs and the perfect playlists for what you're doing, how you're feeling, or what you want to hear.
Using this app you will get access to 35 million songs on-demand and ad-free. You will have the ability to download any song and listen even when you're not connected!
Overall, this app is worth using.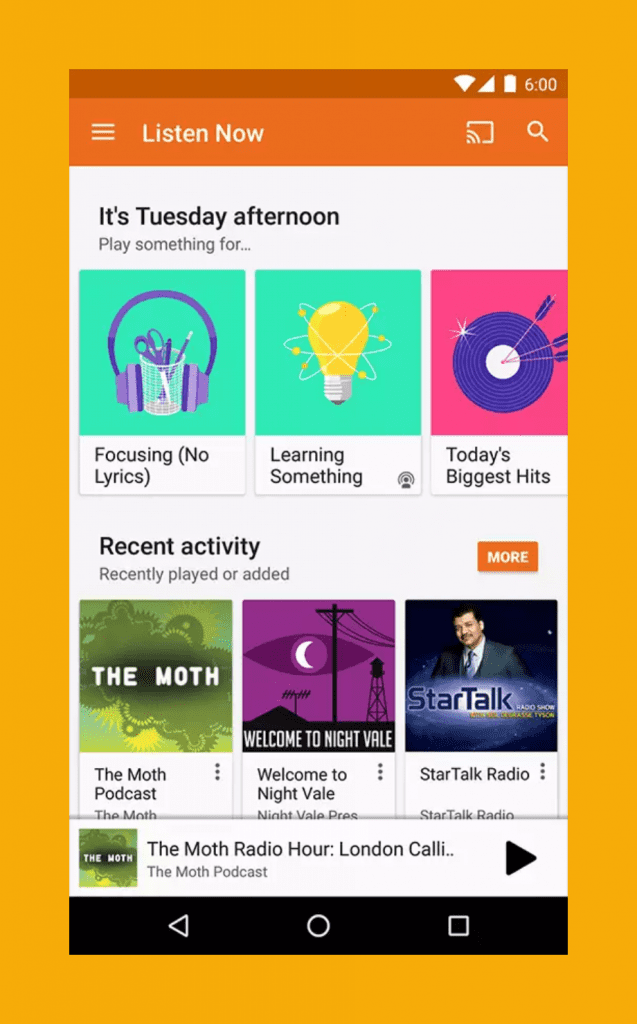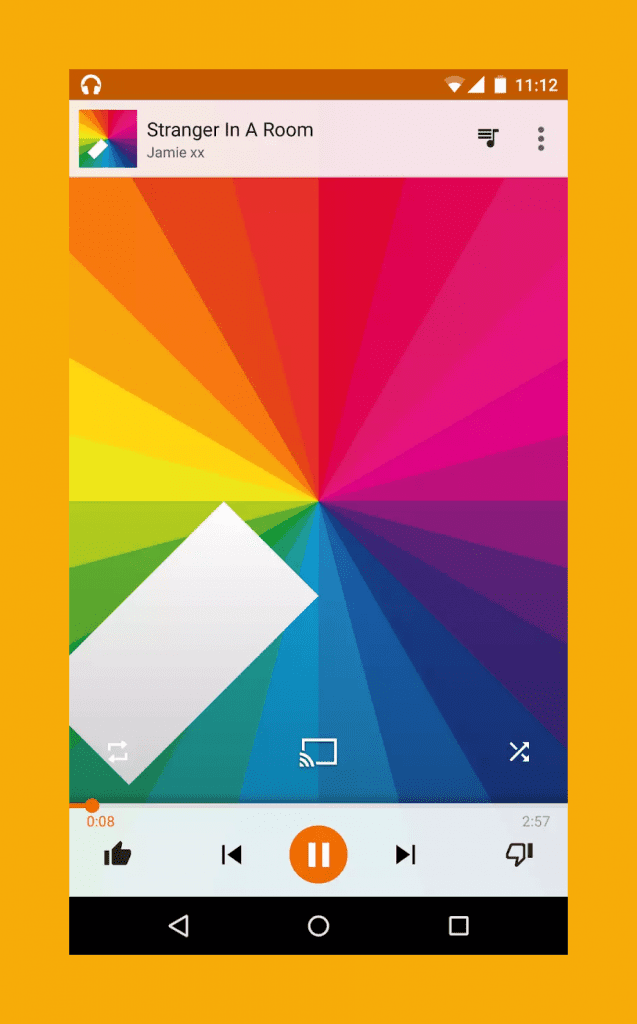 Charge: free for 30 days, then paid monthly
4shared is an app with a great collection of music. There are more than 6 000 000 tracks.
It is simple to download a file from 4shared to your mobile.
Moreover, the music you download is automatically added to a 15 GB shared cloud folder, which is also available to listen to offline.
This is a fantastic app for finding classic music, as well as practically unknown tracks from new artists. The interface has an old-school look that will appeal to fans of older phone platform versions.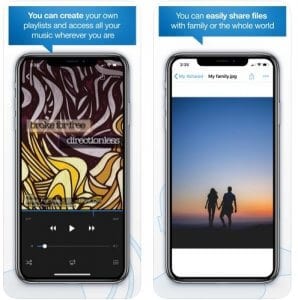 Charge: free
SoundCloud
Millions of music lovers choose SoundCloud to find audio for free. The SoundCloud app lets you listen to music more wherever you are. It works in an offline regime even.
Using this app allows you to discover new trending music you will not find anywhere else. Different genres are included for every taste: hip-hop, rock, electronic, classical, chill, reggaeton, dubstep, deep house and more… You can listen to your favorite tracks from a variety of genres, countries, and singers.
You have the option to connect with friends and your favorite artists to hear what they share. Create your own playlists here and you will have a set for romantic mood or for parties or whatever mood you are in! A fine app up to you!
You can register with Facebook, Google+ or Email.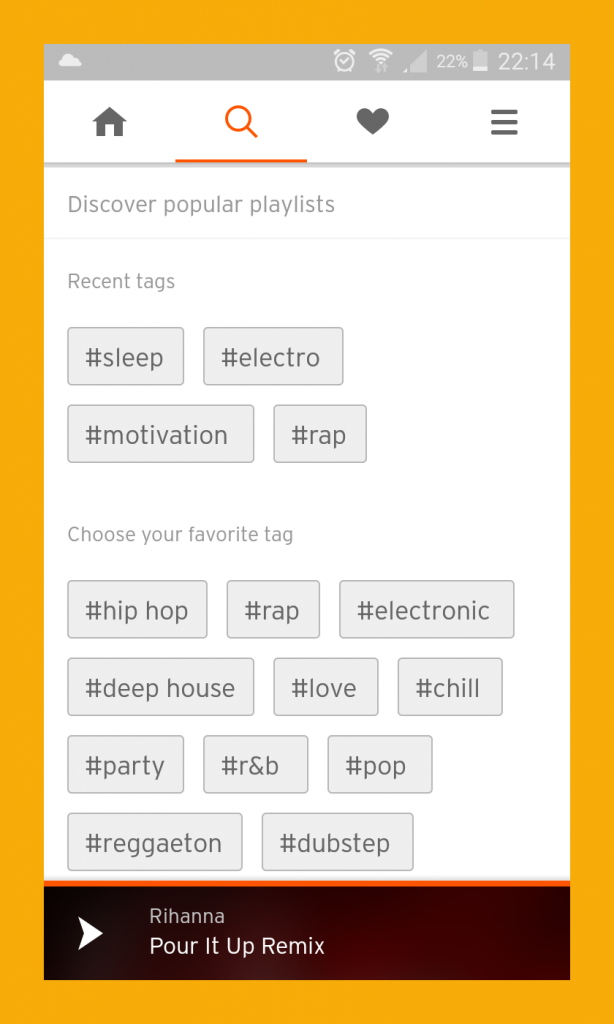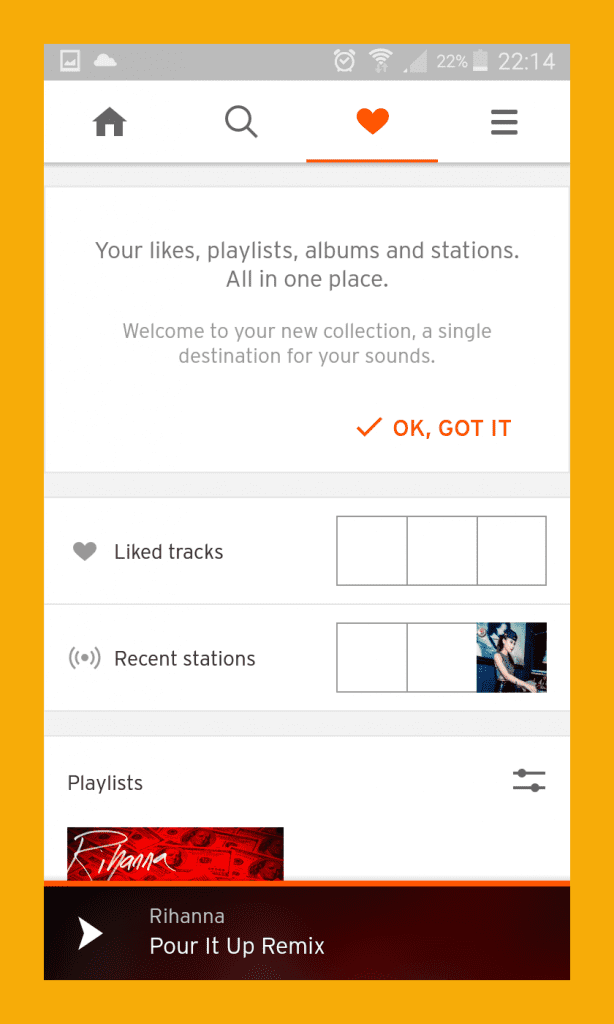 Charge: free
Napster
Napster is one of the official distributors of music. Here you will find more than 60 million songs, including the latest hits. The subscription cost something, but the first trial month is for free. This fact makes this app absolutely ad-free.
Here you can download the whole playlists to your gadget, including smartwatches and listen to the songs offline. Moreover, if you subscribe to the app, you can listen to your music not only from your phone but also from PC/Mac or iPad or any other tablet.
Another cool feature that the app provides is the searching for your music fellows according to the similar music tastes. Thus, you will find not only new music but also new friends!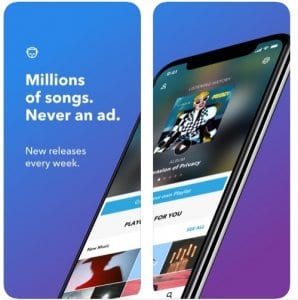 Charge: free
Amazon Music with Prime Music
Do you want to expand your music collection? Do it with the Amazon Music with Prime Music app!
You will have access to about a million songs without paying. You will find music for your mood, for your favorite genre, for artists you like.  You can stream any time, add songs to your playlists, or download to play offline.
There are no ads or playback restrictions.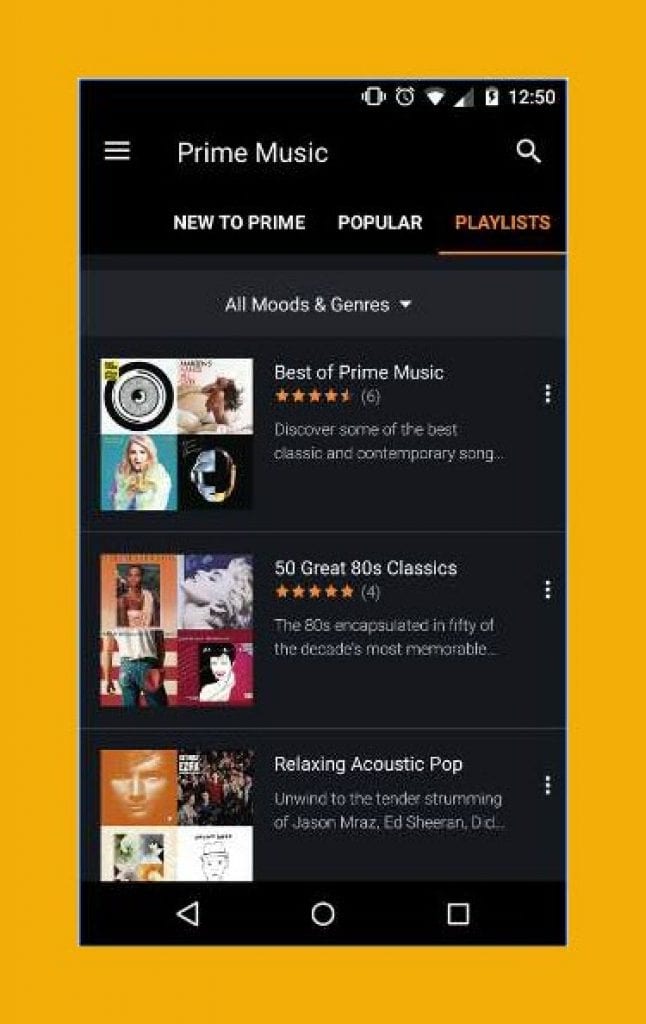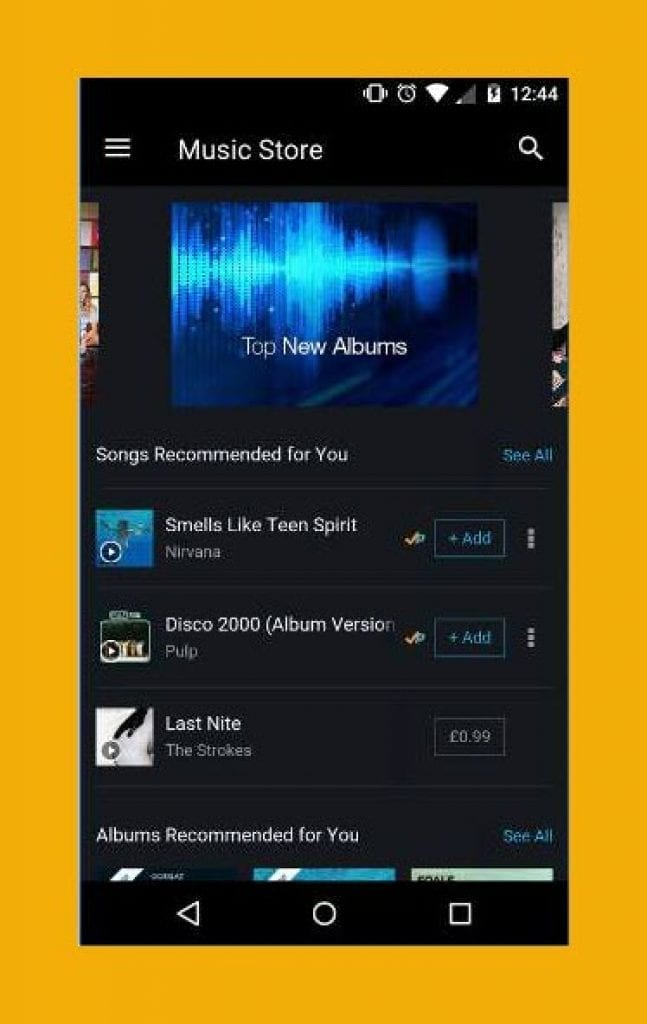 Charge: free
MediaCloud Free Music Download & Video Player for Dropbox, Google Drive, Box, OneDrive
This is a fantastic app for finding and listening to popular songs. It has an enormous library of free music.
Do you like to listen to music everywhere anytime? Then download your favorite albums on iPhone and listen to it even in offline mode. Also, you can create your own playlists of tracks you like best of all.
There is also an option to save space on a device with MediaCloud! You have instant access to your audio files, video files anywhere: Dropbox, Google Drive, Box Cloud, OneDrive. Listen to your music directly from the cloud!
MediaCloud is a universal app for the iPhone. Enjoy using it!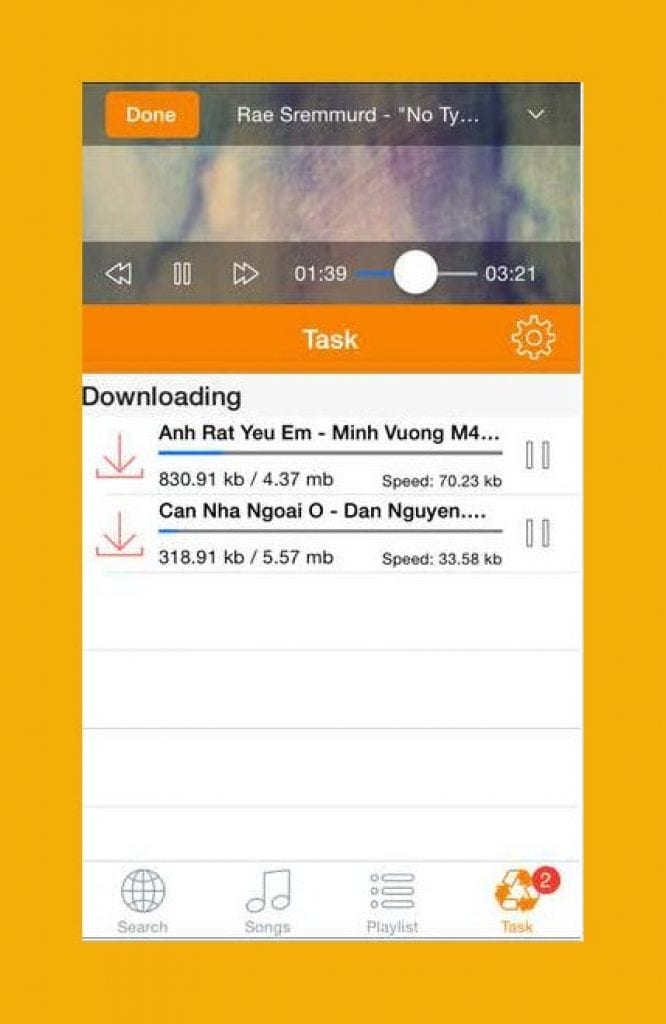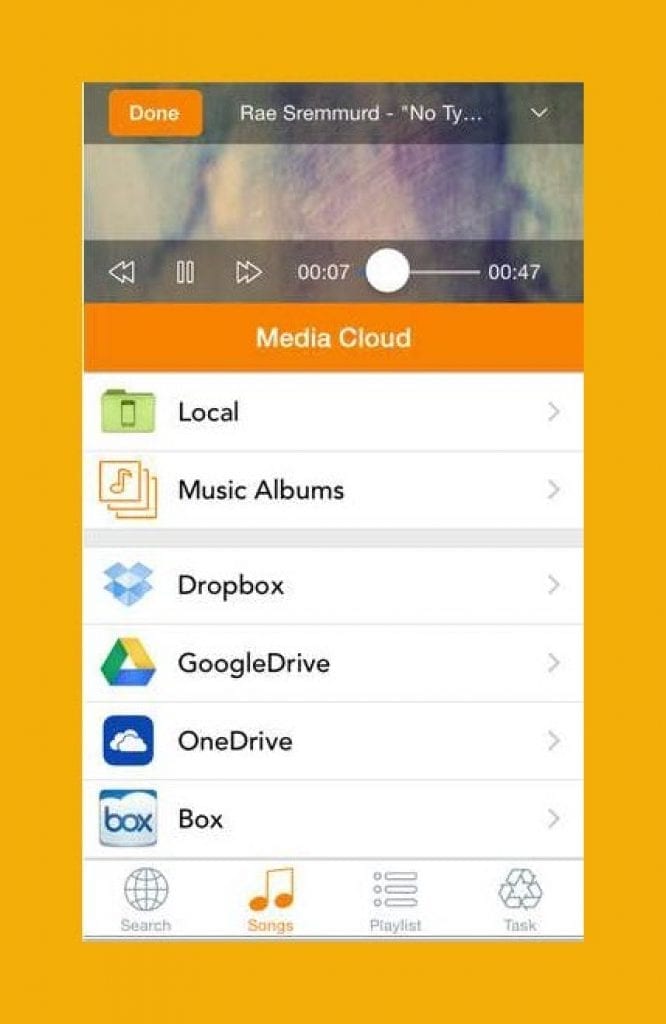 Charge: free
Evermusic – Cloud Music Player & Streamer for Dropbox, Box, Google Drive, OneDrive
Evermusic is the top music downloader for iPhone.
The amazing feature of this app is that with the help of this app you can listen to music in offline mode. Just download your favorite songs, playlists. albums and listen to your music when you are not connected to the Net.
You can free up disk space on your iPhone and stream your music directly from the cloud or home computer. You will be able to create your own playlists of songs and organize tracks there.
Evermusic is a smart cloud music player and downloader for Google Drive, Dropbox, OneDrive, Box, MEGA, Yandex. Disk, WebDAV.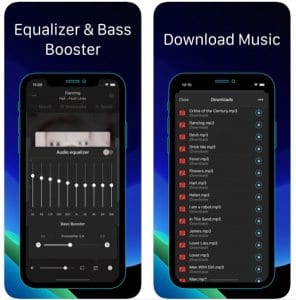 Charge: free
MonkingMe
Another cool app for downloading the music both on iOS and Android. The friendly and well-designed interface of this app will make you want to use MonkingMe every day.
All the music is licensed and it means you can save it only in the app. Still, you will get offline access. And even if it happens, that you have downloaded a song from their website, it will also be downloaded in the app.
All the songs streaming is free and you can share the music with your friends. Another point that MonkingMe is good for – discovering new artists. The app supports them and publishes their songs as well as the releases of the most trendy artists. So there is always a chance to discover something fresh and unusual.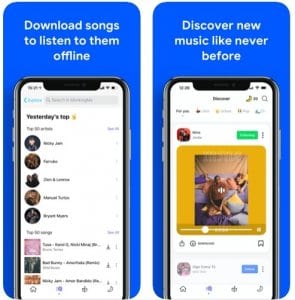 Charge: free
Free Music Downloader
If you want to get standard music downloading the app on your Android device, then you can choose this app. One of its distinctive features is that it allows you to find the music using hashtags.
Well, it will let you save the songs only withing the app, but at least all the staff is licensed. Another point here with mentioning is that the app has really convenient buttons for downloading.
Also, the interface is highly user friendly so no hassle while using it.
When you go to the main page of the app you can see different playlists, including those, that have trending songs. What is more, you can set the song you like as a ringtone using the app.
There is some amount of ads, but it's not that bad as in some other apps.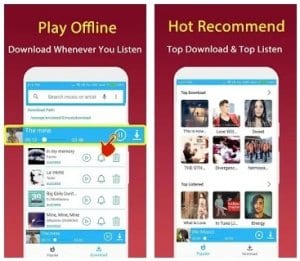 Charge: free
Mp3 Music Downloader
In this app, you will find millions of mp3 tracks of excellent quality.
The search bar is very convenient in usage, so you will find everything that you need quickly.
The process of downloading itself promises to be fast. That is provided by the multi-thread download engine.
You can always set downloaded track as a ringtone. The app has a built-in music player that is an additional bonus. By the way, before downloading you can choose which quality you want to get – from standard to superior.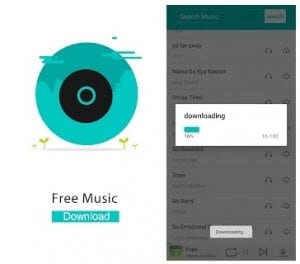 Charge: free
Free Music Download & Mp3 music downloader
Another great app for downloading music which is quite popular on Google Play. The search is very easy here because all the songs have covers.
The download engine is multi-thread and it allows the app to get the music to you super-fast.
You can search for songs by title, genre, album or artist. And just like in the previous app, before downloading, you can choose the quality of the song. However, in case you don't feel like you want to save a track right away you can listen to it online in the player provided by the app.
The only thing is the app has lots of ads. Moreover, here you should keep in mind that it doesn't download it to your phone directly but saves it in the app where you can listen to the song online as well.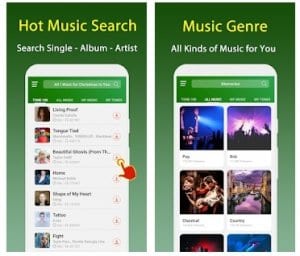 Charge: free
Free Music Downloader – Mp3 Music Download
Thus, if you want an app that would allow downloading the full copies of music to your phone memory/SD card, then you need this. Here you will discover the most various genres of music, not only the most popular ones, but also such genres as classical and soundtrack.
There is a player right in the app that you can use to play all the music on your phone. The only aspect is that songs don't have covers so it might be a little confusing to make the search.
*Music Unlimited
*Download & listen music without wifi / 4G / 5G
*Most recent songs are available
*Search mp3 music by title, artist, genre or album
*Sleep timer
*Change app color easily
*Millions of trending music, top music free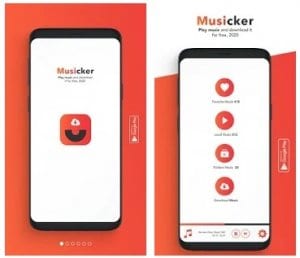 Charge: free
CloudPlayer™ Platinum cloud music player
This is not exactly a music downloader but it is still a good tool for getting the music. The thing is, this player allows you to play your music from cloud storage. It works mainly with Dropbox, OneDrive and Google Drive.
The following formats are supported: MP3, AAC, OGG, m4a, wav and more. Moreover, it supports lossless file formats such as FLAC and ALAC, including 24-bit audio files.
Another cool thing in this app is that it has an advanced equalizer with 17 presets for the optimal sound. Considering the downloading part, the app allows you to download songs from cloud storage.
The interface of the app looks sleek and it is easy in usage.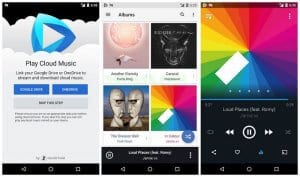 Charge: free
Music Downloader & Player
There are not so many music downloaders for iOS however, there are some that we must mention. This app is an example of a decent downloader for your iPhone. It has a very nice interface that reminds of those of a socials network and all songs have covers.
There are several categories that you can browse through. After you have been using the app for a certain period of time, the app will start forming recommendations for you. Moreover, here the YouTube streaming is available. All the music here is listened to.
Of course, you won't be able to download each song to the memory of your phone, but you will be able to save it offline in the app.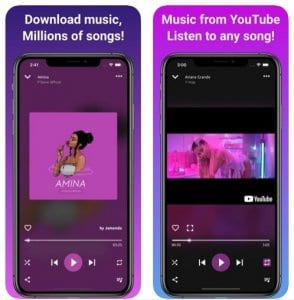 Charge: free
Music Downloader CC License
A little bit obsolete app for downloading music on iOS but it still works. The interface is made in dark colors so those people who prefer black will appreciate it.
The structure is a little messy so it might be tricky to find the song you need. The search button is placed in the lower corner of the screen. Well, at least all the songs have covers.
There are millions of tracks and, what is more, here you can even find the audiobooks. All the content is legal and has a license. If you check, you will see that the app has a high ranking on the App Store.
However, the app is poor for less known artists and audiobooks. So if you want to have more diversity then you should choose something else.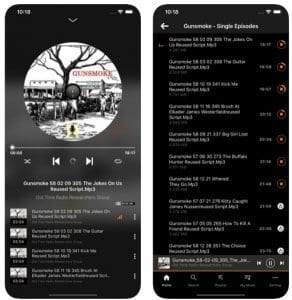 Charge: free
Audiomack
This is one of the most popular apps on Google Play for downloading music with the library of more than 4 million songs. All the genres, including reggae, EDM, Afropop and more can be found here.
One cool thing about the app is that it has lots of playlists for different moods. You can observe them in a separate section. Initially, the app has ads, but there is also a way to make it ad-free for a little fee.
Any song can be downloaded in one click – just tap on the sign on the right side of the track. All the songs have covers.
The app is versatile in the sense that you can either just listen to the music in the app because it has a great player and playlists or save the tracks you want.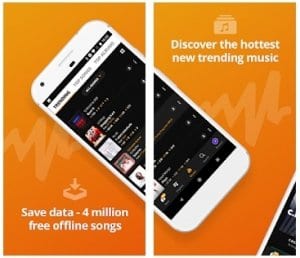 Charge: free
Boomplay
Boomplay has even more songs than the previous app – it counts around 20 million of tracks. The reason why it has so many songs because it includes the music literally of all the genres existing, including instrumental, remixes, acapella and so on.
Well, the app is developed in Africa, so don't be surprised of seeing lots of Afro music here and content for this part of the world. Another bonus here that some people may find helpful is that it has not only music, but also the latest news.
The only drawback is the free trial period is limited. If you want to use this app further, you will have to pay for a monthly subscription.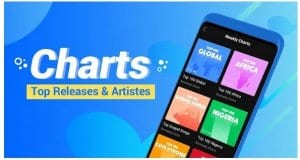 Charge: free
TIDAL Music
If you're not really into pop music and want something unusual, then check out this app. It is own by the artists and not the music labels trying to sell you the staff only from trendy singers.
It is a global music service that provides one of the best quality of music in the industry – HiFi and MQA.
The app has around 60 million tracks and 250000 music videos. As you have already guessed, it lets you save the songs only in the app. The first 30 day trial period is free, however, you will have to pay the monthly fee further.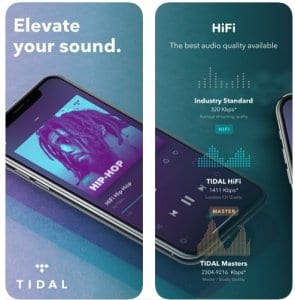 Free Music Downloader
And the app closing this list is another one software for Android. There is plenty of them, but in this article, you will find only the most popular and high-ranked music downloading applications.
Overall, the app is quite decent. The search bar is located on the top of the app. All the songs have covers. The interface is user-friendly and downloading one song won't take you any longer. Considering uploading the latest hits, the app is keeping up pretty good.
This particular downloader allows you to get the music right to your phone memory. In other aspects, it's a convenient small app.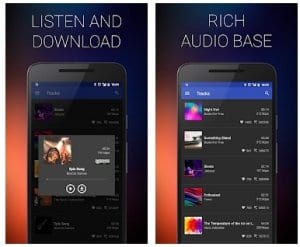 You may also like: 9 Best apps for classical music radio (Android & iOS)
We have shared the most popular free download apps for iPhone as for Android. They are reliable and safe for your device. You can download any music you like now! it will be easy and fast. So download the latest mp3 music right now and enjoy it!