Have you ever been wondering how to spend less money on your daily grocery shopping? Are you getting tired of scrolling grocery store's websites in trying to find the best prices of all? Then you've come to the right place.
Nowadays, one of the best ways to save money is the apps that compare prices for you and tell you the best place to shop. These apps will do all the work for you and you'll get a clear view of all the stores around you.
You may also like: 15 Best free wishlist apps for Android and iOS
Furthermore, some of these apps will even deliver products from your shop list right to your door. Sounds useful, isn't it? So, here's the list of 10 best grocery price comparison apps available for Android and iOS users.
Instacart: Grocery Delivery
Instacart: Grocery Delivery is a nice app that will level up your shopping routine. The first thing that needs to be said is Instacart is not only an app for grocery price comparison but rather a food delivery service.
So let's start by considering the pros and cons of this app. To begin with, this app is one of the best from its category to buy products for the lowest price possible. The app contains price catalogs of almost 200 stores you can compare and choose the best suitable option for you.
And the best part of this is that you can buy products right from the app and get it with one-hour delivery. However, the delivery time can change depending on the store's location and how far your home is from it.
In addition to that, you will also have access to coupons and discount codes for online and offline stores so that you can save spend even less money. Besides, you can create your own customized shopping lists with hashtags so you can search for products in seconds.
Thre's also a feature that ill automatically compare prices for items on your shopping list and tell you which store you should visit to get the best deal.
But it is also undeniable that the app mostly contains large chain stores and might not be available for small local ones and stores from countryside areas. However, this app completely free and doesn't contain any purchases or ads so it's worth trying.
To sum it up, Instacart is a great multipurpose app that will get you through shopping with the best deals. Ge it a try, it won't disappoint you.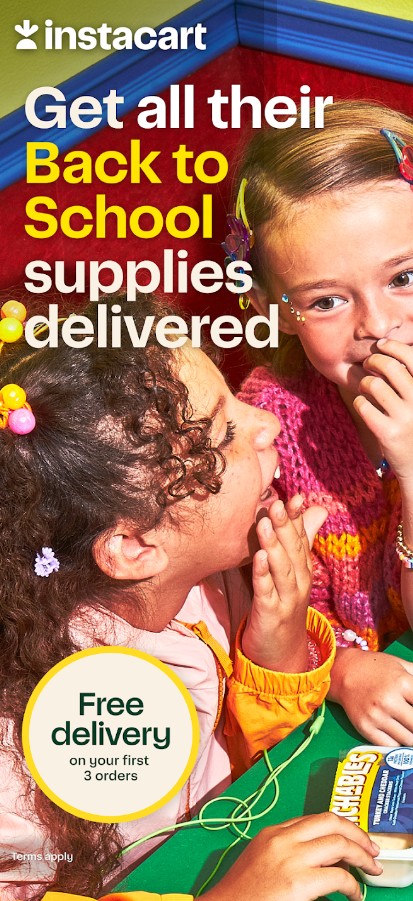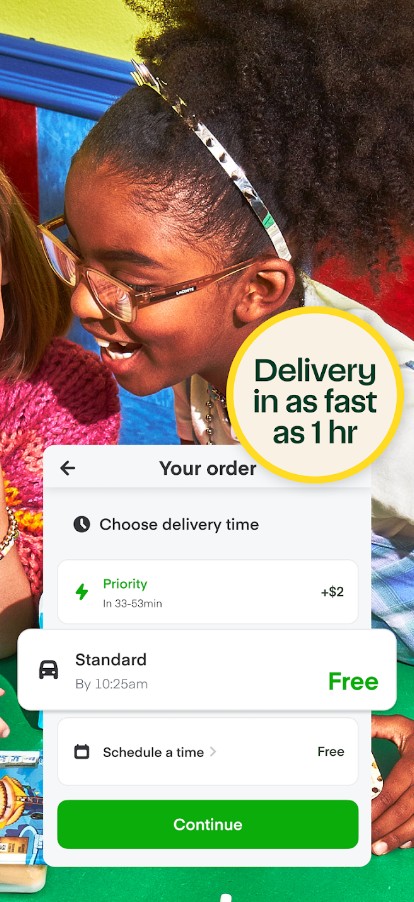 You may also like: 12 Best Grocery List App for Android
Grate Price Comparison Scanner
Do you like to save money and buy products at a discount? Want to get only good deals and spend your money wisely? Use the Grate Price Comparison Scanner app to find the best deal.
The app is a complete price scanner. You can compare prices for the same product at different retailers in a few minutes. It lets you scan offers from brand-name retailers like Amazon, CVS, Home Depot, Walmart, and many others. Rest assured that you're buying merchandise at the best possible value.
It's fairly common for major retailers to hold sales. Get booklets and flyers with new products and dates. Take advantage of this information to save your finances. Start by installing the app on your cell phone and scan the barcodes of the items of interest.
The Grate Price Comparison Scanner will automatically compare all available offers and will give you the results. The app can be used for almost any product. Grate Price Comparison Scanner requires a stable internet connection.
Excellent reviews from thousands of grateful customers speak for the quality of the app. use Grate Price Comparison Scanner to make your shopping experience even more enjoyable.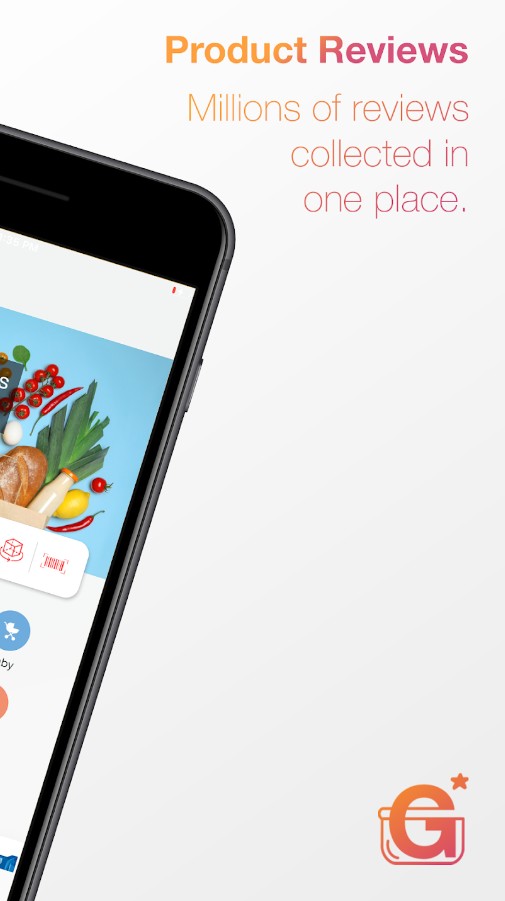 Flipp
In Flipp, you will find the deals from more than 2000 stores, including promotions and coupons.
But this app is also useful for the price comparison – here you will find such famous brands as Walmart, Dollar General, Walgreens, and more. By the way, Flipp includes not only grocery products, but also a pharmacy and other household essentials.
You can switch on your GPS location so the app could find the best local deals for you. Thus, the information that you get here is always up to date and totally relevant. Electronics, pet supplies, garden utilities – this is only a part of all the assortment of goods that Flipp has to offer.
What you need to do is to type in the name of the item that you want to get and the app will show you where you can get this thing on sale. You can also search for stores to find a retailer's weekly ad right when you need it.
If you noticed the profitable deal but it's not exactly what you were looking for you can save it in the app and come back to it later.
You can also add the brands of stores to your favorite – thus you will always see the deals from there in priority order. The most profitable deals are gathered in the "deals" section. Never miss out on your loyalty points and rewards. Add your store loyalty cards to your Flipp app to quickly access your cards during checkout.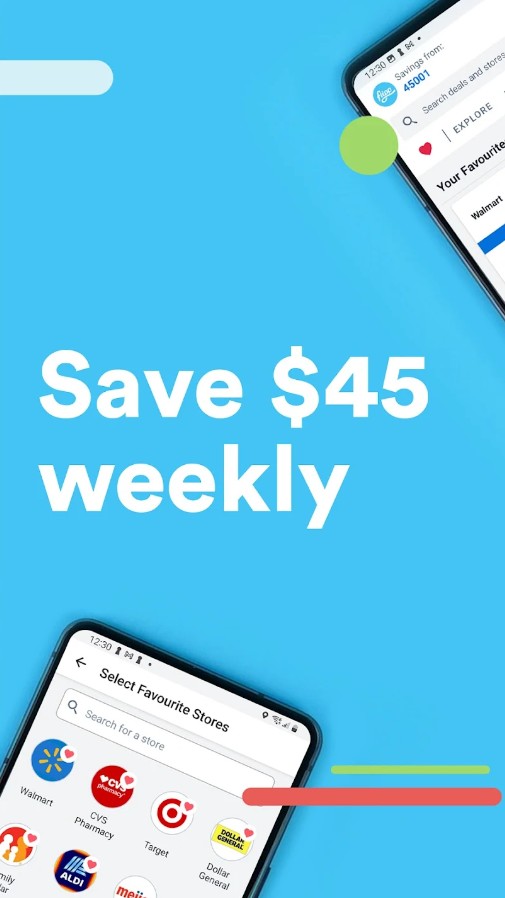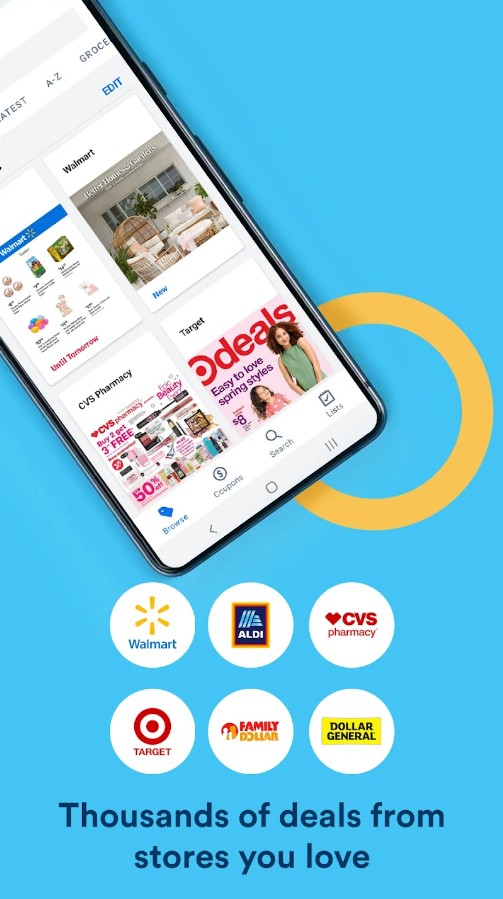 Smartprix
Smartprix Price Comparison is a convenient and high-quality mobile app that will allow you to make your shopping even more helpful. The brightest and most attractive offers from world-known suppliers are gathered in one place.
Compare prices, choose the best deals, and shop with pleasure. Just one app is enough to navigate through the vast number of options.
Here you can check offers from online retailers like Snapdeal, Amazon, Flipkart, eBay, Myntra, and dozens of others. Get up-to-date information about discounts and sales, and be the first in line for a bargain.
The app allows you to track air and bus ticket prices, as well as Uber and Ola cab rides. The app is quite compact and easy to use. Make online purchases with the largest discounts, buy nifty items on seasonal sales, and tell your friends and family about the app.
Choose items of interest from dozens of categories: appliances, books, clothing, and furniture. Get promo codes and coupons as gifts and appreciation from merchants. Use them to further increase the benefits of your purchase. Shop online through Price Comparison Smartprix to be sure of your own benefit.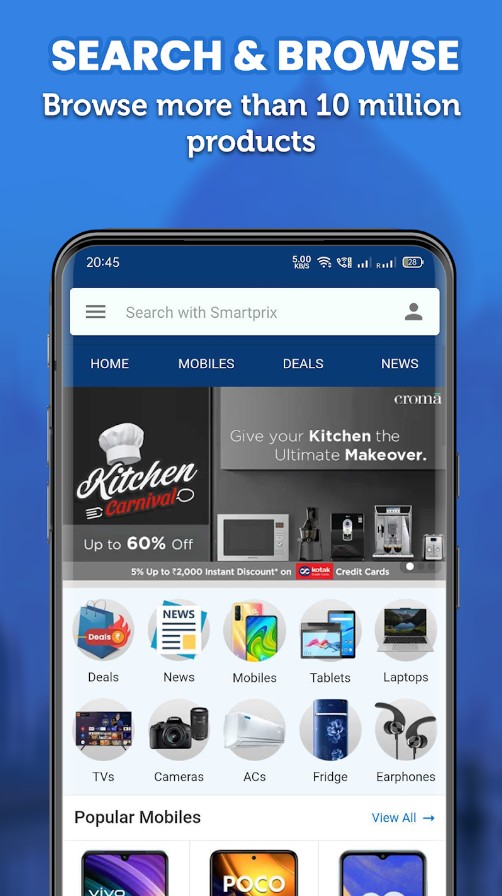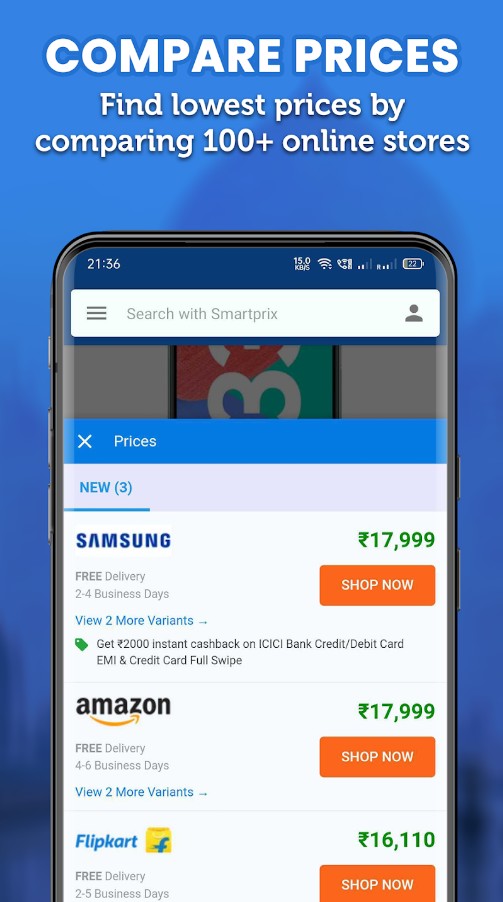 ShopSavvy – Barcode Scanner
ShopSavvy – Barcode Scanner is a useful app that enables you to compare prices in online and offline stores and see when it's a sale going on.
Let's start by considering the advantages and disadvantages of this app. Firstly, this app enables you to look for items you want to buy and see if it's more profitable to buy it online or in your local store.
It should be noted that to able to compare prices on offline stores, you need to turn on location services in settings. Secondly, the app has quite a unique feature that enables you to add particular products on your wishlist and get a notification when the price will go down.
In addition to that, this app allows you to create customized shopping lists so it'll be easier to reach the products again to see current prices.
Moreover, you can also scan codes right from the store and see both online and offline prices. However, if you want to compare the price before going in-store you can search the product's name and let the app do the rest.
Speaking about the notifications and alerts you can set up, there's a possibility to set up notifications for upcoming sales in online and local stores and also create alerts for downgoing prices.
To sum it up, ShopSavvy is a great app that will keep you updated on current sales and compare prices to find the best deal for you. So if you shop online as much as offline, check this app out!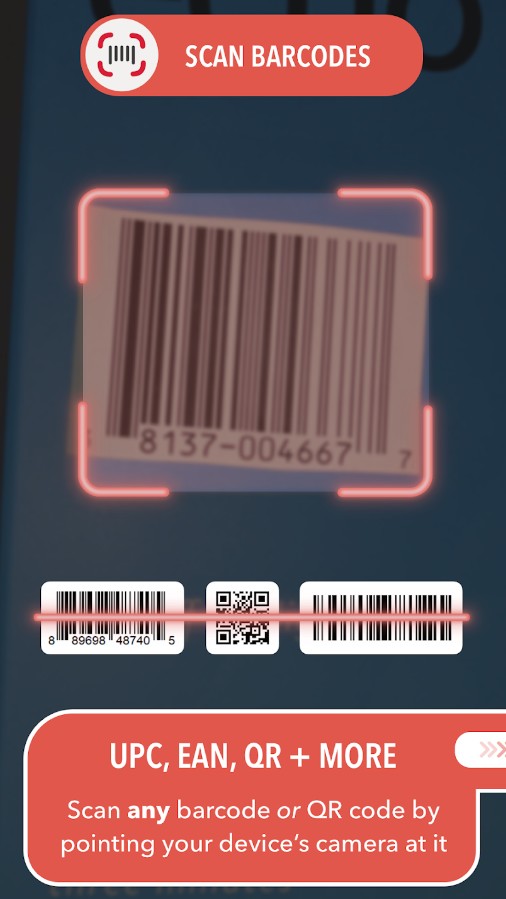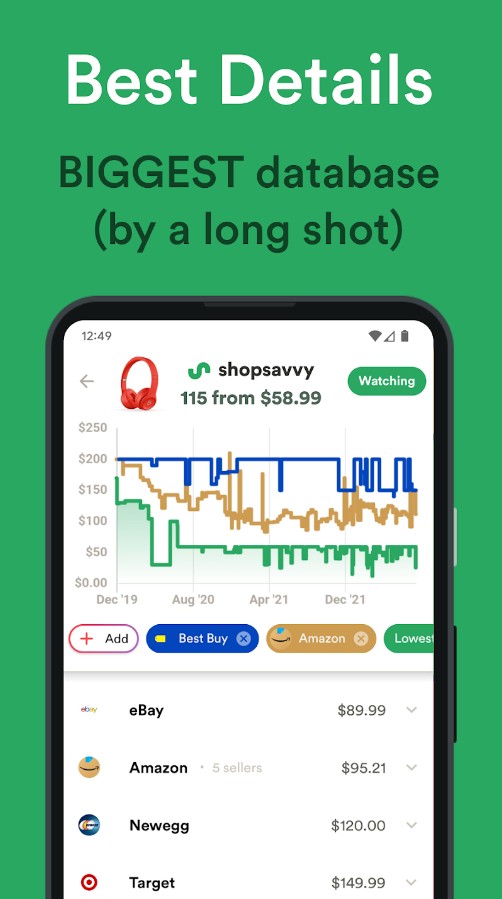 You may also like: 11 Best Food Delivery Apps In USA for Android & iOS
Idealo
These days, consumers don't want to spend extra money to buy goods. Selectivity buyers and the largest benefit – the motto of the developers of the mobile app Idealo.
With its help, you will be able to buy the product you are interested in with the largest profit for yourself. The hottest offers, best sales, and fabulous discounts are all in one place. All you need to do is to install the program on your phone and use it for its intended purpose.
For the app to work, you need to scan the product barcode and wait for Idealo to scan all online stores for the best deals.
Find out prices from different suppliers, get technical specifications, and read descriptions and reviews from other buyers. Weigh the pros and cons of the purchase so that it will bring you the greatest pleasure.
Check the Wishlist and be alerted when prices are lower. Online shopping will now be even easier and more enjoyable. Idealo will help you navigate and choose the right option without too much stress and worry.
Get the opportunity to make your shopping experience productive absolutely free. The app highlights products from 30 thousand online stores, so you will definitely have plenty to choose from.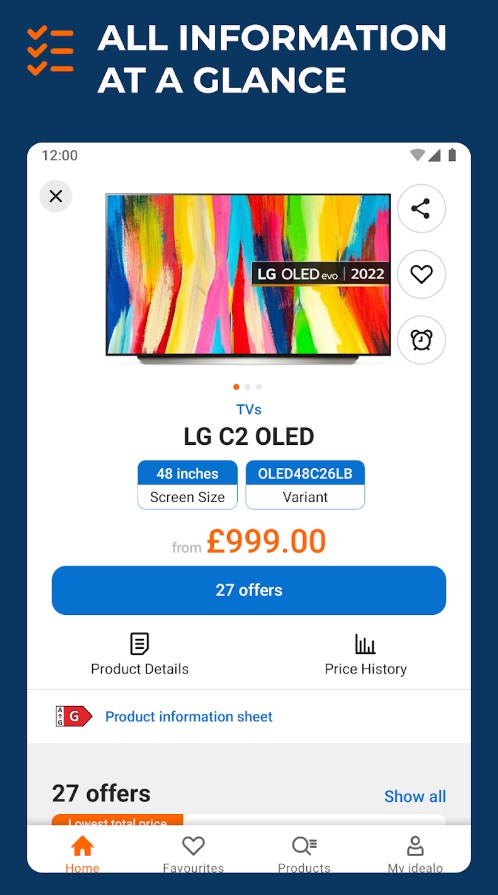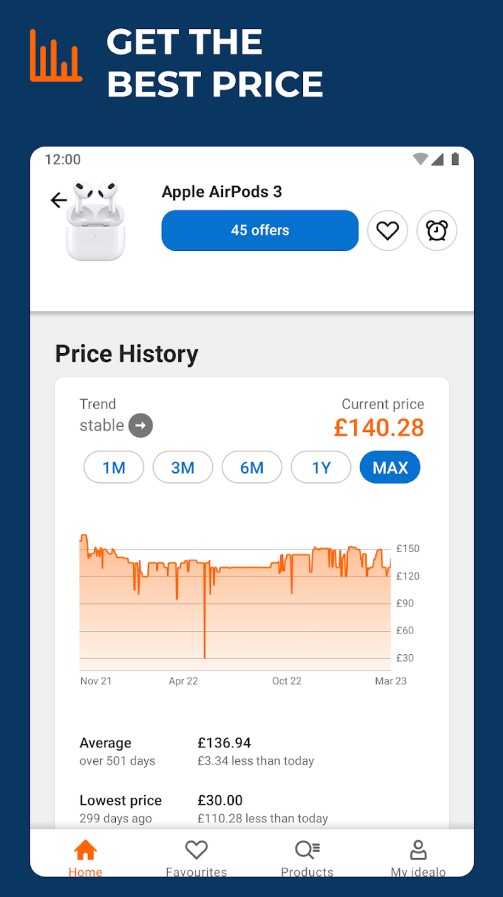 Grocery King
Introducing Grocery King, the must-have app for smart shoppers who want to save time and money on their grocery runs.
This app is your trusty sidekick for comparing prices and managing your shopping list with ease. When it comes to comparing prices, Grocery King does it effortlessly. It helps you find the best deals on various goods, making sure you get the most bang for your buck.
Grocery King covers a wide range of goods, from fresh produce to household items and everything in between. Whether you're shopping for groceries, toiletries, or even pet supplies, this app has you covered. It's like having your own personal shopping assistant right in your pocket.
But Grocery King is not just about comparing prices. It also excels at creating and managing your shopping list. Say goodbye to scribbled notes or forgetting what you need – this app lets you organize your list efficiently.
And if you're looking to declutter and sell some of your goods, Grocery King provides an option for that too. It's a one-stop-shop for all your shopping and selling needs.
In a nutshell, Grocery King simplifies your shopping experience by helping you find the best prices, manage your lists, and even sell your items hassle-free. It's the ultimate shopping companion you never knew you needed.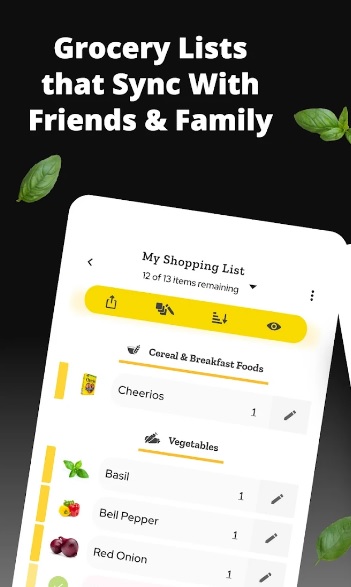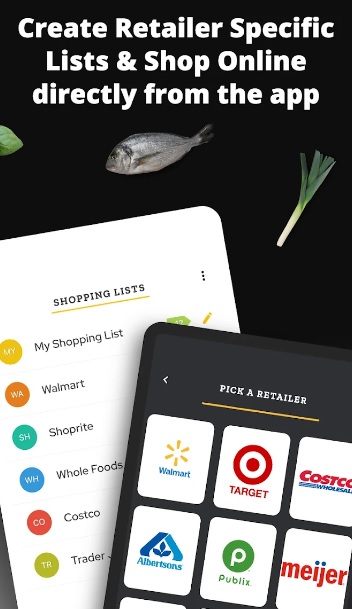 BuyVia
One of the notable benefits of BuyVia is its ability to notify users about price drops and special offers on items they've saved in their watchlists. This feature can help users snag great deals and discounts.
The app works by aggregating information from numerous online and local stores, making it a one-stop platform for price comparisons.
Users can search for products of their choice or scan barcodes to retrieve pricing and product details. This feature allows for quick and easy comparisons between different brands and sellers.
BuyVia covers a diverse range of goods, including electronics, clothing, gadgets, groceries, and more. Whether you're looking for the latest tech gadgets or everyday essentials, the app can help you find the best prices.
While BuyVia primarily focuses on helping users find the best deals, it does not provide a platform for individuals to sell their own products.
Instead, it serves as a comprehensive shopping companion. Aside from price comparisons, the app offers features like product reviews and ratings, ensuring that users have access to valuable insights about the items they're interested in purchasing.
In summary, BuyVia is a user-friendly shopping app that streamlines the process of finding the best prices and deals on a wide array of products.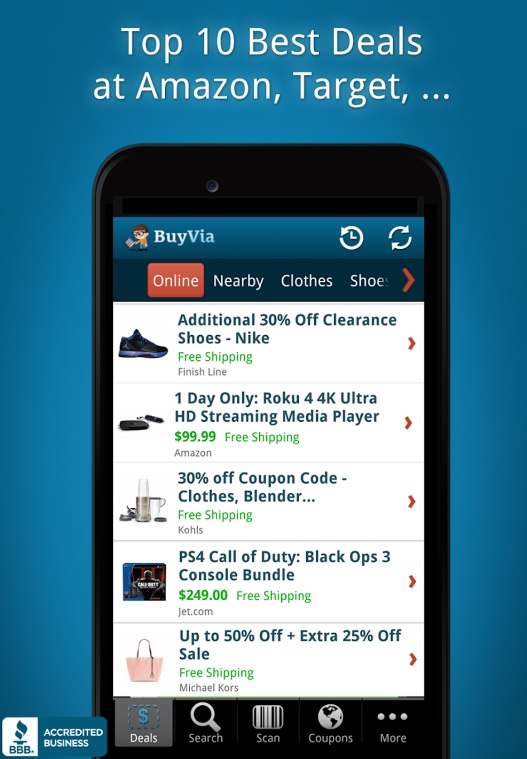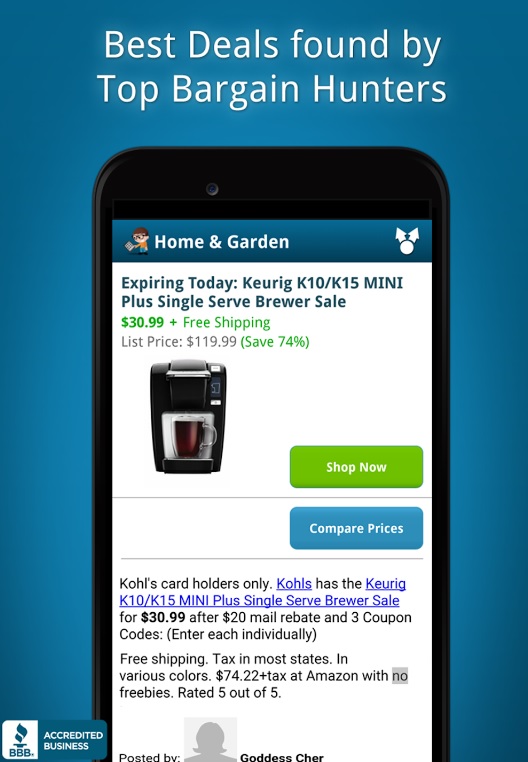 Compare prices shopping
Compare Prices Shopping is a handy app for anyone looking to make informed shopping decisions. It primarily serves as a price comparison tool, allowing users to find the best deals and save money.
The app's main functionality revolves around comparing prices. Users can input the names of products or scan barcodes to retrieve information about different brands and retailers selling those items. This makes it easy to discover the best prices, helping users make cost-effective choices.
What is more, Compare Prices Shopping covers a wide range of goods and products, making it versatile for various shopping needs. Whether you're looking for electronics, clothing, groceries, or household items, the app can assist you in finding the most competitive prices.
One of the app's standout features is its ability to display product reviews and ratings. This information can help users make informed decisions about the quality and value of the products they are considering purchasing.
In addition to price comparisons, the app offers a convenient shopping list feature, allowing users to organize their shopping needs efficiently. This can be particularly helpful for users who want to keep track of the items they intend to buy.
In conclusion, I must say that this app does not have clean modern design, however, it is a great tool to save your money – you should definitely try it.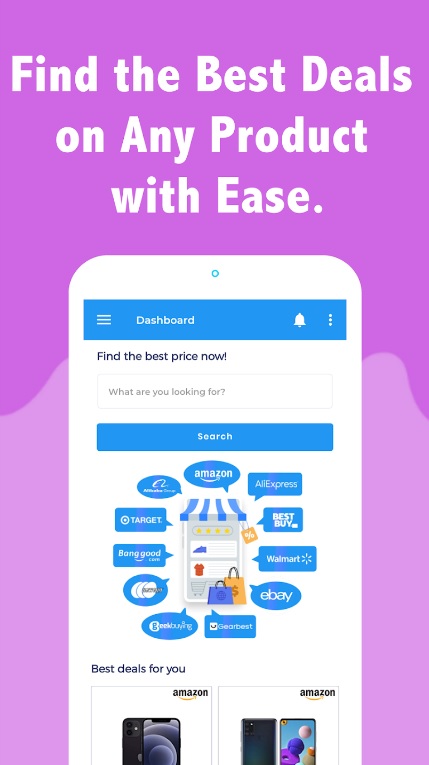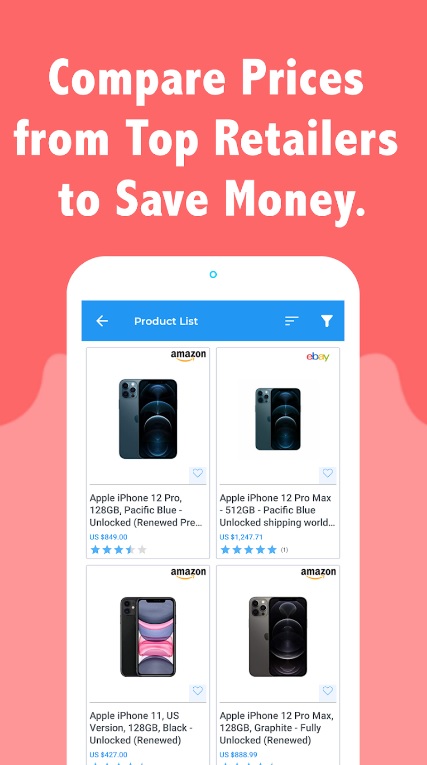 You may also like: 15 Best Food Coupon Apps for Android & iOS
Buy Me a Pie!
Buy Me a Pie! is a versatile grocery shopping app available on Android devices. While its primary function is to help you create and manage grocery lists, it also has some features for comparing prices and finding deals on various goods.
When it comes to comparing prices, Buy Me a Pie! focuses on grocery items. It allows you to add items to your shopping list and then search for those items in nearby stores.
The app will display prices for the same product in different stores, helping you find the best deals. This feature can be handy if you're looking to save money on your grocery shopping.
In addition to price comparison, Buy Me a Pie! offers a range of benefits for shoppers. It's user-friendly and makes it easy to create and organize your shopping lists.
You can categorize items, set quantities, and even share your lists with family members, which is helpful for collaborative shopping trips. The app also provides features for managing coupons and discounts, helping you maximize your savings.
Overall, Buy Me a Pie! is a practical app for grocery shopping. While its price comparison feature is somewhat limited to grocery items, it excels in helping you plan and organize your shopping trips efficiently.