Nowadays, unusual and rare names have become quite popular. Parents want to name their children something special so that they would consider themselves unique persons since childhood. But the lists of such names on the Internet are quite large, so it is not so easy to choose the most suitable option.
To avoid wasting a lot of time searching for and choosing a name, you can only enter the names of future parents in one of these free name combiner apps & websites and get a truly original and unique option.
You may also like: Best Baby Face Generator Apps & Websites
Baby Name Together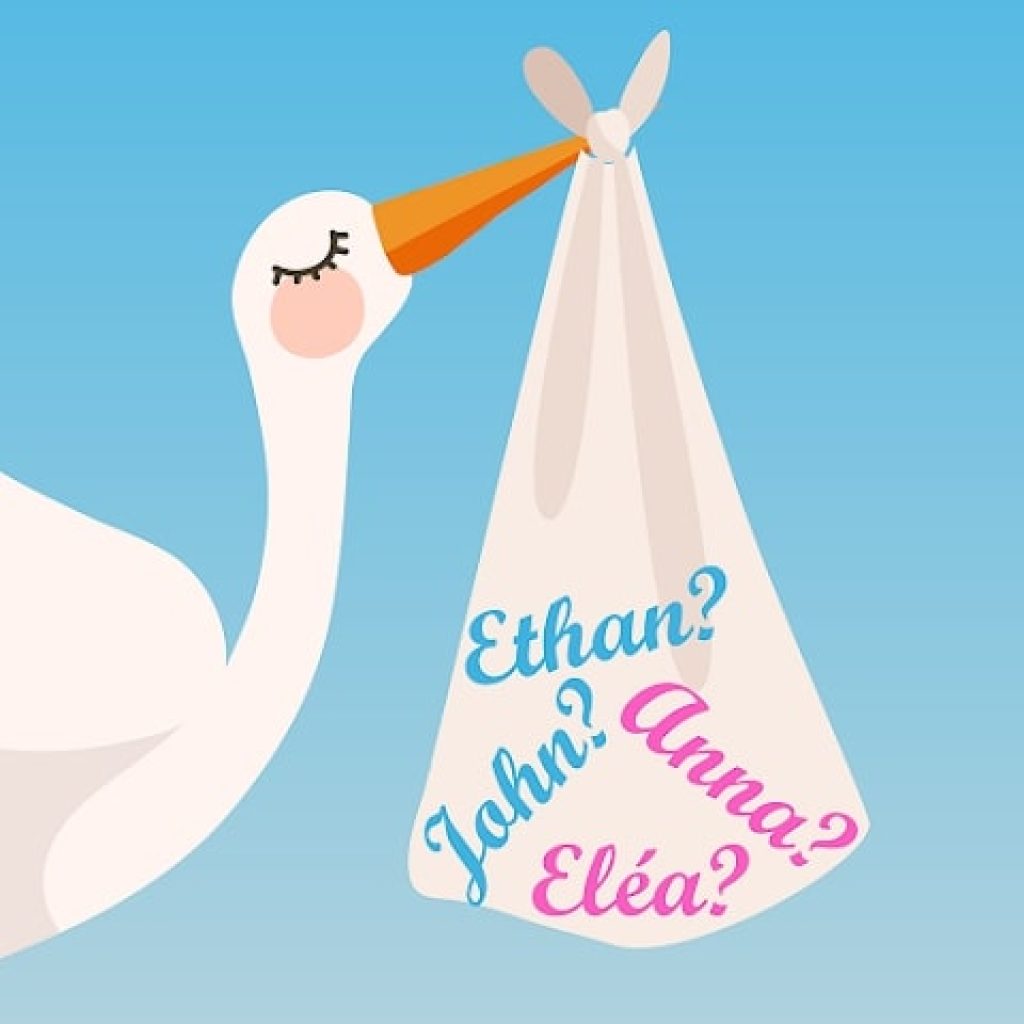 This app with the generation of female and male names will definitely be useful. You will be able to quickly and easily find a range of suitable names for your future children.
With this app, you will be able to find both unusual and the most popular baby names for yourself. Make a whole list of both female and male names with this app to finally decide on what you will name your future child.
Download the app with your spouse so that your list of chosen names can sync with each other. You can do this with the email you enter when you sign up for the account.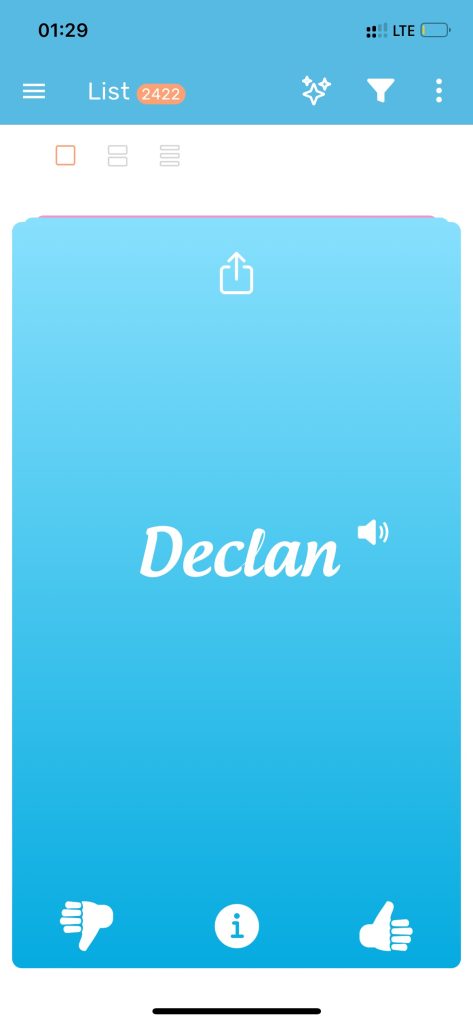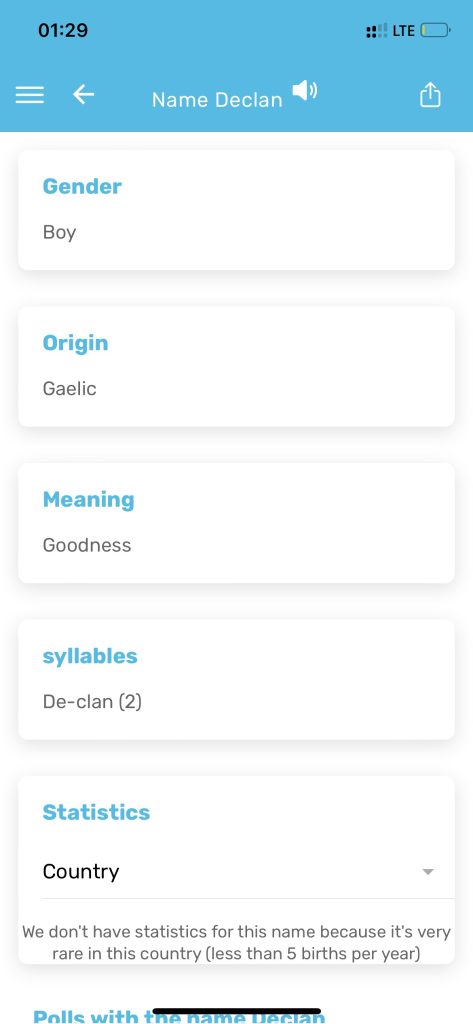 Once your and your spouse's lists are synced, you can see the best name matches and finally decide on one and options. A simple interface and minimalist design make the app as easy to use as possible.



You may also like: 11 Free Stylish Name Maker Apps for Android & iOS
Mix Names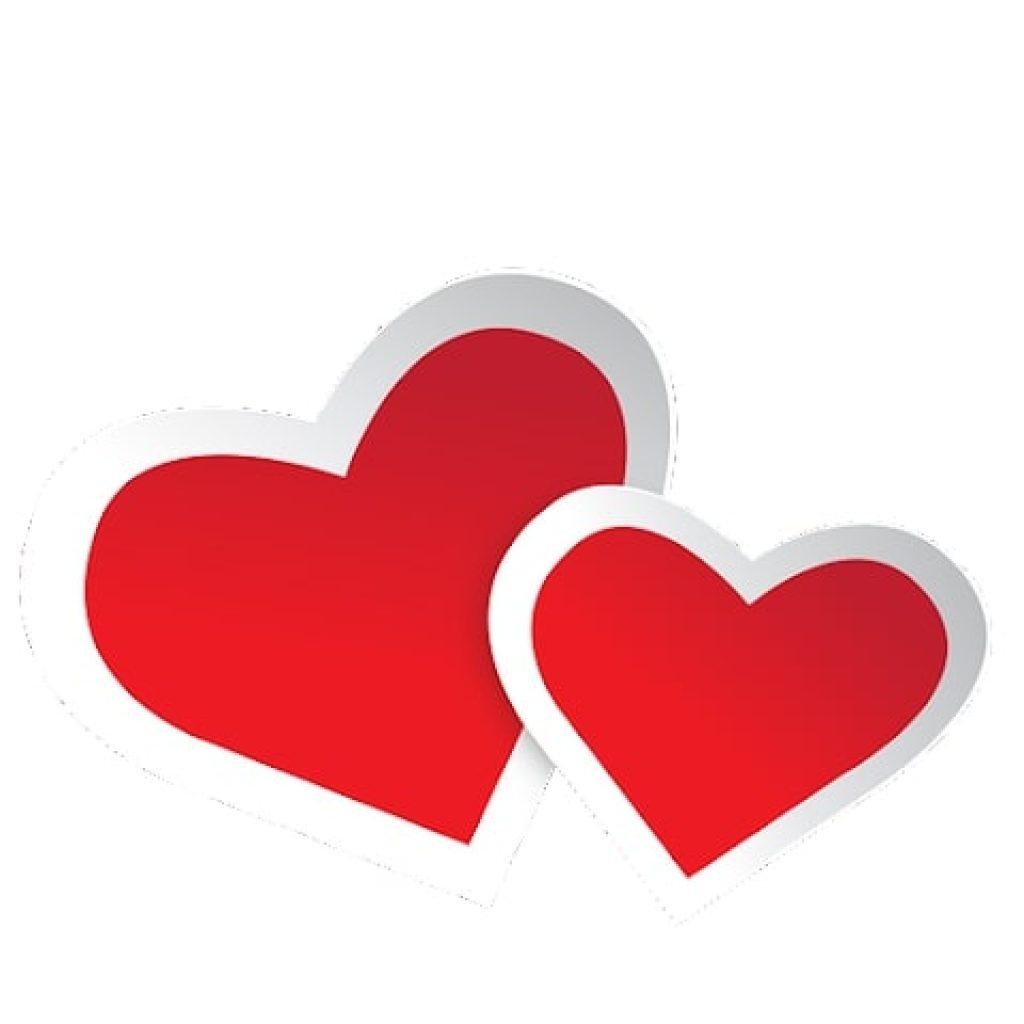 In this app, you can not only experiment with your name but also find new friends for yourself. The name mix service lets you create a unique nickname.
You can use it for many purposes, including signatures on social networks and other Internet platforms. Combine any name you like and get a unique one that allows you to stand out from the rest and create your own nickname.
With such a name in a virtual environment, you will definitely attract attention.
If you're wondering how compatible you are with your partner, you can check your and his or her name with the built-in generator. It will give you the percentage of your compatibility in love and relationships. This way you can check not only yourself but also your friends.
Also in the app, you will have access to the pages and accounts of other users. Thanks to this you can easily find new acquaintances and friends for yourself.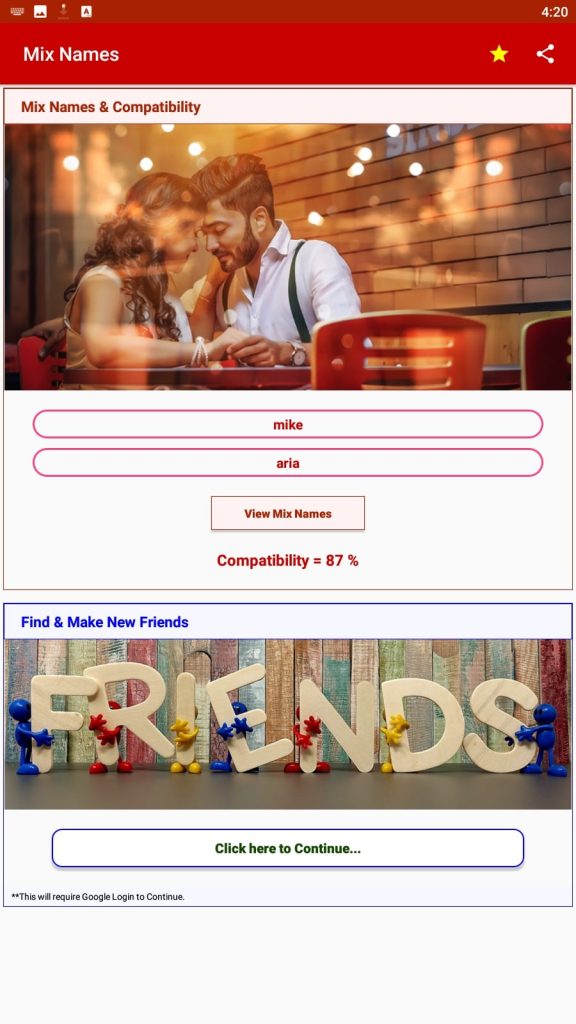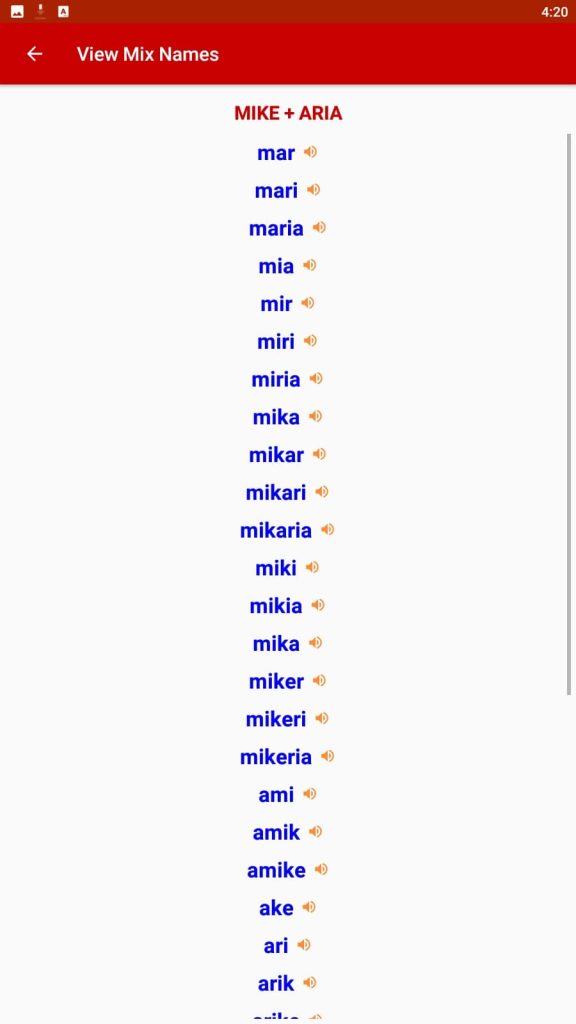 Communicate, share your experiments with names and choose the best nicknames to use in social networks and everyday life.

If you want to get a unique name for your Instagram profile then try these best nickname generator apps & websites.
Couple Name Combiner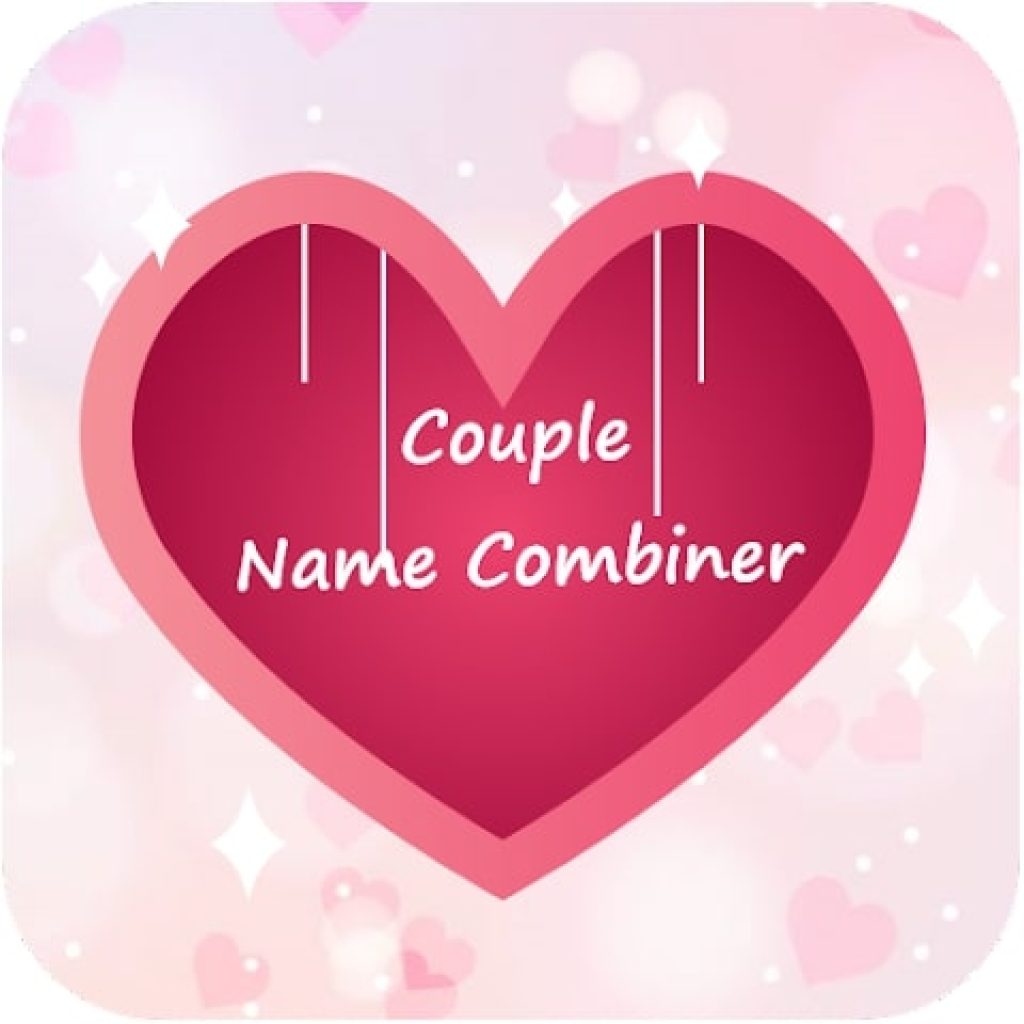 To easily and without arguments you can choose a name for your future child, using this app. It allows you to combine your names with your partner's to get one unique combination.
You can use it for your children's names, your dogs' names, your company names, or your nickname. Use the app to experiment with names and use the results of your experiments to your advantage.
Using this app is quite easy thanks to its simple and clear interface. It also has a whole list of both popular and unique rare names. From it, you can choose the most appropriate ones to name your child, pets, social media accounts, and so on.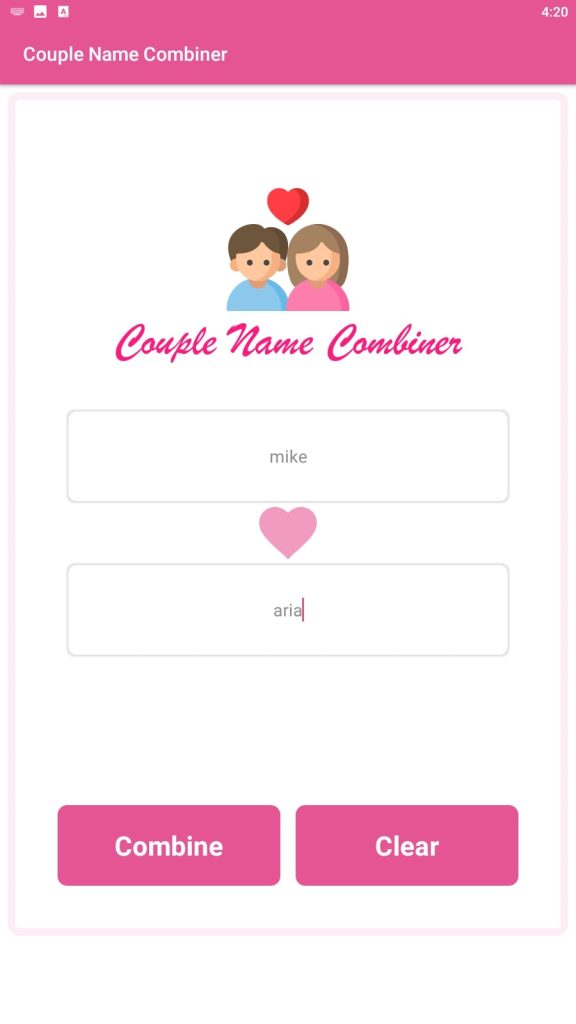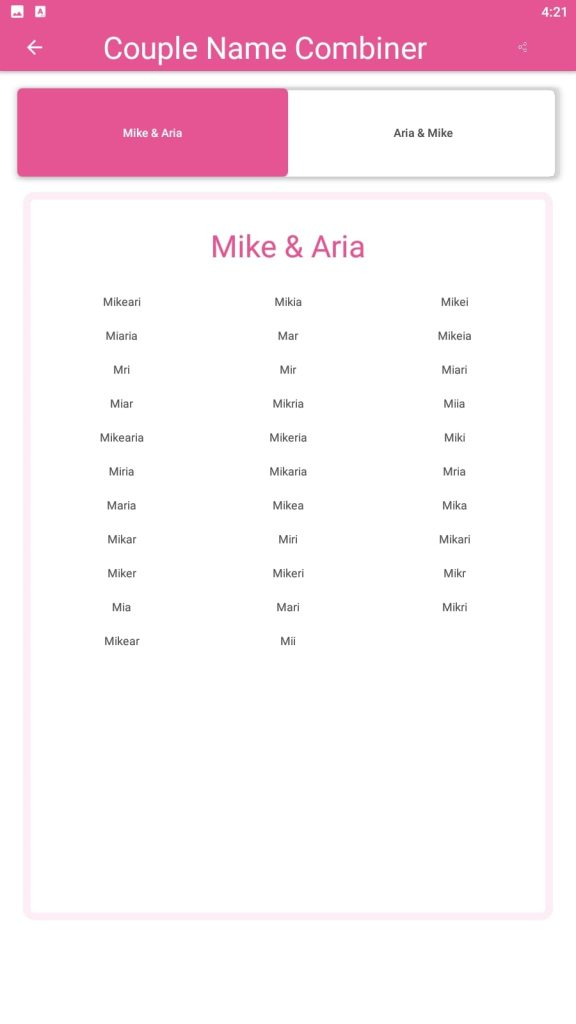 Try this app to finally choose the perfect name for yourself and no longer argue about them with your partner.

Naming: Name Meaning, Combiner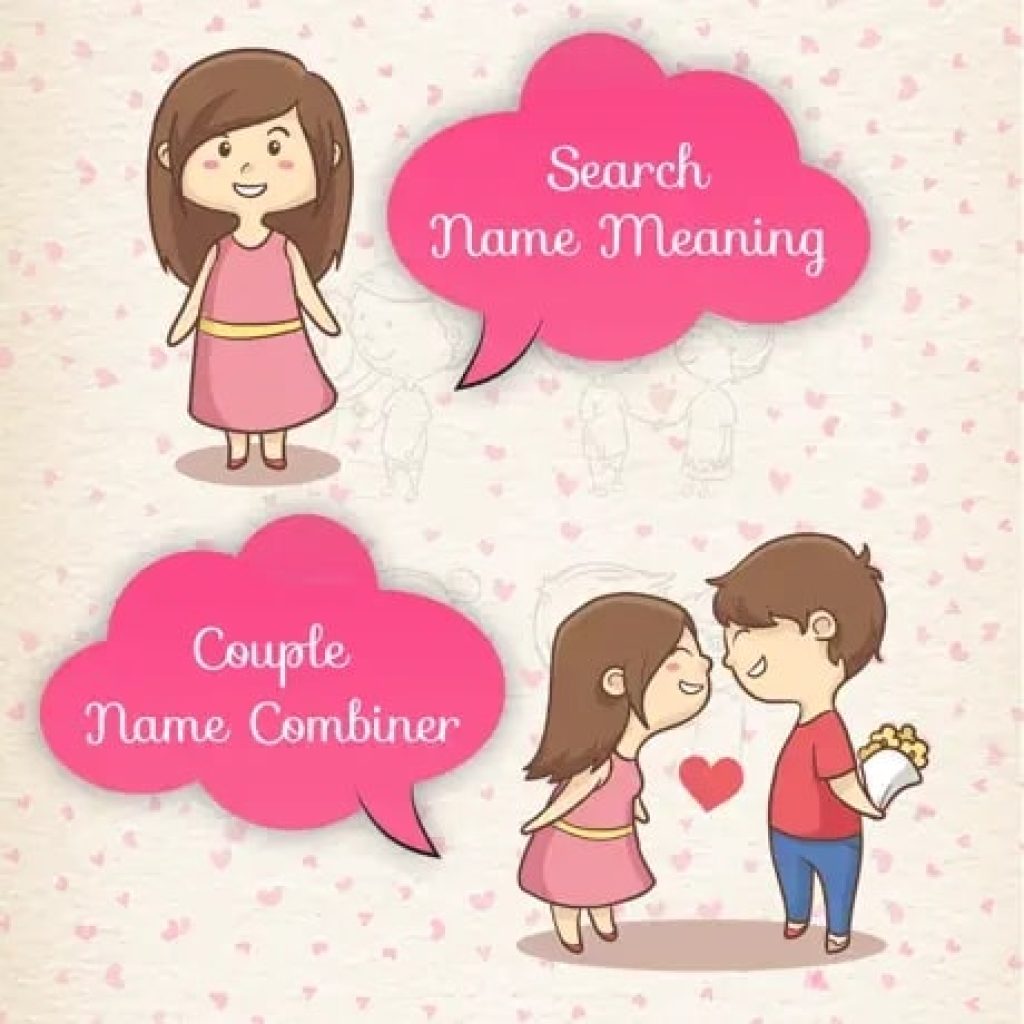 In this app, you can easily find out the meaning of your name in a couple of minutes, which makes you unique and different from the rest.
You can also try the name-combining feature to create one unique combination of the two. So you can easily get yourself a unique and interesting nickname, a nickname for social networks, as well as real names for children or pets.
In such an app, you can show your imagination as much as possible and end up with really unusual and fun names.
Share the meaning of your name with your friends and family to show your uniqueness and specialness. Use all the features of the app, because they will be absolutely free for you.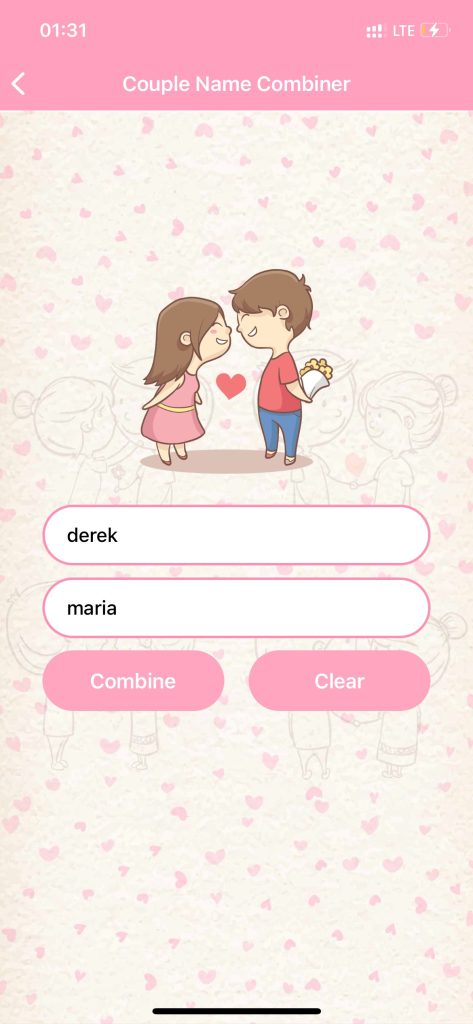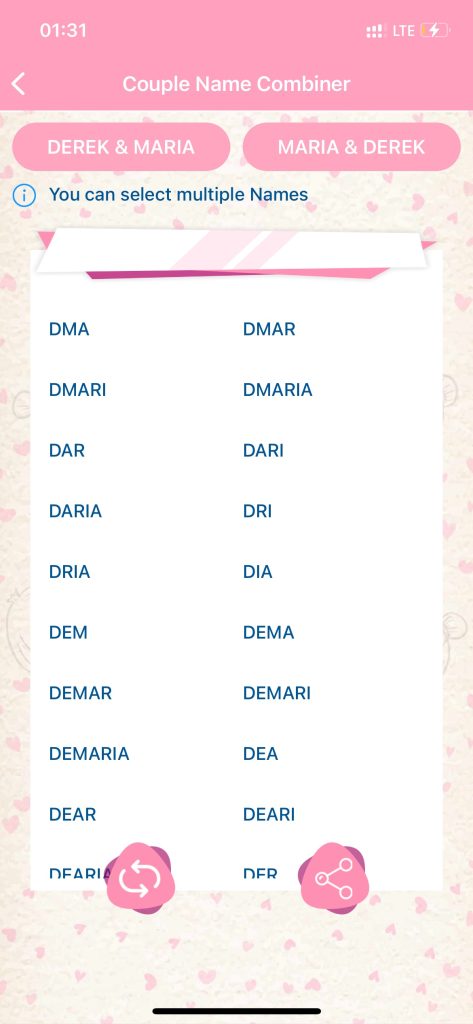 Use the app to choose names for your children and read the meanings beforehand so that you can choose the best one.

Couple Name Mixer – Baby Name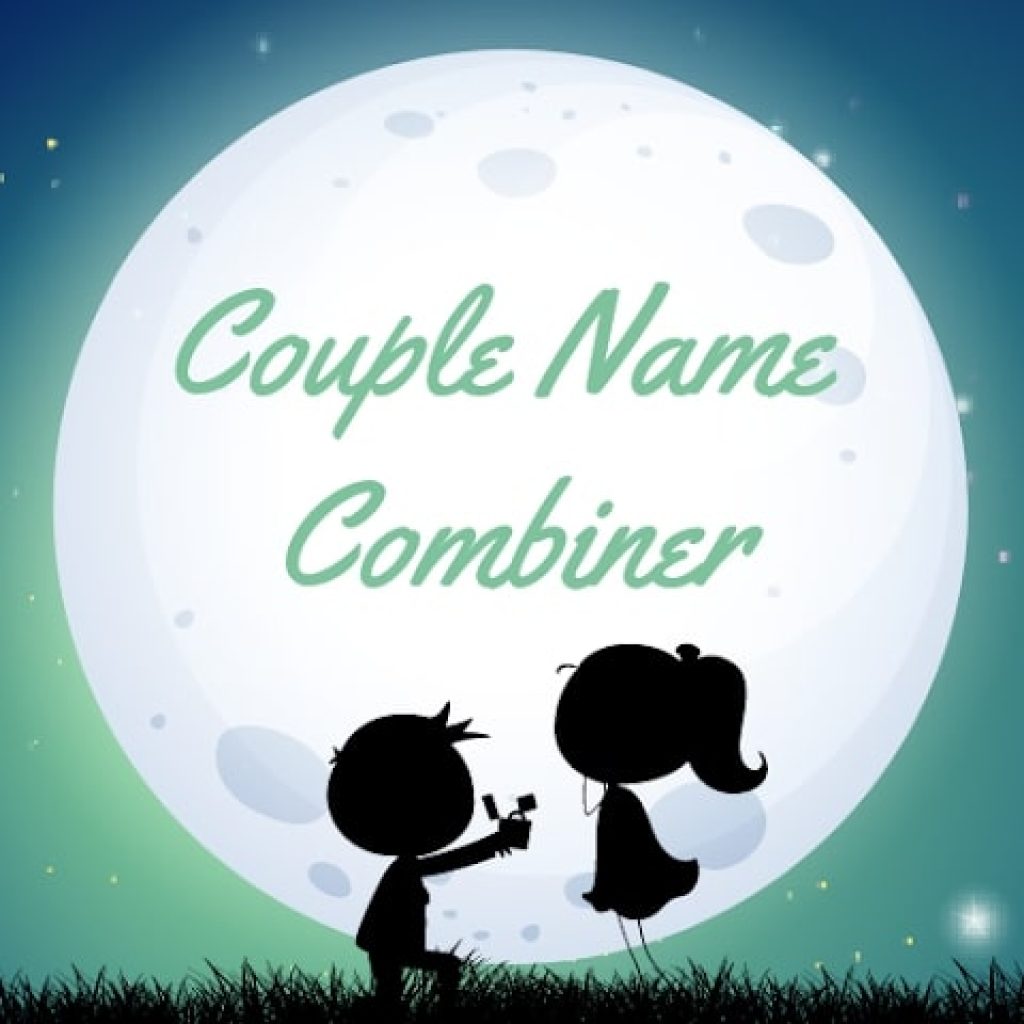 In this app, you will be able to experiment with names in different ways, combining them and getting unique combinations. This way you can try to create your own original name by crossing your parents' names together.
You can also do this to get original nicknames, company names, and pet names. Using the app is easy and straightforward, as it has a fairly clear and accessible interface.
To get a combined name, you need to enter one and a second name in the corresponding columns, then just click the button and wait for the generation of a new unique combination.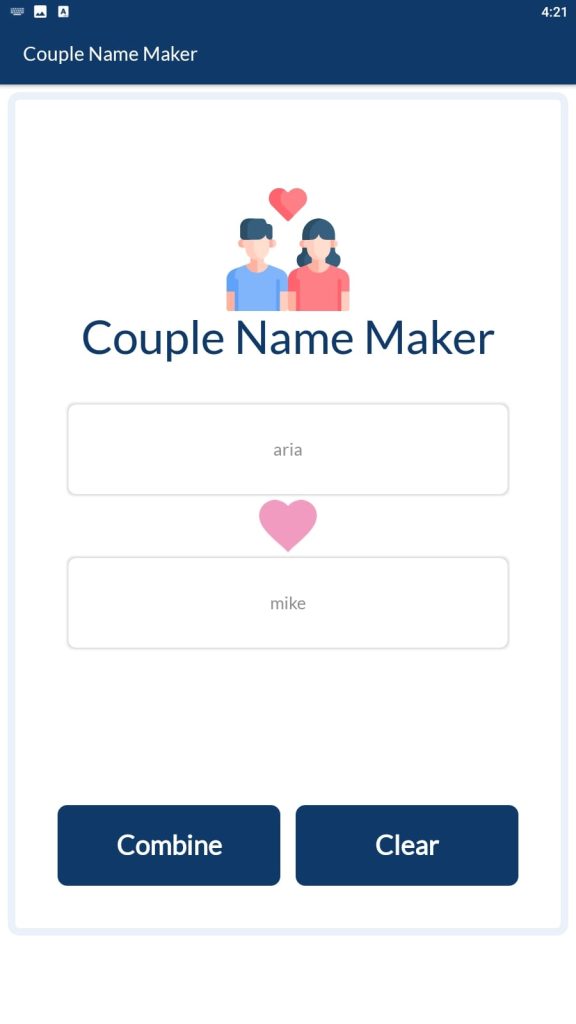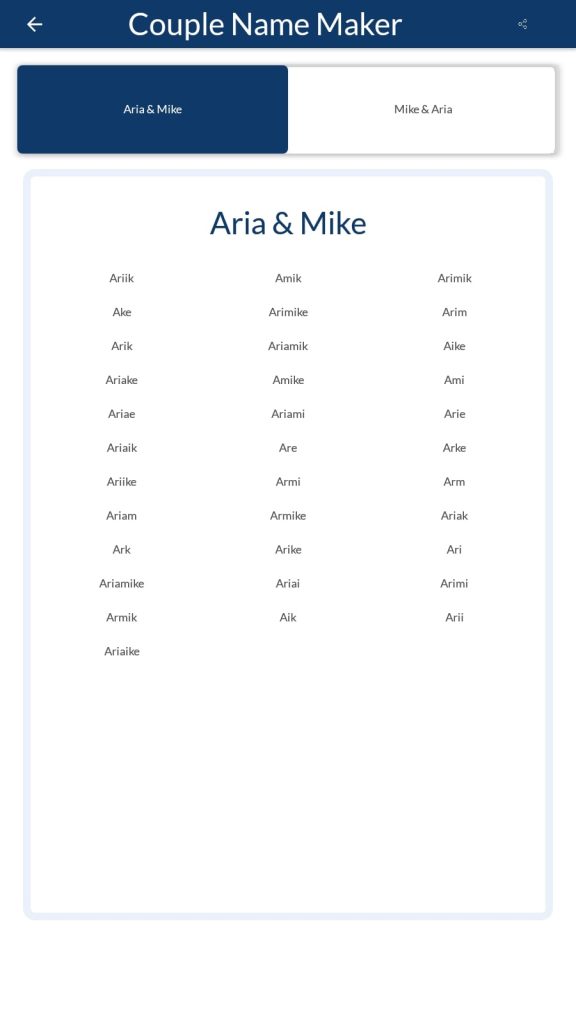 Write down your experiments so that you can choose the most original variants from them. Name your children, pets, pseudonyms, and nicknames with the resulting names. This will allow you to be truly unique and distinctive both in everyday life and in the virtual environment.

Couple Prompts – Name Combiner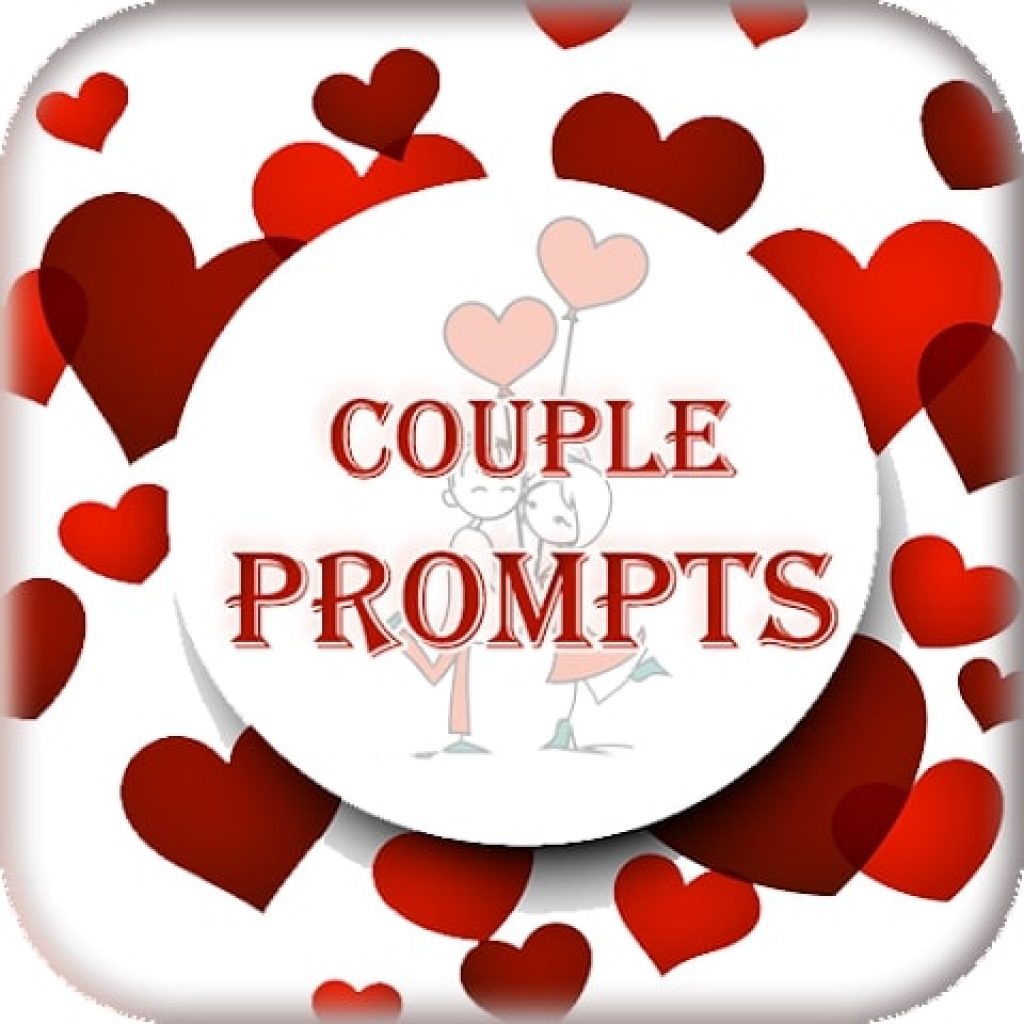 With this app, you can create a unique combination of two names and calculate the compatibility between them.
Try entering your name and your partner's name to see how much compatibility you are.
Create a unique name for your couple by generating and combining the two names together. Show your imagination and make a unique nickname for creative work or social networking.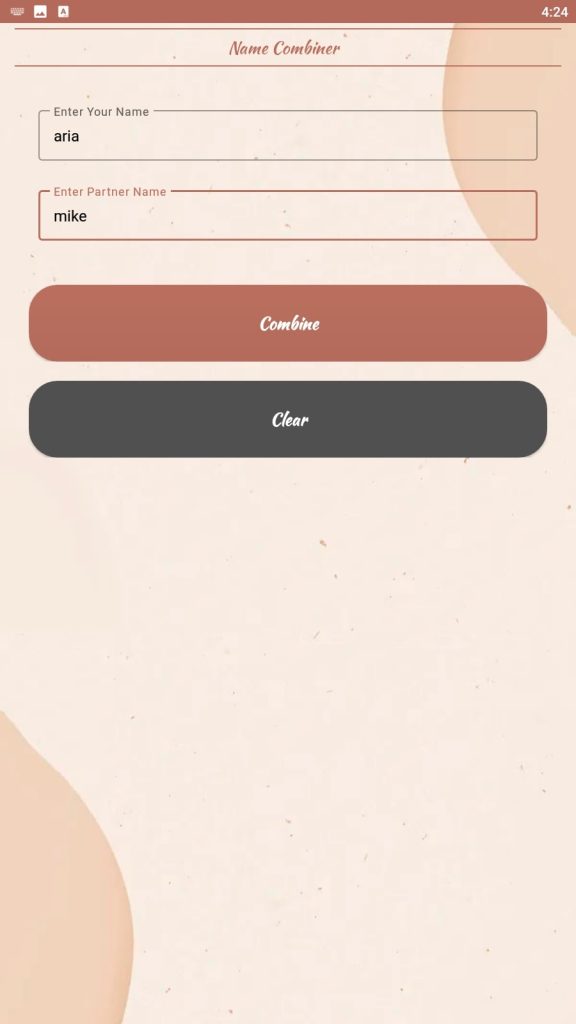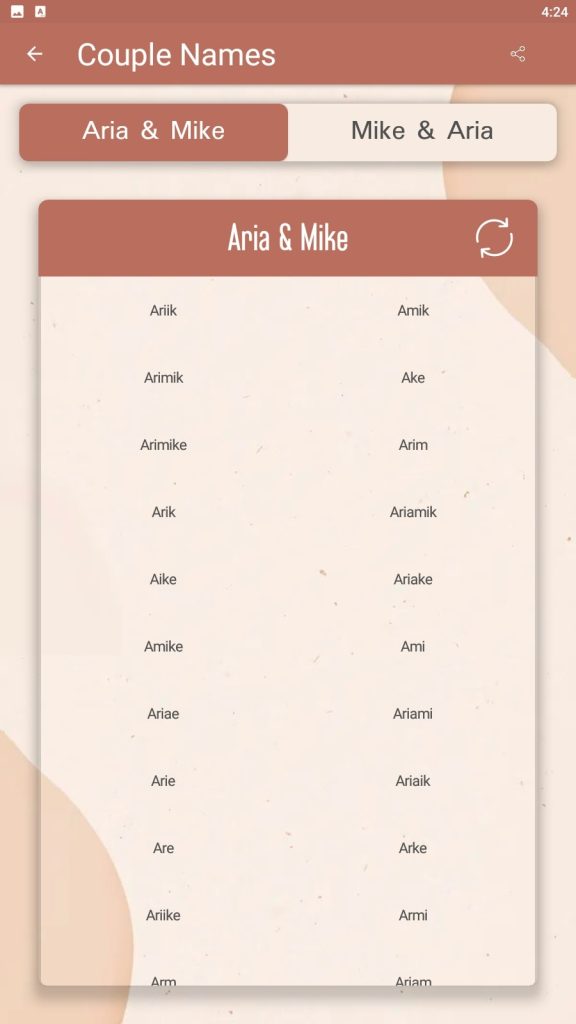 The simple and straightforward interface lets you quickly get to grips with all of the app's functionality. Thanks to this you will be able to get your results on name experiments in a couple of minutes.

You may also like: 11 Best Apps For Combining Photos (Android & iOS)
Name Combine Nickname Generate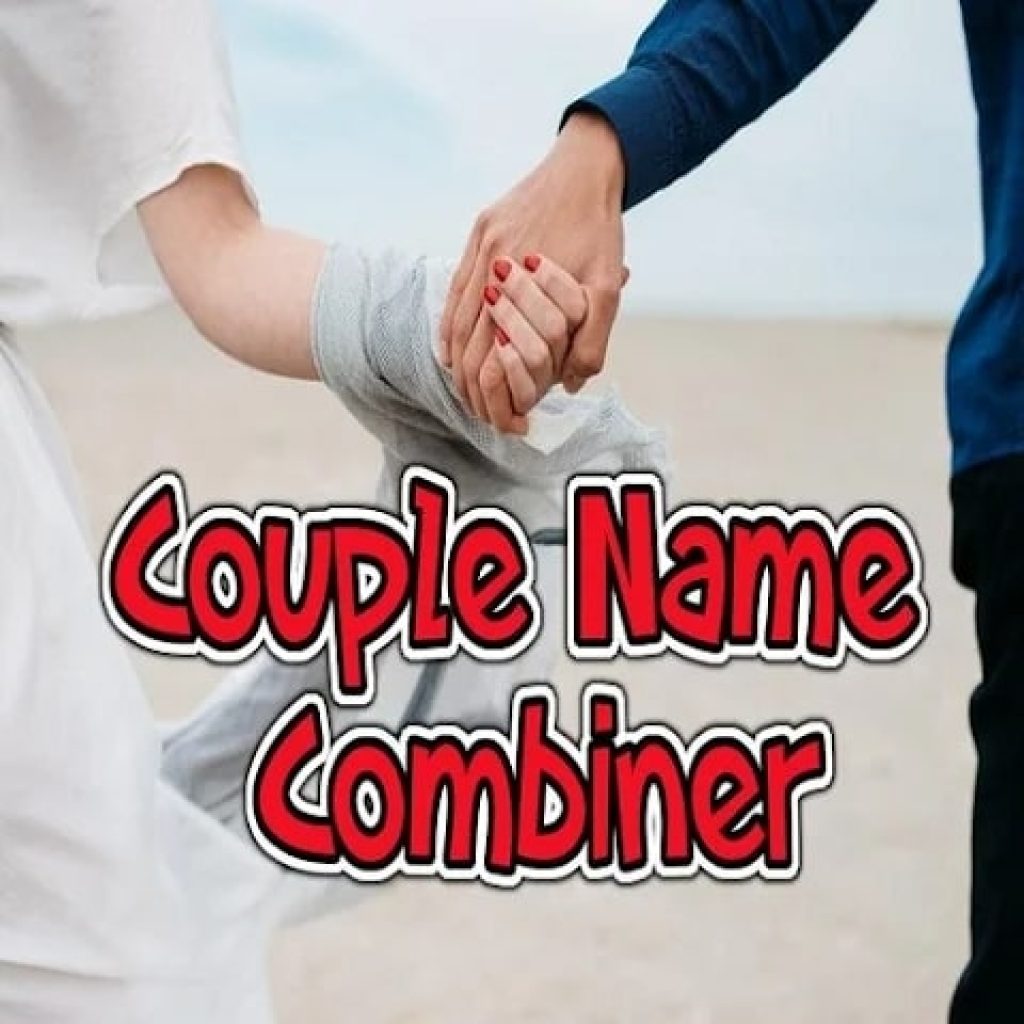 By combining the name of mom and dad using this app, you can get a name for the future child in seconds. Create such a combination both for a boy and a girl.
If you want to name your child after your parents, you can try to combine their names.
With this program, you can easily get an original name for your child, which will reflect its uniqueness. But the app is also great for generating an unusual nickname, which can be used on the internet or in professional activities.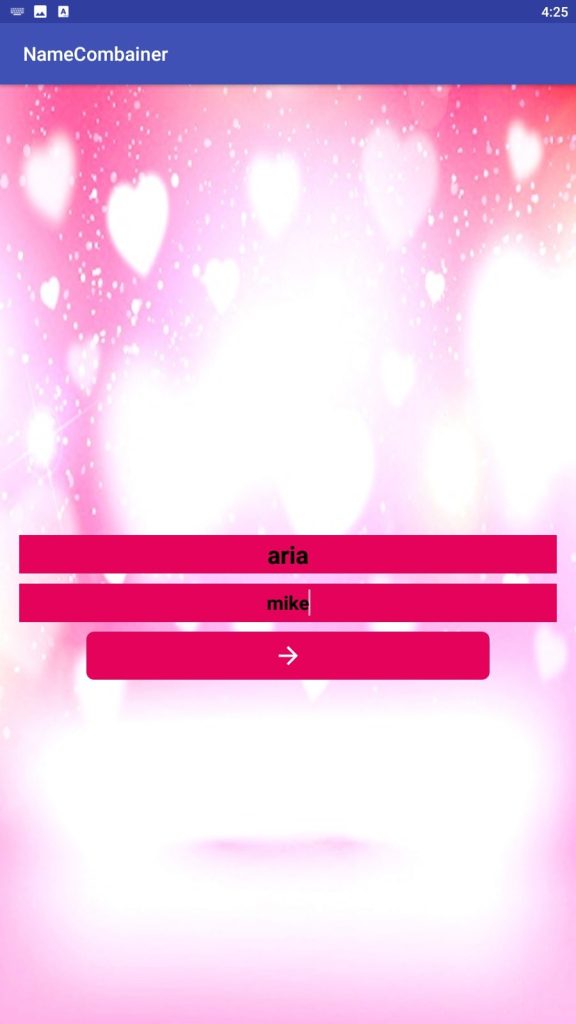 The app will also be useful for creating a unique name for your own company, firm, or brand. It is especially suitable for organizations where there are two founders and in the name you want to show the importance of each of them.

Ship Names Generator: Ship It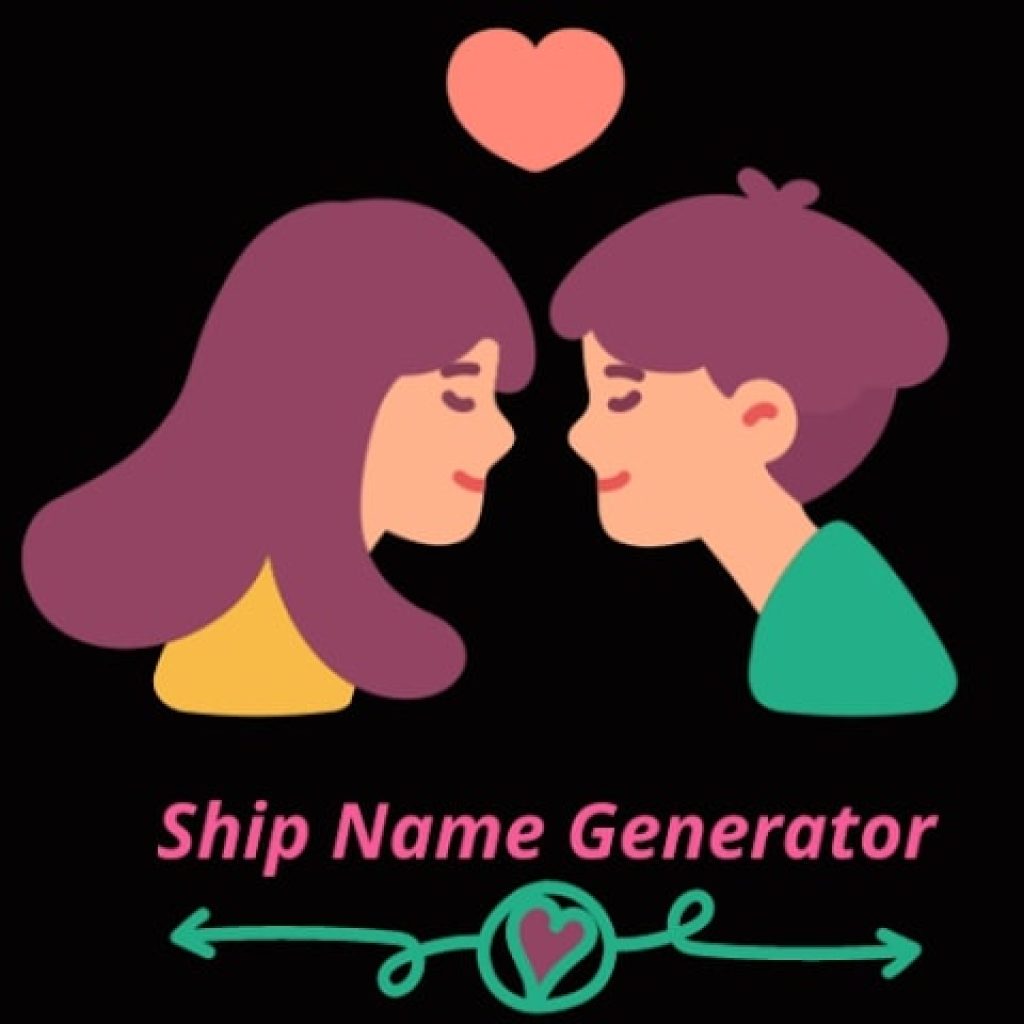 In this app, you can experiment with names for different purposes. For example, if you are the creator of a fan community or if you are the writer of a book about lovers, you can easily make an interesting name for your characters.
To do this, you can use an app where you get a combination of two names. It is sure to be remembered by your subscribers or readers. You can also combine names, creating one for the name of your companies, brands, and firms.
By combining your name with your partner, you can get a name for your future child. The app will also be useful for creating unique nicknames online. Try making a name for your company by combining the names you like best.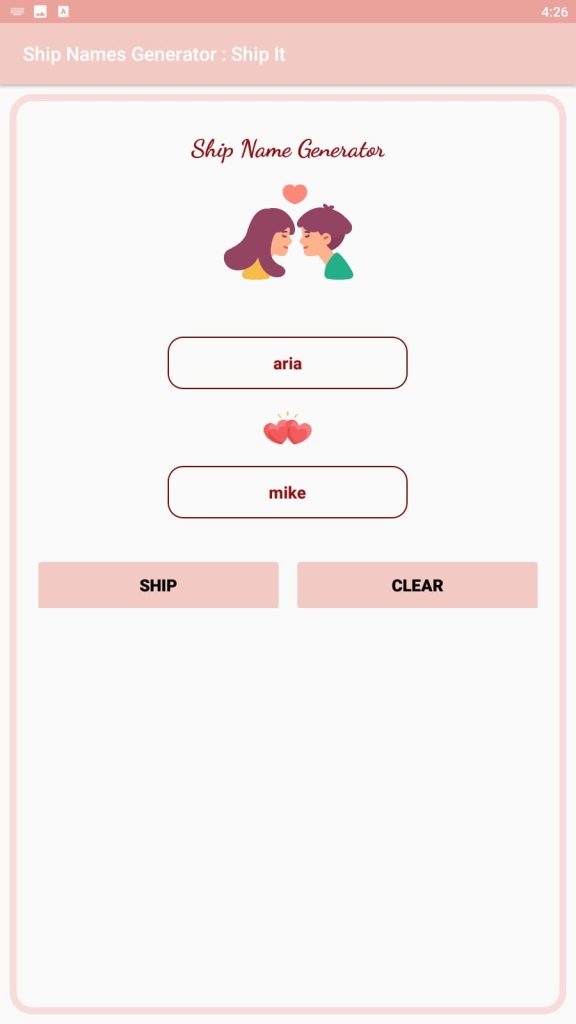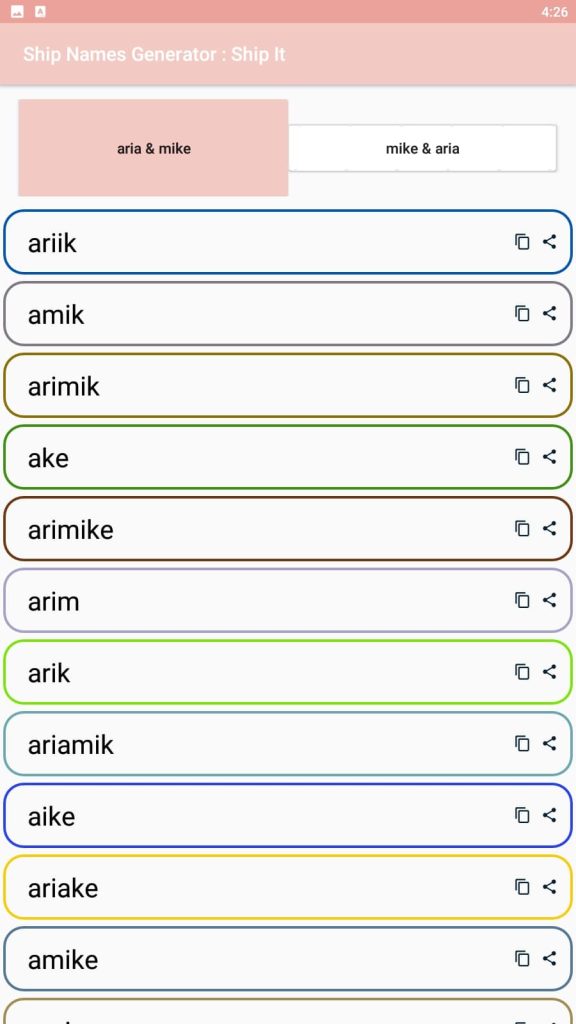 Combine names to name your pets with the result. Use the app also for having fun. Share the results of your combinations with friends, colleagues, and close people to cheer them up, too.

Name Combiner.com
Try all 12 features of this service to get an unusual name for your company, brand, name for children, pets, and nickname for social networks. You can generate names, combine several and end up with the most unusual ones.
With the features and tools available in the service, you can experiment with names and titles in different ways to get the best and most original options.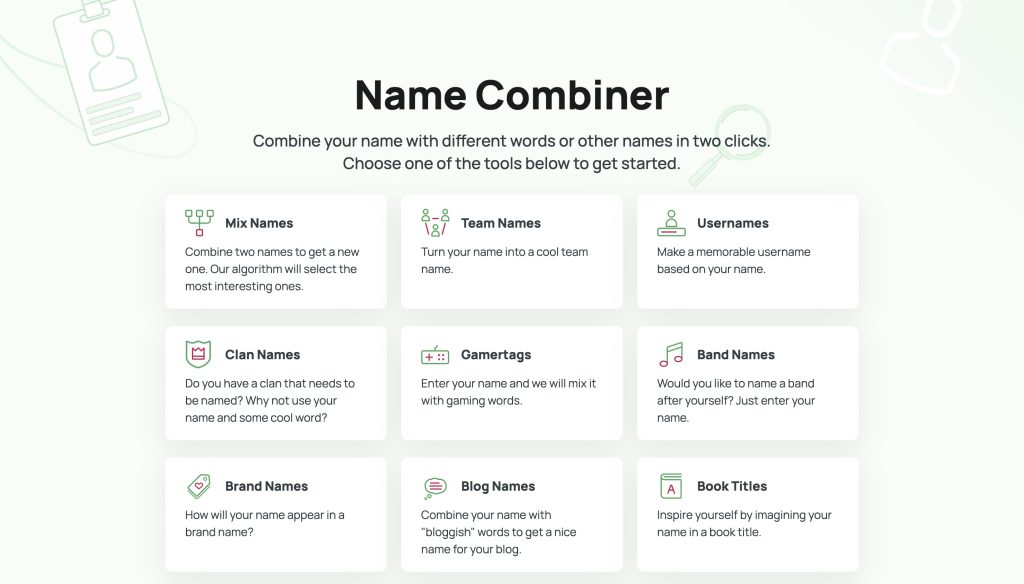 Use the resulting names and nicknames for your own purposes, because it will allow you to stand out and show your uniqueness against other people.

Name Combiner.net
If you want to create really unique names for your kids or pets, as well as names for companies and brands, try this service. With its help, you can easily combine several names at once. Such a combination will definitely be unique and original.
You can use it for any purpose. Try to experiment, because the service has no limit on the number of possible generations. You can also get a unique name for your social network account or a creative nickname, which will distinguish you from the rest and will be remembered by all your fans.
The service works quickly and easily, allowing you to get the result of your name experiments in minutes. You only need to enter two names for their combination and click on the appropriate button. Use the result for company names, pseudonyms, children's names, and pet names.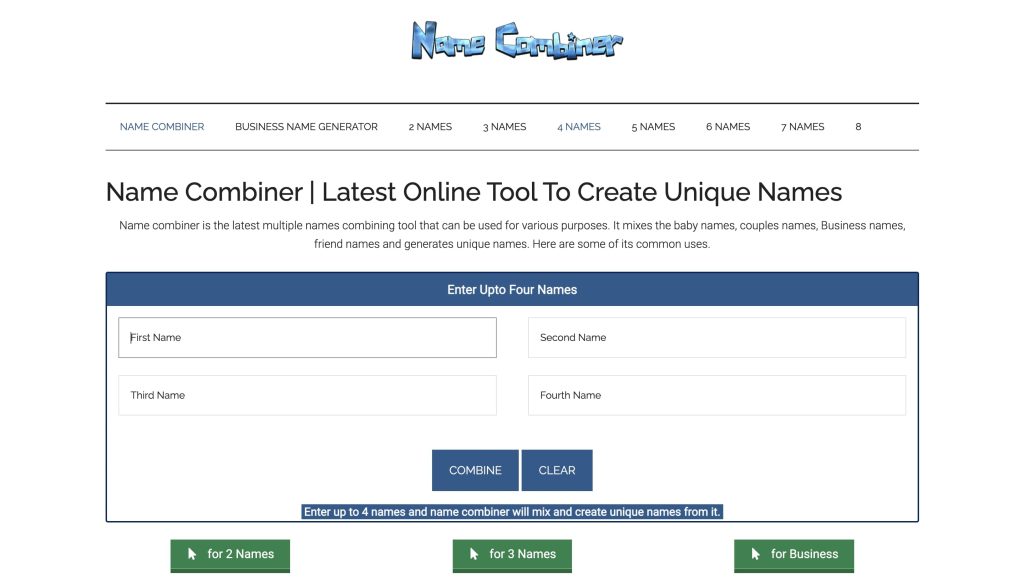 Share your experiments with your friends so that they too know about this service for generating names and names. This will allow you to get really original combinations with which you will surprise acquaintances, friends, and other people.

You may also like: 11 Best Name Meaning Apps (Android & iOS)
Name Combiner and Word Combiner
With this generator and combiner, you can easily create a unique name or title. Combine both parents' names to end up with the children's names. If you have a partner, you can combine your names to get a unique and unusual name.
Try the service even if the names you want to combine are too long. You can reduce the final variant to the required number of letters. In this case, you will have a beautiful, readable, and unusual name. You can also use the service to generate names for your pets.
If you work in a creative environment, you definitely need a good pseudonym. You can get it just in this service. There you will be able to make a unique nickname for yourself. It can also be used on social networks and other Internet platforms.
Thanks to the service, you will get really unusual names that will distinguish you for their originality and uniqueness.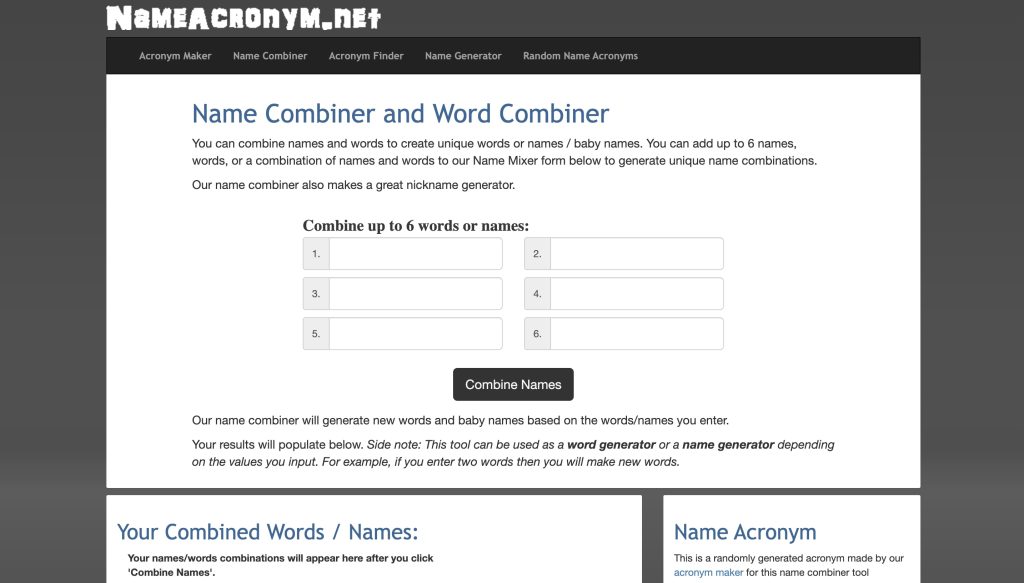 For using this service you only need to enter the names that you want to combine with each other. As a result, you will get really unique and original combinations, which can be used for any of your purposes.