Create a fun atmosphere and entertain your friends with special apps to make interesting photos. The use of photo booth has always been popular and has created pleasant memories.
This list contains the best photo booth apps. Create photos together with your friends and share your memories.
Make your social media content eye-catching using these free 3D photo apps.
Photobooth mini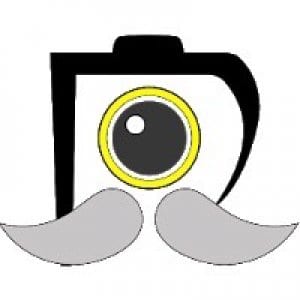 Use the Photobooth mini application to shoot and edit self-portraits. Here you can create a collage of photos that will look like a set of photos from a photo booth.
The application applies filters and blurring during photo creation.
The filters are plotted left and right, and the blur level is adjusted with the plotted up and down. There are a total of 26 different effects in the app, but you can shoot without them.
The standard collage consists of 4 photos. You can save the finished image to the gallery of your mobile device.
In addition to saving the photos to the app Photobooth mini, you can send them by email or save them to a photo gallery on your smartphone. In the upper right corner of the application, there is a stylized gear icon.
Tap it to open the settings. Here you can change the number of shots the app takes from the default of 4 to 3.
In the app settings, you can set the option "Save snapshots to the gallery" and select one of the 5 photo effects. The selected effect will be applied to all the app's snapshots until you change it in the settings.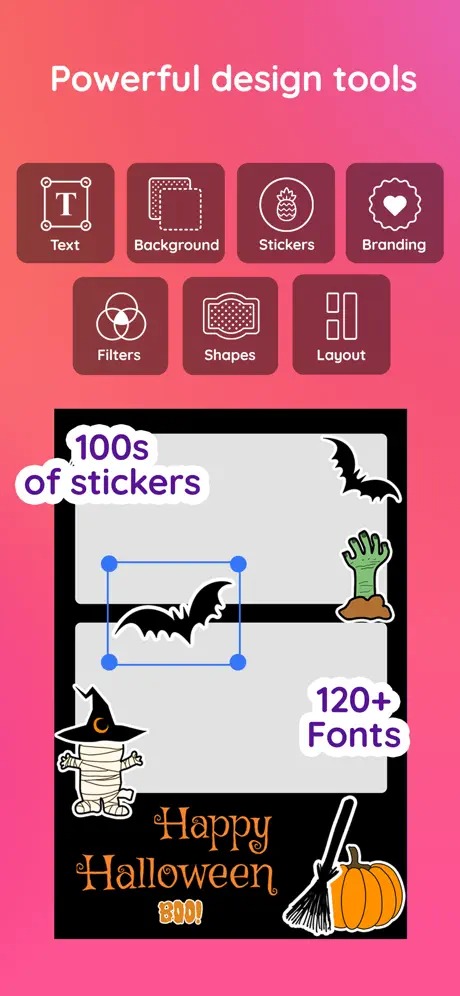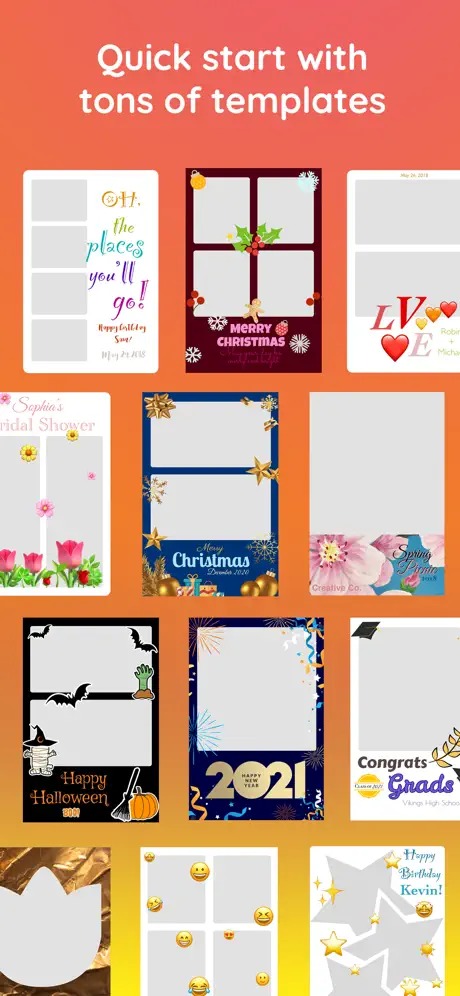 There are also various photo frames, matte or glossy options and more. Although this app does not replace the photo booth, it helps you make unique vintage photos.



You may also like: 10 Free Selfie Filter Apps for Android & iOS
Party Photo Booth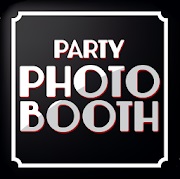 Party Photo Booth is a companion app for the Paladone Photo Booth that allows you to take a series of photos in a row.
When you first enter the app, the developers provide you with some cool photo shooting ideas that are perfect for friends.
A useful addition is a small message that will appear in the next step, with a support email (which you can use in case of any problems).
In the application, you can make photo strips that look as if they were made in a physical Photo Booth. To make them, you will need to press the central blue round button.
After some short period of time, the first photo will be done. There will be 4 photos in a row with small-time intervals, but you will have the needed time to change your pose.
The developers offer to create the most diverse and colorful ideas for photos (for example, with carnival masks or homemade additions) for a good mood. You can make both regular and retro booths (the retro ones are made in black and white shades).
To make the B&W photo strips, you will have to press the B+W/ Colour button placed on the left side from the Photo button on the main screen.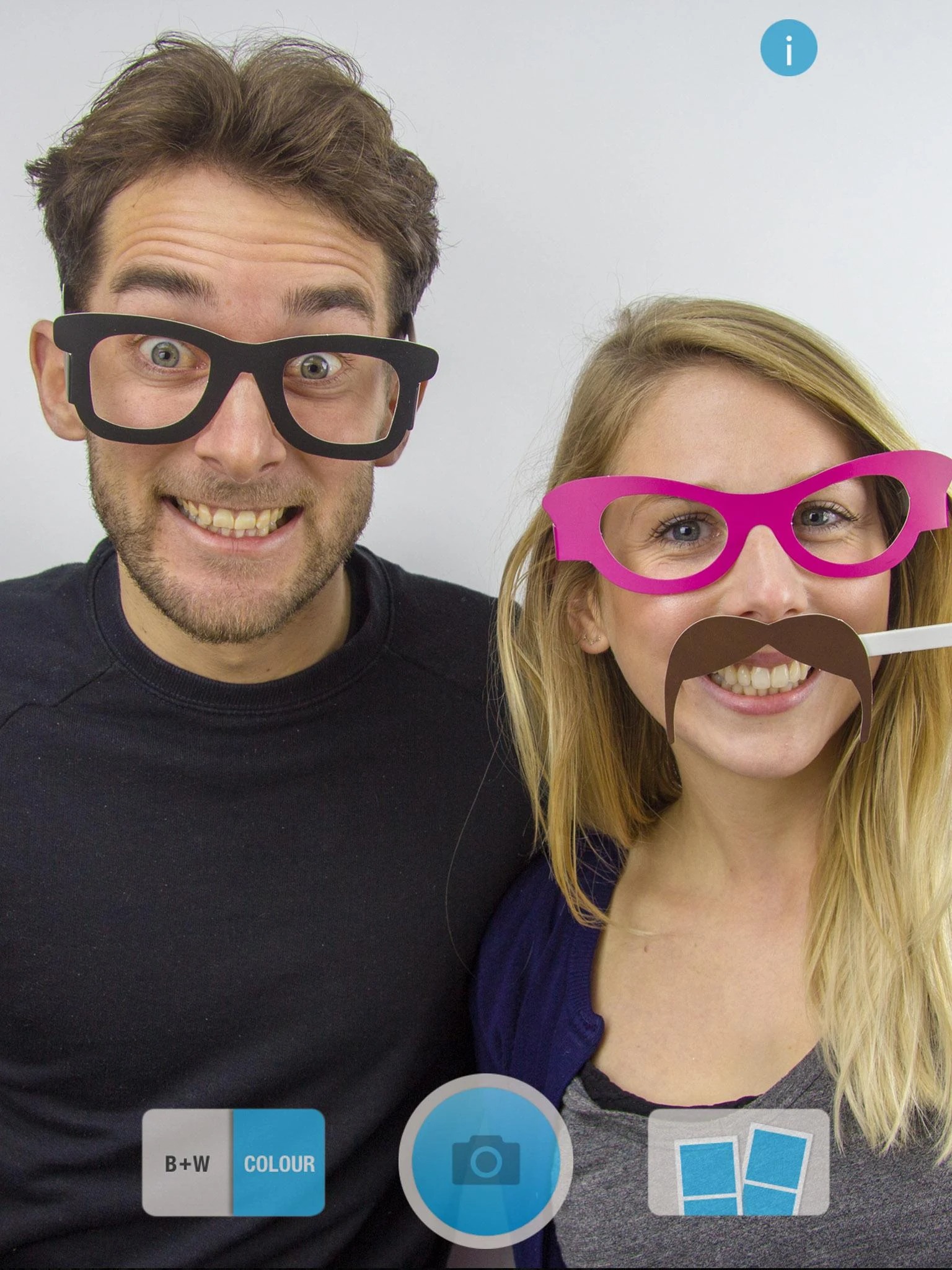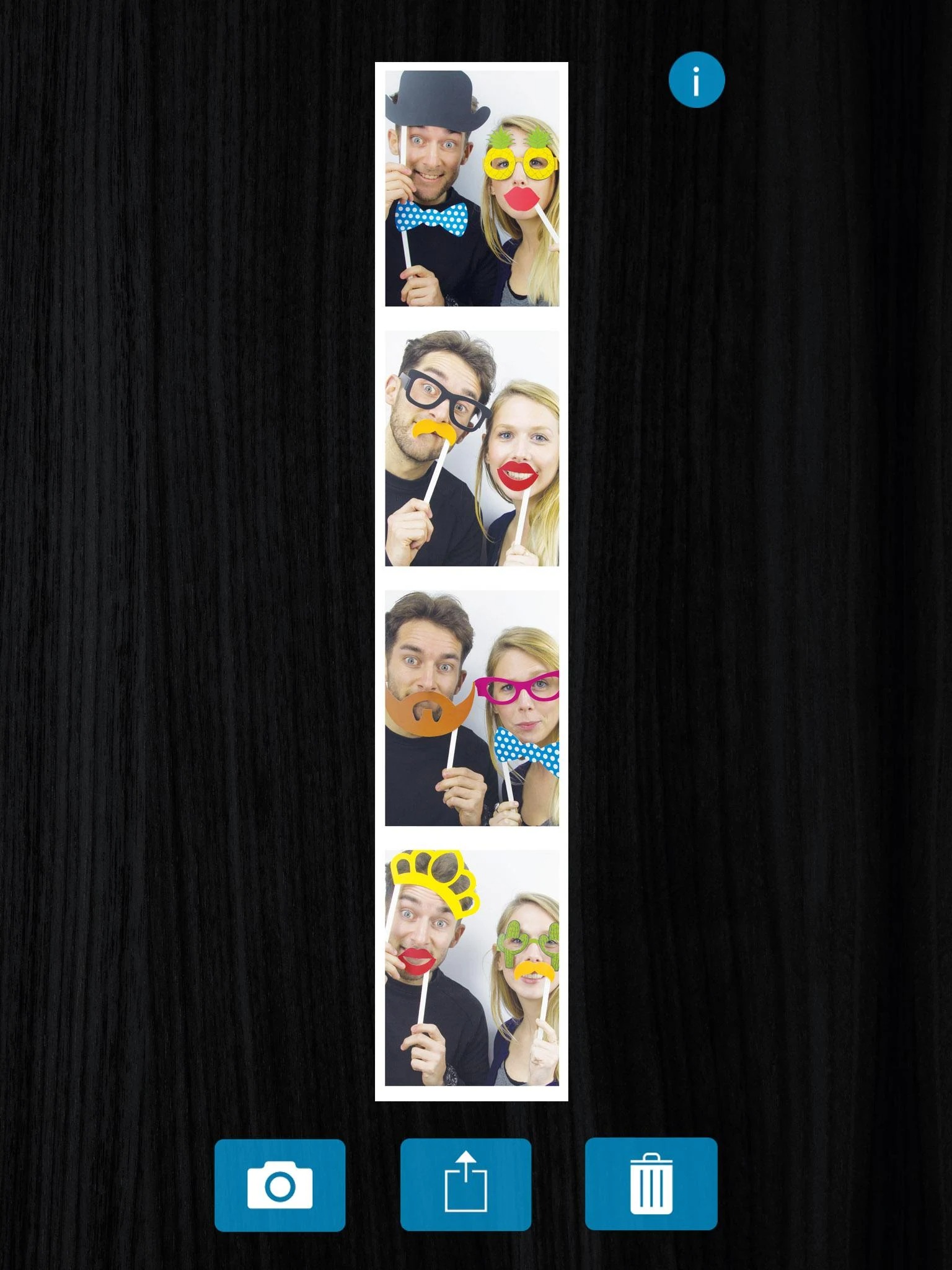 Party Photo Booth has a built-in feature for sharing your works of art on social media.

LOL Photobooth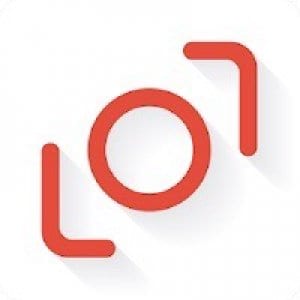 LOL Photobooth is a mobile camera that has the remote shutter function of your smartphone's camera.
It works with the built-in motion detector. It is very convenient for creating interesting selfies in the style of a photo booth.
You just need to run this application and point the camera at yourself. After that you need to show the open palm first, then clench it in your fist and open it again.
After 2 seconds the program will take a picture. Everything is simple and convenient.
In the app settings, you can find a short instruction for using the program, as well as change some options. Among them, there is delay time and change of image reading frequency.
The app LOL Photobooth has a built-in editor that can be used to add a blur effect that masks skin defects. Also here you can enlarge eyes and lips, narrow cheeks and nose. Remove puffiness under your eyes, brighten your skin and adjust your lighting.
Developers guarantee confident work of the program at a distance of up to 4 meters from the subject. Thus, thanks to the use of this app you will be able to shoot much better and more interesting self-portraits.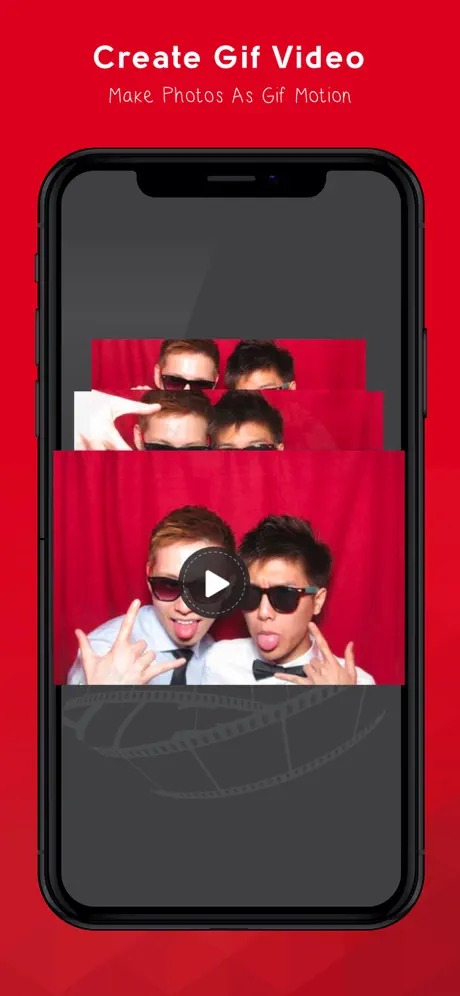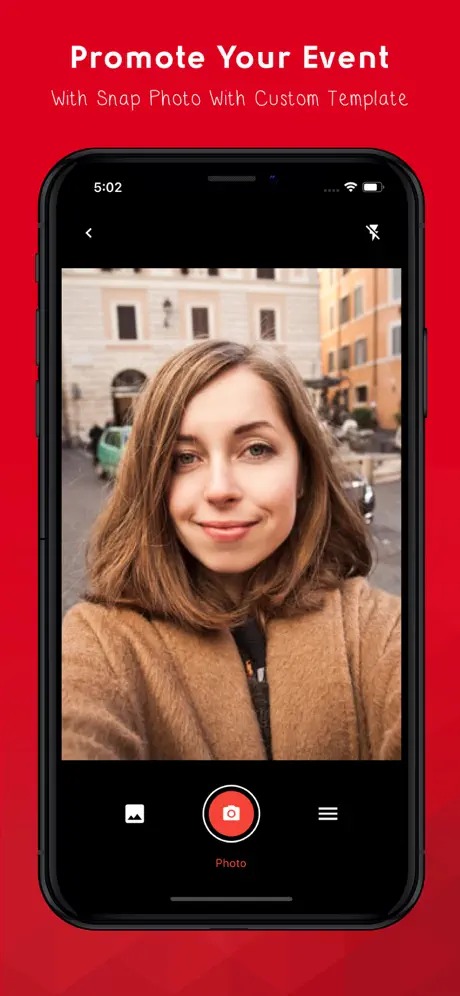 Diversify your shooting angles and easily create group shots with your participation.



SLR Booth Pro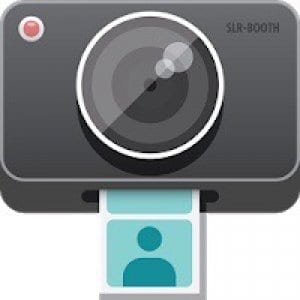 The SLR Booth Pro application is designed to create and process portraits.
Despite the simplicity of the app, it uses special algorithms to improve quality. They can determine the sex, age, and color of a person's skin and create ideal portraits based on this data.
But, the main function of the application is to create portraits in the style of a retro photo booth. The application SLR Booth Pro creates a collage of 4 photos.
Between the photos, you will have 3 seconds to change your position. It's like in a real photo booth.
After starting up, you will be prompted to select a photo on your device or take a new photo. The app SLR Booth Pro recognizes the person in the photo and makes it look as good as possible.
In this way, you can remove skin defects, increase the contrast of the photo and much more. The depth of conversion can be adjusted using the slider at the bottom.
In addition to automatic improvement, the app SLR Booth Pro can apply various art filters to photos. They allow you to give your portraits a more expressive and original look.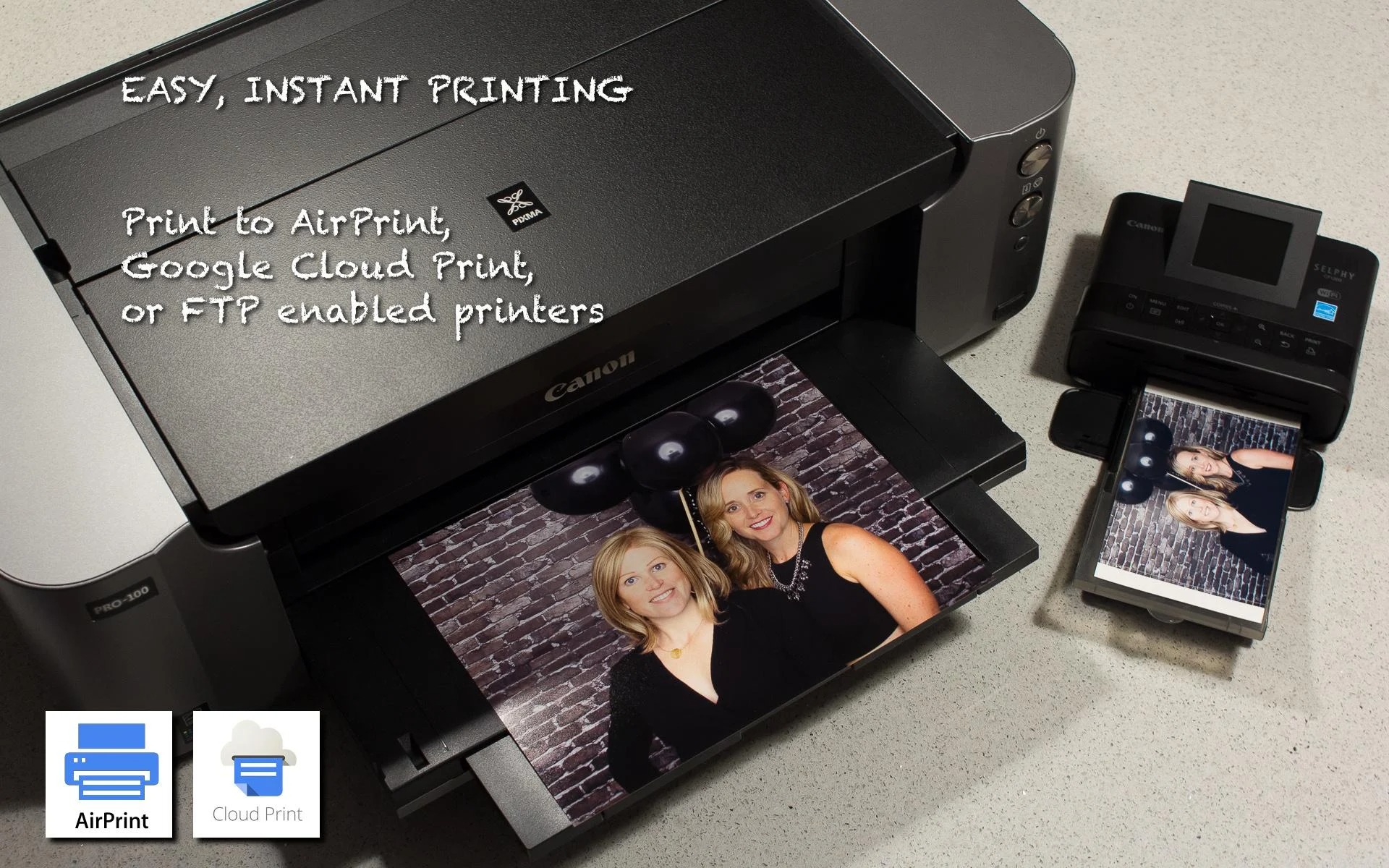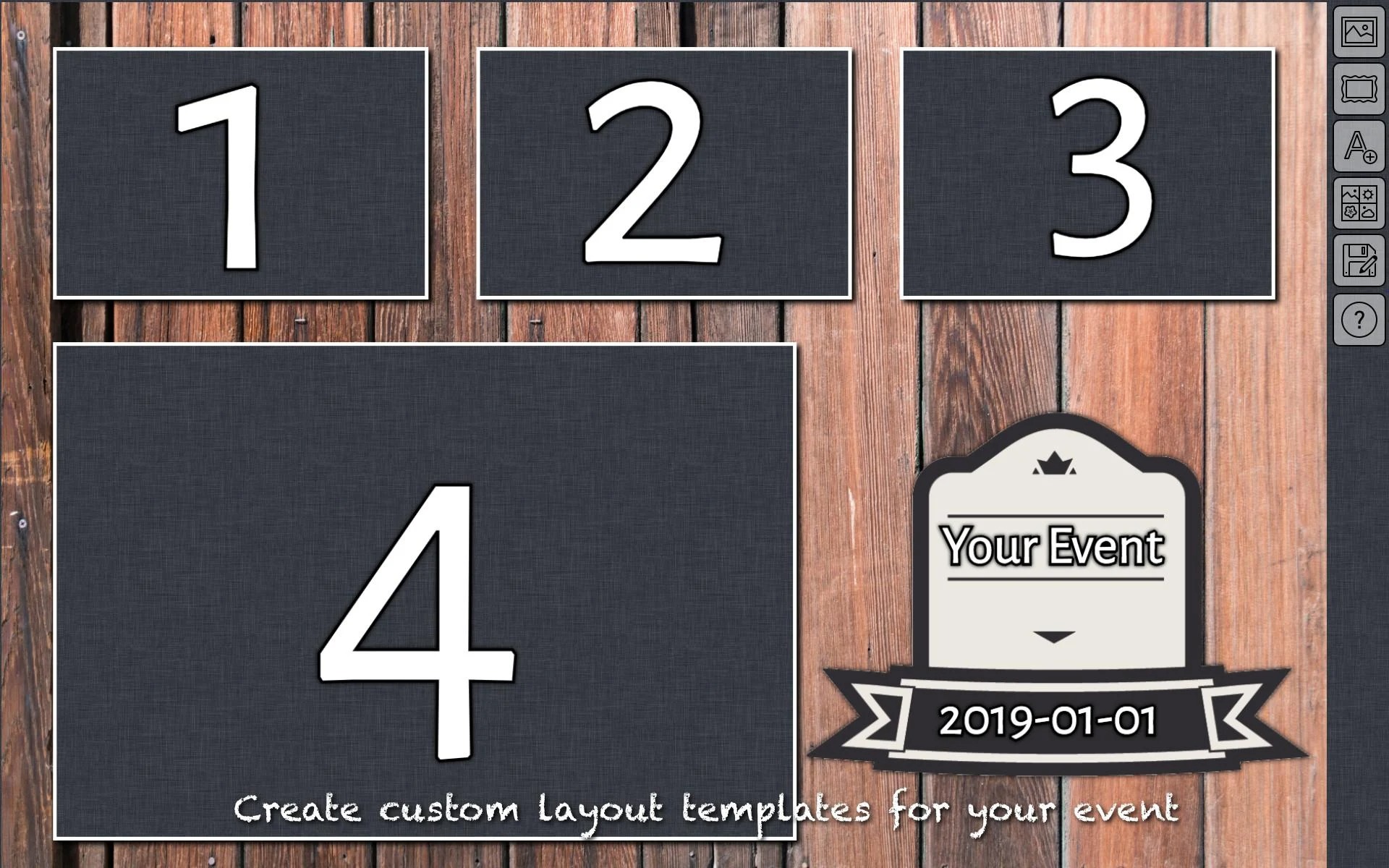 This is a free application that does not need built-in purchases. It has a nice interface and does not contain built-in advertising.

TapBooth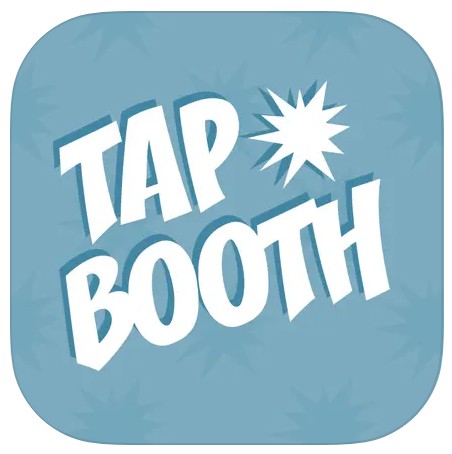 This app is a great tool for creating shared photos with friends and family. Capture all the best memories with photos and then all the significant events of your life will stay with you forever.
You do not have to turn on the camera, process the photo for a long time, then save it to share the moment on social networks. This service does everything for you by itself.
With TapBooth, you can easily and quickly take wonderful pictures. You can send images directly using the app. It is possible not only to share them on popular social networks but also to send SMS, email, and print.
Moreover, the app has a GIF creation function. To do this, you will need to take three photos, which will then turn into a funny GIF.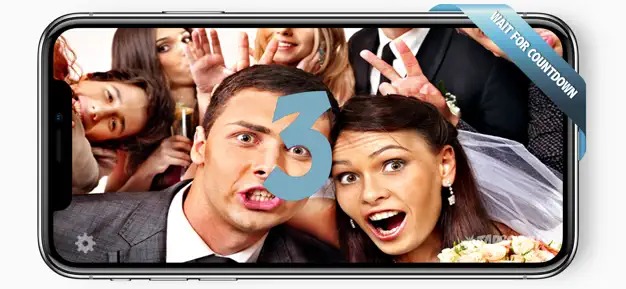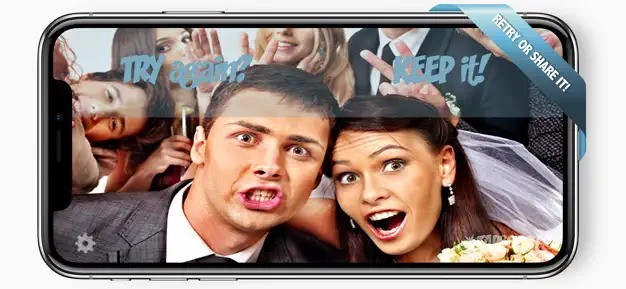 Also, it will not be difficult to add hashtags and links for your new photos. This app allows you to insert text on a picture.

Photo Booth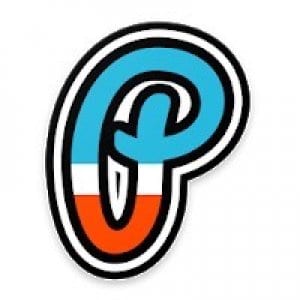 The Photo Booth app will help you create the perfect selfies with your friends in a photo booth style.
Keep your best memories in the form of collage. Here you will be able to combine the best photos that are created without preparation.
The collage consists of 4 photos, which are created with the built-in camera. Between the pictures, you have 5 seconds to change your position. Also here you can edit the resulting photos.
The app Photo Booth will not only allow you to adjust the colors and exposure. It will help you to frame images perfectly and add another batch of great shots to your photo gallery.
The main feature of this application is the ability to crop the image. A rectangle and a smartphone image appear on the screen in different places. You need to combine them to get the perfect picture composition.
Besides, the app Photo Booth can automatically make selfies. You switch from the back to the front camera and then you combine the rectangles on the screen in the same way. The application starts the countdown. And in your gallery, you'll see a set of selfies.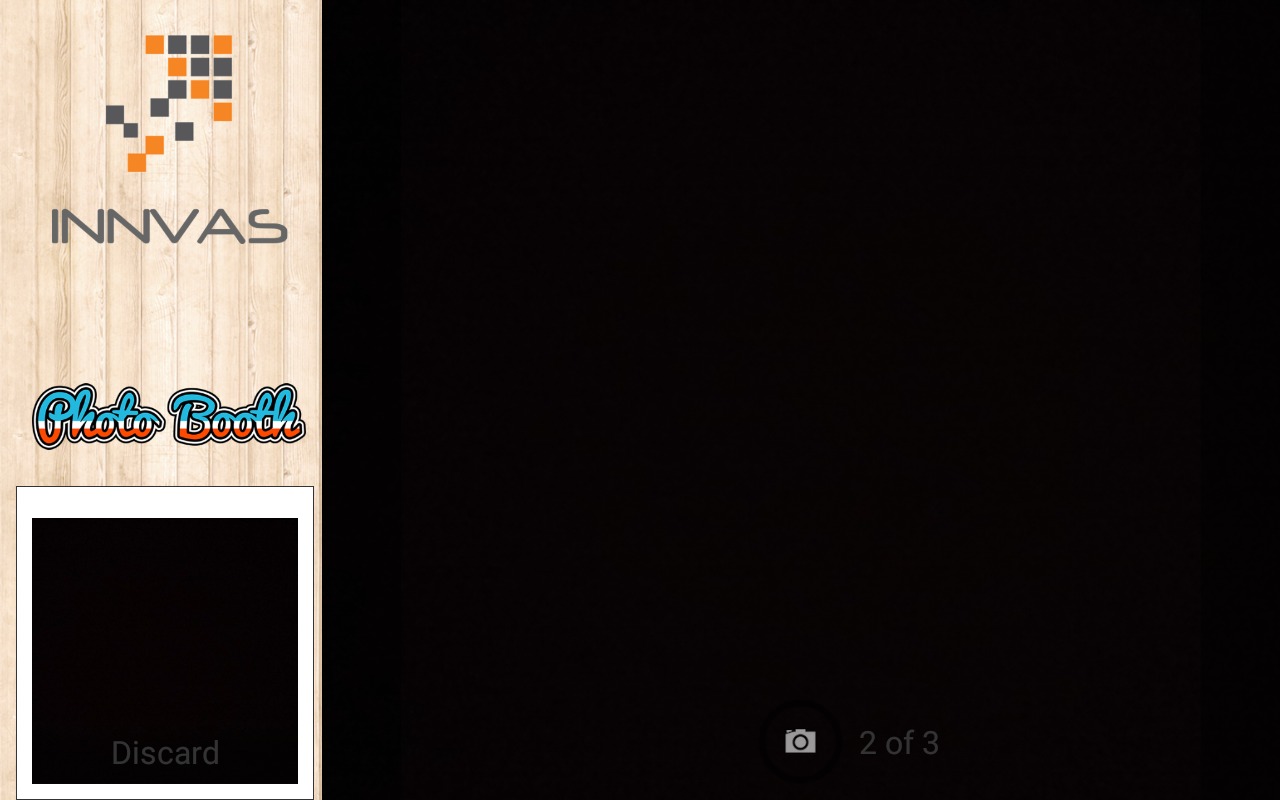 This is not a bad application with its interesting features. It is absolutely free and does not need built-in shopping. Besides, there is no annoying advertising.

You can also like: 7 Best Headshot Photo Apps for Android & iOS
funEvent photo booth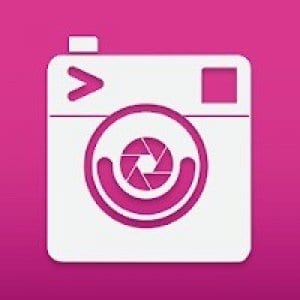 funEvent photo booth is an application for creating a collage from your photos.
Here you can choose the number of photos you want to take for collage and take them right in the application. This is a kind of "modified" modern photo booth, which takes pictures with the front camera of your phone.
When you start the program, a huge collection of blanks for collage opens before you. The areas in the future photo can be divided into two, four, five or six photos.
Template shapes are also different. These can be squares, rectangles, and triangles. By making several swipes, you can view the entire collection of workpieces. Choose the one that suits you best.
You can customize some parameters as you like. Click on the menu item "Frame Adjust" at the bottom of the screen. In the settings in this section, you can select the aspect ratio of the frame.
You can also change the degree of roundness of the edges of the selected template shapes. Choose the distance of photos from each other.
Then go to the "Background" section. In it, you can find various back backgrounds. Monotonous, with tree textures, children's, in a cage and many other things.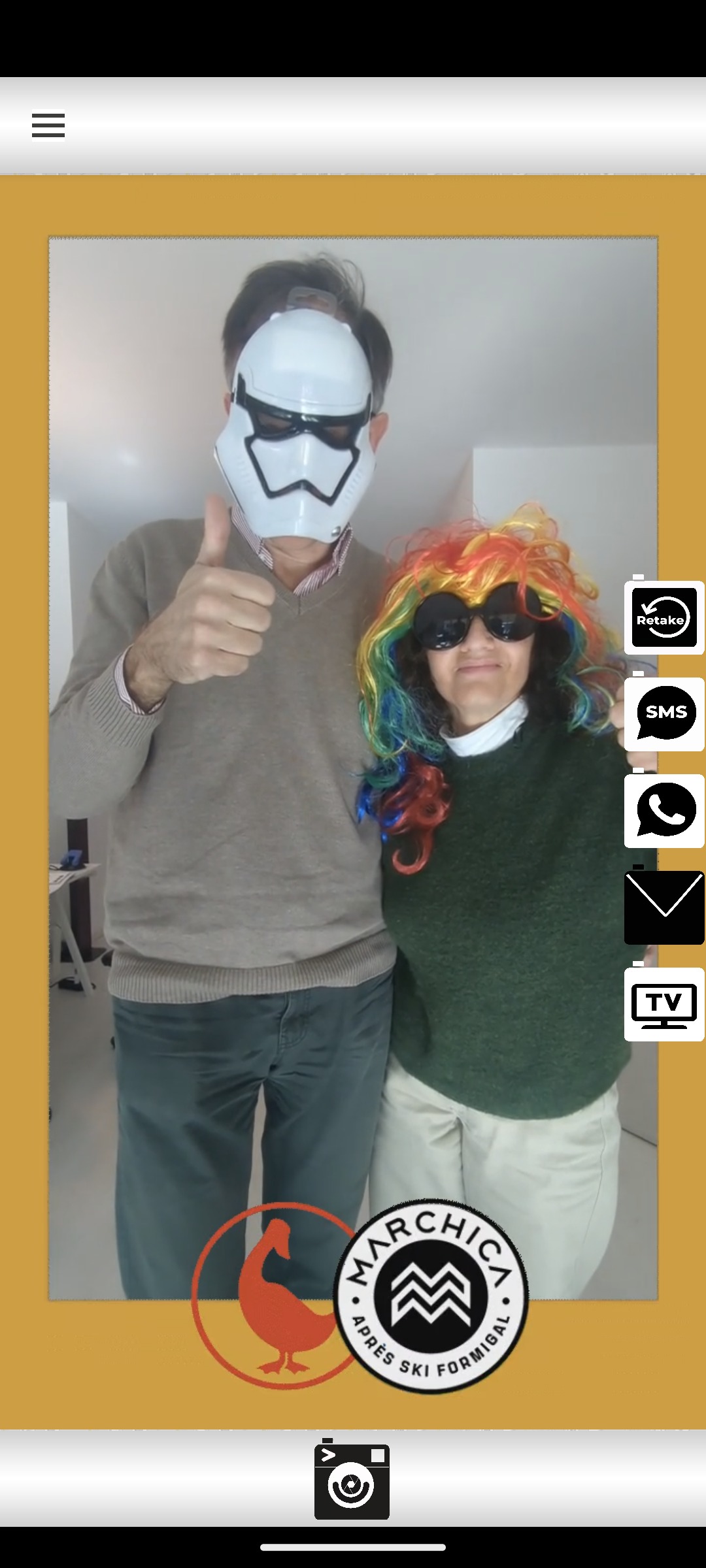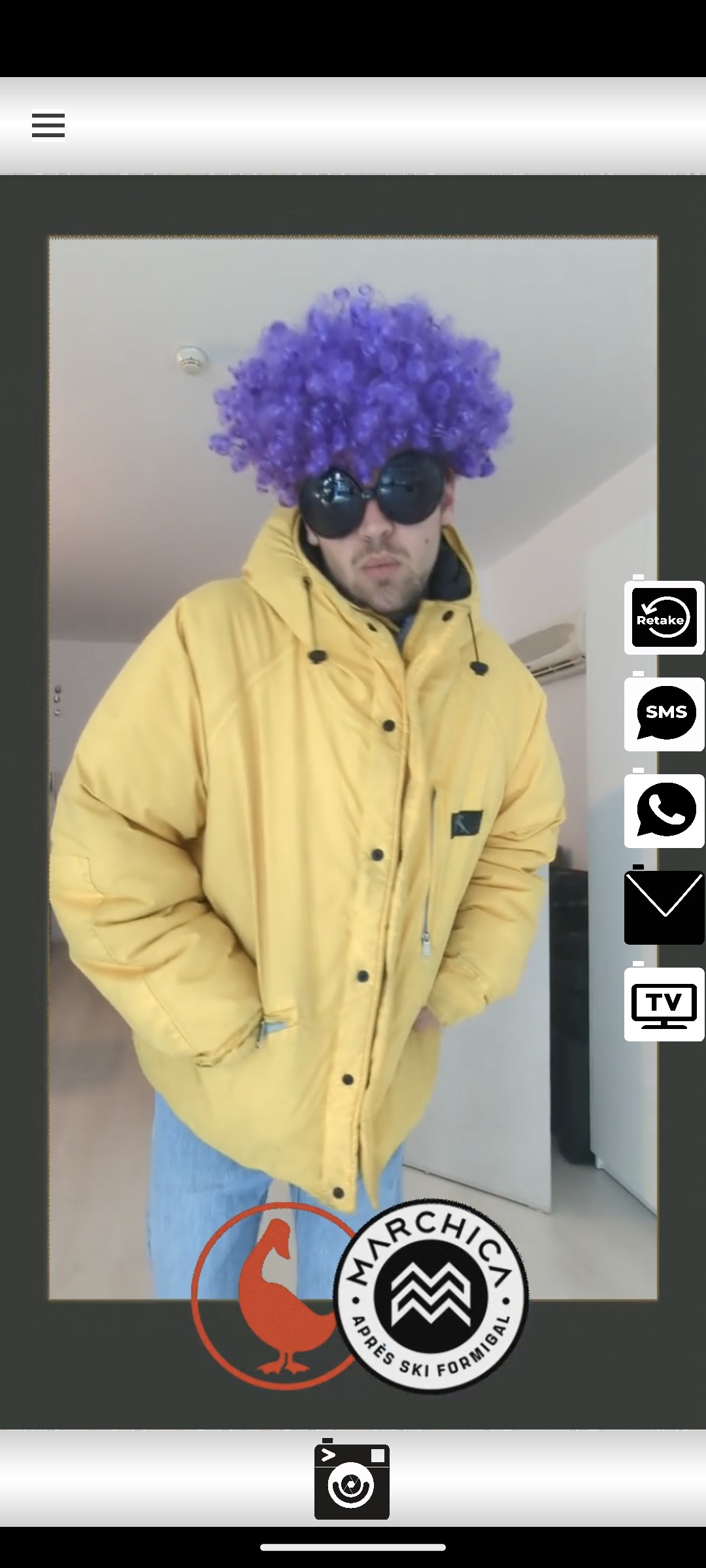 Everyone will be able to find something for themselves in the directory. It is also possible to choose a background photo from your gallery.

Cheese! Photo Booth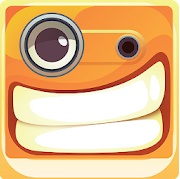 Cheese! Photo Booth is an entertainment app for you and your family.
It provides you with over a hundred daily photo challenges to complete! You can choose a category of the picture challenge you wish to complete, like mime, humor, emoji, expression, film&TV, and music.
Users can also view the most popular challenges, so they can stay in trend! There is a kid mode, which helps parents with children under 10 make sure their child does not view any inappropriate content.
Another way you can use this app is to frame your pictures, add texts to them, or even make your own logos!
If you would like, you have the opportunity to share the photos you made with others.
The program is free, however, there is a premium version that allows users to remove the Cheese! logo from the photos. Still, the free version works perfectly fine!
It is worth mentioning that for users' security protection, Cheese! Photo Booth neither records your pictures nor has access to them.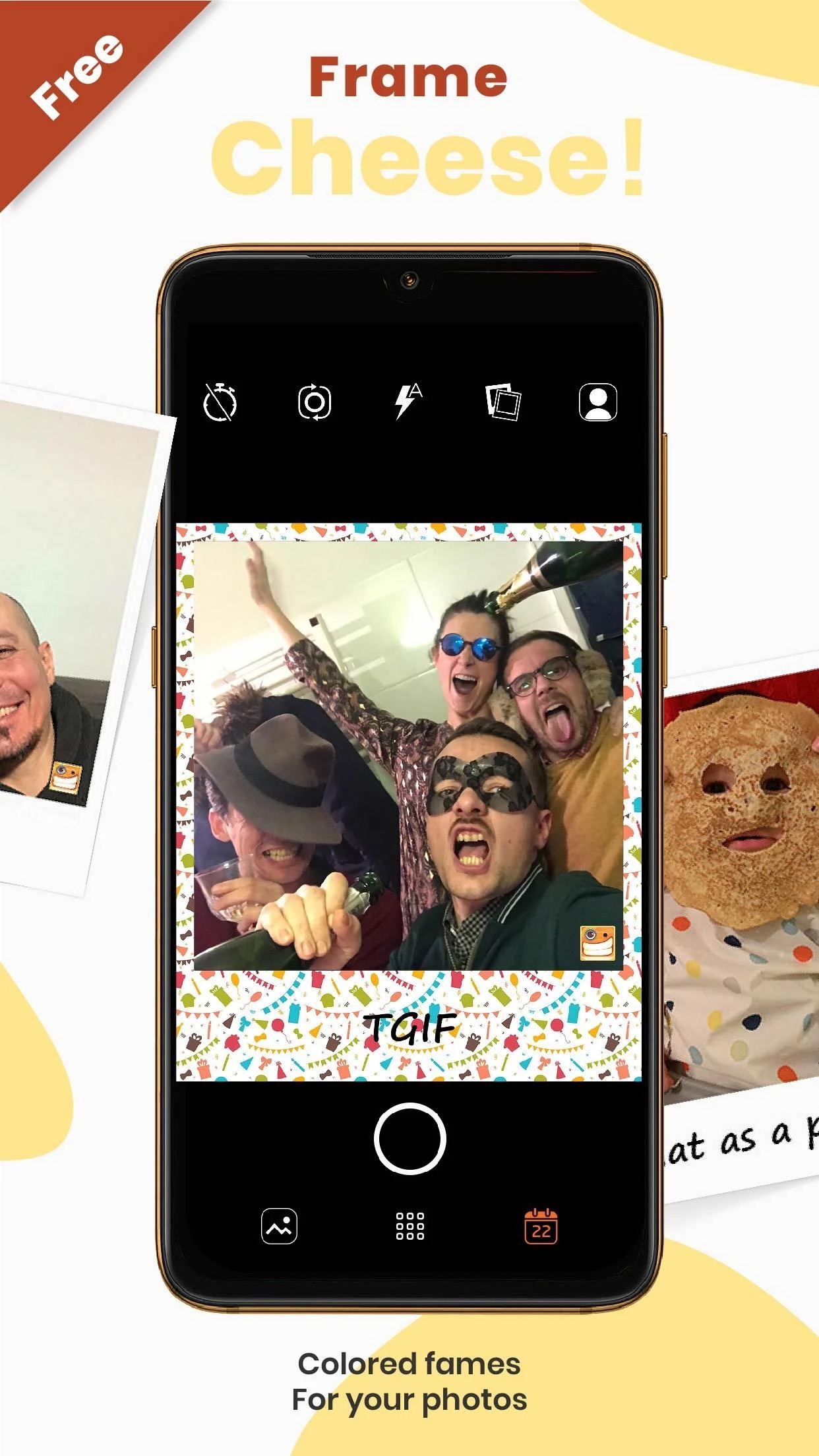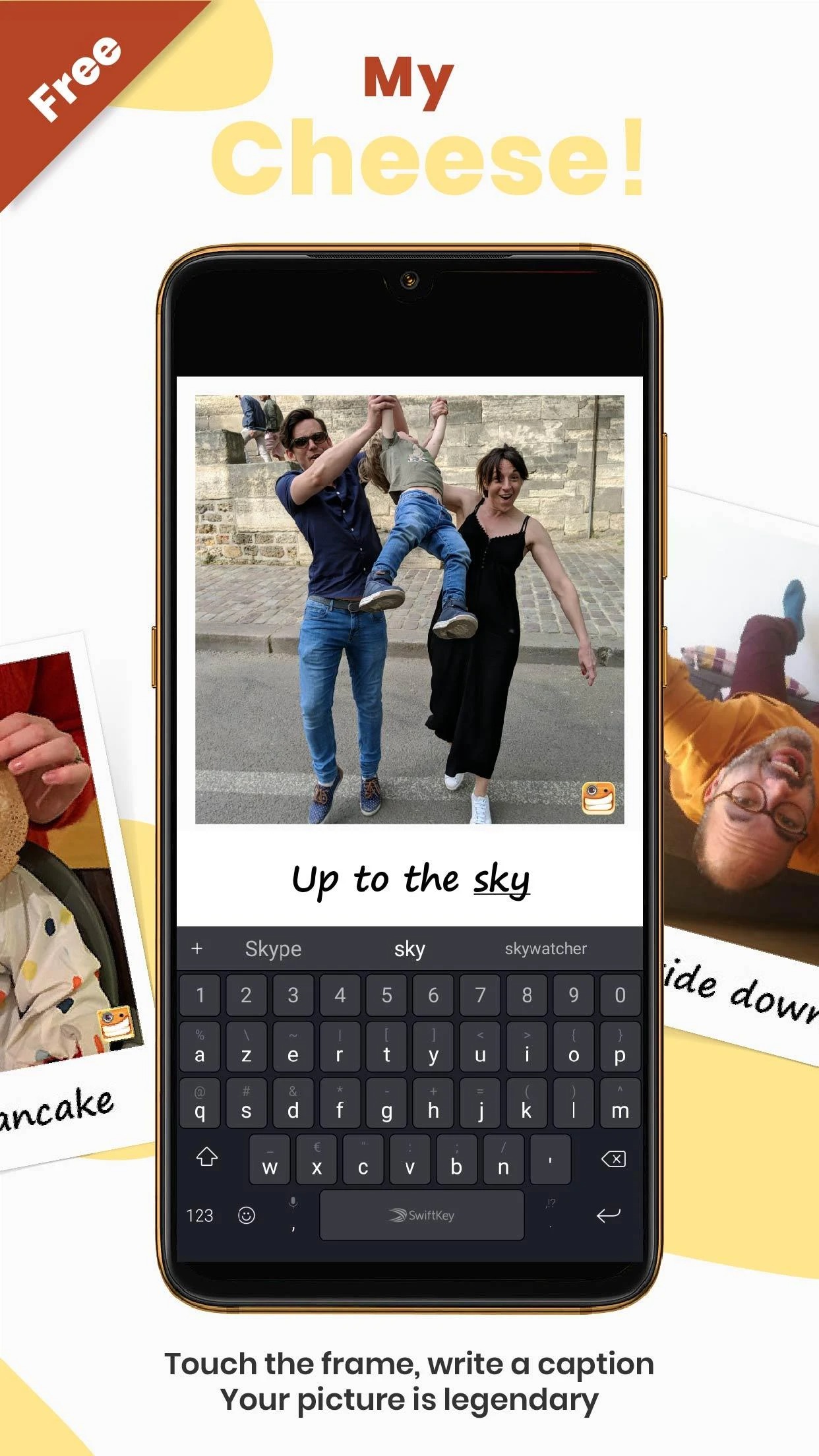 The developers of the app are constantly improving it, and the latest version has fixed some bugs. If you have any questions or concerns you can email cheese@pandalion.io. You will get a reply pretty soon as customer service is really caring.

Selfie Photo Booth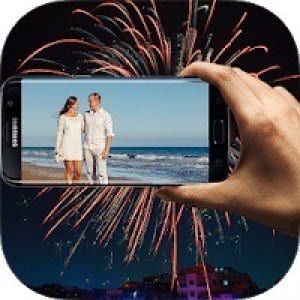 The Selfie Photo Booth application allows you to create a retro collage using your phone's front camera. This will give you a virtual photo from the photo booth.
After launching the application, you need to select one of the ten frames for collages. Usually, the number of frames in alternative editors is about 15 pieces. But in the given editor their quantity comes nearer to 50.
After selecting a frame, you need to select photos from the gallery or make them with the camera. After selecting pictures, you can apply an effect on it, flip it over, move it or delete it from the collage area at all.
By selecting an effect for one photo, you can apply the effect to the rest of the photos. On the panel below, you can select a color for the collage background, resize it, and paste the text.
By the way, you can change not only the color of the text but also choose one of the ten beautiful fonts. You can also add a sticker, and their number is unlimited. After you have finished all the photo manipulations, click on the "Share" button.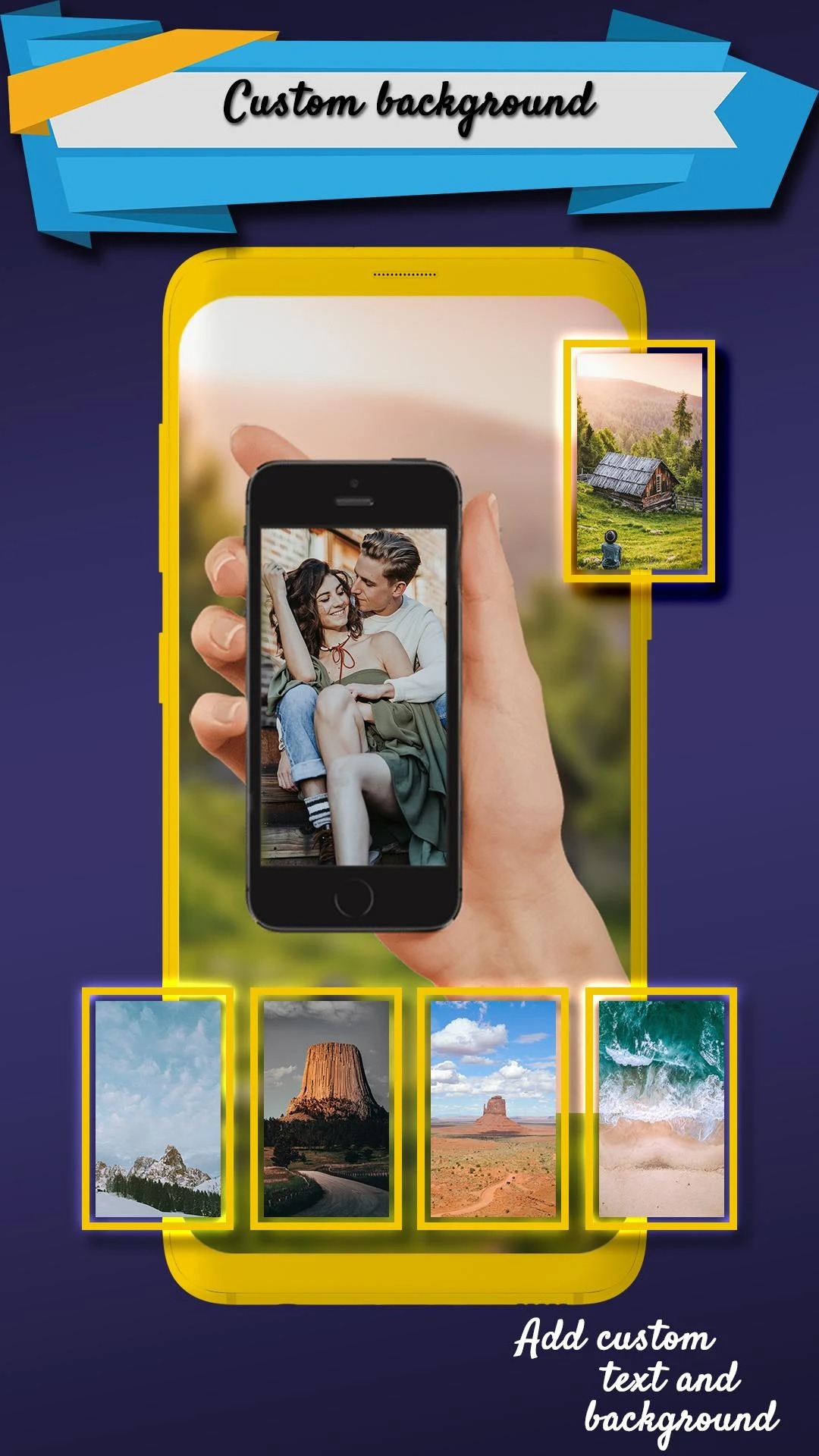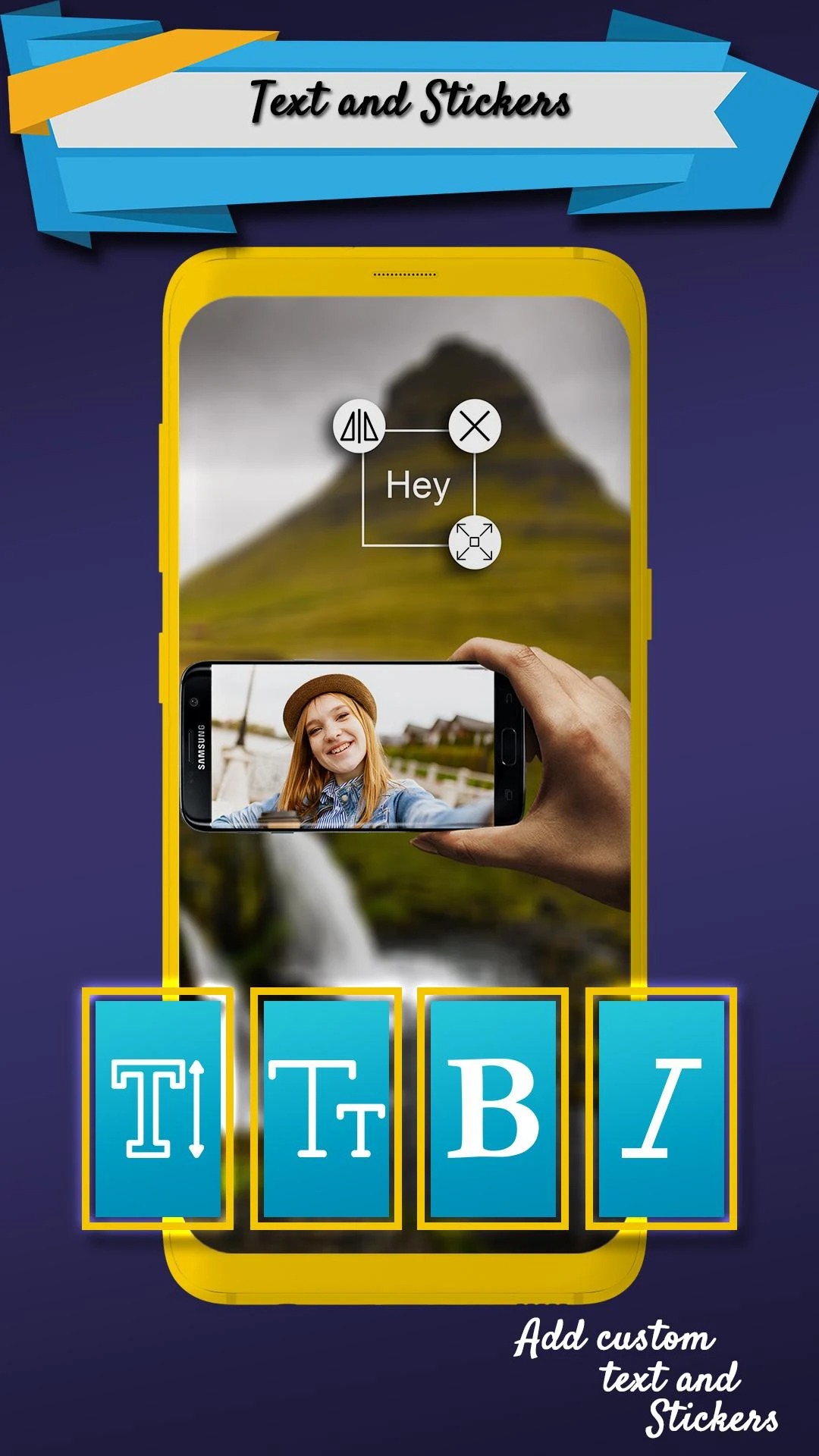 Here you can choose what you want to do with the photo – upload it to a social network or just save it in the gallery. If you have chosen the first option, you need to add your account from any social network in the app settings.

Be Fabulous PHOTO BOOTH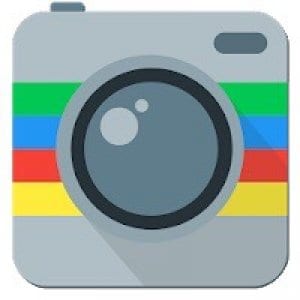 With the Be Fabulous PHOTO BOOTH app, you can create unique and beautiful collages from your photos. Apply the photo booth effect. Then, surprise your friends with pleasant memories in the form of retro photos.
You can use the wizard to quickly create a photo collage. In a few steps, you can create a beautiful photo collage and save it or share it immediately on social networks.
When the settings are complete, go to the next step by clicking on the corresponding button.
Here you will find a large selection of collage templates. As well as creative and unusual photo collages of different shapes. The collage of photos has a huge number of different settings.
Add a colored background, gradient or suggested drawings. You can also upload your image as a background, add blur or fill. Photos can be moved or scaled with simple finger movements.
It can also be deleted, swapped, replaced, rotated, framed, shaped, and more. Here you can add text and customize its size, color, stroke, shadow, font.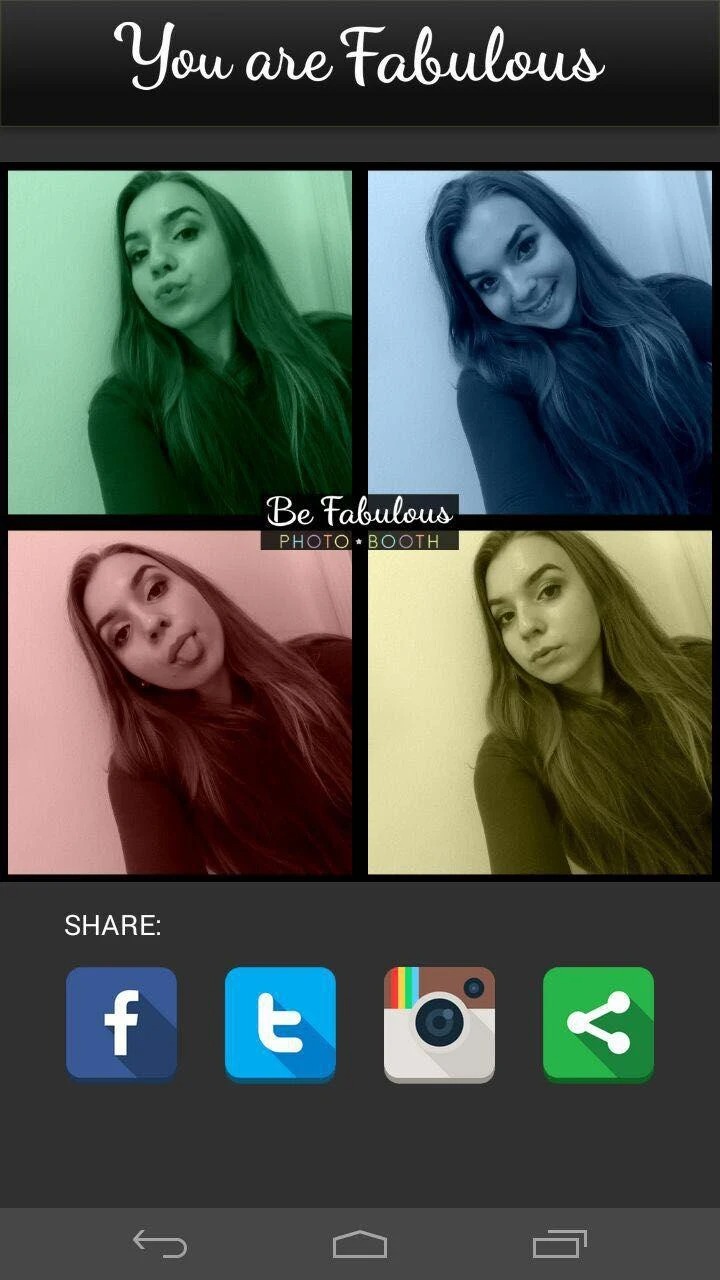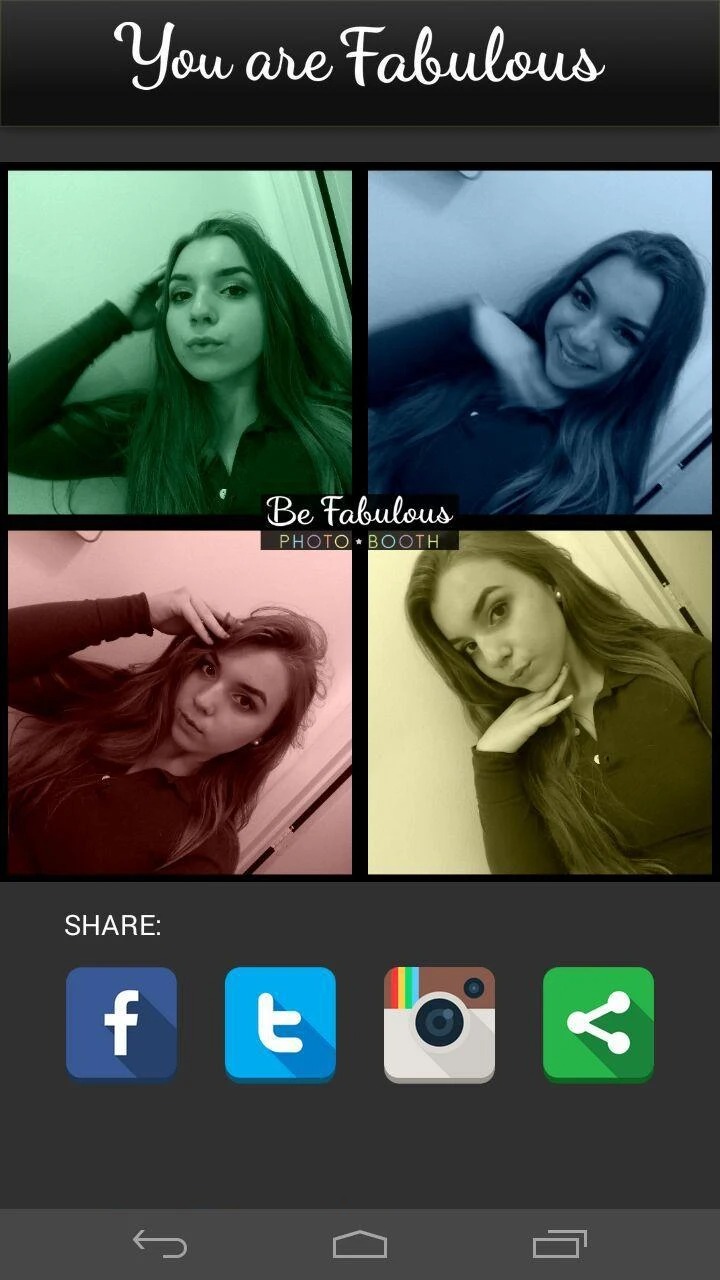 Adding stickers is available in the application Be Fabulous PHOTO BOOTH. They can be moved, rotated or resized. You can call up the photo editing menu by a single short tap on the photo.

Face Warp: Photo Booth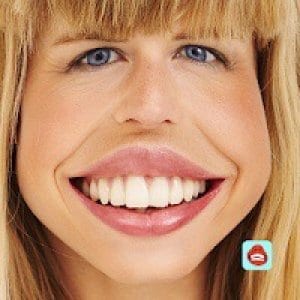 Face Warp: Photo Booth is an unusual application for creating beautiful collages with frames. With just a few clicks you will get a beautiful image, which you can then share with your friends.
The app Face Warp: Photo Booth uses a front camera, just like in a real photo booth. You need to place your phone in any convenient place. Then turn on the timer. The timer time can be set at any time.
Stand in front of the phone camera with your friends and wait for the picture to be taken. Then you will have a few seconds to change your posture. You can choose any number of photos for your collage.
In this app, you can change the shape and size of the image, the distance between photos, background, and text. Here you can apply different fonts and textures.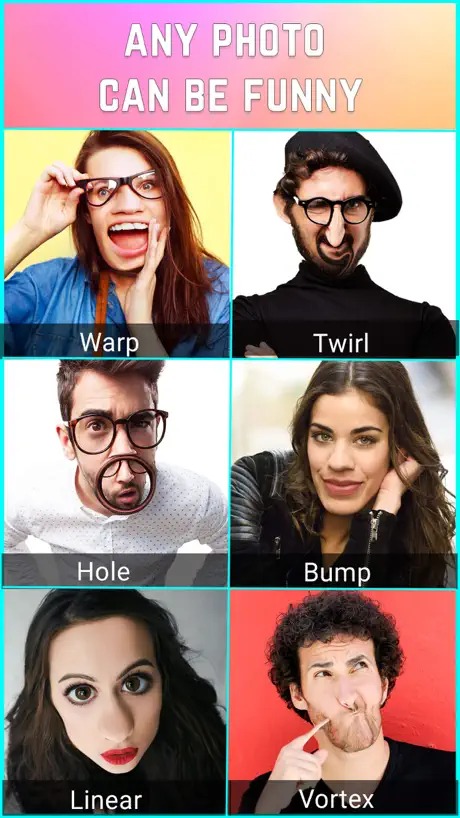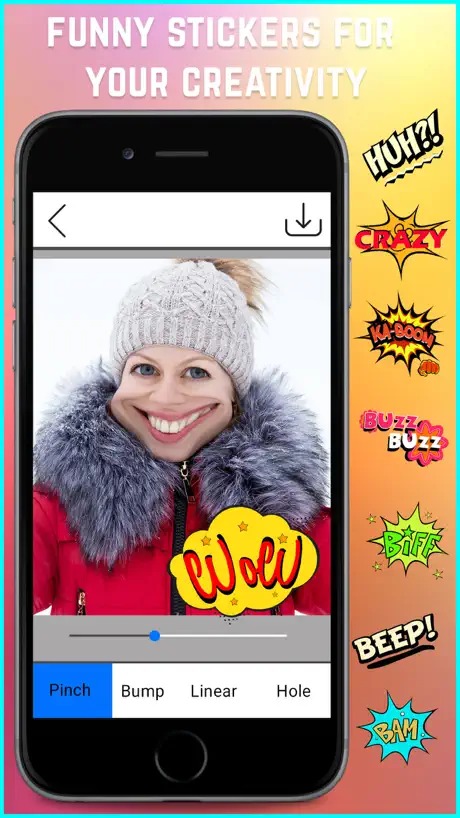 When one of your masterpieces is finished, you can send it to one of the social networks or save it in high quality. If you choose the first option, you will need to add your account from the social network in the settings of this app.



You may also like: 9 Best Polaroid Frame Apps for Android & iOS
Fun2Booth Photo Booth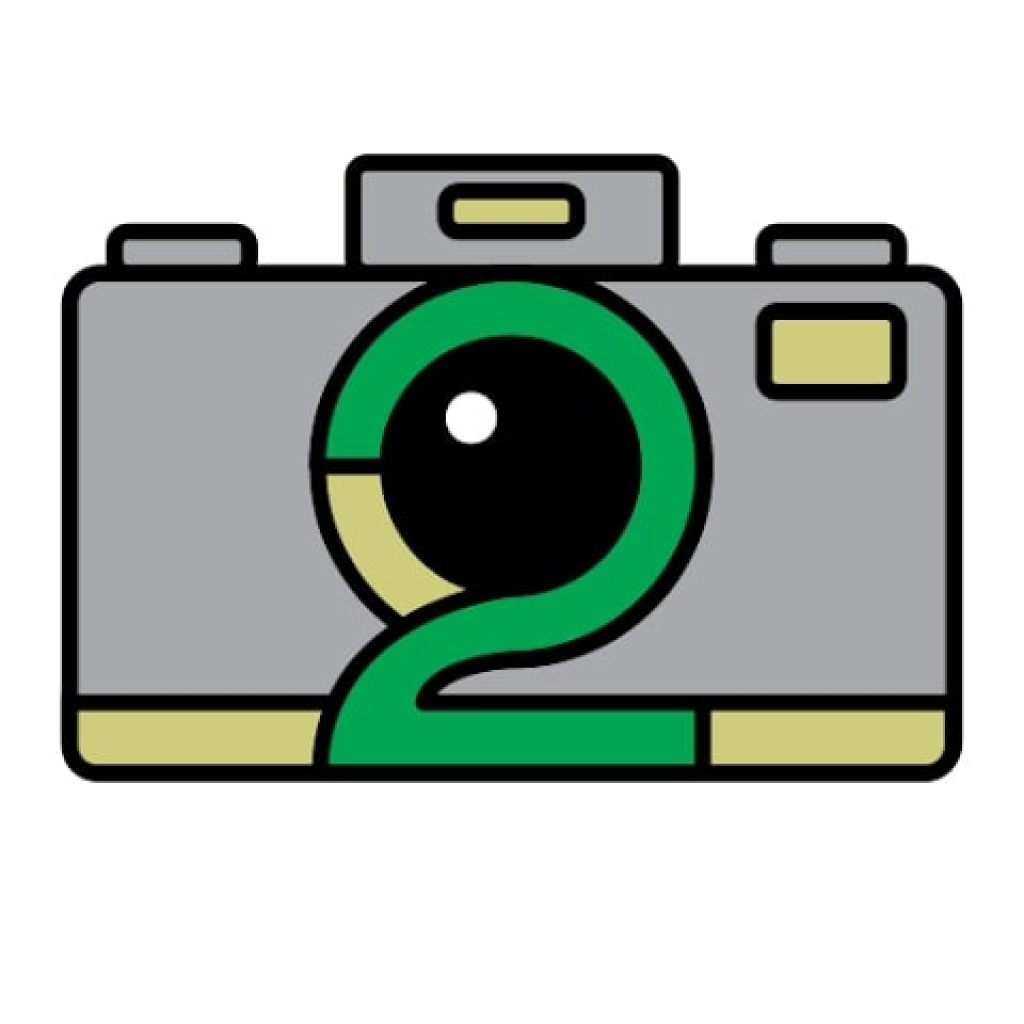 This app can easily replace your use of a photo booth to create bright and cheerful pictures. You can set any suitable mode and take 4 different photos at once.
You can choose a layout, a ready-made template, special effects, filters, and other features to take your dream photos. Add text, stickers, and emojis to your photos.
Send your photos to your friends and family in messengers and social networks to keep them with everyone who takes them. Take photos directly from the app or add ready-made pictures from the gallery.
You can set them instead of the background to create new frames. You can also choose the appropriate scale for your photos.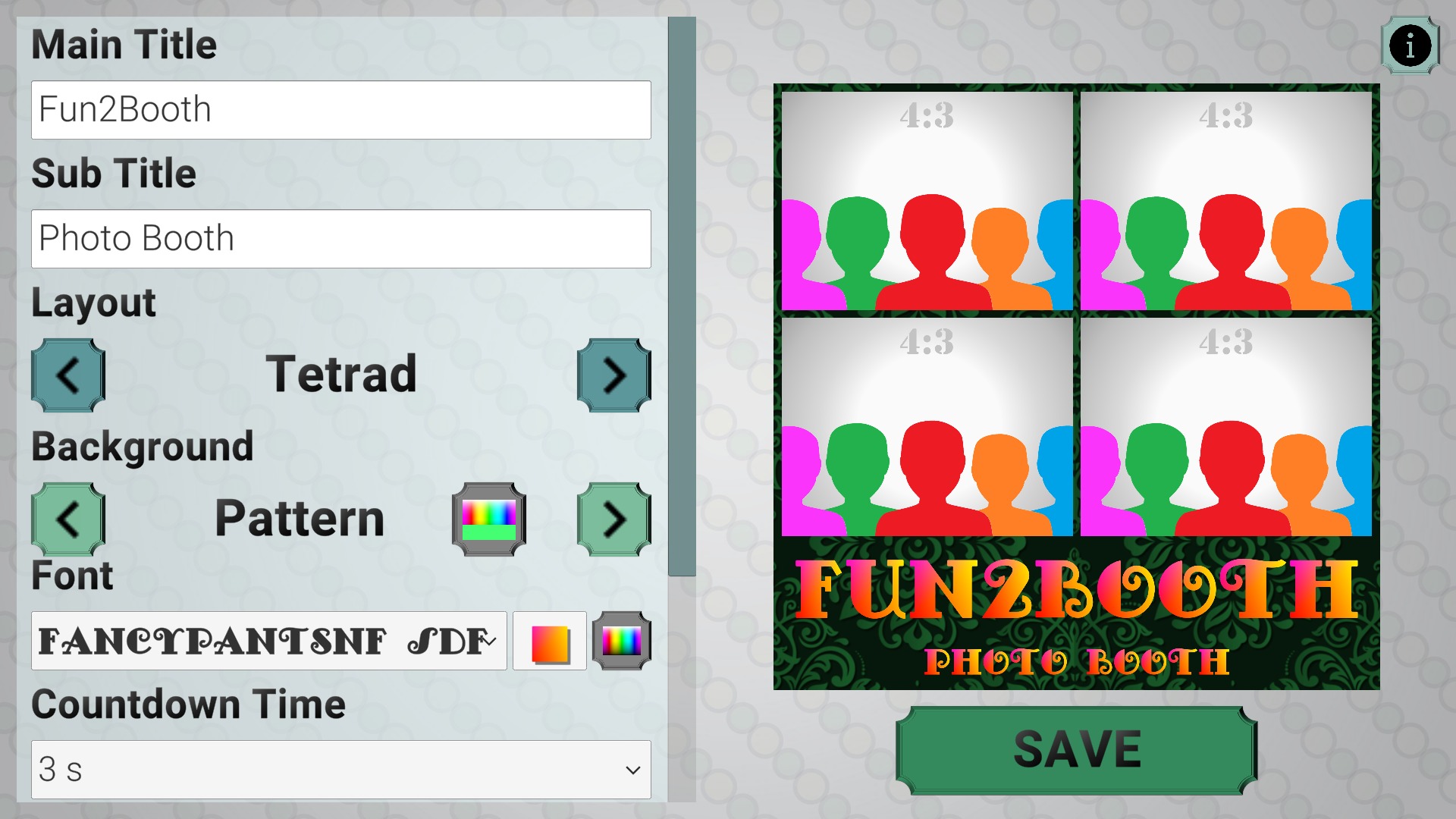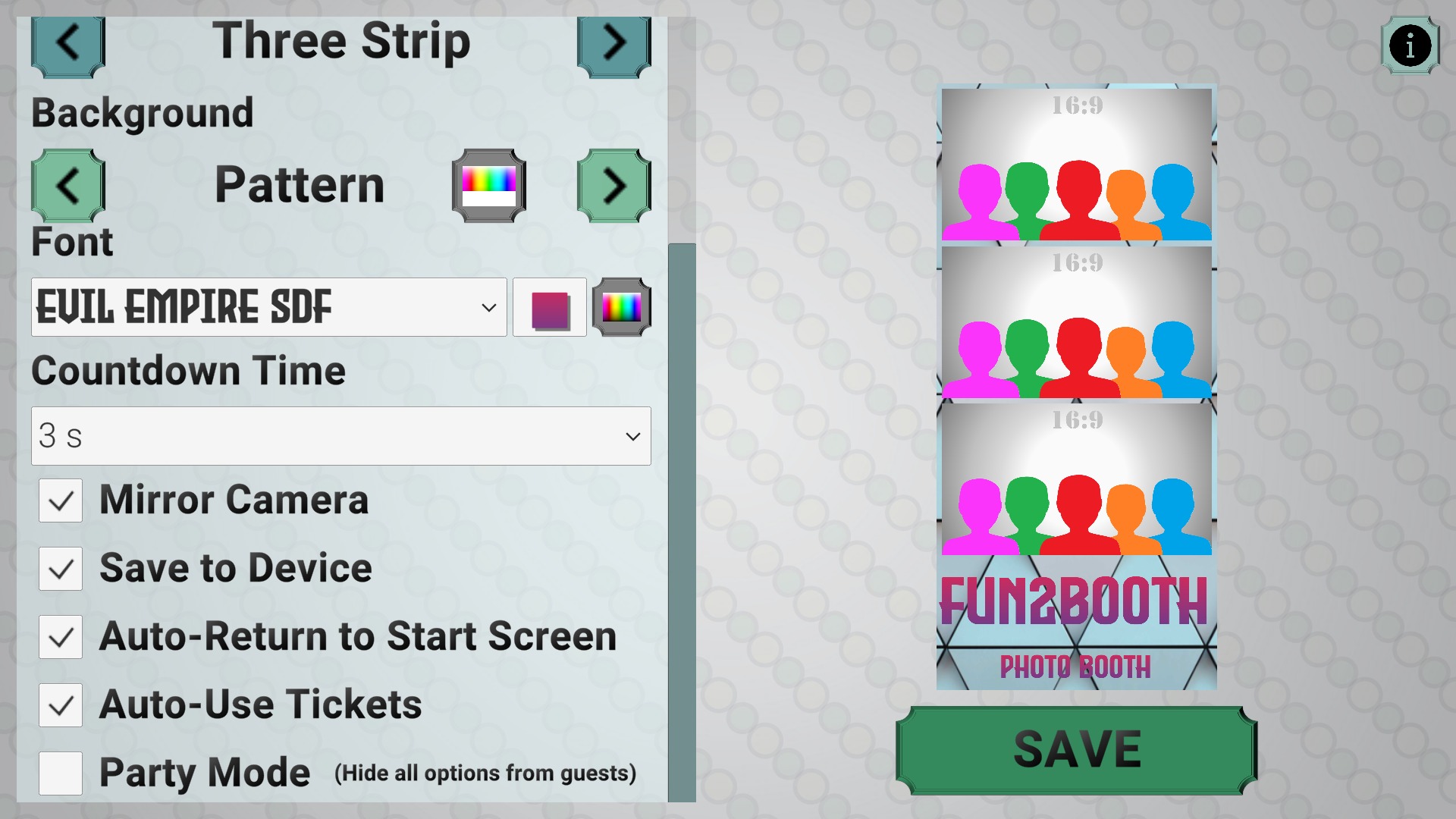 Save and share your pictures as many times as you want. You can also print the finished work without loss of quality.