The list of the best free offline Android games 2019 includes completely multi-genre projects that have won numerous awards and, of course, those that users like.
You may also like: Free offline Android games 2020
Free Offline Android Games 2023
We tried to select the most interesting games so that you had something to occupy, being far away from high technologies and wireless Internet – in the subway, in the village, far away from civilization, when you were left without light, but with a charged Android.
Total War Battles: KINGDOM
Total War Battles: KINGDOM is an interesting and exciting strategy from the famous company SEGA. The game is very similar to other famous applications like Clash of Clans. Given that this genre is very popular and profitable, it's not surprising that big companies decided to participate in the development of similar games.
Your task is to create your own kingdom, with a powerful army and new cities. Improve infrastructure, improve barracks, rebuild farms, so that your people will always be under the protection. Build forges so that your army has the best weapons. But remember that you are not the only lord, so you will not only have to develop and defend but also attack other possessions!
Game features:
One of the most interesting genres from the famous company.
Beautiful graphics and many additional elements that will make your kingdom truly unique and beautiful!
Addictive online game mode.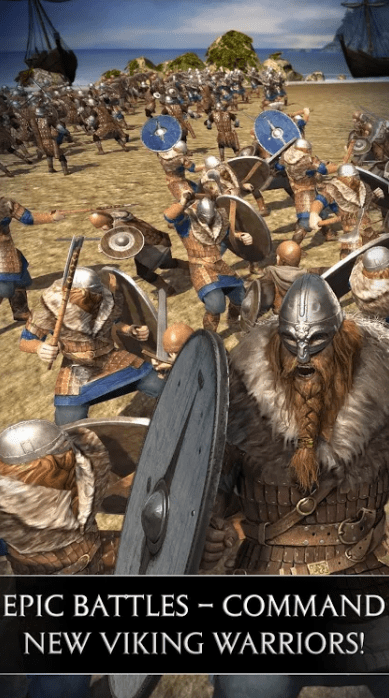 Total War Battles: KINGDOM is a strategy that will immerse you in the thick of the events that took place in medieval England. The player is waiting for bloody military battles, attacks of bandits and much more.
You can also check: 25 Best cross-platform multiplayer app games (Android & iOS)
EA SPORTS UFC®
EA SPORTS UFC® is designed for all fans of exciting MMA fights. Gather a team of your favorite UFC fighters, win victories in battles, get rewards and become the best fighter.
More than 80 best UFC fighters in four weight categories are available for the game. Each athlete has his own distinctive set of skills and combat techniques. Choose the fighter who is closer to you. The main feature of the game EA SPORTS UFC® is that there are no lives and game restrictions.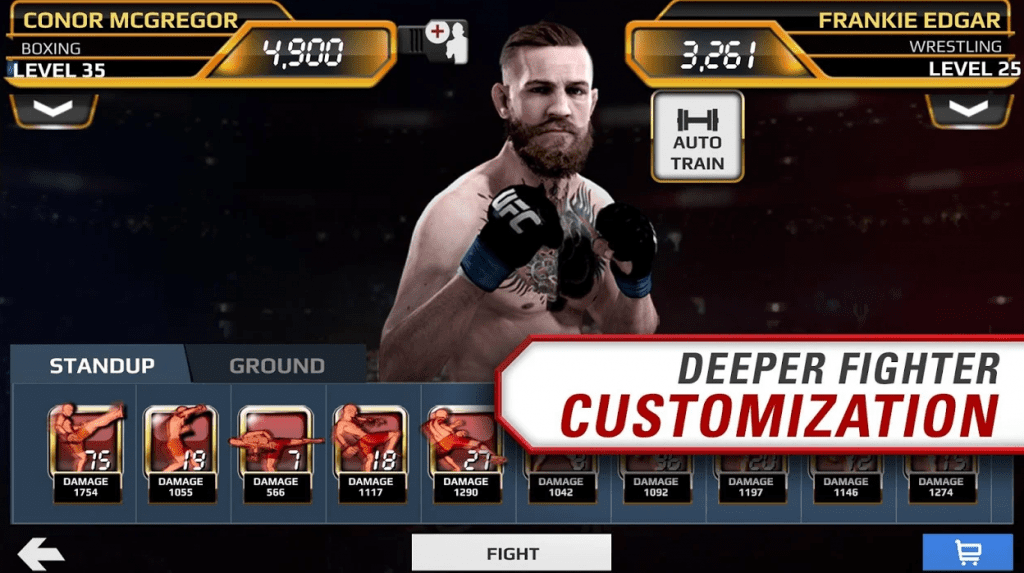 The sports action from the EA SPORTS UFC novelty for Android turned out to be amazingly realistic, energetic and high-quality. High-resolution graphics, a constantly changing camera position adds dynamics, a single career mode, dozens of tricks and real fighters with different characteristics. The fights, quite habitually, take place in closed arenas, where participants are able to apply any tricks earning money and valuable titles.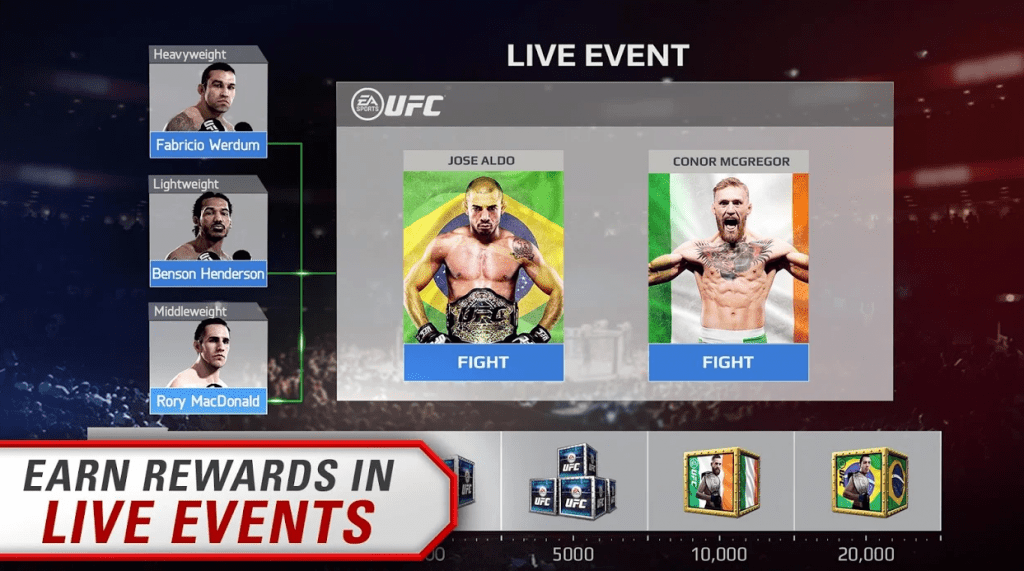 A career campaign covers all the details of the development of the future champion – the hero appears completely unprepared: neither knowledge of techniques, nor developed characteristics and strikes. Players will download EA SPORTS UFC® on Android and gradually, step by step, develop skills, learn and move to victory!
Asphalt Nitro
Routes from Asphalt Nitro arcade located in exotic countries are dangerous and unpredictable. The whole palette of extreme feelings and incredible speed is in your phone with this game.
The choice of cars, by the way, is limited only by the imagination of the players – dozens of luxury cars, improved to a maximum in a few seconds! Get behind the wheel of the most luxurious cars in the world, such as Ferrari and Lamborghini. Fly at a crazy speed on the most beautiful places on Earth, perform crazy stunts.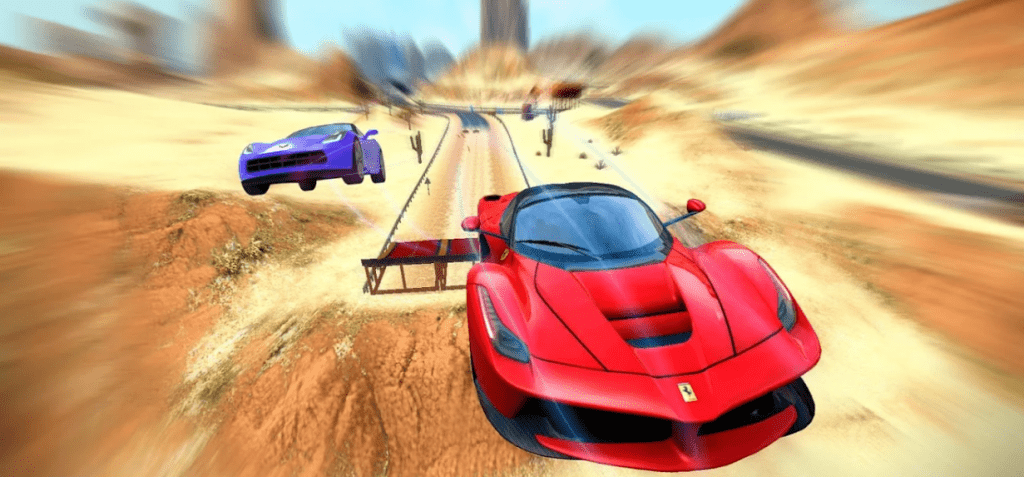 The game is recommended for all lovers of adrenaline racing with bright graphics and detailed levels with extensive ways to get to the finish line. In these incredible races, you can perform tricks in the air. Take off on the road and show everyone air maneuvers.
Asphalt Nitro offers a lot of different modes for the game. Play with a computer, or with your friends, and also try to escape from bothersome law enforcement officers. Thanks to an incredibly interesting game, you will have the opportunity to visit the most beautiful corners of our planet. Take a ride on the roads of Nice and Barcelona, Dubai and Beijing. Explore the city streets, and all the ways to reduce the time to reach the finish line first.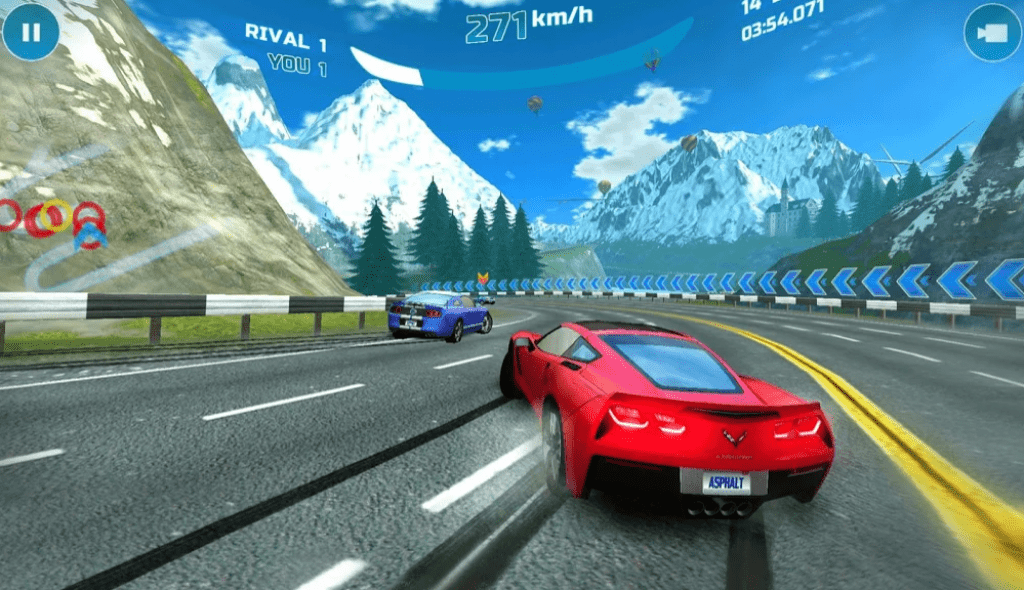 Download Asphalt Nitro for free and start winning the fastest races possible. A lot of positive emotions are guaranteed.
Fallout Shelter
Radiation becomes the terrible consequence of a nuclear explosion. That is exactly what happened on Earth because of the launch of nuclear warheads. The war turned the cities into ashes, the people – into mutants, who were disfigured by radiation. Planet from a blooming garden turned into a scorched desert.
The survivors have a chance for the future – such people are hiding in shelters where you can grow new people. It's about one of these shelters, hidden in the mountains, in the game Fallout Shelter.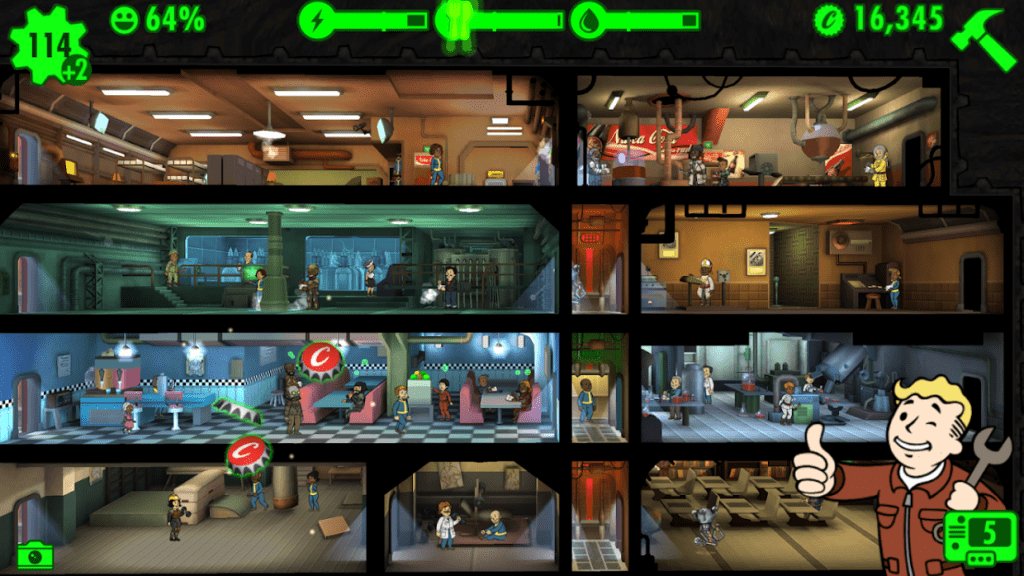 In the story, you become the owner of a kind of "hotel", which will take guests. People who need shelter and food will come to you every now and then. You meet and settle them, but not just as it will, but taking into account the characteristics of each guest. The premises where newly arrived guests can come in handy are divided into three types – in some, they produce food, in others – water, in the third they extract electricity.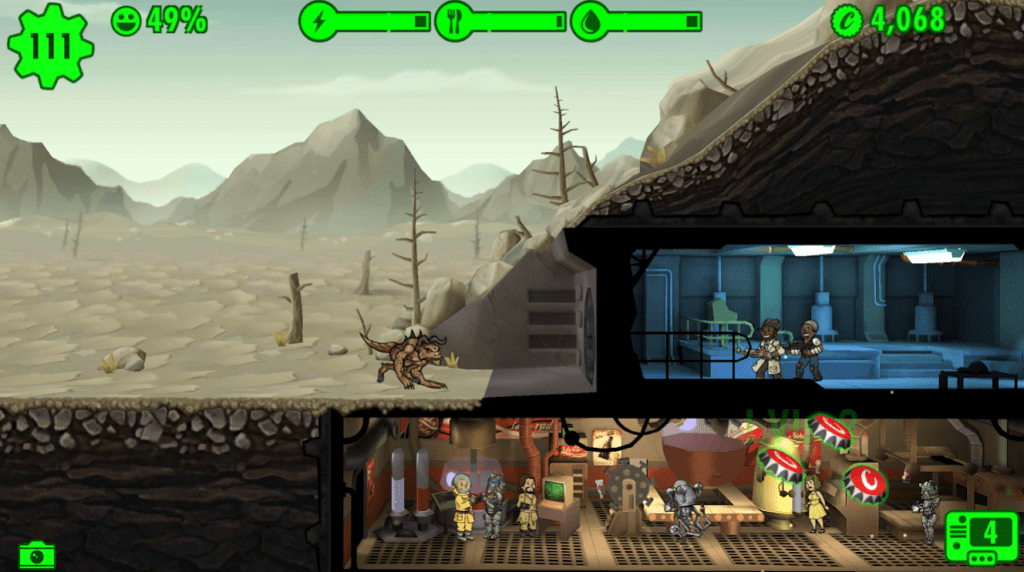 But just sitting in a shelter and working isn't enough. Periodically, you will send your heroes to the outside world, naturally equipping them with useful things and arming them. If you are lucky, he will find a game currency outside the hotel and deliver it to you. Well and, besides, each visit to the scorched earth will deliver unforgettable impressions to him and to you.
The game has nice graphics, allows you to plunge into the world of your favorite game, but looking at it from a new angle. This's the most interesting strategy game of this kind. The musical accompaniment is also pleasant, it creates an appropriate atmosphere for the game.
Plants vs. Zombies 2
The battles of plants and zombies attracted millions of smartphone owners around the world in their time. Finally, the heroes of the popular tactical arcade return with new adventures in the sequel Plants vs Zombies 2.
Help Mad Dave overcome the hordes of zombies looming in his garden. Use new plants with unique abilities to solve this difficult task. Charge your green friends with fertilizer and strengthen your defenses with special brain protection techniques.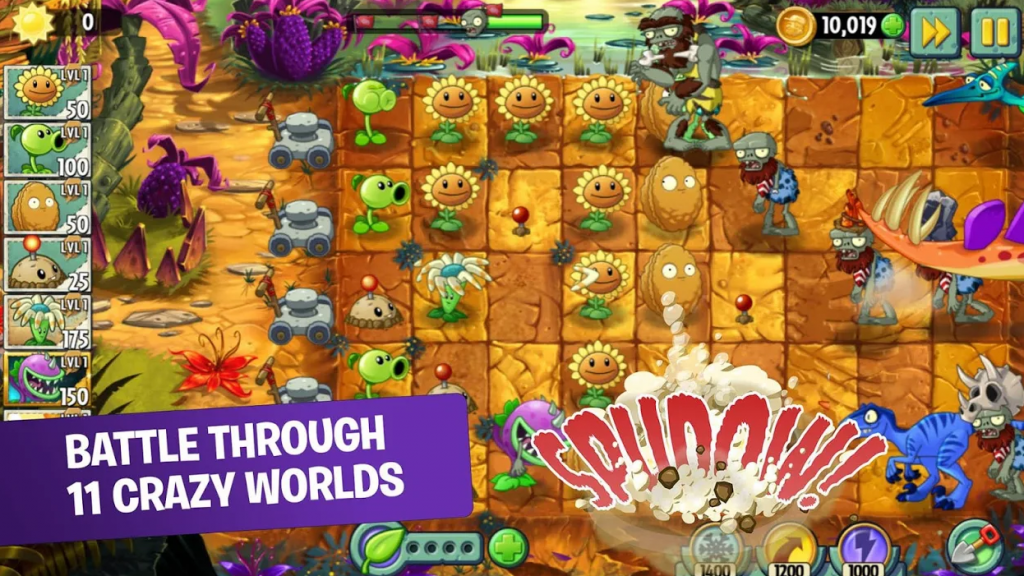 You are opposed by dozens of new walking dead. But your arsenal has undergone significant changes. In addition to new plants, you have new techniques, such as, for example, Finger Powers – when it is activated, you can destroy the zombies with a current, letting it out of your fingers.
Don't let the holiday fail, win prizes, collect coins and get stars – all this will open up new opportunities for you. Save the world from half-dead monsters!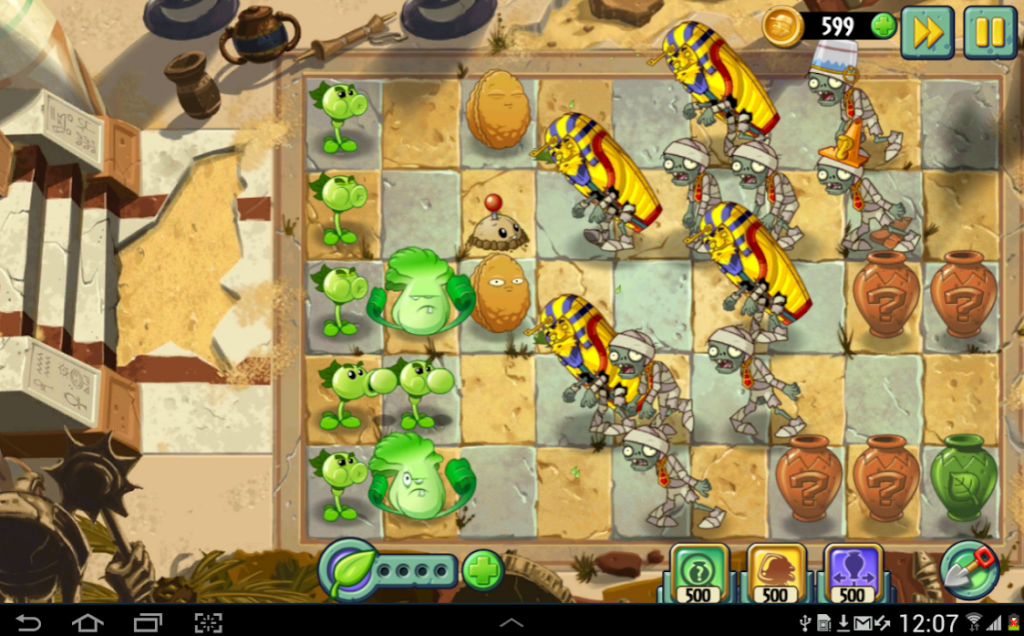 The main feature of the Android project Plants vs. Zombies 2 in comparison with the first part is significantly improved graphics and animation, plus the storyline, and a truly impressive variety of the walking dead.
Flick Quarterback 19
Flick Quarterback 19 – a new update of the famous sports arcade game for your Android device. The game has a large number of fans around the world, largely due to its excellent graphics, ease of management, combined with high realism. Sound effects create the feeling that you are directly in the stadium and moreover, you are personally a member of this favorite game by millions of fans.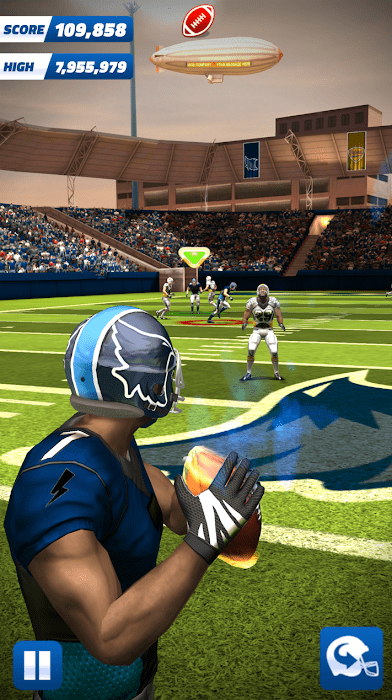 In fact, Flick Quarterback 19 can be called a real quarterback simulator that invites you to try your hand. After all, many people know that the quarterback is a game of only physically strong and trained people. Hard contacts and clashes, sometimes difficult weather conditions, the risk of injury – all this awaits you in the quarterback. It's not enough just to take the ball and run with it across the field. Here, this right must be won, and not everyone can do it.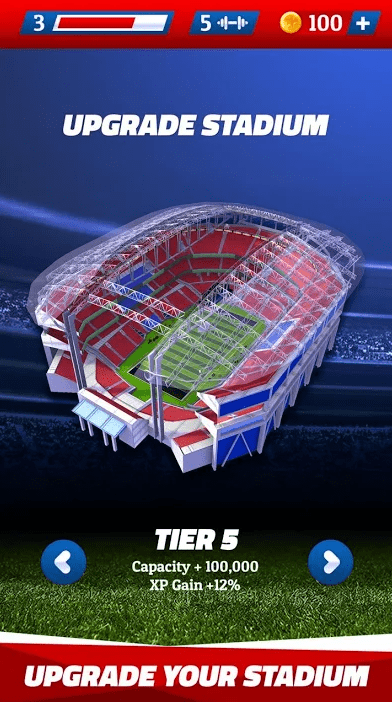 If you are still confident in your abilities, then be ready to take part in a large number of missions, each of which has its own level of complexity. Move to the top of glory, win the love of fans, become the quarterback champion.
The game has a user-friendly interface, a lot of customization options, the ability to update stadiums, the choice of options for passing, as well as the ability to play with your friends.
Head Soccer
Sports arcade Head Soccer takes place in a two-dimensional space between the two players and the empty gates. Players are free to use any methods to achieve victory.
Of course, some restrictions are still present, but they are so insignificant that they turn Head Soccer for Android into bright and entertaining fun for the whole evening.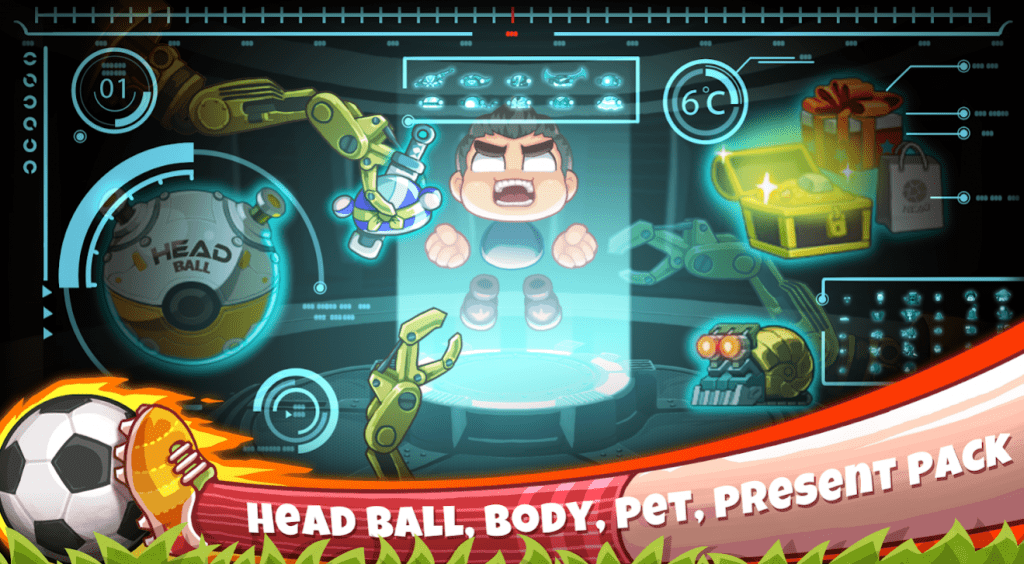 The match develops in several directions – the players, after each attack, accumulate a special scale, allowing to make a super-strike, and therefore, allowing the opponent to make such a strike, the players have to score long and exhausting in response.
Players can take part in 7 game modes. Each is beautiful and interesting in its own way. This includes leagues, tournaments, cups and multiplayer. 73 avatars of your character will be available to participate in the league. Choose your own and uniquely customize its appearance and statistics.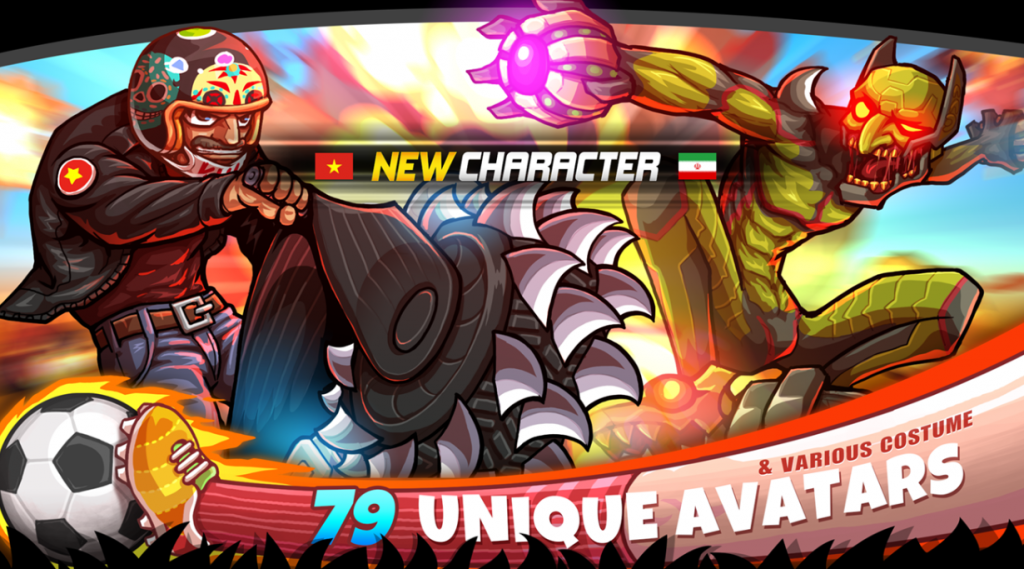 Fantastic characters perfectly show themselves on the field and will give excellent results. Choose who your legendary soccer player will be. It could be a bloodthirsty Dinosaur, greedy for victories Zombie, or a millionaire.
Dumb Ways to Die 2
Dumb Ways to Die 2 will give you the opportunity to participate in the incredibly dangerous games. You have to manage funny and stupid characters and do everything to keep them alive for as long as possible. Heroes are incredibly stupid and can die at any moment. Your main goal is to prevent this.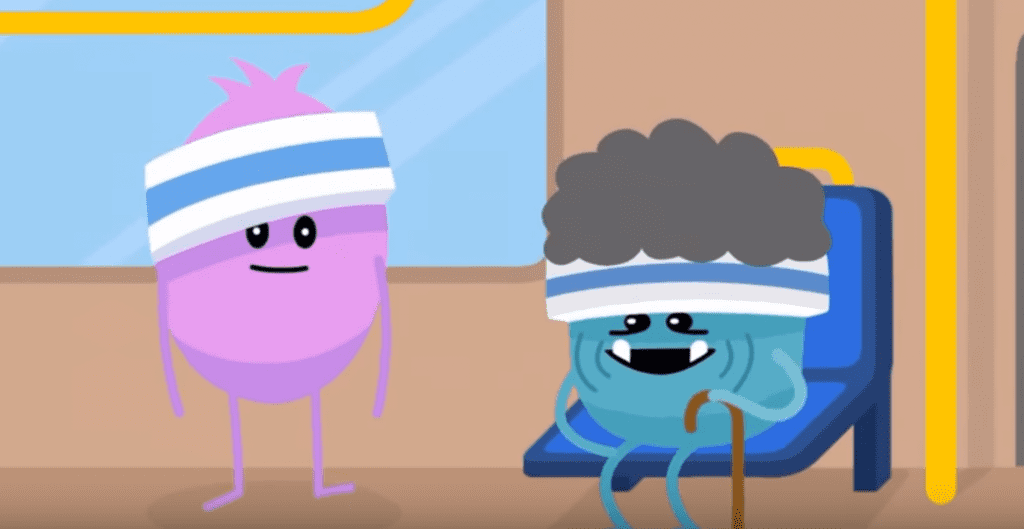 Cute characters of Dumb Ways to Die 2 have absolutely no self-preservation instinct. Anything can happen to them at any minute. Don't miss! They can do incredible things. For example: throw spears at each other or jump over barriers. You will have to protect characters as long as possible. Collect points and unlock new, careless heroes.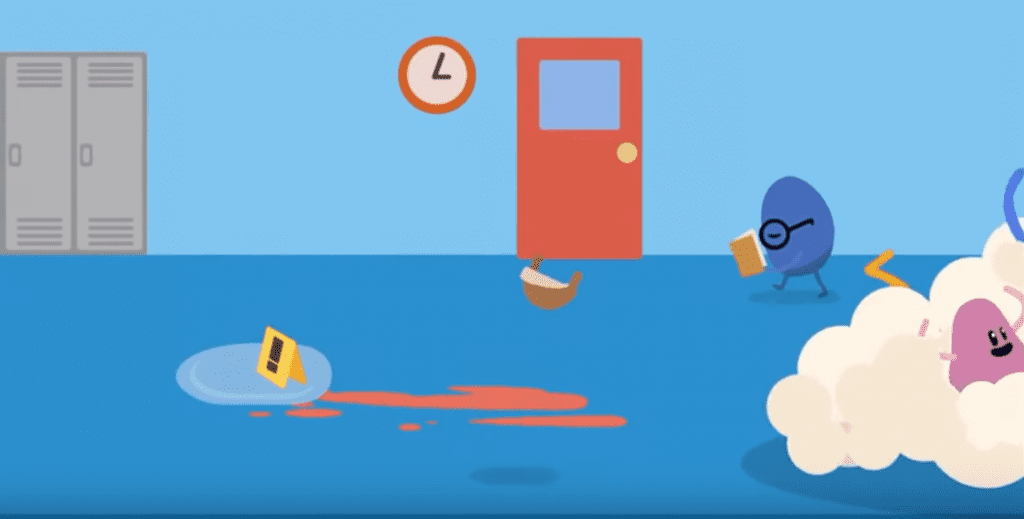 Together with the stupid characters in Dumb Ways to Die 2 52 mini-games will be available. The management process is very simple, and the game will appeal to anyone who wants to pass the time. Join the leadership team and compete for world domination. Go through all sorts of game plots and save the lives of fools. The game will appeal to all fans of casual games.
GT Racing 2: The Real Car Exp
GT Racing 2 The Real Car Experience is a realistic simulator – something that lovers of adrenaline races need. A unique level of realism in all game modes and the opportunity to get behind the wheel of the most prestigious cars – this is what ensured this game a tremendous success.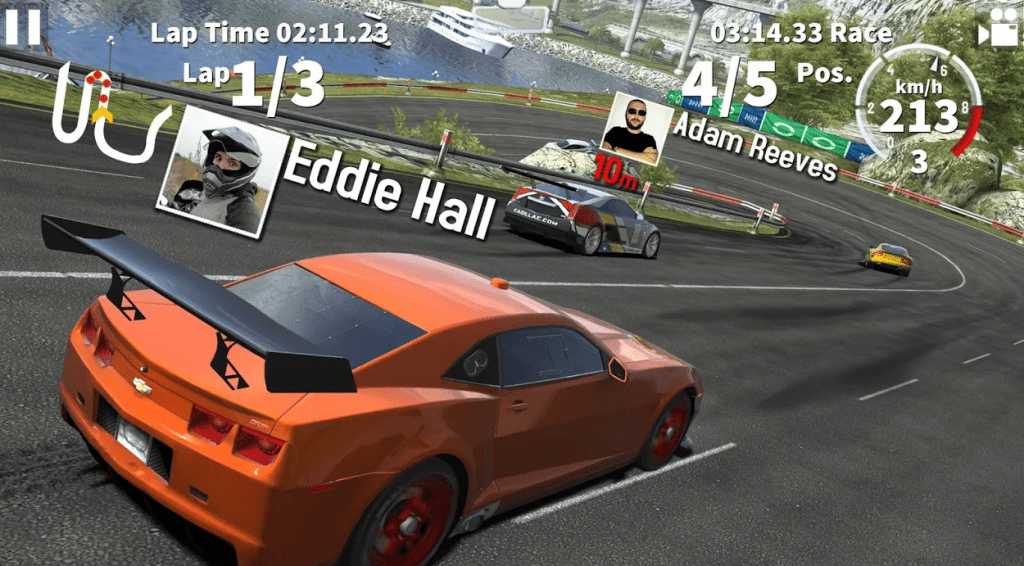 At your disposal, almost seven dozen licensed cars from thirty global companies: Dodge, Nissan, Ferrari, Audi, Ford, Mercedes-Benz – the list of brands included in the game is really impressive.
Try powerful cars on 13 racing tracks, among which is the legendary Mazda Raceway Laguna Seca. Weekly 28 competitions are held and the total number of races reach 1,400. There are classic races, knockout races, duels, fights, and much more.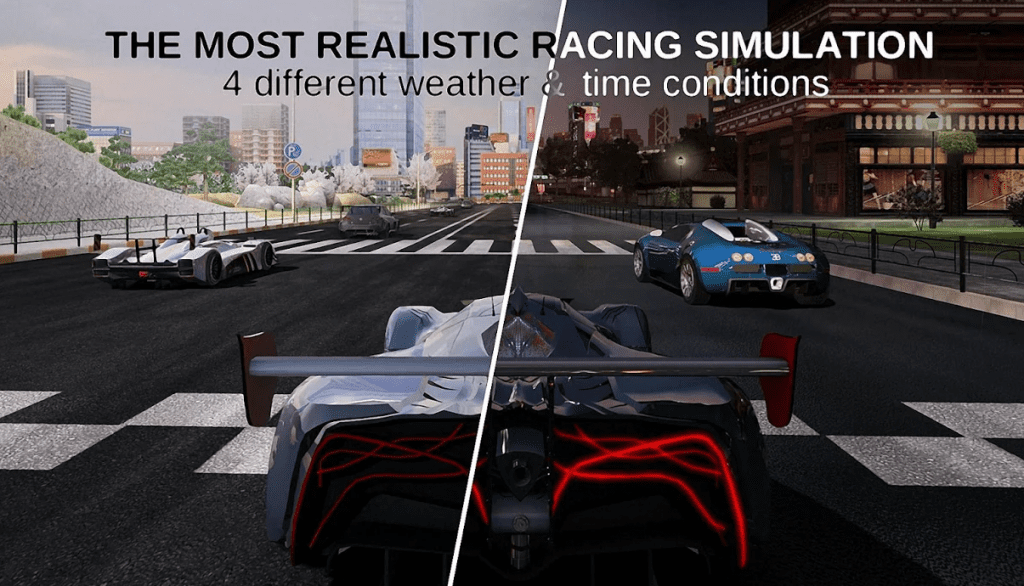 Simplified control and braking for beginners are also provided. And for experienced drivers, detailed car settings for your driving style.
Ride day and night, under the bright sun and pouring rain – amazing graphics and physics will not leave anyone indifferent.
Angry Birds Rio
The most popular game Angry Birds pleases us with a novelty that is not inferior to the previous versions. This time the birds found themselves in the magical city of Rio de Janeiro, where a lot of adventures await them. The most interesting thing is that the game was created based on the famous cartoon "Rio". The peculiarity of this game is that you first need to rescue the birds, sharpened in cages, and then deal with the chimpanzees and their big boss.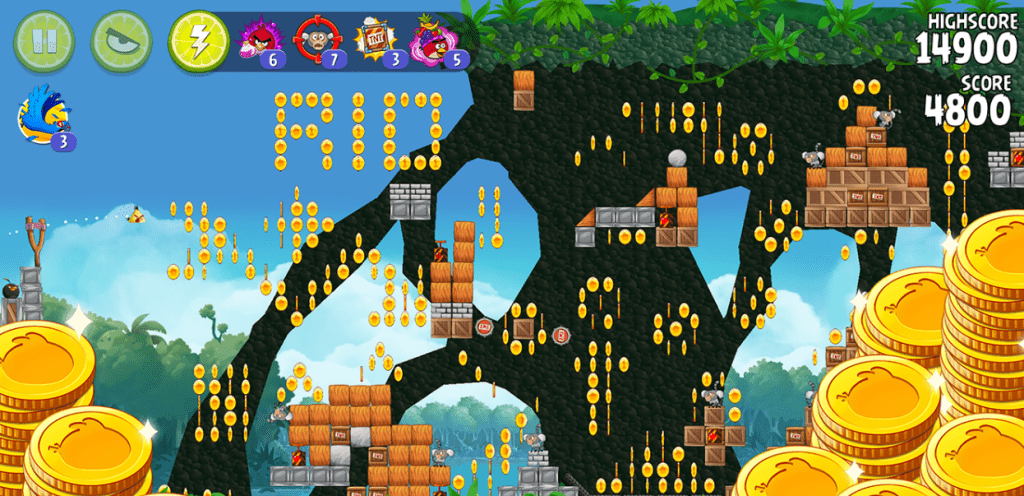 In the game Angry Birds Rio for Android, two blue macaws appear. When you click on the screen, they have the ability of enhanced flight. A dog roaming the beach is also your helper. It runs back and forth and smashes everything in its path. The white parrot, as well as the annoying chimpanzees, are your sworn enemies you must defeat.
The graphics of the game is fascinating, each level is colorful and saturated. In addition to the usual levels in the game, the bonus is presented. In order to get the opportunity to pass it, you need to collect all the necessary fruits that can be got from the previous levels. The location of the fruit is indicated.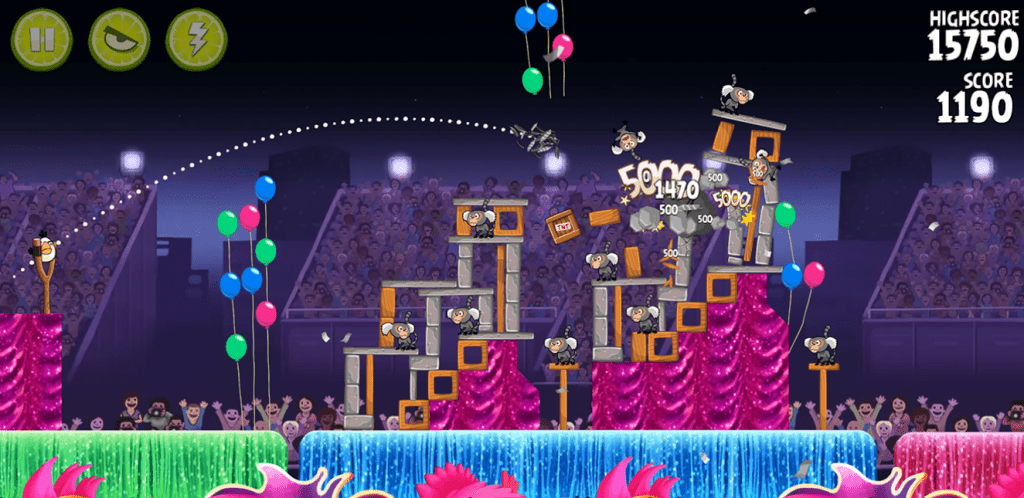 On the boxes or on the bushes there will be markings that are not similar to those on the boxes with explosives, they are not difficult to identify. They can also be suspended in the air, waiting for you to knock them down. Each golden fruit found brings you closer to the bonus level. In order to fully enjoy the new colorful levels of "evil birds", you should download Angry Birds Rio for Android.
Manuganu
Manuganu is a small caveman who has to do big things. The combination of a runner and a platformer will allow you to run and jump and even climb a rope. As part of a full story, you will perform various missions in many different worlds.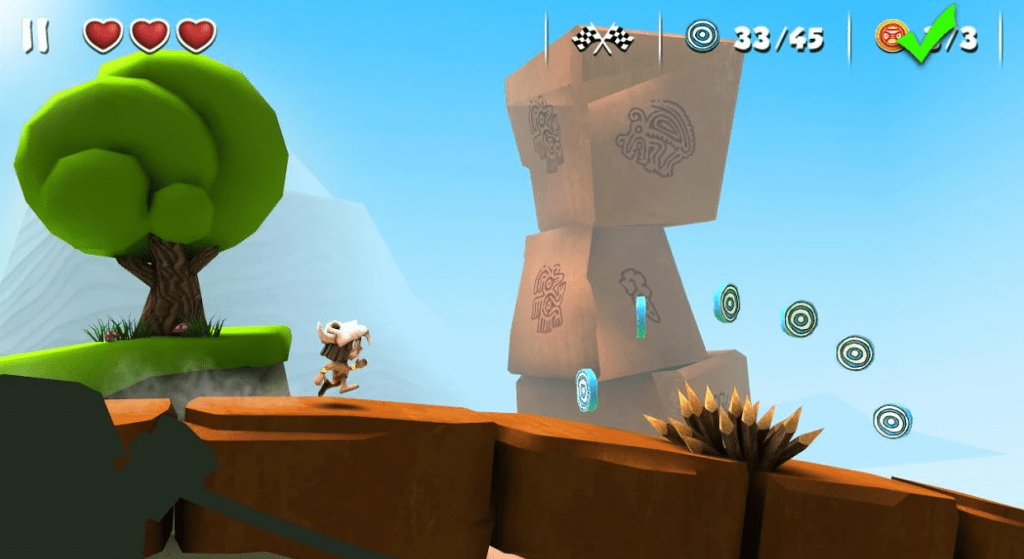 At thirty unique levels, your Manugana will bravely overcome obstacles and avoid traps to get to the finish line. Along the way, you need to collect coins and medallions, and at the same time don't forget to react quickly to hammers and blocks of ice appearing on the screen. First, you need to avoid and jump over the second. Another danger is that your character can burn alive or be clamped by a press. In a word, there are many dangers – beware!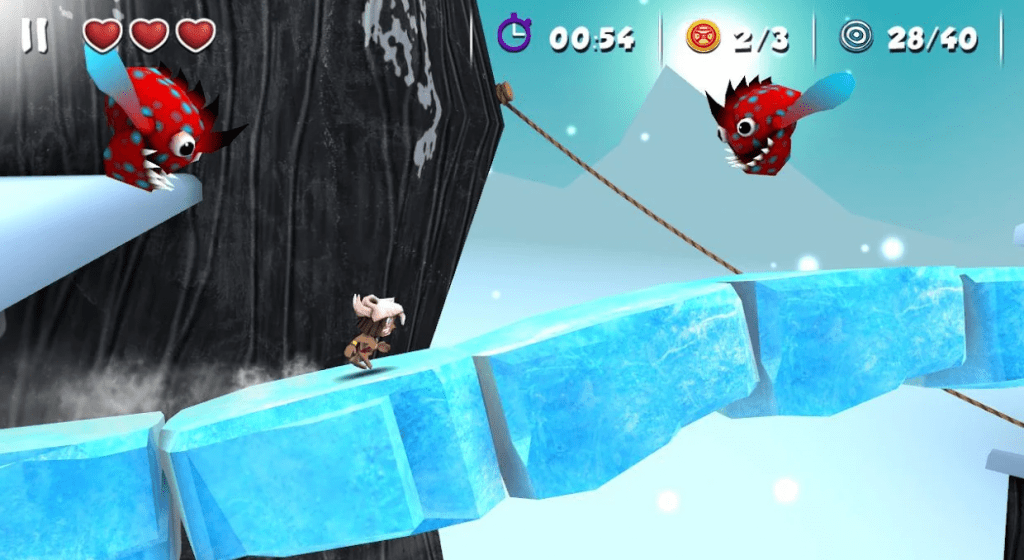 To control a character that runs automatically, you need only two buttons. Also, the creators of Manuganu provided players with the opportunity to play in two modes – this is running and crawling along the rope.
Try to conquer the running action with great three-dimensional graphics! And don't forget that here you have the opportunity, if necessary, to stop your Manugana. And if it becomes boring, then complete the mini-tasks that are in the upper right corner. They diversify the gameplay.
Juice Cubes
In the magical world, on the sandy shore, there is a small field where fruits want to be together! Bright and so friendly creatures in the Juice Cubes need your help.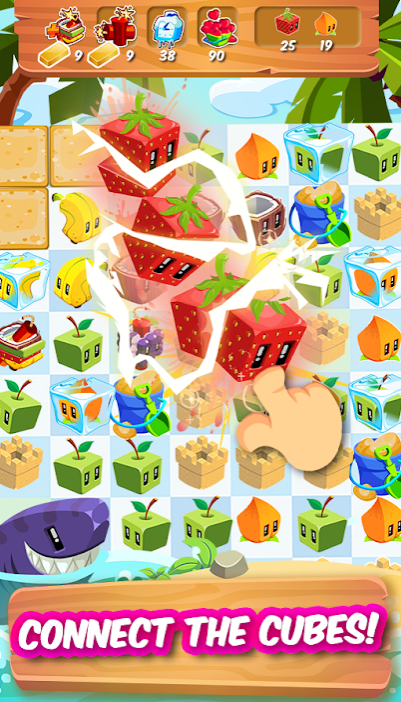 In the fictional world, there are own rules. For example, at least three representatives of the same fruit crops are allowed to join, no less! However, there are no restrictions on the direction of the arrangement – you can even combine the fruits diagonally. If more than three fruits are included in the series, a special bonus is formed, which explodes the figures around, destroys the entire line or several lines at once, turning a field into the orgy of sounds, colors, and bonus points.
In Juice Cubes for Android, a merge of several bonuses is not rare. Then the screen sparkles with all the colors of the rainbow, and the score is growing at a tremendous pace.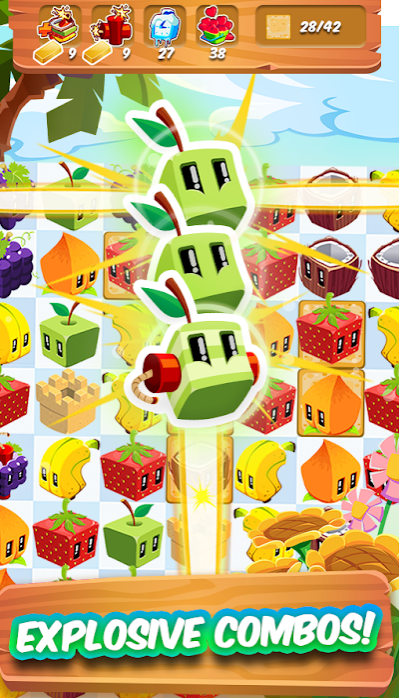 In addition to the main missions, there are additional ones. For completing them, you are given points and bonuses necessary to transform fruits of one type into another, destroy some cells and add moves when necessary. Bright fruit slices want to be together, but without the help of a player, it is almost impossible! How about to download Juice Cubes for Android and join the society of colorful friends scattered around the game map?
Mushboom
This is a project in the runner genre, with elements of a platformer. This is really an unusual game which differs from other runners in a variety. There is no division into levels. You can play indefinitely, you will earn more and more points, what will give the opportunity to set records.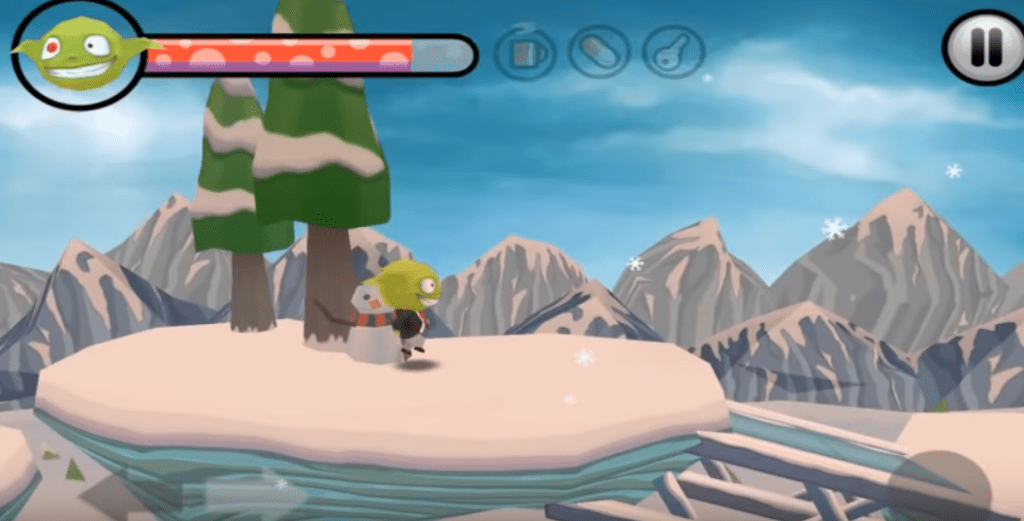 First of all, this game is in 2D space. This means that you can only move left and right, and still make jumps. This is unusual for runners.
But besides, here you will need to pass through small flying platforms. Between them, there will be an abyss into which you cannot fall. Also, there can be enemies on the platforms. Enemies can kill you. To prevent them from doing this, you need to jump on their heads. Various traps can be found on the platforms.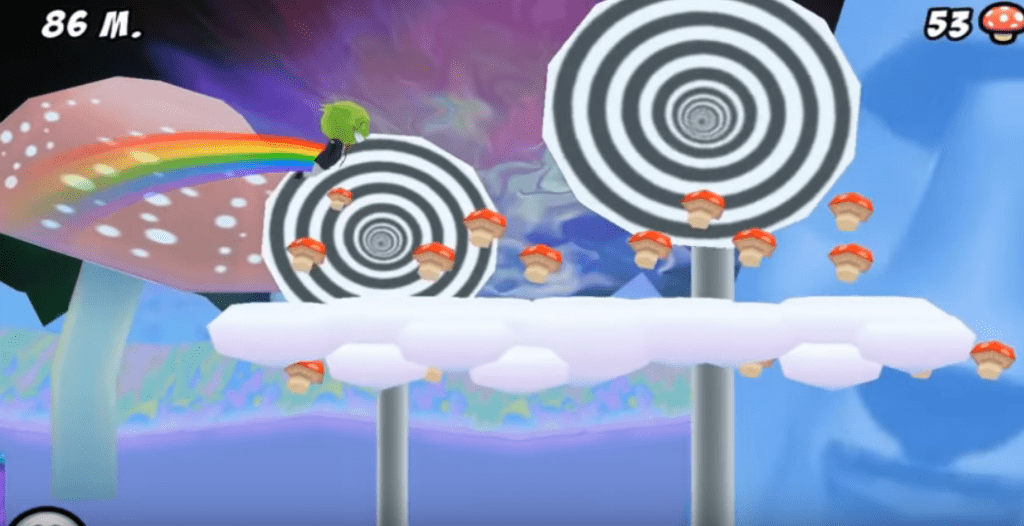 Setting new records, you can discover new costumes. They give you the opportunity to not only change the appearance of the hero but also give him new abilities. For example, there is a suit with which a character can fly a little. Of course, you will not be able to fly huge distances, but the duration of the jump will increase significantly.
This game will appeal to all lovers of mobile games. It is simple and unique.
Adventure Town
This world needs new heroes. Once a magnificent and prosperous city was destroyed by monsters and treacherous villains. You must download Adventure Town on Android and return the city its former glory. It must again be the most beautiful and peaceful.
Start making a great city right now. Build houses, shops and other facilities that are simply necessary for its people. Engage unique strong characters for the protection. Together with them, you will go on an unforgettable journey through a secret world. Let your heroes be the most legendary in the entire history of this city and even the world. Restore this city and destroy the evil monsters. Save the population and it will reward you with glory and honor.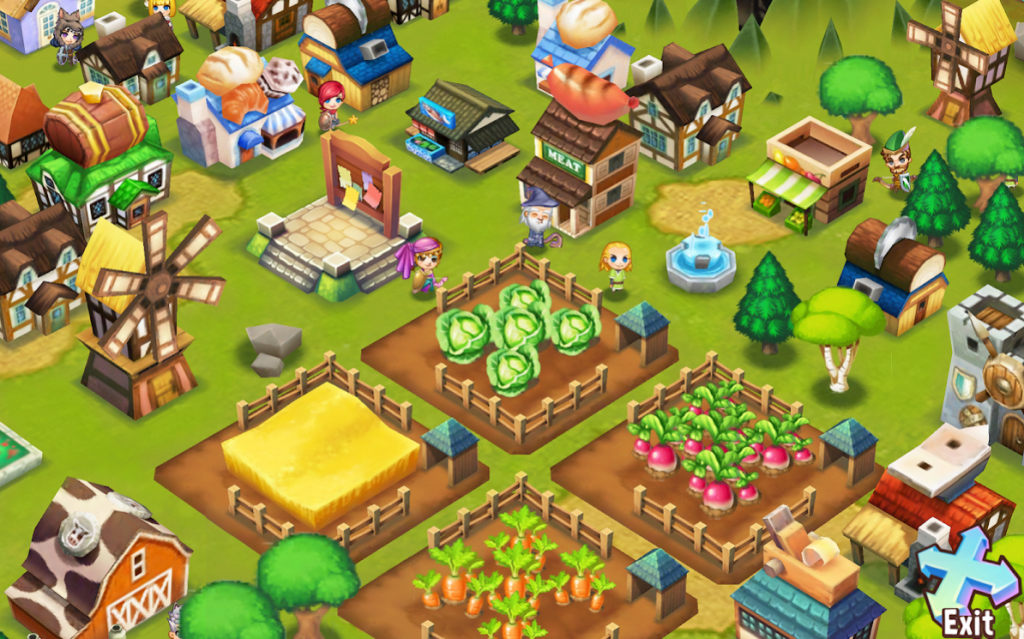 As a hero who decided to download Adventure Town, you have to create unique buildings. The city will first need houses in which people can live. They will work for the welfare of the state. Then, you need to build stores. In your hands the lives of millions of people.
Collected heroes can be customized as you wish. Let it be the most powerful warriors who will fight in the name of good against the villains. Lead the strongest army and become a heroic commander.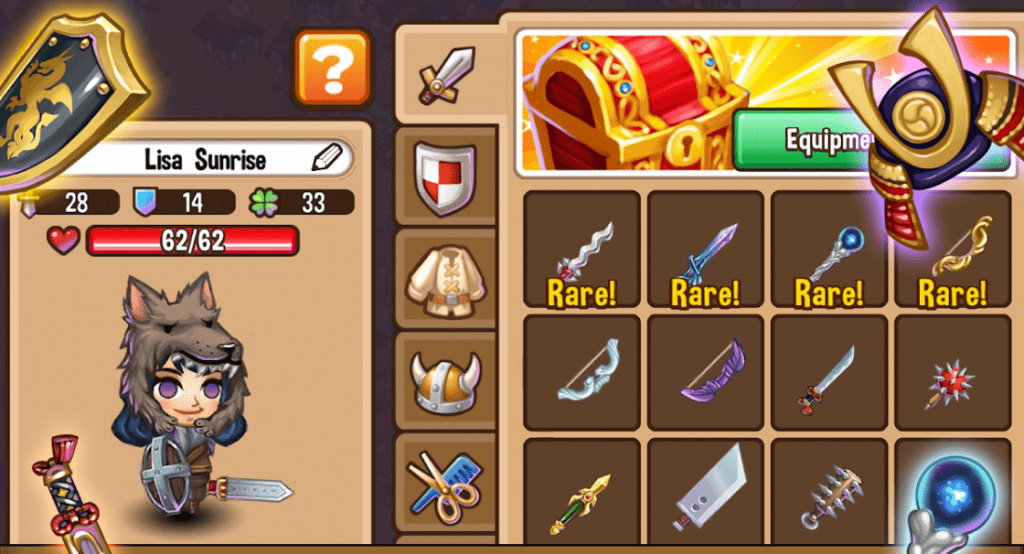 Raids of monsters will constantly attack the city. You need to beat them, using combat skills and improved weapons. You will find yourself in different locations, such as wastelands, deserts, waterfalls, and even volcanoes. Here you need to conduct a special operation to destroy the monsters.
Your heroes will face the innumerable army of the Dark Lord and his bosses. The battle will be epic and grand.
Bubble Witch Saga
Bubble Witch Saga is a magic puzzle that uses the brightest and most colorful graphics. The mysterious adventure attracts users thanks to the charming characters and interesting plot of the game. Here you will use all the elements of nature to make a spell.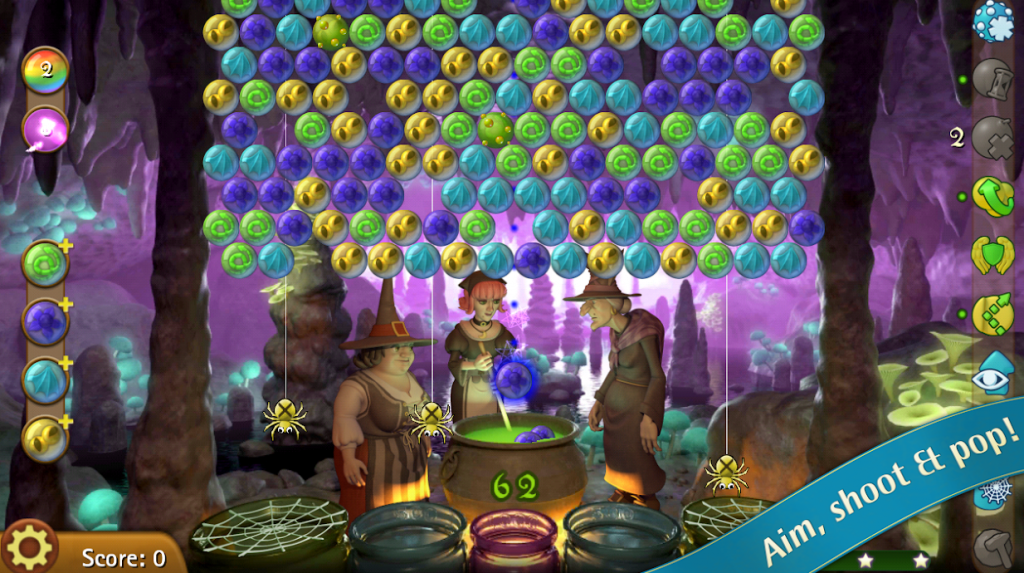 It all starts with the fact that the witch suffers from dark spirits. As it turned out, this witch isn't at all evil, but rather a good one and tries to save her state from the invasion of the forces of evil. For this, she will need your help.
Some lands have already suffered from dark spirits and now they need to be freed. To do this, you have to go through many locations and tasks.
You have to take control of the three witches. They will need a variety of potions, amulets, and plots. So try to collect them all. A bunch of bonuses noticeably facilitate the gameplay. Collect bombs, cobwebs, and bubbles to fulfill your goals in the name of freeing the land.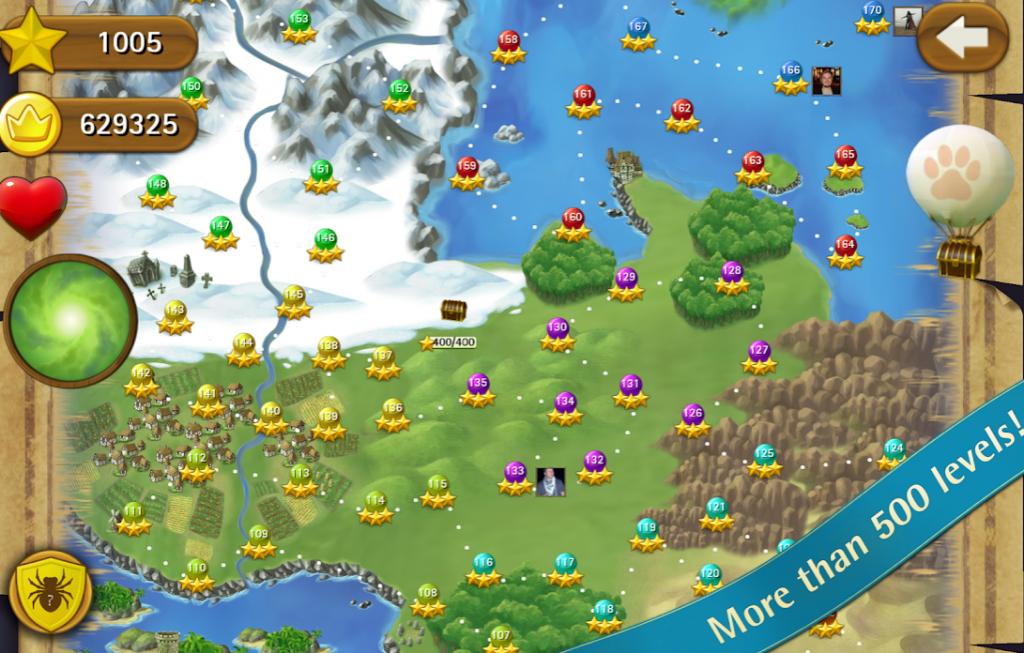 Management is very easy to learn. In total, the hero must pass more than a hundred different levels. At the end of each level, your achievements will be recorded in the ranking table. To become the best in the table you need to collect as many stars on each level as possible.
Adventure Beaks
A special unit of researchers went with a responsible mission far to the north, into the jungle, and even deep underwater to detect the Artifacts lost in time. The first encounter with unfriendly natural areas didn't frighten the penguin researchers and the elite expedition continued, but with the use of secret weapons – players who want to download Adventure Beaks to Android and find out the truth of the lost treasures!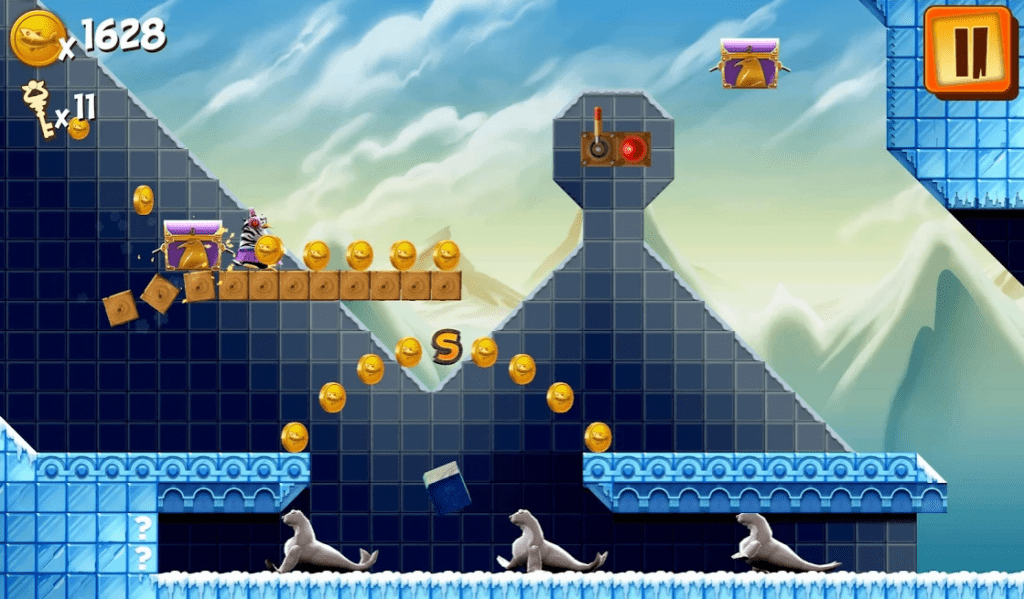 The arcade puzzle Adventure Beaks impresses from the first seconds – firstly, the graphics and design – bright colors, colorful characters, detailed objects of the environment, rich colors and excellently drawn locations. Secondly, traps, obstacles, and enemies – in Adventure Beaks there are a lot of them.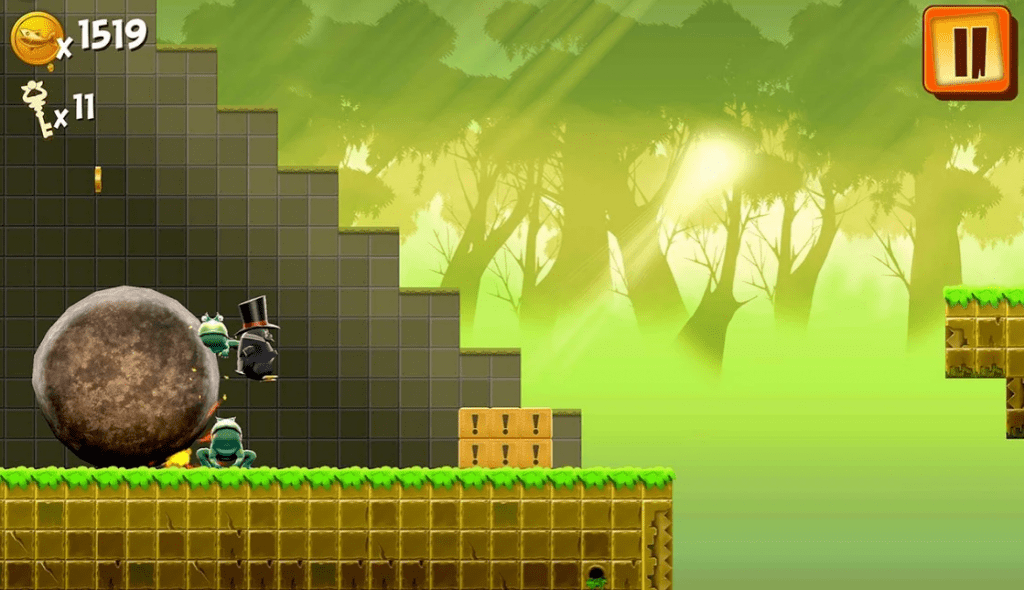 Some kind of madness constantly happens on the screen. Players will have to concentrate as much as possible to get a high result! Having decided to download Adventure Beaks for Android, the about 50 levels of varying difficulty will be available. At each stage, a dangerous surprise is prepared for the hero. It is different every time, so it will be impossible to predict the next.
Summoners War
Everything unusual always attracts. And if this is an unusual world in the style of fantasy, then you just want to explore it as soon as possible! In a game called Summoners War, you will do just that.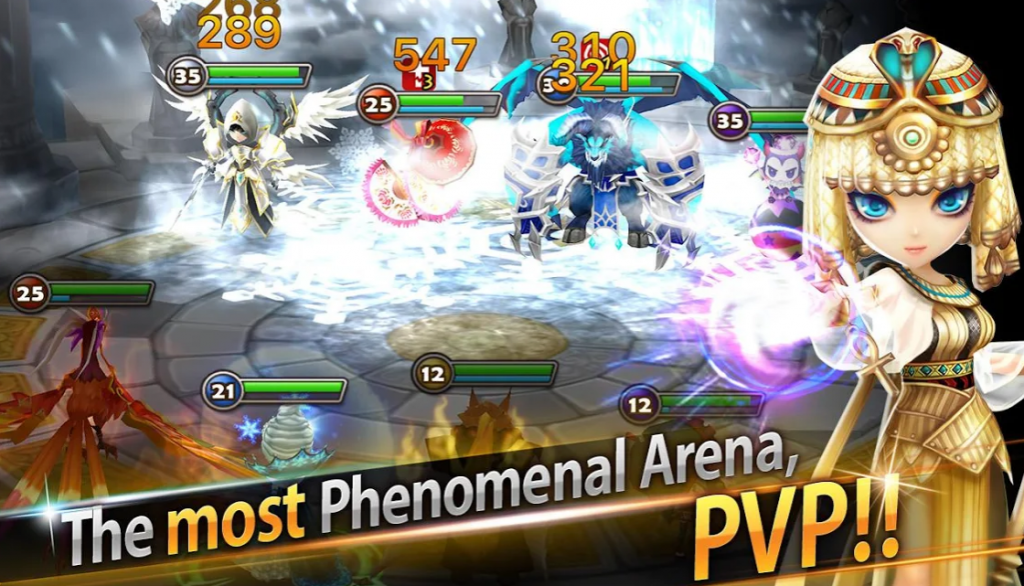 In the game world, there is a war for mana crystals, and you will have to join those who fight for them. And help in this will … Who would you think? Real monsters! There are a lot of them here and each has its own unique features. Pay attention to the runes – with their help, you can pump your characters so that they become even stronger.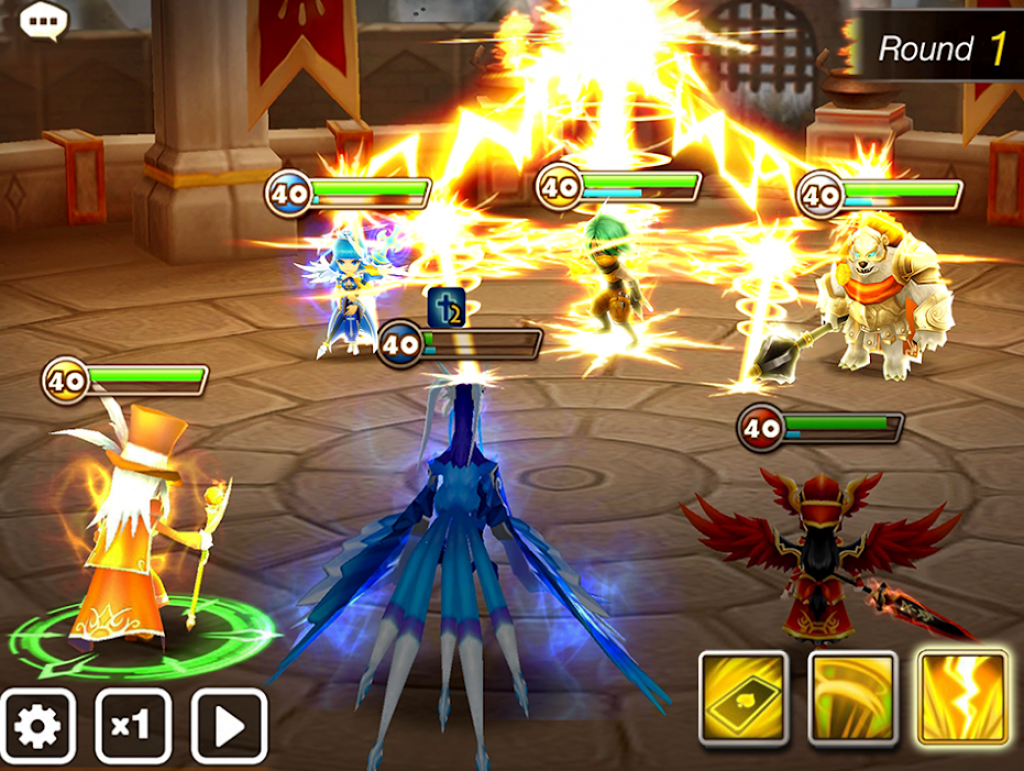 Mana – this is the most important thing in the world, so boldly go into battle, using all the opportunities provided by the developer of the game. Sky Arena is waiting, and spectacular battles on it will be guaranteed thanks to high-quality graphics. But battles are not everything – the player can do other interesting things, such as the development of his settlement. And you can also test your strength with other players in PvP mode or oppose the boss.
Tap the Frog
Tap the Frog is one of the most popular arcades in the world. The number of people who installed the game is steadily growing and has already reached 25 million. Install the most "jumping" game on your device and start having fun.
Nearly two dozen interesting mini-games will not let you get bored, and the ridiculous titles that will be assigned to you will be completely amusing.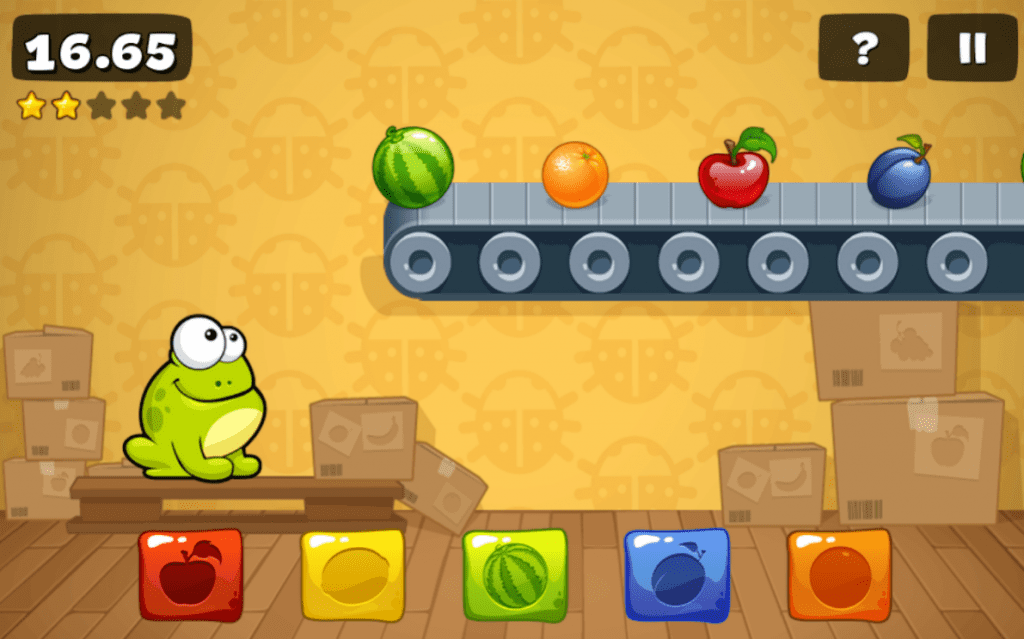 According to the plot of the game, the restless frog, so beloved by its fans, decided to conquer space. An incredible adventure will await her – leaving her native lily pond, she will reach incredible heights, reaching asteroids in space. And let it seem that it will be very easy to play, but actually, to achieve mastery in Tap the Frog is quite difficult. Check your reaction!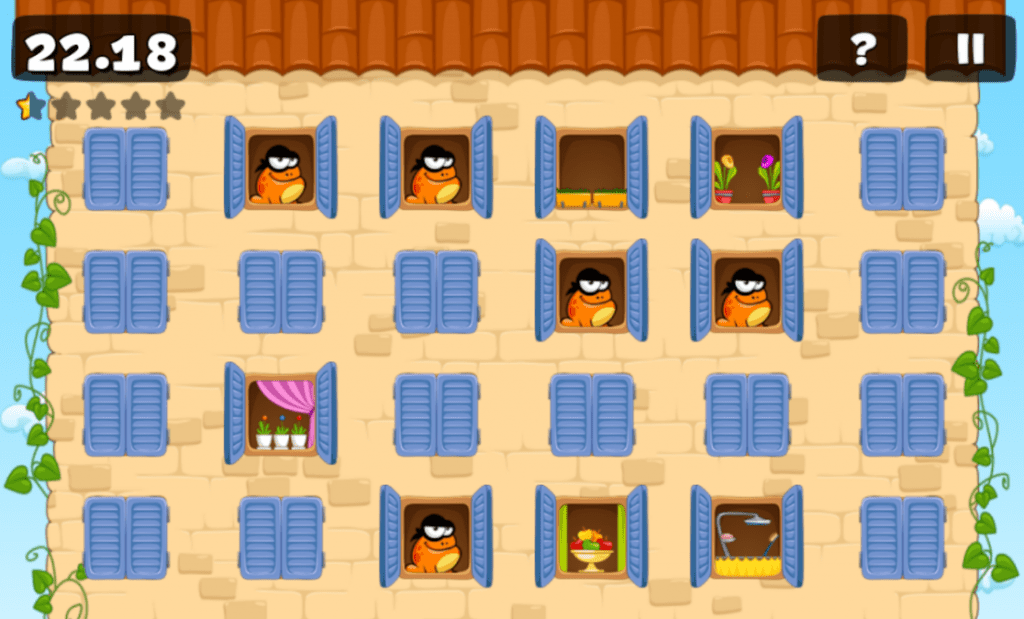 It's time to jump and croak! It's time for new amazing adventures!
Defender II
The magnificent and dynamic strategy Defender II was developed as a continuation of the first part of the game Defender. And again the legions of ferocious monsters are attacking your castle. They have become even more cunning and insidious. However, you have added even more opportunities to protect and repel attacks.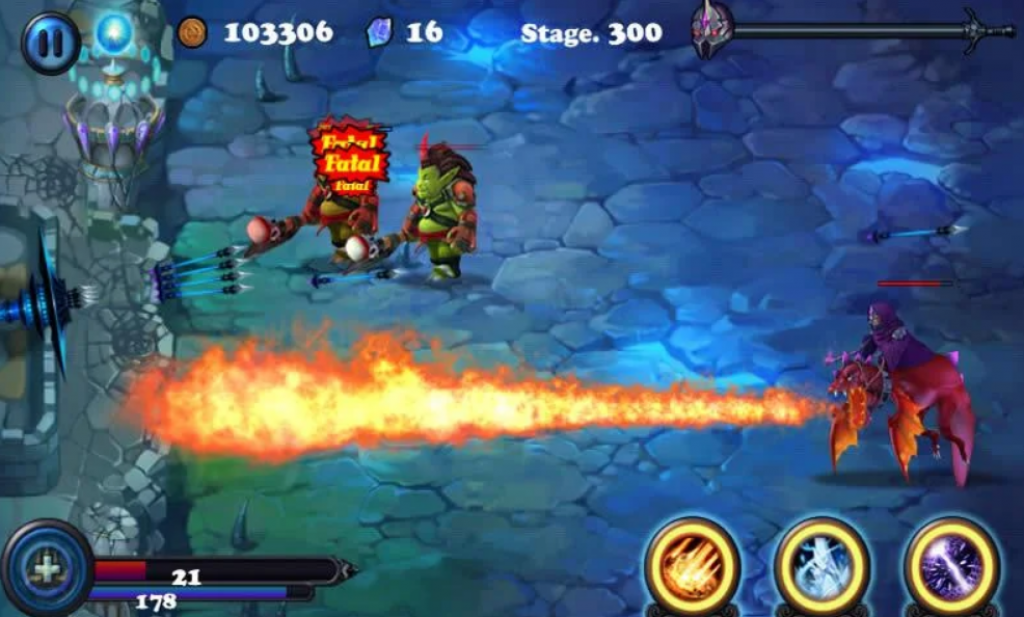 Now you are stronger than ever before! You can act with the joystick, for example, when you need to drag the spell icon or shoot a bow. But still, it's much more convenient to use the capabilities of the touch screen of your device and perform all the manipulations on it while playing with your fingers.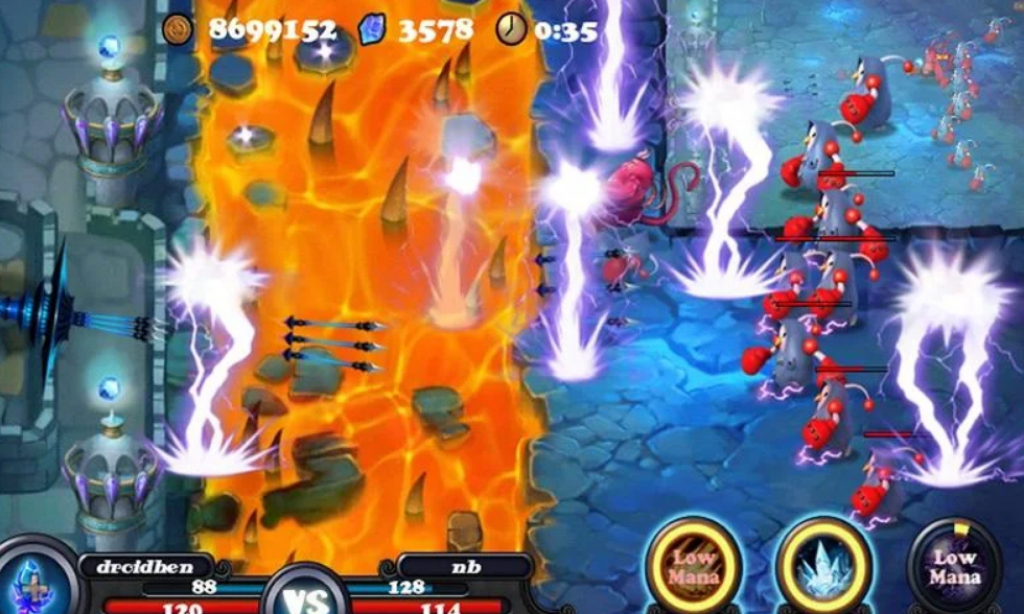 The game is fully supported by Google TV. In local mode, you defeat monster raids alone. In Battle mode, there is an opportunity to compete with rivals.
Try not to let the monsters get close. Smash them not on the way to your castle, but much earlier, as soon as they appear, to group and attack!
Two Dots
Two Dots is an exciting puzzle game on Android for travel lovers. You will visit the arctic tundra, overcome the harsh jungle and be at the depths of the ocean. True, the whole gameplay is based on the multi-colored dots, but don't worry, you will not be bored.
The rules of the game are very simple: connect the dots with each other, anchor in the right place, build a line, you can make a bomb, you can shoot and much more. Complete all 860 levels.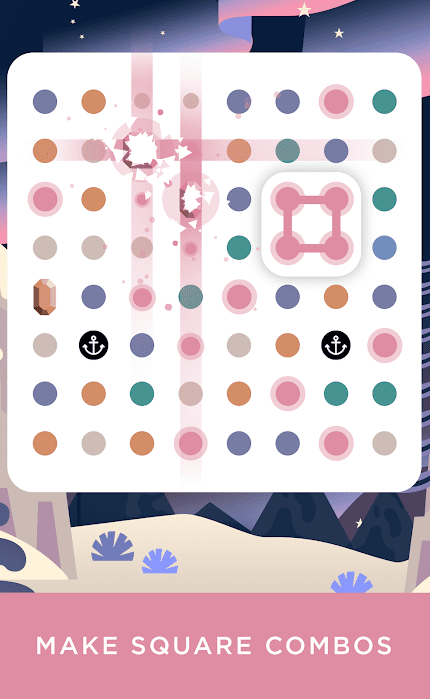 Instead of dots, collect other geometric shapes from circles of the same color, namely square, triangle, rectangle, etc. Get maximum pleasure from a fun game scenario and colorful design. The game menu is made in the style of minimalism, which makes it easy to understand. The background sound is good music with a relaxing effect.
With the passage of each tour, you don't need to constantly monitor the timer, play in your rhythm and at your pleasure. As part of the game, you can also compete in various tournaments with your friends. Beat all their personal records, set your own, and for that, the moderators will award you with a medal.
Developers are constantly updating the application and add new nice bonuses, new levels. The game doesn't seem an easy and boring task to you.
Trials Frontier
Install the game Trials Frontier on Android and plunge into the exploration of the immense world on your bike. Challenge the top leaders and rise to the top of the world rankings. For passing in the game there are many tracks with different levels of complexity and fantastic graphics.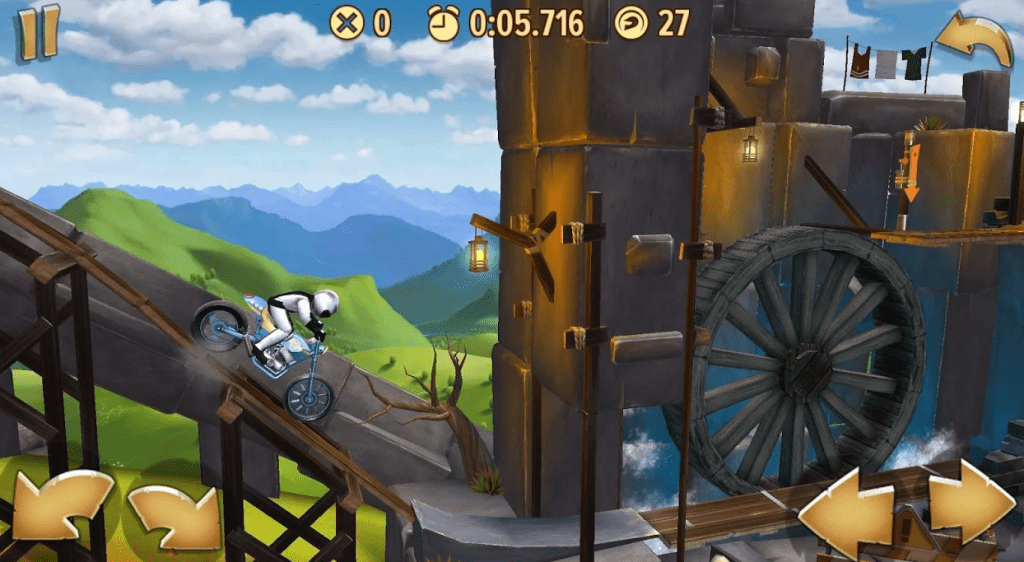 Feel this world of adventure, speed, and cool characters. You have the opportunity to go around the whole world on your motorcycle. Meet different characters on your way. The game attracts with its graphics, powerful physics, exciting gameplay process.
A lot of tasks in Trials Frontier will not let you get bored, and the gameplay will always be interesting and exciting. Over 70 tracks are available in the game. Each task is seasoned with a good portion of humor. Ten kinds of terrain will make a good impression on you and make the race incredibly cool.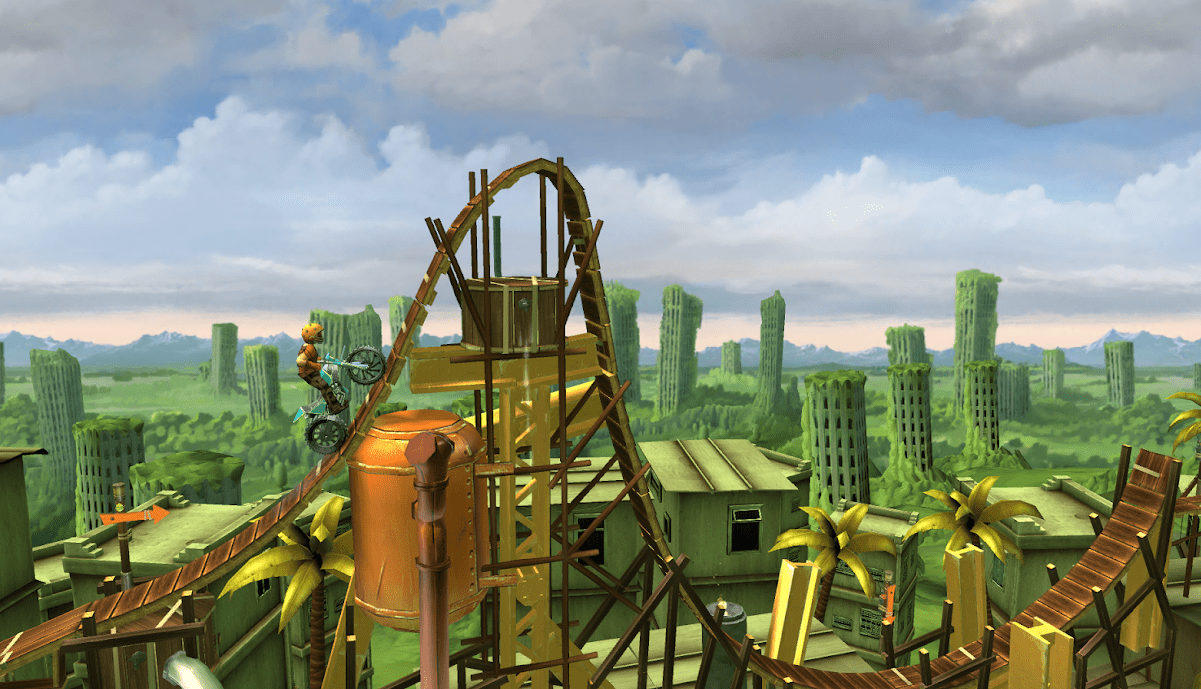 Win awards, improve the characteristics of your motorcycle so that it becomes even faster and more technical. Get the coolest bike, starting with the simplest options. There are 3 classes of motorcycles, 9 models in each. Collect the entire collection.
The Sims™ FreePlay
A new series of a life simulation game! The Sims FreePlay is the complete absence of any restrictions. Don't miss the opportunity to create a lot of characters – they will be what you want them to be. Characters will live in your dream homes with many floors and even a pool! And in the city itself, there are shops and a beach. But this isn't a reason for not expanding it, as the population will gradually increase.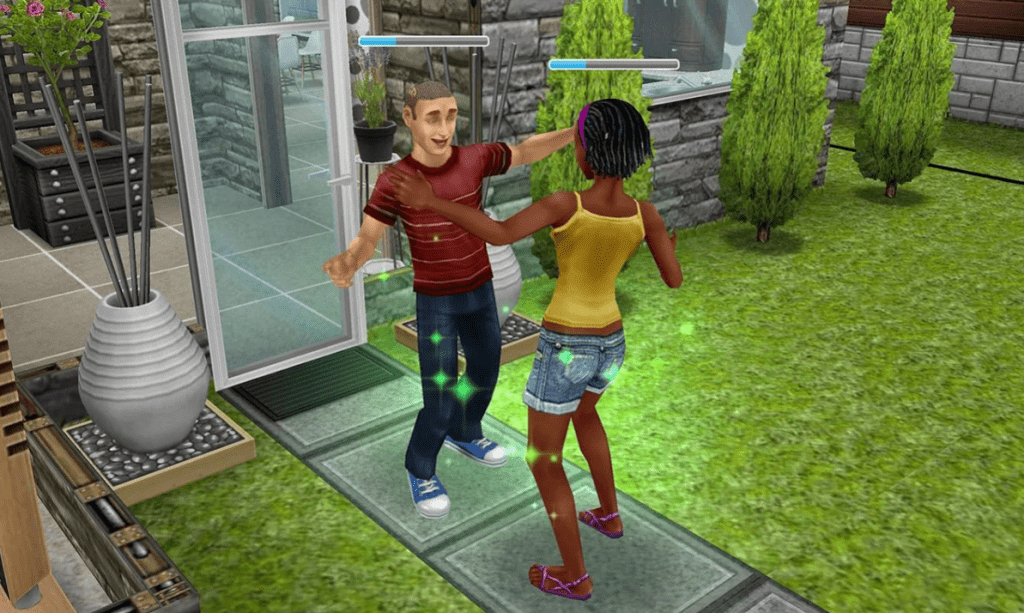 Your characters can live life the way you always wanted. No restrictions! Watch them grow and then grow old. Each character will have its own unique character – everything is like in real life. Your task is achieving their life goals. For this, you will receive lifestyle points that will allow you to buy stylish little things.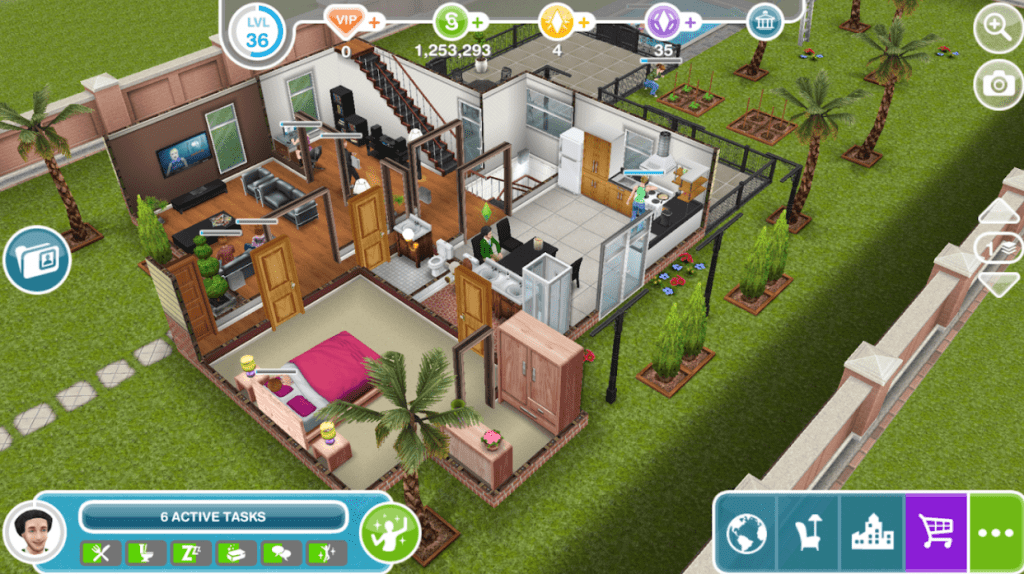 And here you can travel, make new acquaintances and even take care of virtual pets. You can spend your leisure time as you like. If you want, bake cakes, garden or decorate your characters' houses. It will not do without working days – you need to earn coins so that the characters can buy new things for themselves. So decide in what area you want to build your career.
The relationship between your characters will depend on you. Perhaps they will be friends, and perhaps enemies. In the world of Sims, everything is real!
Hungry Shark Evolution
Perhaps the shark is the most bloodthirsty creature of the underwater world. However, now you can not be afraid of it, but tame it by playing Hungry Shark Evolution for Android.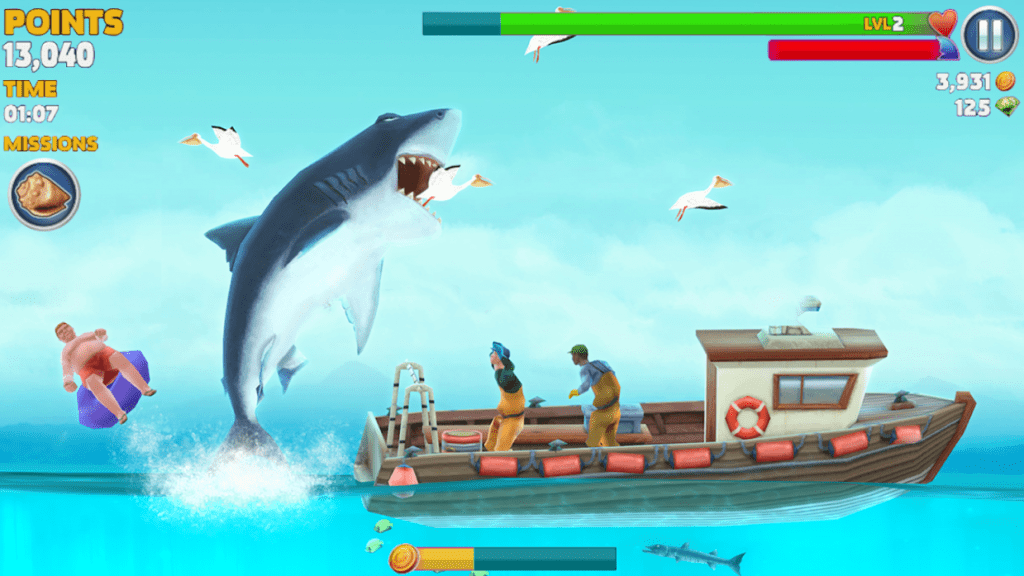 So, you control the shark – first small, but as you go further you will have the opportunity to increase its size or change it up to the white shark. Naturally, your shark is very hungry, that's why you have to explore the depths of the sea in order to find food, and your "pet" will eat everything in its path. Your goal is not to let the shark go hungry for a long time, because the longer it doesn't eat, the faster its life line shortens.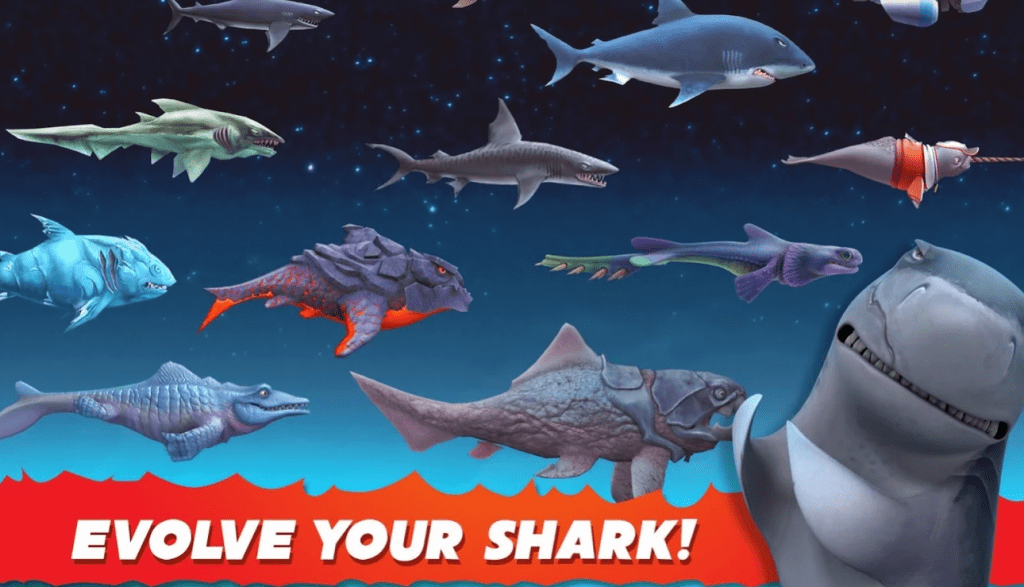 In Hungry Shark Evolution, some fish bring coins, but if the fish turns out to be larger than your shark, the latter loses the battle and dies. There are other dangers in the ocean, such as mines and jellyfish, which must be avoided. A shark can also be eaten by people: tourists on the shore, scuba divers, sailors and anyone else in the access zone.
Earned coins can be spent on jellyfish medicine, body armor, shark enhancements, and other upgrades. In the depths of the sea, amazing treasures are also hidden, for finding which you earn more valuable currency – emerald.
Having decided to download Hungry Shark Evolution for Android, you will take part in 45 interesting missions. Feed the hungry predator!
Cut the Rope: Time Travel
The incredible adventures of Om Nom continue, but now in a completely different time dimension. We present to your attention the long-awaited novelty Cut the Rope: Time Travel for Android.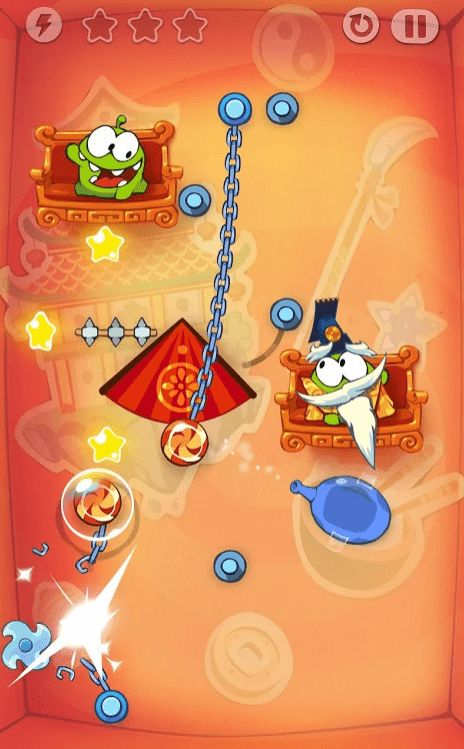 This time, the green animal manages to get into the time machine, which throws him in various historical periods: from the Stone Age to the Renaissance! For the first time, Om Nom will meet his ancestors, from whom he inherited a passion for sweets. This means that you have to feed already two animals, and each time different ones. For example, in Egypt, you will be waited by a green pharaoh, in the Middle Ages – a Viking, in the Renaissance – an artist in a beret, and so on.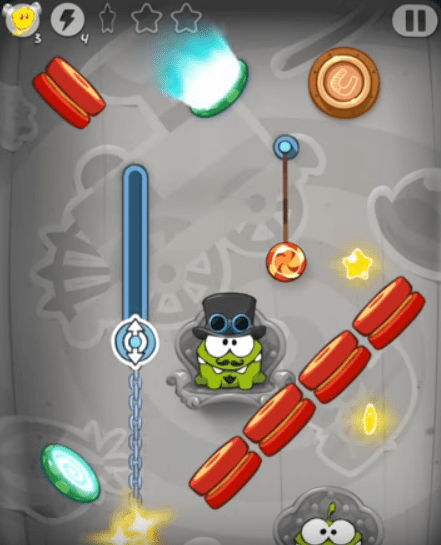 In Cut the Rope: Time Travel there are two candies – one for each animal, and three stars to collect. Control is still done with the help of ropes, although new elements have been added to the game's physics: chains that can be cut with the help of rotating blades; bombs that explode on contact with other elements; portals moving candy and so on. In addition, after one of the animals eats candy, he falls asleep.
If you want to take part in time travel, we offer download Cut the Rope: Time Travel. Feed Om Nom and his ancestors with candy and recharge yourself with a great mood!
Stack
Stack is an offline game for Android, rhythm-arcade genre. From the creators of Jelly Jump and Zig-Zag, a new game that will not give you breaks for food, sleep, and other little things in life. Too much free time?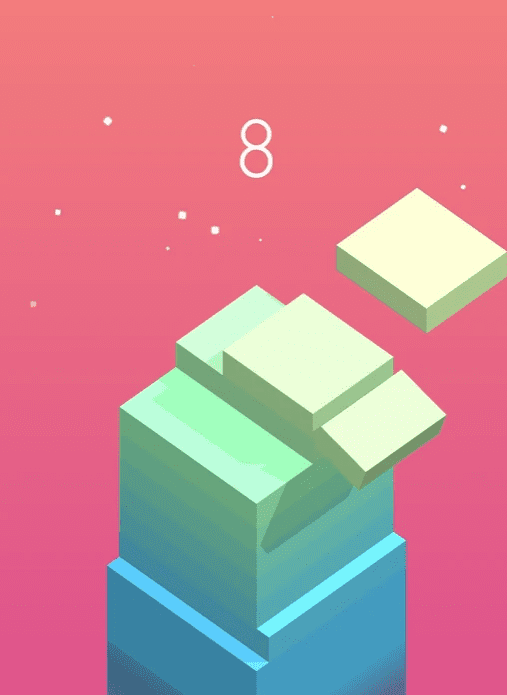 Now you will have every second counted, and it's unlikely that you will think about communicating with real people! A simple idea, which is to click on the screen when the figure approaches the contour, captures in earnest. With each successful move, the tower is growing, and the rhythm is accelerated so that everything around becomes more colorful, and it becomes harder for you to play!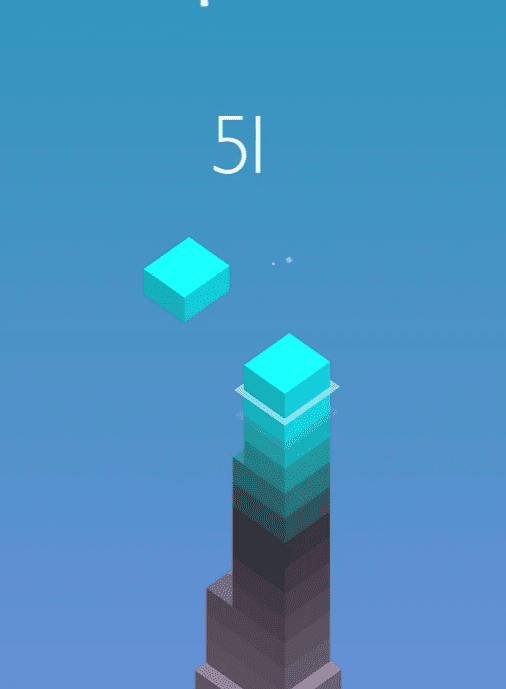 But it's okay if you make a mistake a couple of times. In the game Stack when you miss, and at least a piece of the figure get to the tower, the square just turns into a rectangle, removing all unnecessary. And the smaller the figure, and the faster the rhythm, the game becomes more difficult, more interesting, and exciting!