Pregnancy is a crucial period during which you need to devote a lot of time to your health, stick to your diet, and pay attention to all the changes in your body.
Weight is one of the key indicators that all doctors pay attention to when examining pregnant women. You can also track this parameter yourself right on your phone using these free pregnancy weight gain calculators.
Pregnancy Tracker & Baby App by What to Expect
Pregnancy Tracker & Baby contains a detailed pregnancy calendar, postpartum organizer, and ovulation schedule. It will be useful for women who want to track their ovulation time. Moms-to-be will find a handy tracker for managing a healthy pregnancy.
The app is approved by mothers with many children and experienced gynecologists. Find the section you need. Keep a detailed ovulation diary to increase the likelihood of a long-awaited pregnancy.
Immerse yourself in useful material about motherhood and fatherhood. The articles written by real experts have already helped millions of parents overcome the fear of childbirth and parenting.
For pregnant women, there is a handy calculator that allows you to calculate your expected due date based on your last menstrual period or IVF.
Every week you will learn new pleasant facts about your baby. Start a countdown timer while waiting for your baby's due date. Note your pregnancy weight gain each week to provide important information to your gynecologist. Find out what you need to buy while expecting your firstborn.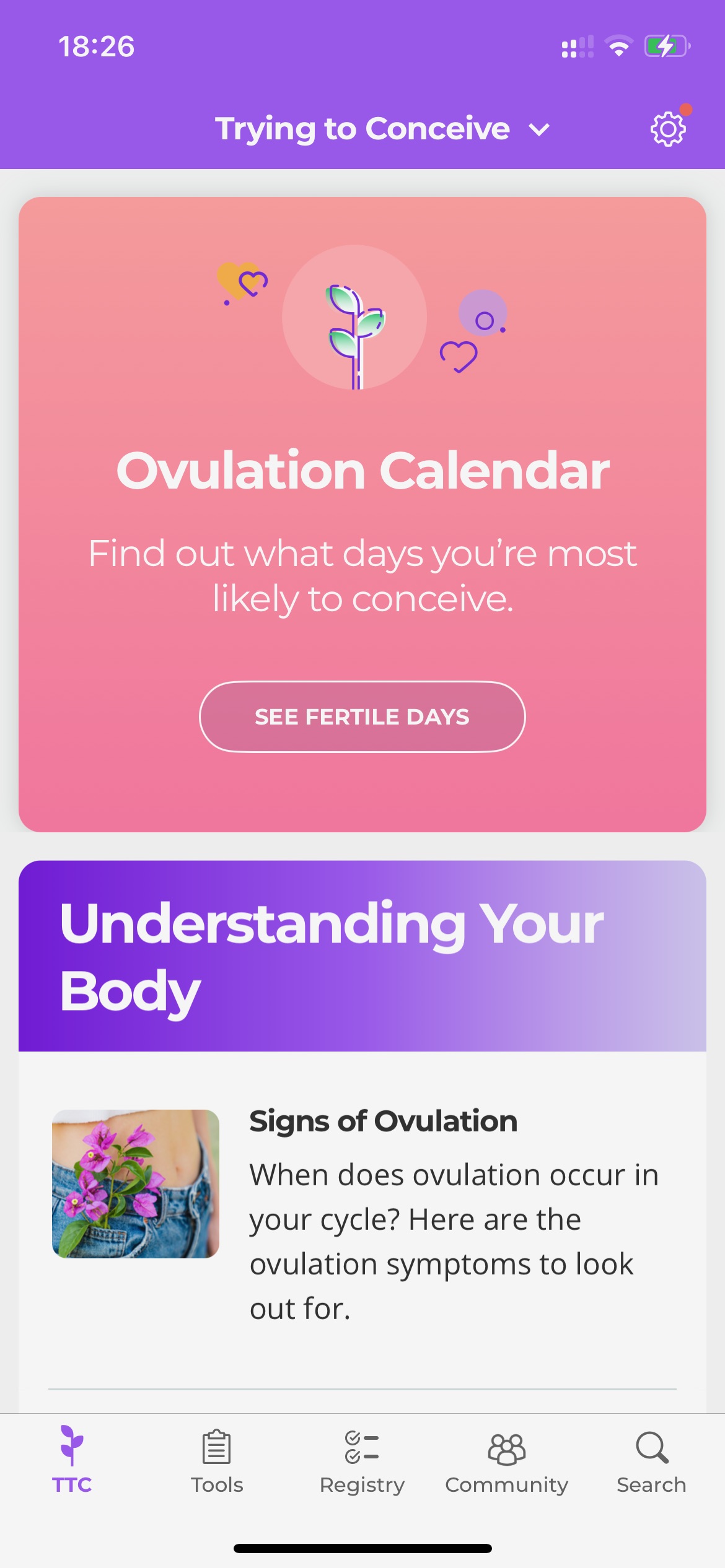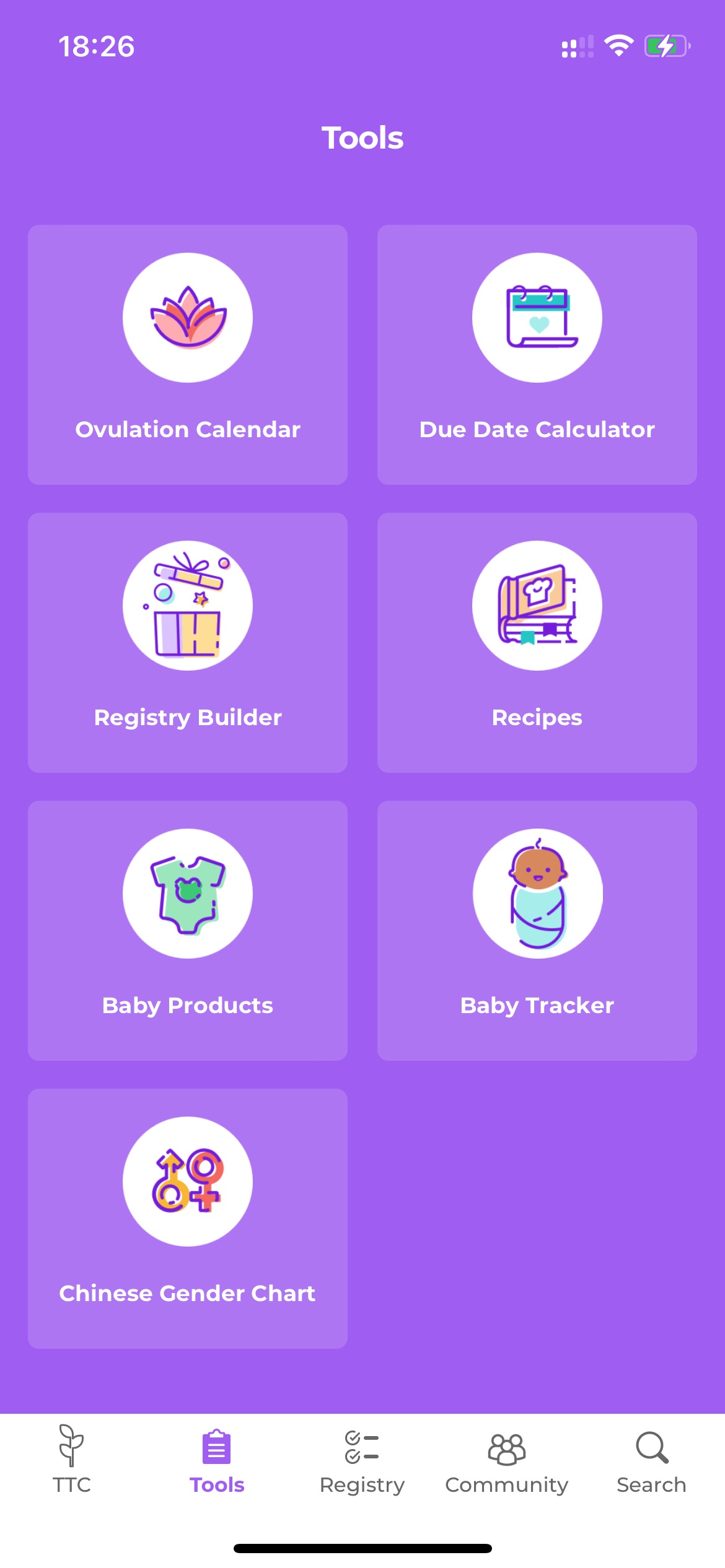 After your baby is born, use a breastfeeding or formula-feeding schedule. Now you won't forget to change your breasts to prevent lactation. Also, here are tips from sleep and breastfeeding counselors. Make your pregnancy enjoyable and worry-free with Pregnancy Tracker & Baby.


You may also like: 7 Best Pregnancy & Baby Birthday Announcement apps
Pregnancy Tracker by Amila
Amilla's Pregnancy Calendar is the easiest and cheapest way to track the progress of your pregnancy. It will help you learn a lot of useful things and make the birth of your baby as comfortable and safe as possible.
This app can be used from the first days of pregnancy. It helps you keep an electronic pregnancy diary and note important details. Each trimester of pregnancy has its own peculiarities, so it is good to know ahead of time what is the norm and when you should visit the doctor unscheduled.
Every week you will know what your baby looks like when the heart starts beating, and when to expect the first stirrings. There are compilations of current articles where you can find answers to your questions.
Keep a record of important data, including the number of movements in a day and weight gain. You no longer have to count how much you've gained in the past week or month because all the numbers are calculated automatically. It's a simple and effective way to know if your pregnancy is going well.
If you have false contractions, you can use a special meter so you don't have to waste your energy on a routine count.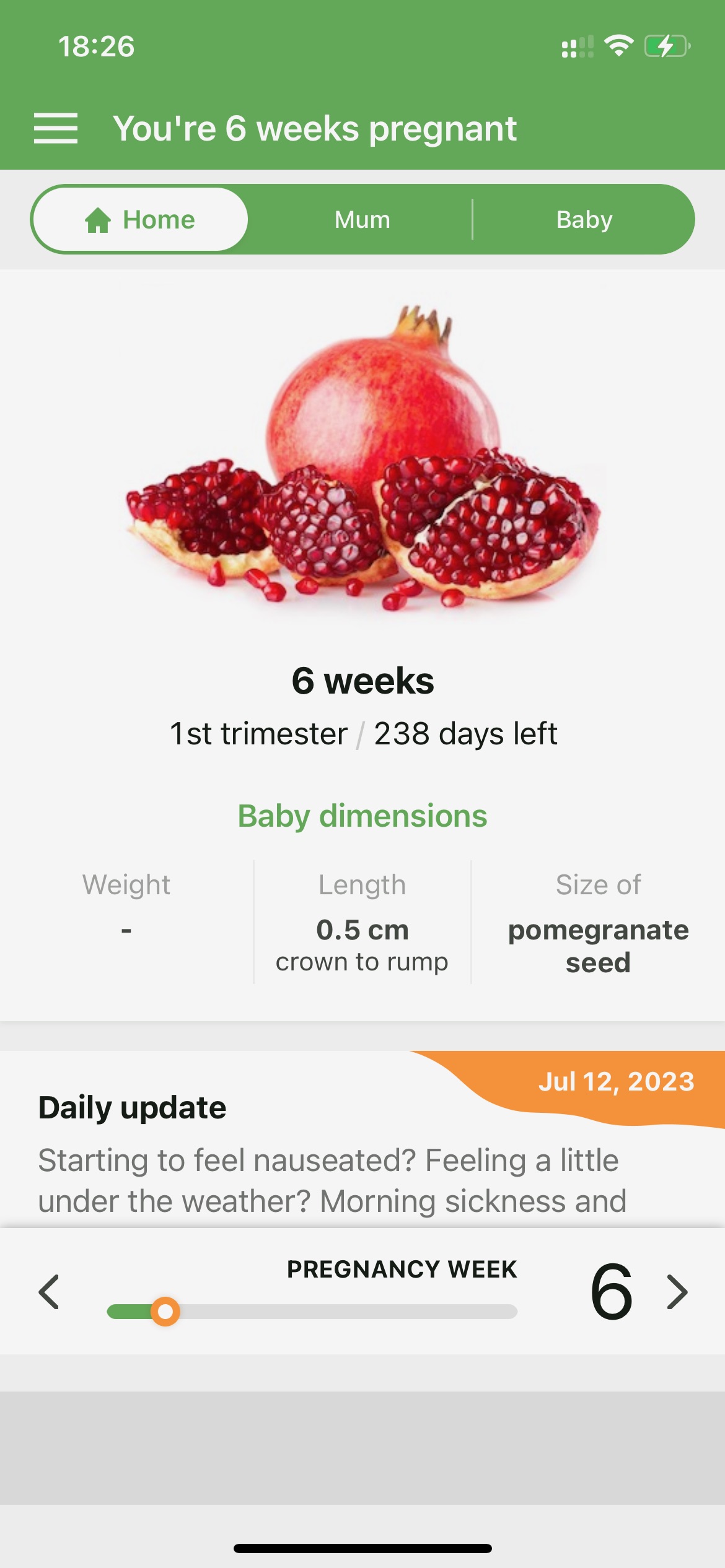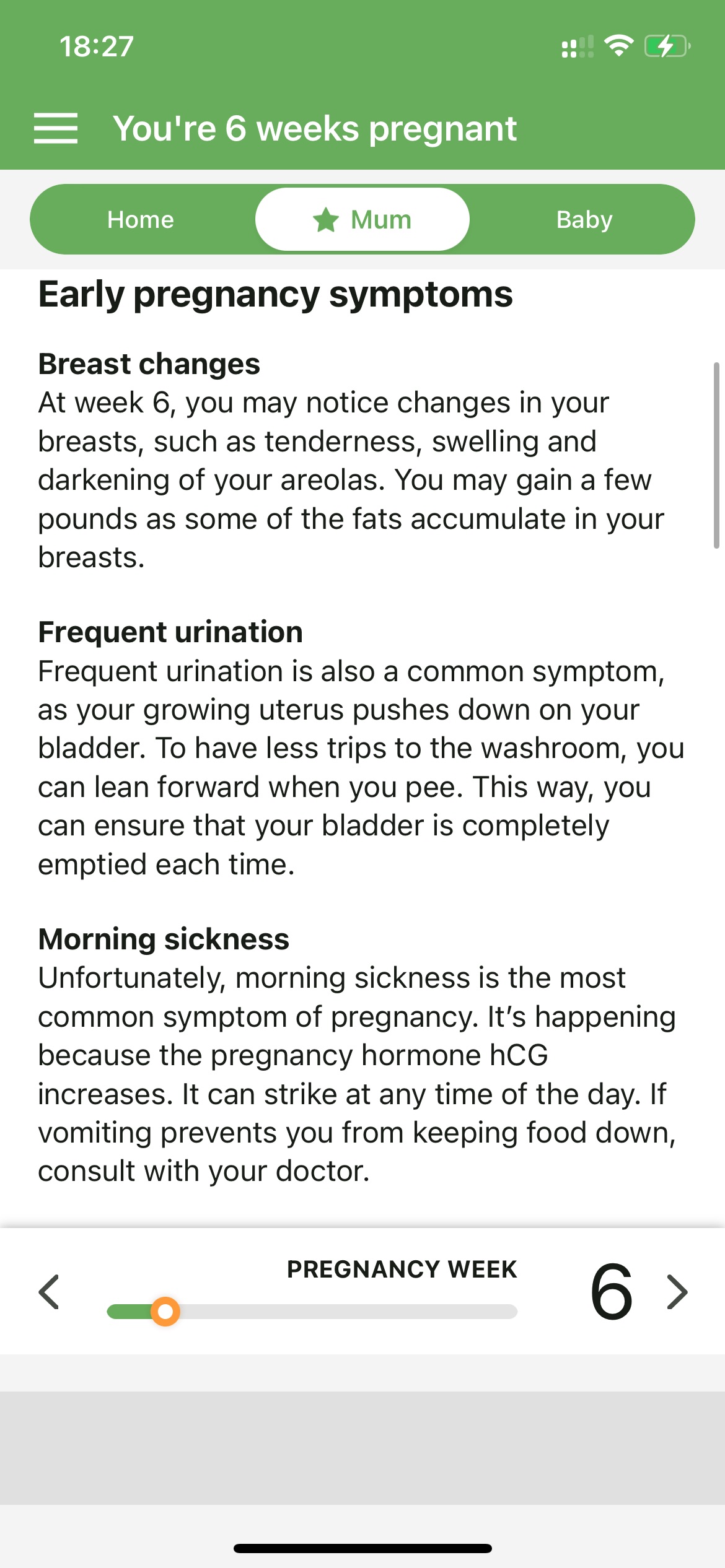 Pregnancy Calendar contains a special column to record any symptoms, examinations, and doctor's appointments. It's a whole electronic history of pregnancy and childbirth that will help you feel more confident during those 9 months of waiting.


Ovia Pregnancy & Baby Tracker
Ovia Pregnancy & Baby Tracker is a personal assistant for pregnant women in many countries. It is always at your fingertips and contains only verified information.
The app includes a pregnancy tracker by week, powerful information support in the form of current articles and research, and calculation of your benefits and maternity benefit levels. Enjoy your pregnancy and don't forget the important details.
Once you confirm you are pregnant, the countdown to the long-awaited event will begin. Record all the changes that happen to you.
Measure and record your abdominal circumference and weight gain every week simultaneously to avoid biases. Get personalized advice on proper nutrition and exercise levels during pregnancy.
Use a simple calculator to calculate your due date. To do this, enter the first day of your last menstrual period or the date of your IVF. Each week, you'll know how big your baby has grown and what his or her present size is. When the time comes, you can keep track of the movements and false contractions.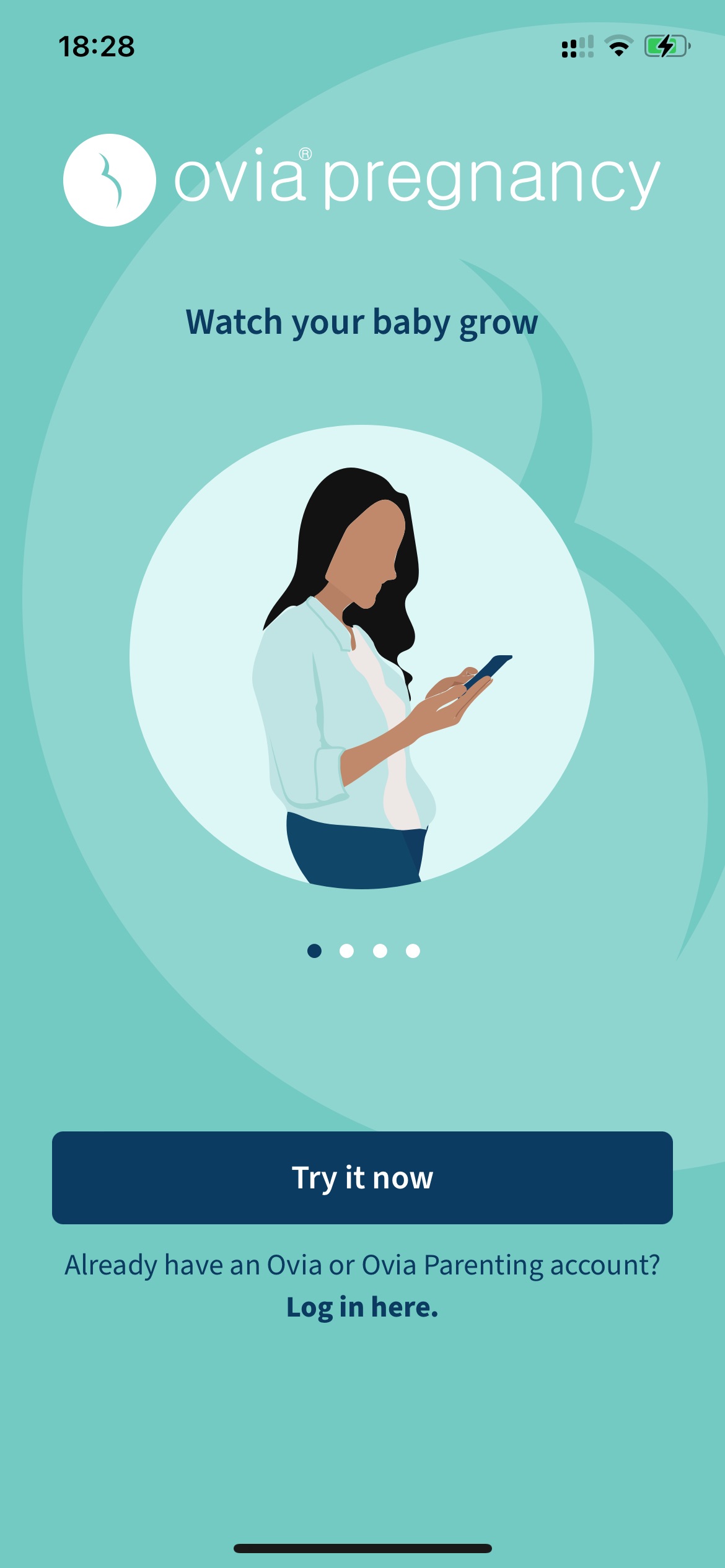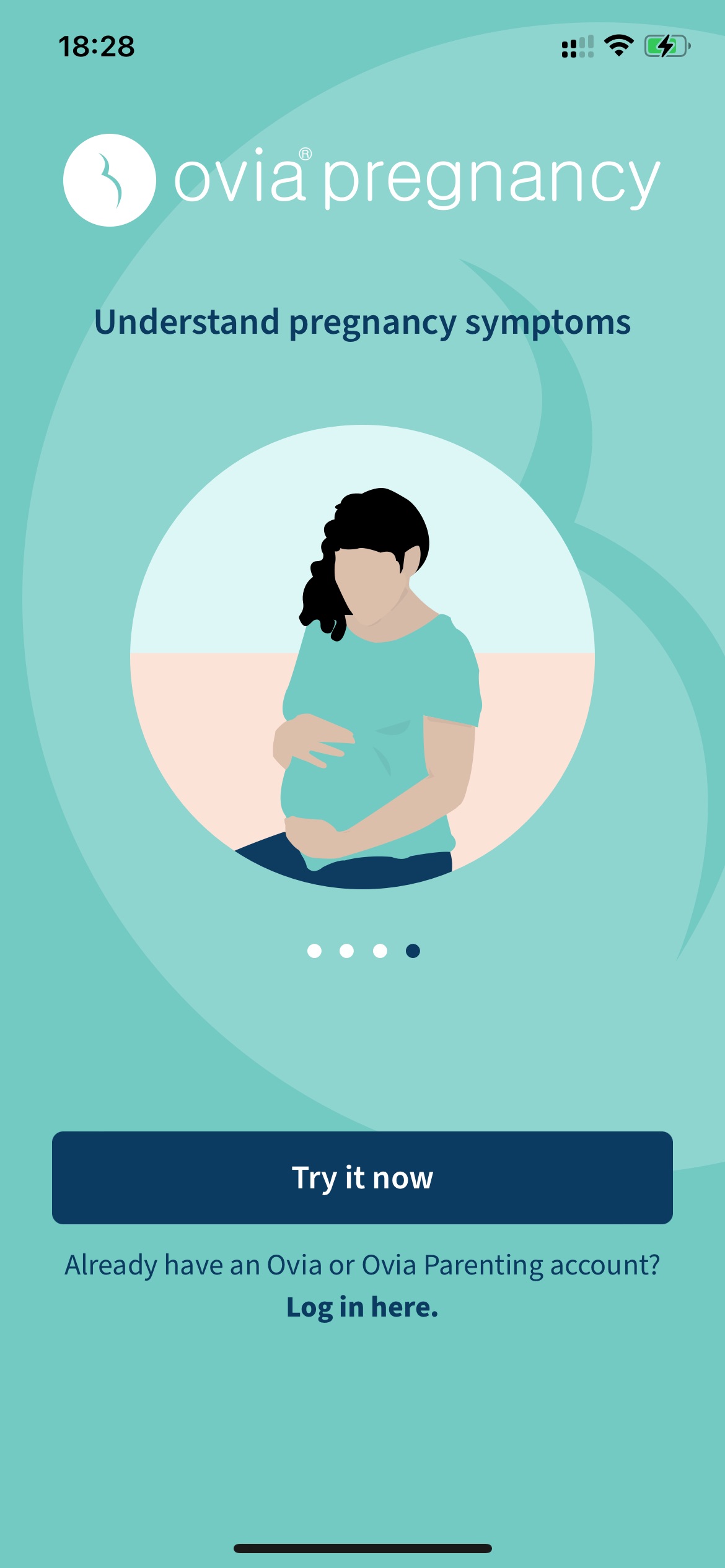 The Ovia Pregnancy & Baby Tracker has the ability to illustrate 3D ultrasound models for each period. You can even decide on a name for your baby here. Check out today's top trends and choose the ones you like best.


Pregnancy Tracker: amma
Amma is a popular app that contains many necessary options during pregnancy. A young mother has too many calculations and indicators to keep in her head. Transfer to this app the information that you think is important, and spend your time waiting for your baby in peace and without anxiety.
Here you'll find a section for entering medical data, including lab tests and other exams. There is a tab with a pregnancy diary where you will note subjective feelings. Install the app as soon as you confirm the good news, so you won't miss out on interesting and useful information about your baby's development.
Tools for expectant mothers: diary of symptoms and well-being, calculating the date of delivery, tips on lifestyle and diet in each trimester, schedule of tests, and scheduled visits to the doctor. It is really important to keep track of your planned weight gain and record your progress.
A built-in calculator will help you determine how much you have gained over a certain period and whether this is the norm. Sometimes pregnant women need a correction for weight gain, so the gynecologist will give extra recommendations.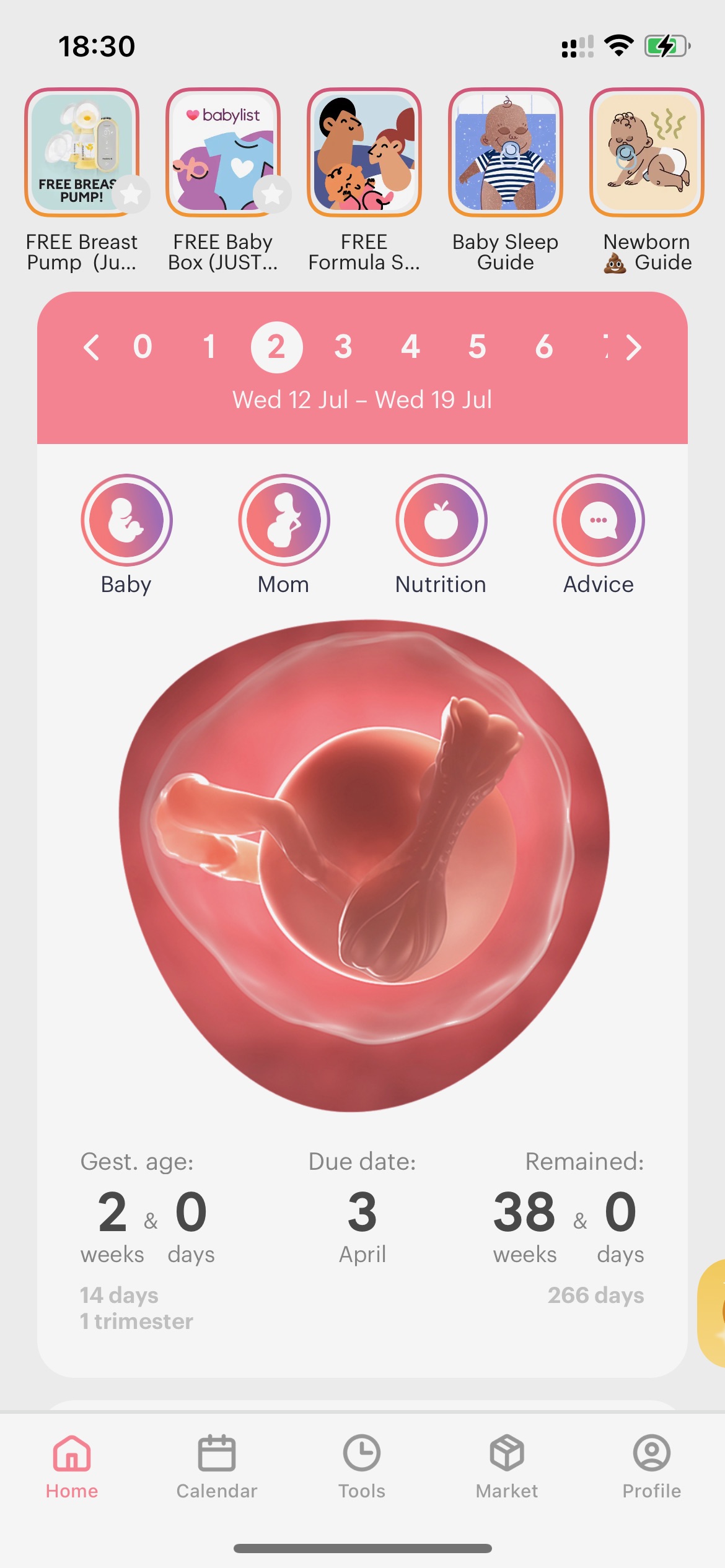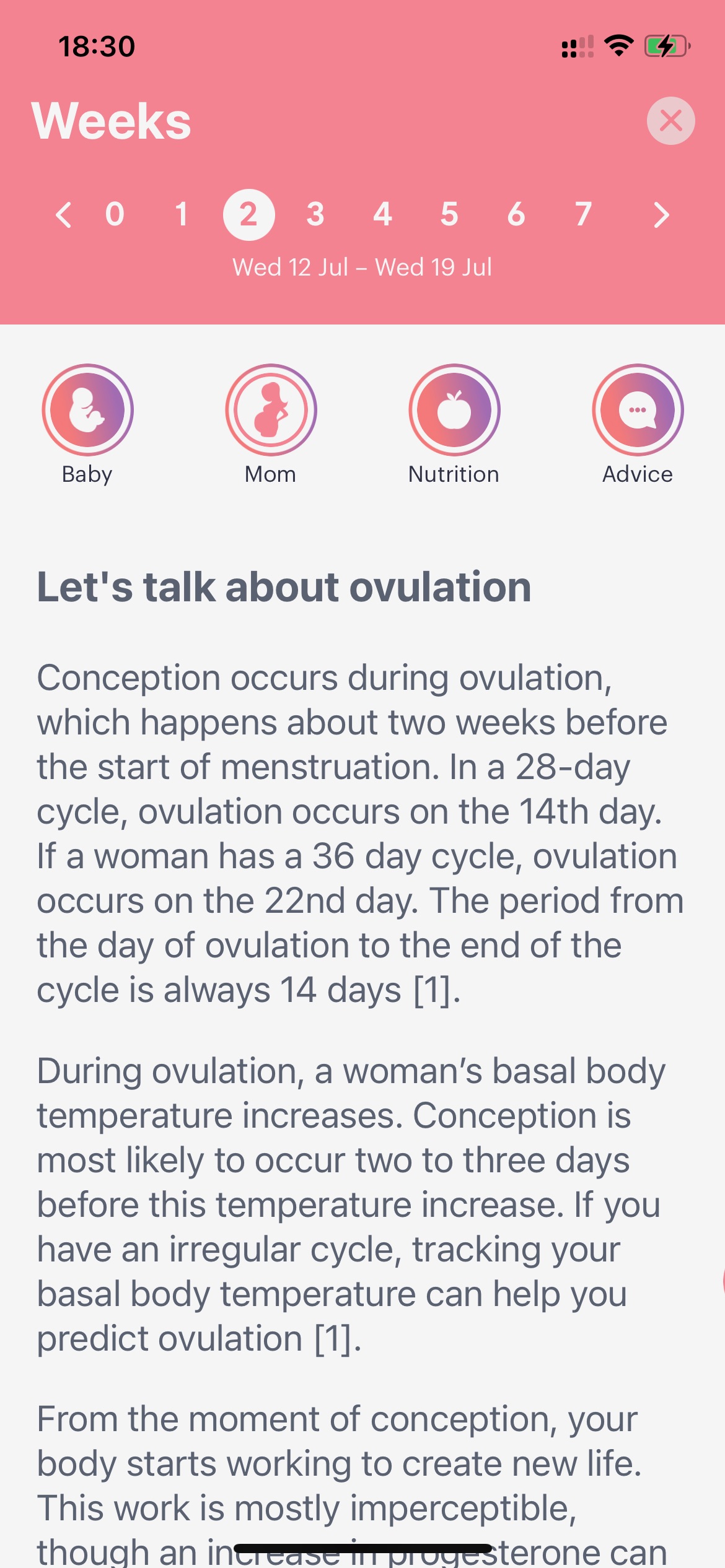 For each week of intrauterine development, the creators of Amma have prepared small sections on fetal growth and development. You will find out what vegetable or fruit you can compare your baby to right now. Free pregnancy tracker for today's moms and dads.


Pregnancy + | Tracker App
Pregnancy+ will be a complete guide to pregnancy. This app will help you get used to your new role as a parent and get comprehensive information about pregnancy, childbirth, and the postpartum period. It has already made waiting time easier for millions of couples.
Simple and easy to use, the app has all the options you need to fully manage your pregnancy. Mark important dates and times of doctor visits.
Record your observations during the 1st, 2nd, and 3rd trimesters. This data will not only help build an emotional connection with your baby-to-be, but it will also make your doctor's job easier. All tools are categorized so they are easy to find when you need them.
Here you will be able to track your weight and compare it with the norm for a certain gestational age. Just enter your data and get accurate calculations. Fill out the moving scale, which is essential for monitoring fetal status.
You'll also get answers to questions about a healthy pregnancy and a safe delivery. Learn what to expect in the delivery room and how to reduce trauma.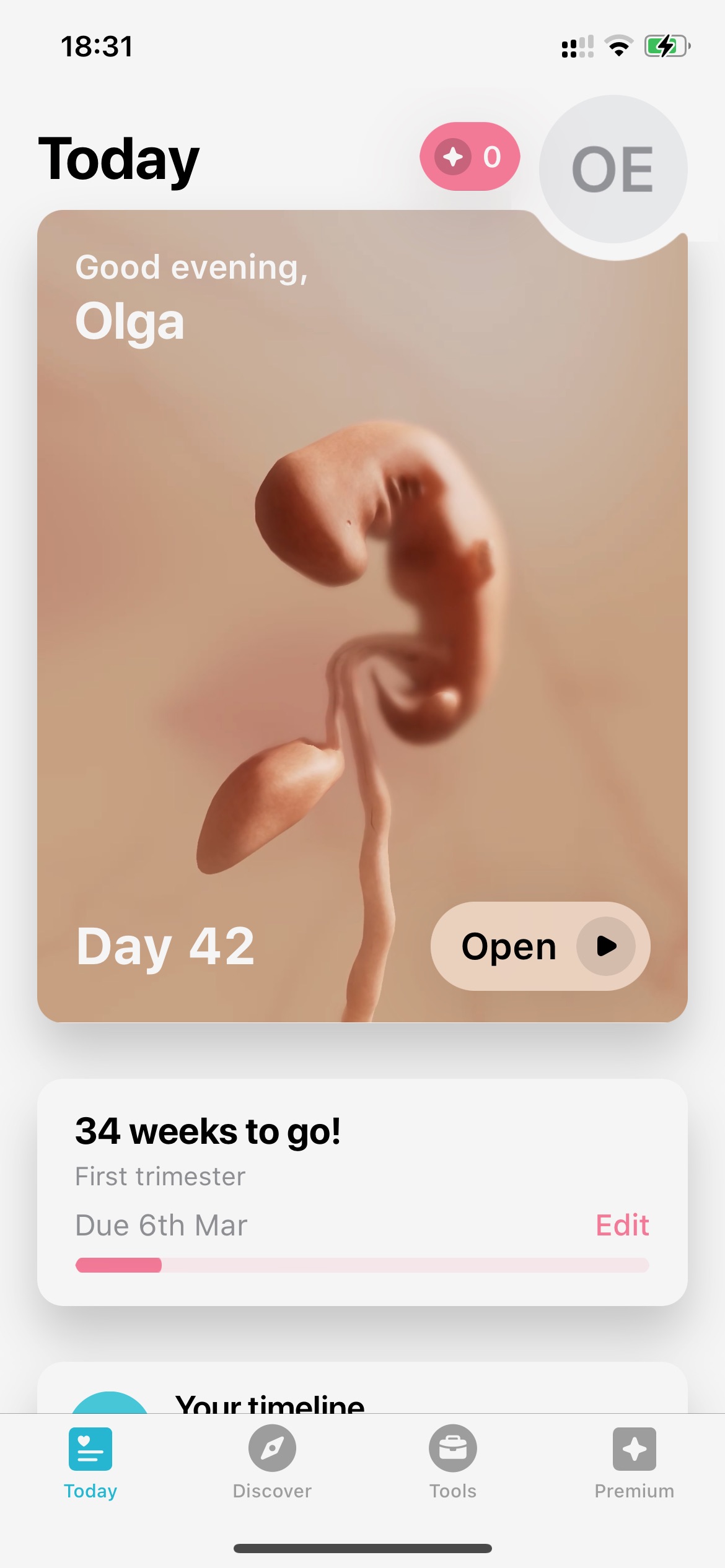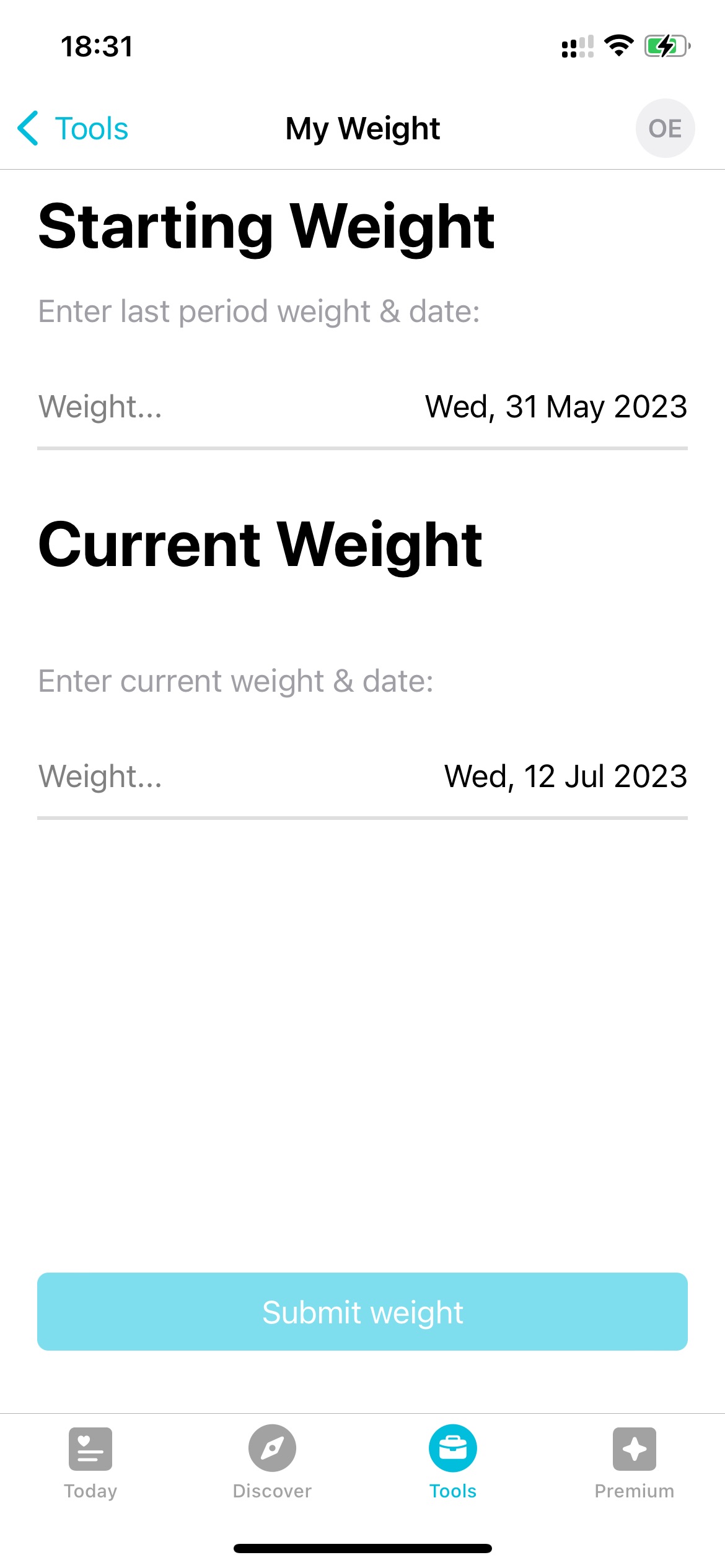 Share your observations with your loved ones. Just download the app and have access to your account. Often parents-to-be live far away from their relatives, so Pregnancy+ will help them stay up-to-date.


Pregnancy and Due Date Tracker by Wachanga
Pregnancy and Due Date Tracker by Wachanga will be your trusted companion throughout your pregnancy. Each day brings many changes for your unborn baby. Learn more about each day spent in the womb.
Use the 3D visualization to see what the baby looks like. You will know the exact date of your expected birth and can prepare for the event. Get valuable advice on what to look out for at this stage, what symptoms are normal, and what to avoid.
Learn how to eat right and what medications you should take in the different trimesters. Fill out your electronic pregnancy record as accurately as possible. Thus, you will answer any question your doctor may have.
Track your well-being: share your thoughts, concerns, and symptoms. Watch how you are gaining weight, and how your belly is growing. Now you can calculate your weight gain and compare it with the accepted norm. For each period there is a checklist with the most necessary information.
You will have access to the movement tracker and contraction counter. This will help you get to the clinic on time without rush and stress.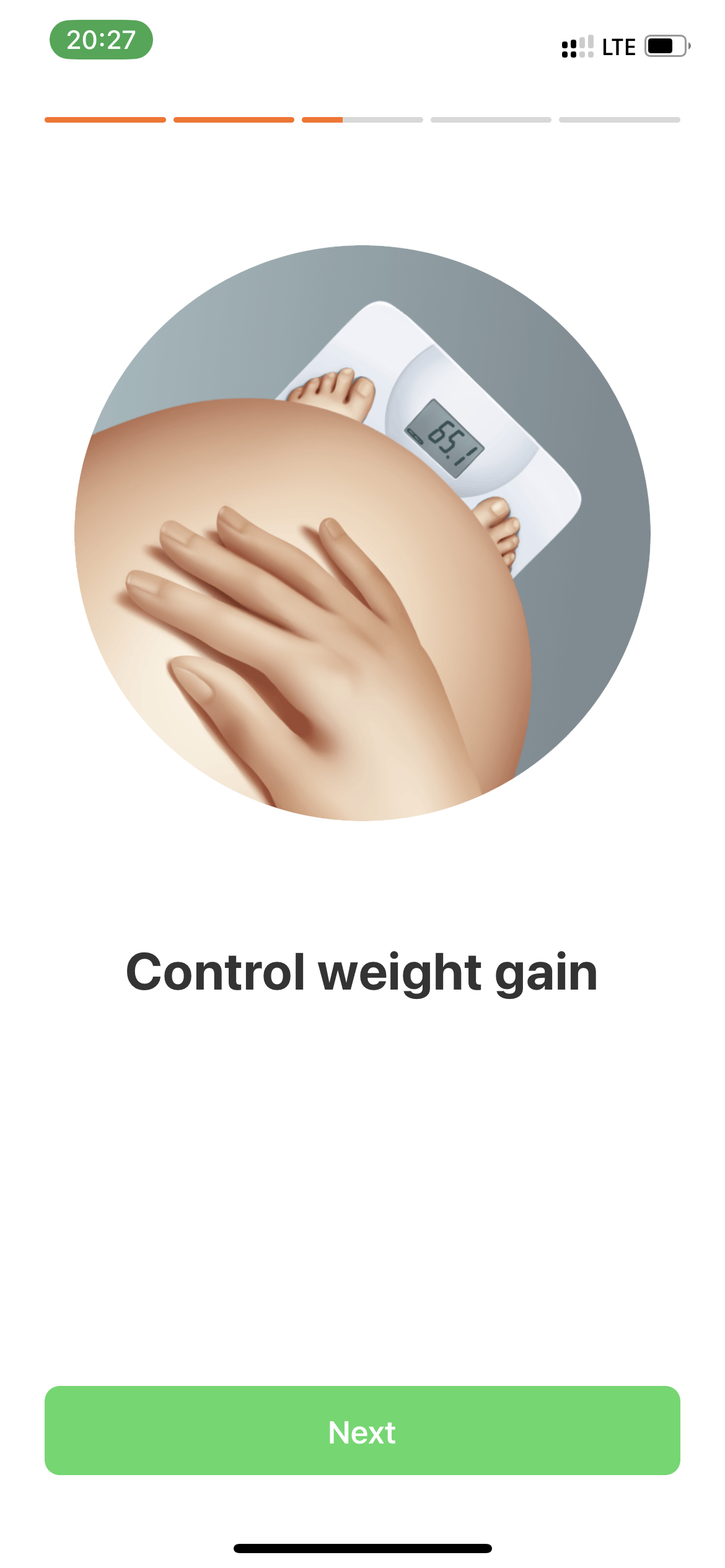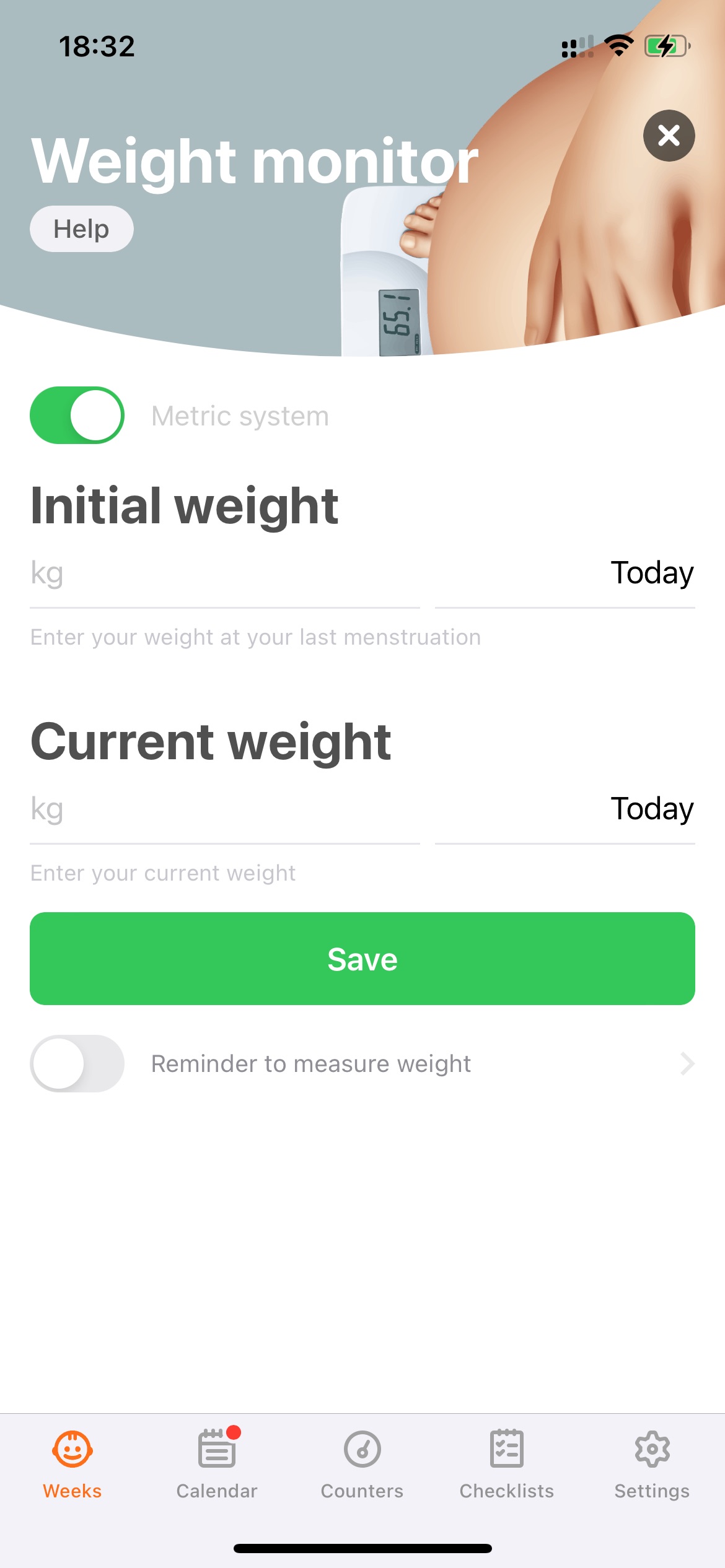 Besides, you will have a list of the things you will need for the hospital. And a list of things to do before you are admitted to the hospital. With this app, your pregnancy will be nothing but a positive experience.


You may also like: 11 Best Maternity Clothes Apps (Shopping & Used Clothes)
Sprout Pregnancy
If you are looking for a source of information about pregnancy and childbirth, Sprout Pregnancy is a great solution. A free app for anyone who wants to turn pregnancy into an interesting and enjoyable journey. Start each day with fascinating information.
What your baby looks like at this term, what you need for its full development, how to reduce unpleasant symptoms and improve your well-being. Involve the father-to-be and other family members in the process. Only the essentials for expectant parents are collected here.
Keep your pregnancy diary, noting the end of your trimesters and the date of your upcoming birth. Get information on lifestyle and nutrition. Find out in advance about the best newborn care and breastfeeding tips and tricks from experts. Use the research and advice free of charge and without restrictions.
Document everything that happens to you and your baby. Find out if your weight is normal. Use a handy calculator to see your weight gain patterns, and share your observations with your doctor. Count your baby's movements so you know your baby is feeling well.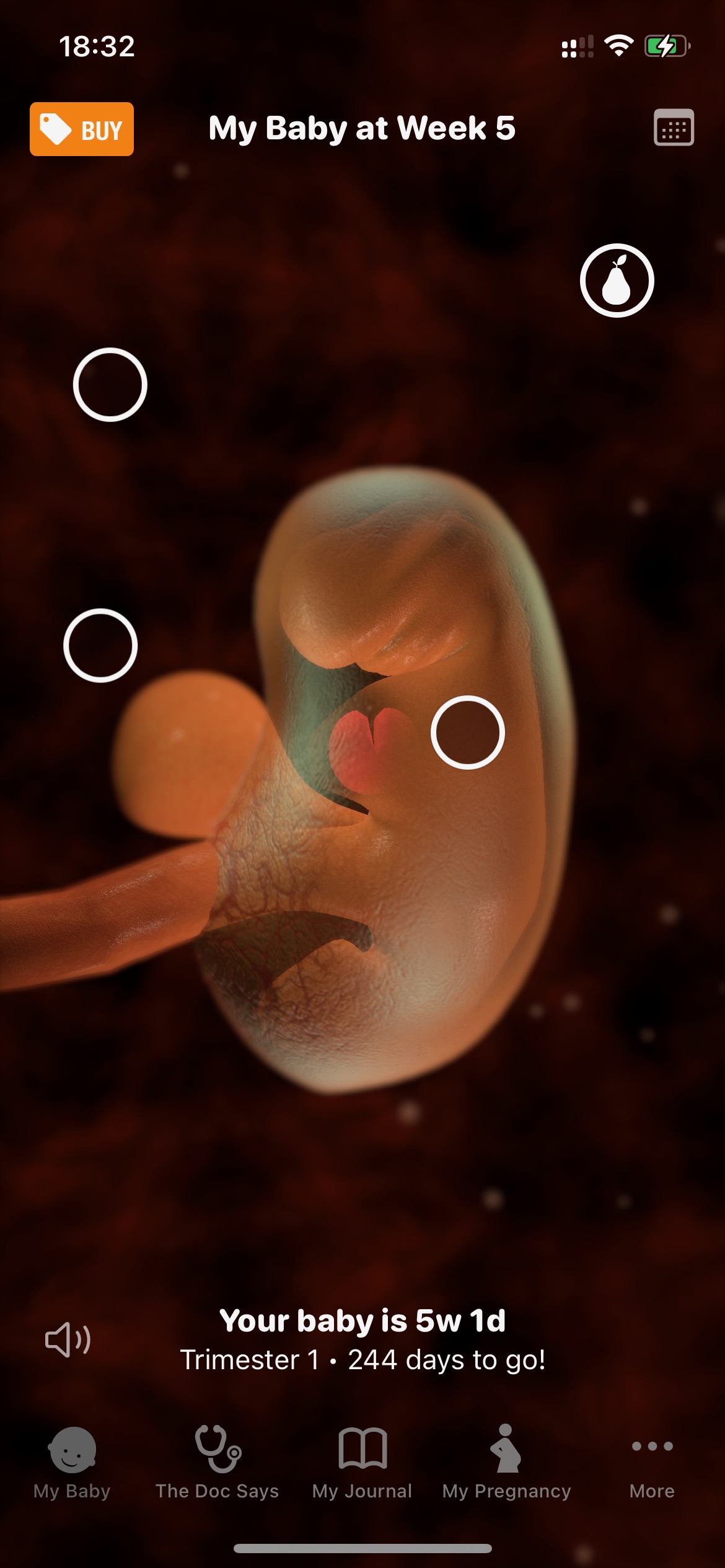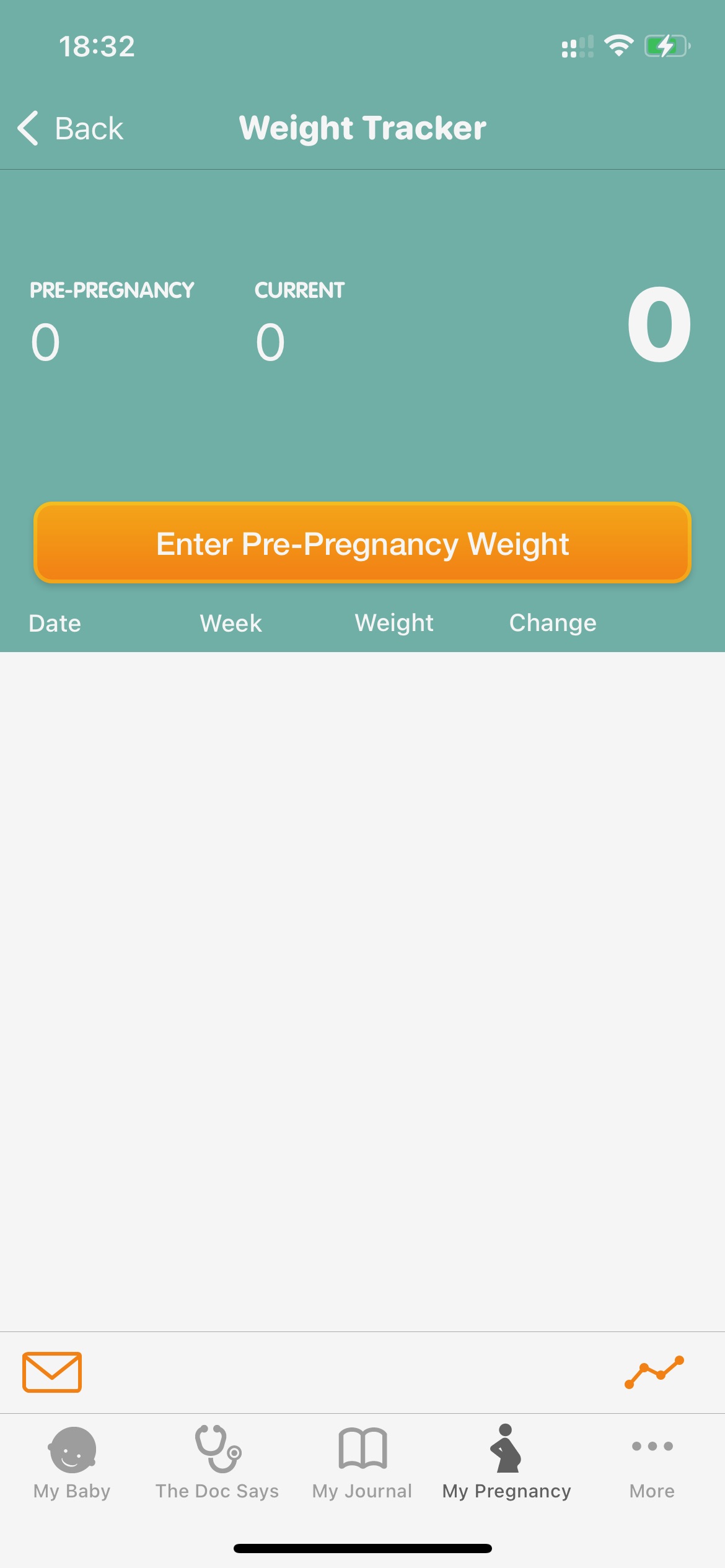 Learn to identify and count false contractions. Learn all about breathing practices and hypnotherapy in labor. Learn the answers to questions that still plague moms-to-be. Use the 9 months of waiting to your advantage: Install Sprout Pregnancy and be prepared for any situation.


Pregnancy Calculator, Calendar
If you want to capture the most important periods of pregnancy, we offer you to try the Pregnancy Calculator app. It is a treasure trove of valuable information and useful tips not only for moms-to-be but also for other family members.
Even if you have already had similar experiences, check out new data and research in obstetrics.
Get a detailed description of everything that happens to you and your baby each week of pregnancy. You'll know what fruit or vegetable you can compare the fetus to at that term, and get a visual demonstration of the baby's appearance today.
Study the psychological and physiological features of such an important period as intrauterine development. The future mother will also be able to find out the approximate date of delivery without the help of a gynecologist. To do this, it is enough to indicate the time of the last menstruation or IVF.
Keep a food diary, monitoring weight gain. It is desirable to weigh yourself every week on the same day. This will help to calculate weight gain correctly.
There are tools that help you keep an accurate count of fetal movements and contractions. This tracker will help you realize that the contractions are not false, and it's time to get ready to go to the maternity hospital.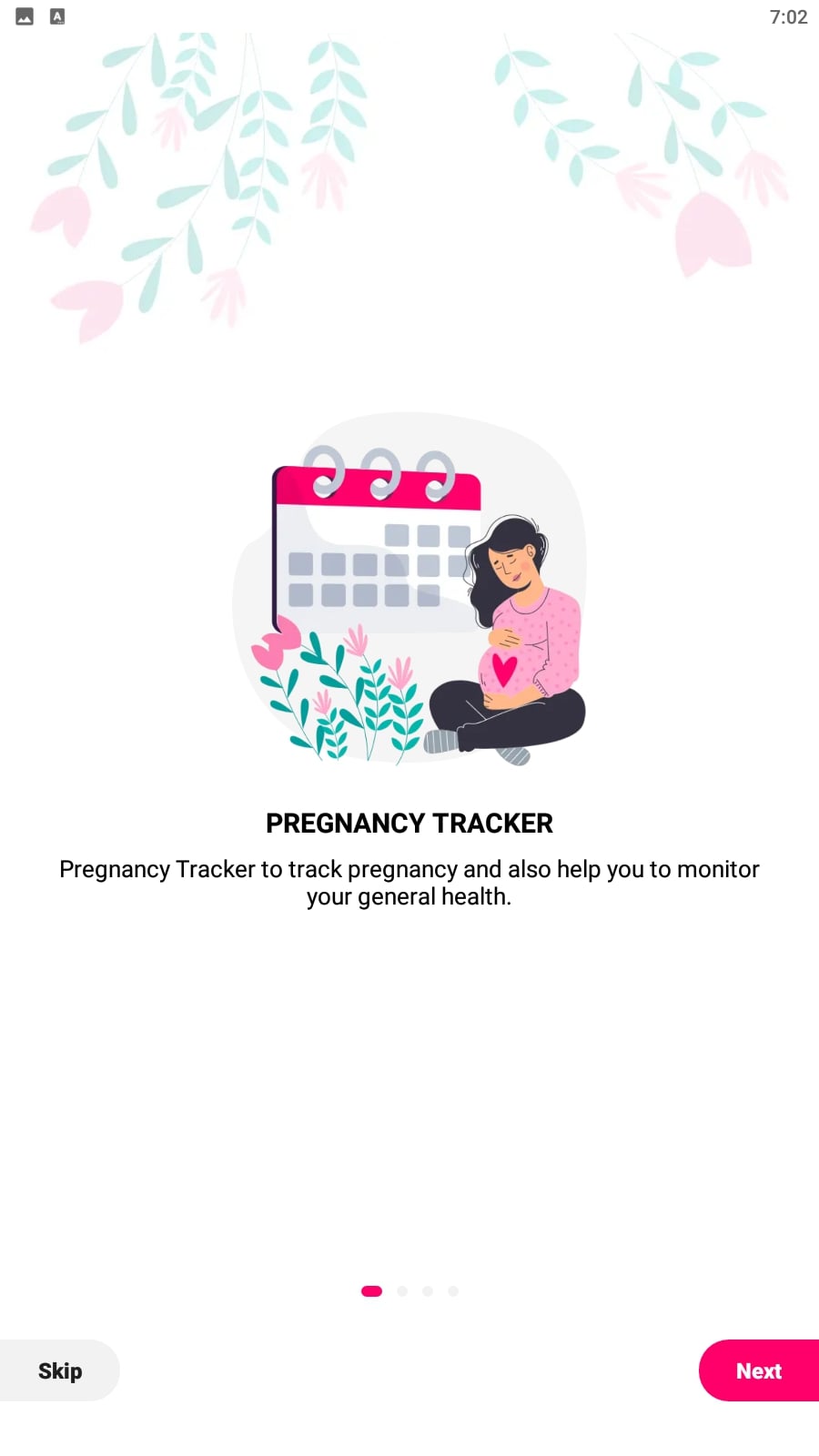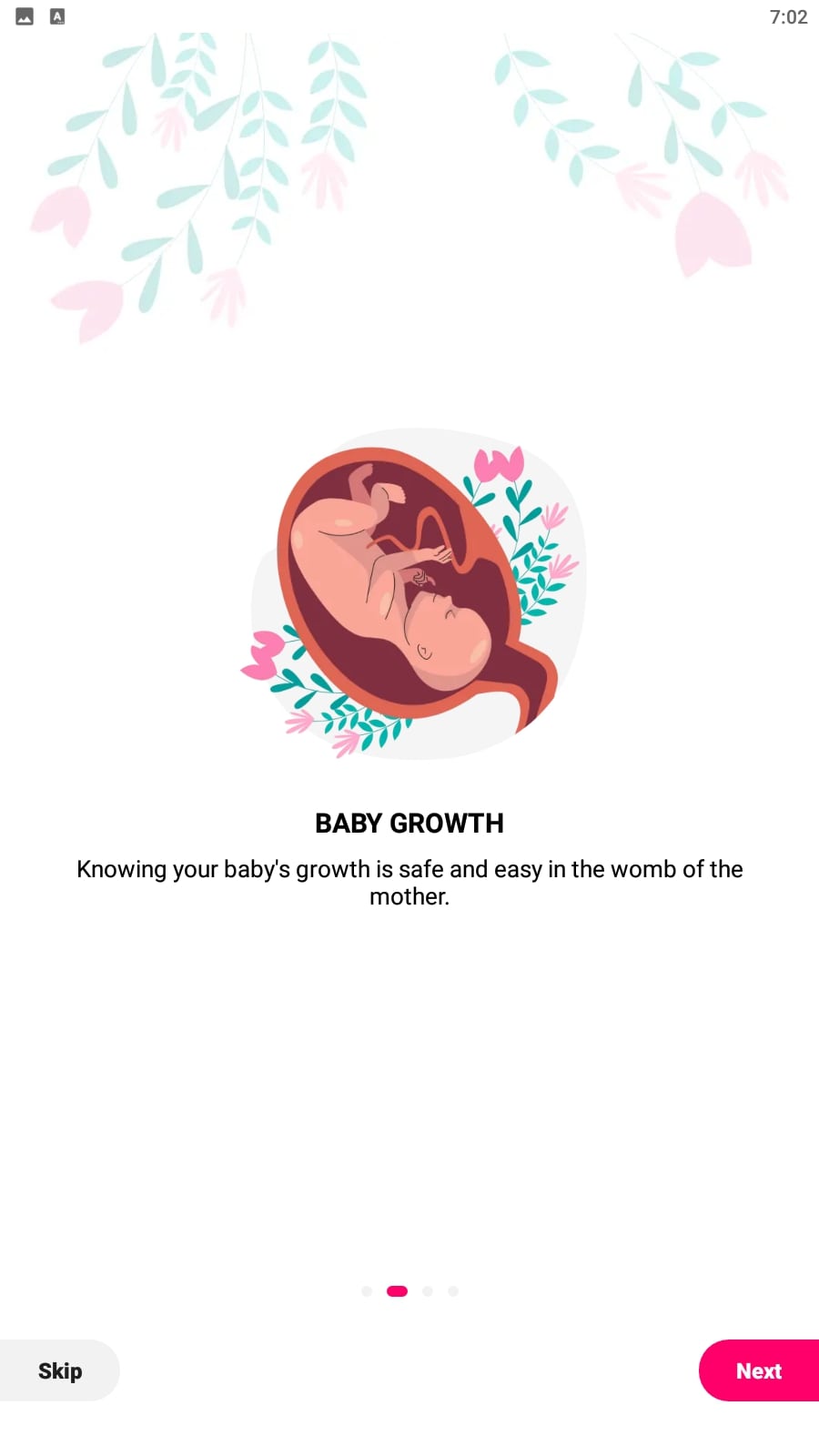 The app allows you to plunge into a new world of future parents and be free to lead the entire pregnancy.

Pregnancy calculator | Tracker by A7la mama
For all 9 months, the Pregnancy calculator app will be by your side, reminding you of important plans and achievements.
The app is developed by A7la Mama and is designed to serve all the needs of the mom-to-be. Once the pregnancy is confirmed, you will be able to know the date of your upcoming delivery.
There are no complicated calculations here and no medical education is required. Just enter the necessary data and get the answer automatically.
At each week of intrauterine development, you will receive valuable tips and life hacks to alleviate symptoms related to the development of the pregnancy. Conditions that require further examination and doctor's advice are also listed here.
You don't need to record your weight and number of fetal movements on paper. The electronic diary now contains all the information about your pregnancy. You have access to instant counting and the dynamics of weight gain.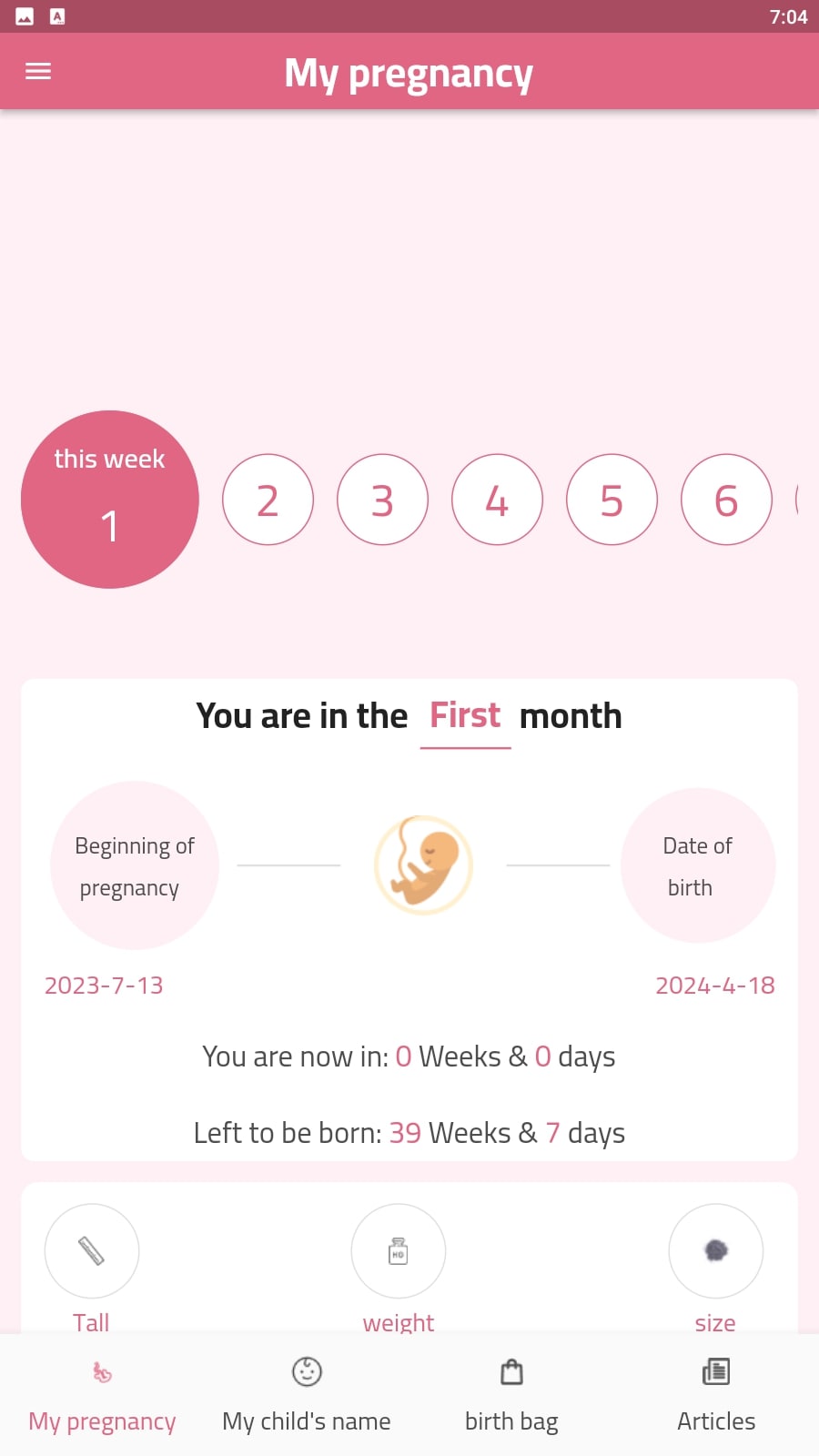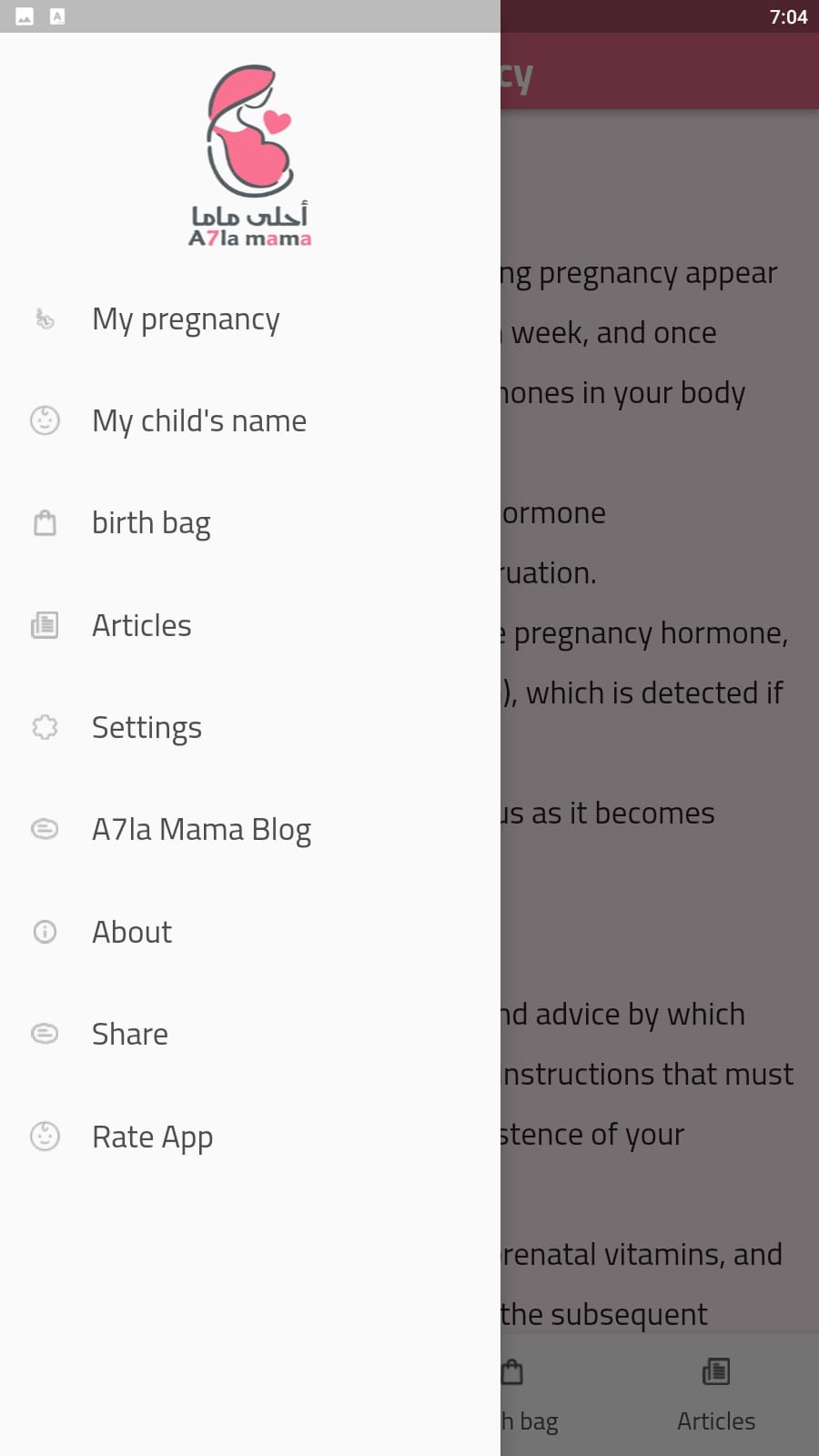 If you are already going to the maternity hospital, read the suggested list of necessary things. You can make notes and mark the items you have completed. If you haven't decided on a name yet, use the huge list of suggested options and their meanings. Pregnancy Calculator supports Arabic and English.

Pregnancy Calculator Gyn
Pregnancy Calculator Gyn is designed for complete pregnancy management. This app contains all the data that every expectant mom needs to monitor. It meets the requirements of experienced professionals, so it can be used by doctors and midwives.
Pregnant women will also find many useful options. Comprehensive monitoring will allow you to follow the planned schedule and also reduces the emotional burden on the pregnant woman.
The app includes a baby's age calculator, which is based on the date of the last menstruation and ultrasound data. This information is the basis for calculating the expected date of delivery.
Use the countdown function so you always know how many days you are away from your long-awaited meeting with your newborn. Find out the day you need to take maternity leave.
There is a separate column for medical issues. Note your weight at the beginning of your pregnancy and track your weight gain over 9 months. Find out your body mass index and note the amount of fluid intake per day to detect hidden edema.
Also note important examinations and tests, visits to the gynecologist and other specialists. Note which medications you took before pregnancy and which have been added now.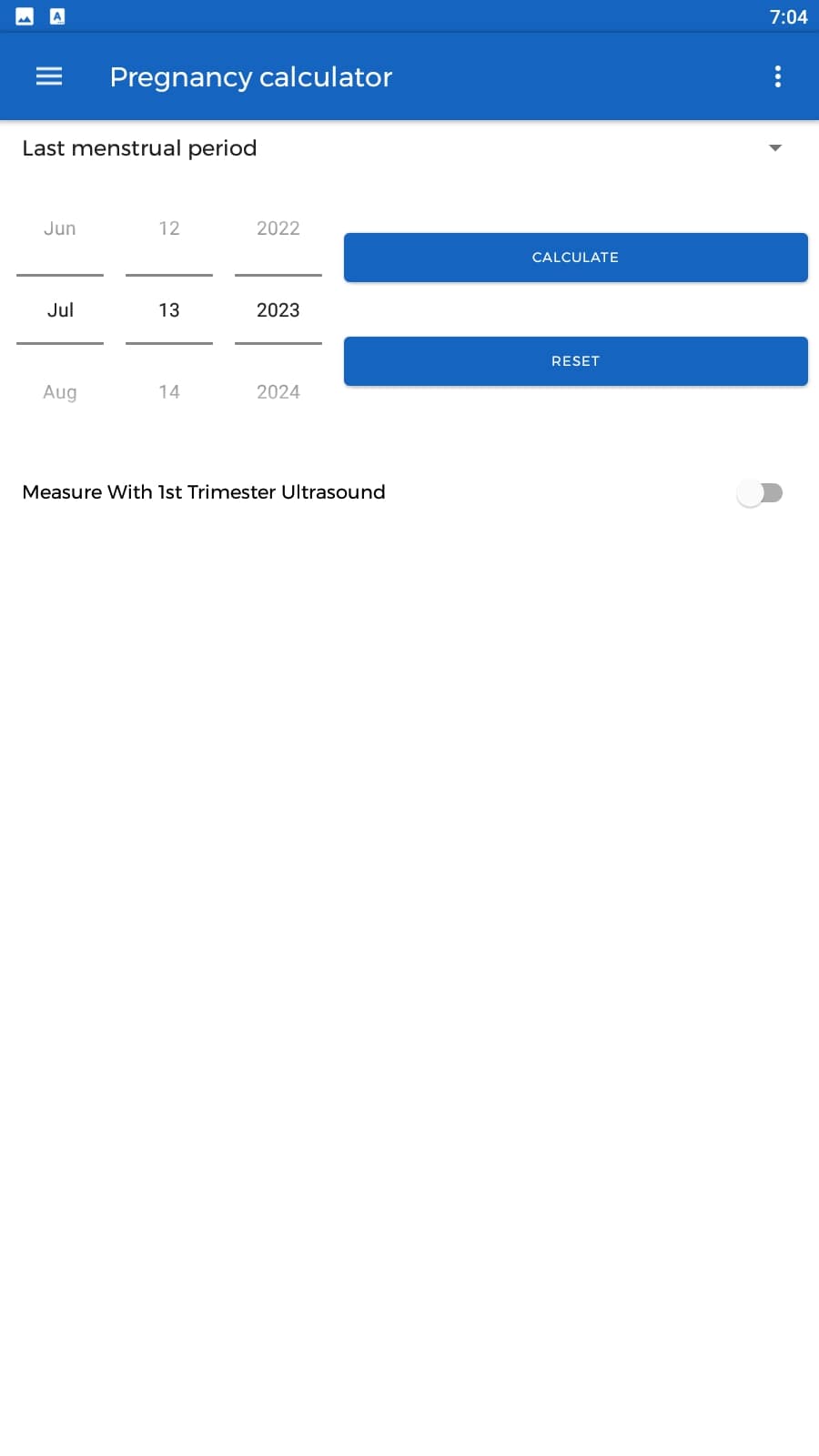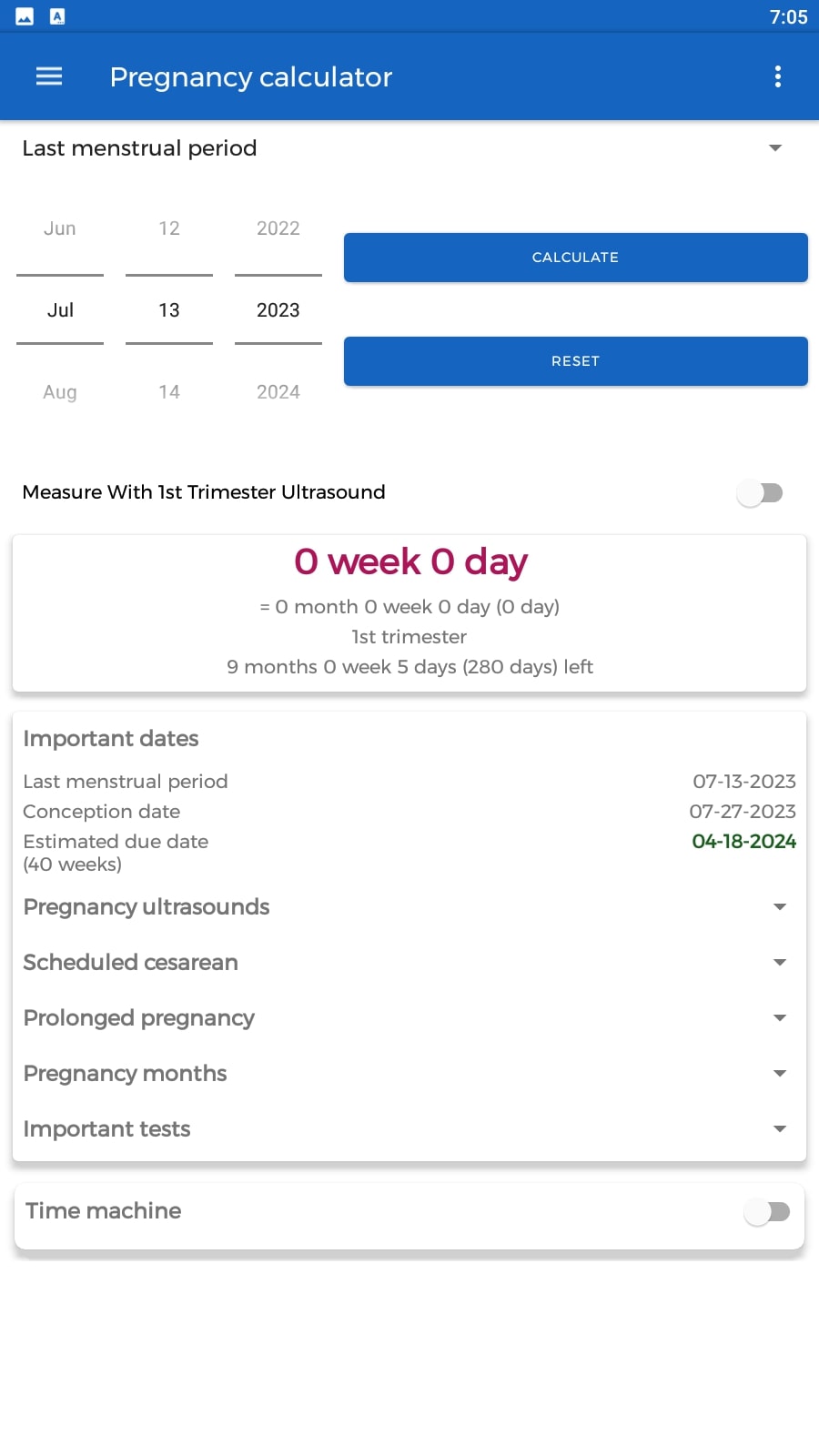 All of the above functions are available not only to the future mom but also to everyone interested in her well-being. This is one of the most convenient and simple calculators for a healthy pregnancy.

You may also like: 9 Best Pregnancy Apps for Dads (Android & iOS)
Pregnancy calculator, duedate
Spend your time waiting for your baby in a useful way. Pregnancy Calculator, duedate has already become a real pregnancy guide for 100,000 pregnant women. There are no complicated calculations or obscure terms because the app was created to help everyone.
Several calendars and built-in calculators are available for any user. You will be able to quickly and accurately determine the day of conception and the date of delivery.
Select the desired tool and fill in the basic fields. Start the timer with a countdown of days as soon as you find out you are pregnant. Each day will bring you closer to the joyful event.
A mom-to-be should stay calm and in a good mood. This app contains a lot of information about each trimester of pregnancy. Here you will find research on various topics and tips applicable to your case. Do not forget the importance of monitoring your health.
Take your tests on time and note the results. Receive reminders about scheduled instrumental examinations, including fetal ultrasounds.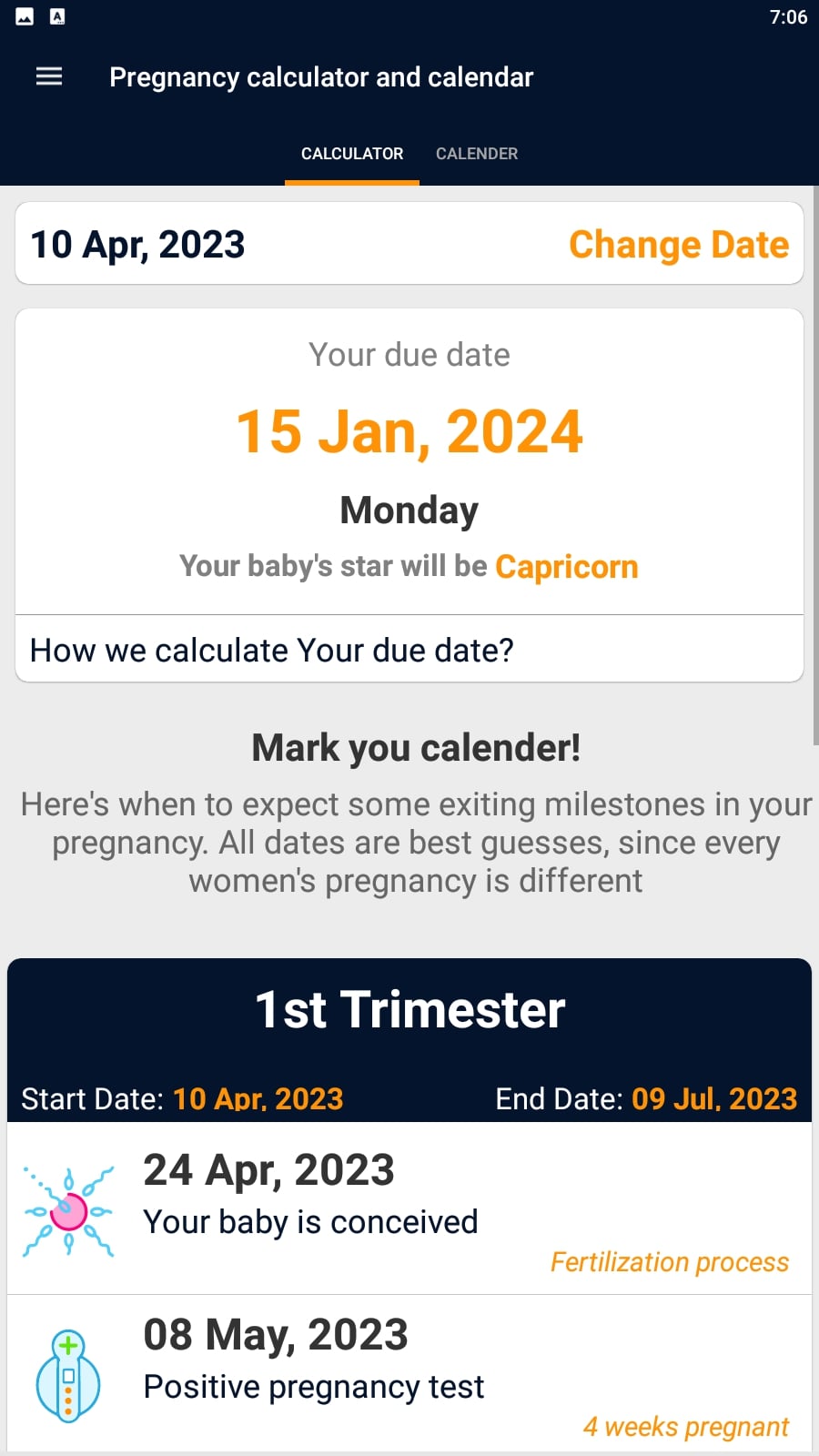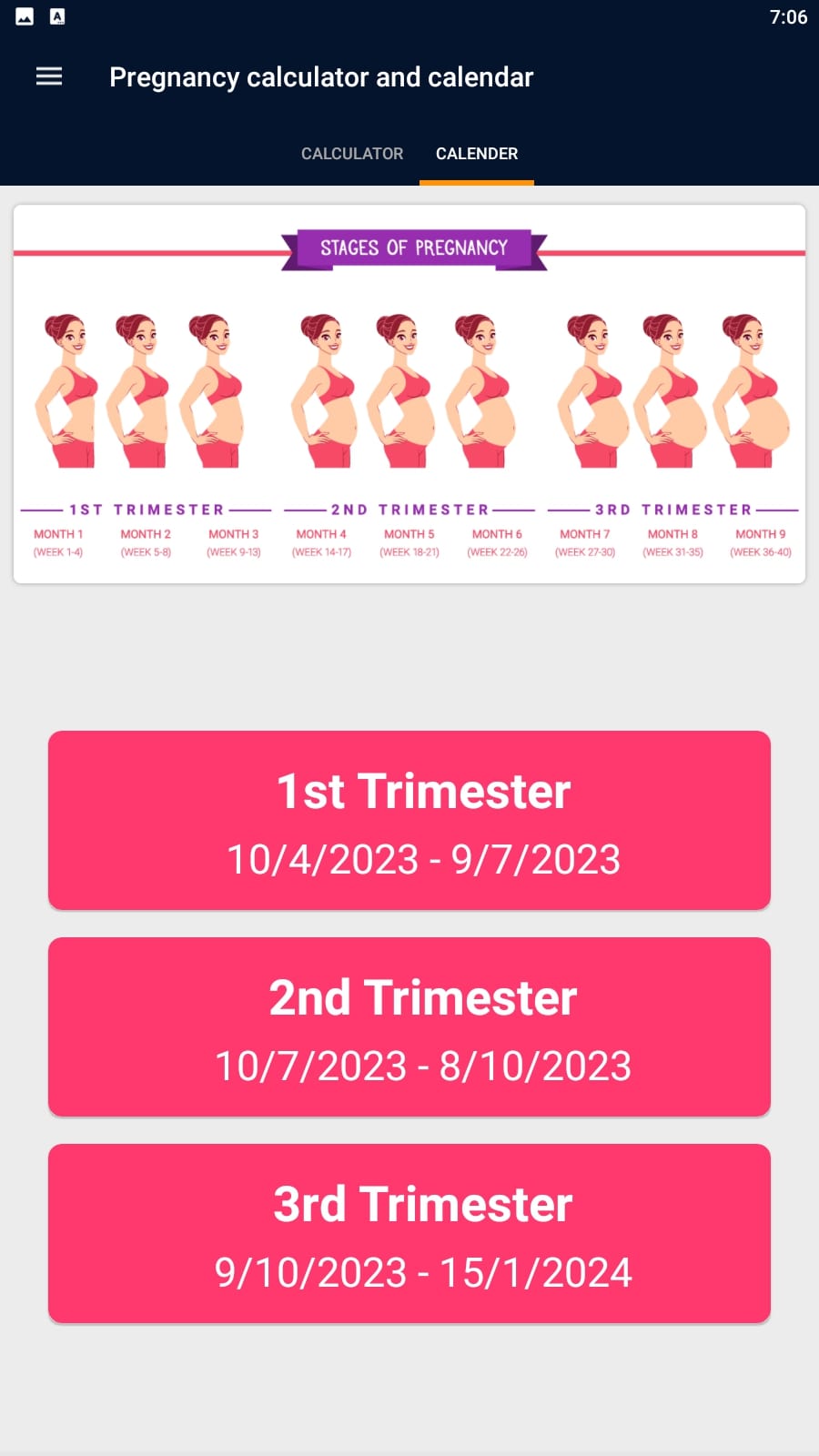 Without difficulty and extra complications, find out the dynamics of weight gain. This is an important aspect of proper fetal development and healthy pregnancy. Your attending physician will definitely pay attention to the results obtained.