If you have some property you are not using at the moment, you still have to maintain it. It's a hard challenge. You can't do without good service that will optimize most of the processes.
By the way, if you have to find out the value of your property, you can't do without 5 Best Home Value Estimator Apps for Android & iOS.
In this list, there are good options for Android, as well as iOS users. Some of them are even free of charge.
AppFolio Property Manager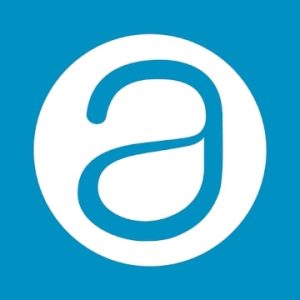 Do you have an apartment you need to maintain regularly? Then it's high time you started using AppFolio. You have probably heard about this service, its website is especially popular. However, they also have an application packed with the same functions.
This is full software for property management and maintenance. Even though the number of features is impressive, it still remains easy to use the app thanks to its intuitive interface.
Let's see what exactly you can do with the help of AppFolio.
This is the same soft, it contains all the functions displayed on the website but AppFolio is

adapted for mobile devices

, such as your smartphone or tablet. You can access your account (or create it if you are a new user) and

maintain your property on the go

. You can even be thousands of miles away from the property and still manage it well.

Make notes

about your properties. This will help you to keep all the vitally important things in mind.

Deal with online payments

. This is an integral part of managing your property. With AppFolio, you will be able to control all the payments and check if they are conducted correctly and in time.

Take photos of your property and upload

them. It will be a perfect function for those who want to get more views and attract new people.

See all the data on a dashboard

. This is a good way of studying big amounts of facts, meaning it will come in handy when you have multiple properties.
AppFolio might also serve as a container for your data. You can store some documents and receipts.
Please note that the app will track some data about you. For instance, it will collect information about your purchases, search history, location, financial data, and content.
The size of AppFolio is about 40 MB. The app is free without ads.
Both Android and iOS users can download this software and start managing their property effectively.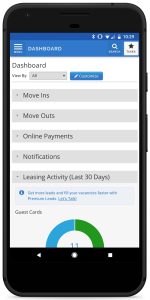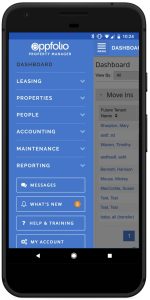 You may also like: 9 Best Property Lines Apps for Android & iOS
Buildium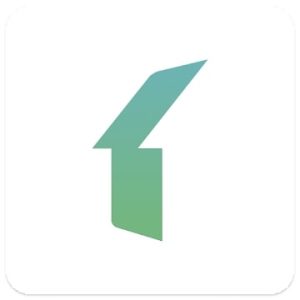 Here comes another great service that will allow you to maintain your property well. If you appreciate simple and at the same time effective tools, Buildium is the best choice you can make. You can be wherever you want, your property will still remain under control.
Let's see what you will get right after the download:
Manage all the property processes

. We know it's vitally important to stay up to date especially when it comes to money and bills. In Buildium, all the processes are super clear – you will know about the payments right away.

Give Buildium the info about your property

. This will help you to store the most important details in one place. What is more, if you want to attract new residents, this function will also come in handy.

Synchronize your contacts

. You can skip this step but we recommend giving Buildium access to your contacts. In this case, you will be able to contact the person you need right from the app.

Attach the photos

of your property. This is a great function for marketing purposes.

Solve problems

that accidentally appear. You don't have to physically be present to fix the issues via Buildium.

Use maps

. It is much easier than explaining the location of your property or giving an address. Just send the point on the map and save time.
The app will collect data about your location but it won't link it to you.
The size of Buildium isn't too big for such a huge software – 118 MB is enough to download it and enjoy its functions.
You can get the application on the App Store, as well as Google Play.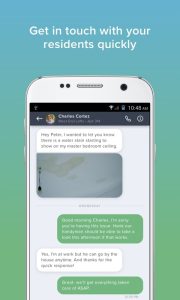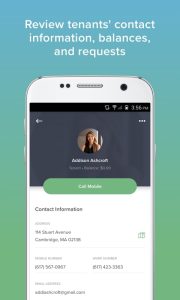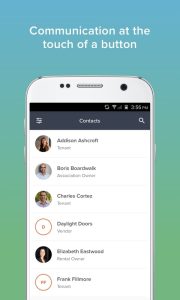 Breezeway: Property Care & Operations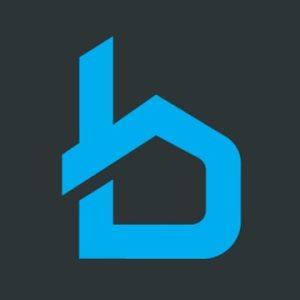 Do you want to manage your property on the go? If yes, take a look at Breezeway. The app will come especially handy if you are aimed at short-term rent.
You can solve up to 100 types of problems connected to the property you try to maintain. Let's see what exactly you can do with the help of this cool service.
Create schedules

. It is much easier to take care of your property when you have a schedule and stick to it. If you are afraid to forget about an important event or to check payments, make sure you set the alarm.

Make checklists and customize them

according to your goals. You can use them later in the field not to miss important details.

Enjoy

full integration

with most PMS systems. This will help you to import data from the system into the app and vice versa, saving time and energy.

Receive notifications

when something new happens to your property. This will allow you to stay informed all the time.

Create tasks

connected to your property. You can't do everything yourself and that's ok. This is why feel free to delegate tasks to other people.
Please note Breezeway collects some data about you, such as your location, contacts, and diagnostics.
Both Android and iOS users can download this app for free and start maintaining their property effectively and easily.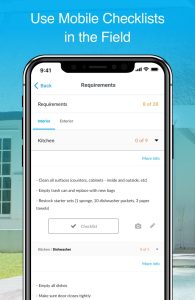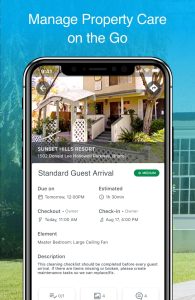 Reddbox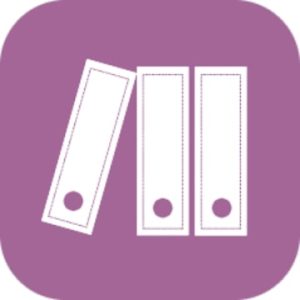 If your aim is to maintain the good condition of your property when you are away, Reddbox is the best tool. It has a simple interface and powerful functions.
The main goal of this app is to make your life easier.
Let's check what you will do with the help of Reddbox!
Manage multiple properties!

It is a challenge to maintain a big number of properties as you have to keep in mind various details. With Reddbox, you can divide these flows of information and sort the files that relate to different properties.

Book services

in Reddbox. It can be anything – cleaning, renewing insurances, or doing literally anything. Payment will be conducted in the app as well. It will be much faster than doing it yourself.

Are you afraid to lose your money? Don't worry, all the

payments are secure

and safe, these operations are ensured by Stripe.

Never forget

about your payments or other important details.

Set notifications and reminders

not to keep everything in mind.

The application is

cloud-based

meaning you can never worry about your data safety. What is more, a cloud-based approach to data helps you to save memory.
We have already mentioned services you can book right from Reddbox. Here is a list of the most popular options:
Gas Safety Check

. This is one of the most widely used functions as checking your gas is vitally important for living safely because a great number of fires and explosions are caused by gas leaks.

Boiler repair

. You can hardly find a person who'll rent an apartment if something is wrong with the boiler, that's why try to fix it as soon as possible.

Plumber

. This is another great service you can book right from the app. These specialists will fix any problem with pipes. All the specialists are certified and skilled so you can fully rely on them.

Electrician

. Fix problems connected to electric devices located in your apartment.
This is only a small part of the services you will get access to. It usually takes about 5 minutes to find a specialist to fix your problem.
Another cool thing about Reddbox is Digital Organizer. It includes manual search (if you want to fix something yourself but know nothing about it), warranty tracker, receipts catalog, and many other details.
Reddbox is available on the App Store, as well as Google Play.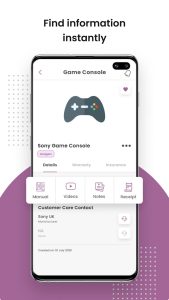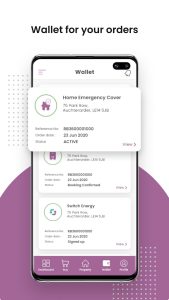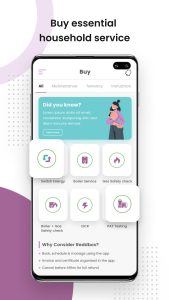 Azuro: Property Management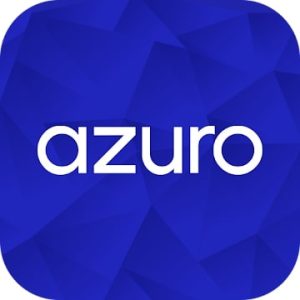 Here comes another nice application for property management. Meet Azuro – a simple and powerful solution. It doesn't require special skills to start – just download the app and add your property. That's it!
This app was created for house-owners who have no opportunity to deal with most problems themselves. Now you will find all the decisions right in Azuro.
It's all about automation! With Azuro, you can save time, energy, and money. Let's see how exactly you can do it!
Find your tenants

easily and fast. Azuro has a strong marketing component that will allow you to find and connect with others. You don't have to publish posts on social media or call your friends, everything will be done automatically.

Get tips and recommendations from experts. This is a very important step that will help you to understand more about your property. Maybe you will change the price or the description of your property? Try this service and you'll find it out!
Identity Verification. This is a truly essential function as any owner would like to know a lot about his future tenants. Azuro team will help you to get as many facts and useful info as you need to make a decision.
Paperwork won't be a challenge and dull activity. With Azuro, most documents, such as Police Verification or Agreement with your tenants will be conducted by the service representatives. You won't have to handle these hard issues yourself.
Deal with emergencies. We don't like to talk about it but some criminal issues may also take place inside your property. Azuro will help you handle such problems. Once this situation appears, you will be notified about it.
You don't have to be present in the field. You might be traveling or just relaxing. There will be a property manager who will always be there to communicate with others instead of you.
Azuro respects your privacy. This is why they don't collect any data about you and therefore can't give it to a third party.
By the way, if you have to measure the acreage of your land, make sure you read 11 Best Acreage Calculator Apps for Android & iOS.
The size of this app is pretty small – 80 MB will be enough to install it.
Both Android and iOS users can enjoy all the range of functions provided by Azuro for free.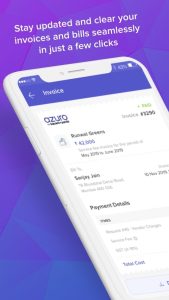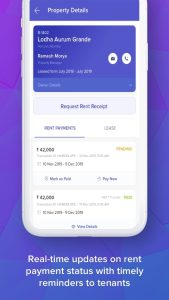 Yardi Maintenance Manager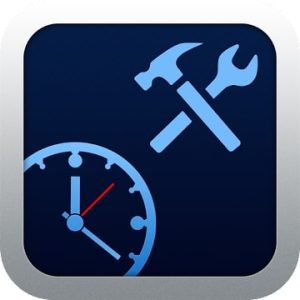 This is a great maintenance manager that will allow you to solve problems on the go. Yardi has an intuitive interface that will be clear from first glance.
Here are the best features you will explore after the download:
Solve all types of problems by delegating issues

to professionals, such as technicians, plumbers, or electricians. You might also find these people via Yardi and contact them immediately.

Create schedules

to track how the process is going. This is a powerful tool that will ensure you clearly see all the processes going on with your property.

The app is

super lightweight

– it requires less than 5 MB to be installed and function well.
Yardi is 100% free. All the function will be available at once, there is no need to unlock them. The only thing you need to do is to create an account. To do it, you will need your name and email address.
The app supports a great number of languages, including Chinese, Spanish, Portuguese, Arabic, and Dutch.
You can get Yardi for free on the App Store, as well as Google Play and start maintaining your property.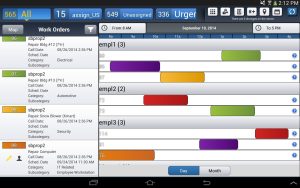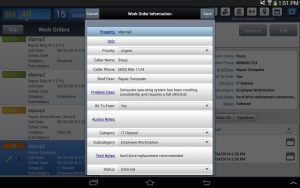 Landlordy Property Manager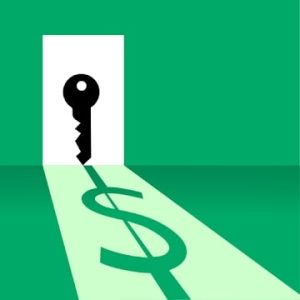 It's high time you started managing your rental properties wisely!
Landlordy is very different from other apps thanks to its wide range of functions. The mobile app has all the similar functions and contains the same tools as there are on the website.
Most users say that they love the app for its simplicity and a huge number of functions.
Let's take a look at the best features provided by Landlordy:
Track all the payments

by your tenants. Sometimes it might be a real challenge to control these flows of money, especially when it comes to managing multiple properties. Don't keep all the details in mind, just delegate it to Landlordy.

Create reminders

. It can be a reminder for you if you need to do something important. However, you may also create a reminder for your tenants and send it right in the app or via email.

Receive instant reports

. It is especially important especially when it comes to money. The function will ensure that you won't miss a single penny and always stay up to date.

Check the invoicing history

. This is a great function when you have to check a few details you don't remember. What is more, should you have any doubts or arguments with the tenants, this history can also come in handy.
These are the functions you will get for free. Should you need more, make sure you go premium. You will get the following features:
Export any data you have

to create your reports and print them later. The data will be exported in PDF format.

Add as many tenants as you need

. There will be no limitations.

There is

a backup option

, which will be a perfect way of storing info without worrying. You won't lose it, even if there is a problem with the server. All the data will be sent to a cloud service, such as Dropbox.
What is more, you can use the app even when you are offline. Some functions will remain active.
Both Android and iOS users can get Landlordy on the App Store or Google Play.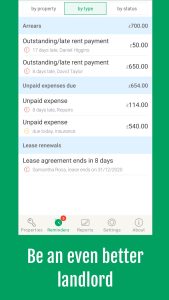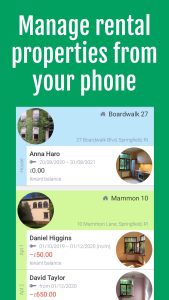 Propertyware Mobile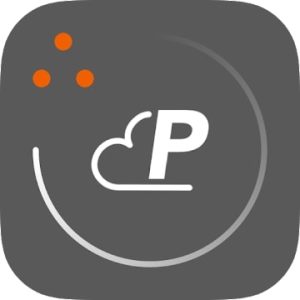 Here is a good application for managing multiple properties. It doesn't matter if you manage it as a company manager or you are doing such activity for yourself.
Right after the download, you will be able to access the following features:
Find people

using the power of Propertyware. Then you can communicate with them in the chat to solve issues easily and fast. Send messages to your tenants or vendors from your smartphone. It's much better than using an email or messengers. What is more, your info remains secure, nobody will access it without your permission.

Create and upload floor plans and take photos

of your property. This is vitally important for future tenants so that they could understand how all the rooms look and take a final decision.

Create notes

. Sometimes you might like to add some comments about your tenants. It can be connected to fixing some issues or checking payments. These notes are private, meaning you will be the only person who can see them.
The app is pretty new and a bit rough. Sometimes there might be glitches and bugs. Make sure you report them to enrich the app's functions and make it better.
If your app crashes too often, you can visit the website. It has all similar functions that can replace the mobile application for some time.
Propertyware doesn't collect any data about you. It won't affect your privacy in any way.
You can download the app on the App Store, as well as Google Play.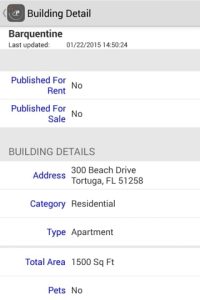 Property Manager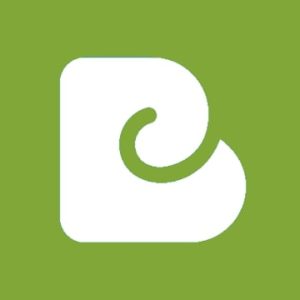 This is another great application for maintaining your property easily. Here is Property Manager, a great service that will help you manage your properties without spending time checking payments and doing boring paperwork.
This cool application combines necessary functions for landlords, as well as tenants.
Let's take a closer look at these features. Here are the best options for landlords:
Manage multiple properties

. It is a hard task to maintain more than one property. Now you can divide these flows of information and never memorize anything. All the payments and documents will be placed in different folders so you can easily access any info you might need.

Accept requests from your tenants

. This function allows you to solve problems on the go and control what's going on inside your property. If there is a crime, you will be sent a report saying what happened.

Manage agreements

and other documents. This will reduce the amount of paperwork you could have done manually.
There are also some functions for tenants (at the moment, they are not in the app but they will be added in the future):
Generate and send maintenance requests

. This will allow you to solve problems faster and inform the owner about the process.

Check your payments history

. This will allow you to control the amount of money you send to the owner. What's more, you can also analyze how much you pay each month.

Communicate with the owner

right from the app. This is a simple and safe way of communication.

Schedule payments

. Do you often forget to pay your bills? It's not a problem – the Property Manager will take care of these recurring payments.
The app is free of charge. Please note that the app is still being developed meaning it can be unstable at times.
Property Manager is available for Android users only.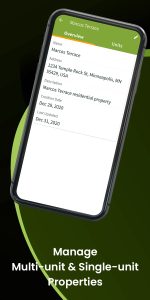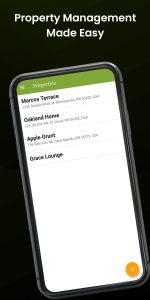 You can also check: 11 Best Apps to Find Apartments for Rent (Android & iOS)