The search for violators is one of the main tasks of any inspection. How often do you see people being stopped for speeding on the road or breaking traffic rules?
Usually, these situations are not caused by serious violations, but by minor speeding or deviations from the rules. But not all people want to pay fines for negligence, so they are looking for ways to avoid them.
Besides the fact that fines take up your money, you also spend time paying for them, talking to the police inspector, and other small things. What if we told you that there are special methods to identify police radars? And your smartphone could serve as a "search engine" for those things.
Applications that detect and warn you about radars will also help to avoid getting caught in traffic, you may also check our review on 11 Best Traffic Alert Apps for the USA (Android & iOS). Moreover, you will always know where exactly the road is blocked at the moment and how to better build your route.
Of course, there are not many really effective radar detection applications. But we have been able to find 11 good applications for you that will help you avoid getting into trouble on the road.
Waze
Fast routes cannot always be built even by your navigation device. Such systems do not always take into account the real-time traffic situation. What cannot be said about Waze – this application always knows what is happening on the roads of the world.
Traffic jams, road repairs, police stations, and even new accidents are all displayed in the app and taken into account when building a route. So if you want to get to your destination quickly, Waze is a great option.
When you open the app, you will immediately see exactly what is happening on the roads at the moment. After you build the route, Waze will automatically show you exactly what you may encounter on the road.
The system takes into account all the nuances of the road – even traffic lights – so that your arrival time is always accurate. In addition to routes, the application also has voice guidance from your navigation device – you just need to select the appropriate option from the list of voices and go on the road.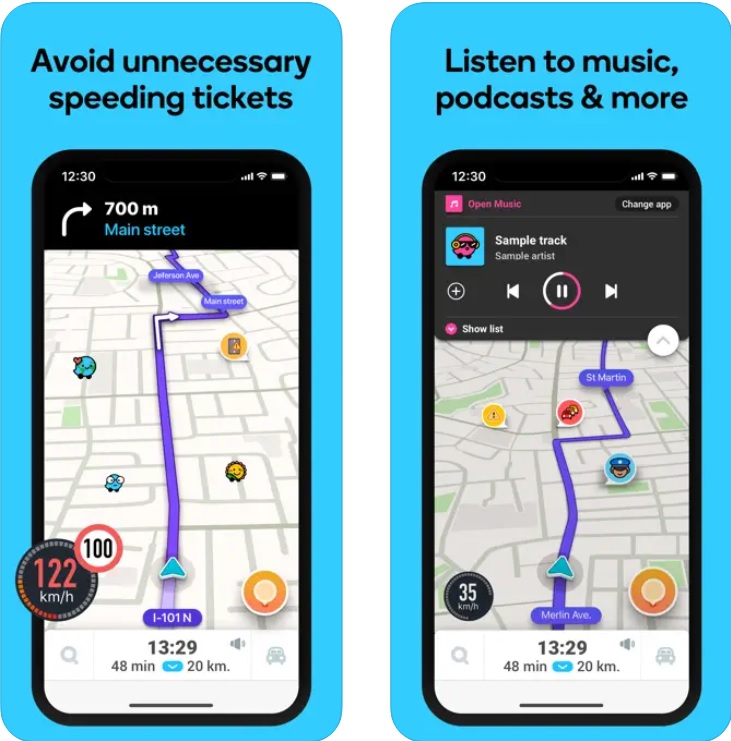 You may also like: 11 Free fuel calculator apps for Android & iOS
Radar Beep
Beeeeeep is exactly the sound you hear when something happens on the road. The Radar Beep app is an essential radar detector for drivers to help you avoid problems.
The main purpose of the application is to make life easier for drivers by alerting them about all the radars around them. You will drive through the control points at allowed speed, thus avoiding violations and subsequent fines.
Radar Beep uses the GPS of your smartphone and an internet connection to actually display the speed cameras. The program also has a radar map, which is constantly updated. This map shows your location.
You can use Radar Beep with your car navigation device so that your path can be fully tracked on the screen. With each update, the radar database grows bigger so that you can avoid all fines.
For convenience, you can even set up an automatic connection to the system via Bluetooth. It allows you to launch Radar Beep as soon as you get in your car and connect to the smart built-in system via your smartphone.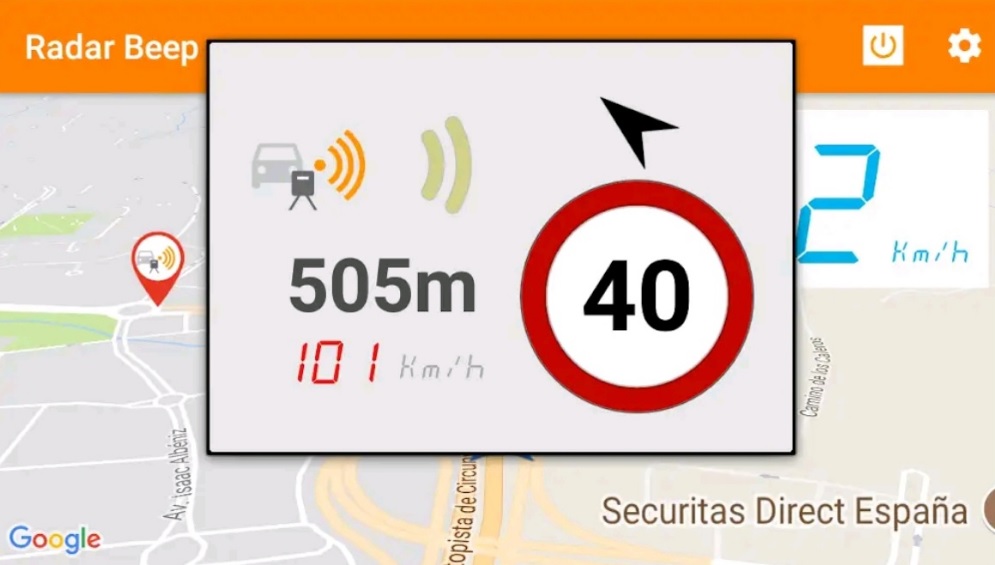 Cobra iRadar App
Cobra iRadar is a whole network where people exchange information about traffic radars, laser guns, speed cameras, and other tracking devices. Everything here is based on the fact that users warn each other.
That's why the whole the information displayed in the application is delivered in real-time. You will alert other users, and they will provide the information to you.
Drivers using Cobra iRadar have the most up-to-date information – even if the radars or cameras were installed just a couple of hours ago. All detector signals are displayed on your smartphone screen, and you do not need to be distracted by screen switching.
You will find out about all the vehicle speed detectors sometime before you approach them. There is a special system in the app so that you do not get false alarms. In city and highway mode, Cobra iRadar automatically reduces false alarms and will only warn you about real radars.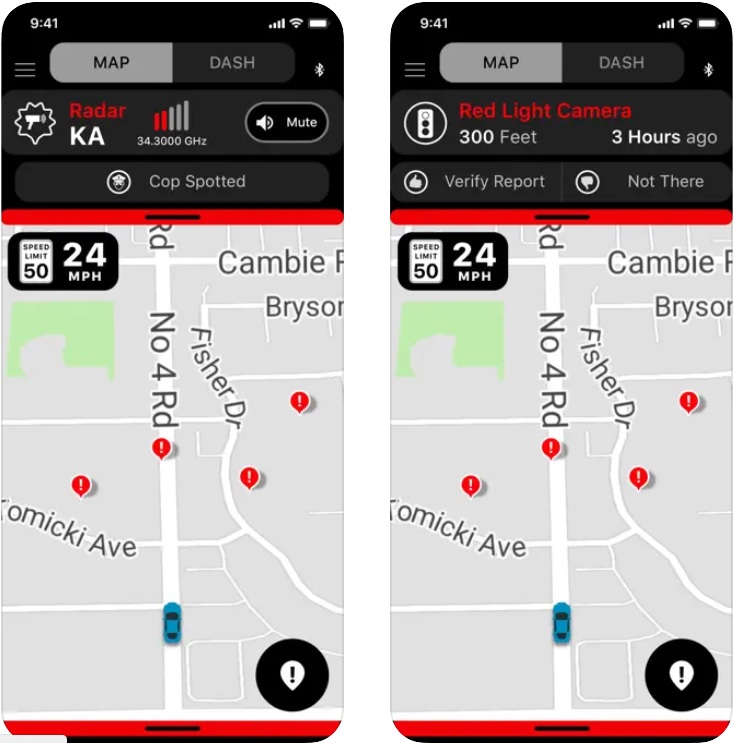 Radarbot
Radarbot will be your personal assistant on the road. It will warn you of all obstacles in real-time. It's also worth noting that this application is completely safe and legal, so you won't face any problems when using it.
Your driving with Radarbot will be safer, and the number of fines and your spending on paying for them will be reduced.
Radarbot is an audible radar informant – you don't have to constantly look at your smartphone screen for information. You will be able to relax behind the wheel and not be distracted by anything while watching the road and speed of the car.
Radarbot takes into account both stationary roadside radars and control patrols that are entered into the application by other users. In addition to radars, Radarbot can also track medium speed cameras and other tools for your journey.
Integrate this application into your navigation device and receive all alerts while you are driving.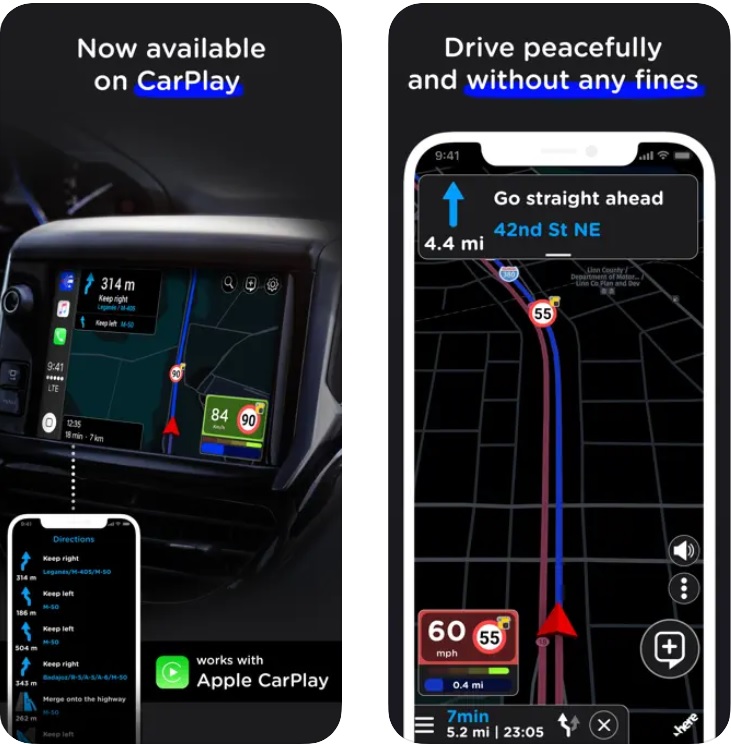 Escort Live Radar
We have already mentioned that some applications run on information from users. Escort Live Radar is an application that is based on information from you and other people who are constantly using the car.
You receive public alerts about all the speed traps you may find yourself in. Escort Live Radar also shows you police patrols, accidents, and dangerous road sections that are better to avoid.
Escort Live Radar can be used either as a navigator or in combination with Escort Live detectors. If you have used the system before, simply login to your account and continue to record your driving experience.
You can use several different features during your journeys, such as Live Motion and Car Search, to help you drive more easily. Escort Live Radar also has premium features for drivers who wish to combine their detector with the application. This way, they will work together and you will be more confident in your safety.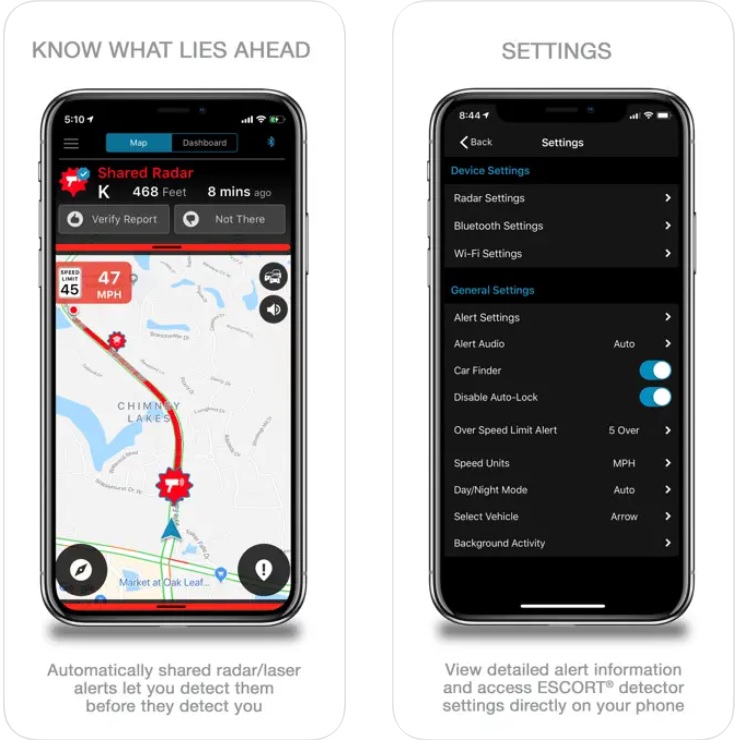 You may also like: 11 Best radar gun apps for Android & iOS
Skip Cams: Cam detector
Skip Cams: Cam detector app is a mobile app that provides real-time alerts for radar and laser traps, red light cameras, and other traffic-related hazards.
The app uses GPS technology to determine the user's location and then alerts them to any traffic hazards nearby. The app also allows you to report your own sightings of speed traps and cameras, which are then shared with other users in real time.
Skip Cams: Cam detector comes with several useful features such as voice alerts, adjustable speed alerts, and a customizable map view. The app also provides you with detailed information about each alert, such as the type of hazard and its location.
It's not perfect, however, and some users may experience battery life and reliability issues.
The app uses GPS technology to determine the user's location and then alerts them to any traffic hazards nearby. The app also allows you to report your own sightings of speed traps and cameras, which are then shared with other users in real time.
Skip Cams: Cam detector app has some drawbacks. Some users have reported that the app drains their phone's battery quickly and can sometimes be unreliable. Other users noted that the app's user interface is not intuitive and can be difficult to navigate.
Application features:
Useful application for everyday life
Uses modern technologies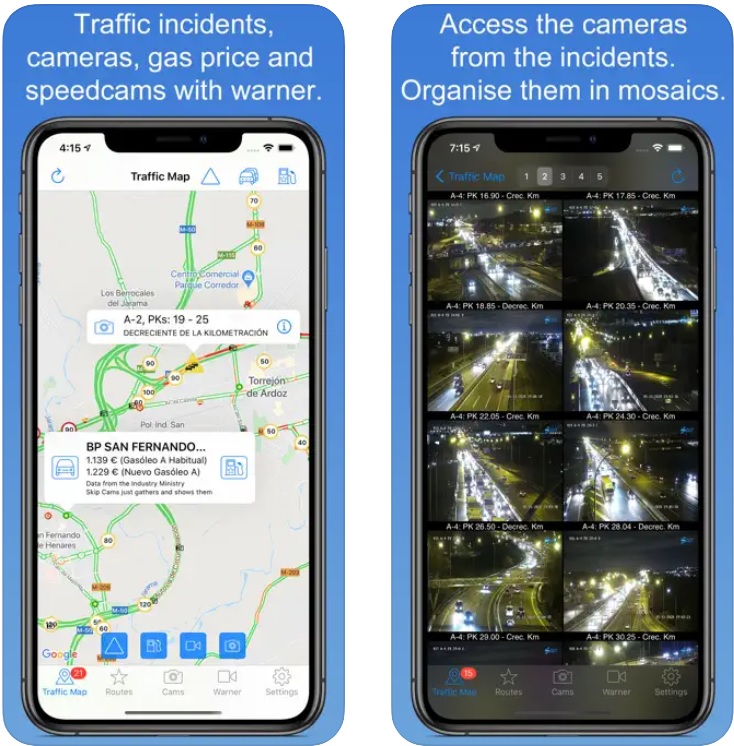 Speed Camera Rada
The applications that travelers value most are those that work around the world. Speed Camera Radar is an international application that has a huge database of all cameras and radars.
The most accurate information is provided for the international main highways, but those cameras that are located on small roads and streets of small towns are also recorded.
The Speed Camera Radar application is worth regular updating in order to keep you up to date with the latest radar information. The update consists of downloading databases with cameras to track speed for the country you are currently in. This system allows you to save memory on your smartphone.
By the way, you will also be able to filter out the dangers that you want to know about. For example, to get information only about security cameras, you will need to disable other alerts. You can change the list of dangers at any time.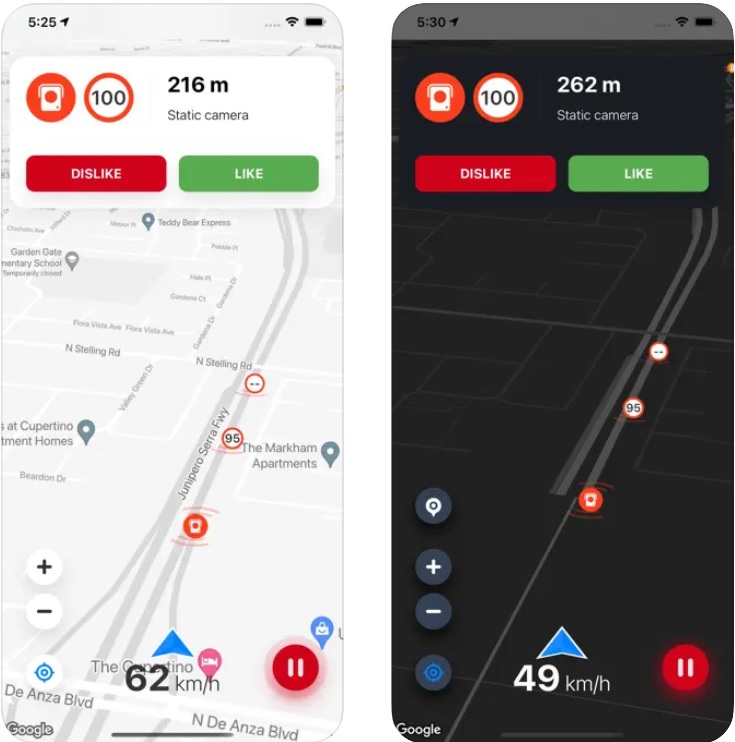 Speed Cameras Radar
Speed Cameras Radar will help you avoid fines in many countries of the world. Almost all countries that actively use speed control with the camera are supported in this application and have their own database of locations.
Speed Cameras Radar will show all speed cameras, which are stationary, as well as display mobile cameras.
After you launch the application, a map will open up for you. Beneath it, there are several buttons responsible for different functions. This can be a map of your current location, where you can search for a destination and a road to it, as well as update the list of cameras on the road.
With the zoom around you, you can see cameras that are more than 1 km away. Set a voice or notification to find out about all the nearby radars on the road.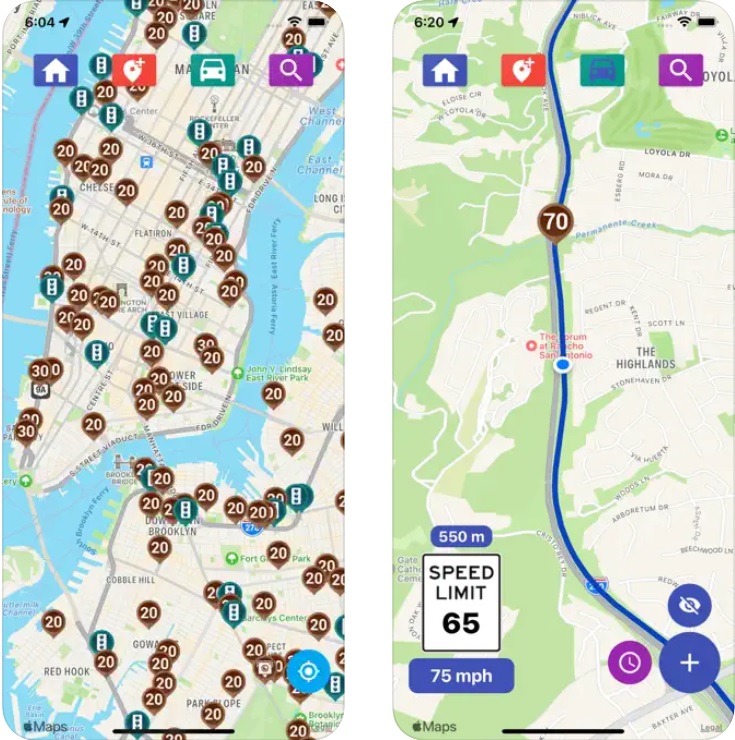 POIbase speed camera warner
Fines are an unpleasantness that every driver can experience. If you exceed the speed limit or break the rules a bit – the cameras will record this fact and you will have to pay for the violation later.
To avoid such incidents, the POIbase application was developed. If you use it, you will forget about fines and will be able to move around calmly and without any trouble.
POIbase application has more than 400 thousand active users, which helps developers to update data regularly. Even you can add radars to the app's database so that other drivers can see them.
With POIbase you will always be aware of the speed allowed on a given road section. While you are driving, the app will record this on its own and warn you about the next radars. There is no need to configure many additional indicators – POIbase will do everything automatically.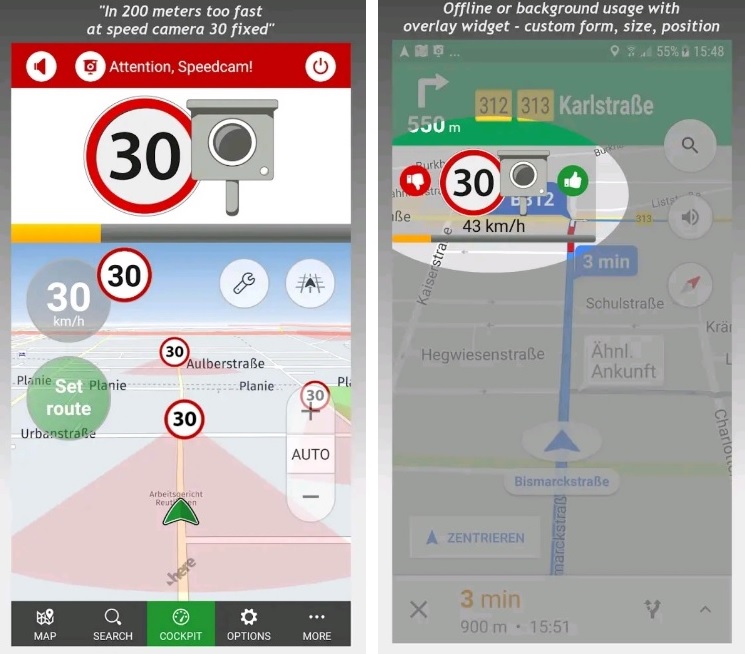 Smart Driver
Smart Driver is a mobile app available for, which helps drivers avoid speed cameras and police checkpoints while driving on the road.
The application performs the functions of an anti-radar detector and a GPS navigator, and also issues real-time alerts about the approach of police speed traps, cameras and traffic police posts.
One of the significant advantages of Smart Driver is its user-friendly interface, which allows users to customize the application according to their preferences, such as setting the distance at which they will receive alerts.
However, it is worth noting that using the application may violate traffic laws in some countries. Smart Driver is a useful tool for drivers who want to be alert and informed while driving.
Application features:
• Warns you about cameras and signs on the road
Minuses:
• May not comply with traffic regulations in your country.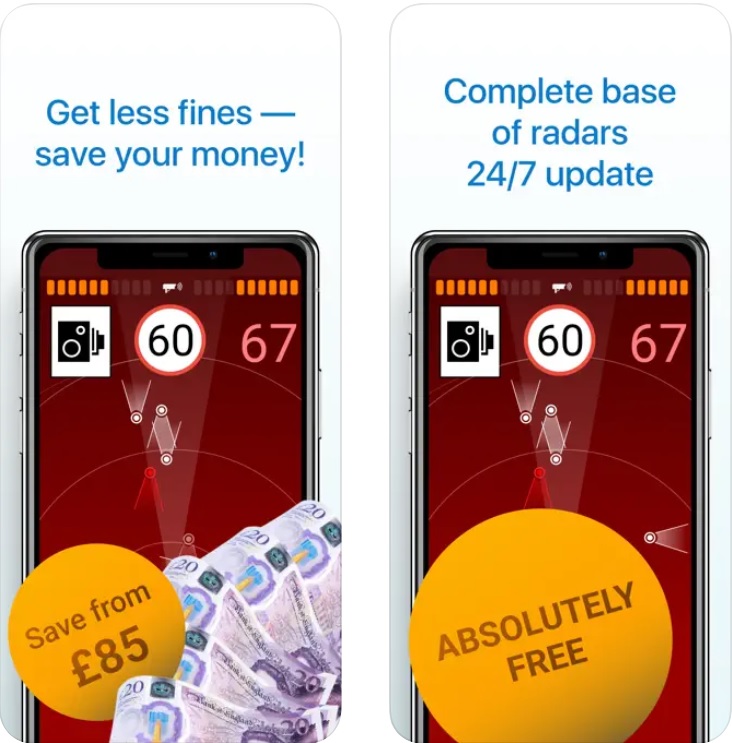 You may also like: 5 Best apps to fight parking tickets (Android & iOS)
CamSam – Speed Camera Alerts
In addition to cameras and road patrols, there is another unpleasant thing about the road. This is a red traffic light, which can prevent you from getting to a certain point quickly.
With the CamSam app, you can learn how best to build your route based on the color of the signal from traffic lights and road cameras. With the app, your smartphone becomes a warning system that tells you all the dangers on the road.
CamSam supports multi-window mode and can work offline – you don't need the app window to be constantly active. The system updates automatically every 5 minutes, alerting you to new cameras or patrols.
The alerts can be set up in both text and acoustic formats. You can also work offline with CamSam, but you will need to constantly download system updates to keep track of all possible cameras.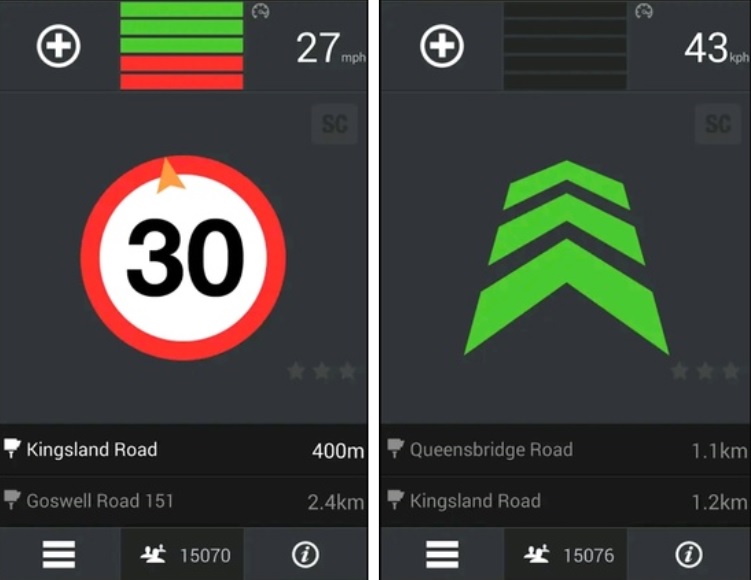 Traffic jams, road repairs, speed limits and more can make you uncomfortable while driving. If you start using radar detection applications, you can avoid such situations. Of course, this does not mean that you can now break traffic and driving rules, as well as regularly exceed speed.
Radar detection applications are designed for people who just want to make their movement easier and not waste time paying fines. Most of the presented services work at the expense of information from users, so the result is a joint effort. We hope that our article has helped you and now your driving will be more pleasant and safer.