Skincare is one of the important components of self-care. The selection of the right care depends on the age, nutrition of a person, and what kind of lifestyle they lead. In general, it's the reflection of our health – and to quickly fix this aspect you can find a health coach through the app.
A person's face needs constant care, so below we have collected for you the eleven most popular free skin analysis apps and websites.
Picky
This app is based on the history, recommendations, and advice of its users. With its help, you can find a product for your skin type and see compatibility with it. In Picky, you can earn points if you perform a daily care check.
Thanks to the points earned, you can participate in skincare sweepstakes or win a unique product from Picky (the application works with many cosmetic brands, including K-Beauty).

Of the disadvantages of the app: you should be careful with the choice of products, since reviews are left by ordinary users, not professionals, do not forget to look at the composition of the product and check if there are any allergens for you.

Thousands of reviews written by real people on the topic of skin care will help you discover new facial skin care products and even revise old ones, suddenly they are not so safe? Or why haven't I seen this brand before?

Honest reviews, articles, novelties – that's the main advantage of this app.
Share your stories and thoughts and be sure to find out about the composition of your cosmetics for facial skin care.

Share your experience with other users and give them advice, because they are the same people as you, and communication and discussion bring people closer. Thanks to the Picky app, you will learn how to follow a proper daily routine and properly care for your skin.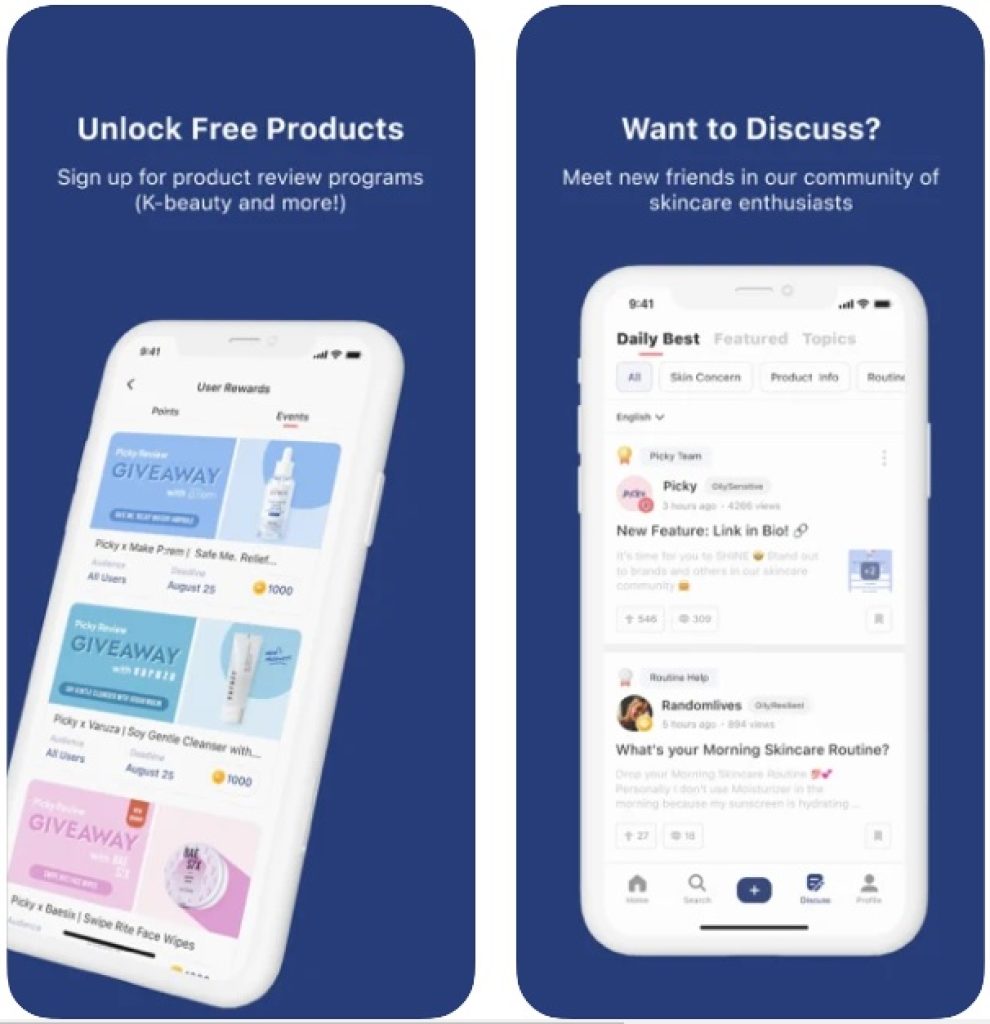 You may also like: 20 Best Yoga Apps
FOREO
The app serves as an individual coach and cosmetologist. First, the developers created it for FOREO gadgets, and later added tips with recommendations for healthy skin care.
Take the test after registration so that the robot creates an individual plan for your skin. By the way, this company has facial cleansing devices that synchronize skin scanning via a smartphone. You will regularly receive notifications from the app about tips and recommendations for skin care.

The app also has a personal calendar (so you can track, for example, whether you have acne before the menstrual cycle, or on which days of the month you are covered with rashes) If the app detects problems with hormones, it will immediately send you a notification about it.

By the way, the developers of FOREO promise to add personal online cosmetologists and a timer very soon so that you drink water at the right time during the day.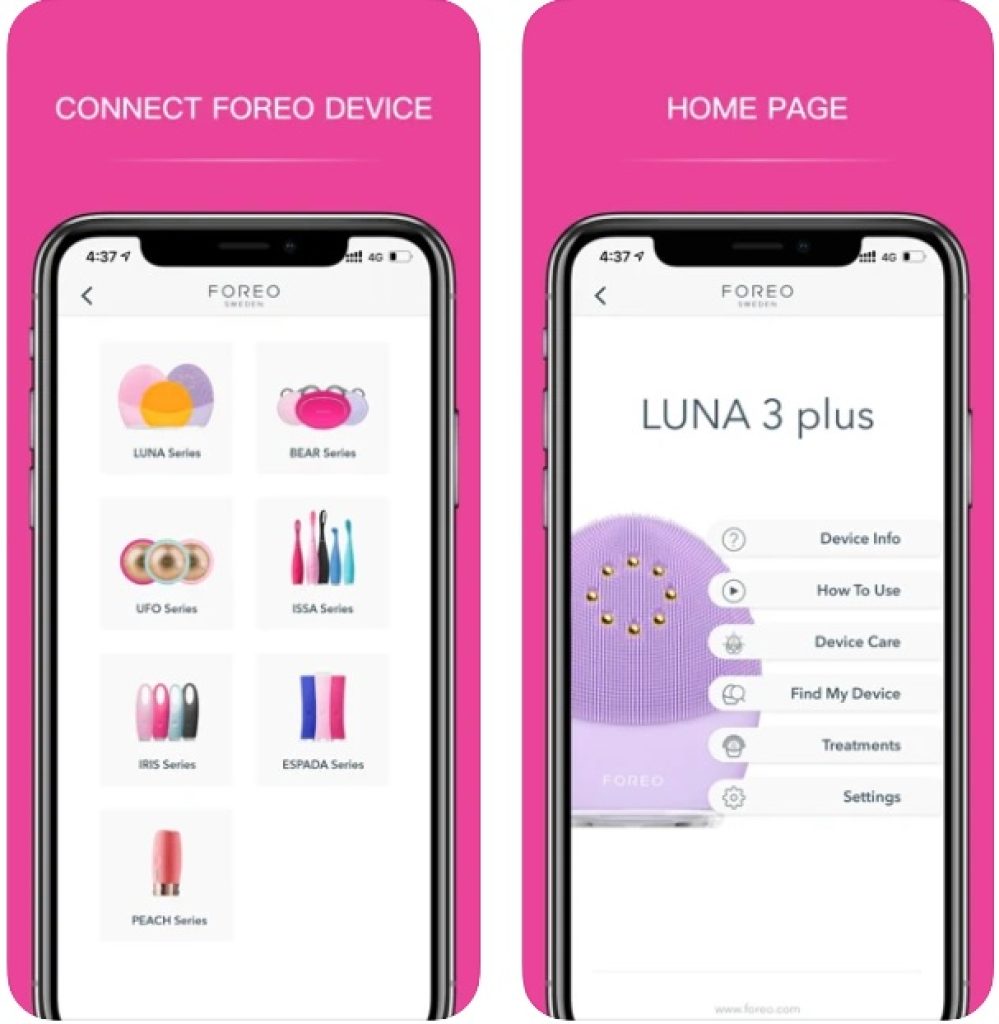 Glowbe
If you want to combine facial yoga, meditation, and affirmations, this app is for you. Thanks to a set of yoga exercises, your muscles will relax with the help of toning exercises and acquire elasticity.

Meditation will be a great way to come to peace after a hard day or bad thoughts and tune in to the right mood, and affirmations will help you feel better and accept yourself.

The app also has articles written by psychologists, dermatologists and cosmetologists, and the biggest plus is the round-the-clock support of professional cosmetologists.

Glowbe selects a comprehensive approach to the skin, providing a detailed description of exercises, affirmations, and meditations. Affirmations will help you cope with panic, stress, and anxiety, as well as increase self-esteem, and meditations will help you relax and improve concentration.

By the way, the articles in the app are written easily and interestingly, which can drag a lot of articles into reading for a couple of hours. The moto of the company is "Accept yourself and get a successful result", thanks to this app you can accept yourself and get a good result.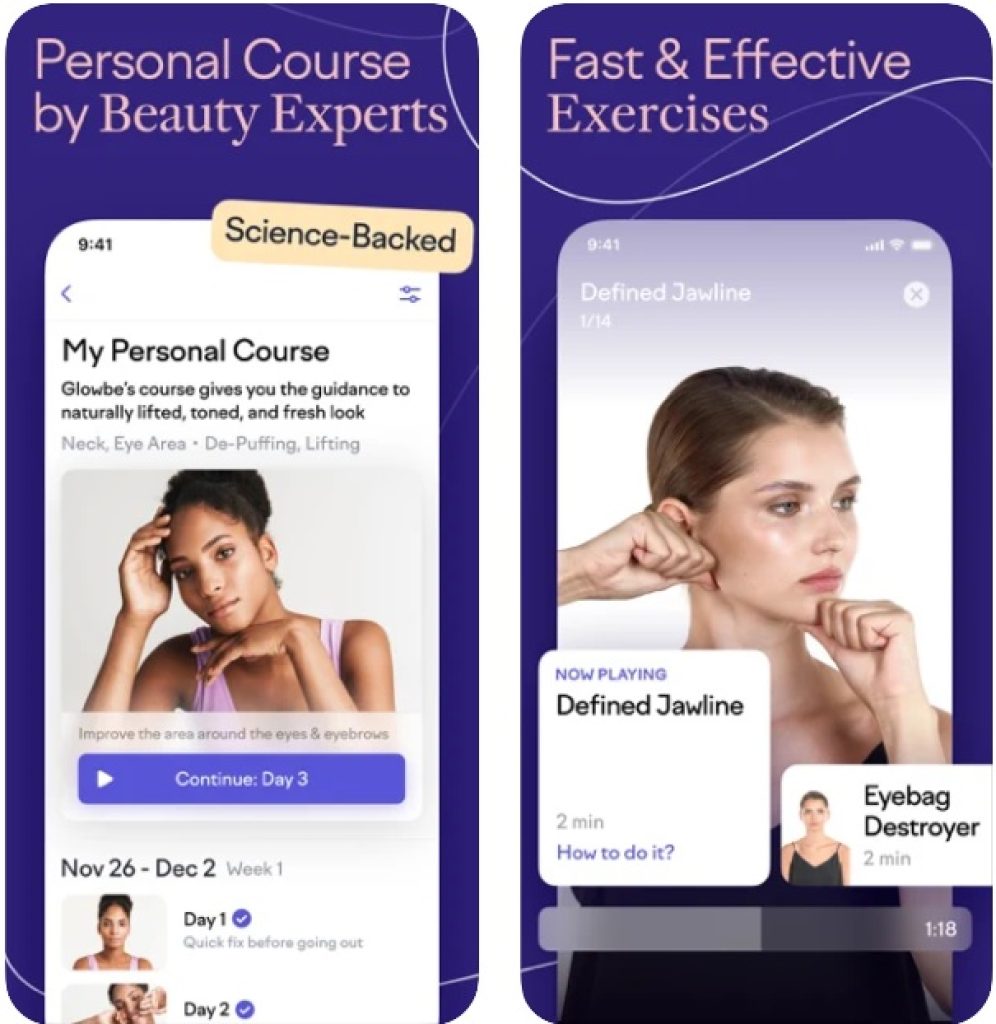 Water Reminder
The amount of water consumed per day greatly affects the condition and health of the skin, and for this the skin needs to constantly maintain hydration of the body.
A reminder about water will help you drink the amount of water you drink per day.

You need to specify your gender and weight, and the application itself will calculate how many liters of water you need to drink per day. You can also add your own reminders, and change the notification sound.

The functionality of the app is easy to use and will suit every user. At the same time, there is an important point, if the application says that you need to drink water 8 times a day, do not drink more.

Water consumption above the norm affects swelling under the eyes, swelling of the legs and can cause a feeling of "full stomach". Always remember about your norm, and you should always drink water.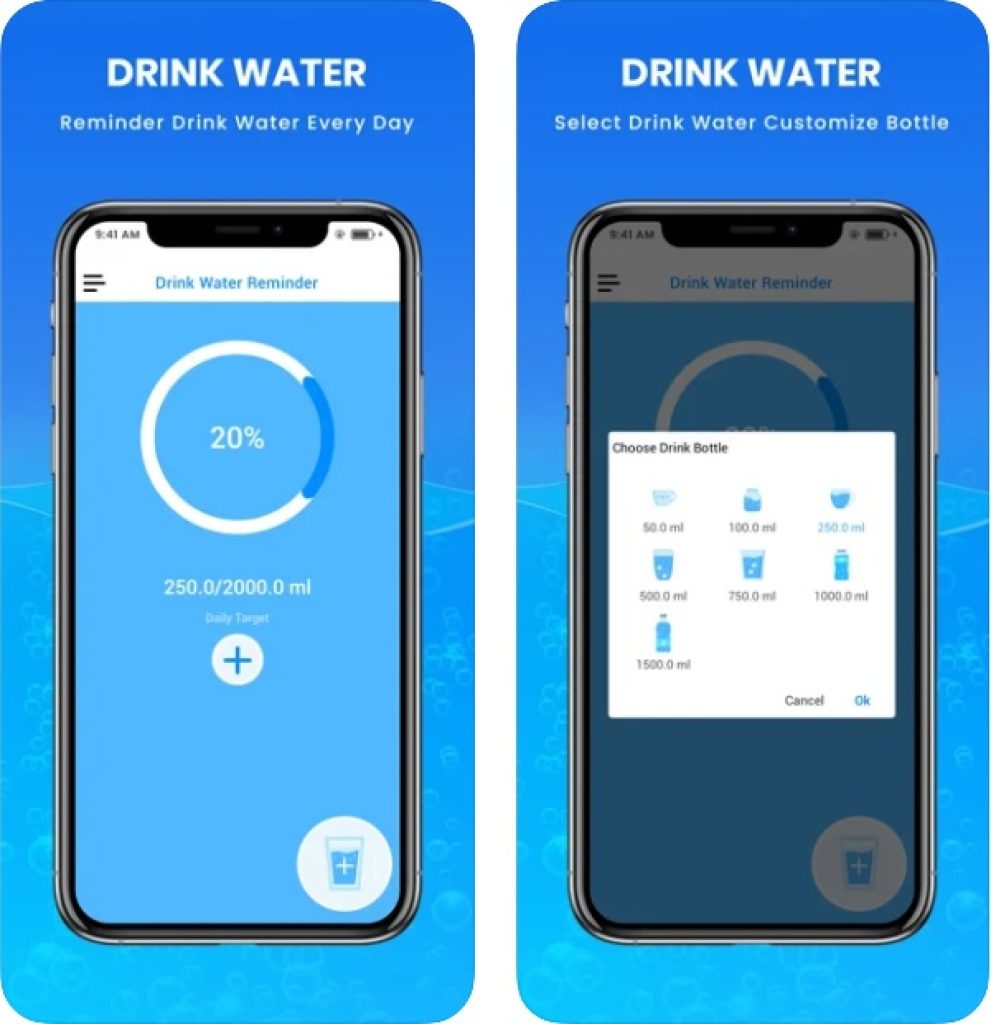 Skin Bliss
This is a universal application with advanced functionality that specializes in improving your skin by its type. When registering, you need to answer all the questions about your skin type (you need to know exactly in advance what type of skin you have.

To do this, you can use other services or take a consultation with a cosmetologist), after which Skin Bliss will select suitable products for you. If suddenly you do not like the proposed means, or you have already used them for care, you can easily skip them by swiping on the cross.
In addition, thanks to this application, you will learn detailed information about skin care, how ultraviolet rays affect skin health, why wrinkles appear, how to prevent small wrinkles in time, and what ingredients you need to use to make your skin feel better.

Don't forget to enable the "Timer" option so that the app reminds you to apply skin care products to your face. Set up a timer for drinking water, to constantly maintain the water balance in the body.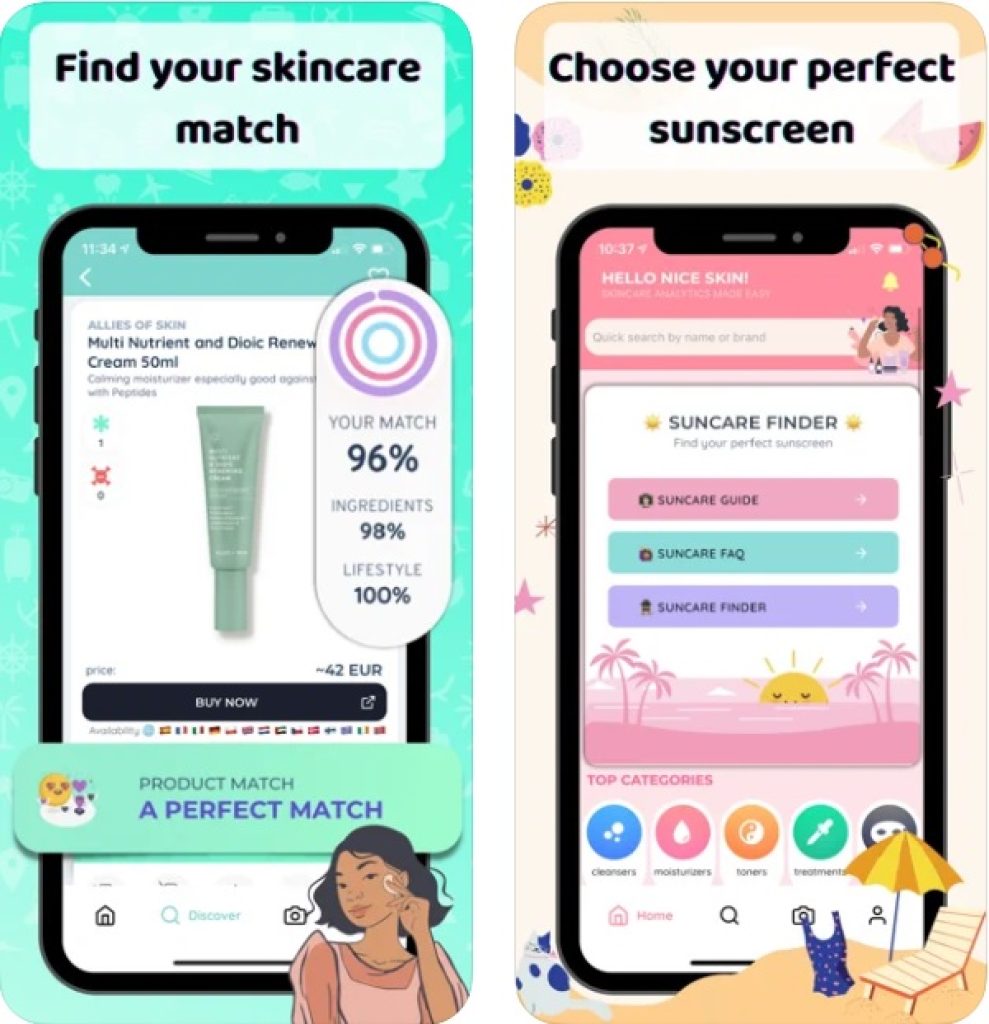 Dermstore
Skin care with the help of properly selected cosmetics will never be harmful to human skin. Some products, such as serums, may contain special nourishing vitamins for the pores of the skin, which can reduce the appearance of rashes and pimples.

This website specializes in skin care products. The assortment includes more than a million products and the site is updated regularly.

The assortment includes hypoallergenic cosmetics, cosmetics for each skin type, men's and women's cosmetics bags, facial cosmetics for children, and many other products.

The site is perfect as an addition to any of the applications described above, after you are recommended certain cosmetics for facial care. By the way, free shipping is available for the first two orders, so this service is popular.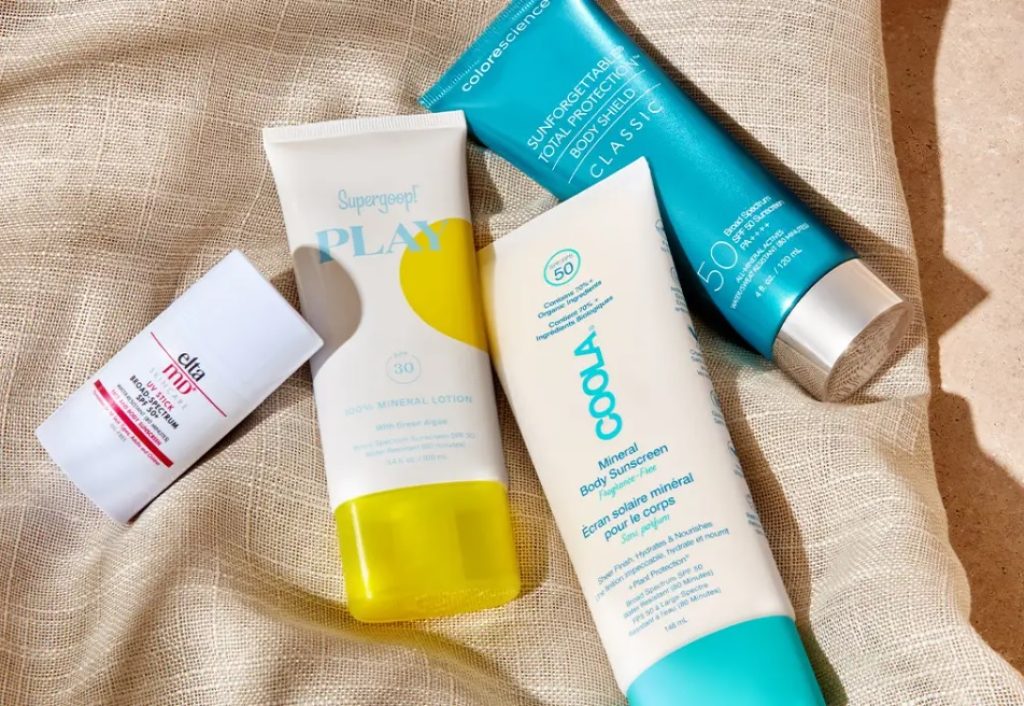 You may also like: 11 Best Drink Water Reminder Apps for Android & iOS
Skin Clues
This app is a social service and is intended for facial care. More than twenty functions have been developed to improve skin health.

Skin Clues contains articles, tips, notes, product reviews, recommendations from cosmetologists, popular and original cosmetics for facial care and periodic reminders six times a day that it's time for you to drink water.

Skin Clues tracks the progress of applying cosmetics for facial care and invites you to add comments to personal notes about changes.

The app generates an individual nutrition plan for you, sends videos about how products affect the pores of the nose and forehead, provides you with a list of spa centers in your region (including services and prices), and determines the needs of your skin from a photo.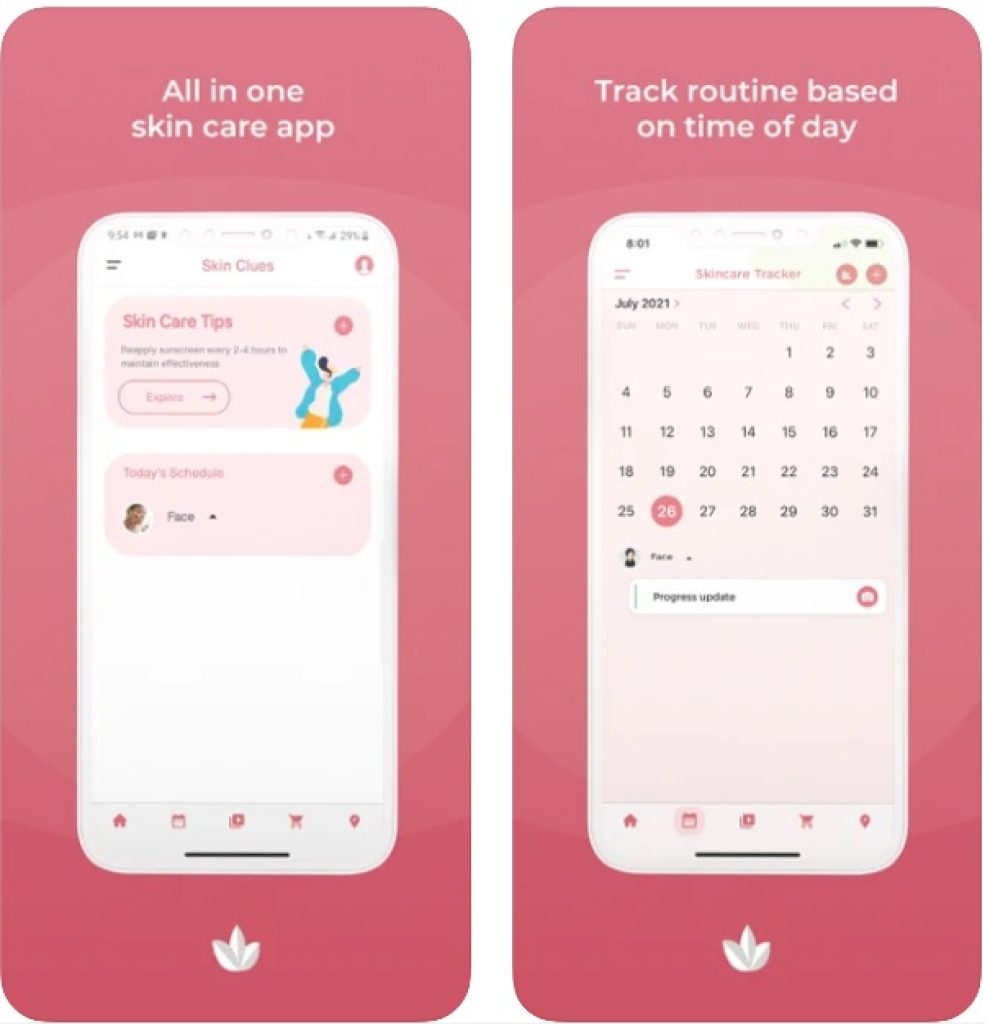 Think Dirty
If you are going to buy a skin care product and doubt that it will suit your skin and are afraid that you will have allergies, this application will come to the rescue.

Think Dirty scans the barcode of the product and shows the entire composition, identifying toxic compounds and chemical additives, if any. The app database contains more than one and a half million products, so it will not be difficult to find your product.

The app can also make a rating of your bathroom, collect information about your cosmetics and bathroom accessories up to the brand of cotton pads and collect a list of selected cosmetics in the shopping cart and view an overview of any facial care products inside the app.
Experts have also developed a system that provides a certificate for any scanned or found product.
Checking the composition of cosmetics and skin care products has become much easier thanks to new technologies, so this app is a useful assistant in order to protect yourself from allergens.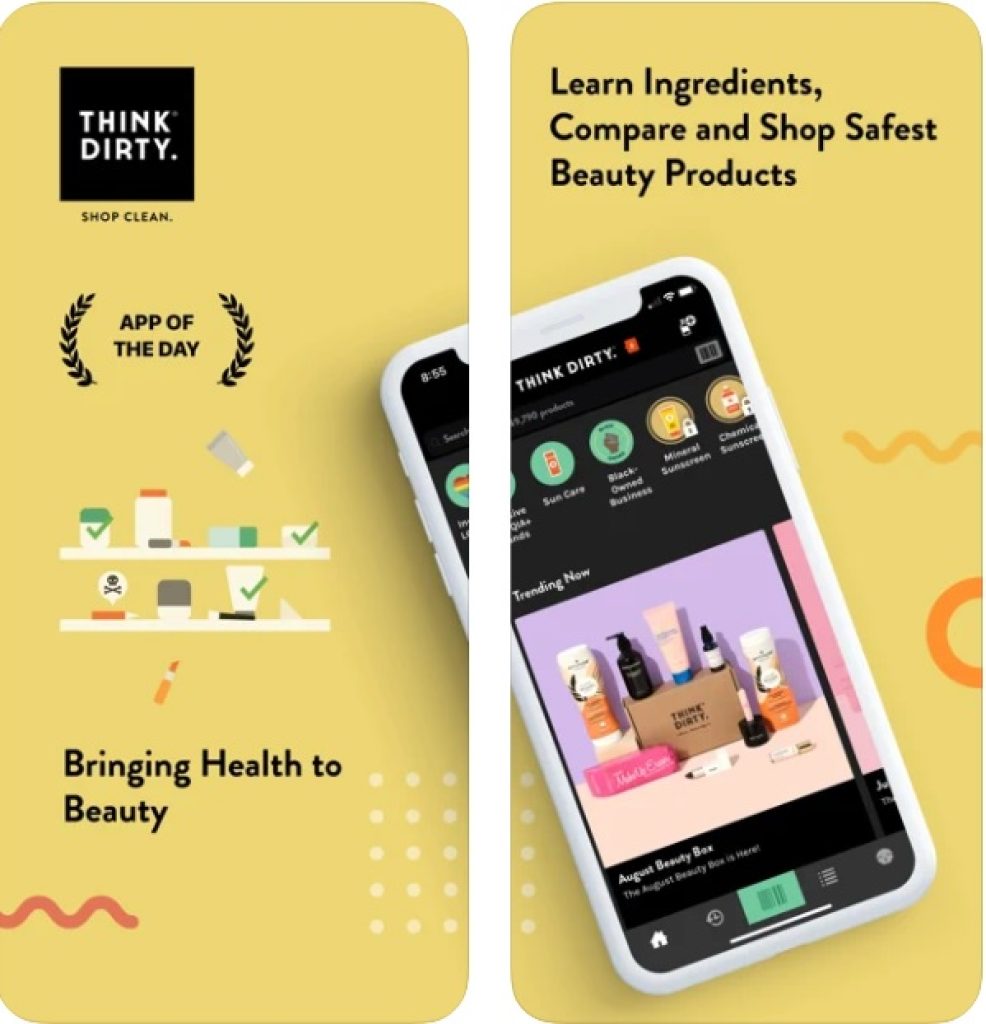 SkyMD
Humanity is switching to advanced digitalization, we can scan rashes on the skin and find out the cause, we can find a treatment method on the Internet, and perform thousands of operations from our smartphones.

It's no secret that an online consultation with doctors is no different from a traditional doctor's appointment. This app allows you to make an appointment with a dermatologist online. The application is designed for skin and the prevention of skin problems.

All the medics that you will see in SkyMD, have many years of experience in a wide range of consultations and treatment of skin rashes and diseases.
They are also available 24/7 for admission, moreover, the time of your appointment is unlimited and no one will bother you, you will be able to ask all the questions you are interested in.

Your medical record will be required for proper operation, and the doctor will check you with a video call and photos. Register, specify your state, fill out the medical receipt form, and upload photos. The doctor will receive the data and make an appointment with you, prescribe treatment or select skin care products.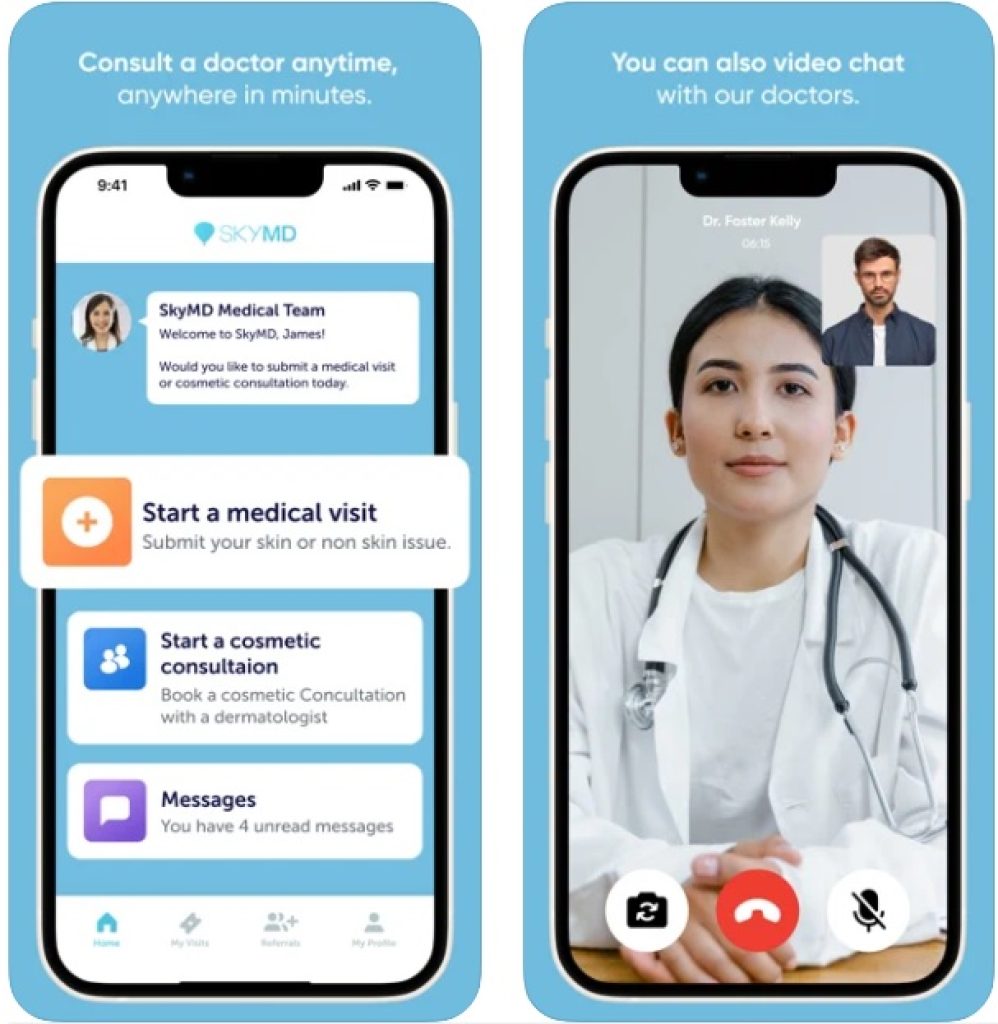 Skincare Expert skin by l'oreal paris
The company l'oreal Paris cosmetics has created a landing site where articles on skin care of the face and body are published every week, they tell about such body features as stretch marks on the legs, abdomen and sides, as well as offer cosmetics for skin care.

The product category is designed for women, men and teenagers. For women, products of the lifting category, foams for washing, cleansers against acne and blackheads and other products are offered. For men, there are hypoallergenic shaving foams, creams against rashes, and irritations.

Useful articles are published weekly, for example, how not to over-dry the skin during washing and why the face should be wiped with a wet paper towel, not a cotton one.

Also on the site there are articles dedicated to gymnastics for the face. Once a month, the site launches Black Friday, where you can buy a lot of discounted products.

By the way, an interesting fact is that l'oreal Paris in 2019 responded to the fact that they do not test their cosmetics on animals, which gave consumers confidence in them.

The pleasant visual of the site is well perceived by the eyes, so you can see for yourself.

You may also like: 11 Best cosmetics & beauty apps
Face Yoga – 10min4beauty
The well-being of your skin is influenced not only by diet and daily care but also by the factor of facial massage.

Yoga for the face is a facial training app that will make your skin supple, prevent the appearance of wrinkles with the help of gymnastics, and the skin will acquire a healthy appearance. All workouts are designed in accordance with the methodology of professional exercises and facial techniques.

The functionality inside the app will remind you of the need to start your workouts and show you tips on how to manage them correctly. Facial Yoga contains more than two hundred exercises. Much attention is paid to the eyes, nose, cheeks, cheekbones, forehead, chin and neck.

The course of the programs itself is designed from seven days to three weeks. When you do the exercises, you will see yourself through the front camera, if suddenly you do something wrong, the app will immediately tell you how to perform the exercise correctly.

You can track your progress, take notes and keep track of the result. Natural facelift with yoga exercises is not only cost-effective but also useful. The exercises are not difficult, and after seven days of use, the skin changes and acquires a healthy appearance.

Your facial yoga classes will be accompanied by music, and your progress will be saved and recorded, you will also be able to broadcast with trainers once every two weeks, they will share tips on health and skin cleanliness. Take ten minutes of your time a day to improve the condition of your skin!