Why bother to text something nowadays, using the tapping on a keyboard? Meanwhile, the AI can recognize any type of speech and turn it into text. So in order to make your life easier, we have collected free speech-to-text apps which are trending this year.
And if you also want to explore the app that converts text into speech then you should go check this article.
Speechify – text to speech tts
Speechify is one of the best peach generators that can read your books aloud. Now it's not necessary for you to read the books when Speechify can read them aloud for you and you just can listen to them. It works fast and flawlessly so you can convert any text into speech in no time.
This app also gives you the possibility to create a digital library of your online books for free. And this app can be your best mate to practice your English skills. All you have to do is just to choose the type of voice you want to hear and then enjoy the reading.
You can upload the texting or a floating directly to the app. You can create an audiobook out of pdf, and also you can use online articles, documents, or just a picture of the book. One of the app's best advantages is that here you can customize the talking voice and specify provides several options for that.
You will find several types of voices in more than 50 languages, including English and Spanish. What is more important, you can select the speed of the speech and customize it according to your needs.
In addition, Speechify has one of the best user interface designs among all the apps in this category. The app is easy to use and all the functions are placed wisely and logically which makes it easy for users of all levels to quickly navigate the app.
The speed can be up to 900 words in a minute. The only dubious aspect of Speechify is that it only has a free trial period. After that, you will have to go for a paid subscription.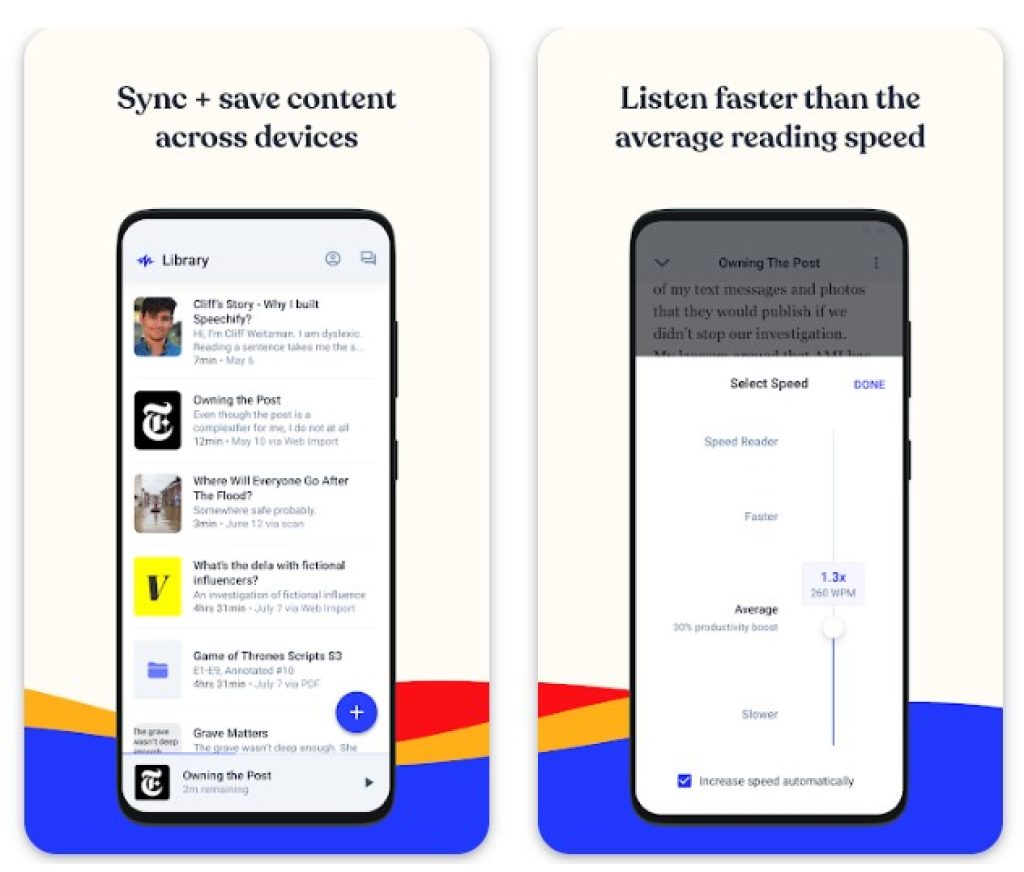 You may also check: 11 Best speech-to-text apps for Android & iOS
Narrator's Voice – TTS
This is also one of the most popular and best apps in this category. It's more versatile than the previous app and it's aimed not only at reading books. Here you can convert any type of text to speech. You will be able to convert the text into an MP3 audio file or even into a video.
The app is capable of reading any type of text file. Or, the app includes a feature where it can immediately read the text that you are typing in real time.
And just like the previous app, the Narrator's Voice has the abroad possibilities for voice customization which means you can choose the type of divorce that you want to hear and you can also choose effects in several languages. To be more precise, the app includes more than 50 languages from all over the world.
One of the distinctive features of the Narrator's Voice app is that here the voice of the reader sounds natural and not artificial. And for those who want to have a little fun, there's a special effects section where you can use the voice effects such as pink cheap, MLG, Cortana, and others.
This is a perfect tab for converting the text into speech to use for the videos on your social media. It has an interesting interface design that gives it more of a matrix wipe. In general, narrator's voice is a great app, but its only downside is that it has a lot of ads.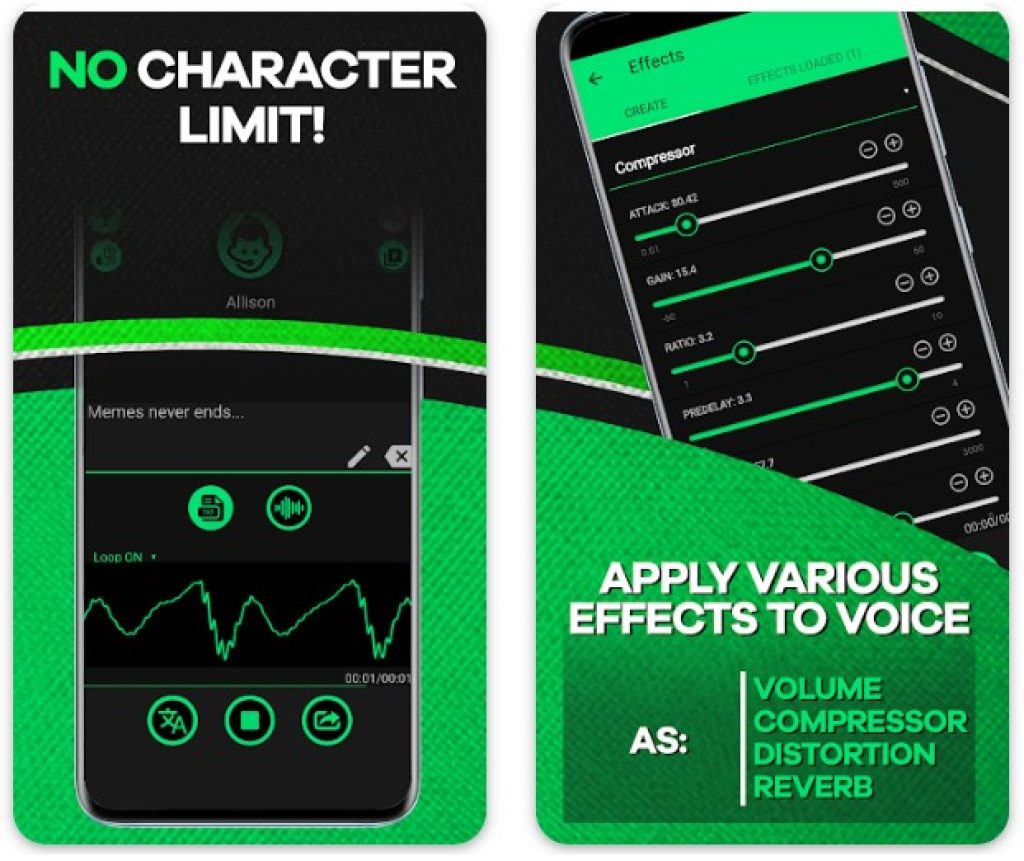 NaturalReader – Text to Speech
NaturalReader is an app to convert your text to speech and that can read any text aloud. It can also read text from PDF files, Backpages, and digital books. One of the special features of NaturalReader is that it has pleasant-sounding voices that read the text.
Besides, the app positions itself as an Irreplaceable tool for people with dyslexia and other reading difficulties. Here you will discover a new written experience for you with more than 50 different voices in more than 20 languages.
Developers claim, that this app can also be useful for students who need to read a lot of books and that it can save their vision. Of course, the process of reading is highly customizable, and you can regulate the speed of reading and even the colors of the app according to your preferences.
Considering the interface design itself, we found it it's a little bit plain, but overall it maintains a good minimalistic style and it's pleasant to the eye, especially when you need to read something.
And again, the disadvantage of this app is that it only has a free trial period. And after that, you have to go for a paid subscription.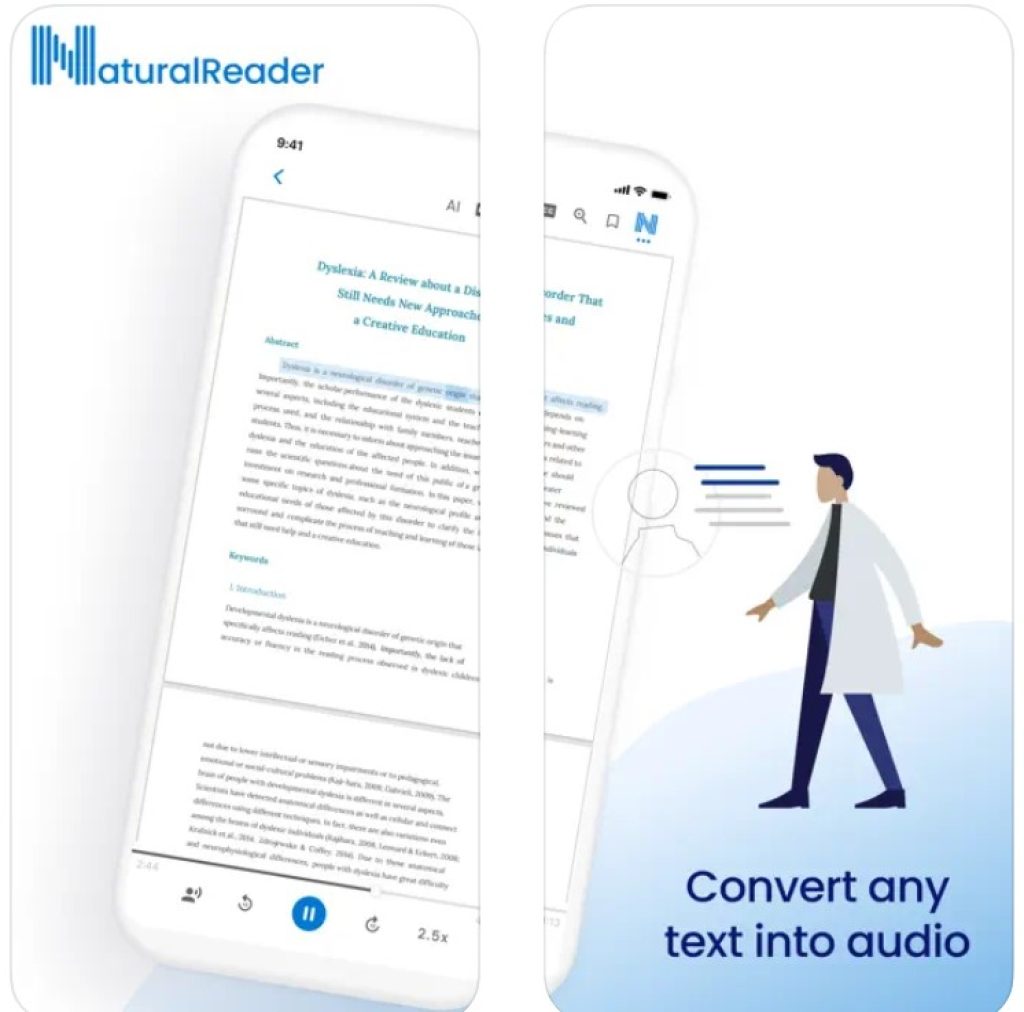 Check also: 11 Best apps to write text on videos (Android & iOS)
MetaVoicer
MetaVoicer is an app that reads the texts aloud for the video content. In other words, this app was made for you to create audio files for the videos that you want to post on your social media. All you have to do is to copy the necessary text to the app and MetaVoicer will read it for you.
The app itself includes several types of voice tonalities, including funny ones. Those are useful if you want to prank someone or just create a funny video. All the voices sound quite artificial, but that's kind of a trend in the nowaday's TikTok.
You can also adjust the emotions in the voice and the speed of the speech. And sometimes you don't even have to copy the text – the app allows you to scan the text from any surface and add it! Although, its scanning and text recognition abilities are questionable.
MetaVoicer also allows you to convert the text into audio tracks and then export them to your devices as Mp3 or MP4 files. In total, here you will find more than 100 languages and dialects. The diversity of voices is quite striking – more than 1000 types!
Despite all the privileges mentioned above, the app only has a short trial period that you can use for free and after that, you will have to spend some money if you want to keep using it.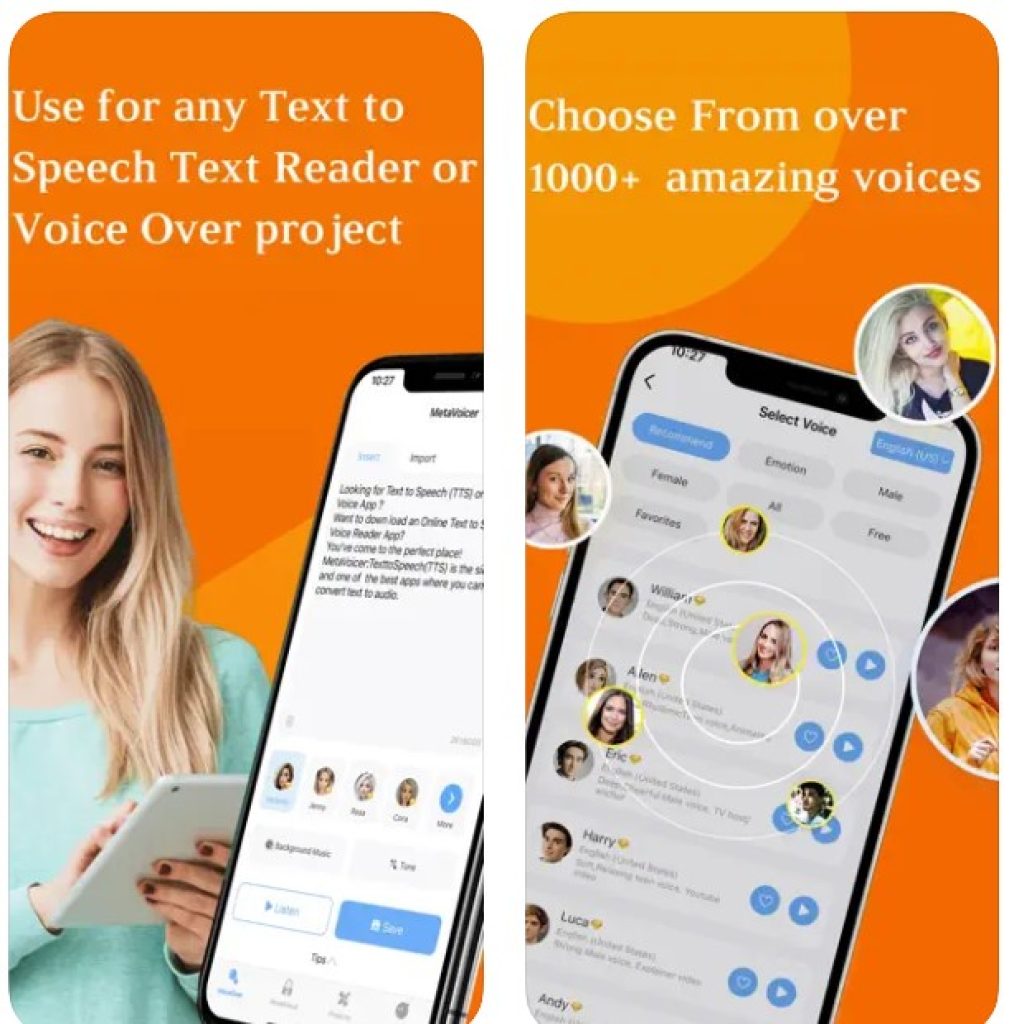 Pocket
The best advantage of the Pocket app is that it can work offline. It means that this app is an excellent way to save articles to read later when you have no internet signal. From the first side, although, it doesn't look like the pocket app is also a text-to-speech reader.
Actually, the future supports multiple voices and languages and includes adjustable voice analysis and of course, you can adjust the speed. Additionally, it supports background playback so you could keep listening while you're using other apps or just doing other business.
And since the text-to-speech reader is one of Pocket's native features, it's really helpful when you want to listen to some long-form content while you're on a trip and you don't have an internet signal.
However, in case you want to listen to the text from other apps or web pages and so on, this is not a suitable choice for you.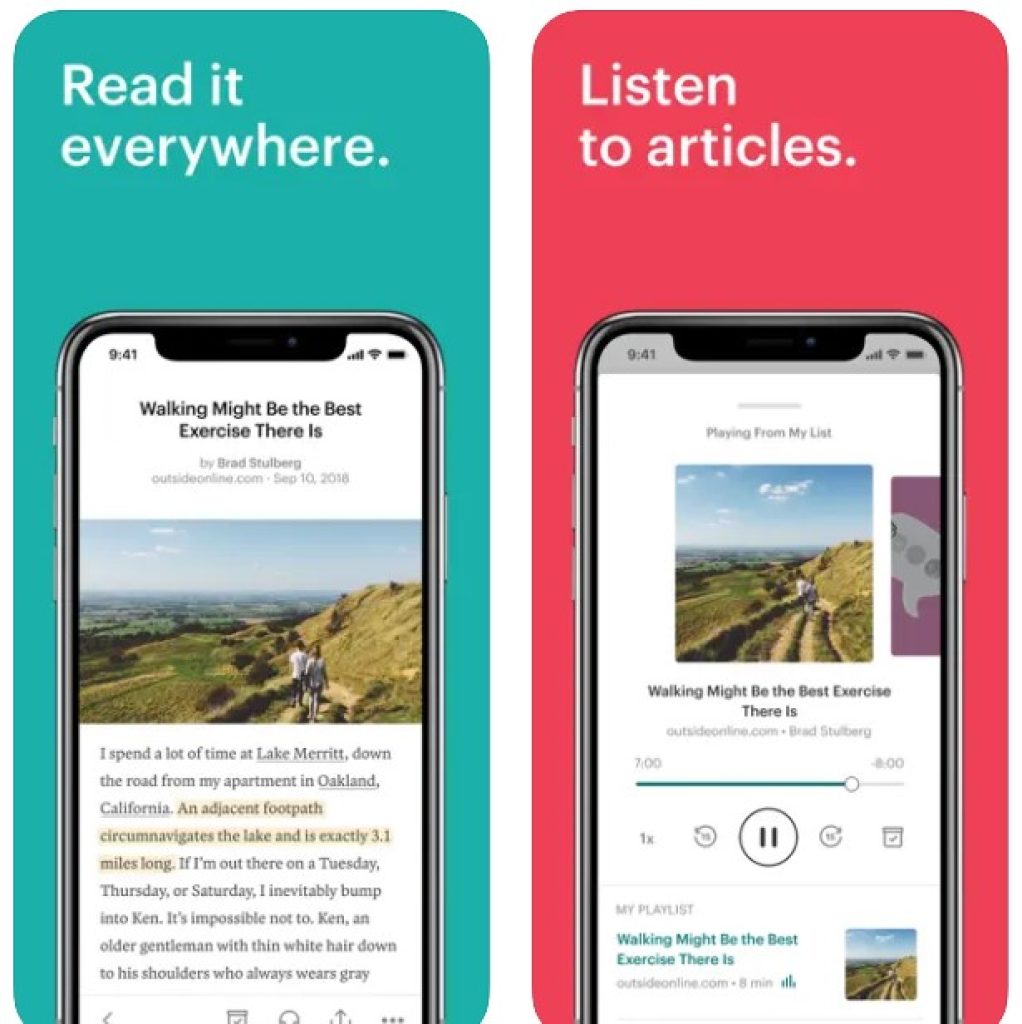 T2S: Text to Voice/Read Aloud
This is one of the most popular apps in this category and honestly, we liked it too. First of all, we like the simplicity of this app and the absence of headaches when you need to understand how to use it. The app is capable of reading text, ePUB, PDF, and other files and it can also convert the text file into audio files.
Another unique feature of T2S is the built-in web browser where you can just open your favorite website and all the apps to read that web page. T2S is able to read the text that you are typing in real-time.
Overall, this is a great and useful app for reading text aloud, of course, it's not a bag-free app and sometimes you know it is that it's like living its own life inside your phone and keeps uploading files when you don't want to upload anything, but that happens only on some devices.
The interface design is typical for an app of this type and basically, it's easy to use. And its made advantage, probably is that it doesn't make you go for the pay subscription and there is a free version of the app that you can use forever.

Talk FREE – Text to Voice
Frankly speaking, we wouldn't pay attention to this app but it turned out to be one of the most popular apps on Google Play so probably it does a good job. And truly this is a versatile app that allows you to convert text to The Voice from different sources.
The app supports the import of the way pages right from your web browser so you could listen to them. In addition, you can import text from all other apps. What interesting feature of talk free is that it can export the audio files that it previously converted from the text.
The diversity of languages is also here but keep in mind that you need an internet connection for that. The app is also useful for people with poor vision. However, among the downsides of this app, we found its user interface design obsolete and boring.
It seems like developers haven't updated it for years. The overall process of converting the text into speech works decently and mainly without any delays, but the app lacks some of the features which are applicable to modern standards and that's why it's rather a runner-up than a top app.

You may also check: 14 Best Voice to Text Apps for iPhone & Android
Text to Speech!
Yes, we know that text to speech app looks like quite a simple app from the first side but it actually one of the most popular apps in this category for iPhone, so let's take a closer look. And actually, it's a pretty decent reader with more than 178 different voices to choose from.
Another interesting aspect is that these voices are available in more than 63 different accents and languages. By the way, unlike the majority of the apps on this list, this one can work even when you don't have an internet connection.
When we talk about the customization possibilities, then in the Text to Speech! app you can adjust the page and rate of The Voice. The function when the app can speak the text immediately after you type it in is also here.
The app can highlight is poking text and here you can star mark your favorite phrases. And just like the previous app, this one can convert text into audio files. The only thing is that the interface design is super simple but don't be fooled by the looks of it. It's a free and great app for converting text to speech.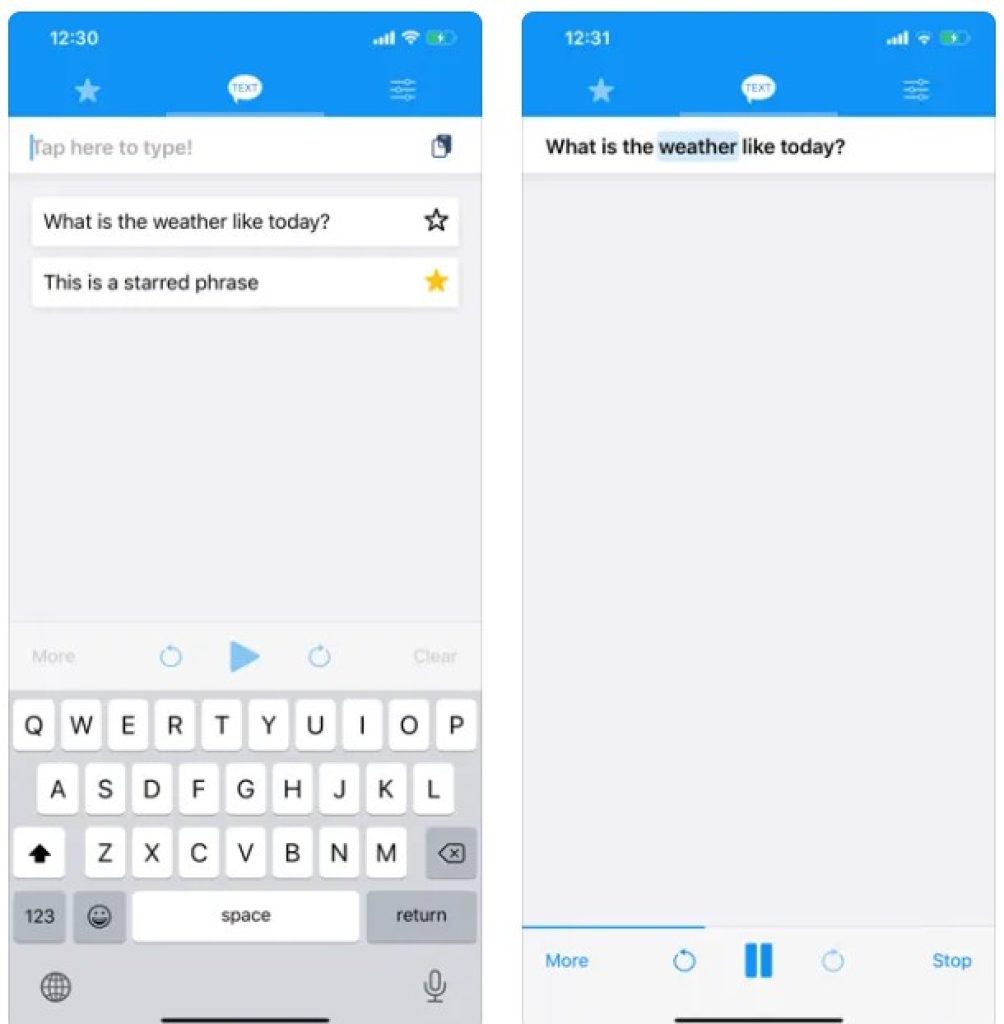 Speak4Me – Text to Speech
In general, Speak4Me is really similar to the previous tab, text to speech and it offers three simple tabs. The first one is for favorites, the second one is for the actual text to speech and the last one is for the settings.
In the best traditions of the apps that allow you to convert this speech into text here, you can change the rate and the pitch of the voice. And like in any decent app of this category, here you can choose between an array of voices and a reasonable variety of different languages can also be discovered here.
So with the function of converting the text into audio files, you can also share those audio files across social messaging apps. You can also save them to your device to listen to them later.
In addition, another interesting feature of the speakers for me app is its voice animation which doesn't add anything functionally wise but when you want to have fun it's nice to use.
The app doesn't provide any way to convert a text to speech and phone calls but this can be circumvented by setting your phone to the loudspeaker and then using the listen button on the app for the person you're calling to hear.
The interface design is even more playing than in the Text to Speech! app, but it's not that significant since the app includes so many features. And that's for free.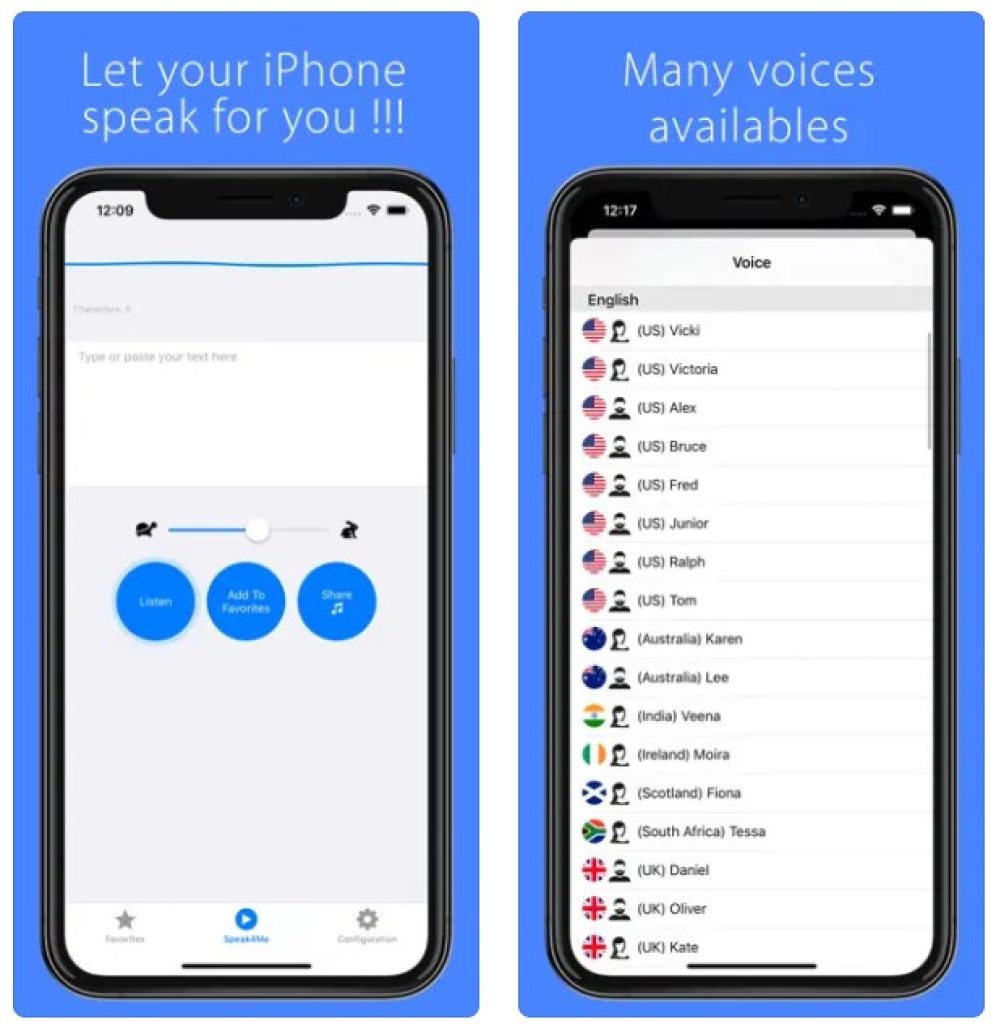 Voice Aloud Reader
Even though you cannot tell it from the first side, Voice Aloud Reader is actually a very capable and responsive app that can save you tons of time by reading allowed digital text from websites, books, and other sources. Just like any decent type of this category, it includes a variety of languages.
It's interesting that only three voices here are in English. So for the international audience, this might be the best choice in this category of apps. Another cool feature of Voice Aloud Reader is that it has an inbuilt web browser that allows you to search for web pages and then read them aloud in the app.
You can also use the My Library Tab where the app can read books and files allowed. When you install the app to your phone, already has such books as a Christmas carol, Adventures of Sherlock holmes, and Alice in Wonderland and you can add more books by pressing the add icon in the top right.
You can also import documents of your own. All in all, we would definitely recommend this app and it doesn't have any significant disadvantages.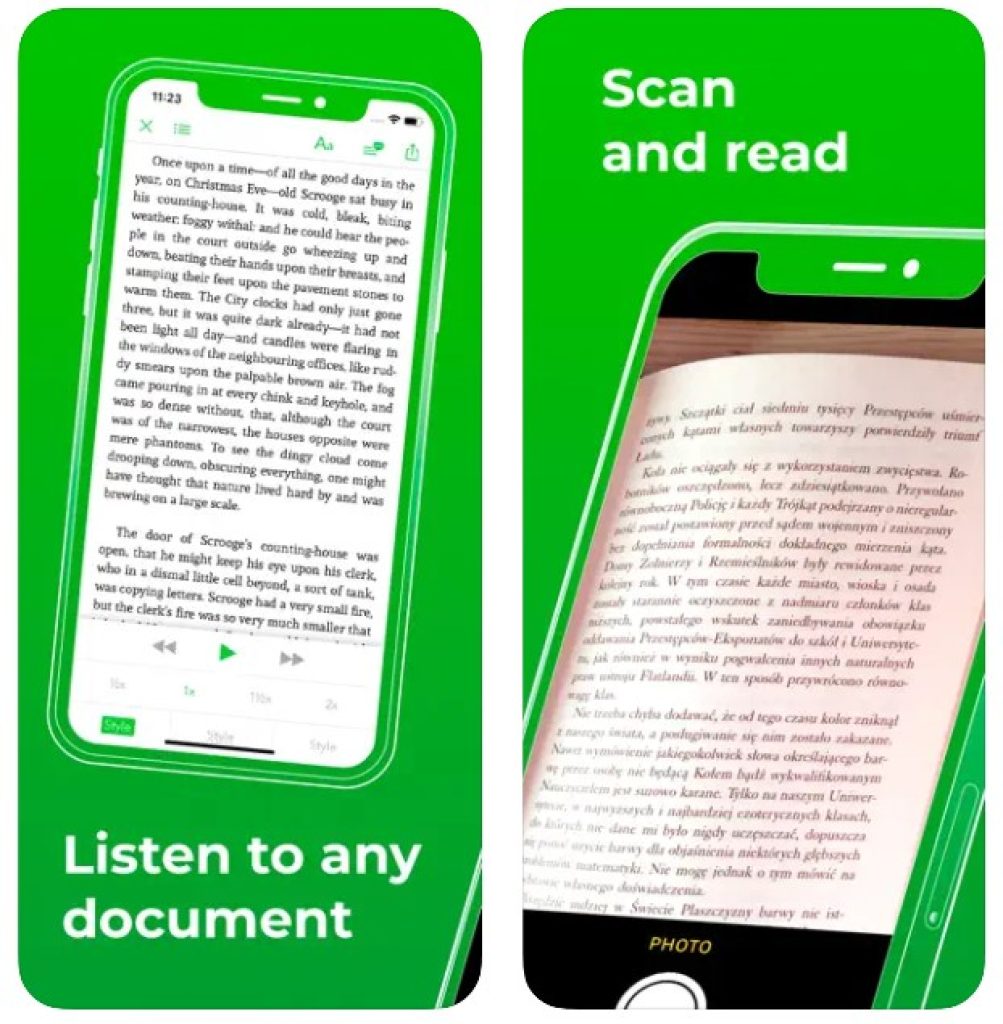 eReader Prestigio
If you're looking for an app that could read the digital books allowed and that's it then look no further than an eReader. This app was developed specifically to convert the text that can be found in the books into speech. The app can read all the possible formats of digital books.
In addition to that, it has an interface in 25 different languages, and what is even cooler, it can provide you access to more than 50,000 books in 25 languages, and more than 5,000 of the books are free.
Before you are using the app you need to create your account and synchronize your data with the app. After that, you can use the eReader app with no limits. There are also functions cutting the book, where the apples can your device to automatically find all the books you store and uploaded to the app.
The app has a convenient user interface with excellent design. In order to read the book aloud, there is a button at the top of the screen. At the same time, here you will not find the possibility of selecting the tonality of the voice and all the stuff so the reading process might feel a little boring.
In all other aspects, this is a great and tremendously popular app and all of those who like to read will definitely appreciate it.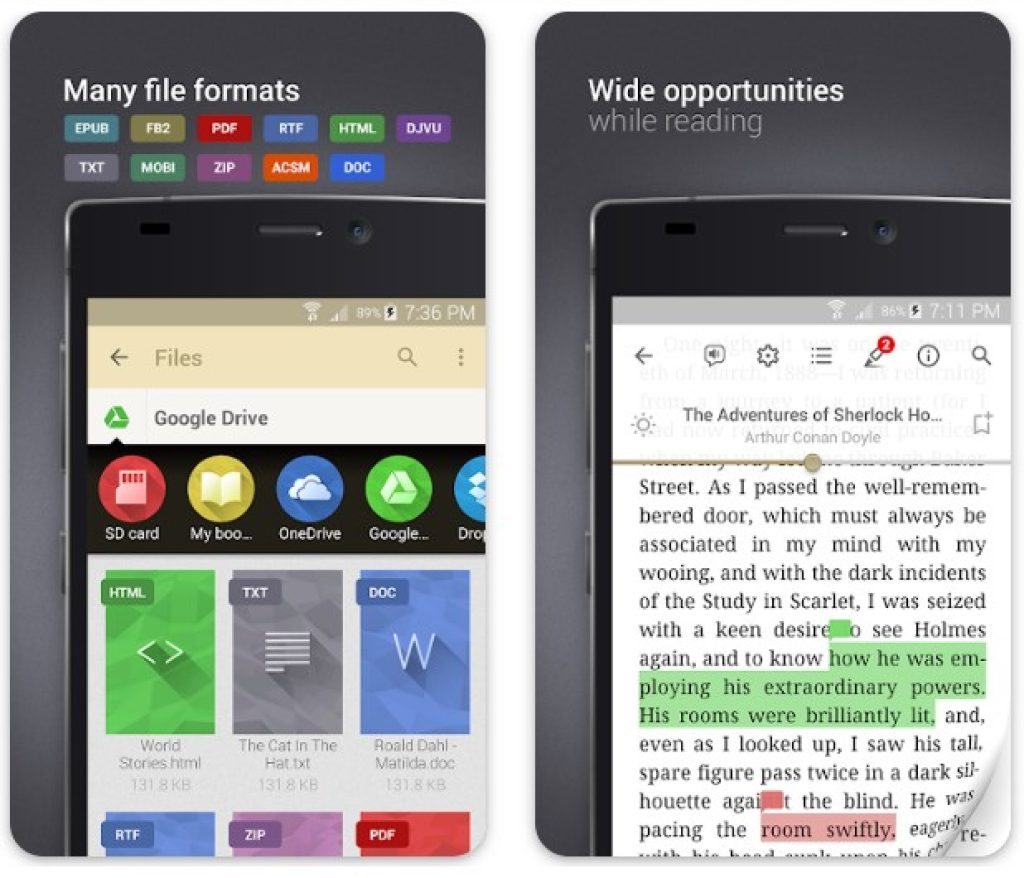 You may also like: 15 Free PDF Editor Apps for Android & iOS
Text to Speech (TTS)
This is one of the most simple apps for converting text into speech, but obviously, simplicity is the key, since a lot of users are enjoying it. Text to Speech can turn basically any type of text into narration in no time.
It's not the most powerful and versatile app in terms of reading various text formats and digital books, but when it comes to simply copied text, no problems should occur.
The interface design is plain and simple – and therefore, this app will be suitable for older devices. At the same time, it's not that flawless- many users complain that it doesn't work at all on their devices and that the accuracy of the text recognition is low.

Speak • Speech Synthesizer
The speak app has very decent text recognition ability and it also includes a simplified user interface design it allows you to learn the layout of the app Within minutes. If you want to input boards you can use the central box, then you need to press this big button in order to hear them play back to you.
And just like in the previous Text to Speech! and Speak4Me apps, here you can alter the peach of the boys, the tonality of the voice, and of course the speed of the audio by using controls just below this pink button.
One interesting future of the shop is that here you can export your entire history as a CSV file or you can export it as an individual audio recording. That provides a decent range of languages and different tonalities of voices. Unlike the previous apps, it doesn't have the ability to import books or web pages.
On the other hand, you can always circumvent this by copying and pasting text from a web page or a digital book to the app. There are also no-app features to use while on phone calls, but this can be compensated by using allow speaker while on the call.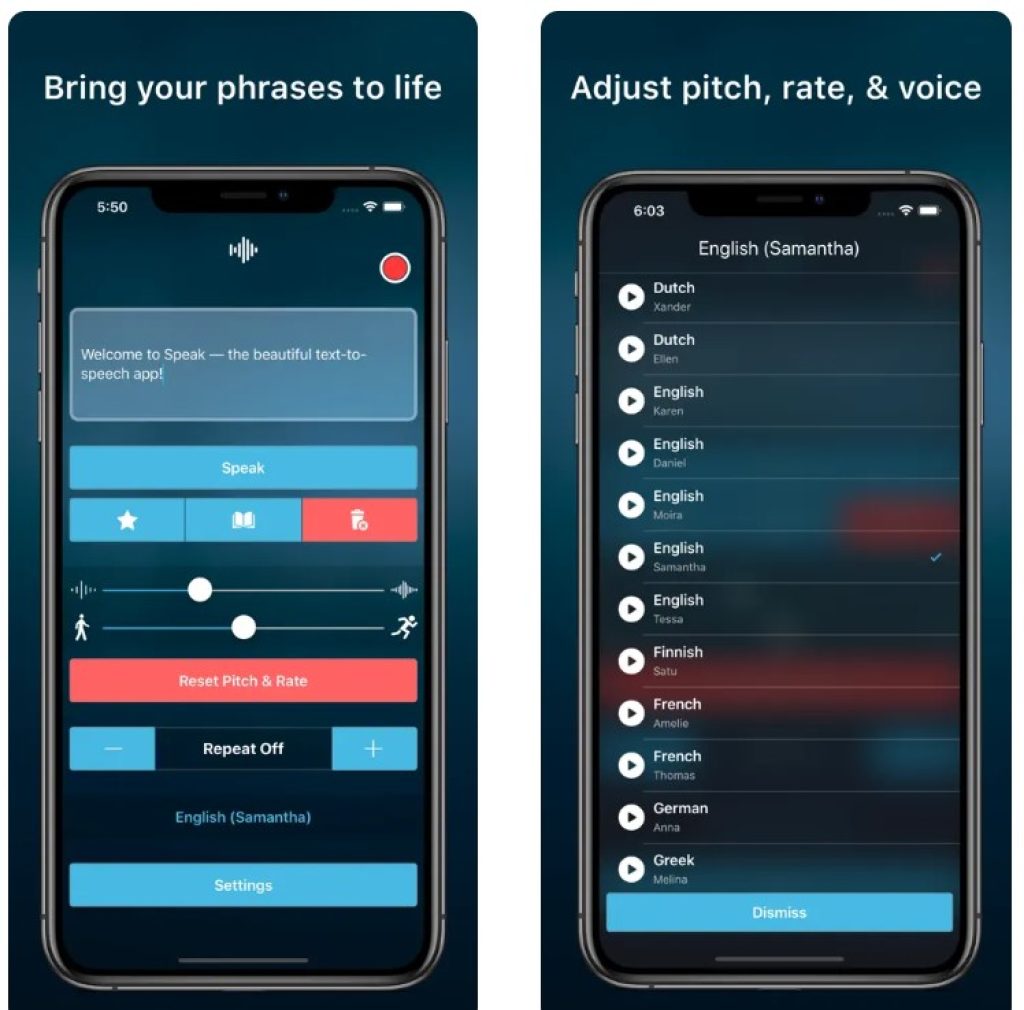 Text To Speech: Audio Books
This is another decent app for iOS phones or converting text into speech and as you can see it's simple to navigate and responsive. You will find here a great list of options for your text-to-speech needs. Here you can import texts and images from the phone storage and gallery, camera, text, links, or cloud storage.
You can also include any text from almost any place and have it read out to you by Cutting Edge artificial intelligence. By the way, The Voice here sounds more natural and lifelike than the voices offered by other apps on this list.
The only thing is that the number of voices offered in this free version will be quite limited and in order to get the full diversity you will need to go for the paid subscription. So for those whose ears are extra sensitive to artificial speech, this is a great option.
You can also play around with the speed of the playback making the voice sound faster in case you need to read a certain extract of the text as quickly as possible. Additionally, you can categorize your text into folders.
And for easy access, the app will highlight the word which is being spoken so it's easier for you to follow. Once again, we highly recommend paying attention to the quality of the voices in this app because it's really good.
The app includes more than 20 languages in it and you can listen to more than 50 high-quality natural human voices. The app also gives you the possibility to scan physical book pages with your camera device and then you can convert them to audible text.
This app also is a great solution for users with reading dyslexia. The speed of reading can be increased up to five times faster.
The interphase design is also great, the app looks fresh and innovative, it's really easy to navigate here and it's obvious that the developers have put a lot of thought into it. Overall, this is one of the best apps on our list.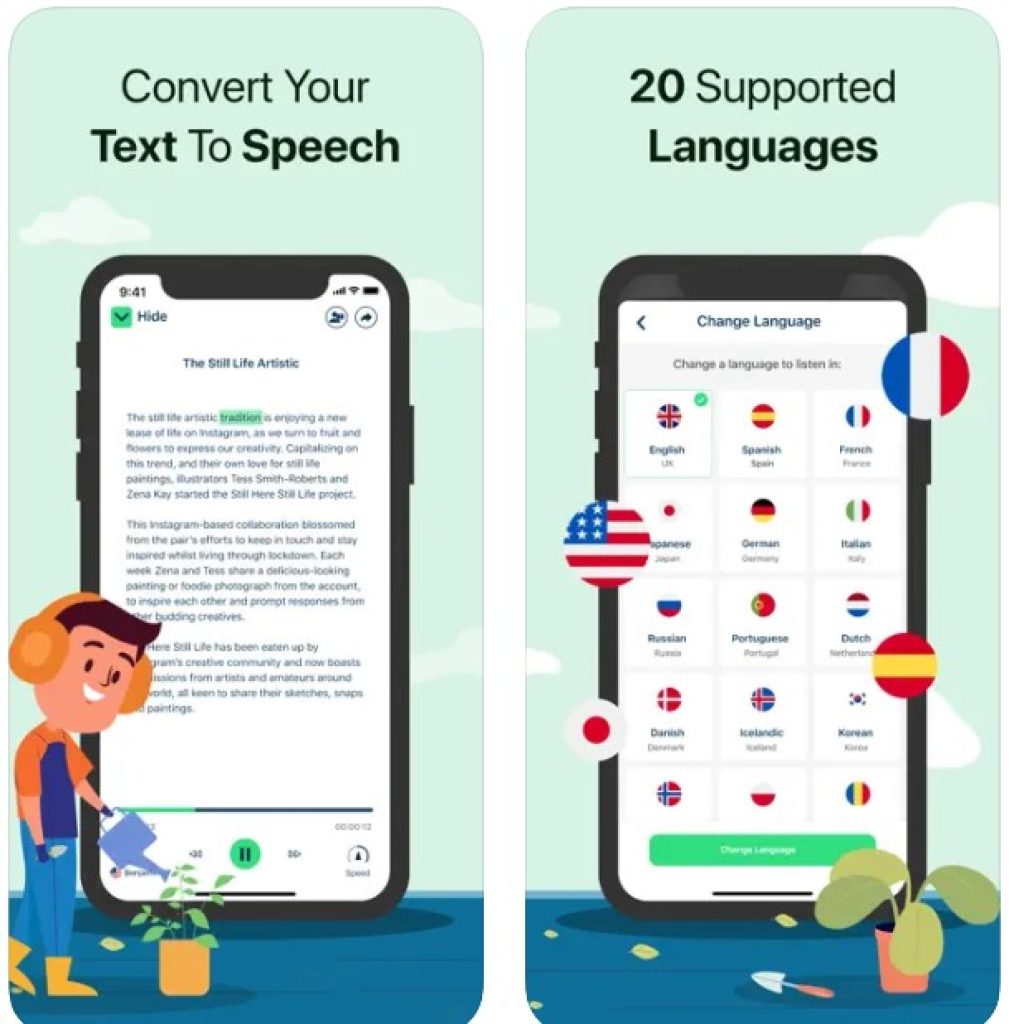 @Voice Aloud Reader
Voice Aloud Reader is quite an old text-to-speech app for Android devices and you can see it from its interface design. It's still a good app though and it's one of the leaders n this category. It's easy to use and it supports a few different ways of reading the text.
In case you're reading a text from the app that includes a share feature, you can just send the content to the Voice Aloud Reader app by using the native Android share menu. This method also works for on-screen items with their own share buttons, like Twitter or Facebook posts.
Respectfully if the text that you want to read can be highlighted and selected, you can use the share button in the pop-up contacts menu. Moreover, this app can also work with web pages and URLs.
You need to just copy the link of the website and then paste it into the Voice Aloud Reader app and then it will automatically parse and read the relevant text for you.
Voice Aloud Reader is smart enough to cut out the menus and other things that you don't need. And you can even upload here text files, for example, DOC and PDF. The app will easily process the files and will read the contents.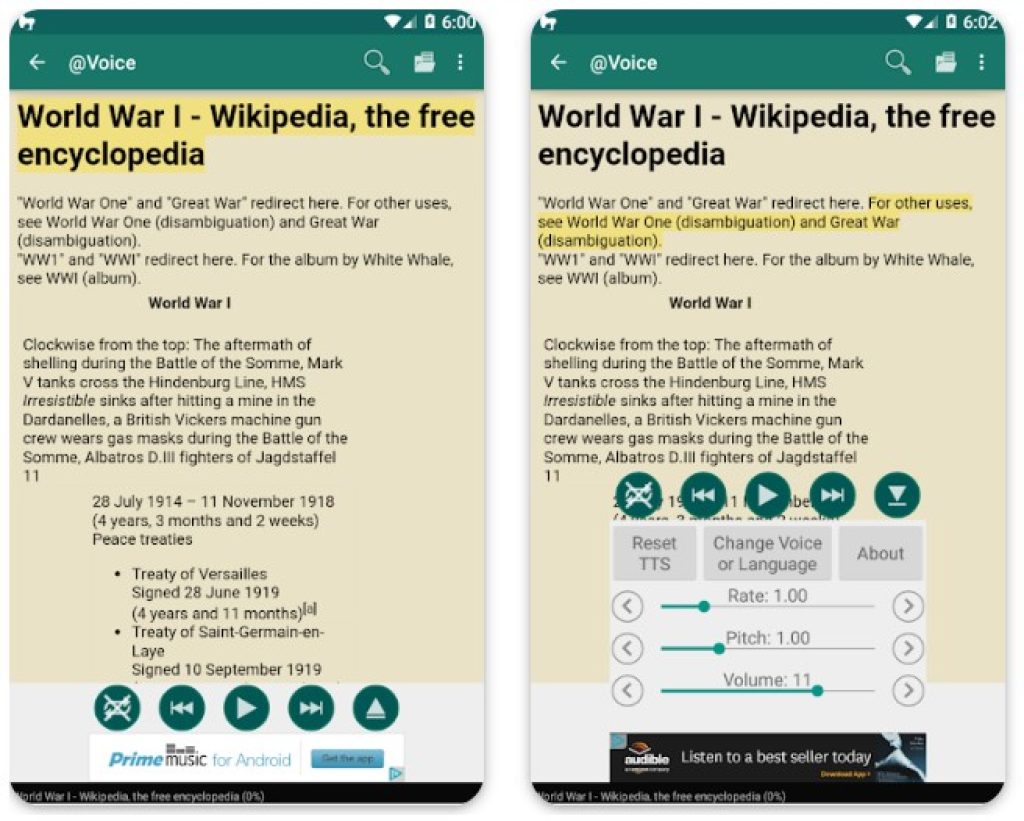 TTSReader Pro – Text To Speech
TTS reader is one of the oldest apps in the segment however it seems to be given it some advantages since it almost doesn't require an internet connection in order to function. Meanwhile, the app is capable of reading all possible text formats, including tax documents, web pages, and digital books.
Though the interface design is a typical design of an Android app, the app is quite easy to use. The app has several tonalities of the voices for you to select from, but they all sound not really natural, so keep that in mind. It also allows you to convert text into audio files and then save them as MP3 files to your phone.
TTS reader works in more than 20 languages. What is more, it can bring the text with different accents.
And this is a great reader app in case you're going to travel on an airplane and you're going to have no internet connection so you can just copy-paste the text in advance or it can be a digital book and then the app will read it for you.
And like in most cases with text-to-speech apps, this one also has only a free trial period, and when it ends, you will either have to buy a subscription or stop using the app.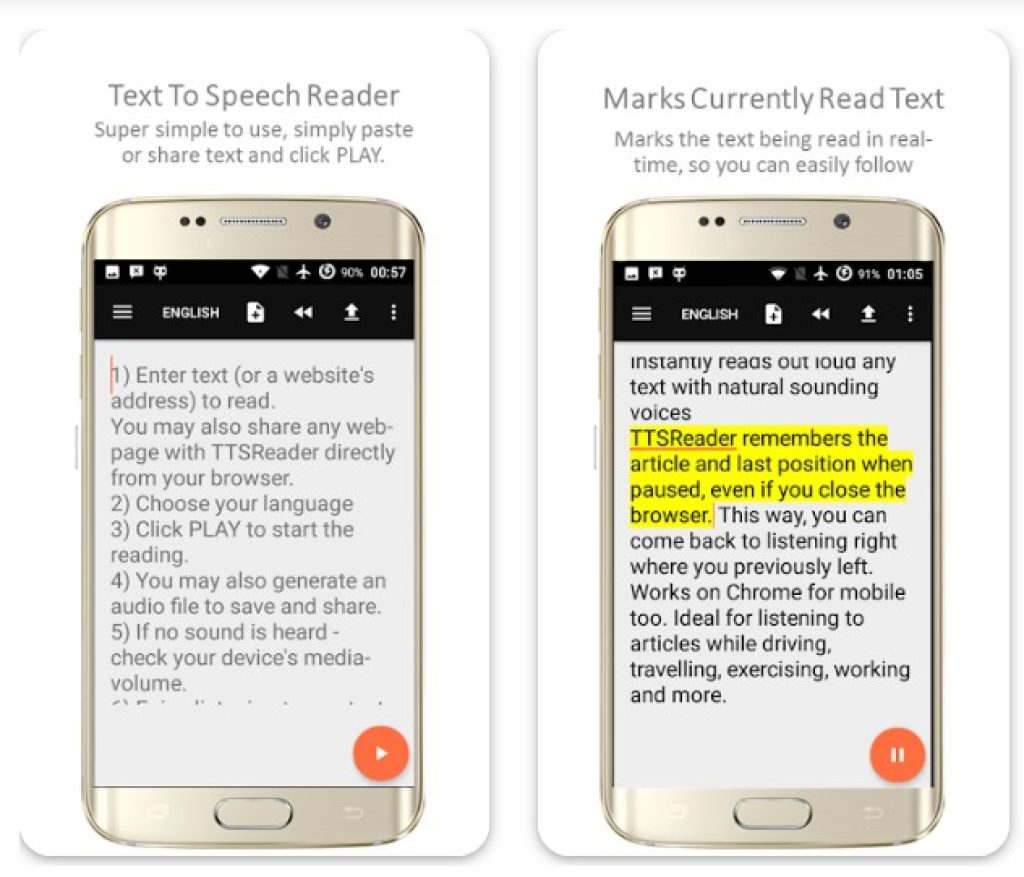 You may also like: 6 Free Audio Reader Apps for Android & iOS
SpeechLab – Text To Speech TTS
SpeechLab is quite new to the market but it seems like it's an app that you can trust. It's highly versatile and has great responsiveness and fast functioning.
It can read all types of text files and its ability to recognize the text causes no issues. And just like in the previous app, here you can convert the text into speech, then convert it all into an audio file and save it to your device. SpeechLab includes a number of different voice types to select from.
The app also includes the voice effect and accents in case you want to make the reading more "lively" and personalized. The voices sound more or less natural, of course, there are times when the intonations are cut abruptly, but that's not a frequent case. SpeechLab can also be used as a prank app with its funny voice effects.
It is capable of reading digital books, DOC, PDF, and other text files, and also webpages, in case you will paste the URL of the exact page to the SpeechLab app.
And one rare feature here is that it can not only convert text to speech but otherwise, speech to text as well.
You can also change the pitch of the voice and the speed of the reading – but that's a "must" for all text-to-speech apps. The interface design of the app is customizable and you can choose the color of the theme on your own. The cool thing is that the SpeechLab app can work in the background while you're working with other apps.
And one of the best features of this app is that it seems to be completely free without any trial periods. Currently, it is available for Android devices only, but the iOS platform release is anticipated as well. So, at this point, we're going to call it a day. Hope you've found the perfect text-to-speech app for you!