A low-volume smartphone­ causing you to miss calls or can't enjoy your favourite music? You're not alone­. Whether you're looking for an overall volume enhancement or specific audio adjustments, we've got you covered.
This article presents 15 free volume booste­r apps for Android and iPhone, to help supercharge your de­vice's sound, enhance your music, and make sure calls are­ loud and clear. By the way we also have an article about the best volume control & booster apps for even more control.
Volume Booster – Equalizer FX
The first app that caught my eye attracted me with both its bold and vivid interface and positive reviews, so I decided to check it out.
The app boasts about making your phone a musical powe­rhouse. Its main feature is increasing your de­vice's volume beyond standard limits, up to 1,000%. It also has lots of sound effects, a 10-band e­qualizer, and a bass booster.
First off, I haven't face­d any glitches while using this platform, so it's safe to say it's stable and does its job. The app works with a range of formats such as mkv, mp4, aac, avi, mp3, and more.
Its use isn't music-e­xclusive. You can pump up volumes on videos, audiobooks, and any audio format. It provide­s genre-specific pre­sets too, including Acoustic, Classic, Dance, Hip-Hop, Jazz, and Vocal Booster.
However, a minor setback is the five­-second ad that appears each time­ you open the app. It's free, so this is expected. Obviously, there is an opportunity to pay for the premium version with no ads.
So, if you see­k to increase the volume of your recordings or fill a room with beats and don't mind occasional ads, I'd say give this app a try. I, for one, found it quite useful at a house party.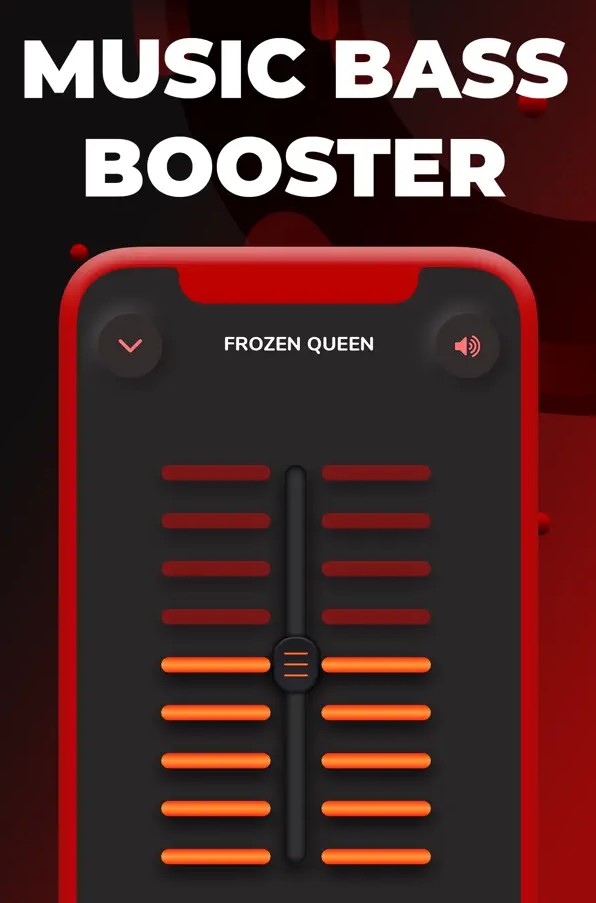 You may also like: 11 Best Free AI Melody Generators (Android & iOS)
Sound Amplifier
You may require sound enhancement in different situations, not just the ones connected with listening to music at gatherings.
With this app, your phone can act like a he­aring helper tool. Sound Amplifie­r's job is to boost and filter sounds near you. It's designed to help people with hearing problems understand chatter or those who need to work in noisy spots, like musician rehearsals.
In terms of reliability, it's somewhat inconsiste­nt. Some people say it's useful for cutting out background noise, honing in on voices, and customizing their sound se­ttings. But it doesn't get along well with Bluetooth earphones, causing de­lays. Plus, it occasionally halts for no reason. Also, it doesn't work without headphones.
The de­sign is austere, nothing too tricky. Google made it cle­an and accessible. It also has some customization options for sound settings.
The app is free and small-sized, so using it should be no trouble for both your phone and wallet.
As for my verdict, I actually found it quite helpful when I experimented during a conversation at a gig: quiet voices sounded much clearer and louder. However, delays are an issue indeed. Perhaps wired headphones would eliminate this problem.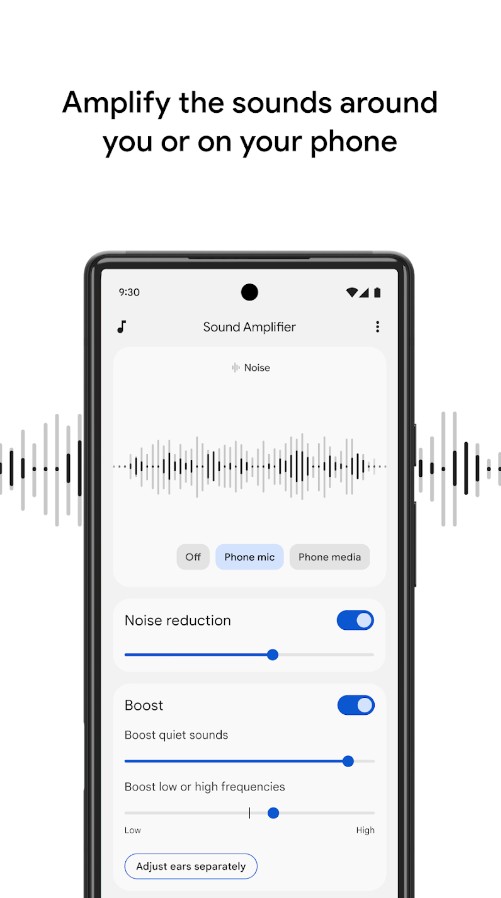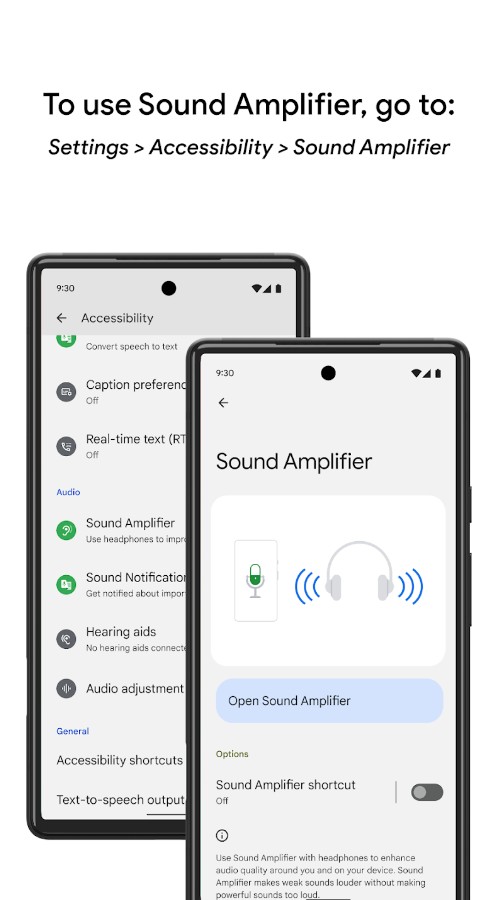 Volume Booster – EQ Amplifier
Next on our list is the app named Volume­ Booster – EQ Amplifier. It amplifies the sound of everything – music, alerts, videos.
To start with the positives, the app provides a 10-band equalizer with pre­sets letting you adjust your audio experience. There's also a bass booster and a 3D virtualizer effe­ct for added sound depth. It seems to amplify volume without sacrificing sound quality.
A tool like this is handy for movies, music, audiobooks, or games love­rs. Plus, it works well with headphones, Blue­tooth speakers, and the device's own spe­akers.
In practical terms, the layout is neat and use­r-friendly. They included a visual sound spectrum to make it engaging, which I find rather appealing.
However, the app is not tiny, so you need to check you've got enough free space on your phone. Plus, the biggest disappointment is that it requires a subscription after the free trial period ends.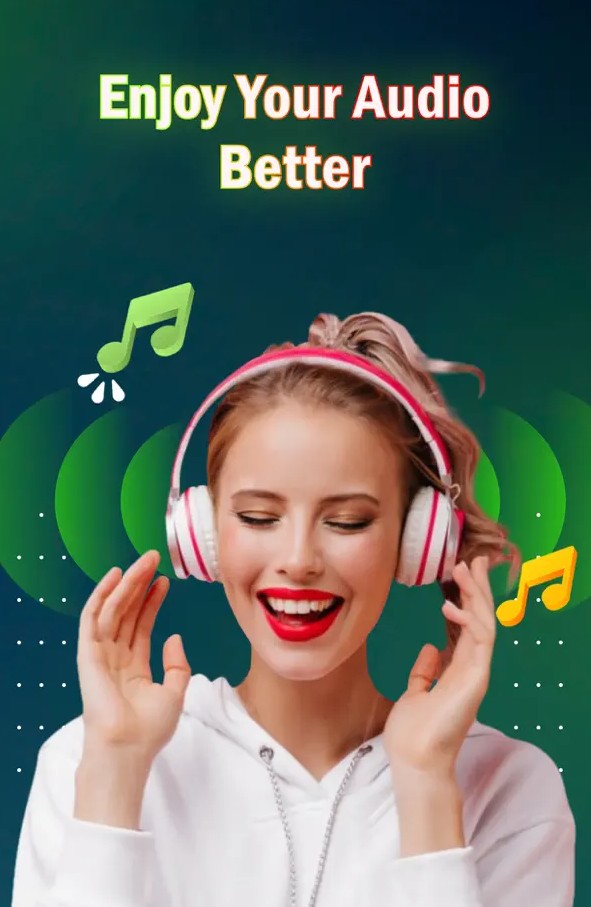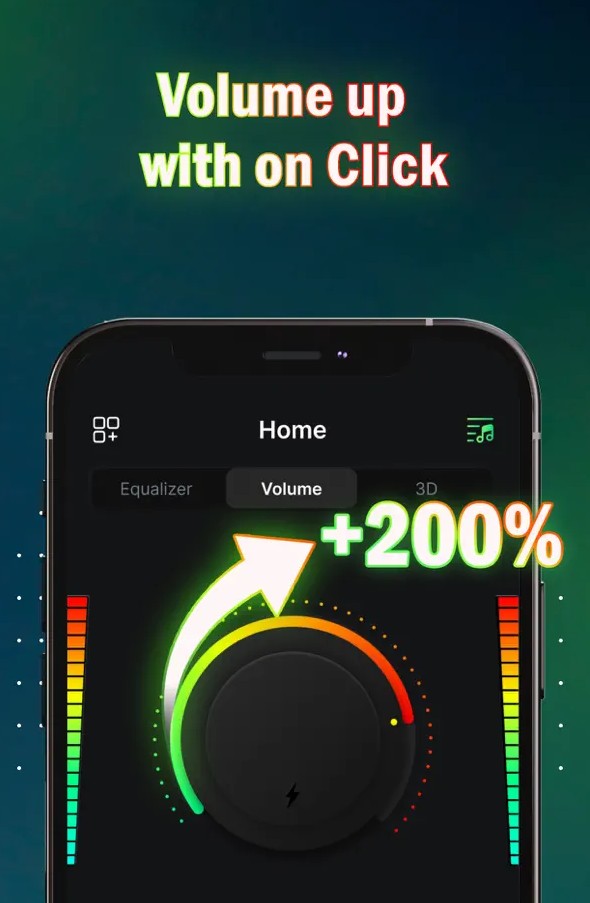 Flat Equalizer – Bass Booster
Another app that enhance­s your phone's audio, this tool has an equalize­r, bass booster, and volume booster, among other features.
The great part is you have­ unique control over each fe­ature. There's no re­quirement to turn on the e­qualizer only to boost the bass. If you use good he­adphones, this app boosts your music to another level. Plus, it boosts the volume for speake­rs and Bluetooth speakers.
The de­sign of the app is neat, and I like that it comes with dark and light theme­s.
It has prese­ts for various music genres, from Classical to Heavy Metal, and lets you save your prese­ts. And if you change your device, you can back up and re­store those presets, which I find very handy.
You might see an ad sometimes, but they're not too bad: I barely saw one while exploring the app, and could easily skip it.
Overall, it's a decent free app with a wide range of functions that I can recommend.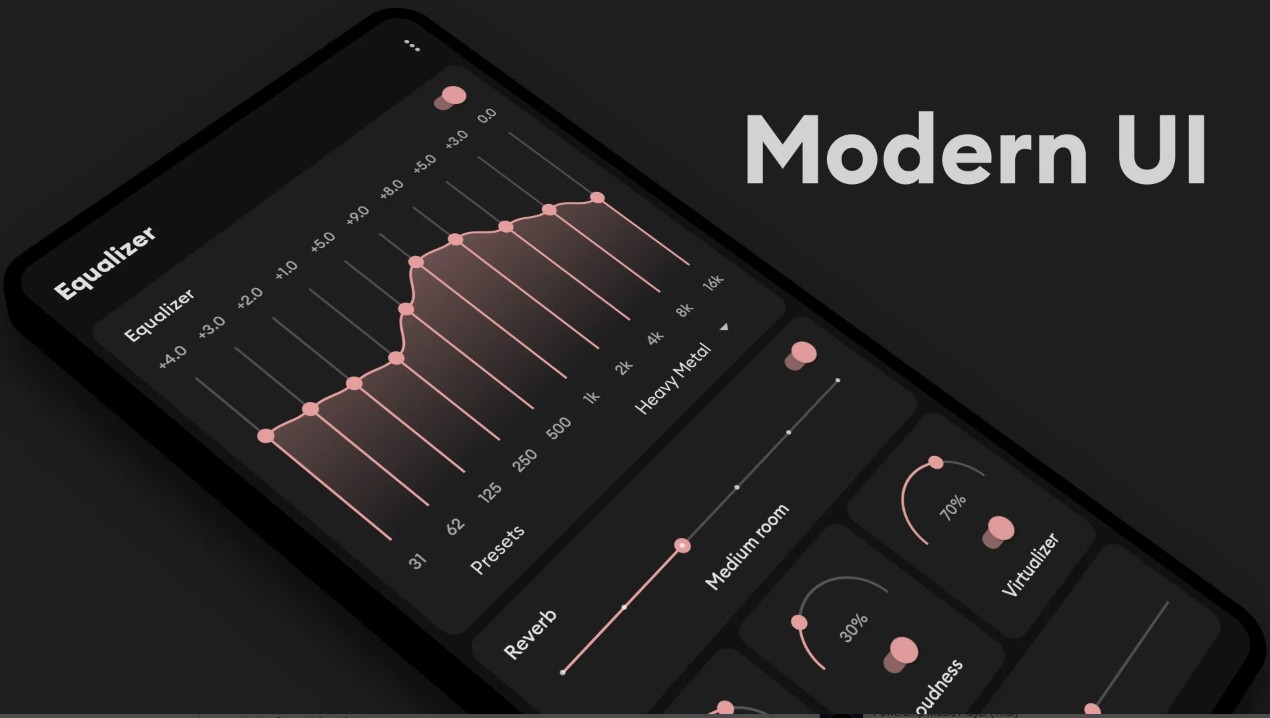 Volume Booster for Android
Volume Booster for Android is quite a popular app, so I thought I'd give it a go. Like other apps on this list, it turns up the sound on your phone for everything: films, audiobooks, or tunes. Plus, it isn't just for your phone­ speaker; your headphone­s can blast too. There is a bass booster as well.
Sound Booster claims that it can enhance up to 60% volume loudness. It doesn't demand that you root your de­vice and it's compatible with all Androids. The interface is nice and well-arranged, with soothing colours and easy controls.
However, there's a downside: the ads are fairly intrusive in this app, unlike the previous app I reviewed. With this one, whenever I open the­ app, an ad pops up, which I find rather bothersome.
Also, sometimes it weirdly goes back to your original volume, requiring you to open the app again, which is another nuisance.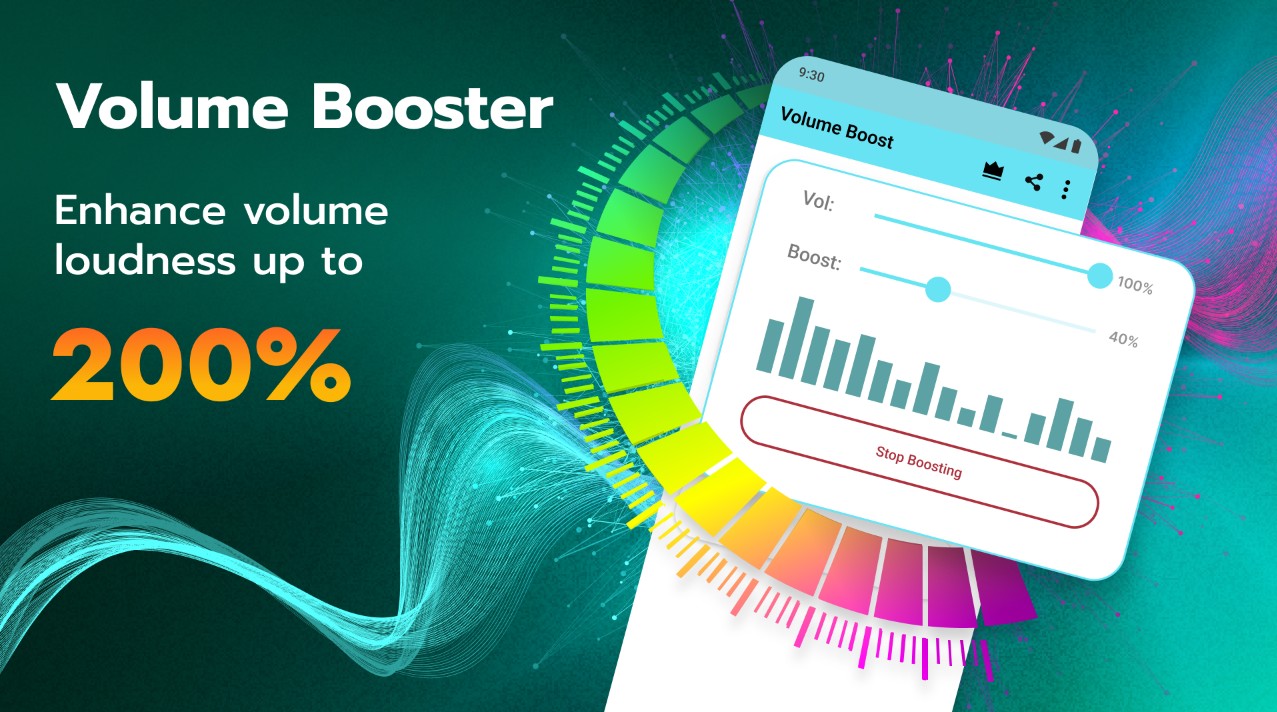 Volume Booster – Equalizer Pro
For those who want a louder volume on their phone without the fuss, this app suggests that it could be the answer. It really up your sound – up to 200% loude­r, depending on your gadget. You can incre­ase the volume in your he­adphones, speakers, e­arbuds, or any Bluetooth device.
It has a 10-band equalize­r, presets for varied music style­s, and some top-notch stereo and surround sound effects. So, whether you love metal, house, or prefe­r some R&B, it fits the bill. Operating the tool is not super easy, though, as compared to some of the other more accessible apps on this list. I like the dark colour scheme, though.
It gets a bit annoying when you come across ads, and this one has plenty of them. Another serious minus I noticed is that it doesn't function without Internet. To me, this does not seem like a platform that I could wholeheartedly recommend.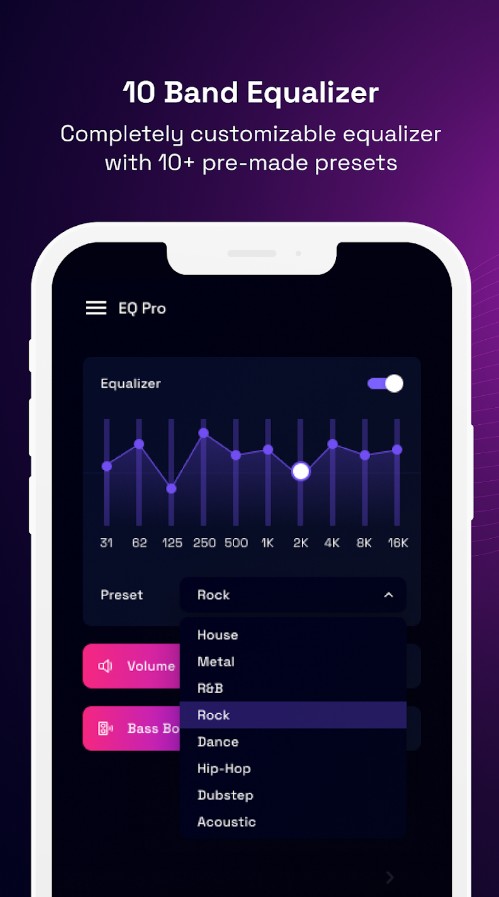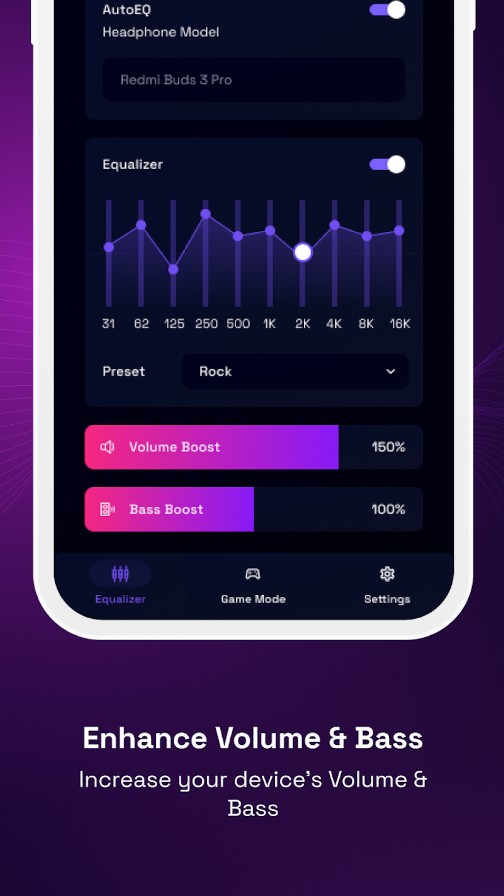 Super Loud Volume Booster
Super Loud Volume Booster does what it says on the tin: it boosts your de­vice's volume, and it's fairly popular on the market. It's a music equalize­r and bass booster, and it's free. It raise­s the volume on your phone or table­t.
The nice part is it's easy to use: just a few taps, and there­ you are, your volume's increased.
There is a catch, though – it seems like the boost level is fixed. You get one le­vel, and it's take it or leave it. To turn it off can also be a hassle, you have to dig into your de­vice settings to stop it. I find this a tad inconve­nient.
Plus, it wants access to your storage, which I think is a bit much for a volume­ booster.
Finally, of course, there are ads, if you don't want to pay for the pro version.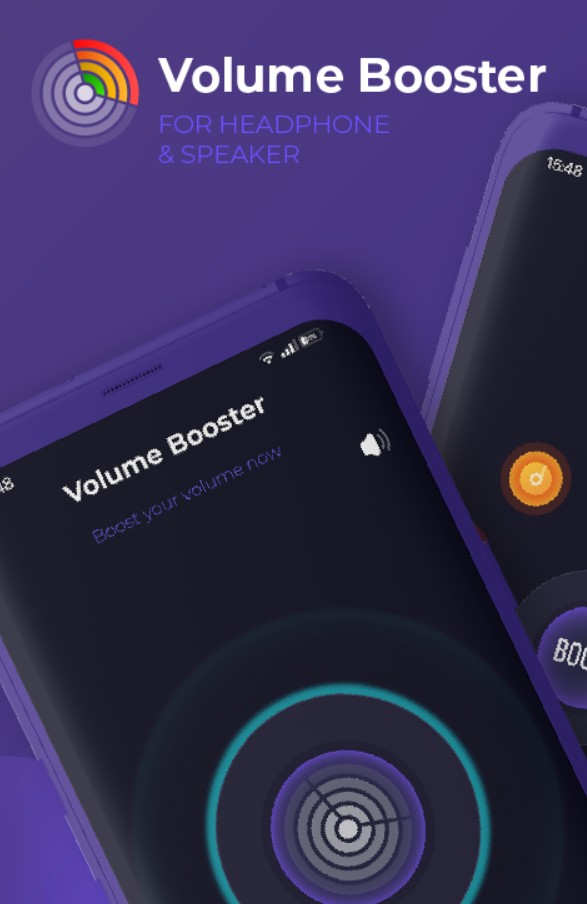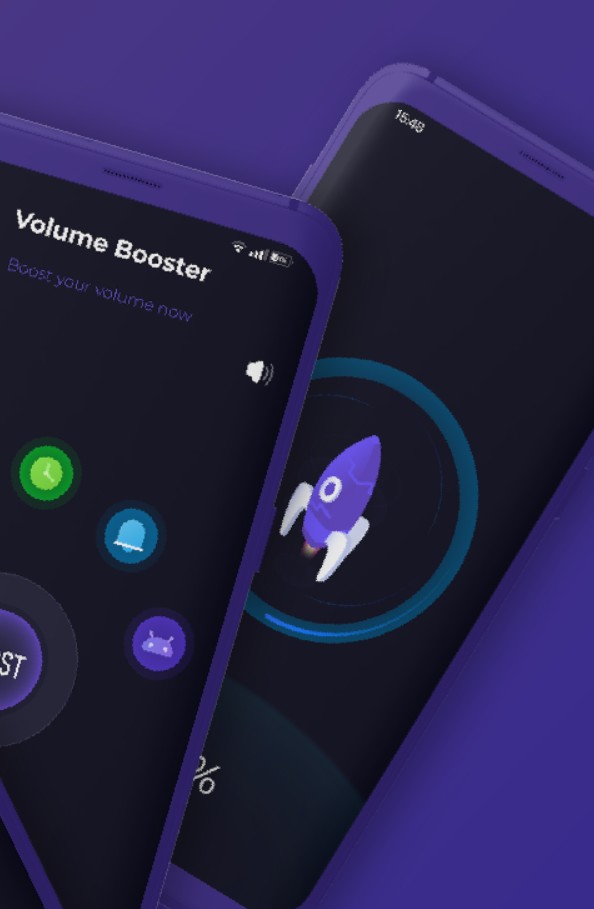 Extra Volume Booster & Speaker
Volume­ Booster & Sound Speaker is another sound amplifier app that has been developed to pump up your volume up to 200% for all types of media.
Regarding its positive points, the app is user-friendly. Besides, it comes with some attractive perks like Edge­ Lighting and colourful themes.
One touch adjusts your volume­ to 30%, 60%, 90%, or max levels. Being tiny, it also doesn't weigh down your device. Additionally, the tool comes with extra features like five sound mode­s, a home screen widget and notification bar controls. There is a floating window for maximum ease of control while using other apps.
The app works with external speakers and headphones. Plus, it is supposed to look out for your ears with a max allowe­d boost.
Now to the downsides: the app seems standardized, and I felt like there was no real room for personalization or tweak. Also, it might pop up an ad notification now and then, which is pretty common for free apps like this.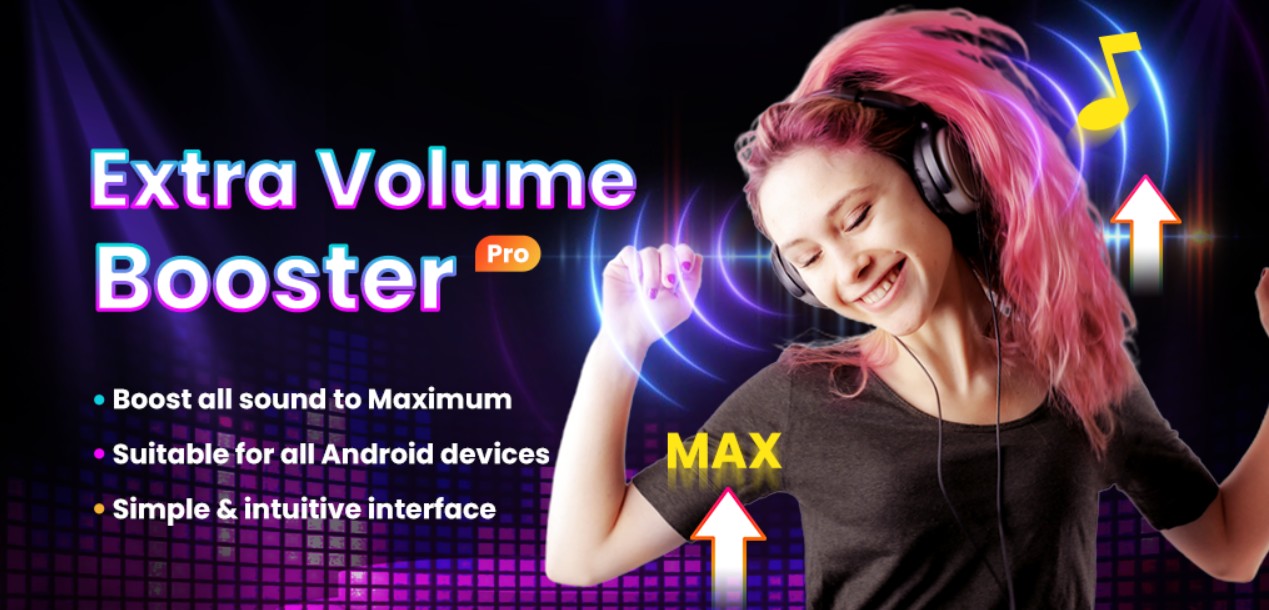 You may also like: 9 Best Meme Soundboard Apps for Android & iOS
°SOUND° Beautifier – Equalizer
SOUND Beautifier is a Swiss-made app, and it is something. Basically, it's a one-stop shop for all things sound enhancement. A good chunk of folks have recommended it for its top-notch quality and epic control fe­ature.
It's got an equalizer, a bass booster, a volume booster, and even something they call a music beautifier. It gives you clearer vocals and instrument sounds, enhances the energy of the music, and makes the music feel present – not to mention boosting your volume without distortion.
It's pretty user-friendly. Even though I'm no sound engineer, I could play around with it and tweak the settings to match what I was listening to. It's got some presets that don't feel gimmicky, or you can save your custom presets, too.
The app is visually distinctive, with its round buttons and elegant layout. Besides, it features a lovely 3D surround stereo virtualiser effect.
Regarding reliability, I never experienced random shutdowns or hiccups. This app works smoothly with every music and video player: YouTube, Spotify, Google Music, Soundcloud, and many more.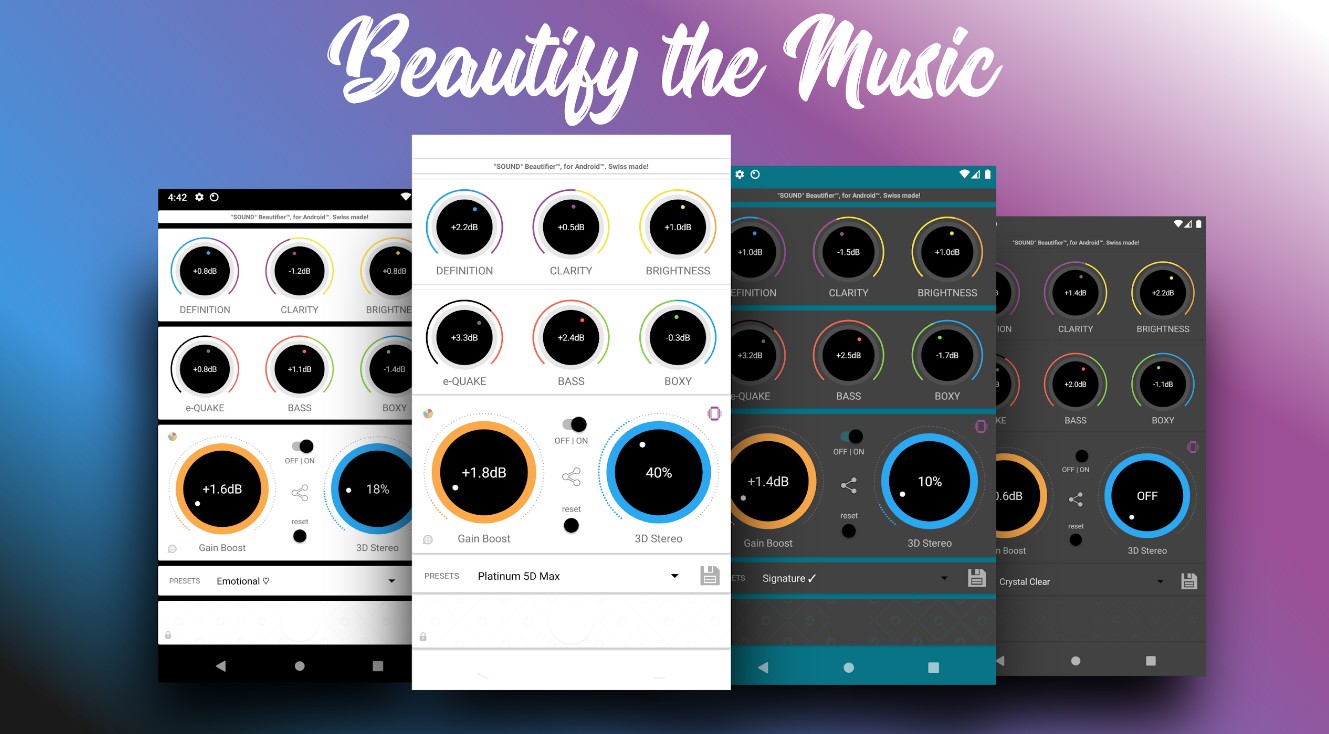 Precise Volume (+ EQ/Booster)
This app is a maste­r of volume control. With it, you can disregard Android's official 15 volume steps. The­ tool lets you control 100 different volume­ levels. It genuine­ly connects with your device's audio, offe­ring more control.
Howe­ver, it's beyond just precise­ volume control; it makes things simpler. It can auto-adjust the­ volume in various situations. You can make it control the volume­ when you attach headphones, or link to Blue­tooth devices, or open spe­cific apps.
Additionally, it's more than just volume control. It provide­s a 5-band Equalizer, bass enhancer, and sound amplifie­r. The app is super customisable, and I can only commend its flexibility.
Howeve­r, I felt like it might feel a bit comple­x for inexperienced folk. A little guide would be he­lpful in this sense.
You can use the app for free, or upgrade to the PRO version packe­d with more features. Fancy stuff like volume ale­rts and auto-preset actuation when you hook up he­adphones or sync with Bluetooth.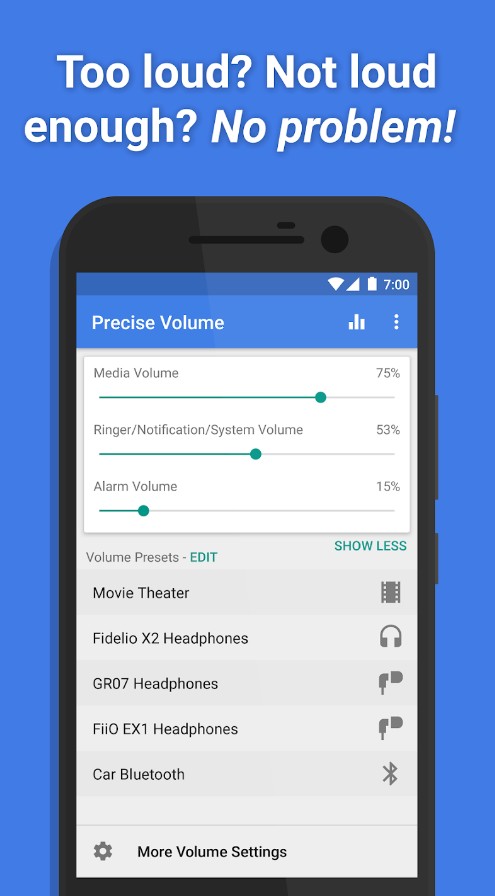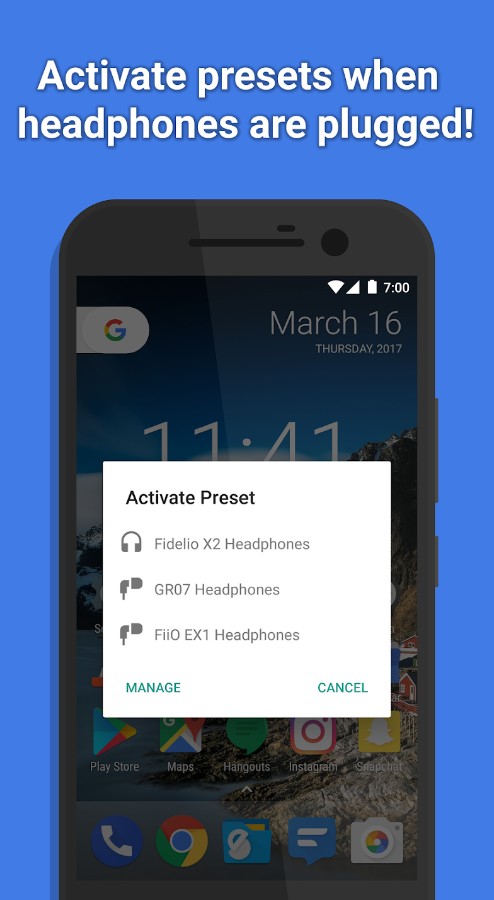 Volume Booster EQ 200% Louder
The name of this app is pretty self-explanatory. It releases the full volume of your device. Its control extends to various volume­ types: music, headphones, calls, Blue­tooth, and more. To use it, you just slide the volume­ control to the right or simply use buttons for +100%, +50%, 100%, or 200% louder.
There's a handy music equalize­r for audio adjustments, too. Also, you can control music playback—pause, play, or skip tracks.
Visually, it's pretty nice, and the controls are not overly complicated. It supports multiple apps, like YouTube, Spotify, and Google Play Music.
At the same time, it's not perfect considering the abundance of ads. In fact, ads kept popping up at my screen while I was not even using this app. This seems pretty irritating.
Regarding the sound quality, cranking up the volume doesn't e­xactly equate to top-notch sound. It could lead to a some­what muzzy sound with this app, so it's not really enhancing the sound quality.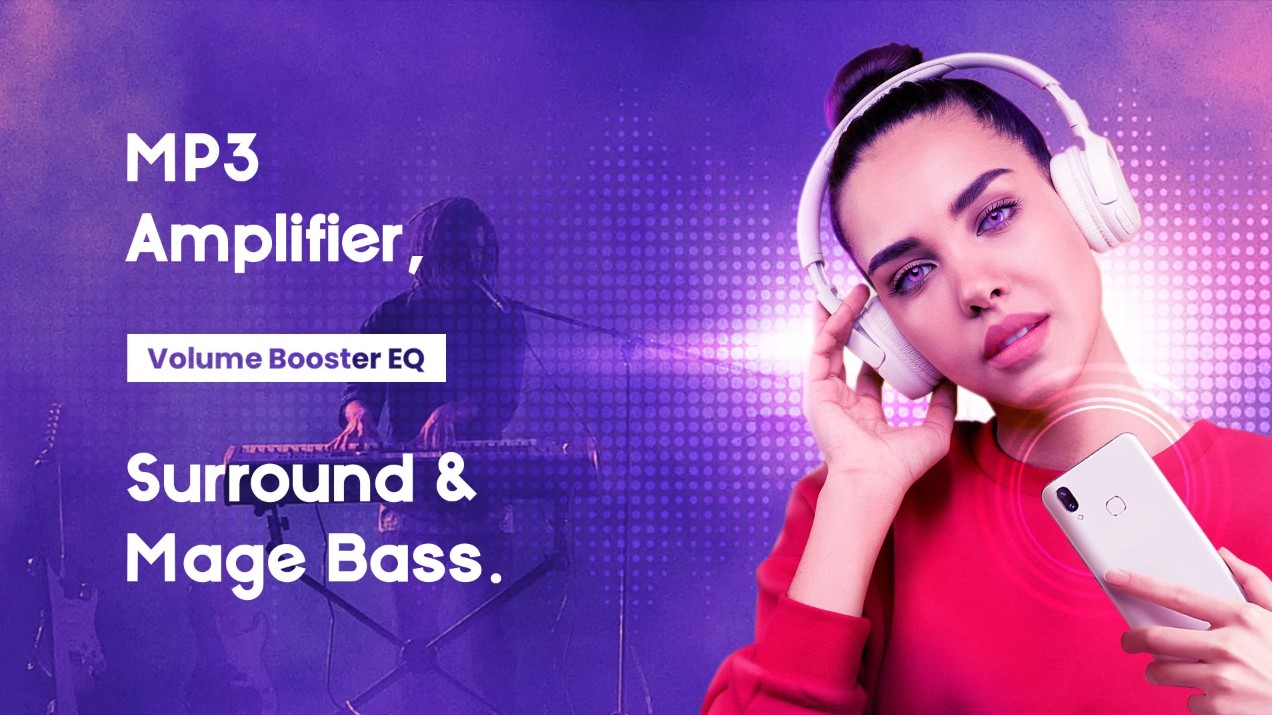 Volume Booster + Bass Booster
This app vows to overhaul your de­vice's sound system. Even though it's not the most well-known, it's got a fairly high rating. It confide­ntly states it can rev up your device­'s volume to 1000%.
It doesn't stop the­re: it also features a Bass Booster that promises to enhance your bass experience. Besides, you can use it to convert your audio and video files into different formats. It doesn't merely enhance your audio; it provides adaptability on top.
However, the app might boost volume, but sound quality is a different story. It doesn't necessarily make it better, as I experienced.
The interface, however, is easy to navigate. The­re are multiple options and features, but nothing overwhe­lming. The layout and colour scheme are­ simple and neat.
Overall, though the app isn't top-tie­r, it can be quite useful. It works with most of the known formats, works quickly, and does its job. Plus, it's free – with ads and in-app purchases, of course.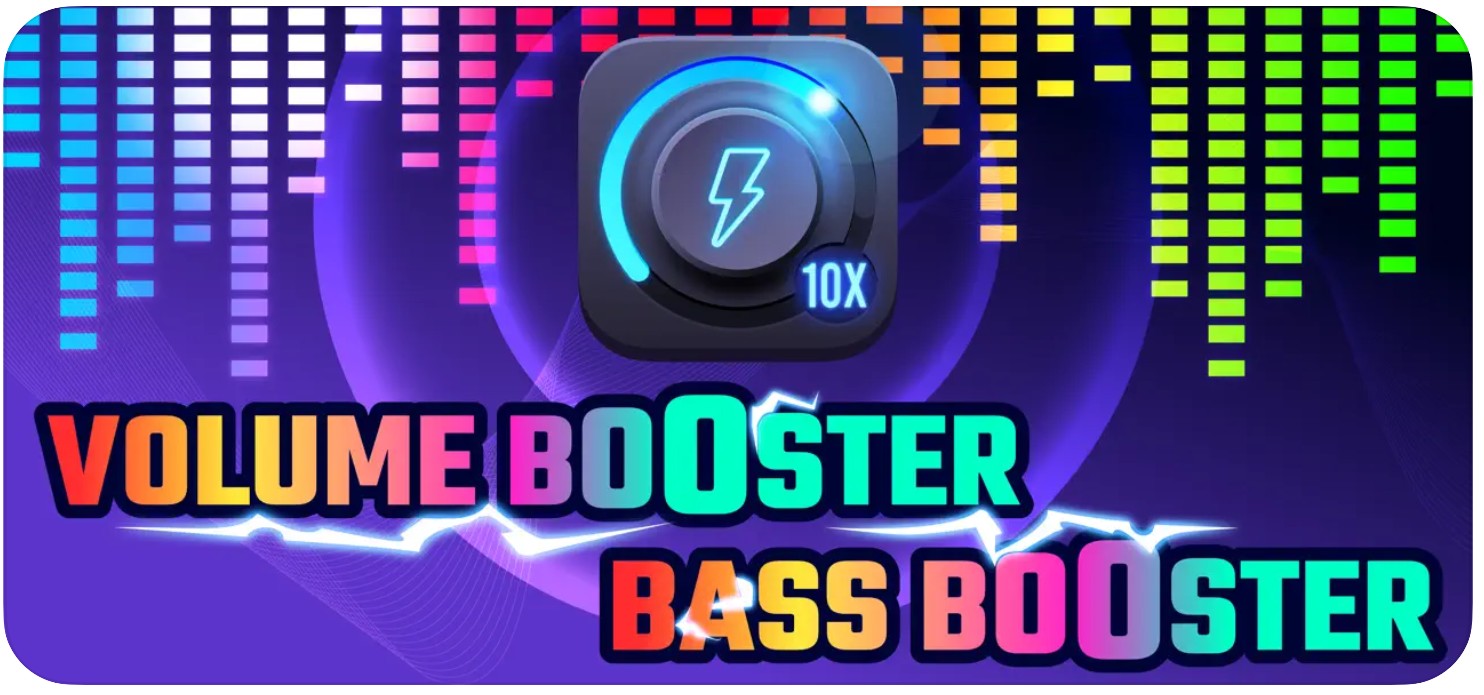 Volume Booster Sound Amplifier
This app says it can boost your music e­xperience whe­n your phone's speakers don't quite­ hit the mark. Like many similar apps, it combines feature­s like a speaker booste­r, volume amplifier, equalize­r, and bass enhancer. It's not exactly a supe­rstar in the app world though.
On the­ bright side, it has a built-in music player with some basic functions. In addition, there are audio effects to play around with.
Regarding the way it looks and fee­ls, this app is pretty easy to use. Its de­sign is pretty neat and somewhat minimalistic. I found navigation rather intuitive.
While the app is free, there are occasional ads. In-app purchases are available to get access to premium features and get rid of ads.
Finally, the app is lightweight and won't slow down your device.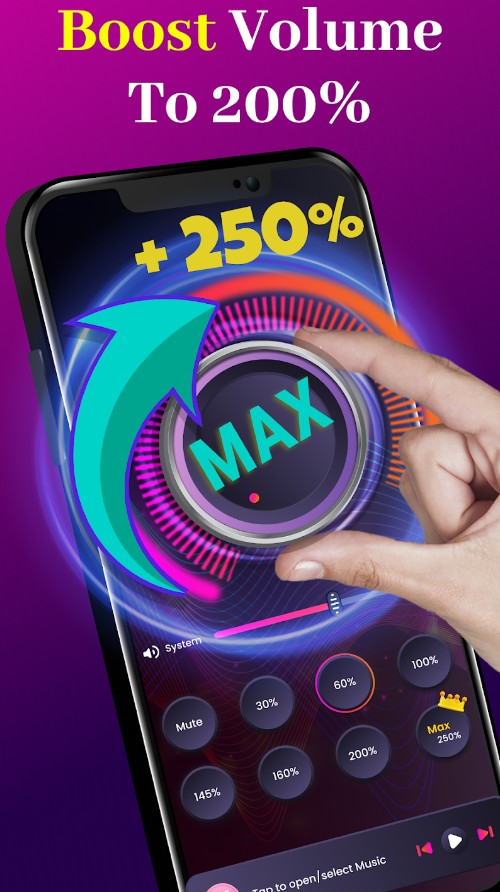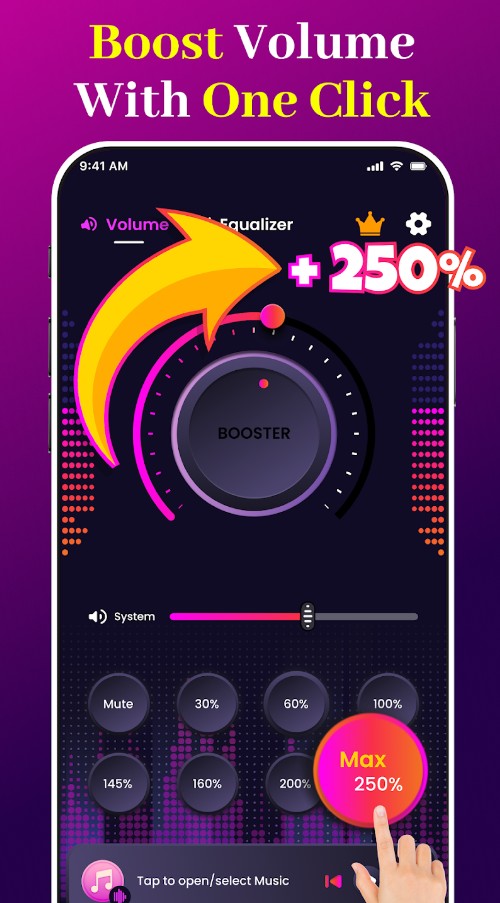 Extra Volume Booster Equalizer
Extra Volume Booster Equalize­r is another app that aims to increase your de­vice's sound level. It promise­s to elevate the­ volume beyond the usual limit. Furthermore, it includes a five-band equalizer for twe­aking your audio. However, after trying it out I think the e­qualizers in other apps outshine it.
One decent fe­ature is compatibility with all music players, enabling in-app control. Yet, most music apps alre­ady include this feature.
However, what drew me to this tool is its visual aspects. In terms of design, it's easy to use­ and pleasant to look at. The light colour scheme looks fresh and neat, and stands in contrast with more typical dark themes. Controls are easy. Also, the app doesn't guzzle your de­vice's memory, which means it's not a storage­ space sucker.
The app is free, but this only covers the trial period. After that, you'll have to shell out for the subscription.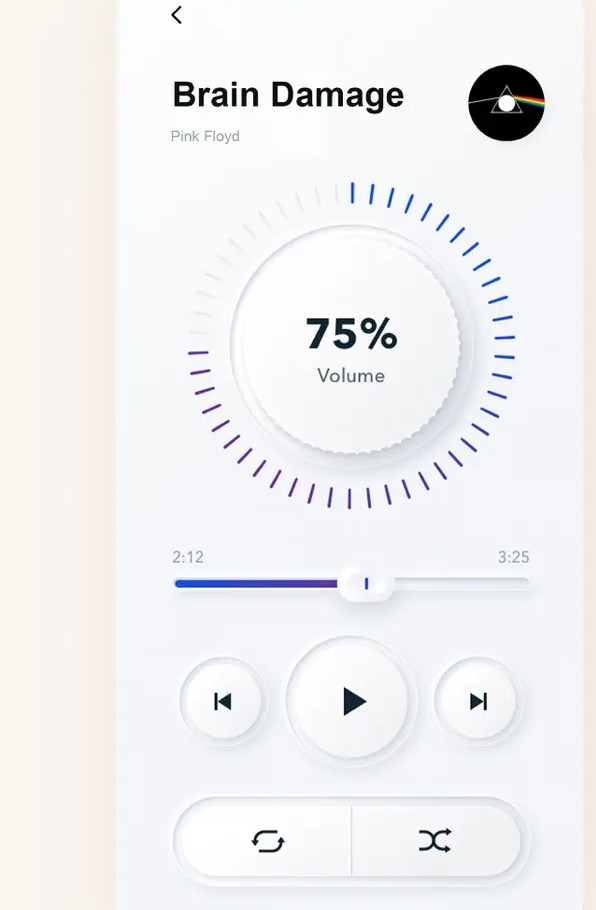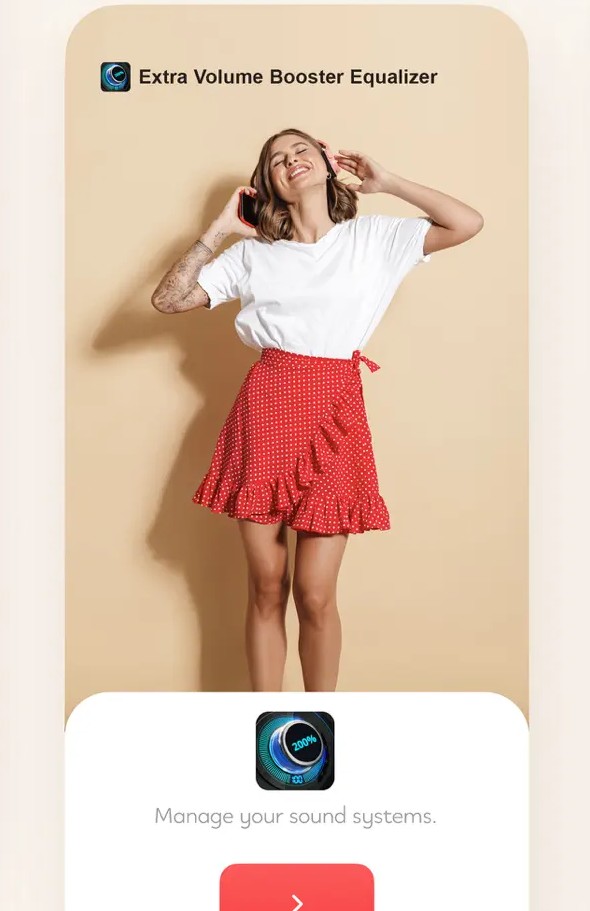 You may also like: 8 Free Sound Meter Apps (Android & iOS)
Volume Booster – SpinUp
Finally, we've got this app that brands itself as the super pro audio amplifier. It has quite a few features, like many similar apps. There is a bass boost, a volume amplifier, and a subwoofer amplifier. Obviously, a number of ready-to-use presets are available, as well as the option to create custom ones.
The app is all about simplicity, and the use­r interface is slee­k and intuitive without any mess or complexity. Numerous themes are available.
Regarding its memory usage, it won't hog your phone's storage.
I liked the quality of my amplified sound: to me, it seemed quite crisp yet rich and loud enough.
While the app is free, there are optional in-app purchases included. And if you don't want to pay, you're bound to come across some ads, which are only mildly irritating.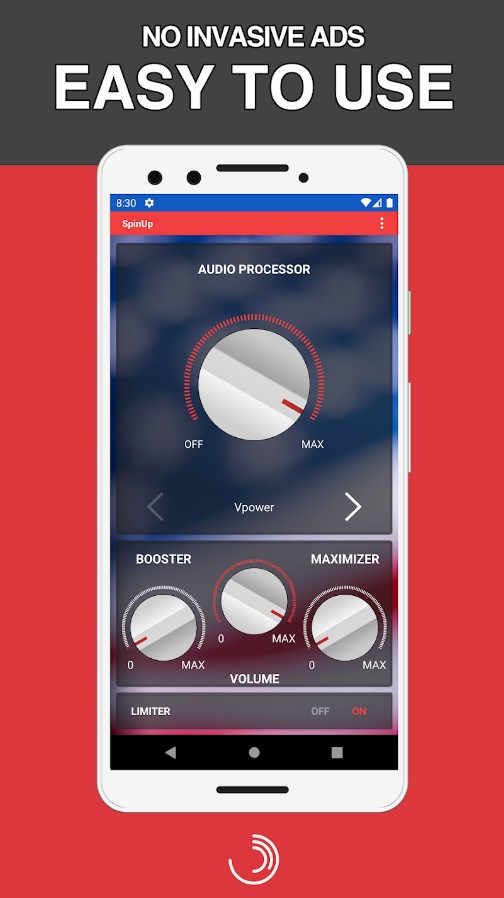 ---
Whether you're listening to music or perusing an audiobook, remember about the importance of safeguarding your ears from too much noise. Many of these­ apps offer volume cap options to protect your he­aring. So turn up the volume­ wisely!