Have you ever been annoyed to your phone's screen doesn't rotate as you'd want it to? Well, this article has you covered!
There are lots of rotation control apps for Android that aim to manage your screen orientation according to your preferences. These apps have the privilege over your device's screen settings, and they can switch the orient for the installed apps with an originally fixed orientation.
In case you want to manage the notification on your device, check out this article: 11 Free Notifications Control Apps for Android & iOS
Here's the list of the 7 best apps in that category you should try. Take a look!
Rotation Control
Let's start with a Rotation Control app that grants you to control the screen orientation of your device.
The main point of this app is to make screen orient control easily accessible and it empowers you to do it via the notification area.
The UI of this app is user-friendly and doesn't have lots of buttons and extra features that might confuse you. Among its main tools, the app also allows you to forbid the screen orientation changes for several apps.
Along with that, the app covers several rotation modes that you may use according to your personal preferences. Let's go through all the modes.
Firstly, there's an auto-rotating mode that changes your screen orientation relying on its physical sensors (you move the phone — the orientation changes). Then, there's a guard mode that empowers you to set the ability of your apps to control the orientation.
Besides, there's a portrait mode that puts your screen in a vertical position, and the landscape mode that stands for the horizontal position.
There are also reverse portrait and landscape modes that stand in opposite directions from the normal landscape. Nevertheless, you need to consider that some modes may not be supported by several devices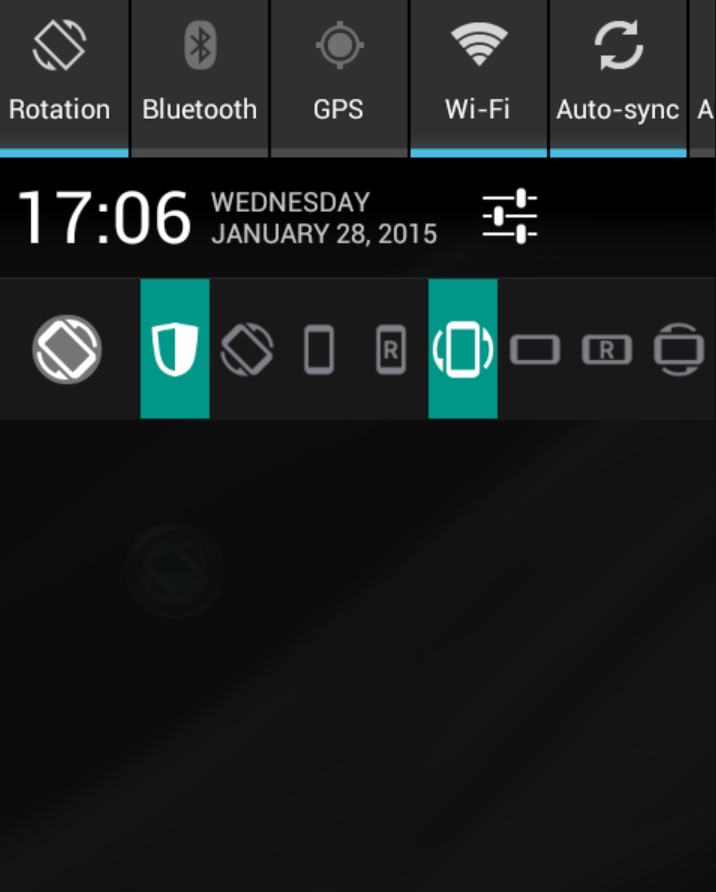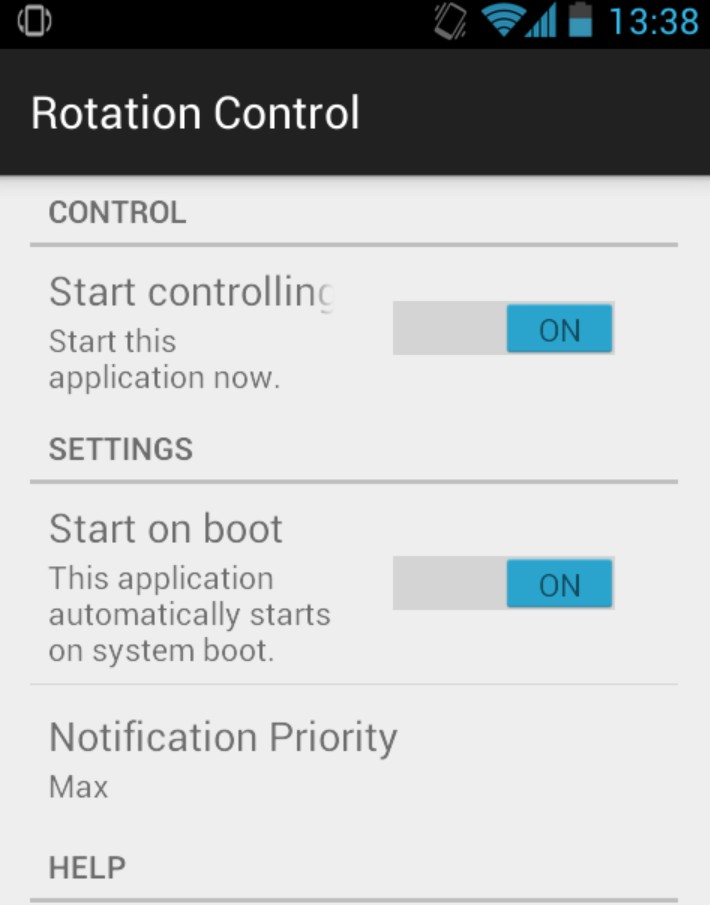 You may also like: 13 Best Volume Control & Booster Apps for Android & iOS
Screen Rotation Control
As you can guess by the title, Screen Rotation Control is an app that empowers you to determine the orientation of your screen in detail.
Along with the previous app, this one also covers several screens orienting modes. These modes are horizontal, vertical, reverse horizontal, and reverse vertical (the reverse modes turn the landscape upside down).
Besides, the app has no ads whatsoever so you can play with scree orientation with no effort.
Wherein, there's also an auto mode that switches the screen orient according to your device's physical condition. In other words, when you move your phone the screen rotates with it. Plus, this feature is customizable so you can point out which apps are allowed to use it and which not.
Another cool thing about this app that it has a force feature. This tool grants you to rotate the screen even if you use apps that don't originally support screen rotation.
The trick with this particular tool is some apps that do not support rotation originally may not be displayed correctly. The bugs usually happen with third-party camera apps so keep that in mind.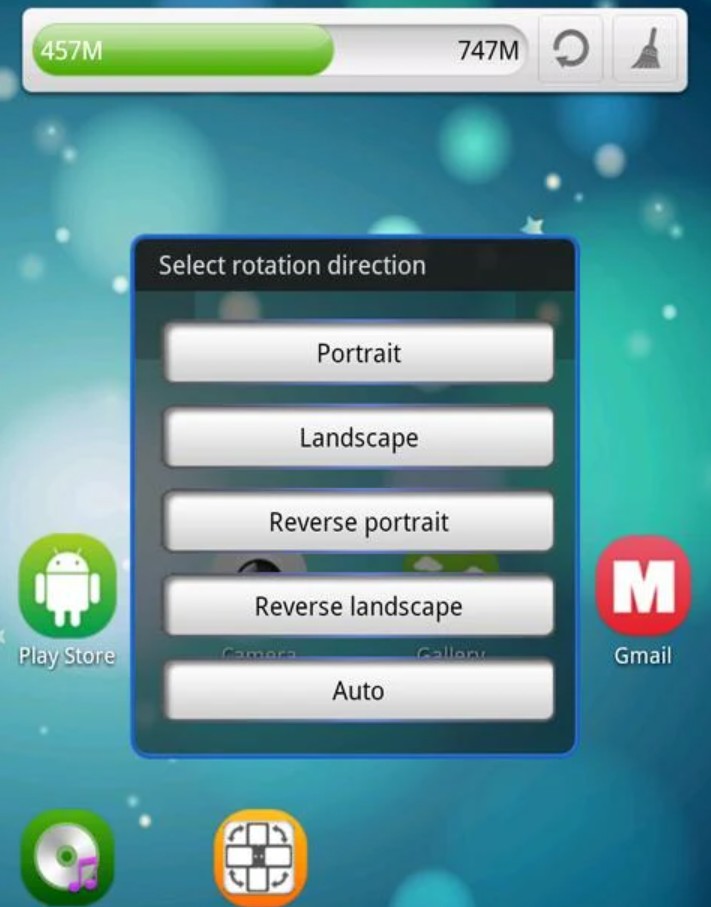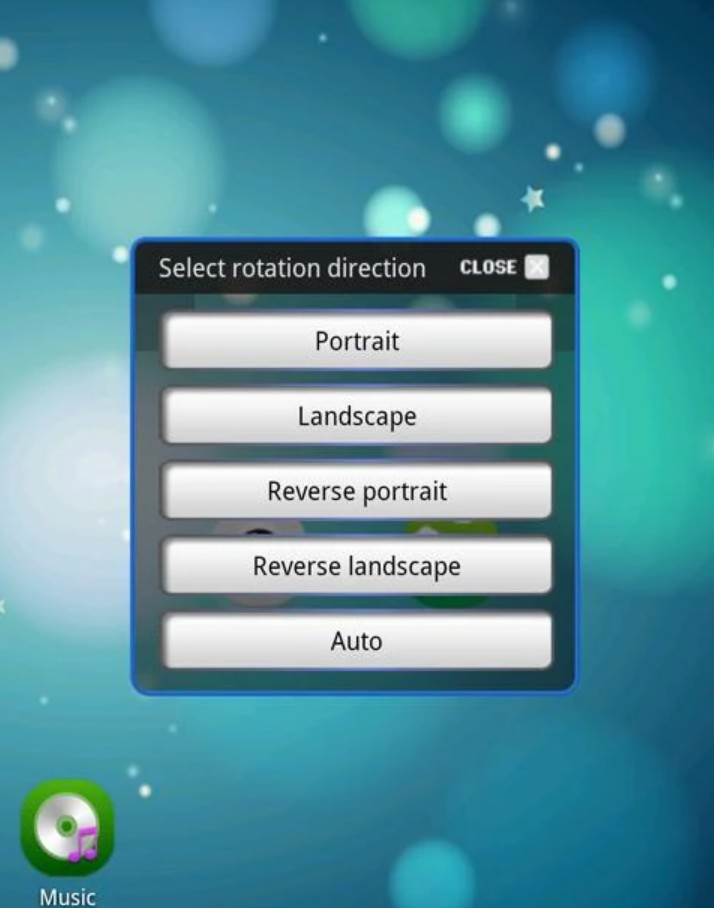 Rotation Control
Rotation Control is another screen orientation managing app that will cover all your needs.
The central goal of this app is to enable you to switch screen orientation via the notification bar.
Therewith, the app covers various rotation settings such as basic screen orient modes, notification settings, app rotation, and so on. Plus, the app has a simple design with all the main features being easily accessible.
As for the basic rotation tool, it covers four modes — portrait, landscape, and the reverse versions of these two that basically turn the screen upside down (or mirror it).
Along with that, the app also covers an auto mode that rotates the screen according to the physical sensors of your device. So when you flip the phone to watch some vids the screen orient will automatically switch to horizontal orient.
Besides, the app covers a force rotation tool that can switch the rotation on the apps that originally have fixed screen orient.
There are some tricks here though — some apps may not be displayed well because of it but the majority of them don't have any troubles. Plus, you can set the preferred orient mode for all of your apps individually if needed.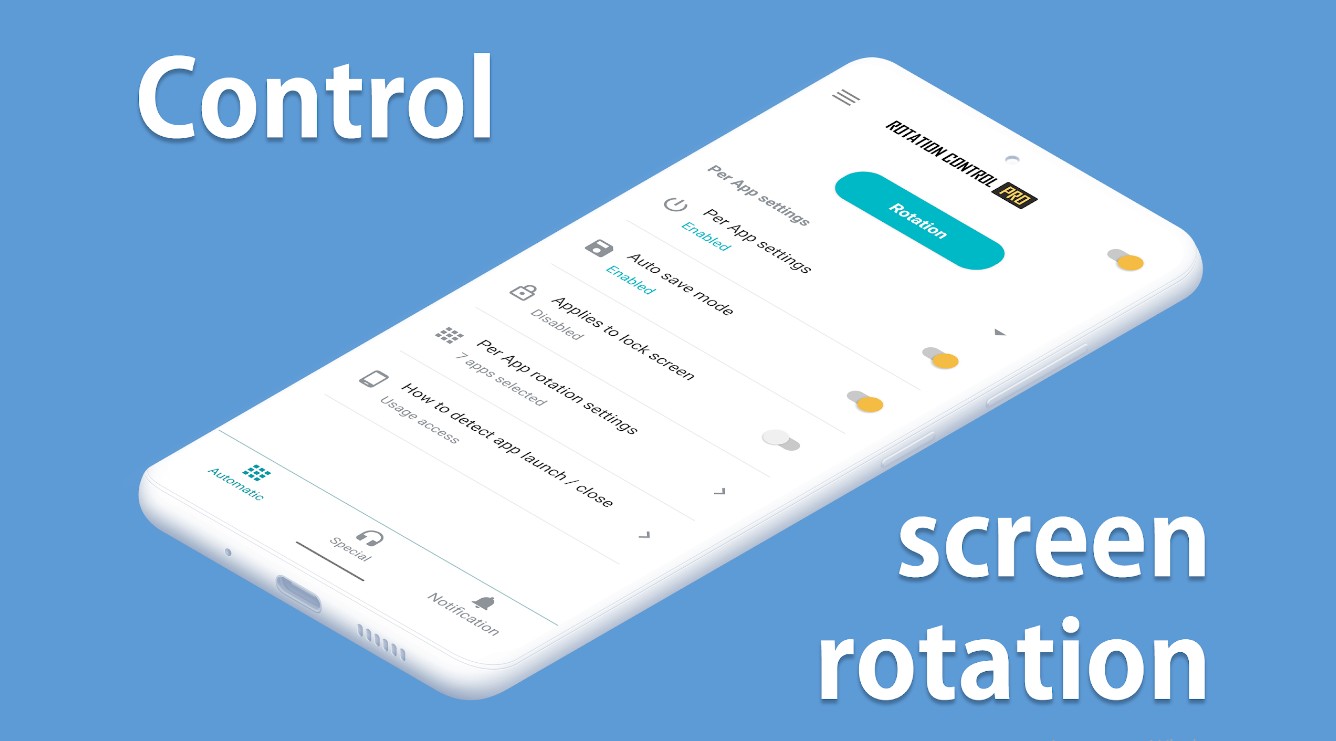 Check also: 11 Free Apps to Reduce Your Screen Time (Android & iOS)
control screen rotation
The control screen rotation is a screen orient controller that you can use to personalize your device and add a bit more comfort to your life.
Frankly speaking, this app is quite similar to all its sister apps. It covers all the basic orient modes such as portrait, landscapes, and the reverse version of both.
The app itself has a list of all the modes with a detailed description of each so you'll know exactly what each of those means. Therewith, you can optimize the app by setting the time it launches (like right after the reloading) and all that.
Plus, there is a sensor mode that relies on the physical sensor of your mobile. It is practically an auto mode that changes the orientation according to the current position of your device.
You may also set the rotation mode for all the installed apps individually if needed. The cool thing is the app can forcefully change the screen orient of the apps that don't originally do so.
Therewith, you need to keep in mind that some of the modes may not be displayed correctly on some device models (the list of those is not long but it may still happen). Furthermore, the app grants you to switch the screen orient right from the notification bar so you could effortlessly do it at any moment.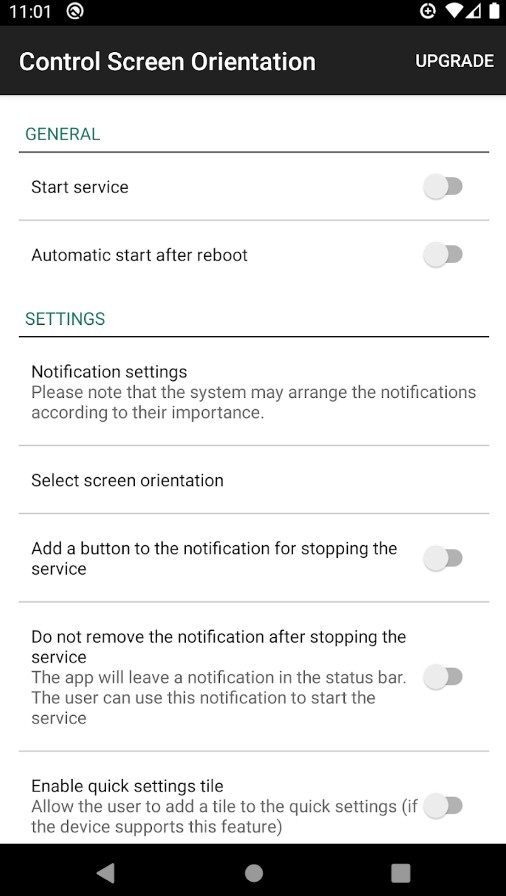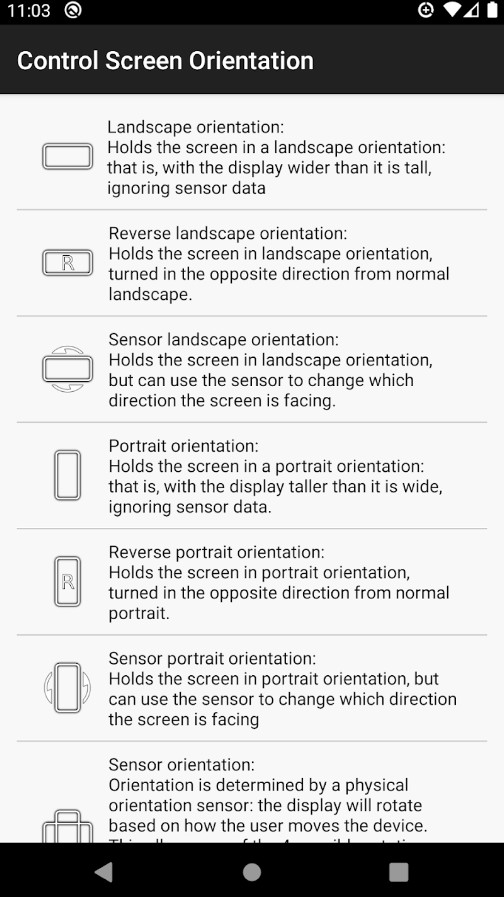 Rotation – Orientation Manager
Rotation — Orientation Manager is an app that empowers you to take your device's orientation under full control.
In the first place, although the design of apps is a matter of taste, this one has the coolest one out of this list.
The UI of this app is sleek and modern-looking so you won't catch a feeling of using some old-school utility. As you can already guess, this app covers all the standard orient modes and a bit more.
Along with its sister apps, this one empowers you to set the orientation mode for each of your apps — both installed and system ones. Thus, you may set the orient mode for the calls, lock screen, charge, and all that. Therewith, it doesn't matter if the original app has fixed orient at all — the app can switch it forcefully.
However, you may face some troubles with using forced rotation o third-party camera apps so keep that in mind. Plus, the app covers an auto rotation mode that reacts to your device's physical sensors when you move it. There's also a lock current bar that empowers you to fix the current rotation mode for all the apps.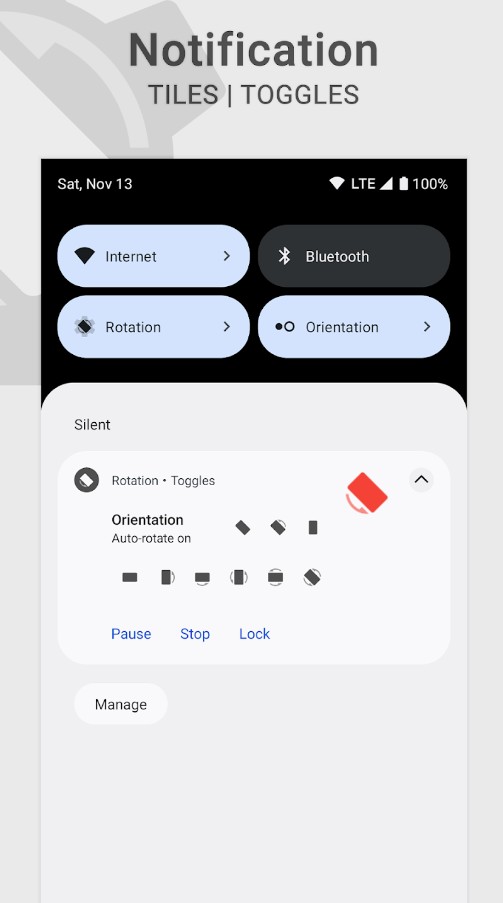 Force Rotation: Auto-rotate
It claims to solve the frustrating issue of your phone refusing to switch screen orientation.­ This tool promises to be your savior in shining armor,­ providing a unique and satisfying experience.­
Let's dive into the benefits of this app.­ Allow me to start with the good news.­ Are you tired of dealing with annoying auto-­rotation?­ Well,­ fret no more!­ With this app,­ you'll have full control over your screen orientation.­ Whether you prefer portrait or landscape mode,­ a simple tap is all it takes to set things right.­
Now, let's discuss convenience. This app is incredibly user-friendly and designed with simplicity in mind. Even if you're not the most tech-savvy person, using it will be a breeze. The main menu presents a clear selection of features, including Rotation On/Off, Rotation Preferences, and Conversion Metrics.
However,­ it's worth noting that not everything can be perfect.­ There are a few downsides to consider.­ Some users have reported occasional glitches and there is also some advertising present -­ the typical experience you'd find with free apps.­ Nonetheless,­ I can accept these drawbacks if it means finally being able to watch videos without constantly adjusting my screen orientation.­
So, Force Rotation is your phone's personal rotation butler.­ It may have a few quirks,­ but it's definitely worth a try if you're tired of playing screen orientation roulette.­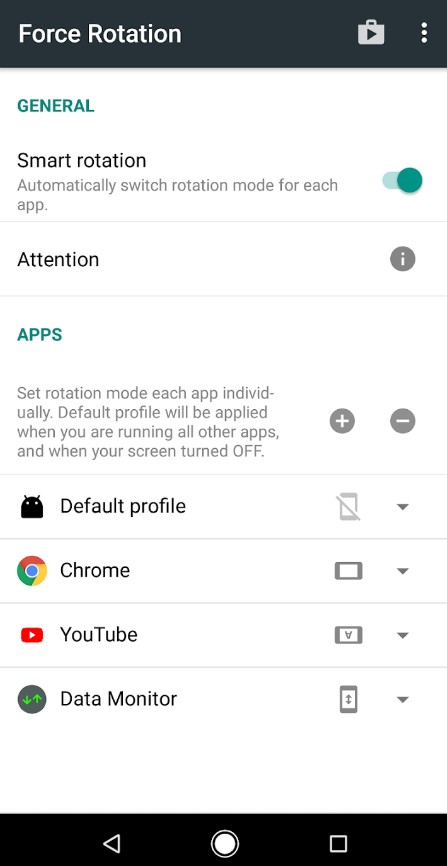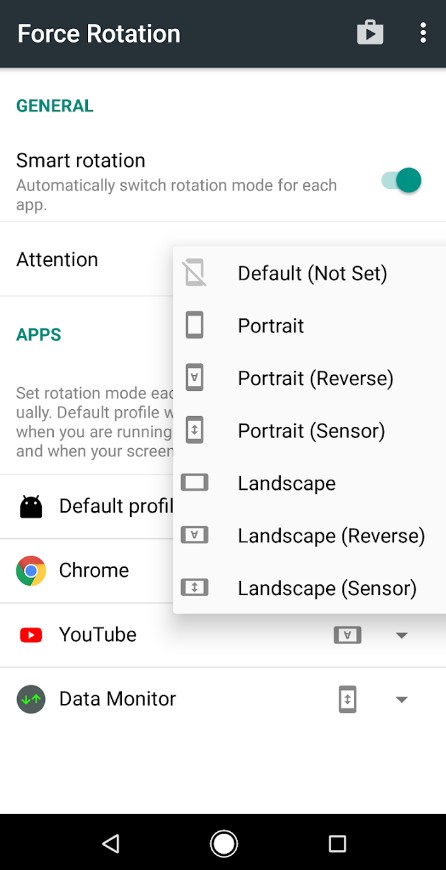 You may also check: 9 Best Android Remote Control Apps
Screen Orientation Control
And lastly, Screen Orientation Control is an app that empowers you to set your phone's screen orient according to your preferences.
This app takes full control over your screen orient and switches it regardless of the app's original orient settings.
In other words, even if a particular app doesn't support any screen rotation on its on this app can rotate it by your will. Therefore, the app also has a privilege on your device's original screen orient settings.
Plus, the app emperors you to quickly switch rotation modes right from your notification bar which is extremely convenient. The app covers all the classic modes — the horizontal, vertical, and auto mode. There're also reverse horizontal and reverse vertical modes if you're into that kind of stuff.
Besides, the app grants you to set rotation modes for both installed and system apps. However, some third-party apps may have display problems because of the app so keep that in mind. The troubles usually happen with reverse modes especially if you'll decide to use them on installed camera apps.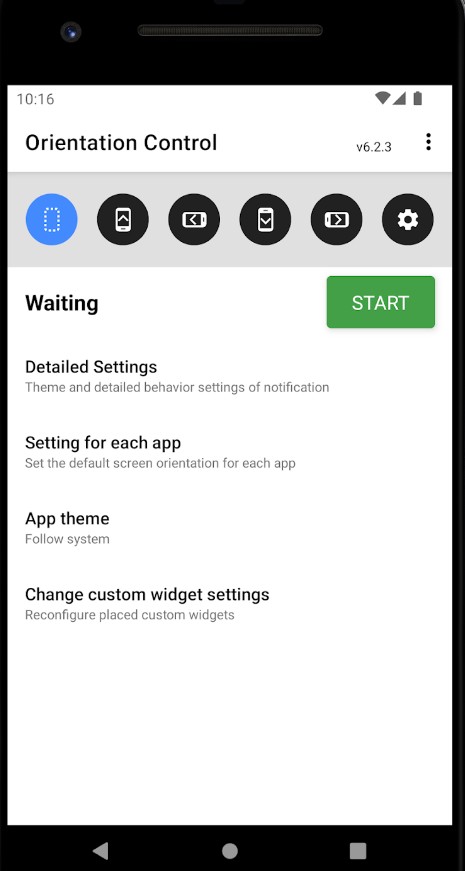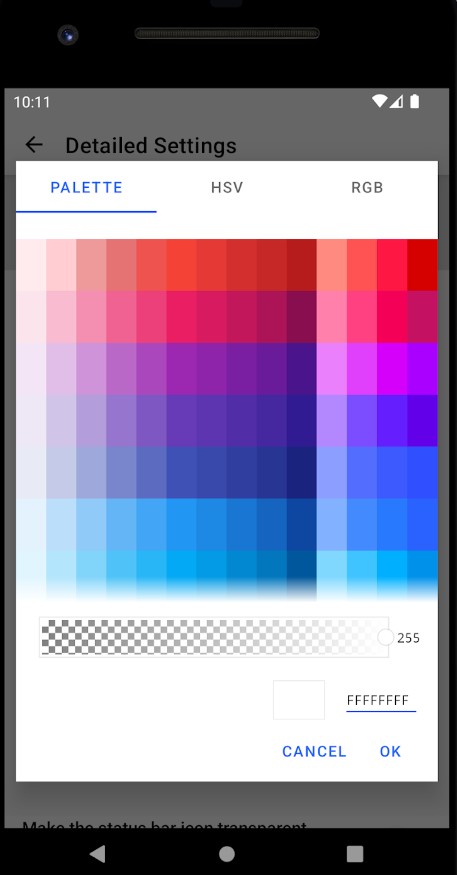 Ultimate Rotation Control
This is a tool to control your phone screen rotation, so you can be calm about this problem when the screen is dancing while you are watching your favorite movie.
This app is like a superhero for Android users.­ It swoops in to save the day with its mind-­bending feature of rotating stuff,­ like images and videos.­
Who would have thought that something as simple as rotating could be such a task?­ Not me,­ certainly.­ And if you were expecting all this groundbreaking functionality for free,­ think again.­ There's actually a VIP club with paid features because rotating things is considered a privilege.­ However, this app still has the necessary functions for free.
In conclusion, I can say that this app is able to control the screen rotation and allow you not to worry about it during your phone using.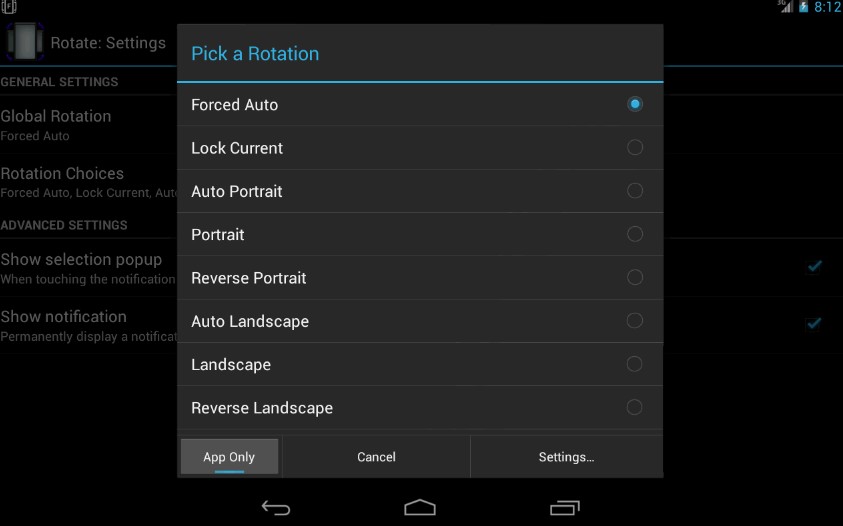 Control Screen Rotation
With this app,­ you have full control over your screen.­ You can effortlessly lock it in either portrait or landscape mode with just one tap.­
The user interface is quite modern with laconic design and easy-to-use controls, so it is not a problem to navigate this app.
If you decide to use this app, then you whip out your phone,­ tap on the app,­ and voila!­ Your screen follows your every command effortlessly.­ And guess what?­ There are even some paid features available.­ You can invest a little cash to get rid of those pesky ads and unlock extra themes.­
All in all, this is a decent app to control screen rotation. With the help of this software it is possible not to become angry because of permanent screen movements.