11 Games like Hollow Knight for Android & iOS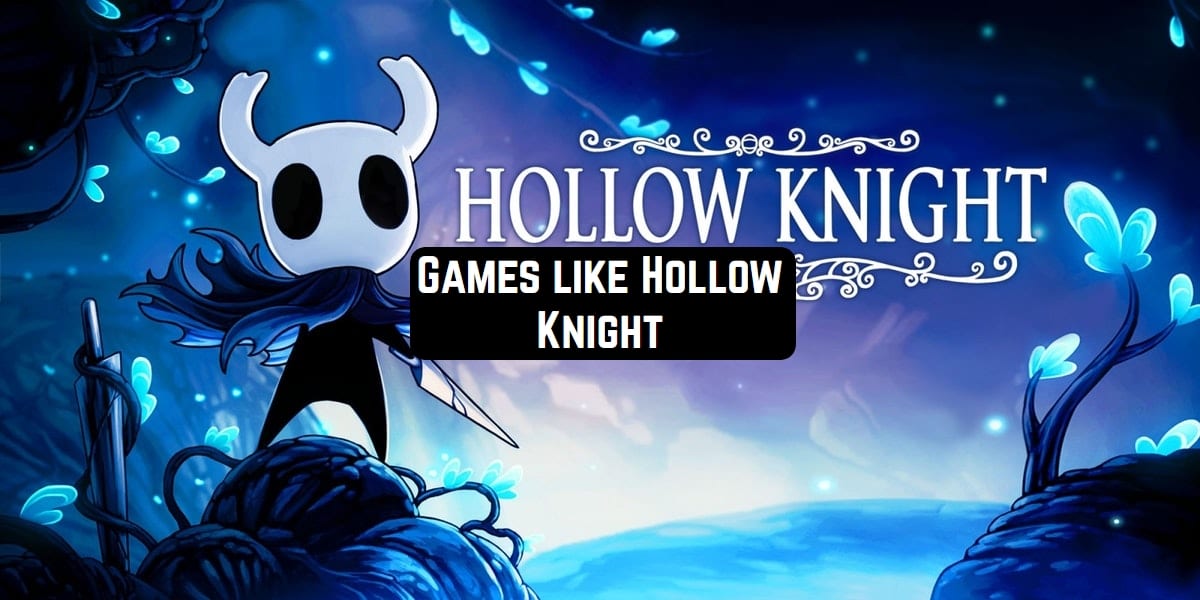 Hollow Knight is gloomy but at the same time fascinating game that has many fans. You go into the world of adventure, exploring the mysterious Hallownest. 2D graphics give the game a special style, dark tones will please fans of Tim Burton's films, and Dark Souls will bring a little mystery.
The plot of your character fights with obstacles, reveals secrets and riddles, using the elements of combat. Hollow Knight is an indie genre game that utilizes cross platforming. The special atmosphere, the management of 4 cards, the elements of travel, and battles – this is what attracts players.
You may also like: 7 Games like Horizon zero dawn for Android
However, if you've already gone through Hollow Knight, or if you're just looking for something new, we've prepared 11 games for you that looks like the app you've already loved. Learn each one carefully, and see if it will replace your old game!
Ricky Lite + Level Editor
Ricky Lite is a nice story game that can be played by people of all ages. The first child was kidnapped in the family by the evil creature "boos". This creature was looking for a second partner body to increase its strength and capabilities.
The family was killed by grief, but still has a second child – Ricky. Ricky couldn't stand by and decided to go on a quest – and so began your adventure.
In general, the application is a puzzle-adventure, in the passage of which you move through the platforms. Ricky Lite is a video game with its own charm and atmosphere. By the way, it is not for nothing that the Level Editor note is specified in the title.
Here you can try yourself as a real developer – think through and create new levels. You put new platforms, filling them with bricks, tunnels, and deep ditches.
Created worlds and complexities you can pass by yourself, as well as share them with other users. Online they can pass your creation, evaluate its complexity, and diversify the main storyline with something unusual. Of course, you can play at levels created by other players.
You may also like: 11 Best games like Minecraft for Android & iOS
Traps n' Gemstones
Traps n' Gemstones is another platform game that gives gamers exactly what they want: a simple story, exciting gameplay, adventures, and a little action.
All actions take place inside the pyramid. Precious treasures were guarded for a long time by Bedouins but now began to disappear under mysterious circumstances. They claim to have seen a real criminal whom no one can identify. You are a real expert on antiquities, and to solve this strange case, you have been smuggled to Egypt.
Since your arrival is secret, you find yourself in a new place without any equipment. You will need to search the caves known to you to find at least some items. As you progress in the game, you realize that you need more than just a large amount of explosives and a little experience.
Traps n' Gemstones has many advantages: first, if you fail, you don't start all over again – the game's progress is restored at the entrance to the current cave or chamber. Secondly, you can easily explore the territory without breaking the storyline.
And most importantly, if you buy the game once, you no longer have to make other purchases in the application itself. Bought once and enjoy the game at 100%.
Dandara
Traveling, you find yourself in a world called Salt. All its inhabitants and citizens are spirits, once majestic and invincible. But times have changed, and now they are oppressed and harmed. In all this atmosphere of fear, the true hope of salvation is born – Dandara.
You play the role of Dandara. The whole world of Salt is full of amazing creatures, objects, and plants. Moving through the platforms, you explore it, but even over time, it is impossible to fully study it.
Speaking of movement, the laws of physics do not work here. You are unfamiliar with the resistance of gravity – you can jump as you like and in any direction. This is not the only mystery of the world – Dandara still has a lot to solve.
All the graphics in the game is built in the same style – it's pixel images, so beloved by fans of platform games. Management is carried out directly through the screen. You will need all your skills of speed and movement in order to quickly and effectively perform various tasks. Go to the world of Salt and save the residents.
Toki Tori
Toki Tori is a more lightweight game than the Hollow Knight, but it still brings the similar vibe. Moreover, here you will also have to pass the levels in the dungeons and caves. The main character that you're going to play for is a cute little chicken – help him to get out of these trouble!
The game is made in the classic 2D graphics that remind of Sega and other first game consoles. In Toki Tori, you get around 80 levels to go though and also 4 large worlds where the action of the game takes place. You can adjust the difficulty of the levels – easy for the beginners and hard for pros.
Another feature of this game worth mentioning is its soundtrack and sound effects. The music takes up back to the classic 8-bit games and the effects sound extremely funny. Plus, this mobile version od Toki Tori contains the interactive cut-scenes, that you won't find in the initial version.
Another crucial element in this game is that you have to collect the eggs on your way. How and when you have to pick up the egg and what tool should be used, depends totally on your ability to plan and act. Toki Tori also includes a great variety of weapons.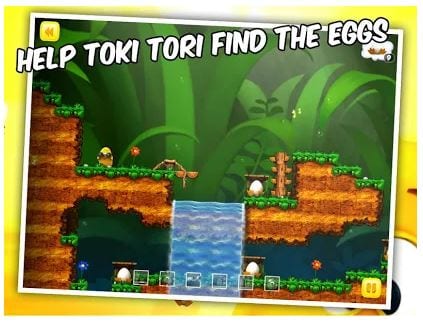 Antiflux
If you love puzzles and can't imagine your life without them, Antiflux is the right choice for you. The game is presented in the genre of platforming puzzle, which will not bore the players because it has plot turns and intricate missions.
Teleports, robots, jump platforms, and lasers – in general, Antiflux is a futuristic game. The whole design is made in blue neon tones, and the design is associated with science fiction. You can control it either by means of a special panel on your smartphone screen or by means of a controller.
In total, Antiflux has 60 levels, differing in terms of subjects and complexity. Each of them includes puzzles and mechanics, and you can enjoy old-school design and beautiful soundtracks in the same style throughout the whole gameplay.
The best thing is that the application does not require you to make any purchases, as well as completely absent ads. So nothing will stop you at the key moment of passing the level.
Super Mario Run
How could you leave this top without a famous game? Of course, we didn't forget about the cult Super Mario Run game. Ready to start saving Princess Peach? Then download the game quickly!
Yes, your first mission will be to save the princess from the villain Bowser. It will not be easy to do – you will have to take 24 courses before you reach the castle. There are many ways to do this – to collect coins or to participate in a tournament. In any case, before you buy the game, you can try out the first 4 levels for free.
Yes, Super Mario Run is a paid game. And you can buy a specific story, as well as all at once – just buying the application package. After the first mission, you will discover new ones. World tours will give you the opportunity to build a home for Luigi or find Daisy.
There is also a mode of construction, just in which you can build houses and your own kingdom. Later on, you can use the characters as the main ones when passing the levels – that is, use their abilities. The rally tickets are also in construction mode or minigames.
The fans of the cult Mario should like this version: you run with just one hand, the characters are all available, and missions and tasks will not make you bored.
Geometry Dash SubZero
Geometry Dash SubZero is a sequel to the legendary Geometry Dash game. The entire lineup is runner-platformer games, keeping players entertained and focused at all times.
Jump on the platform and prepare yourself for something that won't be easy! You can customize your character. While playing the game you will unlock special, unique icons that can be applied immediately. In general, you can set up the character from the very beginning – choose a color and style, but the special icons will be available only later.
There are only 3 levels of difficulty. Each of them has its own soundtrack – this, by the way, is a distinctive feature of all Geometry Dash applications. The SubZero version presents music from MDK, Bossfight and Boom Kitty. You move around the platforms exactly in the rhythm of these tracks – so don't forget to connect headphones, it will be more fun.
In order to improve your skills, there is a training mode. Enabling it, you start playing without recording the results in the statistics. This way you can gain experience and skills without affecting your overall performance.
The game is so enticing and attractive, that even despite the elementary plots and rules, millions of users continue to download new versions. Try it, too – who knows, maybe you won't even be able to get away from Geometry Dash SubZero to watch your favorite show.
You may also like: 10 Best games like Final Fantasy for Android and iOS
Fluffy Fall: Fly Fast to Dodge the Danger!
As you know, cute things are addictive! Of course, seeing charming fluffy lumps on the screen saver, most of the users will simply not be able to pass by and scroll through the list. Ready to manage these funny creatures?
Go on a fun trip to a falling game. Here you can run non-stop, overcome obstacles, and go from one platform to another. Your fluffy character will overcome level after level, despite all the obstacles – ice, flame, lasers, snakes, and other absolutely unexpected dangers you will move on.
The whole game is made in 3D graphics and is perfectly combined with the dynamics of the passage. As with all games of this genre, over time the appearance of obstacles accelerates, and the rhythm of the game becomes faster.
You collect the gold you need to unlock items and new characters. Pretty characters conquer both children and adults, so the game is suitable for people of all ages.
Smash Hit
You can enjoy the fun of the game process in many games. Cute characters, atmosphere and graphics – it's great, of course, but there are also fans of a completely different drawing. Smash Hit is a platform game, which is made in the style of surrealism. You seem to find yourself in another dimension, leaving the reality completely.
If you've been looking for realism about the laws of physics, Smash Hit will completely satisfy your desire. Because all actions are made absolutely realistic – that is, having the right knowledge, you can easily calculate and predict all the movements. All your actions are in harmony with the sounds and music – it gives you more fun in the game.
Each level has its own unique melody and unique style. In total, there are 50 spaces in Smash Hit, each with 11 graphic styles. You knock objects down throughout the level, the sound of breaking glass accompanies your every action! Go through all levels as efficiently as possible and enjoy the synchronicity of sounds and actions.
Mini Militia – Doodle Army 2
Multiplayer battles have long won the hearts of gamers. The whole game Mini Militia is presented in 2D graphics and scrolling genre. Long ago you wanted to play with friends, but it seemed to you that in mobile versions it is too difficult? Mini Militia will turn your view upside down.
You can play with up to 6 players online or 12 players at the same time, but only if you're connected to the same Wi-Fi network. You can also play in the training mode – sharpening your skills for further great battles.
Skillfully calibrate the maps, choose weapons from a huge arsenal. Maps of the world are open and allow you to use the whole rocket launchers for long-range and close combat. You can also use two weapons at the same time, grenades and heavy weapons, more like equipment from science fiction movies.
The characters are similar to cartoon characters, but this does not prevent them from participating in large-scale battles. Control of them and weapons is carried out intuitively and does not differ radically from more standard games of militaristic style.
Mini Militia has a Pro version, which gives you access to the use of dual weapons, a change of avatars and masks, as well as online weapons.
You may also like: 11 Best scary face changing apps for Android & iOS
Rusty Lake Paradise
In this game, you play as the eldest son of the Eilander family. After the death of your mother, you return to your home island and see that it simply suffers from 10 disasters of Egypt.
A place that you used to call home, in ruin and agony and the death of your mother only brings mystery. Your whole journey is a puzzle and mystery, solving which you will understand everything that has happened here.
In the process, you will find old memories of the mother that will bring a little clarity to the story and give you clues for the next steps. You get invaluable experience in solving puzzles, practicing your brain.
The plot of the game is really unique – you will not find such a thing anywhere. Each disaster has its own story and puzzle, as well as a soundtrack. All this together gives a charming atmosphere of mystery and only encourages to go further. In addition to the main story, there are other riddles on the island, which you have to solve.
Unique plot, beautiful soundtracks, real puzzles – Rusty Lake Paradise will not leave you indifferent and will carry you away for a long time.
Of course, it's hard to find a full analog of Hollow Knight, especially in the mobile version. If computer developers have tried to make several standard games, the versions for iOS and Android still have more differences.
But still: all the games from the presented top are interesting representatives of the genre. If you are bored to play the same application, passing basic missions – choose a representative of the list to your liking, install on your smartphone and that is all. Provide yourself with a relaxing evening (and maybe even a few evenings!).