Home monitoring is a very important and convenient feature that can be achieved through effective methods. For example, home security has become much cheaper and easier thanks to mobile apps.
You can use old phones to achieve such efficiency. Here are the best security camera apps. By the way, you can discover more home security apps for your house to stay safe all the time.
Nest
Nest can be a really useful application for remotely controlling and monitoring your home, basically, it has the Alarm Systems Nest cam and the system allows you to control and watch your house even when you're not there.
What is more, you can use the nest thermostat in order to receive Nest protect alerts right on your phone. The app has gained its popularity thanks to its wide range of features.
For example, it has sensors and algorithms, and it can also track your phone's location. In case you will forget to set an alarm, there is a remind me alert feature that will take care of it. Very convenient, right?
Nest Thermostat allows you to save energy:
Keep track of how much energy you've used and why
Monitors and adjusts your schedule
Alerts you to extreme temperatures if the temperature in your room drops or rises.
The Nest alarm system works in a way that you are totally able to control your home from distance with its notifications and it always shows what causes the disturbance is it a window or a door, or is it even an intruder entering the room.
Nest Cam allows you to monitor your home, inside and out.
Checks 24/7 at 1080p
Recognizes the faces of those who knock on the door
Knows the difference between a person and a thing
Notifies visitors even if they don't ring the doorbell
And even though the interface under the app is a little bit obsolete it's still a leader in the market of home surveillance apps.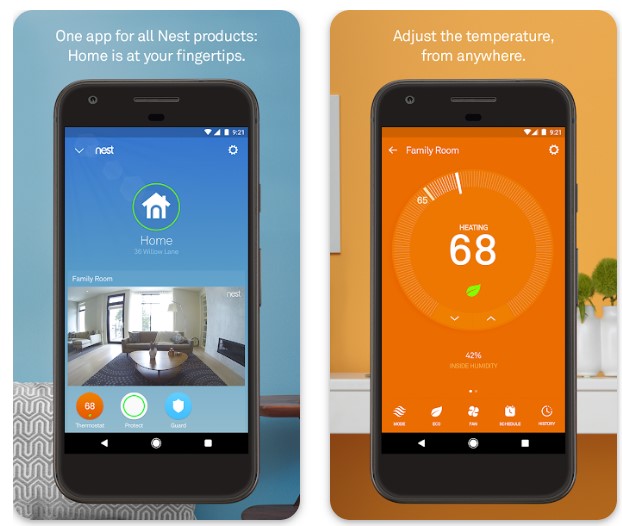 You may also like: 11 Best Home Automation Apps for Android & iOS
Warden Cam
Warden Cam turns your free old smartphones and tablets into home surveillance cameras. Very convenient, isn't it? You can watch not only the live feed but also past events from the recordings you make.
This app allows you to find out if your delivery is here, always stay sure about the safety of your friends and family, or just watch your pets and see what they are doing while you're away.
In addition, this app comes with several levels of configurations that you can adjust and it also has cloud storage, which is really beneficial for making long recordings.
So in other words, by using the warden cam, you can just leave your phone at any spot and just see what's going on in that spot or make recordings.
Main features:
Allows you to get push notifications or emails for motion detection
It can work everywhere if you have an Internet signal, Wi-Fi, 3G, 4G, or LTE.
Can playback the recording
Can stream on live mode during the day and night
Cloud store is free (Google Drive, Dropbox)
All the recordings will be saved in the cloud storage automatically and the monitoring is available 24/7.
One of the coolest features of Warden Cam is that it allows you to also record sounds from the spot. All in all, this is a great safety tool that can prevent any negative situation before it happens.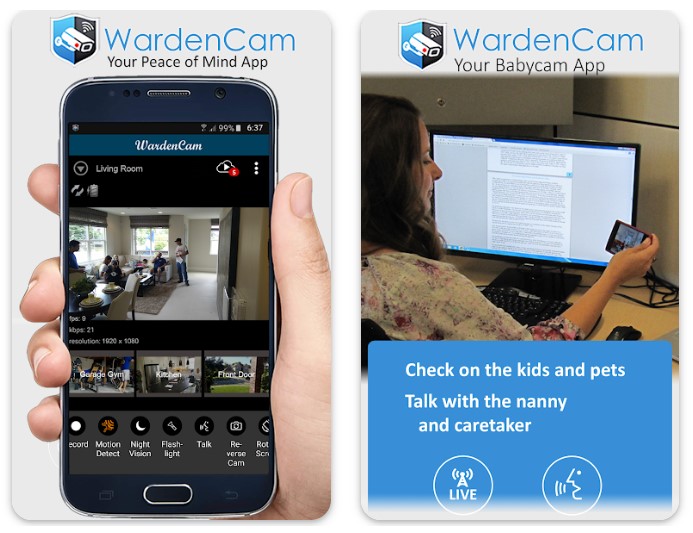 Alfred Camera Home Security
Alfred camera is also a popular app on the market of the surveillance apps. It is quite similar to the previous app on this list. Just like all the other apps here it allows you to watch your house while you're away. You can easily monitor everything.
Various features of the app:
Work only while the phone is unlocked or in-app
Annoying amount of ads in the free version
Easy to install and set up
Won't occupy much phone's memory
The main features of Alfred Camera are that it uses the internet signal in order to work, and it also has a two-way audio teacher.
What is more, it has the cloud storage access feature, but it is only available for free for 7 days of usage. There is also a motion detection picture that will allow you to find out who entered the house and when.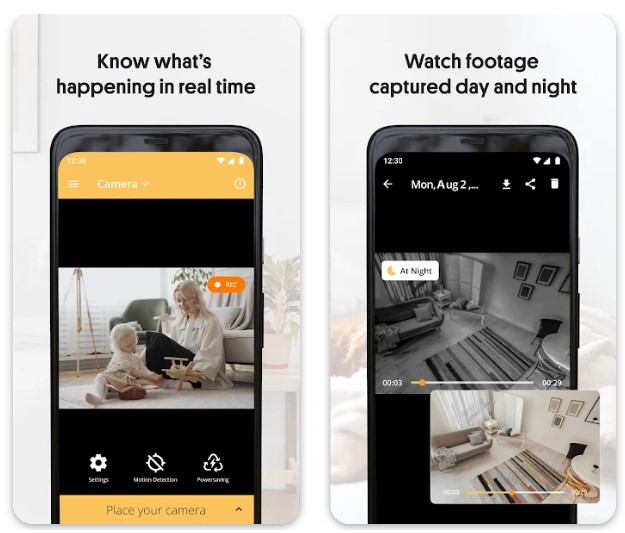 tinyCam Monitor
tinyCam is a free app to remotely monitor your home while making all types of recordings on your devices. Usually, those are smartphones. This application also has a paid version, tinyCam Pro. In comparison to other home surveillance apps, this one is quite easy to configure when you start using it.
One of the advantages of this app is it can work without even an internet signal and this is what makes tinyCam stand out from its competitors. With its no access to cam-based alarm recording, you will have to use your native camera app and therefore you will be able to monitor what's happening in your house.
Main features:
Supports a wide range of cameras
Two-way audio (talking and listening)
17 different layouts
Optimized for CPU/GPU
Cons:
Does not support face detection
Lots of annoying popping-up ads in the free version
No sensors available (temperature, humidity)
However, the app has some issues with creating and logging into the account, and the problem is on some devices it just will not work. In case you decide to go for the paid subscription you will find such additional features as time-lapse recording, face detection, and audio monitoring from several cameras at once.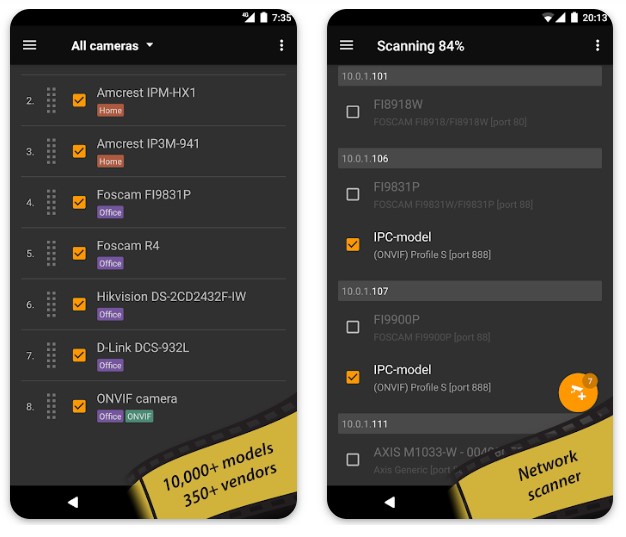 IP Webcam
IP Webcam can turn your old phone into a network camera with a variety of viewing options. It means that you will be able not only to watch the videos from the app. You can also view the camera on any platform via a VLC player or web browser.
In case you don't have internet data on your smartphone, you can use the Wi-Fi network to make the app function. IP Webcam can record not only videos but also sounds.
What is more, you can use the app with third-party mjpg software. This makes IP Webcam a little bit more complicated to use, however, it brings to the table more monitoring possibilities.
Features:
Motion tracker with special sound as a trigger
Pet monitoring and extensive baby features like night vision, motion detection, sound detection
Push notifications responding to motion or sound
But once again, here we have tons and tons of ads in the free version of the app and in order to remove them you will need to go for the paid subscription. There are also watermarks on the videos, but it's not a great disadvantage.
What is worse, is that the user interface is not customizable. Moreover, the free version is much less abundant in functions and Integrations than the Pro version. Overall, IP Webcam will suit older devices with more specific video formats.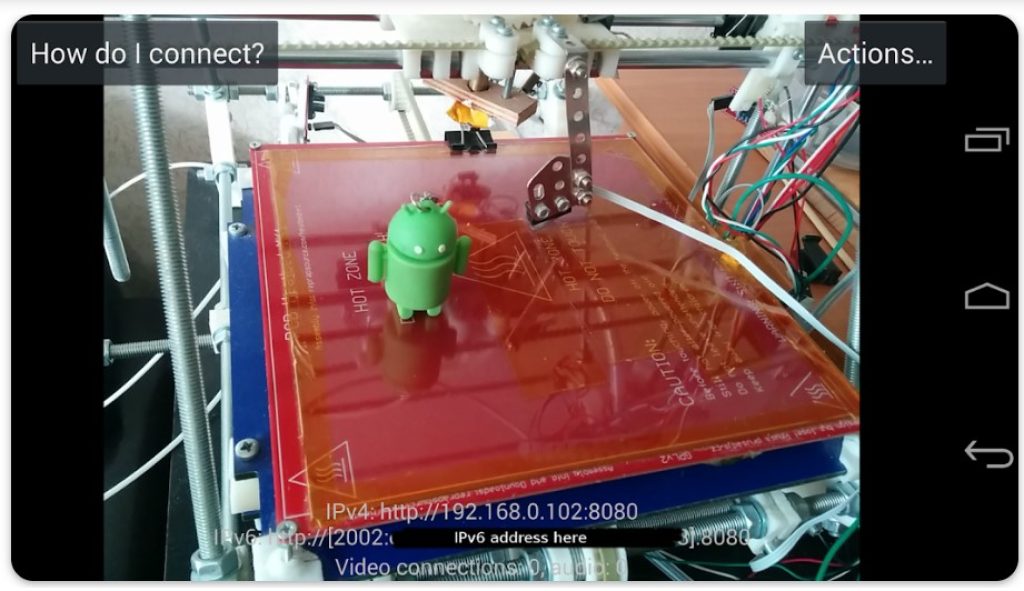 Hik-Connect (iVMS – 4500)
At the first sight, this is a standard Android app that can be used to remotely monitor your house through videos in real time. It does require an internet signal in order to work. It is also able not only to play videos but record them so you can watch them later.
Pros of the app:
Can Log onto front-end device via 3G or Wi-fi
Works remotely and can control other cameras, and files (images and video).
However, many users complain that with the latest update lots of features have been demolished. For instance, the HD video feature has just disappeared.
What is more, the app will run not on every device, and its main problem is that it hangs and crashes from time to time. Layouts take up a lot of your device's memory space and that's also a disadvantage.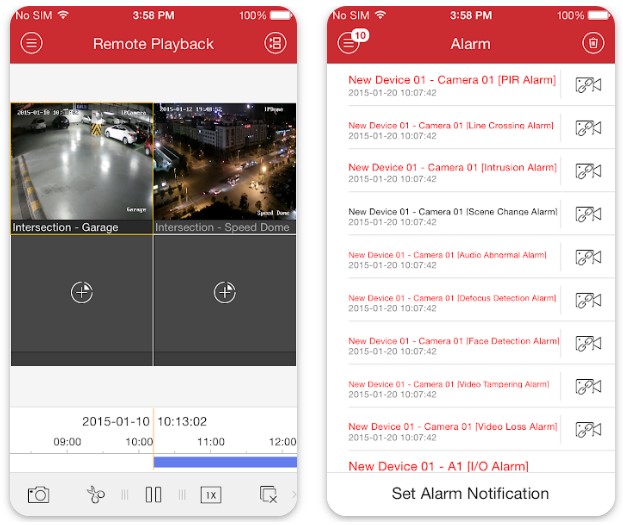 You may also like: 7 Best Pet Camera Apps for Android & iOS
ZoomOn
Let's get straight to the point here – in order to use this app you will need two smartphones instead of one. However, it won't be complicated to configure all the settings in order to make them work as the security system of your house.
ZoomOn is quite a snap that has nice functionality, including the feature of the live stream video, Unlimited reach, notification system, even the night mode, etc.
So what features you will find in here?
Live-Video Monitor:
Video broadcast for home security
You can use both the front and back cameras of your device
Safe and Reliable Wi-Fi cam:
Cameras can work with Internet signals and mobile data
If Wi-Fi was an outage, it aims to reconnect automatically and rapidly. There is a bunch of support networks that you can connect to.
User-friendly security camera:
Once again, the app is not difficult to set up even though you will need 2 smartphones
The user interface design of the app is much better than in the previous app on this list
A variety of settings enables you to control the areas as closely as you want
High-quality Audio System:
You can use ZoomOn for audio remote control
Easy set up the sensitivity of noise. You could identify if something happened via that function
Among other interesting features of ZoomOn, you will find the fast configuration, priority to security, and re-use of old devices, alarms, and notification systems.
However, the only disadvantage is that a wide range of functionality is available only in the paid version. .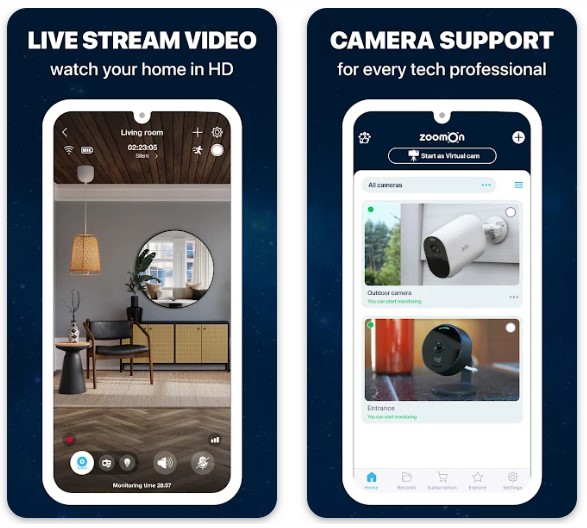 Reolink
This app positions itself as one of the easiest to use. It enables you to control the safety of your house remotely using your IP cameras and NRVs on smartphones. One of the distinctive features of Reolink is that it allows you to schedule your video recordings.
This cannot be done in other apps. What is more, the app includes motion-triggered recording as any decent home surveillance app. Of course, it will send you a post notification or an email in case something or someone was detected being around.
Another interesting feature of Reolink is that it can capture images and videos from its live channels. It will save them to the device and the user will be able to watch them later. The app works by using regular mobile data or a Wi-Fi signal.
Users note that Reolink is quite easy to handle. By the way, disappointed allows you to view several channels at the same time, and that amount can be up to 16 channels.
However, despite all of the advantages mentioned above, Reolink can only function in houses where you already have security systems or cameras.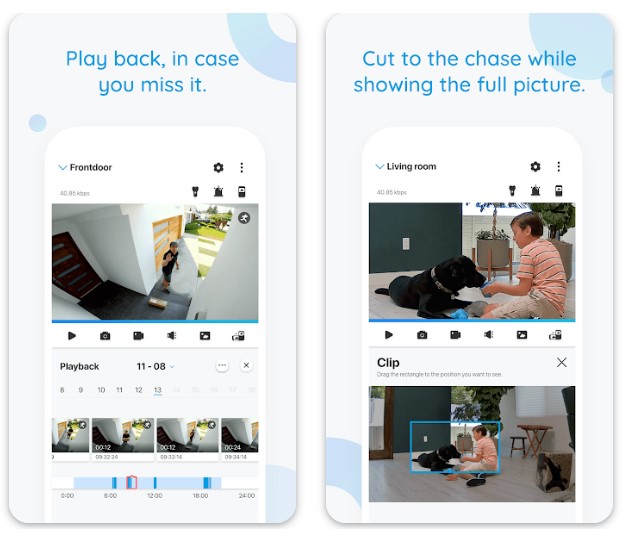 Athome Camera
This app actually has an interesting purpose. In case you have old cameras or computers in your house that you don't know how to use, then this app offers you an effective way to utilize them. Athome Camera offers you to use them for house monitoring.
You can set up an AVS device to find the activity around the house or even for the detection of vibrations. What is more, with all of those devices and this app you will be able to do the scheduled recordings and set up the alarm sounds. Athome Camera can upload the alarm videos to the cloud storage.
And this app will send you emails or push notifications to you as soon as it detects something. The future of time-lapse recording is also here as well as the viewing of the object from multiple devices.
What is more, one of the interesting features of this app is that it allows you to remotely turn on or off the flash, switch between cameras, and adjust focus and zoom.
We would not say that be at home camera app is easy to use, but its functionality definitely brings it forward. The only thing is that if the computer goes down to sleep the app won't be able to monitor the surrounding processes anymore.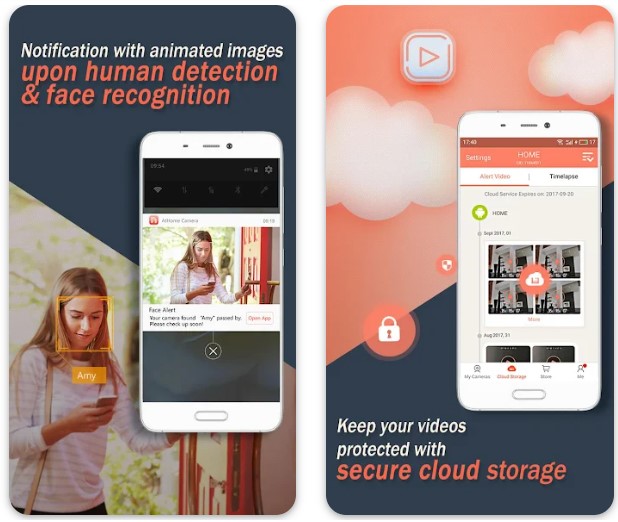 Surveillance camera Visory
This is another cool app for home monitoring and home and sees what's happening in there. One interesting feature is that with Visory you can even monitor a CCTV camera recorder or a video camera for a security system.
And just like some apps on this list, Visory also requires having two devices for functioning and those two devices can be smartphones, tablets, or a smartphone.
You will need some time to actually understand how to connect those devices with each other but because the app doesn't have any issues with it, this process should be buttery smooth. You can use Visory to monitor your pets at home and what they're doing when you're leaving.
The app also has an intelligent security system using alerts, so you won't miss anything that is going on. Another interesting feature here is that you can even connect to devices and Android and iPhone together. This process is happening by using the QR code.
Apart from that, you can use several cameras simultaneously here and all the recordings can be saved through cloud storage.
Visory can also work with sound recording and even sound detection. The functionality of this app is not flawless, as always, but in case you need to switch between multiple devices with different operating systems, Visory is a nice decision.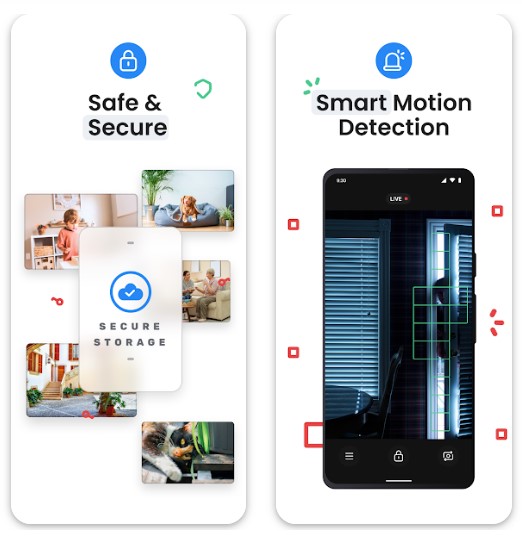 You may also like: 11 Best Google Home Apps
Swish Eye Home Security Camera
In case all the options above are not suitable for your smartphone, you can try this app. It is more simple than the previous ones, but it does but it says – it allows you to monitor your house through the video.
Swish Eye Home Security Camera can detect any motion that is happening in the house, therefore you can catch intruders. Depending on your storage or device, the app can provide 24/7 monitoring. The post notifications system for the alerts is also here.
Once again, if you have storage where you can save the video, Swish Eye Home Security camera can also make the video recordings for you so you can watch this video later. The app operates by using the Wi-Fi signal or the mobile phone data.
We were quite surprised, that's such a mediocre app that also has a sound recording feature and the sound detection feature. The app can be set up with the QR code. Once again, you can use your old and obsolete gadgets as hidden cameras with Swish Eye Home Security Camera and it will give them a new life.