On this page, you will learn how to restore photos that were accidentally deleted from your device. Each of us at least once faced with such a problem – this usually happens when an unsuccessful attempt to clear the memory of your smartphone or tablet.
You may also like: Best photoshop detector tools
Fortunately, to overcome this situation, there are special programs (applications) with the help of which you can restore deleted data. Today we review the best apps for Android to get your deleted photos back!
DiskDigger photo recovery
DiskDigger is a powerful application designed to recover deleted folders and files on Android phones and tablets. It works both with internal memory and with micro-CD cards. To work, you need to recover deleted photos and videos in good quality – you need to have Ruth's rights to view.
If you do not have them and want to get data without rights, then DiskDigger necessarily needs basic functionality, which is enough to restore deleted themes and pictures, but it is possible that the quality deteriorates because images are restored from the cache of the phone.
Instruction:
 Launch the application.
Select the needed section (for example, "Memory card").
Mark the files that you want to restore and click OK.
Confirm the restoration of the files in the list that appears.
In other words, if you accidentally delete photos from your phone or not accidentally and now regret it and do not know how to restore photos and video from the Android phone, it's enough to install this program and after small program settings, you can quickly restore deleted media files directly from your mobile phone without using another electronic friend – a computer!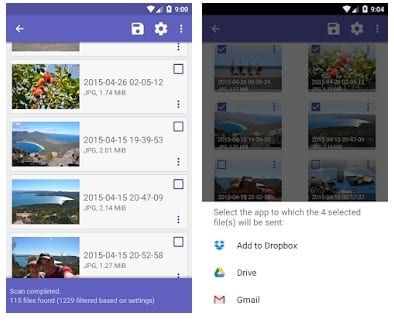 You may also like: 6 Best photo contests apps for Android & iOS
Dumpster Photo & Video Restore
Everyone knows how the Trash works: the files you delete are not actually deleted but moved to another area of the physical disk. With the help of the Dumpster application, you can restore files on Android, like from the Trash, or delete them with a lack of free space.
Dumpster works as a Trash on your computer Mac, Linux, or Windows. A dumpster is an excellent tool for recovering files from cloud backup (Dropbox, Google Drive, Microsoft OneDrive). It completely eliminates the need to create backup copies of your data constantly.
Dumpster provides you the ability to recover erroneously deleted files, including images, video, audio pdf, zip, mp3, mp4, ppt, doc, avi, mpg, jpg, rar and many other types of files.
Any file deleted by you will automatically fall into the Dumpster, from where you can always restore it. You can also permanently remove it before the time. The deleted files are stored in separate folders.
You can select all or several files, share them on social networks, sort by date, size, type, or name. Any deleted file can be viewed before recovery in the application itself, and if you have root rights, you can give Dumpster access to the root folders.
Functions and characteristics:
Works without root rights, but if they are, then you will get even better performance.
Does not require an internet connection.
Restore Dumpster backups with one click.
Preview the deleted photos, video and audio files before recovery.
Send files to Dumpster using "share" or "send" using any file manager or gallery application on your device.
Set the schedule for automatic cleaning of old deleted data.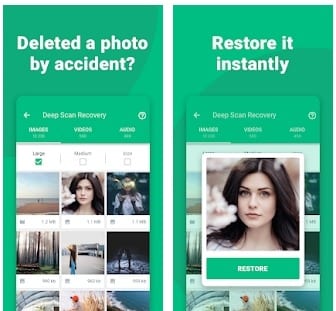 DigDeep Image Recovery
DigDeep is a powerful recovery tool that searches the internal memory of your device and the SD card for deleted images and easily restores them.
Instruction:
Download the application.
Scan all folders and files. The time of the scanning depends on the memory capacity of your device.
When the search is complete, you will see the folders on the screen, in each of them there are photos from a particular location. Check them one by one, in each folder, there is a list with all the photos in it, including those that are not deleted!
Mark the images you want to restore.
Click the restore button.
After that, a dialog box will appear, in which you will find the path for the recovered photos. You can find them either in this folder or in the gallery.
Functions and characteristics:
Scanning internal and external memory (SD card).
Pleasant and understandable user interface.
Recover images of all formats: jpg, jpeg, png.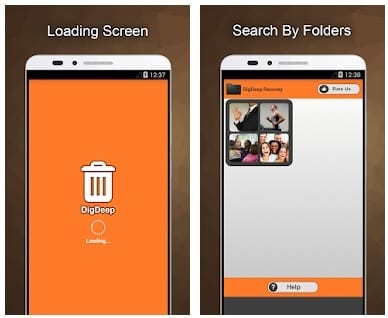 Deleted Photo Recovery
Deleted Photo Recovery is an application that allows you to recover deleted images of various formats, including JPG, JPEG, PNG, etc.
Just note that Deleted Photo Recovery does not require Root rights, which makes the program accessible to any user. And the simplicity and usability of the application are simply amazing: you just need to download it and the program will automatically scan the internal and external memory of the device and show all deleted images that can be recovered.
Then the user only needs to go into the folder with the desired file and click on a single button to restore it. And thanks to the support of previewing images, you will never go wrong and will return only really necessary photos or pictures. Also in Deleted Photo Recovery, there is a section with detailed instructions for use. Note that the application has a stylish design in a pleasant color scheme.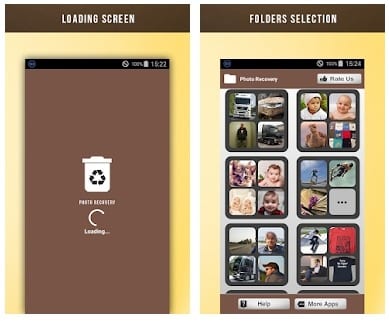 Restore Image (Super Easy)
Restore Image (Super Easy) is an excellent program for returning, in fact, photos, images on phones and tablets. Perhaps, it is one of the most popular solutions among recovery applications of this category. It has a simple and user-friendly interface, so working with this app will be quite easy.
If you do not have root rights or you do not want to receive them but want to restore accidentally deleted photos, then this application is the best variant of all.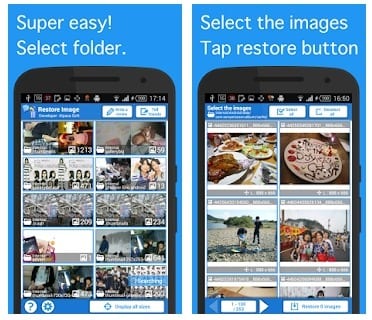 You may also like: 11 Best apps to unblur photos for Android & iOS
Photo Recovery Workshop
Did you ever delete photos by mistake? This application will help to restore lost images in just two steps.
Step 1: Scan the lost and deleted photos on the Android application.
Step 2: Select and restore important images.
This app is a simple tool with support for most file systems and photo formats. File format: JPEG, PNG, TIFF, GIF, BMP, JPG, TIF.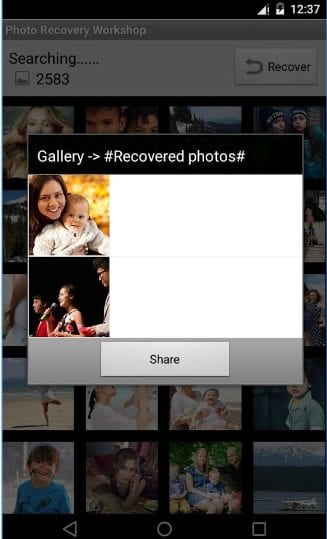 Photo Recovery – Restore Deleted Photos and Videos
You might probably wonder how it can be possible that the apps can restore the pictures and videos that have already been vanished form your phone? That's a good question. It is not really clear how some apps do that – probably they scan the cash codes to reflect the file and extract it from the cash memory.
Thus, if a picture was deleted a long time ago you probably have no chances of restoring it. However, this app will help you to restore pics that you deleted recently from your phone for whatever reason. It requires no rooting. In order to find the necessary images choose the "scan" function and the app will show you all the files which have been deleted recently.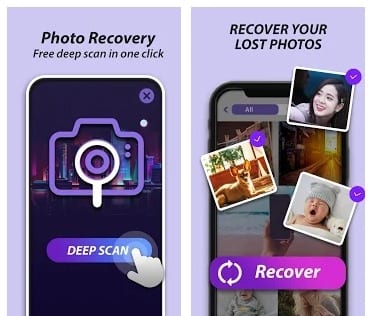 Undeleter Recover Files & Data
The application scans and recovers deleted files and data from SD cards and internal phone memory. Works on Android with administrator rights and can come in handy when you accidentally deleted photos, videos or music.
The main advantage of the application is that it allows you to preview most types of files. To unlock the full work (restore any files, delete ads, and background scanning) – you will need to buy the full version.
Functions and characteristics:
Recover deleted files from any partition.
Finds documents, photos, videos, music, archives, and apk.
Save the recovered files directly to Dropbox and Google Drive.
Permanently deletes files.
Some files detected during the scan may not recover or be partially lost, as the data may be corrupted, just like on desktop PCs.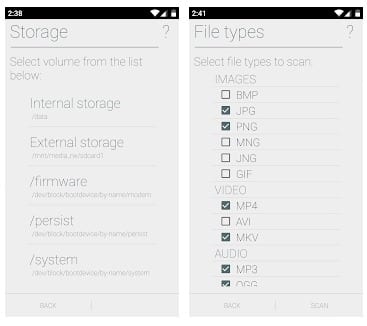 Photo Recovery – Recover Deleted Photo 2020
This is quite a powerful app and even though it is relatively new on the market, it is one of the best on the whole list. First of all, it doesn't require any rooting and allows you to restore deleted photos even if the app wasn't installed earlier on your phone.
The interface design is easy to understand – you can go straight to the folder "deleted images" and find the ones you need. After you choose them you can restore them. They will be restored to the folder they were initially at. What is more important – the reviews of users prove that this app really does work!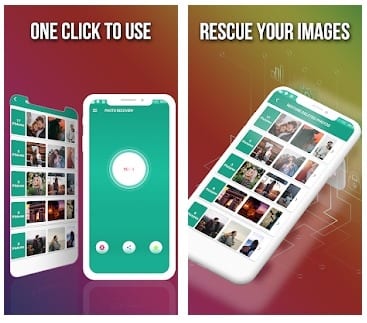 Recover Deleted Pictures: Photos Recovery App
Another more or less decent app for recovering your deleted photos. It doesn't require rooting in your device which is rather unusual. The only aspect that you need to keep in mind if you want to use this photos recovery app is that you need to remember the exact name of the file that has been deleted.
The work of this recoverer is pretty dubious, however, users say it works on some Android devices. Get this app and try it out – who knows maybe it will work and all your deleted pictures will be recovered indeed. The interface is simple in usage – so you shouldn't have any problems with that.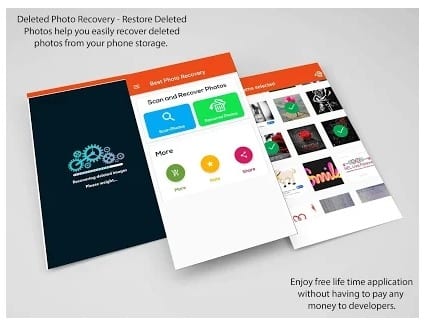 Recover Deleted Photos
Whoops! Does it seem like you accidentally deleted all the photos, including those who were truly important to you? Or maybe you broke up with your girlfriend/boyfriend and deleted all your mutual pics and then one day you decided to get back together? Don't worry, this app for recovering the deleted photos will solve your problem.
If you have this app on your phone before you deleted those pictures then there is no problem in restoring them. Just go into the section "deleted" and choose pics that you want to restore. One second and everything is back again! Disclaimer: This app can't restore your photos if you hadn't had it before you deleted your pics.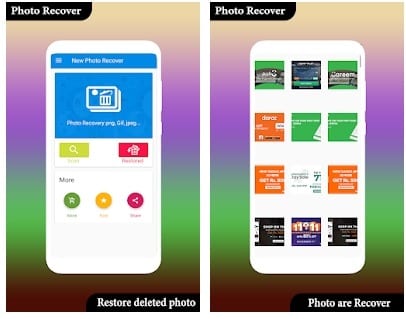 There are many tools to help you to find deleted files on Android: applications, pictures, videos, PDF documents, and other various information. And this post was about the best of them.
But you should always try to prevent loss! Be careful, regularly make a backup according to the schedule of your applications, photos, videos, games, contacts, messages, calls, settings, bookmarks, calendar entries, and so on.
In real life quite often there are situations when it is necessary to view or edit a particular document, open an archive, or get access to the cloud storage.
The abundance of different file formats that are used for electronic documents often forces you to use various programs to view their contents. Read our post about the best applications for viewing documents on Android and iOS.