As a kid, when visiting a store, almost every one of us would like to try our hand at being a cashier. Counting money, keeping track of goods, and giving change looks quite interesting for a child.
By the way, you can try yourself as the owner of a popular pizza shop by playing these games.
Board games with cash registers and money are quite popular among children. Yet, now you can try your hand at being a real tycoon by installing one of these best grocery cashier games for kids on your phone. Each of them offers its own unique store. So let's take a closer look at their features.
Supermarket Cashier Simulator
Supermarket Cashier Simulator is an exciting mobile app that allows you to immerse yourself in the real role of a cashier in a supermarket. This game allows you to experience all aspects of cashier work: from scanning goods and managing money to modernizing your store with new equipment.
It features a realistic supermarket interior where players can select items from the shelves, scan them with a barcode scanner, and even accept payments from customers. You will have to work with a cash register, real money, and credit cards.
The simulator allows you to really push the buttons to count the total amount for goods, give change, and print receipts about the purchase made. The app includes different levels of difficulty where players must cope with different types of customers, their requests, and payment methods.
For completing tasks, you will receive rewards. Thanks to this, you will be able to discover new products and goods, as well as buy new equipment for your store to increase productivity and efficiency.
The gameplay is controlled by pressing the screen buttons. The keys of the cash register make realistic sounds, which allows you to fully immerse yourself in the game process.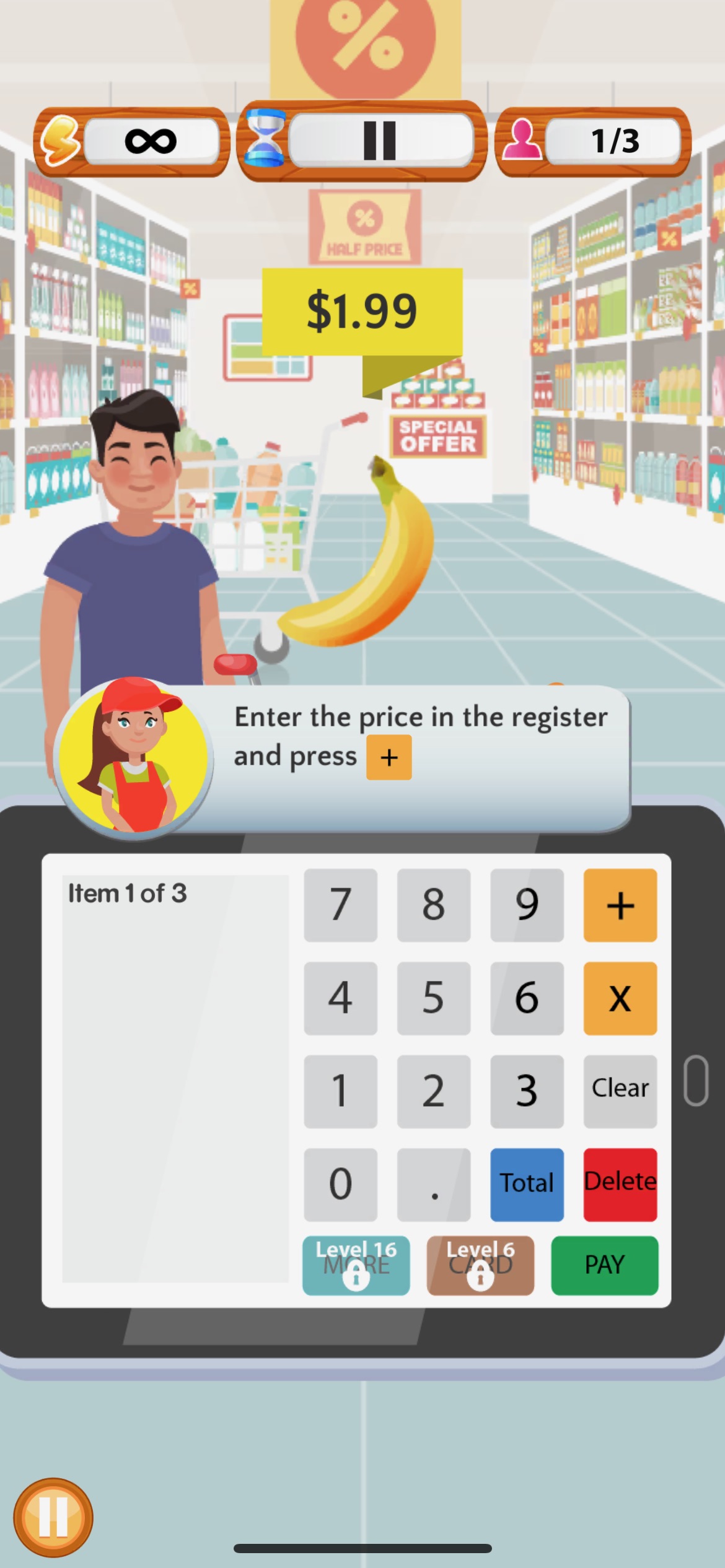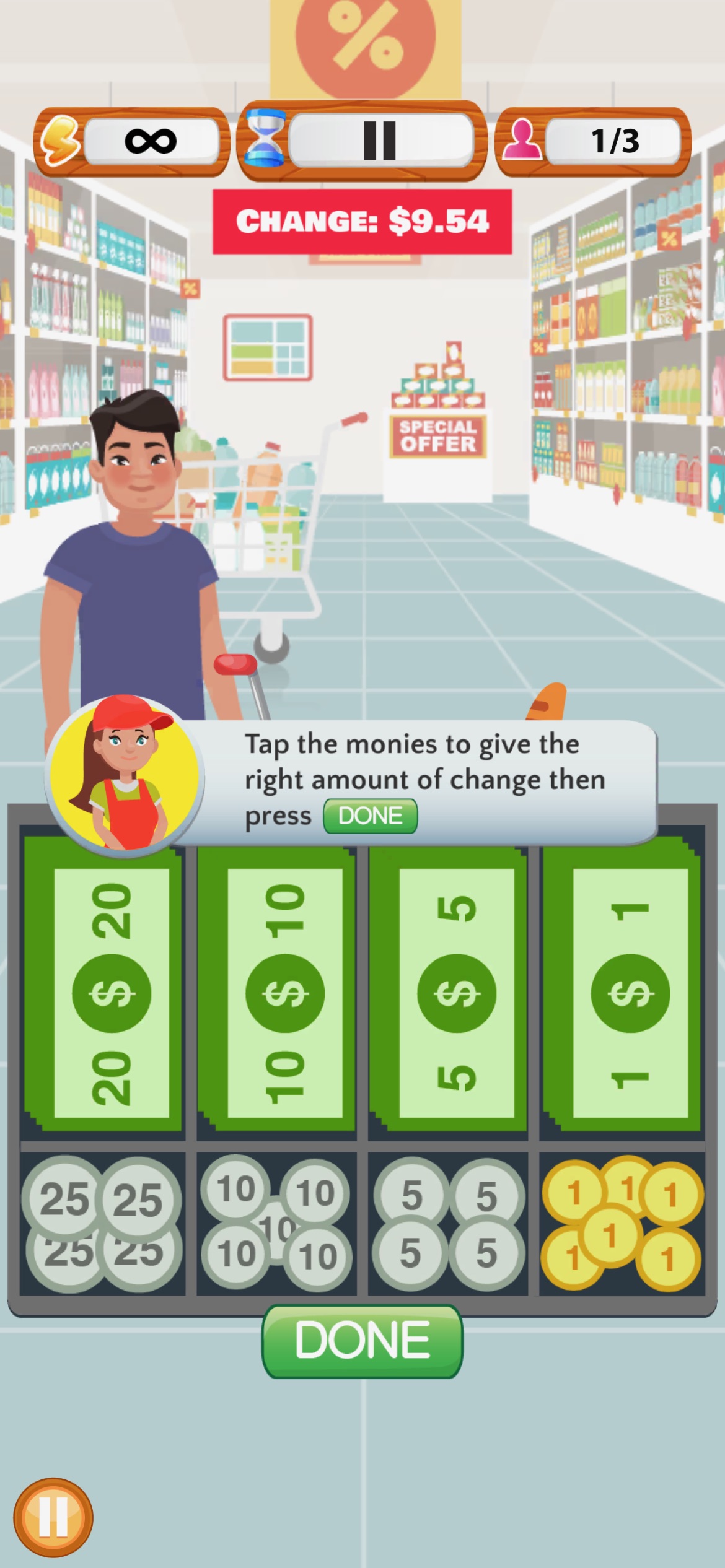 In the game, you can choose the currency for calculation, which will allow you to increase your professionalism in the role of cashier. You can also unlock levels of different difficulty to increase your rating and get more rewards.


You may also like: 11 Best Coffee Shop Game Apps (Android & iOS)
Supermarket Cashier Game
This is an addictive mobile supermarket cashier simulation game. With this app, you will immerse yourself in the world of sales and learn how the cash register works as well as how customer service goes.
The app offers a wide range of levels and tasks that allow you to practice the process of customer service and effective management of the cash register. Each level is a new task, where the player will have to serve an unlimited number of customers with a different set of goods.
You need to cope with the functions of the cash register and master the scanning of goods, counting the cost of purchases, accepting money and giving change, as well as managing grocery lists. As you play, you will be able to complete tasks and get rewards for doing so.
Here you will be able to practice customer service and effective management of the cash register, using all its functions and features. You will meet with a diverse set of goods, which you need to skillfully scan and conduct through the cash register.
Also in the game, you will gain experience in money management, taking payment from customers, and giving change. Prepare products right in the store. Expand your store and sell products with home delivery. Enjoy fishing and sell fresh fish on your shelves.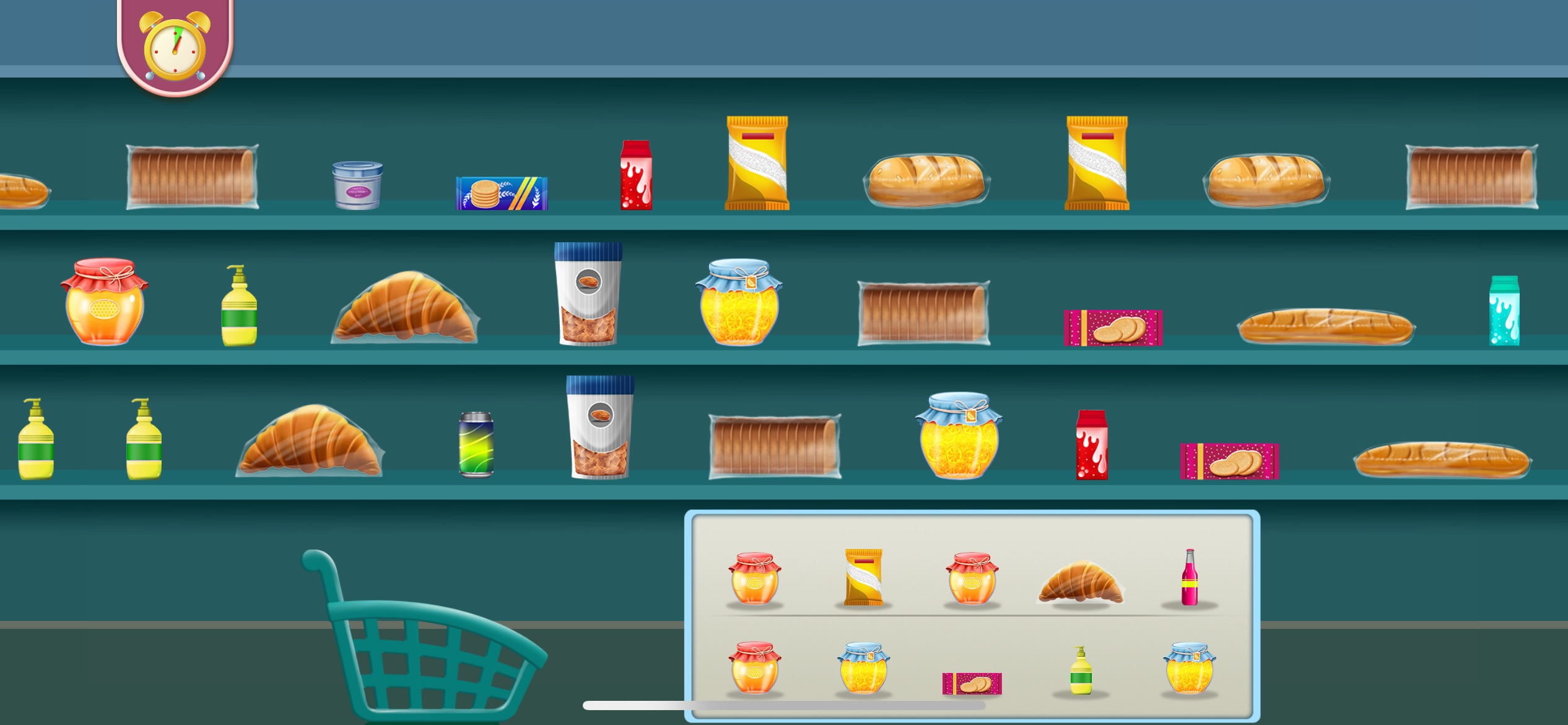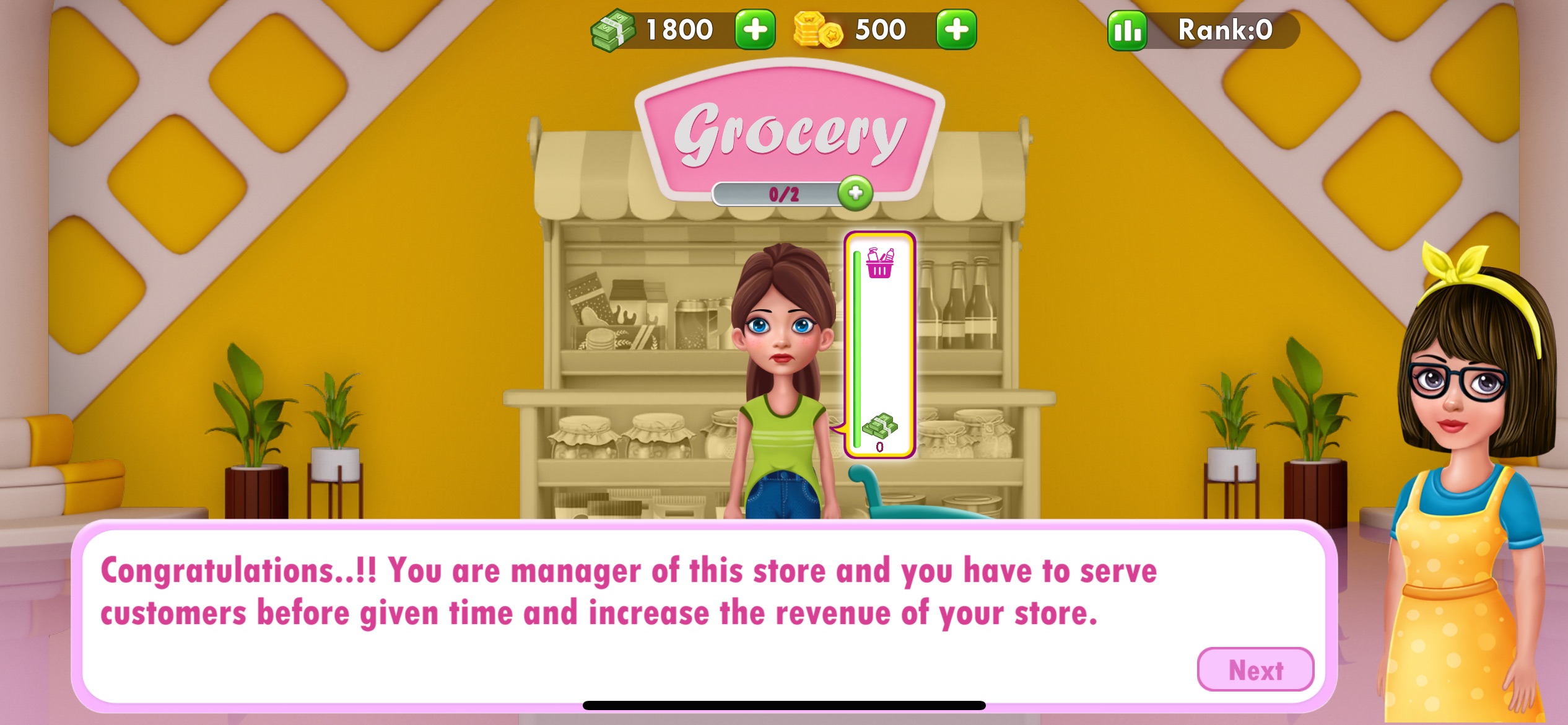 Arrange merchandise and offer new products to your customers. Package products to be bought by your customers. Keep your workplace clean and tidy and get extra prizes for it.


Supermarket Grocery Superstore
Supermarket Grocery Superstore is a mobile app game that will help you experience being a cashier. After launching the app, you will be greeted by a realistic store interior that displays the different departments of the virtual supermarket, making it easy to navigate and find the products you need.
This app offers a wide range of product categories that you can find in a real supermarket. You will find everything from fresh produce and dairy products to interior decorations and pet supplies in this store. You can shop in the medicine departments, visit gas stations, and even the clothing departments.
Choose items from the list, collect them in your cart, and run to the checkout. Create and manage personalized shopping lists, making it easy to organize and remember all the items they need. Punch your purchases at the checkout counter using a state-of-the-art cash register simulator.
You will have to scan all items and products with a special device, as well as track the total amount of the purchase and control the giving of change. You can accept both real paper money and credit cards.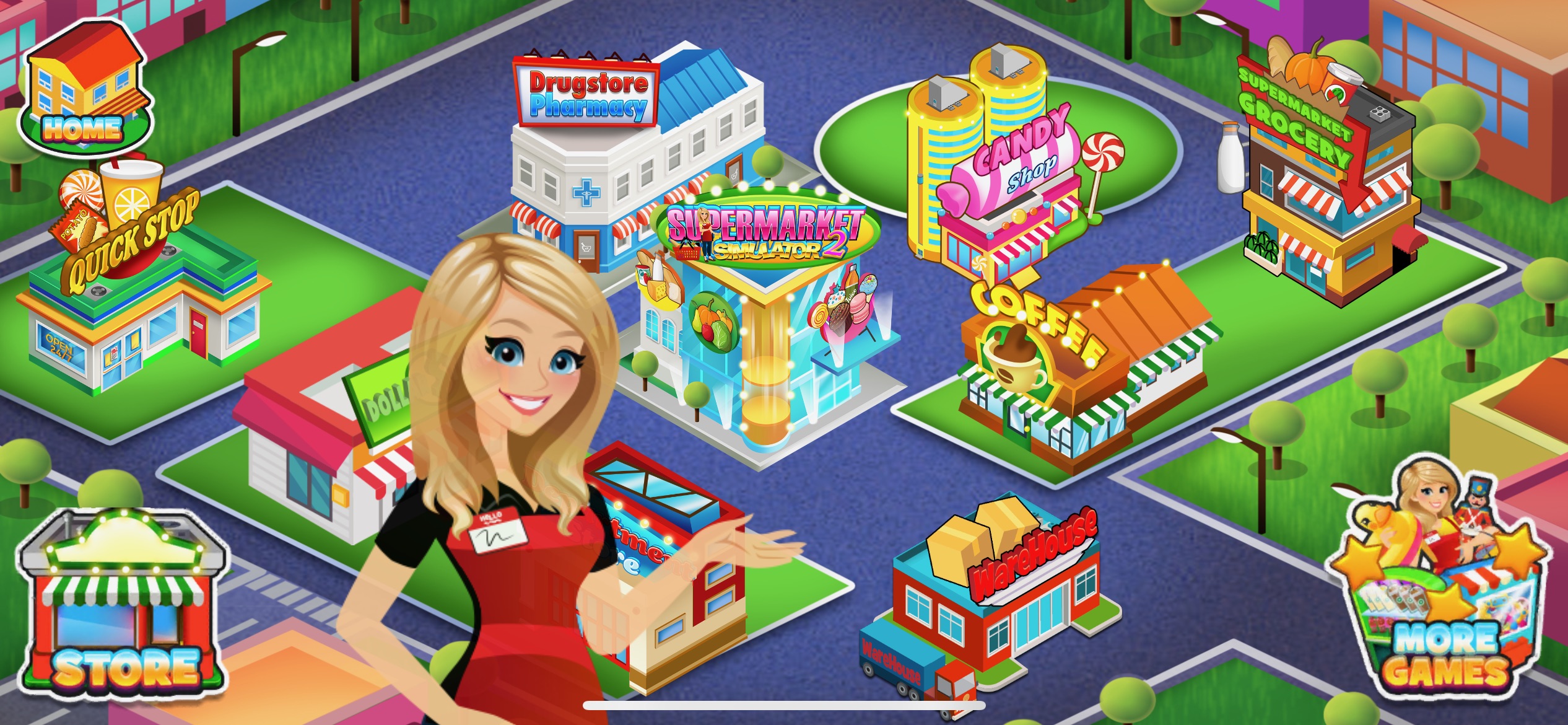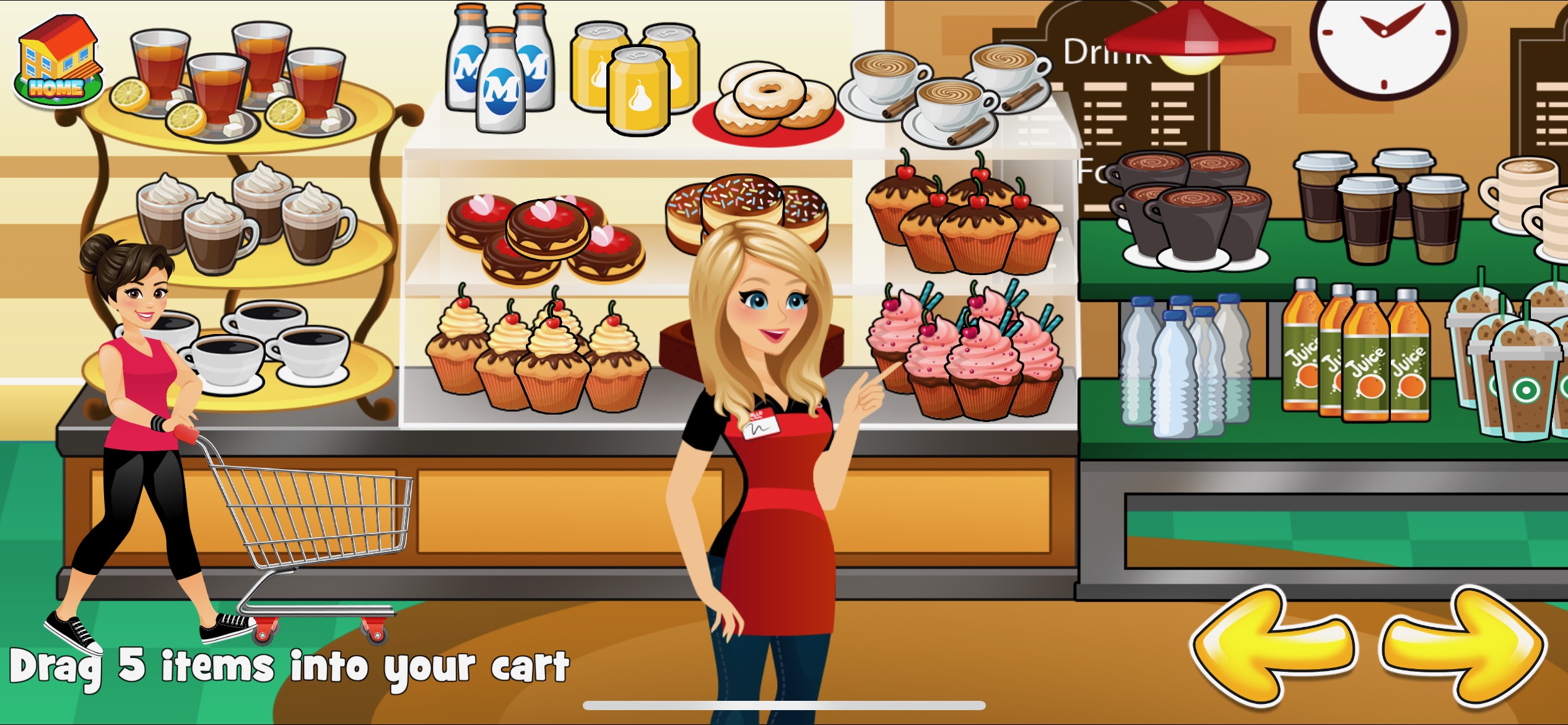 You will have to pass different levels, which will differ in complexity and degree of tasks. For passing the levels you will receive rewards and bonuses, which you can apply to the next stages. The app works without the internet, which allows you to play it anywhere and anytime.


Cashier games – Cash register
This is an exciting game that allows you to play the role of a cashier and manage the cash register in a virtual store. The app offers a variety of tasks that will help you develop skills of quick calculation, attentiveness, and organization.
You will be able to serve customers, scan items, issue invoices, accept payment, and give change. You will have to solve tasks related to adding and subtracting prices, as well as multiplication to calculate the cost of goods.
Choose different levels of difficulty depending on your level of expertise. Starting with simple tasks, you will gradually move on to more complex ones that require more concentration and speed. Each successfully completed task will be rewarded with bonuses that will help you unlock new levels and cash registers.
The game features a large assortment of goods, where shoppers can choose from food, as well as various appliances, clothing, or electronics. The app allows you to customize your virtual store. You will be able to choose new equipment to increase the efficiency of the game.
You will have to count different amounts and give change from the cash register. For this purpose, the app has instructions and short training courses that will allow you to master the knowledge base for working at the cash register.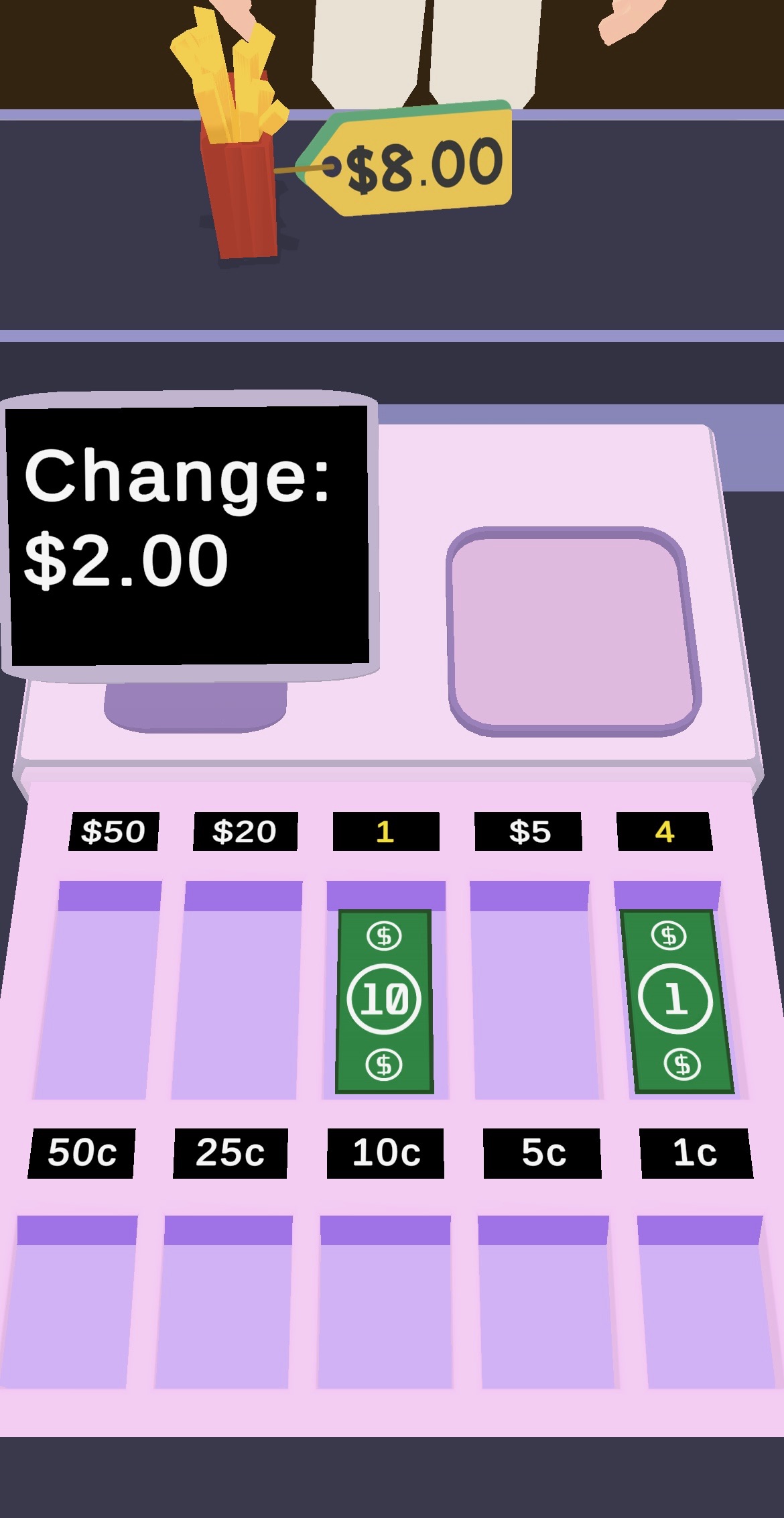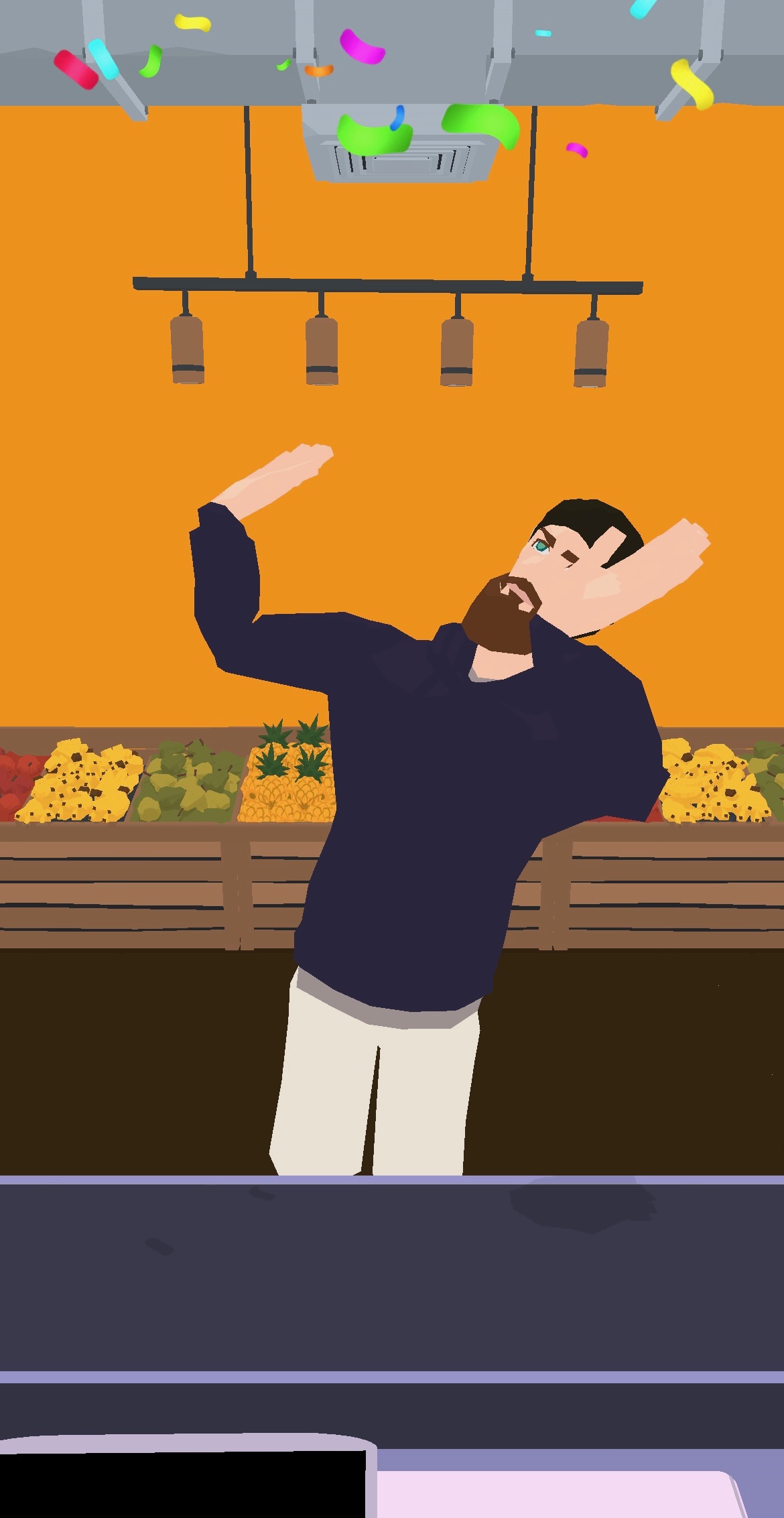 You will also be able to play different mini-games to unlock new levels and features. The app is free and works without an internet connection.


You may also like: 11 Best Cooking Games for Android
Grocery Shopping Cash Register
Grocery Shopping Cash Register is a game for mobile devices that allows you to try yourself in the role of a supermarket cashier. This app will allow you to plunge into the world of purchasing, acting as a cashier, and controlling your own cash register.
Here you will see shelves with products, which can be filled with different goods. Your task is to serve customers, scan their goods, receive payment, and give the change.
The game is divided into several levels of difficulty, starting with simple and gradually moving to more complex tasks. You will be offered different types of products such as fruits, vegetables, dairy products, meat, etc.
You need to correctly scan each product with a cash scanner, as well as calculate the total purchase amount, accept money from customers, and give them change. Try playing the role of cashier and manager in different types of stores: market stalls, clothing stores, appliance stores, and more.
Complete mini-games and get more money, rewards, and points. This will help you unlock new levels and move on to new stages of the game. Clean your workplace to get extra bonuses and avoid dissatisfied customers.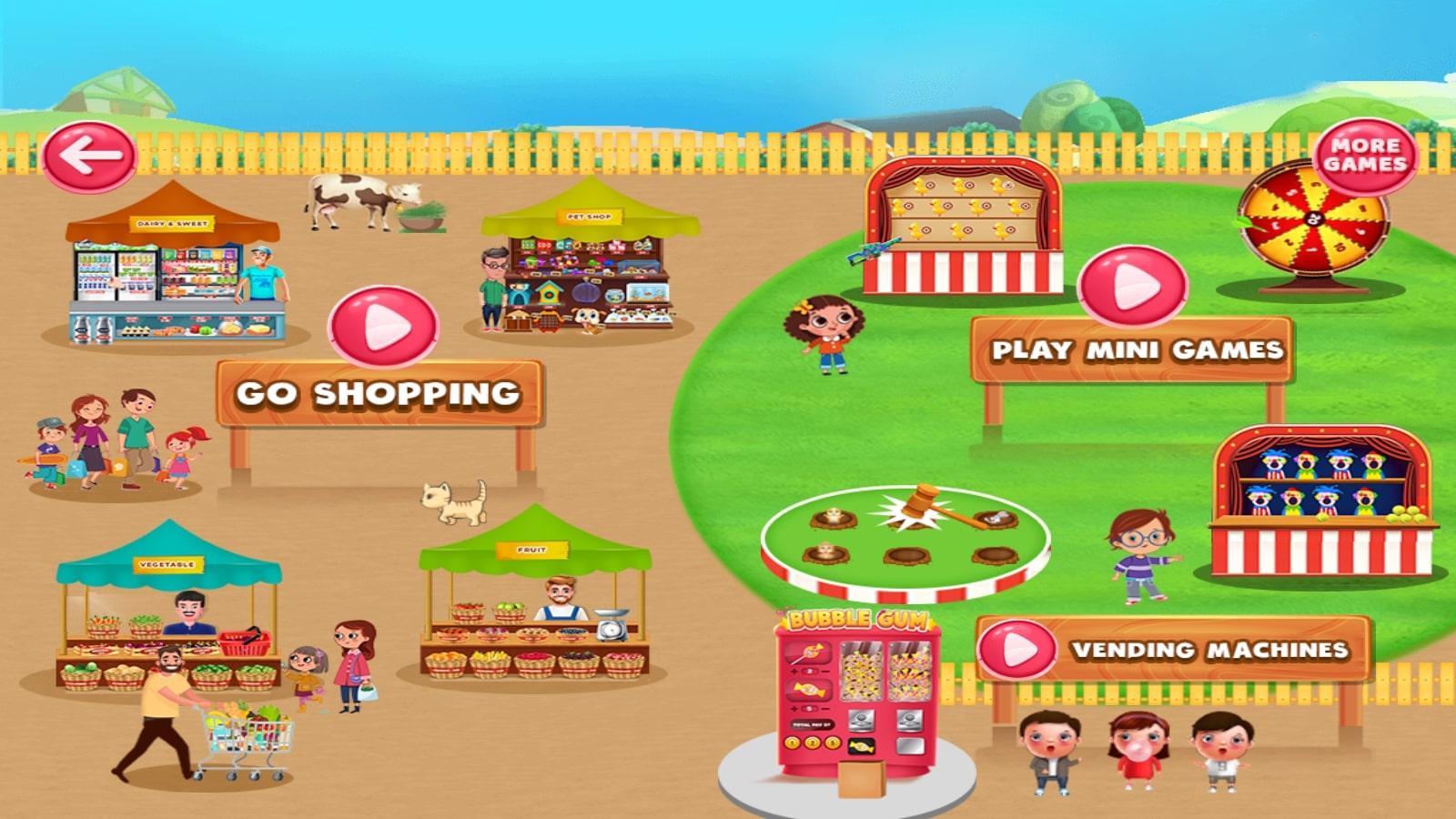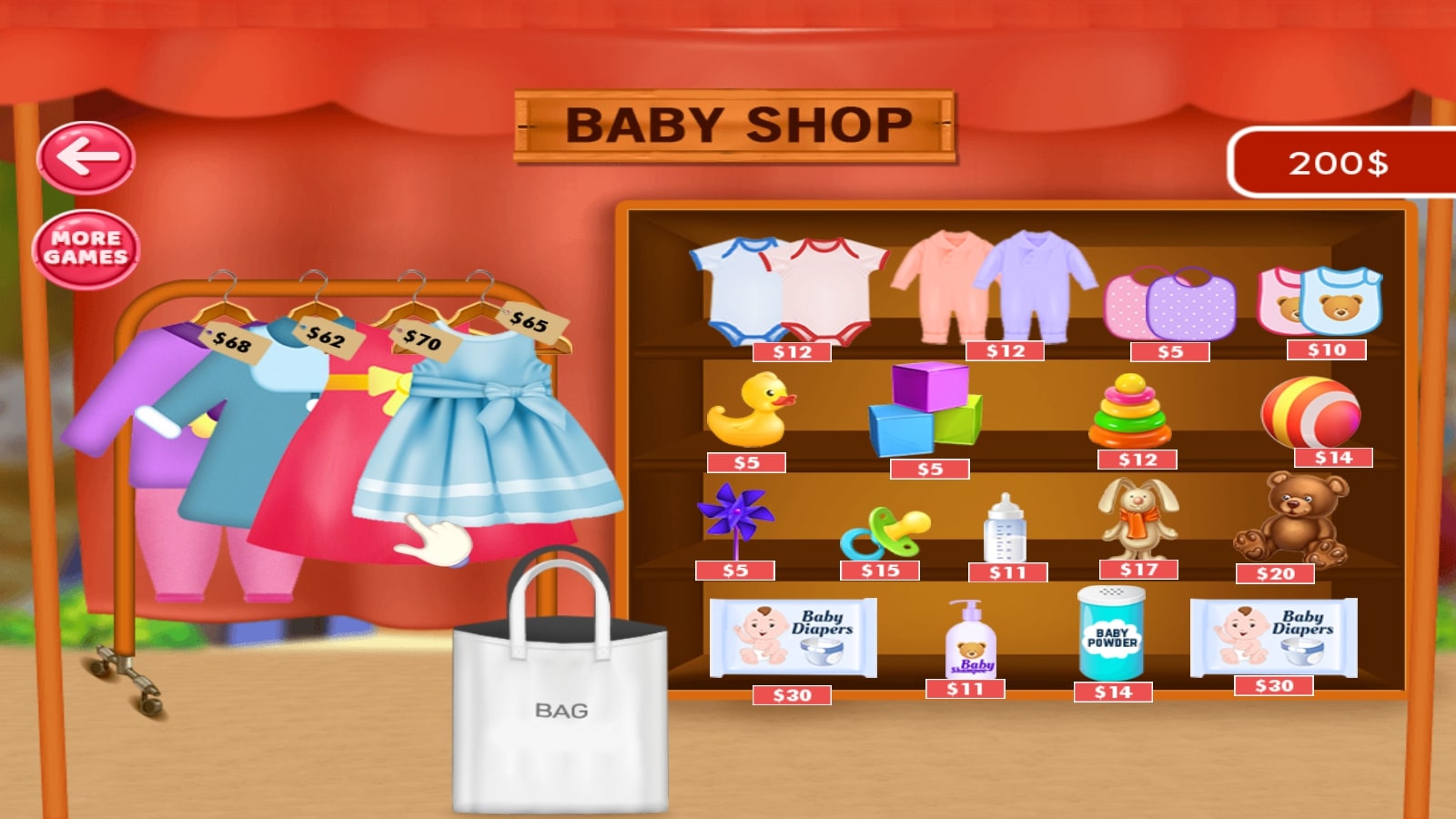 Your goal is to serve your customers quickly and efficiently. Thus, you need to avoid queues and try to punch the goods with maximum speed. Play the simulator for free and without an internet connection.

High School Cafe Cashier Games
This is an exciting game that allows you to become a manager and a real cashier at a school cafe. You will have to take orders from visitors, prepare and give them food, as well as manage finances and develop your business.
After installing the app you will get into a virtual school canteen, where you will be met by a lot of hungry customers ready to order delicious food. You will play as a cashier who takes orders and fulfills them.
Customers will order different dishes – from sandwiches and soups to pizza and hamburgers. Your task is to promptly serve each customer so that they are satisfied and fed. You need to meet the specified deadlines so that you don't lose customers.
If you do not fulfill orders quickly enough, customers will become dissatisfied and leave the cafe. This can lead to losses for your business. By earning money from orders, you can buy new equipment and improve the cafe. This will help you attract more customers and earn even more money.
You will also be able to unlock new levels by expanding your cafe and attracting more customers. You will have access to various decorations and items that you can use to decorate your cafe and make it unique.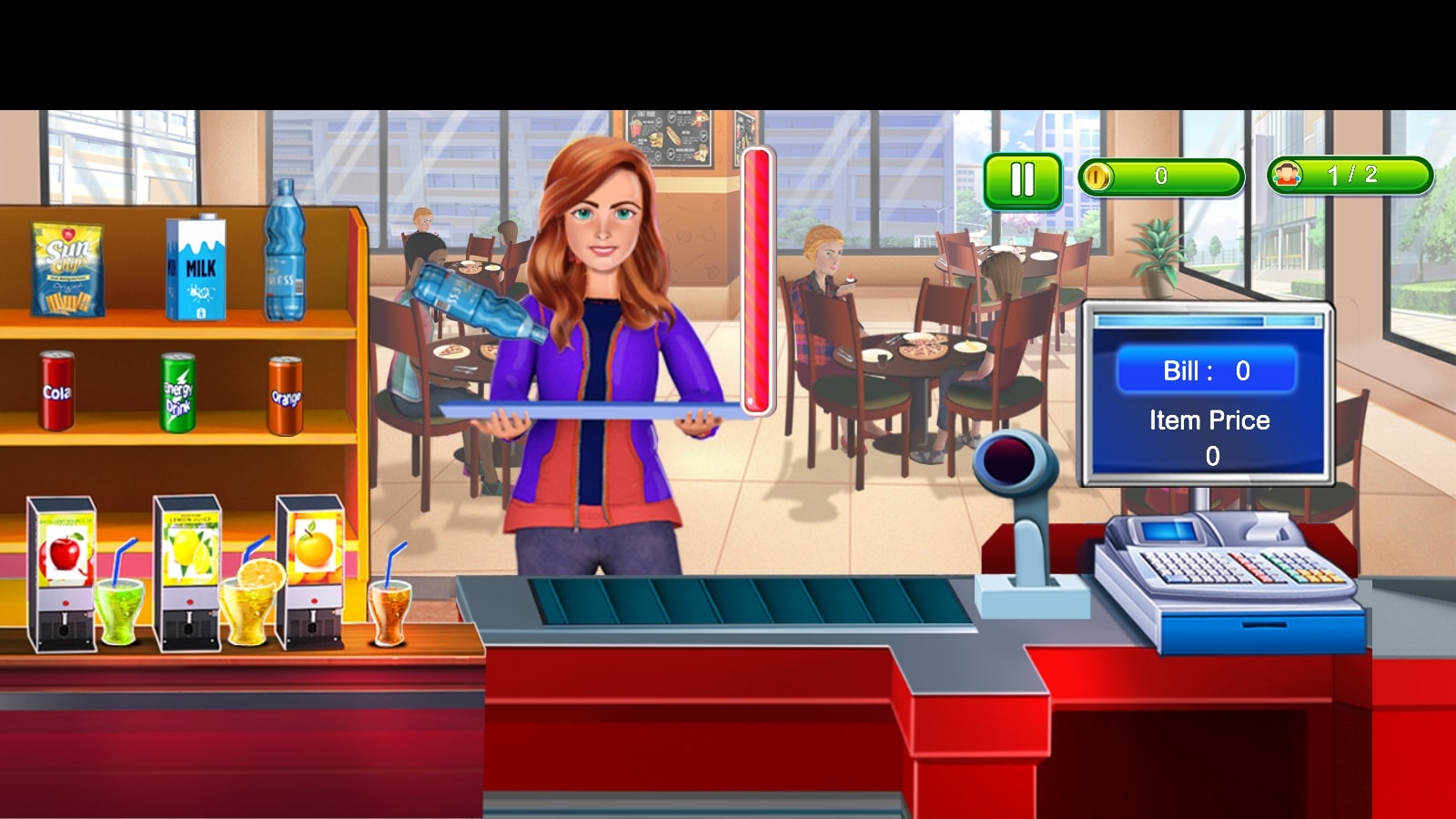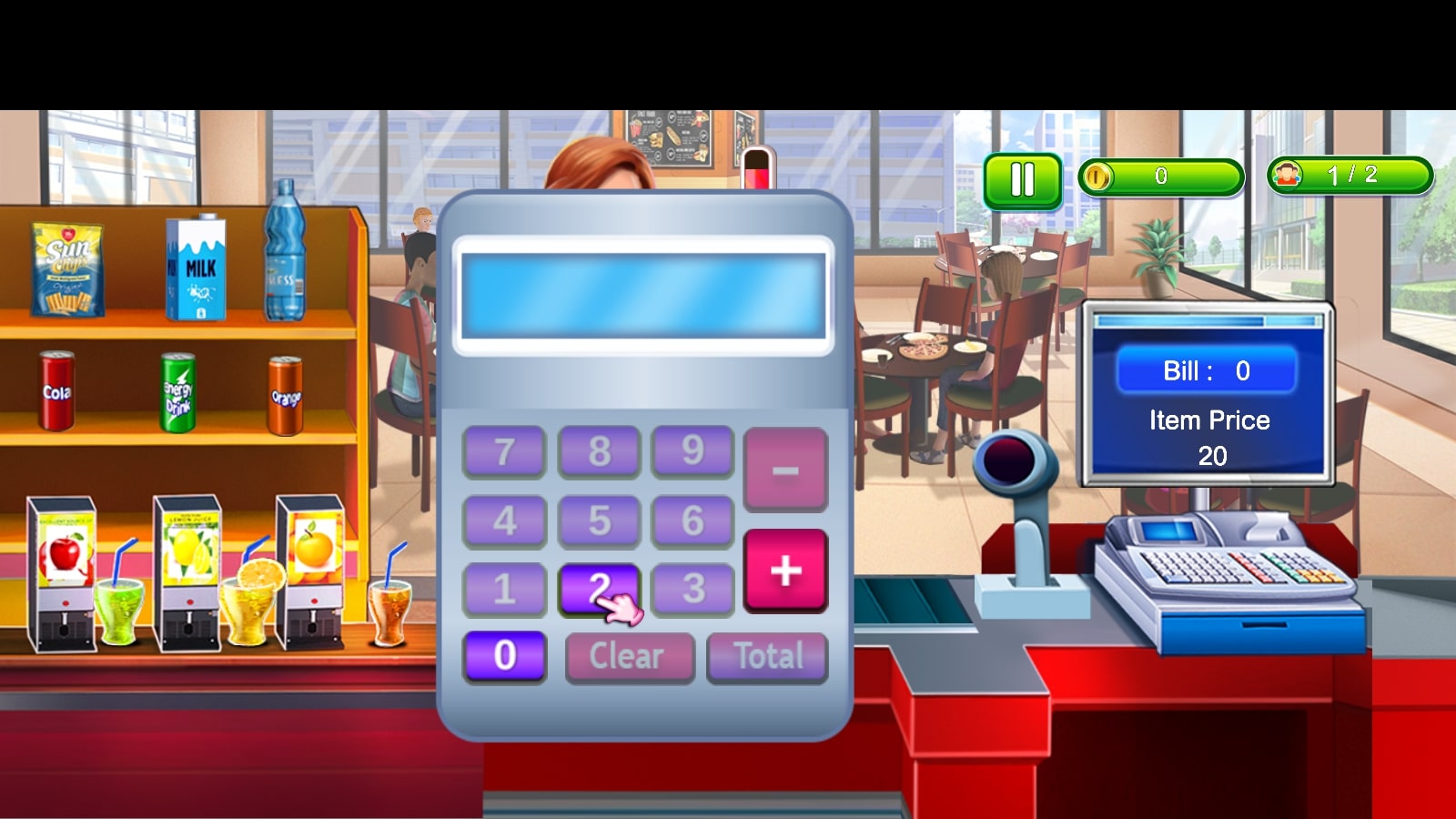 Calculate customers using your math. Count the total purchase amount and collect the money, then subtract the change and give it to your customer.

You may also like: 11 Best Room Decoration Games for Android & iOS
Kids Grocery Market Cashier
This is a fun and educational app for kids to help them learn the skills of working as a supermarket cashier. The app is a virtual supermarket full of groceries and different products. Children can choose their own products and place them in the shopping cart. Then they will head to the checkout to pay for their goods.
In the game, you have to scan each product with a special scanner and enter its price. There can be several types of payment here, including bank cards and QR codes. In the case of cash, you will have to count the amount of purchase and change.
The game contains a lot of mini-games, in which you will have to perform different tasks. The app also features various bonus levels and achievements that will help you unlock new tasks. Choose supermarkets to visit based on the shopping list and level tasks.
Get ready for a party or meeting with friends by selecting the necessary purchases. Move around the mini-game map and earn more points to unlock new levels and items. Choose a payment method and develop your math skills with the help of calculating the cost of goods and change.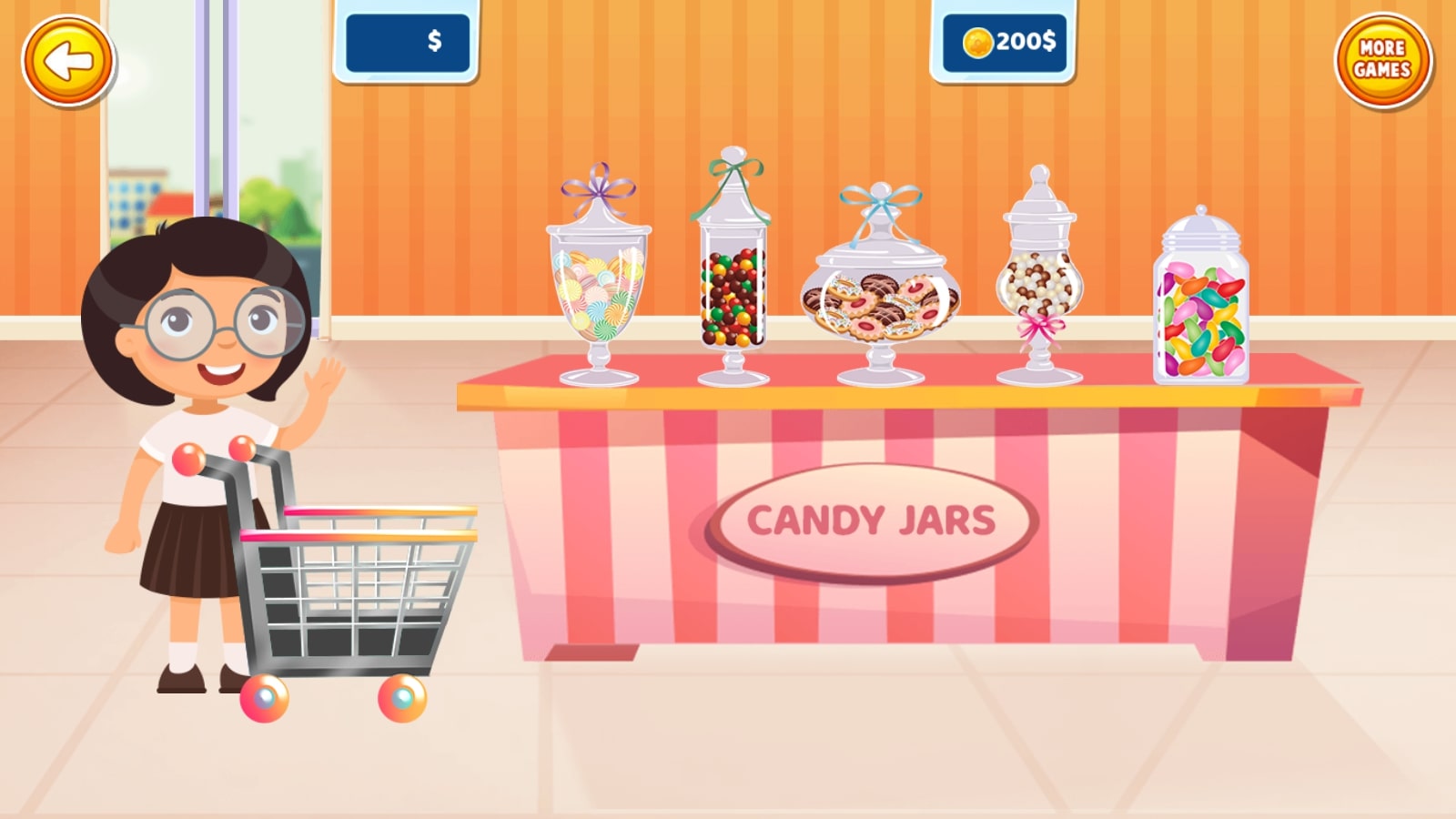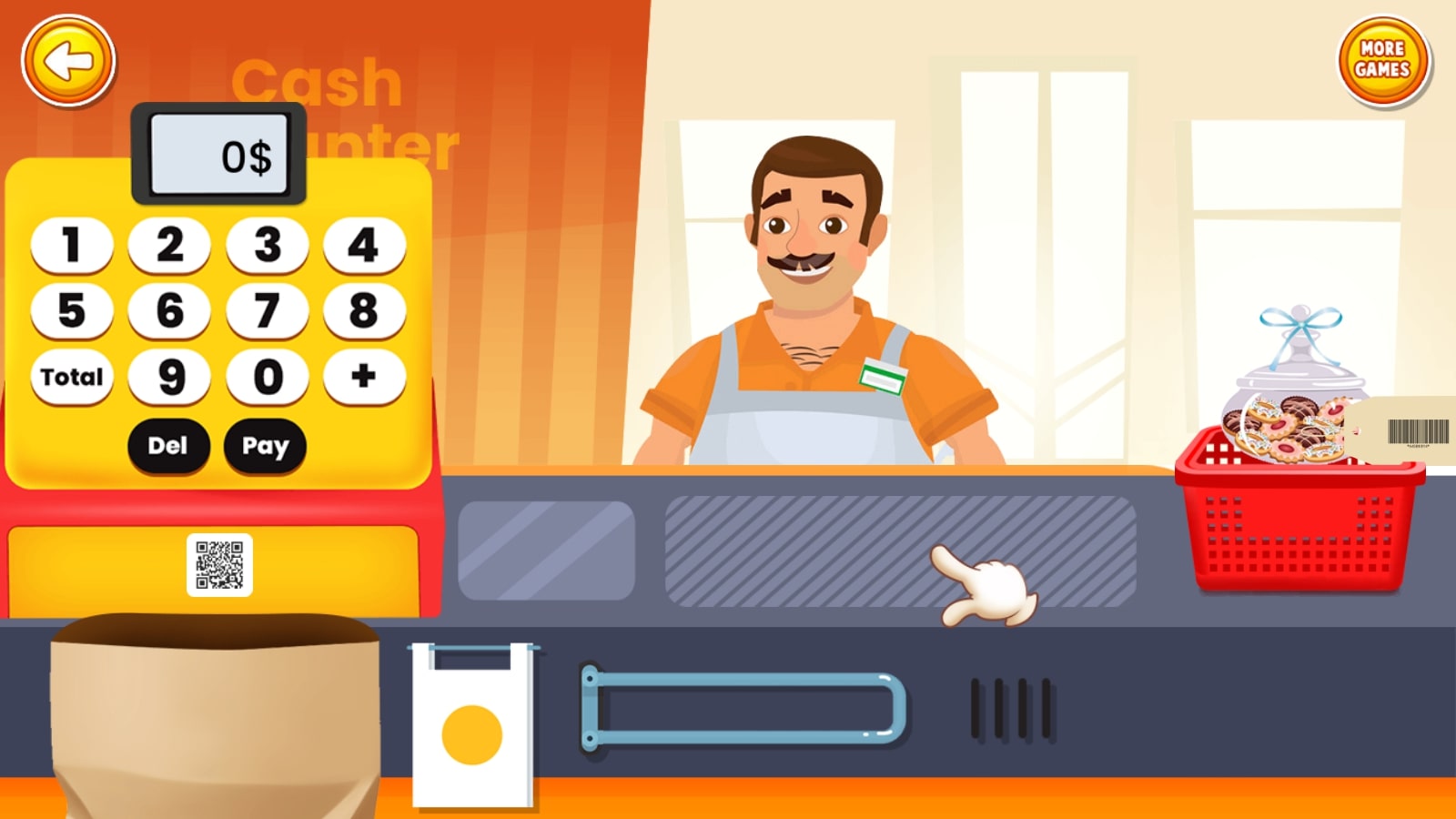 Use modern technology to pay for your purchases using your phone and credit cards. Get coins for completing tasks in mini-games and use them to complete the rest of the stages.