10 Best & Free Guessing Game Apps for iPhone and Android
Games are always fun, especially at parties. What can be more hilarious then a circle of friends decided to trick each other with a guessing game? There is a variety of them and everyone can choose something they like more.
Besides, technologies don't stop evolving and today you can play guessing games even being alone on your smartphone. Well, it is still more fun to play it with friends. We offer you a great decision!
Below, there is a list of the most exciting and funniest guessing game apps to make your pastime amusing and entertaining. The apps are available both for iPhone and Android devices for free.
Pictoword: Fun Word Quiz Games
This game has already become the most popular one in more than 30 countries! If you like the games that are not only fun and dynamic but which also test your brain then you for sure will love Pictoword. It is great for all ages – teens, adults, adolescents and anyone in between!
The game test your skill to identify the word by combining two other words together. For example, you see two pictures, "sand" and "witch". What are you going to get? Of course, "sandwich"! And don't worry, there are quizzes of a much higher difficulty if you need it.
The great aspect of this app is that it can work both online and offline, so your party will never be left without a cool game. Moreover, it is a nice game for parents and children to play together. The interface itself is simple to use, so people of various ages will handle that.
You may also like: 10 Best family game apps for Android & iOS
Apensar: Guess the Word
Apensar is one of the most beloved brain games for guessing words. You can play with your friends in two ways – guessing words
written on four pictures or spelling words using available letters.
Reach new levels, collect characters and beat your friends in a championship! There are more than 3000 levels and lots of funny characters to collect.
The first levels are easy. But don't be deceived! It's getting harder and harder with every step. At some point, the game introduces real challenges to your brain.
You can connect your Facebook account to this app to share your achievements with friends and followers.
Apensar is a free, award-winning word game. Join the community of millions who are already playing it. Good times are guaranteed!
The app is free with in-app purchases.
Charades!
This game is fantastic! Charades can provide you and your friends with hours of entertainment.
How to play:
Select a category. It can be TV Shows & Movies, Dance Moves, Science, I Love the 70s, 80s, & 90s, Movie Characters, Accents and Impressions, Animal Kingdom, Act it Out, Sports Legends, Fairy Tales, Famous People, State Capitals, Literature, Science, Landmarks and Destinations, Kids: Movies and TV Shows, Facial Expressions, Name Brand, Food Nation, Broadway Musicals, America's Got Talent.
Place the phone on your forehead and guess the word with the help of others who act, sing, or describe clues.
If your guess is correct, tilt the phone so the screen faces the floor, if not – tilt the phone so the screen faces the sky.
You should guess as many words as you can before the timer runs out!
The only drawback of the app is that there are many ads and sometimes they can be annoying.
The same app is available for your kids. Guess words with kids:
Charades! Kids
The rules in this game are similar to the ones described above, but the categories differ.
Here, they are Family Movies, Children's Songs,
Toys and Games, Disney Characters, Animal Kingdom, Cartoons, Anime, Candy Bars, State Capitals, Cereals, US Cities, Olympic Games, Musical Instruments, Things in the Sea and more fun and educational themes for your kids to play.
This game will make any child laugh. In fact, anyone will be able to enjoy this game. Download it now and have fun!
Heads Up!
Heads Up! is a fun guessing game app created especially for night-gamers! Heads Up! was called a "Sensation" by The
New York Times. Cosmopolitan said that it "will be the best dollar you've spent".
This game was played by Ellen DeGeneres on one of her shows. Today you have a chance to try it too. You should guess the word that is on your forehead while your game's members try to give you clues. You are to guess before the timer runs out.
There are 18 categories, each full of cards for guessing. The decks include Celebrities, Movies, Animals, Accents, Characters, and more. You can record videos of your hilarious games to share them on Facebook or just to be able to look back at the good old days later.
From naming celebrities to singing and silly accents – guess words and have an exciting time with Heads Up!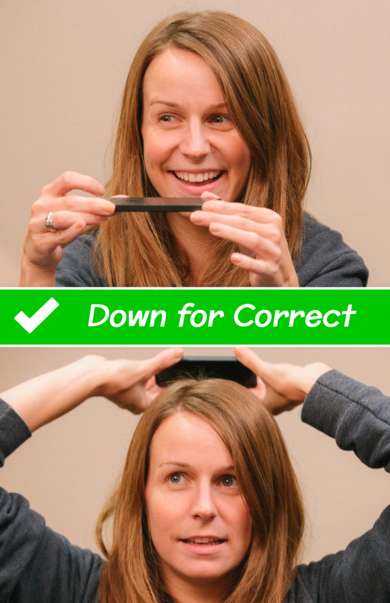 The app is free with in-app purchases on Android devices and $0,99 for iPhone users.
Heads Up! also has its analog created especially for kids:
Kids' Trainer for Heads Up!
Heads Up! Kids is a simplified version of Heads Up. It is pretty simple to play. Kids can play with you or with a group
of friends. The rules are the same: guess the word while others give clues. All the words are easy to guess.
You can set the time on the timer which will be most comfortable for you.
The themes are merry and interesting: Animals, Actions, Who am I?, Around the World, Scavenger Hunt, and others.
A fun and exciting game you can play with your little ones, no matter their reading level! Try it!

The app is free with in-app purchases on Android devices and $ 0,99 for iPhone users.
Emoji Quiz – Guess the emoji
Emoji Quiz is an amazing guessing game. This is a good option to choose if you are bored and a fan of emojis in texts.
The idea is simple: you will see a series of emojis and will have to guess what they represent. Sounds easy, but answers range from films, places, and song titles to animals, brands, quotes, and anything in between. How far can you get?
It is a very addictive game. Once you start the game, it is going to be difficult to stop. You can play alone or with friends, you can play and have fun at any time and in any place.
The game has over 500 levels, with new ones being added all the time. So reaching the end is not an easy task, but you may go for it!
The app is free with in-app purchases.
4 Pics 1 Word
4 Pics 1 Word is a funny and highly addictive guessing game app. It has already more than 150 000 000 users
worldwide!
The rules are extremely simple. Players should find out one word which represents something common for four pictures. By guessing the word, the player unlocks the next level.
No registration, no complicated rules. Just start playing and having fun! Once you start, it will be difficult to stop.
The app is free with in-app purchases.
Logo Quiz
Logo Quiz is a popular free game for guessing words. You are to guess the names of thousands of popular
companies' logos.
We see various company logos every day and everywhere. On TV, walking along the street, in magazines… simply everywhere! How many brand logos can you guess?
More than 2500 logos are available for you to guess in over 52 levels.
You can compare your answers with your friends and challenge them to find out who knows more logos.
Guess the brands with Logo Quiz!
The app is free with in-app purchases.
Food Quiz
Food Quiz is an entertaining guessing game which is similar to such games as Logo Quiz, Emoji Quiz, and
others. The only difference is the theme. In the Food Quiz, you are to guess different foods.
Food Quiz has the largest collection of food words from all over the world. You can even discover new foods that come from distant regions.
You can share your results on Facebook and compare them with your friends' scores. Have an amazing pastime with this funny game!

The app is free with in-app purchases.
You may also like: 11 Best ball jumping game apps for Android & iOS
---
These were the funniest free guessing game apps for you and your company to try out. Evenings will never be boring again with these addictive games. Try one of them right now!