Have you ever wanted to record somebody's speech or pick up compromising materials without being noticed? Actually, it is a piece of cake nowadays with modern and powerful apps allowing you to start recording with a single button pressing.
In this article, we are going to consider some handy hidden voice recording apps free of charge for Android & IOS users. Whenever you wish to make a recording, you can do it easily with any application from the following list. You are just to choose the most suitable one for yourself and download it on your device!
Hi-Res Audio Recorder
This is a high-level voice recorder providing free WAV and OGG-format recordings for its users.
If you want to run an application and stop it simply by moving your fingers up and down the screen respectively – download light-weight gestures for Hi-Res Audio and feel like a secret agent!
Amazfit Bip Button Controller
Next on our list is Amazfit Bip Button Controller, an extremely useful application for those who have Amazfit Bip smartwatches.
You can choose any function from the list, including sound recording, to be executed whenever you press the button on your watches. If you want to set the time of your recording beforehand – just go to the settings and select from 1 to 360 minutes.
sCalc – Camouflaged Audio Recorder
If you are into making HD recordings secretly, this app is just for you!
You can use either a black screen or one of the fake backgrounds provided by the app. If you don't find anything suitable for you – upload any images from your gallery – photos, screenshots or anything else – and everybody will be sure you are surfing the net or chatting with your friends. You'll never be accused of being a spy!

Amazing MP3 Recorder
If you want to record the sound in high quality, all you need is to download this app right now and enjoy its features! For those who need to control the app by gestures to pretend others from understanding your intentions, there is a great extra feature – Gestures for Amazing MP3 Recorder!
More than 100 thousand people are lucky to use Amazing MP3 Recorder right now. If you want to join them – just follow the link below!
Volume Button Recorder
Volume Button Recorder can work simultaneously with any other applications. You just have to press one of the volume buttons to start or stop recording.
With this durable ane nice-looking app, you can record any sounds to share with your friends or set them as a ringtone. By the way, if you wish to have funny and memorable ringtones on your device – check out our article about best funny ringtone apps!
Currently unavailable
Auto Recorder
This smart voice-activated application starts and stops recording in response to the sound level. It doesn't waste your device's sources to record silence or quiet background sounds.
If you want to save the space on your device or record sounds with long intervals between them – download this app right now and make the most of modern technologies!
Check also: 12 Best spy camera detector apps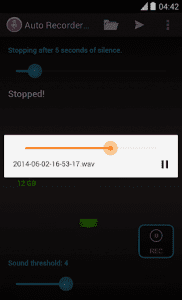 Background Recorder
This cool, multifunctional application suits for various purposes. No matter what you are going to do –  take pictures, record video or audio, – you don't need to turn on the screen.
Long-pressing volume button is the only thing you need to do! So, you'll manage to capture anything you want and never miss any special moments spending time to open the camera.
If you want to know the full range of functions – click the following link and download the application on your device!
Currently unavailable
GOM Recorder – Voice and Sound Recorder
This sophisticated and durable application should be downloaded by everyone dealing with sound recording. If you are going to have a lecture or an important meeting you want to record, there is no need to worry you'll forget!
With a wide range of the app's functions, you are given the opportunity to appoint the time for your recordings in advance. However, if you need to launch the application immediately, – just shake your mobile and it will start to record automatically. The intensity of a shake starting recording can be controlled by the user in the app's settings.
Do you already have this app on your device? If not, follow the link and take advantage of its functions!
Secret Recorder® FREE
If you want other people to believe you are chatting or watching the film while you are actually making a recording, – this app is just for you!
What you ought to do is to press the secret button and enjoy the feeling of being a secret agent. Nobody will ever reveal your plans!
Currently unavailable
Voice Recorder – Scheduled Timer Audio Recorder
Do you want to preschedule the recordings you need to make within a certain period of time? Since you download this app, you can appoint any number of recordings to be made in high quality!
What's more, you can share any of them via one of the most popular services, including  Whatsapp, email, and Facebook. If you wish this app to be on your device –  just follow the link.
Last but not least, Silent Witness Hidden Voice Recorder is for those who would like to record audio when their phone seems to be off.
Once you've launched the app from the Home Screen, it blacks out immediately. Everything is being saved simultaneously on both your device and the cloud you've attached the app to.
Want to use it on your device? Click the link below and enjoy a full range of its functions!
Currently unavailable