In my opinion, hiking is one of the best activities. It's fun and exciting, and it's extremely beneficial for your physical health! And this activity becomes even more engaging when you have a hiking buddy! That's why I found the inspiration for the article about the best hiking buddy apps to find a hiking partner.
Actually, this is not the only article about hiking on our website. There are several ones about similar apps. For instance, you can check out the article about the best hiking apps for everyone.
Facebook
You are probably not surprised with this app is placed at number one. Seriously, where else do you search for people sharing your interests?! You might seem it's Instagram, but with all that show-off vibe it's more complicated than on Facebook.
Probably, you already have this app installed on your device. So what you need to do is to search for the hiking groups in your area! Or you can search for hiking groups, in general, to see who shares your interests.
Usually, those groups have a schedule of activities or meet-ups and you can join and participate. Moreover, at those meetings, you will find other hiking enthusiasts and you will be able to plan the next hike together. Another way is to create your own hiking group on Facebook and promote it among all your friends.
Short instructions on how to find hiking buddies on Facebook:
Go to the search bar section
The app will show you the relevant groups in the nearest area
In case there are no such groups you can create one yourself and invite people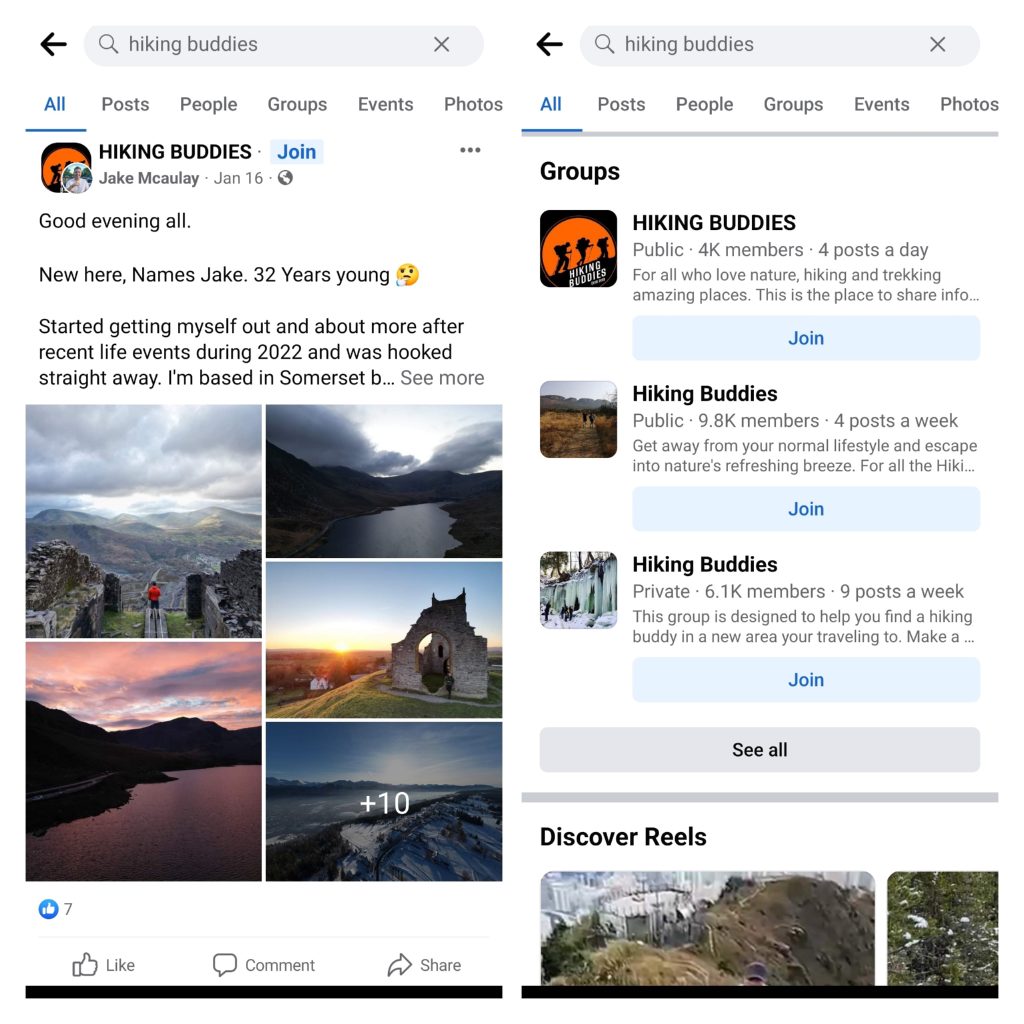 You may also like: 11 Best hiking apps for Android & iOS
AllTrails: Hike, Bike & Run
AllTrails is the base app for all hiking enthusiasts. It is the biggest community of all hiking lovers and of course here you will easily find new hiking friends and buddies. The interface design and usability of the app are just great.
Just need to create your account, and there you go to the main menu of the app or you can see all the upcoming events in your area where you can participate and therefore, find new hiking buddies. You can also create your own community and invite your friends to the app.
Or, you can just view profiles depending on the recent activity and just start communicating with people. In terms of hiking, they are providing great services as well, it has an advanced map customized specifically for hiking, and it has detailed routes with detailed explanations, graphs, and all the possible signs.
What is more, AllTrails include an advanced tracking system that makes sure that you will not get lost during your hike. You can also create your trails in the app.
Moreover, AllTrails helps you to track your progress, and you can also read the reviews about trails by other users, take part in the discussions and keep records of your activities. Actually, following friends here is almost crucial for the discovery of new routes. Therefore, all Trails is a great suggestion.
Short instructions on how to find the hiking buddies on AllTrails:
Just install the app, open it and you will see the group's upcoming hikes in your area
If there are no upcoming hikes, go to the community section and see the users who were active recently
Try to contact those users
Or create your own hike and maybe someone will join you!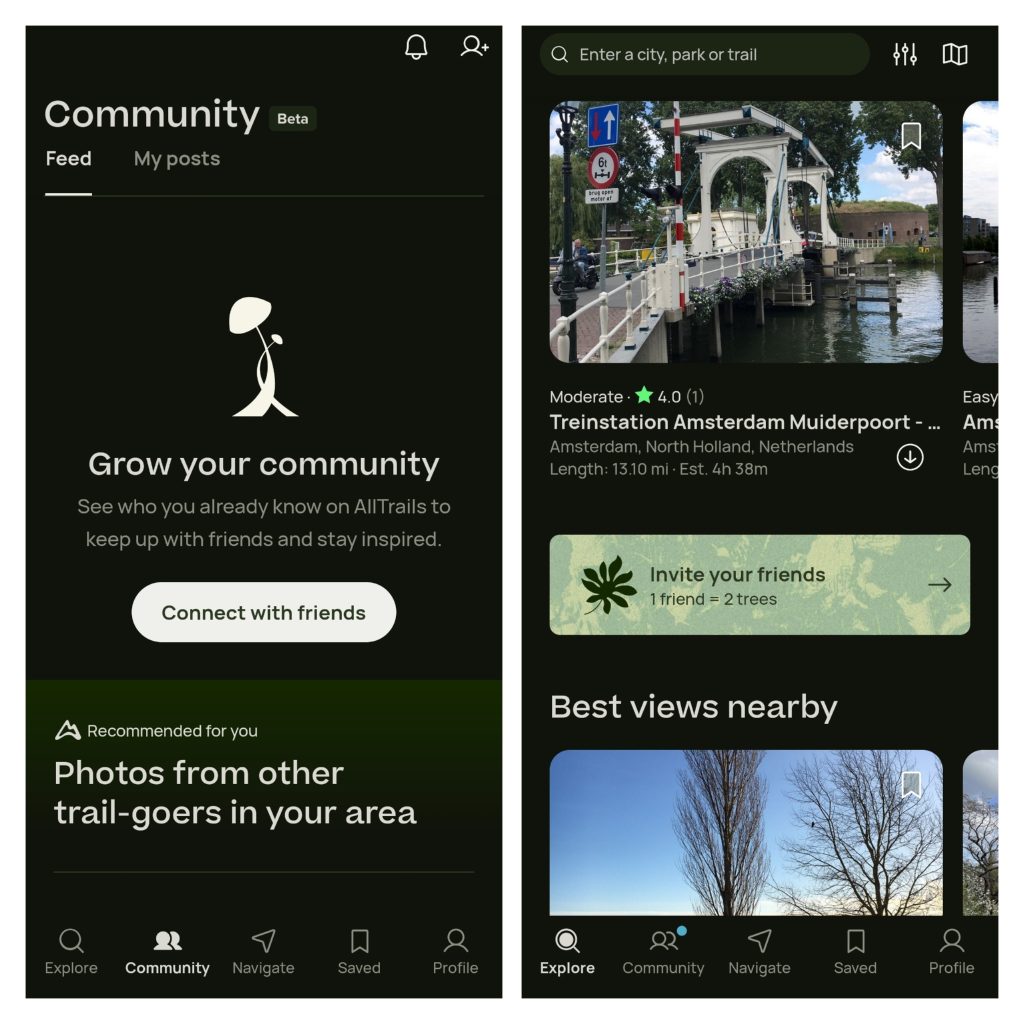 HiiKER: The Hiking Maps App
HiiKER is also one of the leaders in this category. You can also use this app to find hiking buddies for yourself, however, it's going to be a little bit more complicated than in previous cases. Just in general, hiking her up provides fewer possibilities for the community and for communication with other users.
However, the way how you can find new hiking friends here, is that you can read the reviews that other users leave about certain trails and you can contact them. For that, you need to search the popular trails in your area and go to the reviews section.
Usually, it contains about three reviews, and you can click on the name of the user, open their profile, and send them a message. That's pretty much how you can find a hiking body in the HiiKER app.
Apart from that, we would like to say a couple of words about the functionality of HiiKER, which is pretty decent. The app contains tons of different hiking roots for beginners, advanced, and medium skills. The accuracy of roots is decent as well, and you can explore all the possible routes in all parts of the world.
The app also provides the advanced tracking possibility with the opportunity to create your own roots. If you go to the premium version of the app, you will be able to see the premium players that will show you the unique spots on the map and will help you to create a more customized trail in general.
What is more, HiiKER allows you to upload your own favorite roots to the app using GPX files. In total, this app contains more than 25,000 trails. The interface is user-friendly and it's easy to handle for any type of user even for those who are not very tech-savvy.
Short instructions on how to find hiking buddies on HiiKER:
Open the app and explore the nearest hiking trails
Find the reviews about these trails
See the users who left their reviews ad try to contact them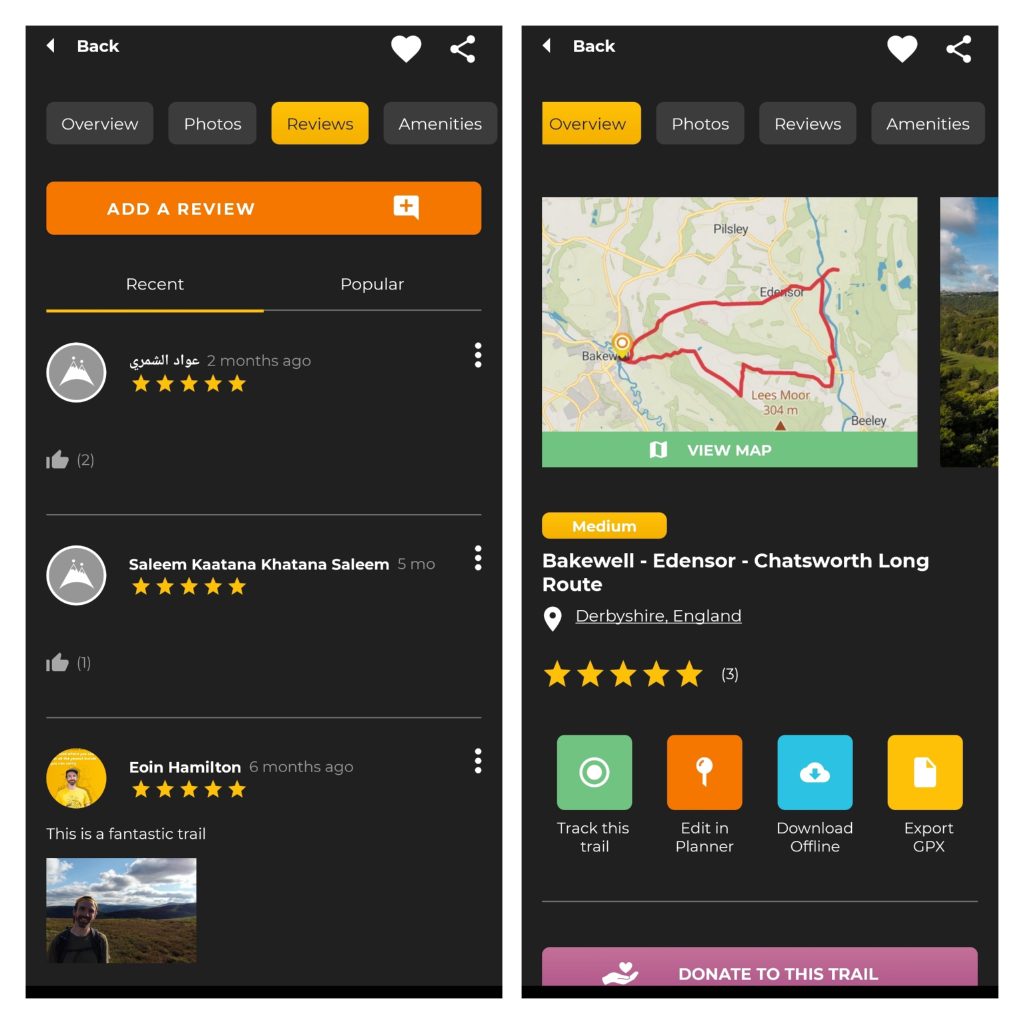 You may also like: 15 Best running apps for Android & iOS
Couchsurfing Travel App
Couchsurfing is one of the most famous travel apps out there.
And if you never use it, you probably didn't know that you can use Couchsurfing service not only for finding free housing for a night when you travel on a budget, but also to participate in the local events in the area where you're currently at, including hiking activities.
Actually, hiking is a popular activity on Couchsurfing, especially in places where the landscapes are beautiful, such as California or the European alps. What you have to do is to create your account.
The service used to be free, but since the covid times, it started to charge a little fee for participating in the community in order for the service to survive. If you or someone who travels a lot or you're doing group sports activities in your area quite often, this investment will pay itself.
So you create an account, pay them a subscription fee and you can go to the section of events in your area and see what's going on there. There's a huge possibility that you will find something like hiking or another sports activity that you can join.
And if you want to find travel buddies specifically, you can create your own event and call it group hiking, and probably tourists or even locals who are seeking new opportunities to meet new people as well will join you.
Of course, the quality of people using Couchsurfing might be questionable but it's still much more reliable than using local chat apps or dating apps for the same purposes.
Short instructions on how to find hiking buddies on Couchsurfing:
Create an account and pay the subscription (can cancel any moment)
Go to the events section, and you will see the upcoming events in your area
Usually, there is a lot of group hiking on Couchsurfing and if there are no such events, you can create one yourself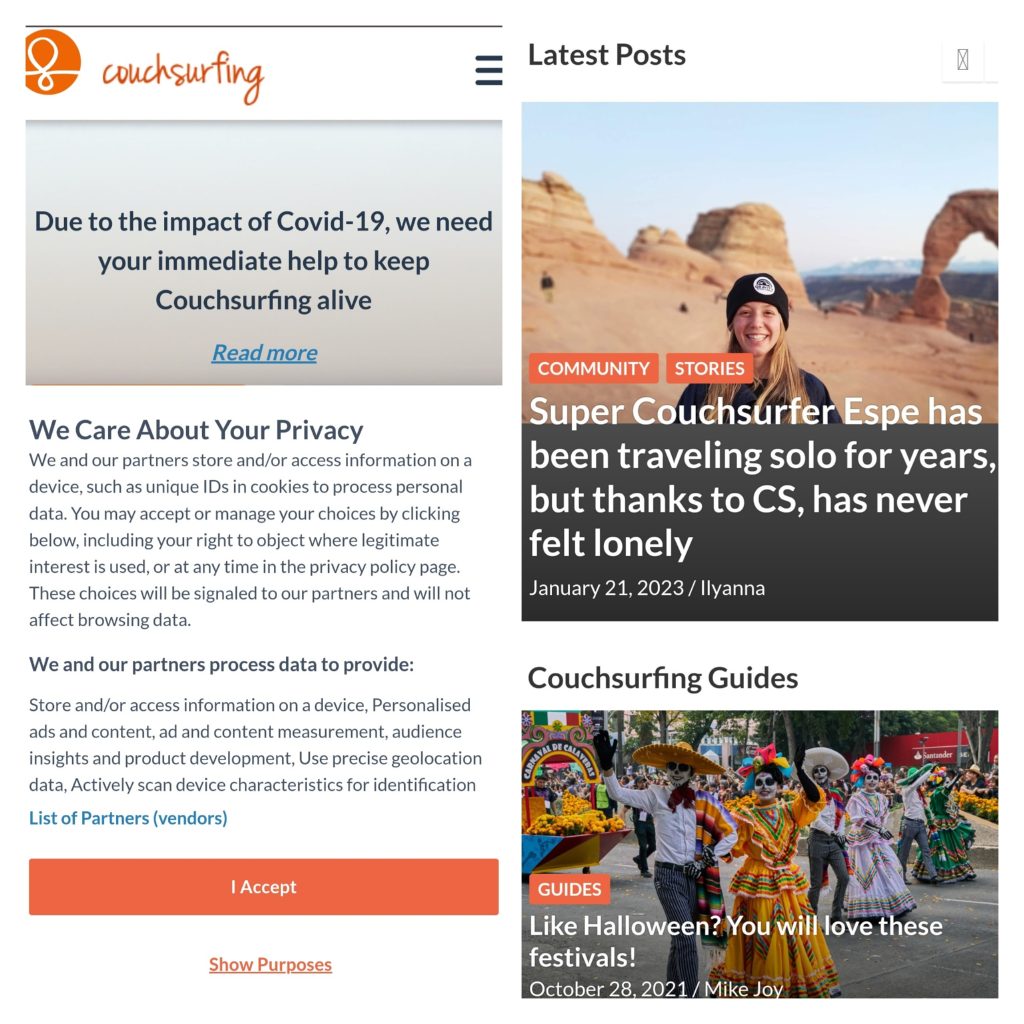 Tinder: Dating app. Meet. Chat
When it comes to finding hiking buddies, Tinder is not the best app ever for this purpose.
However, if you decide to find new people who would share your interest via local chat and dating apps, Tinder would be probably one of the best choices. It's the most popular app in this category.
At least it's better than some leary local chat apps with not verified accounts we're meeting people can even be dangerous. Actually, not many people know, but you can use Tinder in different ways, including searching for new friends.
When you create an account, just write that you're looking for new friends and specifically hiking buddies. Then go to the explore section that was invented recently, and explore the events that are going to happen in your area soon.
There are special sections for sports events and different activities, so people with mutual interests could gather together and do something. The possibility that you will find a group hiking or something like that there is quite reliable.
And again, if there is no such activity, you can add your own to the app, but of course, don't forget that this is Tinder and if you are using this particular app for finding hiking buddies, you should be open to a little flirt or something like that because people use it to meet others in a romantic way in the first place.
Short instructions on how to find hiking buddies on Tinder:
Create an account and add the description that you are looking for hiking buddies
Explore the upcoming local events and sports activities
If there are no hiking activities, add your own event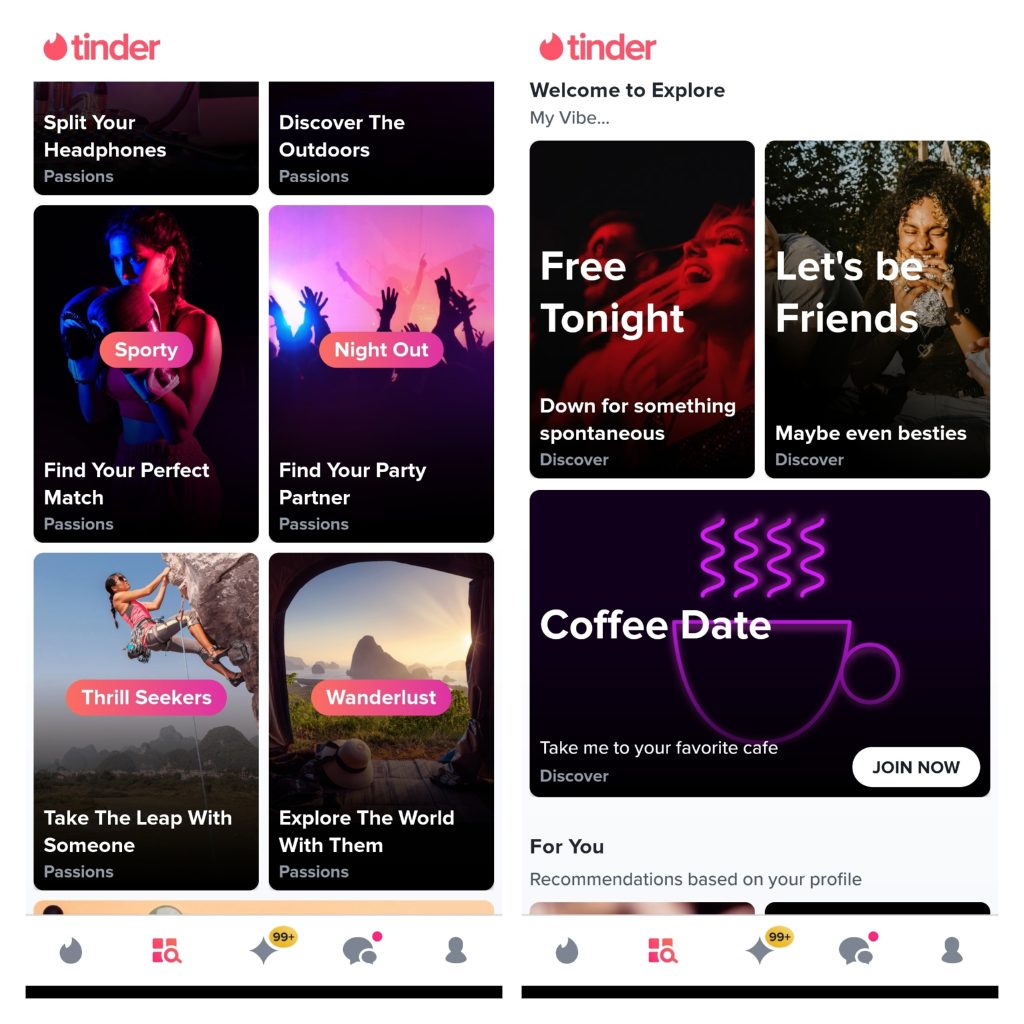 Instagram
Instagram is another idea of how you can find people that share your passion for hiking. And even though it might be not the most effective way to find new buddies, you can still try it.
Moreover, different groups and organizations have their Instagram account and try to promote hiking tours or events on Instagram, so that's how you can find useful information and maybe join a hiking group.
Or you can just explore the accounts of people who live nearby and are also passionate about hiking and try to direct message them. Of course, where if you over these messages will find their reply, because it's not really typical for Instagram.
But in order to explore all the ways possible, you should try it with it as well. In order for the search to be more effective, we should also add some pictures from your past hikes to the account so that people would actually see that you're not a fraud.
Or maybe you can even create an account dedicated to hiking and start promoting it, so people who are also passionate about hiking would follow this account then that's how you would meet new hiking buddies.
Short instructions on how to find hiking buddies on Instagram:
Go to the search section and type hiking or search by hashtags
Find relevant profiles in your area
Create your own profile dedicated to hiking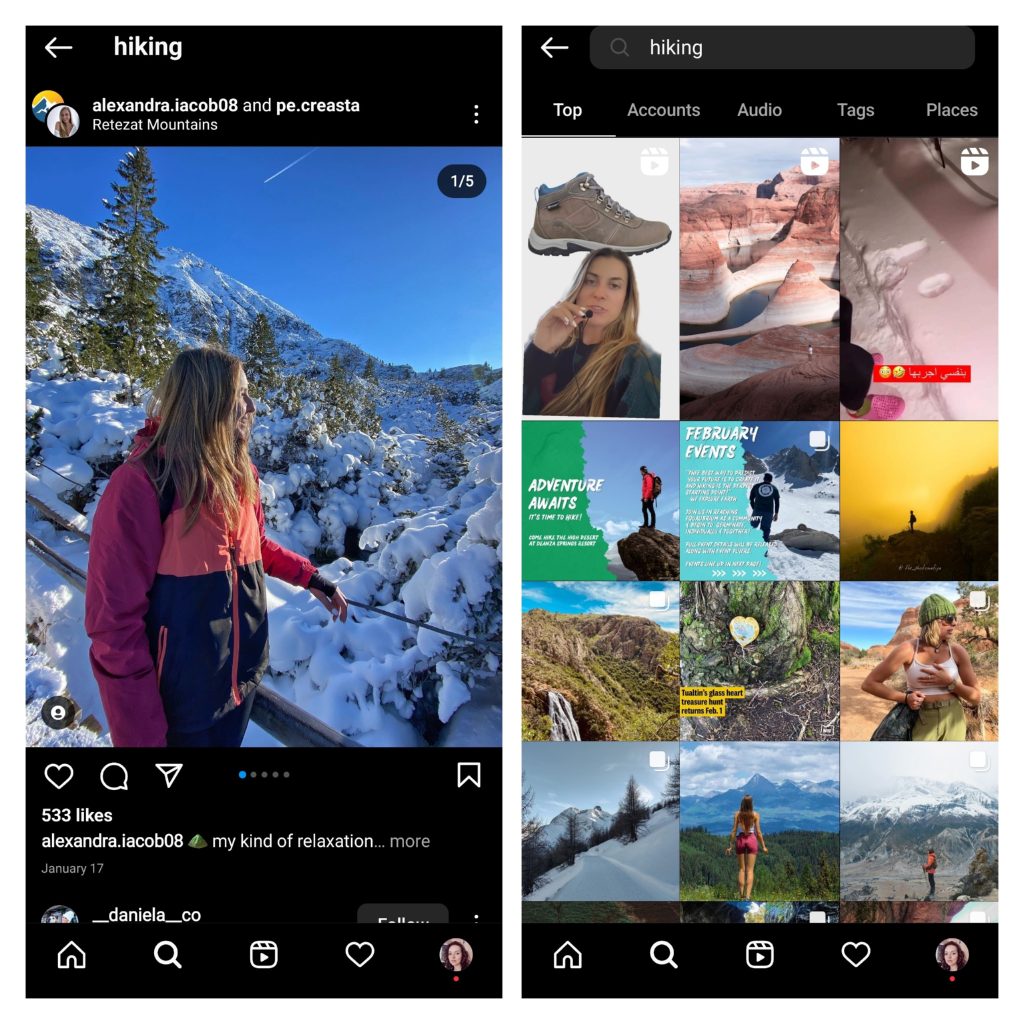 You can also check: 11 Free apps to make running fun (Android & iOS)
Relive
Relive is more of a general fitness app that unites they are running, cycling, and hiking and its functionality. Here you will find the best trails for all those three activities. What is more, this app has a sports community of people who leave an active lifestyle and who share your interests.
The main distinctive feature of Relive is that the app contains lots of daily challenges related to cycling, running, or hiking. You could also participate in those challenges, and many of those can be group challenges, where you have to go to a certain route or trail and meet new people.
And just like in previous cases, you can hear explore the accounts depending on their latest activity and just contact people in direct messages.
Apart from that, Relive contains lots of other useful features, such as tracking your overall activities, tracking your trails, possibility to share photos, videos, and notes from your last hikes and share them inside the community. That's how you find new hiking buddies in this app.
The functionality is great, with special like the interface design and the ability of sports activities so we would definitely recommend it.
Short instructions on how to find hiking buddies on Relive:
Create an account and go to the hiking section
Find the latest challenges and take part
Share your pictures and notes about your last hikes in the app, so other users could see and comment
Find profiles of other users depending on their activity and try to contact them