Sky Viper is a quadrocopter from the American company SkyRocket Toys. They produce not only quadrocopters but also a variety of consumer goods such as bikes, sporting goods, and much more. The company became popular after they were recognized as innovative manufacturers of various toys and interesting equipment.
Their drones became very popular, which are interesting for people due to their unusual video shooting and the opportunity to look down on this world. Sky Viper devices are quite budget, but they have good flight characteristics, as well as can record videos in good resolution. To process videos you may need one of the 9 Best Apps to Enhance Video Quality on Android & iOS.
Do you want to shoot panoramas or just see what your city looks like from a bird's eye view? Then these devices are for you! We are our 5 Best Sky Viper Drone Apps for Android & iOS, which will help you manage the drone or give you the necessary information about it on your smartphone.
Sky Viper Video Viewer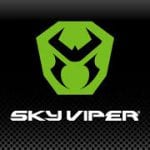 You can improve your drone control skills with the Sky Viper Video Viewer application. It is designed to capture video and transfer it to your smartphone – the shooting will be carried out with the help of your drone. The stream of video will be directly on your screen, and you only need to control the flight Sky Viper.
The application interface is simple and straightforward enough – at first glance, it may even remind you of a standard smartphone camera shooting. On the screen, you will see the image captured by the camera, as well as a small amount of information about the drone itself.
For example, the Sky Viper Video Viewer constantly displays the charge of the quadcopter so that you can stop shooting in time. It should be noted that video and photo are immediately saved to the gallery of your smartphone, so you can immediately share the result of your work.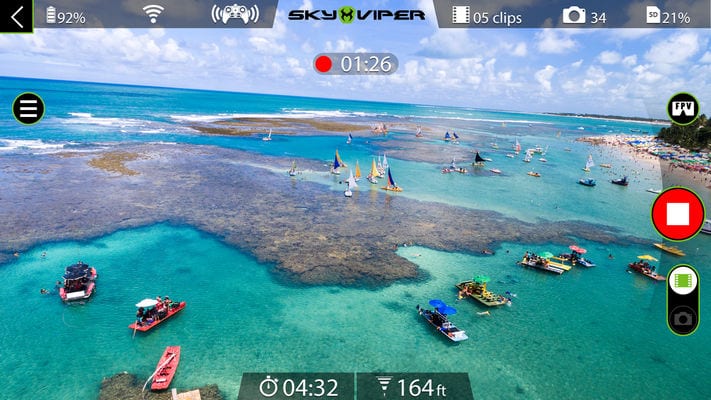 You may also like: 5 Best Video Splitting Apps for Android
Drone Buddy – UAV Safe Wind, Weather, No Fly Zone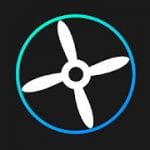 Quadrocopters have become incredibly popular, but users do not always understand how to manage them. The Drone Buddy application is designed for all people who pilot drones, both beginners and experienced pilots.
Here you can find out if it is possible to shoot today, what weather conditions may affect the drone, and much more. You should agree, for example, that wind speed is the key factor for successful shooting.
Besides temperature and wind, Drone Buddy also provides information about cloud cover, local time of sunrise and sunset, visibility, and much more.
All application is a brief summary of news, which if you wish, you can study in more detail. Drone Buddy also gets access to your current location and provides all the data regarding this information.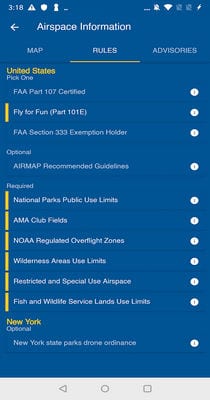 You may also like: 11 Best Skiing Apps (Trackers & Weather Control)
Sky Viper Video Viewer 2.0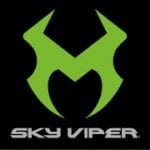 Sky Viper Video Viewer 2.0 is an improved version of the application for Sky Viper Drone, which came out sometime after the release of version 1. Here you can also improve your flying skills and track how your device moves.
Video and photos are streamed to your smartphone in real-time. Also, Sky Viper Video Viewer 2.0 has an extended list of devices with which it can work.
You can customize all the drone flight profiles by changing the flight mode or speed. Flight can also be set up automatically – it is especially convenient if you only learning to control Sky Viper.
As in the previous version of the application, all photos and videos will be automatically uploaded to the memory of your smartphone and the phone's gallery – so once you turn off the drone, and even without access to it, you can always view them. You won't even need to establish a connection to the device to do this.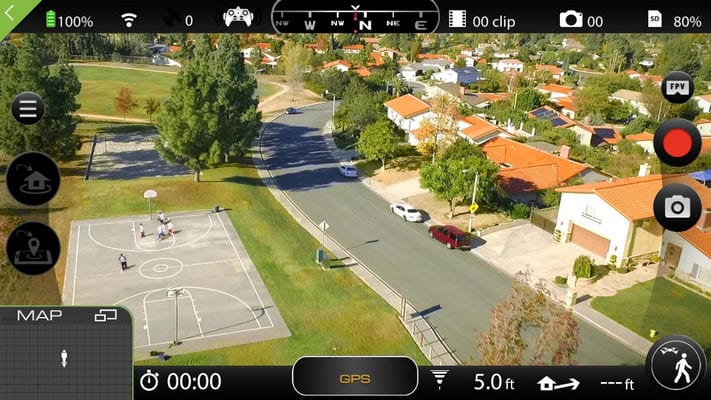 AirMap for Drones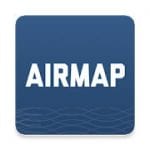 AirMap is another handy application for drone pilots, which will help you to more accurately and in detail calculate your flight. You can use it to get all information about your drone, as well as information about the place of flight.
For example, AirMap always provides current information about permissions and bans on flying over a certain territory – here you will find all the national sets of rules regarding flights.
While using AirMap, on the screen of your smartphone you will see a map, the appearance of which you can easily change to more convenient. The application can also recommend you places nearby, where you have the right to fly and shoot, as well as get beautiful views or interesting videos.
The most convenient thing is that AirMap supports almost all types of drones from different manufacturers, so you don't need to look for a long time suitable for your service.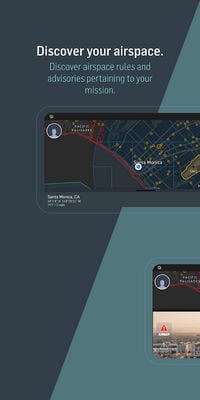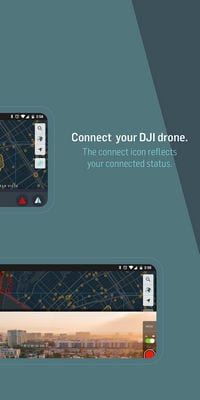 You may also like: 11 Best apps to write text on videos (Android & iOS)
Sky Viper Drone Builder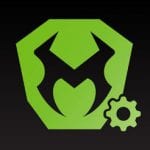 Not all users who have purchased a drone for themselves know what it is inside. It is unlikely that you have ever wanted to disassemble and assemble your device back without any need.
However, you may be wondering what is inside the innovative device. Sky Viper Drone Builder will help you experience the pleasure of building and detailed review of the Sky Vyper.
Here you will encounter the model E1700 Stunt Drone. It is worth noting that the scheme and details of all drones Sky Viper similar to each other, so that the owners of other models can also become familiar.
Using the service you will learn what exactly the work of the drone from the inside looks like, and even how the controllers do look like. In 3D, you will observe the detailed assembly process and even participate in it, discovering something new and interesting. It may also be useful in case your device will abruptly fail or break down.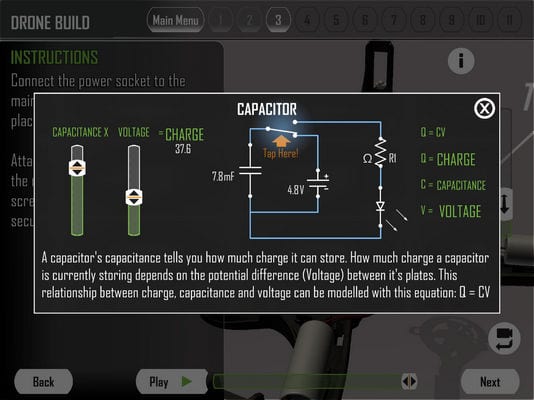 There are many other, no less interesting projects among the various applications that specialize in drone management or work with them. At that, most applications are designed only for certain models of quadrocopters.
So if you have a device, but have not yet installed a special widget or application to work with it, we recommend that you check their compatibility. We have found for you those that can work exactly with Sky Viper Drone.
We hope that our article has become useful for you, and you can now expand the possibilities of their flights in the neighborhood with such an innovative device.