Everyone faced repairing an apartment or house. It is important to choose the right colors for walls or floors when we make repairs. The colors of the walls and floor are the main factor in choosing the style of the room. Modern technology allows us to plan all aspects of our lives.
Try the apps from the list and you can virtually paint your walls in any color. You can experiment and try different colors. Create a unique room design. You will be confident in choosing the color of the walls and floor after using these apps.
You may also like: 11 Best Home Renovation Apps (Android & iOS)
Project Color™ The Home Depot
This app allows you to choose the perfect color for any room in your home. The app has thousands of colors and shades.
See how your kitchen, bedroom, games room and other rooms with new colors will look like. If you are looking for an idea for room design, then the app will help you. See inspirational pictures with different styles.
Upload a photo of the room and click on the area to change the color. The app perfectly recognizes objects in the photo. Use the color matching tool and the app will select the best combination for you.
You can search for colors using a smart system. Enter the name of the color and the app will show you all similar colors.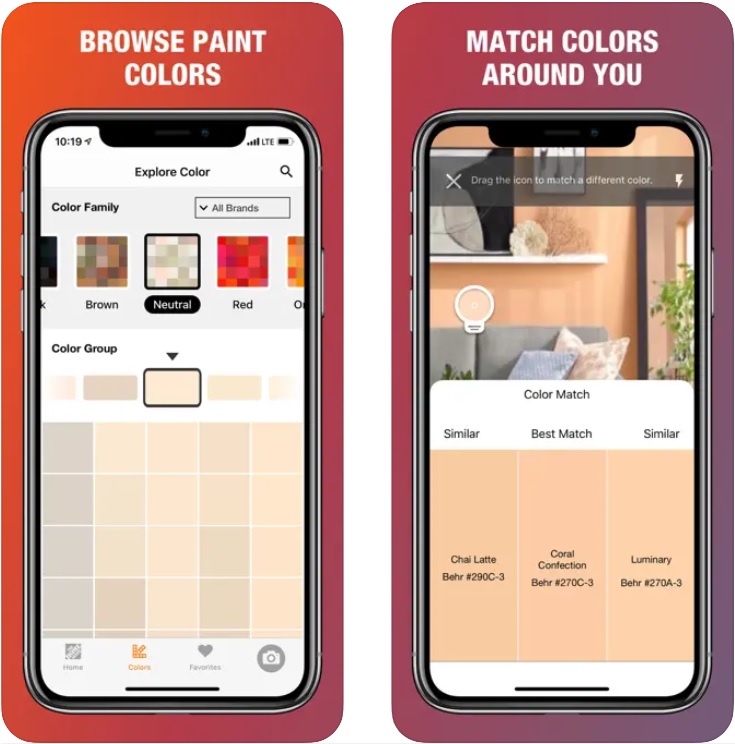 You may also like: 7 Best Window Design Apps for Android & iOS
ColorSnap
ColorSnap is a popular mobile application that is designed to help users match colors in real life to the Sherwin-Williams paint color palette. This app has become a go-to tool for designers, architects, and homeowners.
Users simply take a photo of an object, and the app will analyze the image to identify the closest matching paint color from the Sherwin-Williams catalog.
Also, users can browse the catalog directly within the app, and create and save custom color palettes.
The app's graphics are clean and easy to read, with a simple interface that makes it easy to navigate. However, the app's color range is limited, which can sometimes lead to inaccurate color matching.
In addition, the app requires a device with a good camera for accurate color identification, which may be frustrating for users with older devices.
Despite these limitations, the app is generally well-received by users. Many reviewers praise the app's ease of use and accuracy, with several users noting that it has become an essential tool for their work.
However, there is a limited color range and occasional inaccuracies.
Advantages:
Easy to use interface.
Accurate color matching.
Ability to save and organize color palettes.
Drawbacks:
Limited color range.
Requires a device with a good camera for accurate color matching.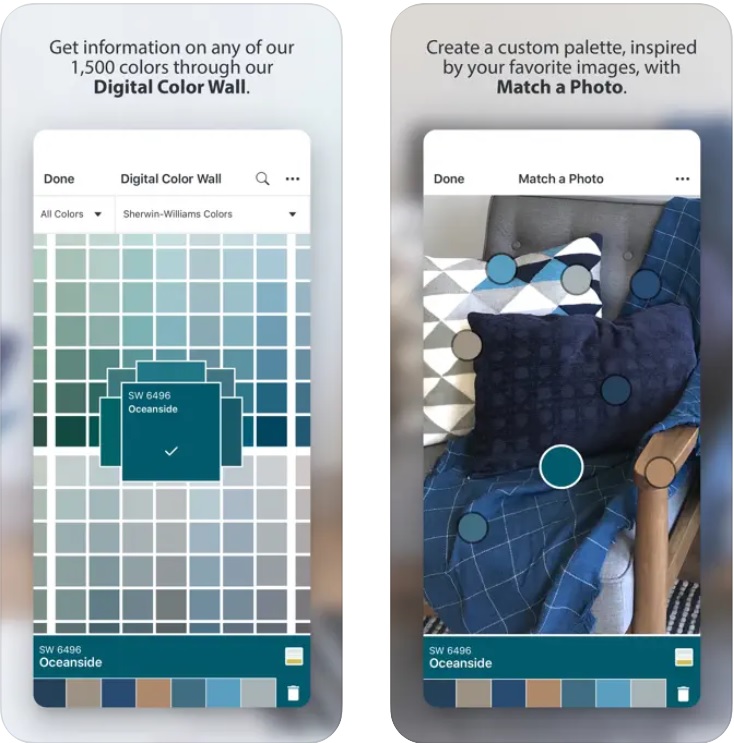 Paint My Wall – Room Painting
This app has a simple design for virtual painting your rooms. Click on the color bar to change the color of the walls. The app recognizes similar colors and simulates the result of painting. It has many colors and shades.
You can paint the walls manually. Zoom in to paint the walls more precisely. If you make a mistake don't worry. You can always undo an action.
You can take a photo of the room directly in the app or select it from the gallery. You can see how the colors will look on your walls. Save photos to your gallery to show it to your family. Share your painted photos on social networks. You will know how to change the style of your home using this app.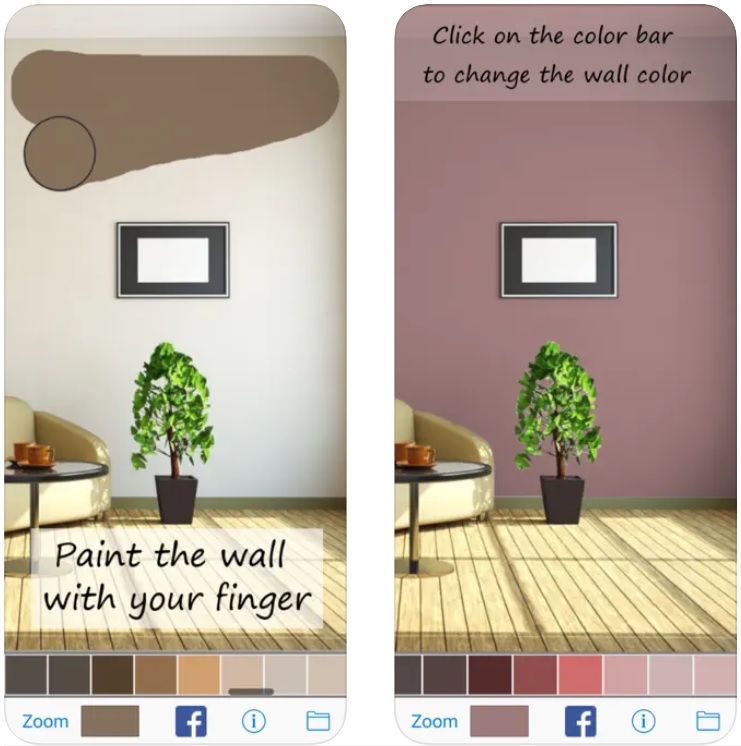 Wall Color Selection – BEST
This app is a virtual editor for designing styles for the rooms of your home. This app is suitable for artists, designers, as well as to test paint for walls. The app has more than 7 thousand colors.
Choose the exact shade. You can find colors in the search bar. Write a name and the app will show all matches. It has a simple and modern interface.
You can change the floor, ceiling, and walls. Create the home of your dreams. Add a window to let the light in. The app has a smart light system. It will show you what the wall will look like with different light. The app= has been installed more than 100 thousand times. It is a good helper before painting your walls.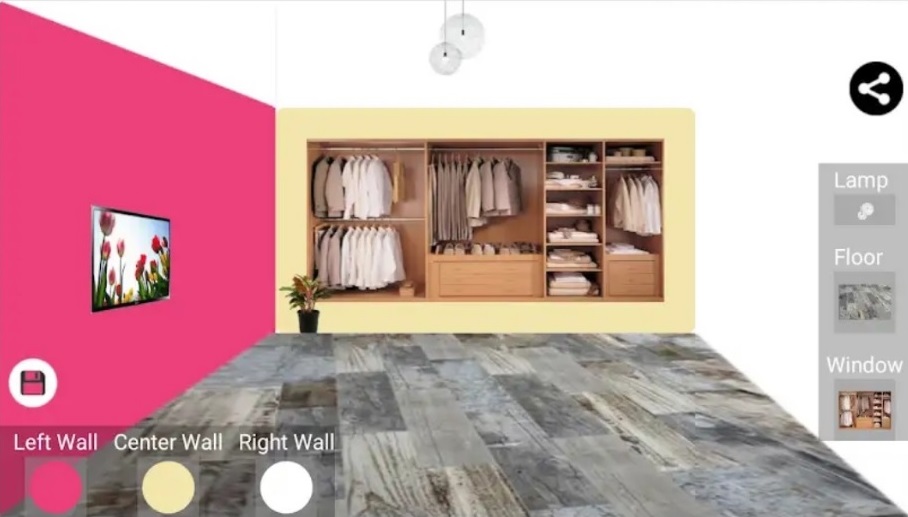 Paint Tester
This software allows users to preview and test different paint colors on their walls virtually, without actually having to paint their walls.
Users just take a photo of the wall they want to paint and select a paint color from the app's extensive library.
They can then "paint" the wall in the app, and the app will show them what it would look like in real life. Users can also save their projects for later, making it easy to compare different paint colors and finishes.
Paint Tester is visually appealing and easy on the eyes. The app's interface is intuitive and easy to navigate, making it simple for users to find the paint colors they are looking for.
However, there are some issues with the app's graphics, such as occasional glitches and lagging, especially when using the app on an older device.
If you're looking for an easy way to test out paint colors without the mess and hassle of the actual painting, Paint Tester is worth trying.
Advantages:
Allows users to preview and test different paint colors virtually.
Easy-to-use interface and intuitive controls.
Extensive library of paint colors.
Drawbacks:
Occasional glitches and lagging.
Paint colors can be inaccurate or unrealistic at times.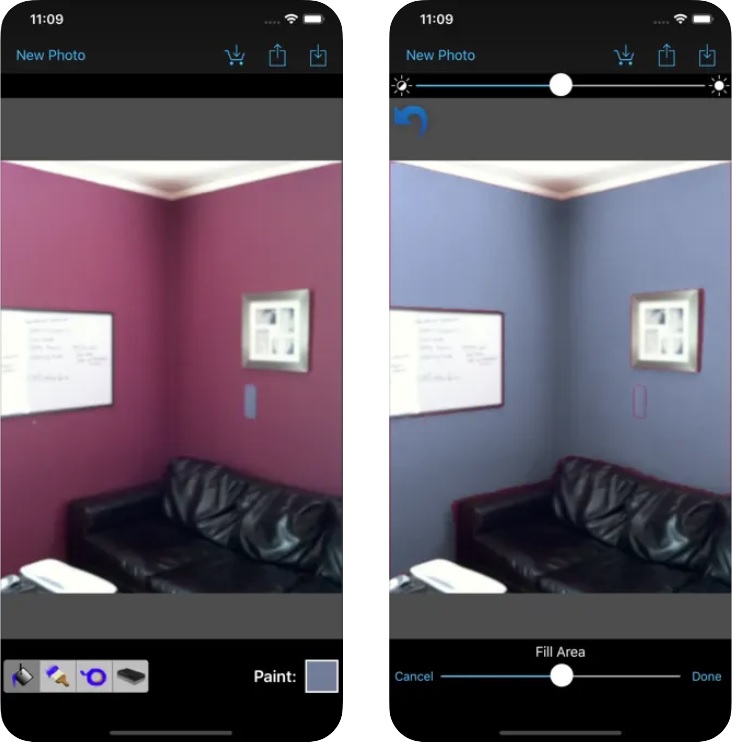 You may also like: 11 Best home planner apps for Android & iOS
200 Room Painting Ideas
This app will allow you to choose colors that will surround you every day. The app has over a thousand inspirational ideas for painting any room in your home. Open the app and select a room. Flap right and left and see pictures with designs. You can upload a photo of your room and change the color of the walls.
Bookmark your favorite images. The app is very popular. It has been downloaded over 500 thousand times. It doesn't take up much space on your smartphone. It weighs only 13MB. Download this app and it will help you reflect your personality through the design of rooms.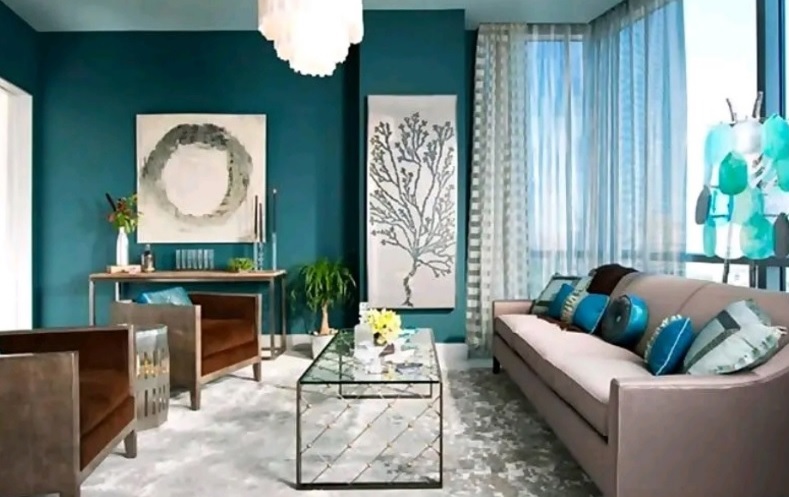 Prestige ColorPic Paint Color
This app will help you visualize the future interior of your home. You need to add photos from the gallery in the app to get started. You can also take a photo directly in the app. Click on the object located in the photo and the app will determine what it is.
It will show you the options available on Amazon. You can change the color of the walls and floor in a second.
You no longer need to rush to the store for paint. Try different options before you buy. The app also has a paint calculator. You can calculate the amount of paint you need to buy for 1 room.
You can know exactly how much paint you need. The app has more than 15 thousand colors. You are sure to find the perfect color for your room.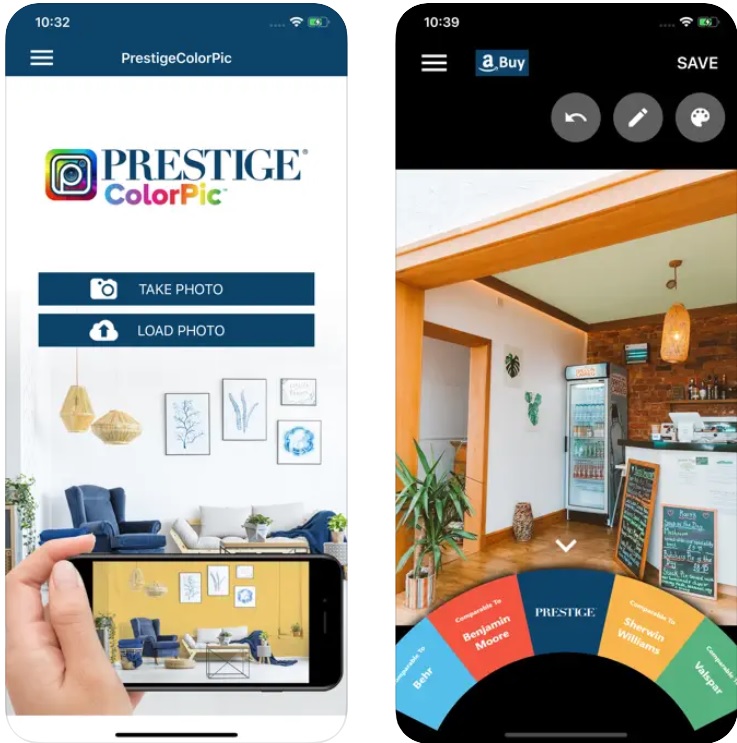 House Painter
You only need one click to change the color of the walls in the photo. There are 3 types of color tools. The first is initial, which you can select on the surfaces of the wall. The second is the brightness that you can adjust for each color. And the third is the paint.
The app has more than 7 thousand paint colors. You can visualize the result of painting the walls without having to repair the room. The app requires camera permission so you can take pictures of rooms.
The app has a simple and intuitive design. You can undo any action during virtual painting. Save the painting photo to the gallery. You can compare virtual colors. Add painting photos to the list of favorites. This app will help you choose the most harmonious color of the walls.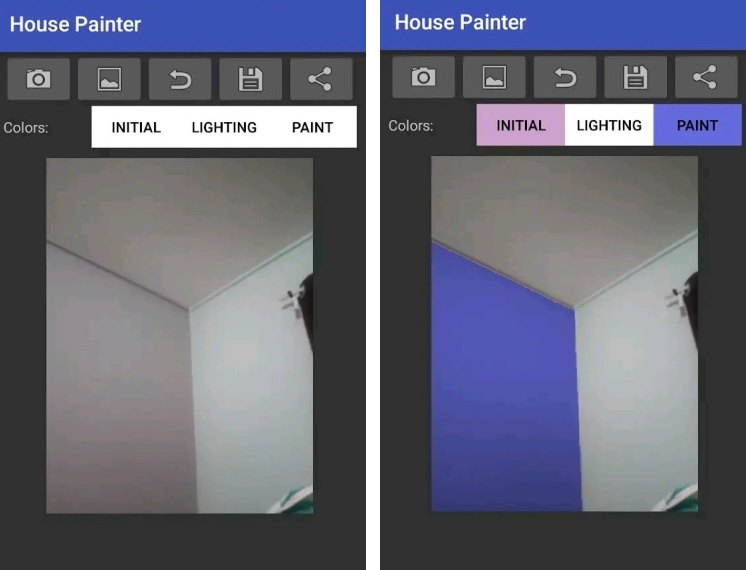 AR Home Painter
AR Home Painter is an augmented reality app designed to help homeowners visualize how different colors would look on their walls before actually painting them.
To get started, users need to select a photo of the room they want to paint, and the app will generate a 3D model of the space. From there, users can select different colors and apply them to the walls to see how they look in real-time.
The app also allows users to save their favorite color combinations, so they can compare different options and make an informed decision.
Also, this app uses high-quality 3D models to create an immersive and realistic experience for users. The colors are vibrant, and the app does an excellent job of blending the virtual paint with the real-world environment.
Though it can take a lot of time till the app loads, and it doesn't work well on older devices. However, these issues appear to be relatively rare, and most users have had a positive experience with the app.
Advantages:
Helps homeowners visualize different paint colors before painting their walls.
Uses high-quality 3D graphics for an immersive experience.
Intuitive controls and straightforward gameplay.
Users can save their favorite color combinations.
Drawbacks:
Some users have reported technical difficulties.
May not work well on older devices.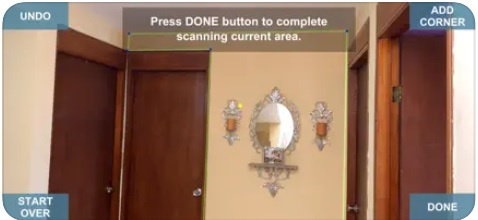 Wall Color AI
Wall Color AI is a service that helps users find the perfect color for their walls. This app uses advanced technology to detect the color of any wall and recommend a complementary shade based on the user's preferences.
You should select a wall from their camera roll or take a new photo to analyze. Once the app detects the color, you can choose from a variety of shades to see how you would look on their walls.
The app uses high-quality images to showcase the recommended colors, allowing users to visualize how they would look in their space.
However, some users have noted that the app can be slow at times, which can become a problem when trying to compare multiple color options.
Another issue with Wall Color AI is that it can sometimes be inaccurate in its color detection. In addition, the app does not always take into account lighting or other factors that can impact how a color appears on a wall.
Advantages:
User-friendly interface.
Wide range of color options.
Helps visualize color choices in real space.
Drawbacks:
Inaccurate color detection at times.
Slow loading times.
Doesn't take into account lighting and other factors.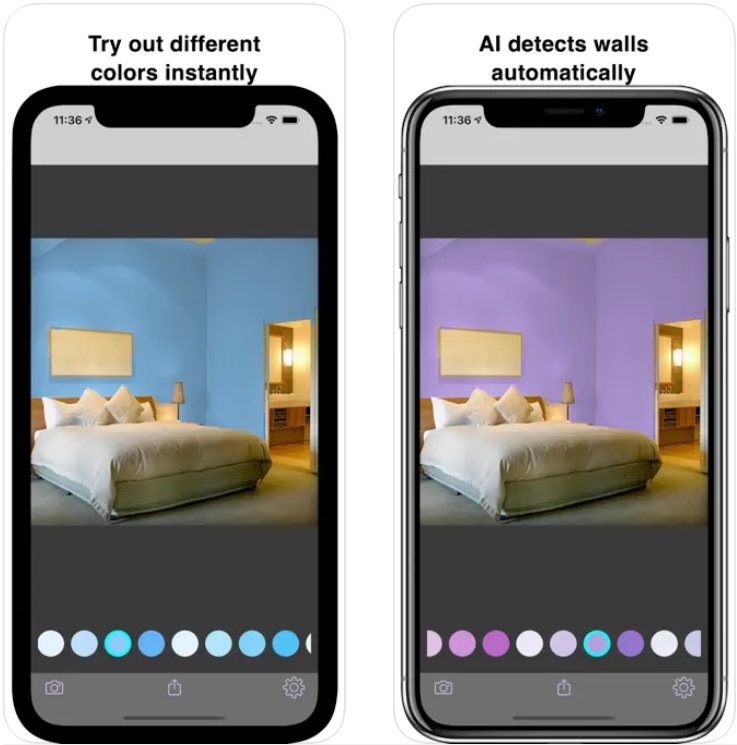 You may also like: 25 Best Home Design Apps for Android & iOS
Paint My Room: Wall Paint Visualizer
Paint My Room is an excellent app for those who want to experiment with different designs and colors for their room or home.
This service allows you to design and visualize your rooms in 3D. You can choose different color schemes, textures, and designs, and see how they look in their room in real time.
You can also experiment with different lighting and furniture to get a better feel for how their space will look.
The app is suitable for both homeowners and renters, as it allows users to customize their rooms without making any significant structural changes.
The rooms are well-rendered, and the color options are varied enough to satisfy most users. The app also includes an augmented reality feature, which uses the camera to display the room and how it would look with the new design.
This feature works well and gives you a sense of how the finished product would
Advantages:
Realistic 3D room design.
Augmented reality feature.
Varied color options.
Drawbacks:
Limited furniture selection.