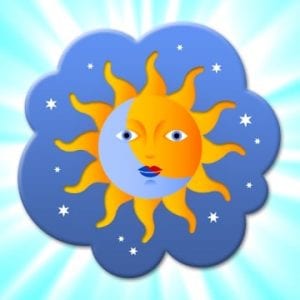 Daily Horoscope is one of the best applications where horoscopes for all signs of the zodiac are collected. You'll receive your horoscope every day and keep up to date with upcoming events.
Horoscopes provide you with forecasts for virtually every aspect of life. For example, love, personal characteristics, wealth, and well-being.
Horoscope
On the application's home screen, you'll immediately see a list of zodiac signs, each of which you touch to get the corresponding horoscope.
In the open window, you can also view the normal horoscope, the love horoscope, and the Wealth and Wellbeing sections. Here you can also find out about compatibility with other signs of the zodiac, characteristics, and more detailed information about the chosen sign of the zodiac.
Menu and settings
You can open a menu window at the top of the screen. Here you can share the application with your friends. You can do this in any way you want. For example, you can send it to the post office, through a messenger, or on social networking sites.
It's also where you can check the app, see other apps by the developer, and open the settings. In the settings, you can adjust the font size, select a language (English, Spanish, French, Portuguese, and Russian), enable or disable daily notifications, and much more.
Love horoscope
A special section here is the love horoscope. You can see which signs of the zodiac your zodiac sign is compatible with. This can be found in the "Compatibility" section.
Offline mode
This application can operate offline. This means that you do not need an Internet connection. It only needs to download all the information you need for the day. The rest of the time you can use the application without connecting to the network.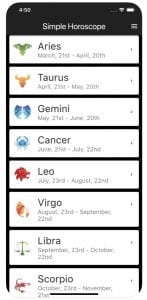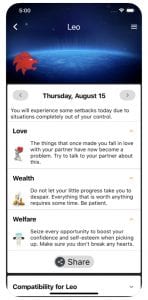 The Daily Horoscope app is a great choice for astrologers and those who want to get accurate predictions for their zodiac sign.
You may also like: 11 Best moon phase calendar apps for Android & iOS