Betting on horse racing is really popular in Europe and particularly in the US. There are a lot of horse racing betting apps and websites, but not all of them can be called good ones. Therefore, below we have made a list of the best horse racing betting apps in this year that are definitely worth your attention.
And for all of you who like betting and would like to do that not only with horses racings, we recommend also exploring the article about the best sports betting apps.
TwinSpires: Horse Racing
TwinSpires is a number one app in the field of horse racing betting. It offers the most coverage in terms of US states available compared to any other US betting site that has horse racing. So, that alone feature should make it extremely attractive.
If you are currently sitting in an antiquated state that has not caught up with normal society, so you are excluded from online betting in all forms, this app will be a godsend for you. With the help of it, you will be able to take part in every sport betting event whenever your location is.
It must be outlined that TwinSpires is the child of Churchhill Downs the Incorporated, which is the parent company of the Kentucky Derby and the Churchhill Downs Race Track.
Although it was only launched in 2007, it is already planning on merging its sister company BetAmerica into the TwinSpires platform.
This was announced in 2021, which means that TwinSpires is on a brink of becoming even bigger than it already is. They also reach across thirty US states. Twenty other states remain to be out of the program.
Besides, the app provides an opportunity to watch live racing videos to observe all the details of what is happening.
Thus, TwinSpires is the greatest option for sports betting, as it has more than 150 years of experience related to horse racing operations. Moreover, it is headquartered in the US and is in good standing with every regulator in the jurisdictions in which it operates.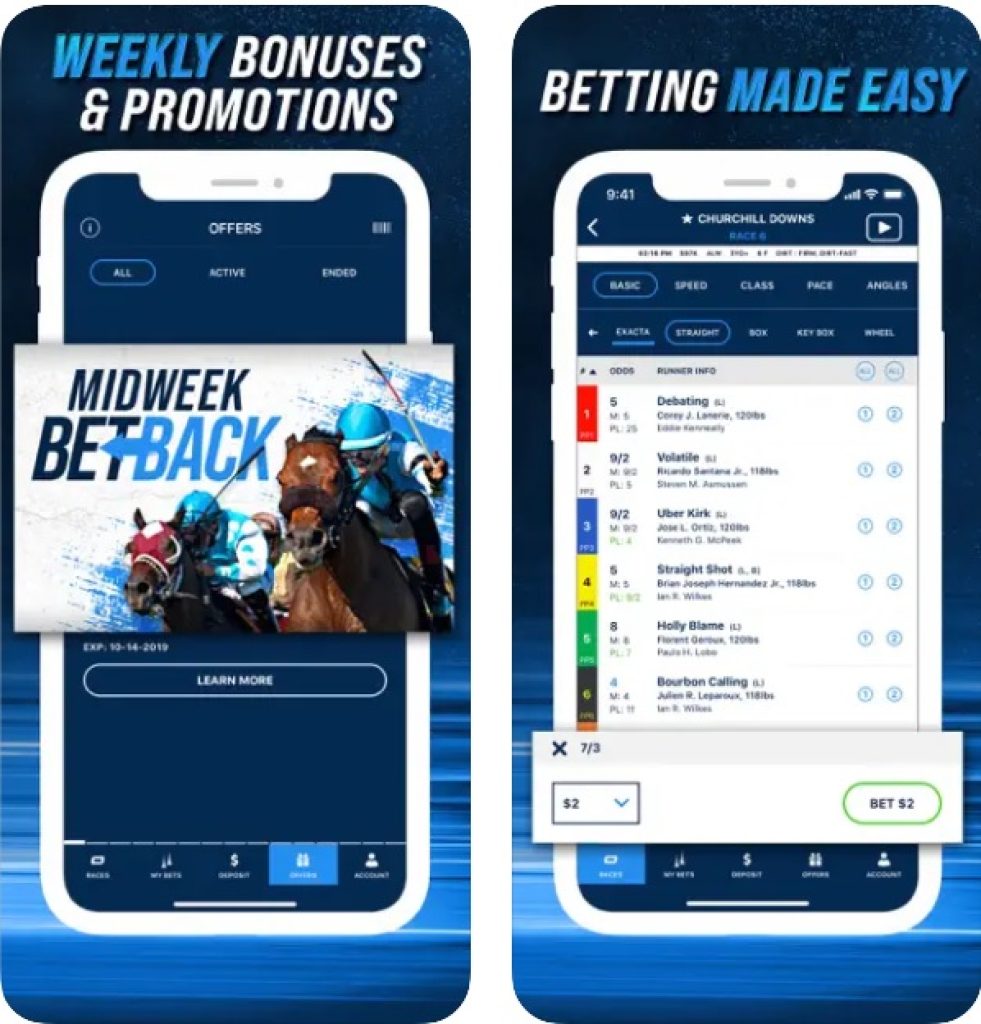 You may also like: 7 Free Apps to Watch Horse Racing on Android & iOS
Unibet IA – Sports Betting
Unibet is often heard as a fun online casino, but very few know that it has quite the expensive global outreach. So, this app is a great option for professional bettors.
Unibet is an all-in-one gambling site. It has pretty much everything you will ever need, but for the US the horse racing betting is what really makes it attractive, and also the only thing that is available in the US.
They accept a tone of banking methods, including debit cards, credit cards, PayPal, Skrill, Neteller, Paysafecard, bank wires and intro pay.
And while they have minimum deposit requirements of roughly five euros and a minimum withdrawal of roughly fifteen euros, the fact that they are the one of the few out there who accepts PayPal makes it all worth it.
Finding the contact information for their support can be a bit complicated. However, you are not going to need customer service too often since the app works really well.
Thus, this app will be really useful not only in horse racing betting, but in every sport betting because of its simple interface and a wide variety of banking methods it provides.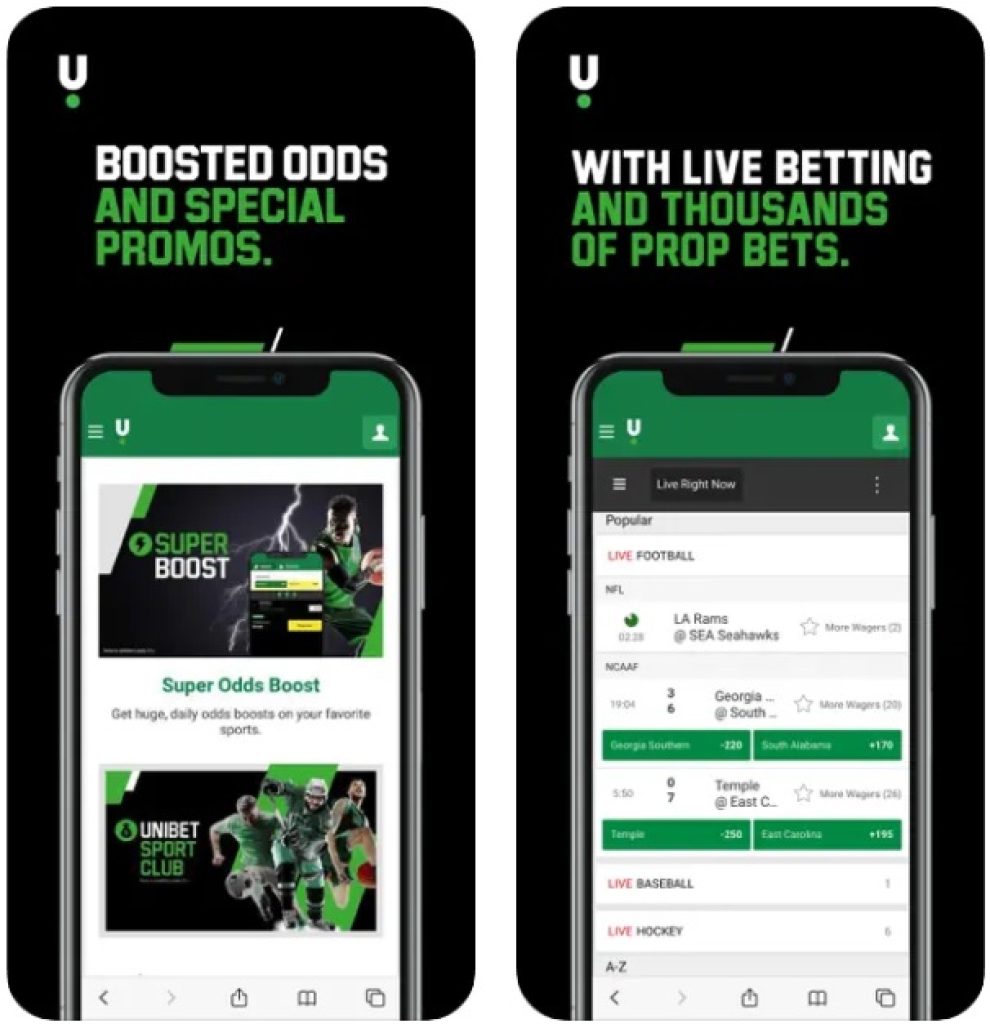 Betfair Sports Betting
Betfair is another amazing app for sports betting. This app has the biggest global outreach, allowing more countries to utilize its platform than any other site. So, you can use it no matter where you live or stay.
If you can get past some drawbacks in the app, their simulator functionality allows for some incredibly accurate wagering. In other words, not only can you bet on the horse races that span far across the US's purview, but you can also select the odds that come with those wagers.
It must be emphasized that this app is not for the novice horse racing bettors. The vernacular and overall layout can be a bit confusing if you know nothing about horse betting lingo.
However, assuming this is not your first visit to the pony track, this app is one of the top betting exchanges around, covering virtually all races in a fast and up-to-date app with arguably the best racing odds you can find.
Thus, if you can be called a professional horse racing bettor and want to bet on the racing odds taking place not only in the US, but around the whole world, you should definitely try Betfair Sports Betting app.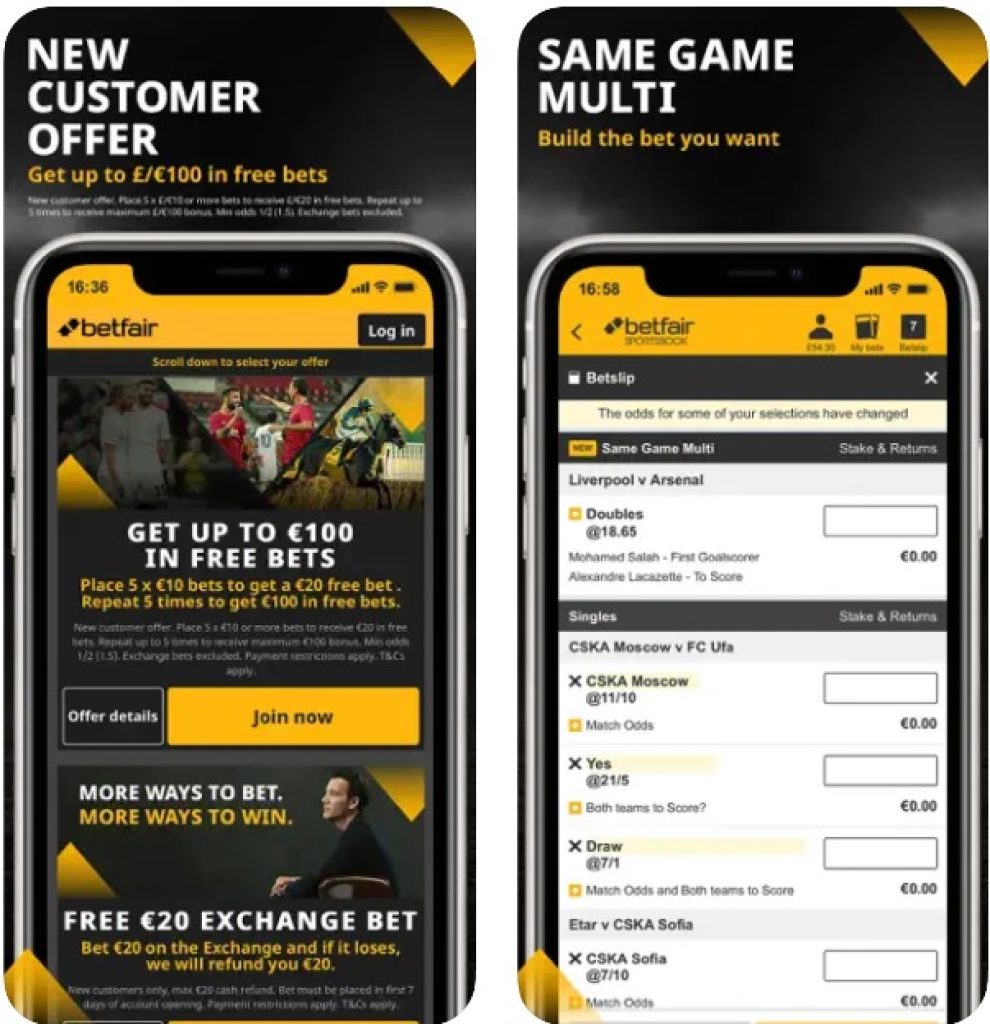 BetAmerica: Live Horse Racing
BetAmerica is the most beautifully designed horse racing betting app. There, only horse races betting is available, as it is only dedicated to this sport.
When you first-time register in the app, you get a $50 bonus that you can use on a website or in the app. It provides over 200 tracks and different odds that can be betted on. Therefore, you have more chances to earn money.
Moreover, live streams of famous competitions all over the world are broadcast through the app. So, whenever you are, you are able to bet on every horse race.
Besides, the interface of the app is really pleasant and easy to use. You can place a bet without any effort and previous experience.
Thus, BetAmeria is a good option for people who just started to bet on horse races, as it mostly targets newcomers who have a chance to get several bonuses in advance.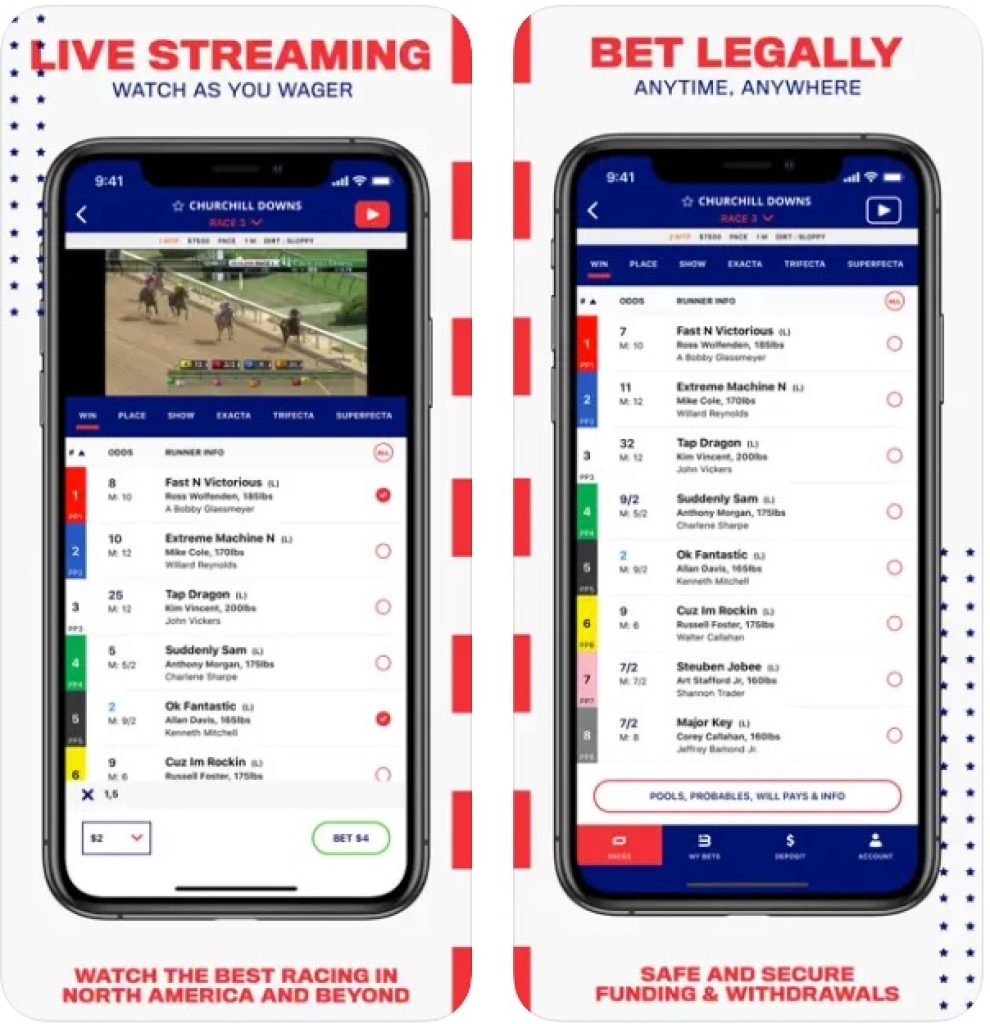 TVG Network – Horse Racing Betting App
TVG Network is one of the best sports betting apps that are specialized in horse racing bets. It is really popular in the US and Europe. Moreover, in some US states, greyhound racing betting is available. That is one of the best features that differentiate this app from other sports betting sites.
Furthermore, because of the wide area that the app covers there is an exceptional number of odds, races, and tracks open for betting on. So, take all the opportunities to win more bets with the help of this app.
Another pleasant feature of the app is getting $200 as a welcome bonus after your registration. It makes the app a more appealing pick for all the horse racing bettors, that is why the number of TVG Network users is rising every day.
Finally, it has a live streaming platform where you can observe the popular races all over the world and be aware of all the results.
Thus, TVG Networking can be called nice sports betting app that not only can be used by newbies but can be really successful among professional bettors too.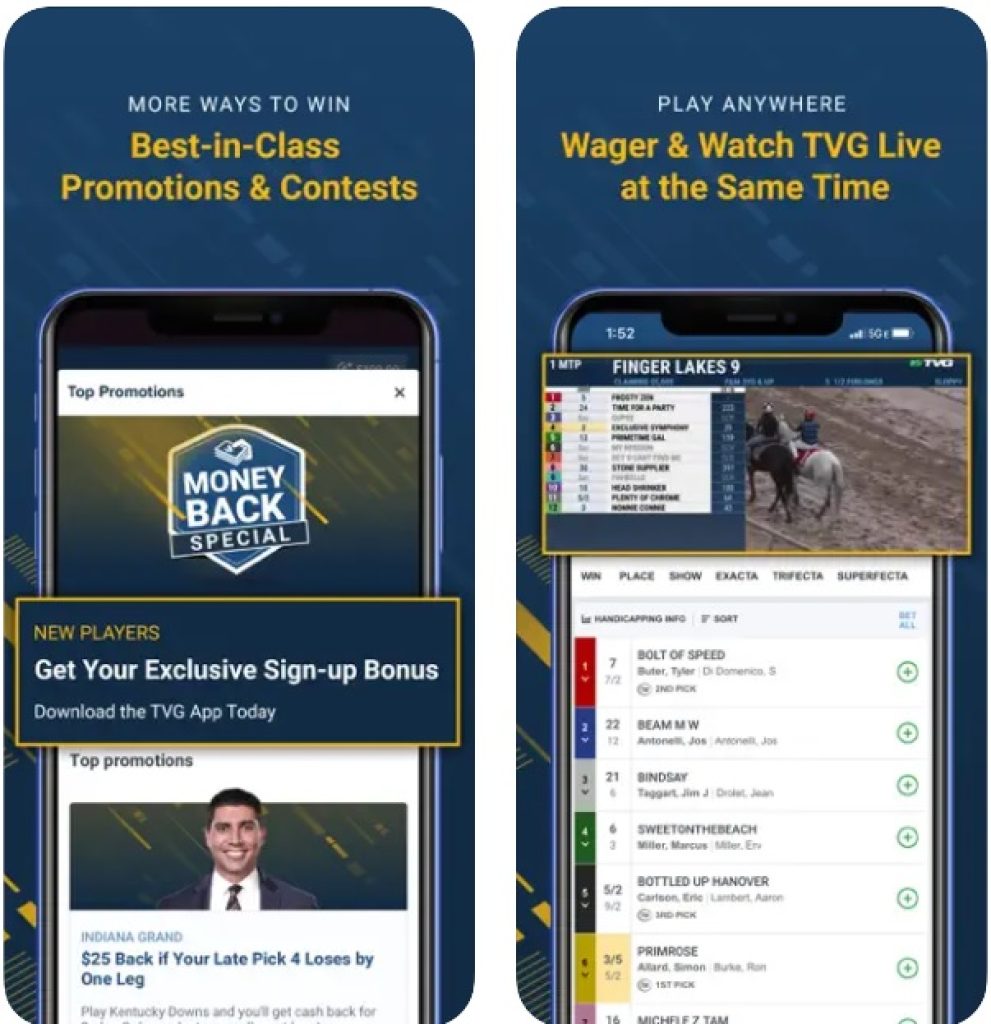 You may also like: 15 Best sports betting apps for Android & iOS
Xpress Horse Racing Betting
This app is widely-known among professional and amateur sports bettors who are fond of horse racing competitions.
One of the biggest advantages of this app is the widest selection of races. Over 300 races are available there. The more odds to bet on are open to you, the more chances to win you have.
All of these tracks are served with the streaming live system, which provides the opportunity to stay up to day with all the racing events.
Besides, the welcome bonus is given to newly-registered users of the Xpress Horse Racing Betting app. It accounts for $125. A large number of bank services for deposits and withdrawals are can be used.
They are Credit card, PayPal, MoneyPak, Neteller, Green Dot, and PayNearMe. It is what makes the app a more attractive place for lovers of horse racing betting.
Thus, Xpress Horse Racing Betting app is just another one in the range of sports betting apps that are worth your attention because of its pleasant bonuses and useful feature for every user of the app.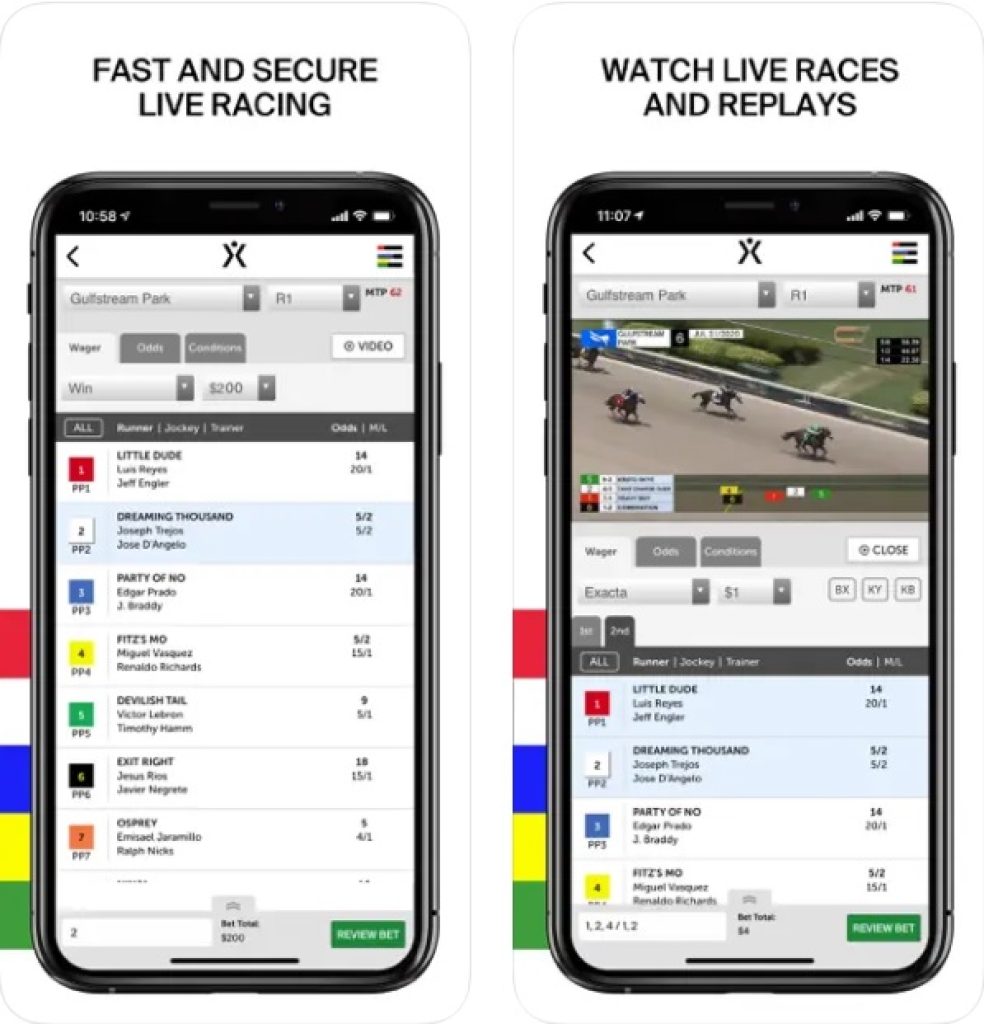 Nyra Bets – Horse Race Betting
Nyra Bets specializes only in the field of horse racing betting. Therefore, it can be called a well-organized and professional app for horse racing bettors who want to use a qualitative program to win more bets.
It should be outlined that this app is really similar to other horse racing betting apps described above with the range of horse races and streaming abilities, but at the same time Nyra Bets has also some unique for others features that should be mentioned.
First of all, this app daily organizes a lot of constants and competitions where you can use your chance to win additional prizes. This opportunity doubles the interest of many bettors to use this app.
Secondly, it provides various betting tools such as handicapping assistance. With their help, every user will find themselves confident and safe while making bets through Nyra Bets.
Thirdly, the bonus that will meet you after the registration will account for up to $200. You can use it after your first deposit.
Thus, Nyra Bets is one of the good options for people who are keen on horse racing betting and want to use a convenient app with a pleasant interface and helpful betting tools, and fast assistance.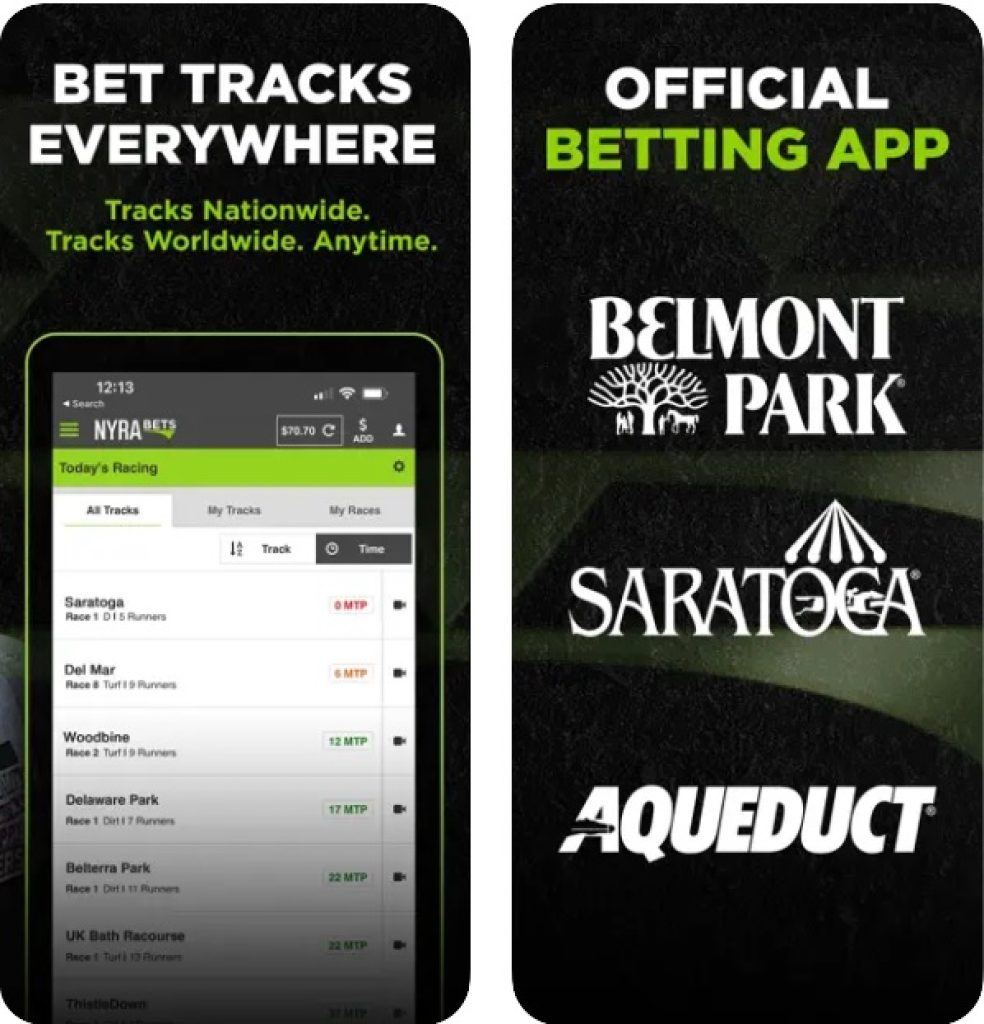 Betfred Sports, Casino & Games
Betfred is a huge platform for gambling, sports betting, and casino games. However, horse racing betting takes one of the leading places in this app.
To begin with, the most appealing part for the app users is new customer offers. There are different types of welcome bonuses, and even a large system of prizes and bonuses is designed.
So, after registration, it is important to look through the list of rules and special requirements that are set by the app. Be careful with this and do not lose the opportunity to get all the exclusive offers that the app has.
Moreover, the app suggests you take part in different betting such as sports and gambling. Betfred app is a godsend for those who want to do all these things in one place to earn more profit.
Thus, Betfred is not the best place for horse racing betting, as it is dedicated not only to this kind of sport but also to many others too.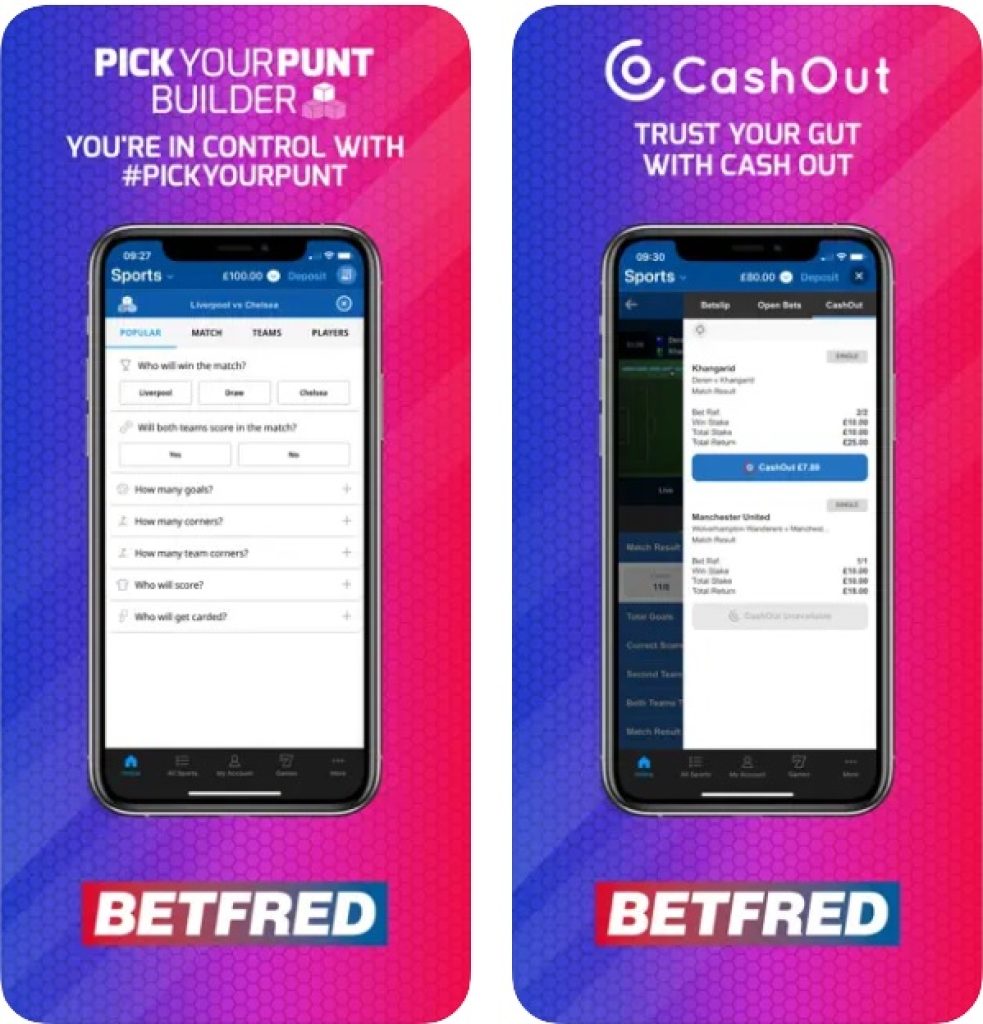 Bet 365 – Sports Betting
Bet 365 is another betting app that is dedicated mostly to horse racing and football betting. It became one of the favorite apps among professional sports bettors for several reasons.
Firstly, the service of the Bet 365 app is quite fast and one of the most extensive on the whole market. It has a wide selection of tracks and races that you can put your bet on.
Secondly, it has a safe system of cash-out that are available on In-Pay and pre-match. It also provides the opportunity to take your bet back before the event will have finished, or leave a part of your bet.
Thirdly, you can personalize your bets and sports to have convenient and fast navigation through the app. It helps you not lose precious time and bet as much as possible in a short period of time.
Thus, Bet 365 attracts a lot of sports bettors who like using different betting features that are provided by the app to improve your results while betting.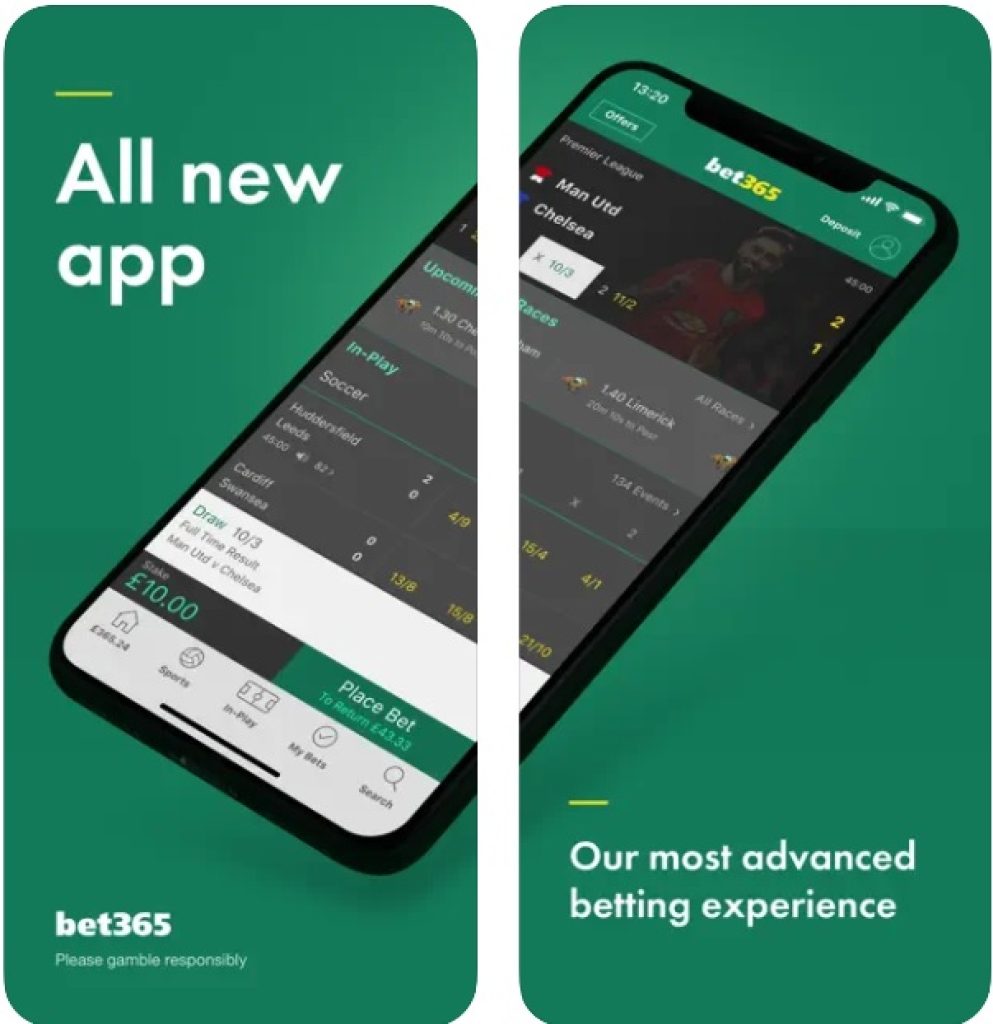 Sky Bet: Sports Betting on Football & Horse Racing
Sky Bet as Bet 365 specializes in football and horse racing betting. It has several pleasant features that every user will like in the process of making bets.
New users are always met with gifts and bonuses that can be used for betting in advance. Moreover, all your activity can be tracked by you to identify the strong and weak sides of your strategy. All the users will be glad to have such a function in the app to improve their results in betting careers if it is necessary.
Furthermore, the weekly additional competitions are held there, so try yourself in different events to earn more money. It is what makes it attractive not only for newcomers but for old users too, as it is always interesting to try your luck in different ways.
Thus, Sky Bet is an ordinary sport betting app where all the basic features and functions for every betting app can be found.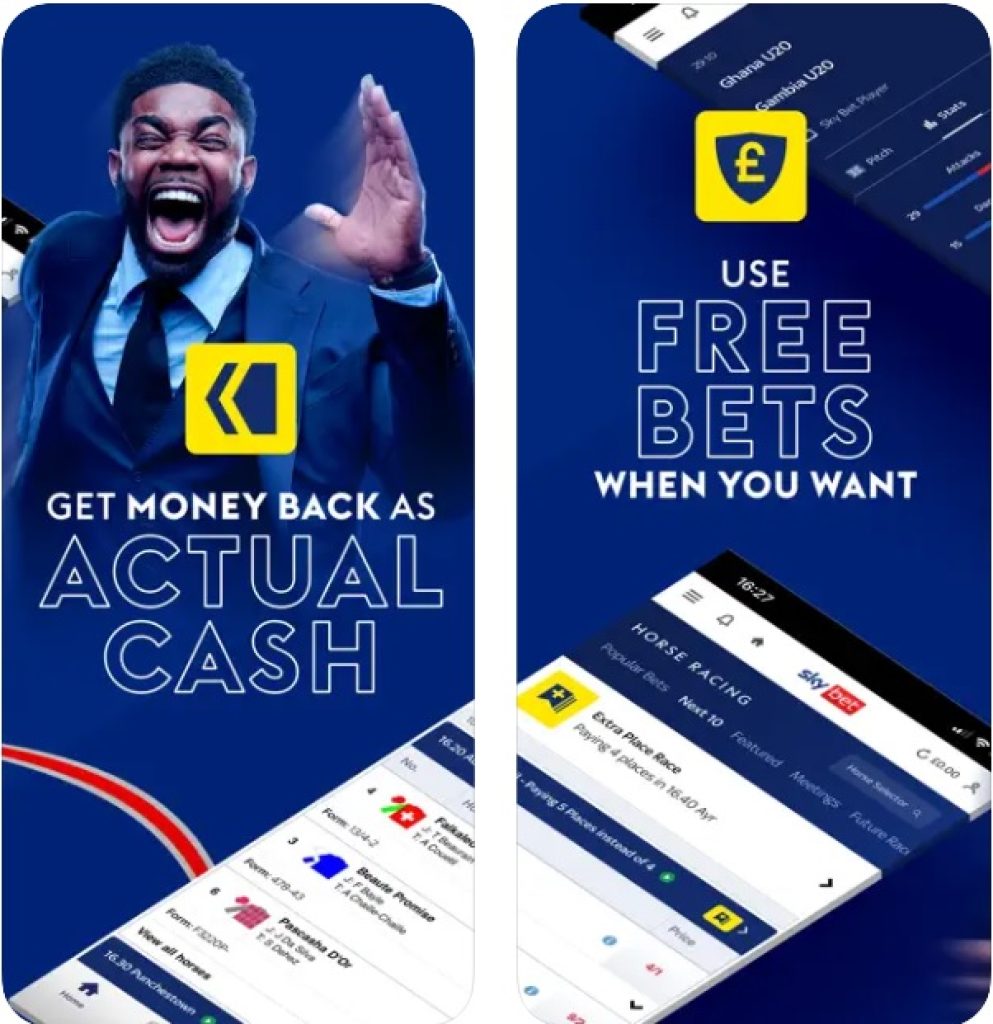 You may also like: 11 Best football prediction apps for betting (Android & iOS)
Boyle Sports: Sports Betting
Boyle Sports is the last app that we put into our list of the best horse racing apps in 2023, as it is not really famous and appealing for sports bettors. However, it can be used successfully while betting on sports. It offers a wide variety of sports that can be bet on.
This app has a nice interface, which will help you put a bet in a few simple steps. So, after a quick registration, you are able to start betting there.
Moreover, you can make deposits safely without any special actions through Google Pay.
Furthermore, there you are able to observe the tournaments and competitions that are held all over the world and bet on the best players, teams, and horses. Make your own strategy and support your favorites in sport with this app with the help of a live streaming platform.
Thus, Boyle Sport is another app for sports betting that is worth your attention if you are looking for a wide variety of sports games and a qualitative platform for horse racing betting.