What would you do if you had your own hotel in the city center? Could you handle the management of the hotel? Test your managerial skills with virtual hotels. Exciting adventures and events await you.
You can completely immerse yourself in the world of hotel life. Moreover, you will be able to learn all aspects of hotel management. We have prepared a list of the coolest Hotel Manager Games for you. We advise you to try them all to find what you like best.
You may also like: 9 Best Restaurant Management Games for Android & iOS
Hotel Empire Tycoon – Idle Game Manager Simulator
This app has a minimalist style. You will be able to build your hotel and learn how to fully manage it. Are you ready to become a hotel tycoon? Log in to the app every day and work hard to be successful. Start as a simple hotel and upgrade to a 5-star hotel.
You can also buy or open new hotels in different cities. Create your own unique franchise. You will have the opportunity to expand rooms, improve furniture and staff. Buy luxurious furniture, decorations, and furnishings.
Your guests will be delighted to see the beautiful design. Expand your influence in the hotel business. Collect a staff of the best employees to enhance the efficiency of your hotel.
You will be in control of all areas of the hotel's life from staff and kitchen to appearance and image. Prepare food for your customers right at the hotel. This way you can get additional profit. Become the best host for your clients.
The app has recurring special events. Manage to complete them to receive additional rewards and achievements. You will be surprised how much your hotel has changed since the beginning of the game. You will do all this by your own efforts.
During the game, you will be able to see icons with data about the day. The app will show your funds. There are two types of them such as banknotes and gold diamonds. Spend your money on upgrades or boosters.
You will also see the amount of energy at the top of the screen. Energy will give you the power to run the hotel. The more energy the more actions will be available to you. You can also look at the playing time, as well as statistics for the day, week, and month.
Choose the most efficient hotel management strategy. If you want to get more gold diamonds or bills, then watch the ads. You will be able to receive a bonus. A small drawback of the app is that ads do not always load.
Hotel Empire Tycoon has been installed over 10 million times. It is the undisputed leader among similar apps. It takes just over 150MB. Download it and try to become a hotel tycoon.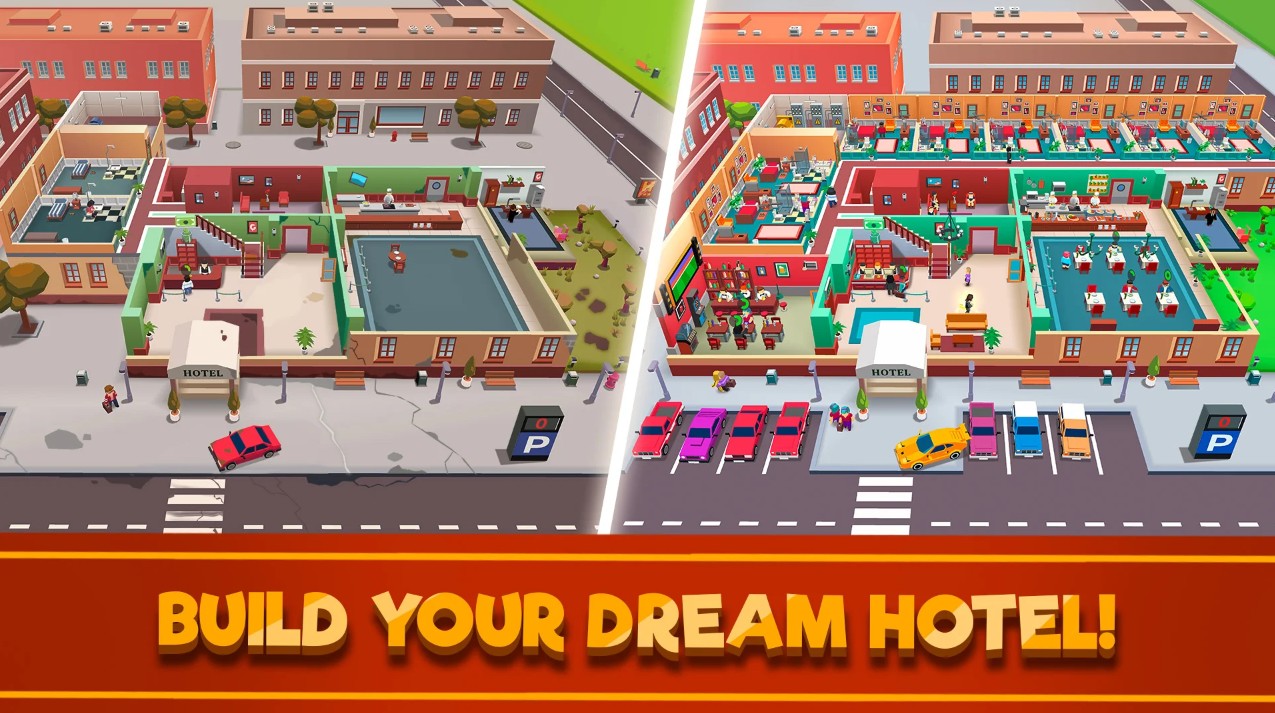 You may also like: 11 Best Hotel Concierge Apps (Android & iOS)
Dream Hotel: Hotel Manager Simulation games
Introducing the first app on our list. It will help you build the hotel of your dreams. You will be able to fully manage the facilities of the hotel. Open a 5-star hotel anywhere in the world. The app has a huge hotel management functionality.
You will find over 300 levels that are completely different. If you are successful, you can build a hotel chain. Manage the staff. You will be able to fire and hire them. Don't forget that your hotel has its own kitchen. Prepare delicious meals and please your guest's needs.
Earn coins and gems. You can spend them on boosters. Continuously improve the quality of your hotel to attract more customers. The most important thing in hotel management is time management.
Make plans for the day and spend your time right. Troubleshoot your virtual hotel in time. Guests from all over the world will visit you every day. These are tourists, travelers, businessmen, and even superstars. They need top-class comfort and service. Build a reputation for being the best hotel in the city and country.
Put your heart into the affairs of the hotel and then you will definitely get success. You will be able to prepare meals in your kitchen yourself. The app has a messaging system. These are likes. The more likes you get for your work, the higher the payment will be.
We forgot to tell you more about the staff. You can hire highly qualified employees, as well as control the payment of salaries. Keep track of how they do their job. Gather a dream team of staff who will faithfully do their job.
The app even works offline. This will allow you to build your hotel empire wherever and whenever you please. When you complete all 300 levels, then you can try your hand at challenges. You will receive a great reward for them.
Dream Hotel is only 57MB. Install it and prove that your hotel can become the best.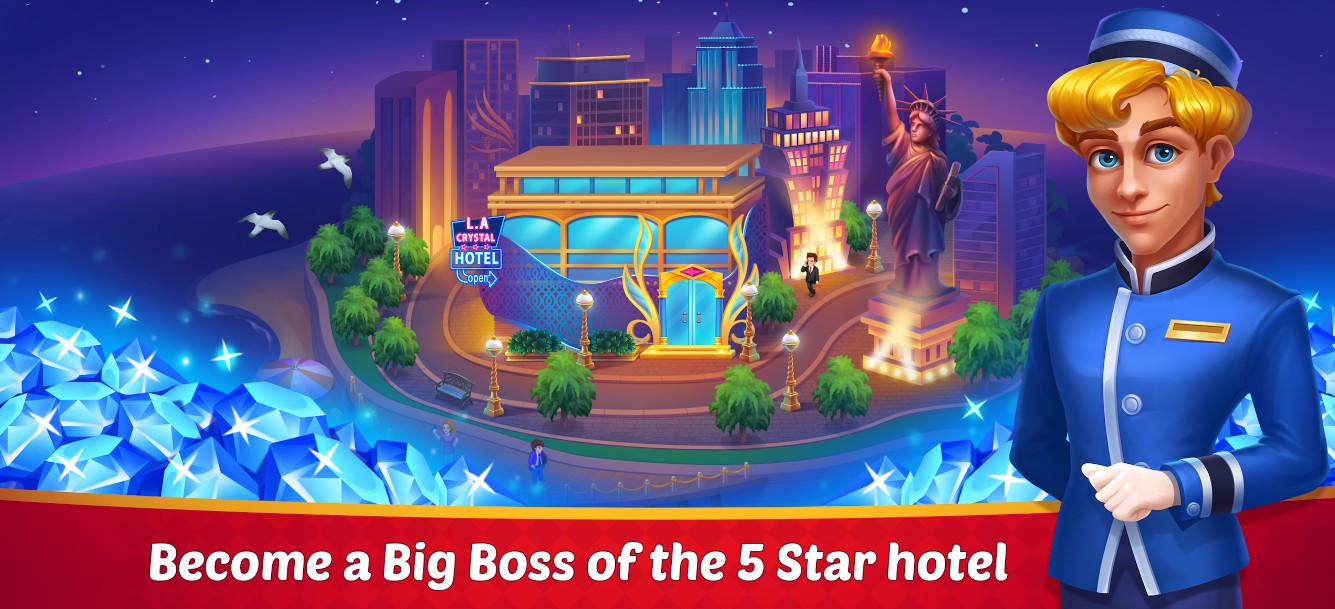 Hotel Manager Simulator 3D
In Hotel Manager Simulator 3D, you can work as a manager in a five-star hotel. This game-simulator comes with five levels. Now let's have a look at its major features!
After downloading the app, press the Play button and select the preferred level to launch the game. Then, you will gain access to several guides on how to use this tool.
As you play, the game provides you with tasks you should carry out. Players will have to perform daily manager activities – e.g. guiding the guests to the rooms, processing customer data, checking the hotel room service, etc.
The application includes a quite convenient management system. You should tap on the ground to move a player. If you want to interact with other characters, you should just click on them.
There is no need to worry if you have accidentally closed the game, as it automatically saves all your results. Plus, you can always restart the game.
We were fairly impressed by the magnificent 3D graphics. All the characters and locations are developed in detail. The pleasant background music immerses you into the exciting playing process.
Summarizing all the points mentioned above, the game will be suitable for all kinds of players – both children and their parents.
However, many users complain that it has lots of irritating ads.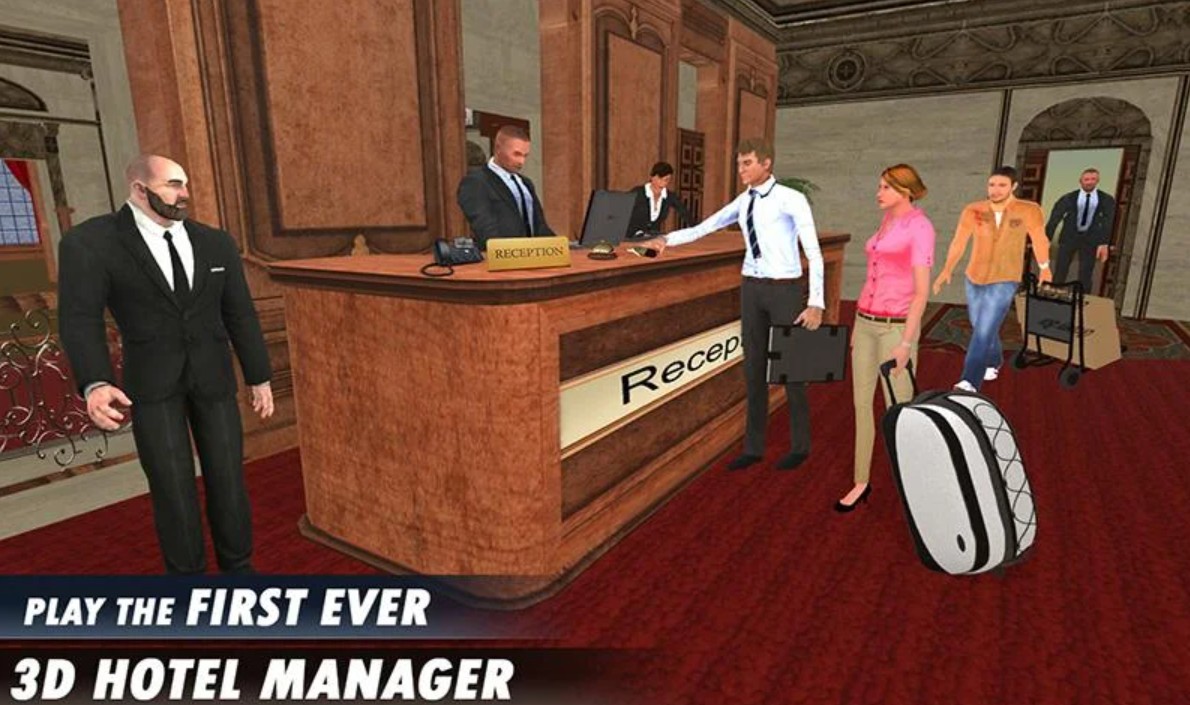 Virtual Hotel Management Job Simulator Hotel Games
You will be hired as a hotel manager in this app. The hotel is five stars so you need to do your job flawlessly. This is a great job simulator. Hotel Resort is a wonderful place with luxurious interiors and furnishings.
Don't screw up on your first day. Meet foreign tourists and make their stay in the hotel as comfortable as possible. Hundreds of exciting tasks await you, such as cleaning, booking rooms, preparing meals, changing style, and navigating the hotel.
Your hotel has several types of rooms from the simplest to the deluxe. This app combines several. You can enjoy hotel management, cashier, tourism, time management, and much more. This is not an easy game, but we believe you can do it!
The graphics of the app are amazing. Realistic 3D clients and tourists are waiting for you. HD graphics will allow you to fully enjoy the management of the hotel. All details have been worked out. You will be able to notice even the smallest actions.
Each client has his own character and family. You will need to fulfill all the desires of your customers. This game is suitable for all ages. You will have a great time running your hotel. The size of the app depends on your Smartphone model.
Virtual Hotel Management has been installed over 100,000 times. Try it for an unforgettable hotel management experience.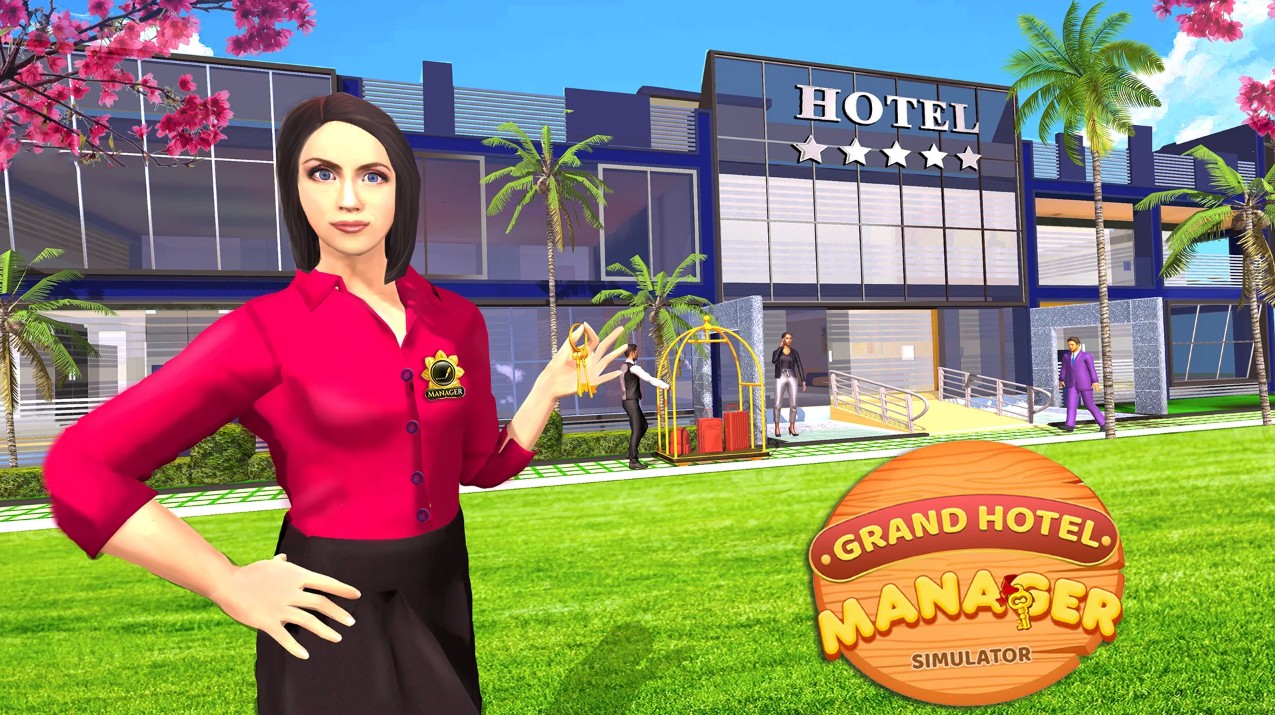 Hotel Manager 3‪D
This app has a cute cartoon 3D style. Your job is to manage a huge hotel and fulfill the wishes of your clients. Check-in tourists to your rooms. You will need to choose the correct key for them. You will be able to meet tourists from different cities.
The app has a lot of mini-games. Unload your customers' suitcases. A huge mountain of suitcases is waiting for you. Be careful not to damage the contents of the suitcases. Try to pass hundreds of challenging levels.
Earn money and spend it to improve your hotel. You can not check in a tourist in your hotel if you do not like him. Every decision you make has a greater impact on the development of your hotel.
Check how your visitors are doing in the rooms. If they are in a bad mood, then do your best to improve it. Your customers are your reputation.
This hotel manager simulator is more suitable for kids. It attracts with its cute graphics. If you are an adult this app will work for you too. You can relax in it after a hard day at work. The game is addictive. Added VIP visitors in the latest update.
Can you do everything at the highest level? Hotel Manager 3D takes up a lot of space. It weighs over 350MB. Install this application and you can have your very own virtual hotel on your smartphone.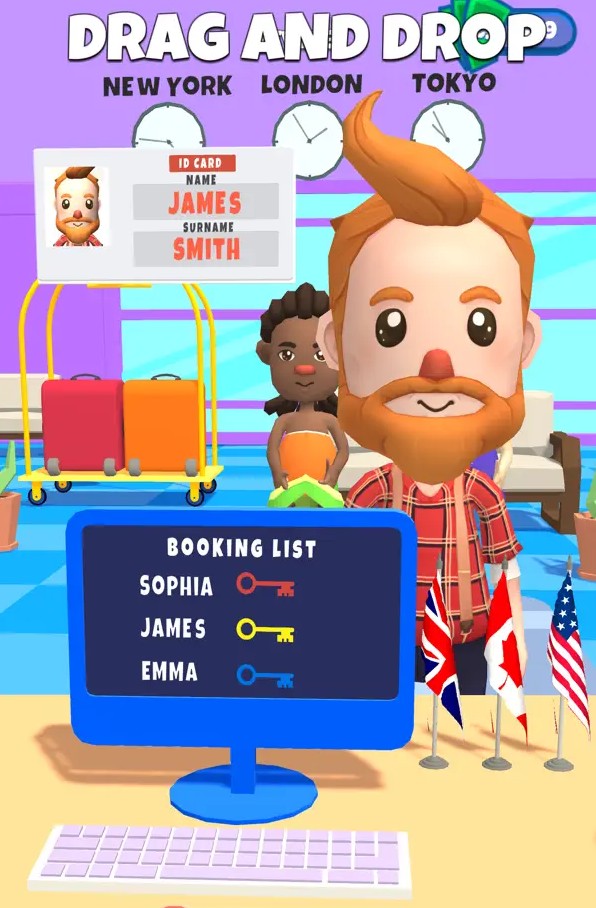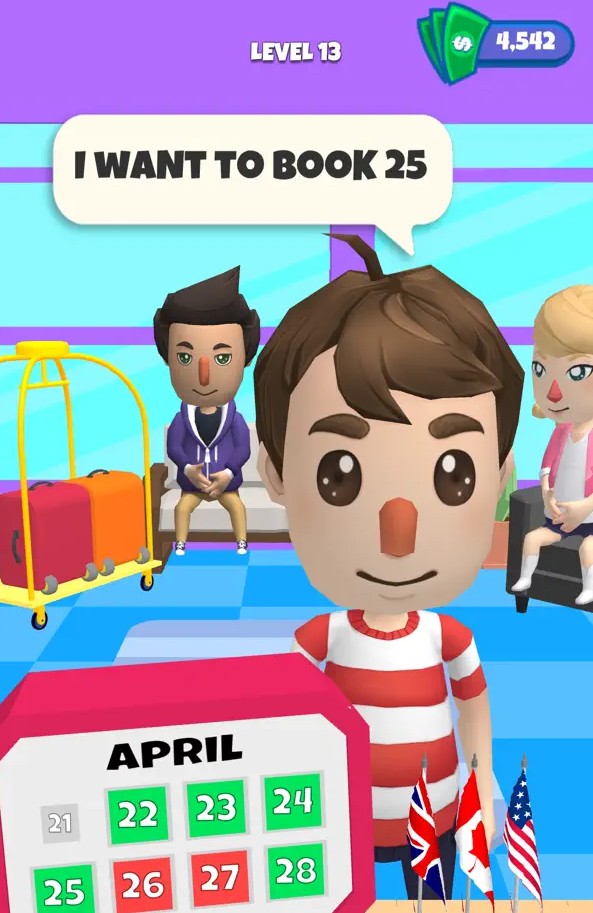 You may also like: 15 Best Hotel Booking Apps & Websites in USA
Hotel Tycoon Empire – Idle Manager Simulator Games
This is an excellent business simulator where you have to become a hotel manager. You will start as a small hotel and grow into a chain of hotels around the world. You can become a wealthy and influential hotel tycoon.
Upgrade your hotel to a 5-star hotel. Add jacuzzis, cafes, gym, golf courses, swimming pools, and more. You can even open a restaurant in your hotels. Come up with signature dishes and serve them to your guests.
Hire workers. Your task is to choose only conscientious staff who will perform all duties flawlessly. The higher the quality of your staff, the higher the prestige of the hotel. Open an in-hotel spa for more profit. Your guests will be delighted to soak up the mud baths.
You will be able to hire employees for any activity at the hotel, be it a spa or housekeeping. Perform daily business operations to generate passive income. You can even create tours and activities that will bring you extra money.
Spend your profits to improve your hotel. The better your hotel is upgraded, the more money you get. Decorate your hotel and make it as comfortable as possible. The app will also appeal to those who like to take risks.
It has a black market. Be careful when trading on the black market, you can get caught by the police and issue a fine. Try not to break the law to have an impeccable reputation.
The design of the app is very simple. You can expand your hotel by purchasing additional rooms or premises. The app allows you to fully customize your hotel by unlocking new decor items and adding them to rooms.
The app will give you gifts for your daily login. Get rewards for completing tasks. These rewards will enhance the prestige of your business. Hotel Tycoon Empire is only 47MB. Download it and join over 10 thousand users who love this game.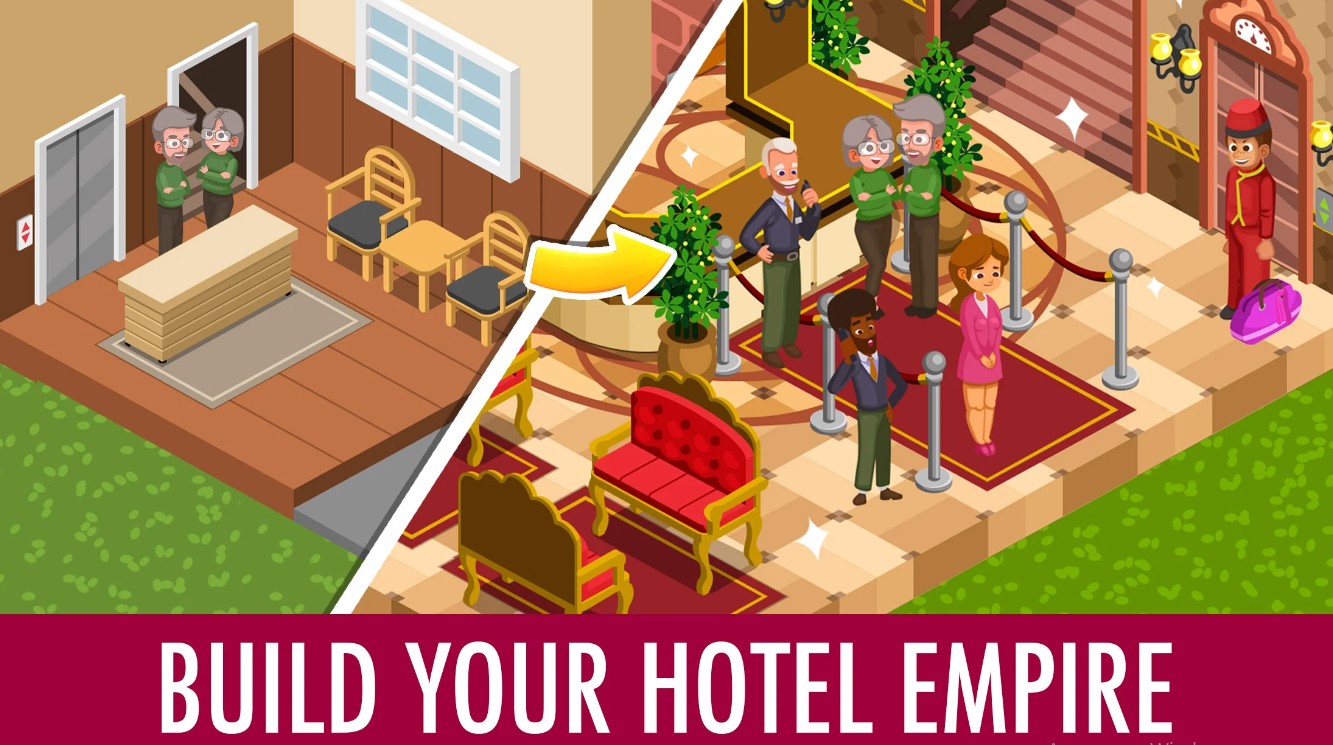 Elevator Joe: City Hotel Management Tycoon Sim‬
Before installing this game, you should know that it is very addictive. Do you dare to play it? You will find a wonderful interface style as well as gorgeous musical accompaniment. You will become a hotel tycoon.
Grow your hotel and expand your influence in the hotel business. Build new rooms. Fulfill the wishes of your guests. All people are called Chibizens in this app. These are the sweetest people in the world. You will be delighted with such guests.
The game has the word elevator in its title. Your task is to improve your hotel by adding new floors. There are 10 floors in total. Can you build them all? The elevator will help Chibizens to reach the desired floor.
The store has a huge selection of rooms and decorations. A huge number of improvements and rooms await you. Buy them and create a unique hotel design. Complete the manager challenges. There are 50 challenges in total. They get harder after each one is done. You can also play with your friends. The app has a dedicated Game Center.
The screen will display game data. You will be able to see the time, money, and happiness of your guests. Test your luck in minigames. You will receive additional rewards for minigames. Buy stores to get more profit.
Developers periodically hold events in the app such as Christmas, Easter, and others. You can speed up your progress by purchasing upgrades for real money. Download this app and try to manage a huge hotel with 10 floors.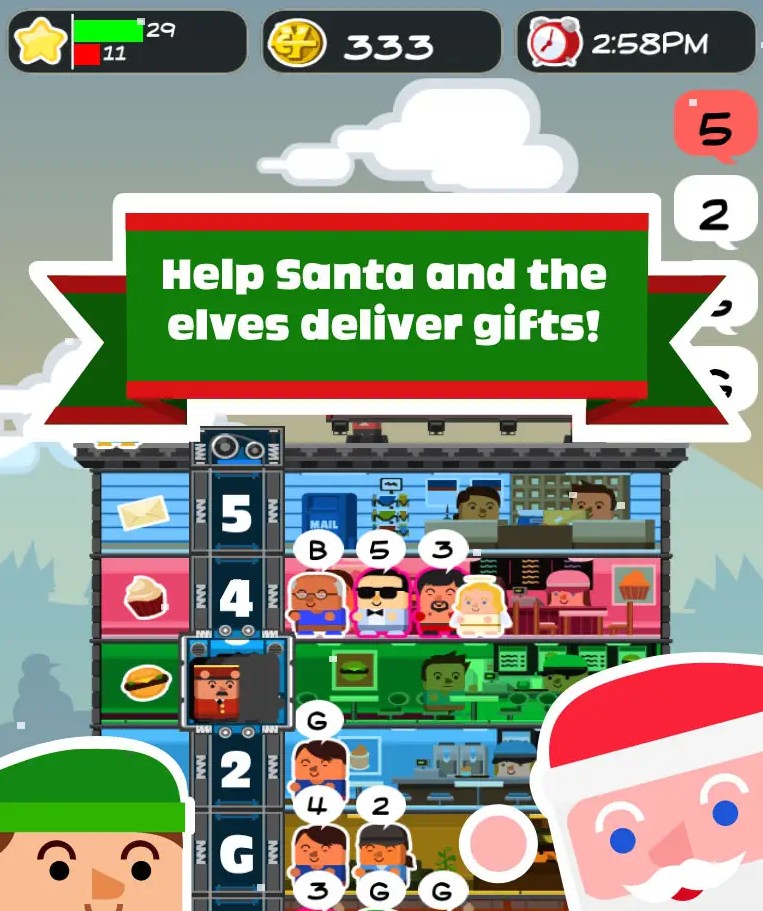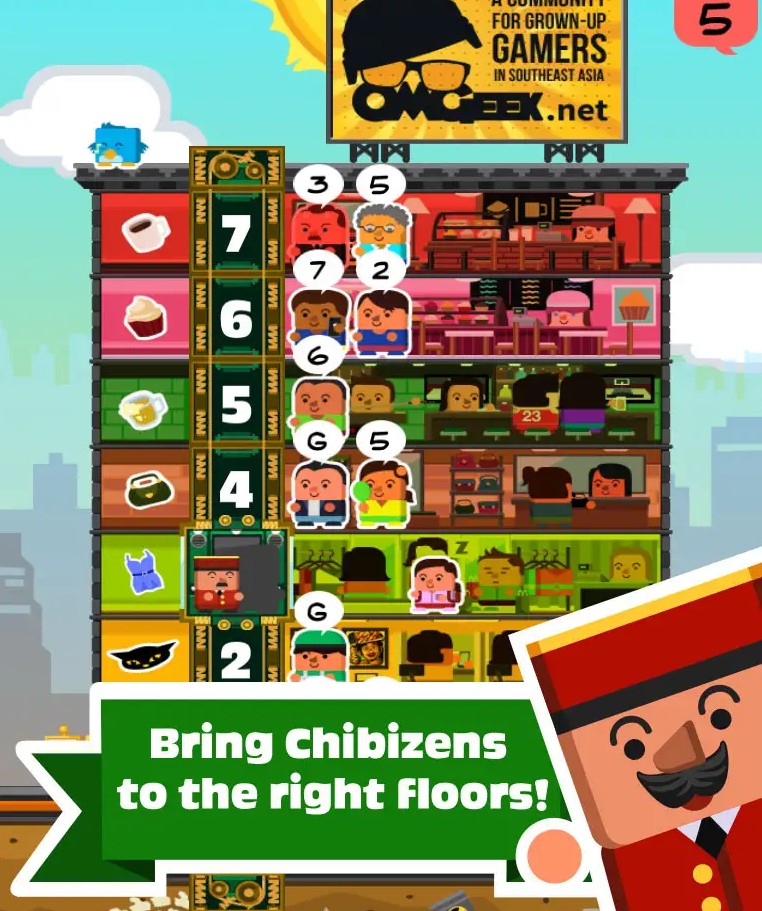 Grand Hotel Mania – Hotel Adventure Game
You will become a hotel manager. Host guests from all over the world who are traveling for business purposes. Many of your guests will want to sit back and relax. Help them create a comfortable environment in your hotel.
This app teaches simple hotel management skills. You will be able to buy several hotels thereby expanding your influence in the hotel business. You will not be alone. Monica and Ted will help you. These are excellent mentors who will always give you advice.
Upgrade your hotels. Adds new rooms and services. Don't forget about the desires of your guests. You need to act quickly and fulfill any wishes of the guests. This way you can get more money.
If the time runs out, you will no longer be able to receive requests for new services and your guests will be unhappy. Use boosters to get more results. You can open new hotels in other cities and countries. You will start in America.
See how you grow your business over time. Don't forget about tough time management. Any delay could cost you your reputation. Hire staff for the best room service. This app will teach you how to do everything at the highest level.
The app has a beautiful design. Meet unique guest characters. Each guest has a unique appearance and character. You will see the remaining time, your coins, and boosters on the screen during the game.
Upgrade your hotel rooms to get the best results. For example, if you improve your kitchen, you will be able to fulfill orders faster. Order rare items via delivery.
Your guests can give you likes after checking out. The more likes you get, the more popular your hotel will be. The app has been installed over 5 million times. Download it and see your hotel empire around the world.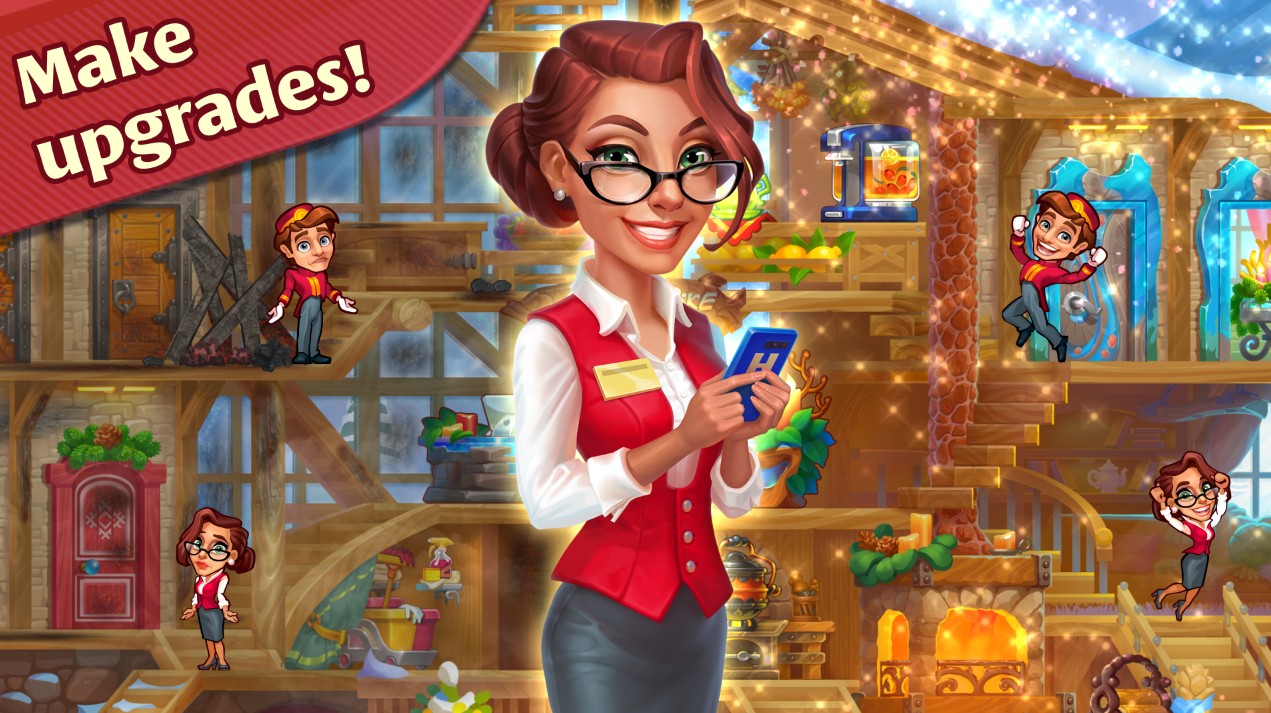 Virtual Manager Hotel Star
Virtual Manager Hotel Star allows players to plunge into the world of a fabulous city hotel.
The major task here is to properly execute all the manager tasks ranging from delivering room services up to handling guests' problems.
As soon as you have downloaded the app, it will ask you to enable several permissions. After that, you will get to the menu page straight away. Click on the Play button at the right bottom of the screen to launch the game.
Virtual Manager Hotel Star consists of 10 levels. At each level, you will have to achieve a particular goal. Click on the "i" button on the top of the screen to check it.
Once you have started playing, the game will provide you with detailed instructions on the tasks you should carry out.
In this app, you will find a quite straightforward interface, as the integrated controls allow users to easily manage the game process. Just tap on the arrow buttons to navigate the character's movement.
If you want to make your character run, tap on the black button located on the right side of the screen.
Moving on, the game boasts realistic graphics. Colorful animations and splendid locations will not leave anyone indifferent.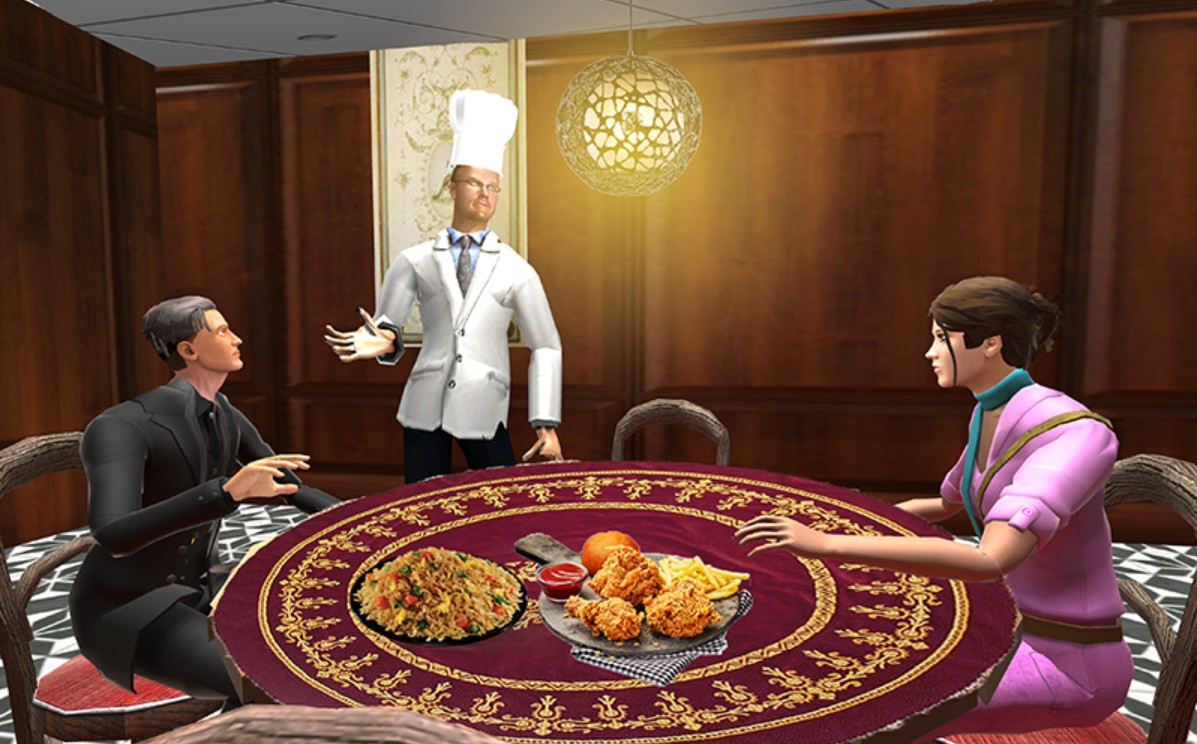 Little Panda Hotel Manager
This hotel game is suitable for the little ones as well as for adults who love cartoons. You will be able to meet Kiki, the little panda. This panda is a hotel manager. Your task is to help it to manage the hotel.
Keep track of available rooms and the mood of your guests. You must complete tasks at the highest level. Your guests are cute animals. Sometimes their demands are very high. Do your best to fulfill their needs. Dozens of cool characters are waiting for you.
Someone is afraid of mice, and someone loves desserts. Fulfill your clients' requests to get more money. The app also has mini-games that will help you develop your logic, memory, and thinking.
You have to go through over 50 levels to become a professional hotel manager. Check-in guests in rooms with just one touch. Upgrade your hotel for more profit and more guests. Nobody will remain indifferent from Kiki the panda.
Little Panda Hotel Manager has a beautiful cartoonish 2D design. The navigation of the app is intuitive because it is designed for children. You will be delighted with the music and sound effects.
The app is 62MB. It does not work in the background, which does not waste an additional charge. Download it and join the huge community of fans of this application. The app has been installed over 10 million times.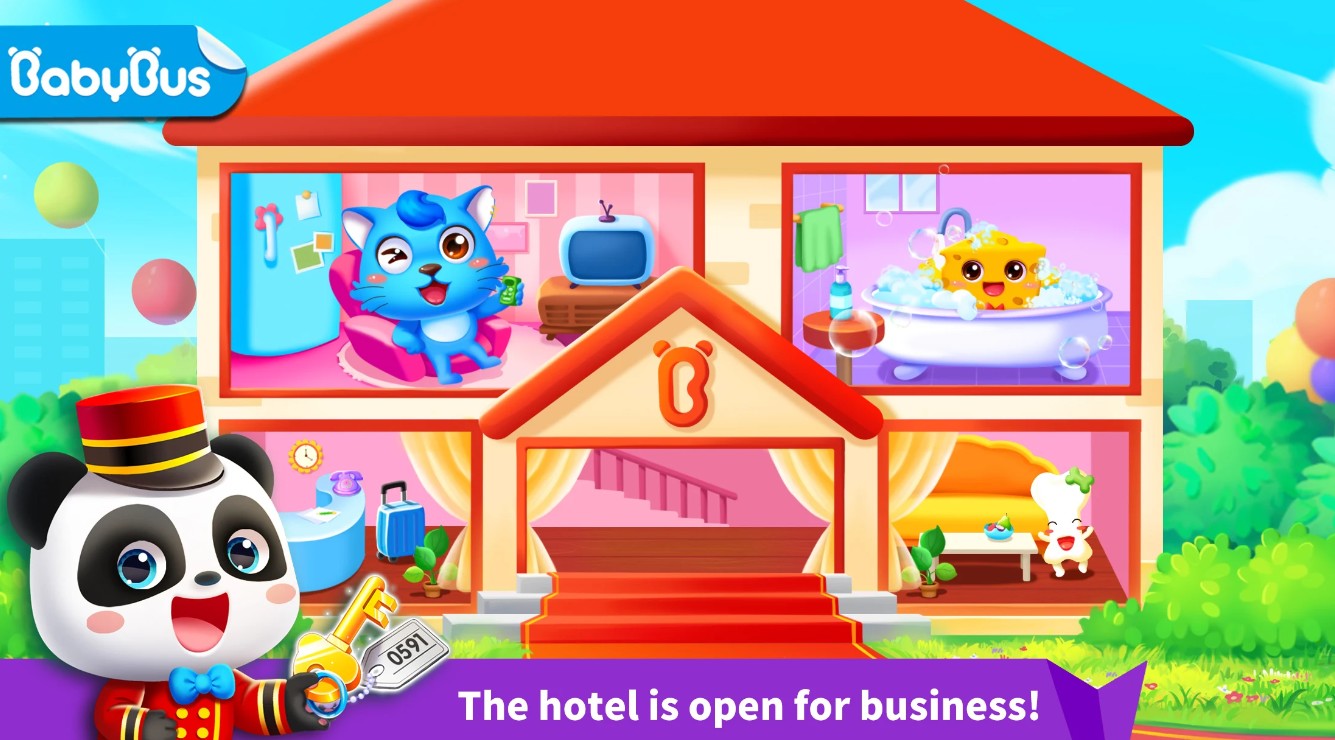 You may also like: 11 Best Hotspot Apps for Android
Virtual Hotel Cleaning Manager: Room Service Games
Virtual Hotel Cleaning Manager is a slightly different app from the others on our list. You do not need to manage the whole hotel, but only the cleaning. This is a very responsible job because its prestige and popularity depend on the cleanliness of the hotel.
The cleaner the hotel, the higher the prestige. Complete tasks for your guests. This game is suitable for people of all ages. Over time, you will be able to get promoted and expand your business. Get rid of the trash at the hotel and create coziness and beauty.
You will also be repairing furniture and electronics. This is a unique experience in hotel management. Make sure that there are no spiders or cobwebs in the rooms.
Your tasks will also include preparing breakfast, lunch, dinner, and snacks. You will not even guess how many interesting tasks await you in this application.
The design of the app is cute. You will like pastel colors. You will be able to learn how to properly manage your time to keep up with all the tasks. Your hotel will have several important rooms such as a bar, reception, lobby, service room.
The app has ads that can sometimes distract you from the game process. You can turn off the ads by purchasing the full version. Virtual Hotel Cleaning Manager is only 38MB. It has been installed over 100,000 times. Try it and you won't regret it.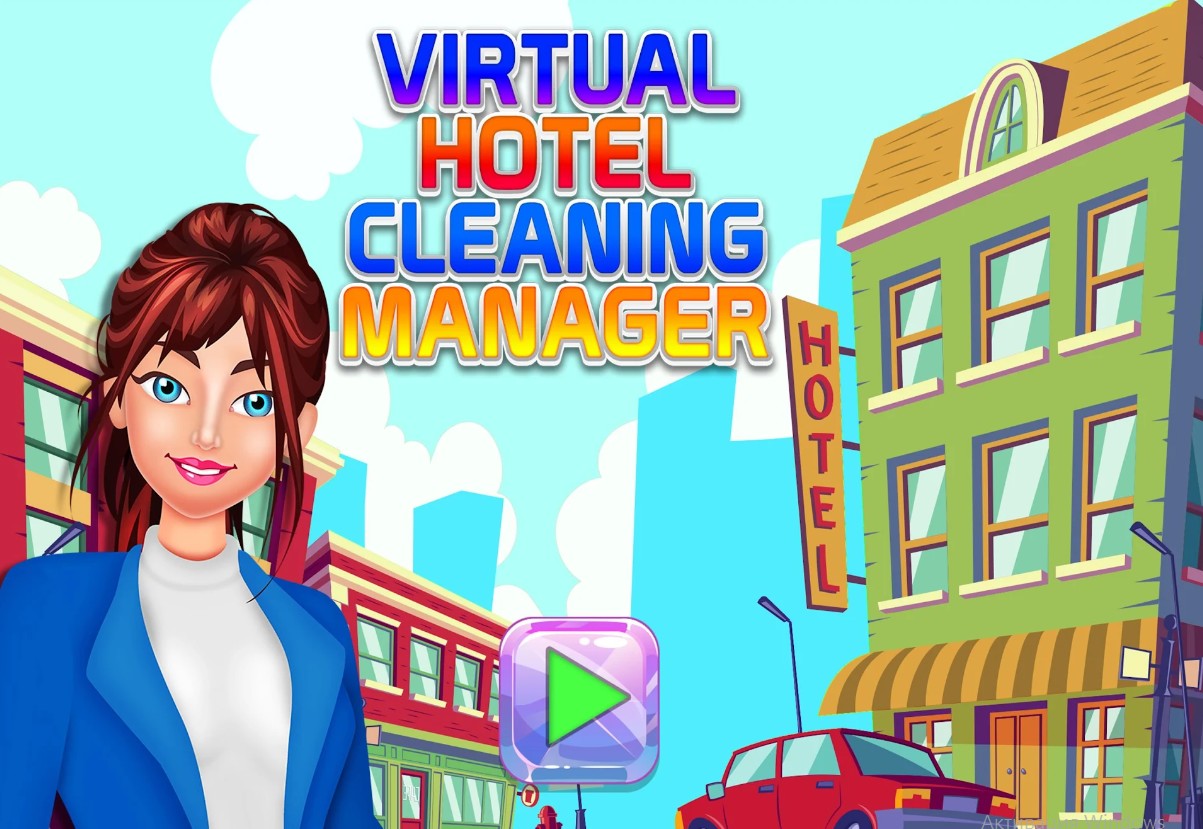 My Perfect Hotel
Picture it as a game that lets you construct and oversee your very own dream hotel empire.­ Sounds intriguing,­ doesn't it?­ You'll have the creative freedom to design your hotel,­ select the decor,­ handle bookings,­ and attend to an array of fascinating guests.­ Think SimCity combined with the charm of The Grand Budapest Hotel –­ quite an imaginative concept!­
But brace yourselves,­ because it's not all sunshine and room service.­ The app might require some time to master,­ presenting both advantages and challenges based on your appetite for overcoming obstacles.­ You may need to tap into your inner hotelier to unravel a few intricate details.­
My Perfect Hotel stands out among countless Android apps with its user-friendly interface, which efficiently guides users without requiring a degree in computer science. With its familiar main menu,­ you can effortlessly delve into various tasks like room design,­reservation management,­ and even organizing captivating events to keep your esteemed guests entertained just like in a real-life.
This app is excellent for discovering and enhancing your management skills, particularly in the business sector. Additionally, you will enjoy spending time-solving various hotel-related issues.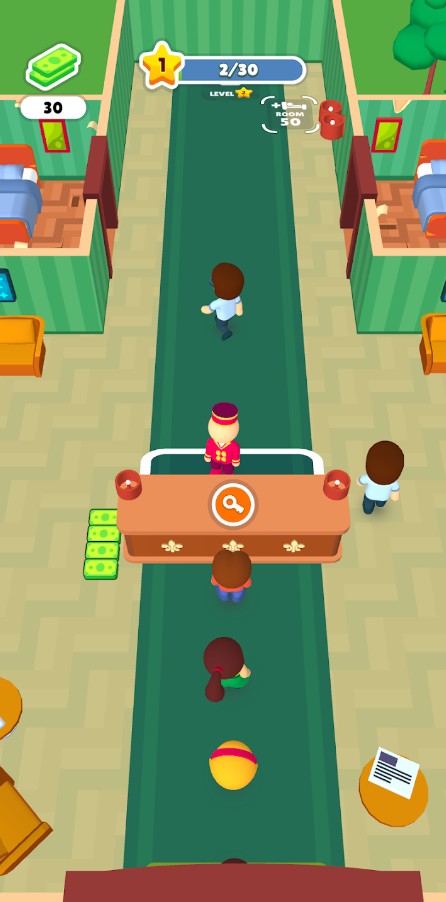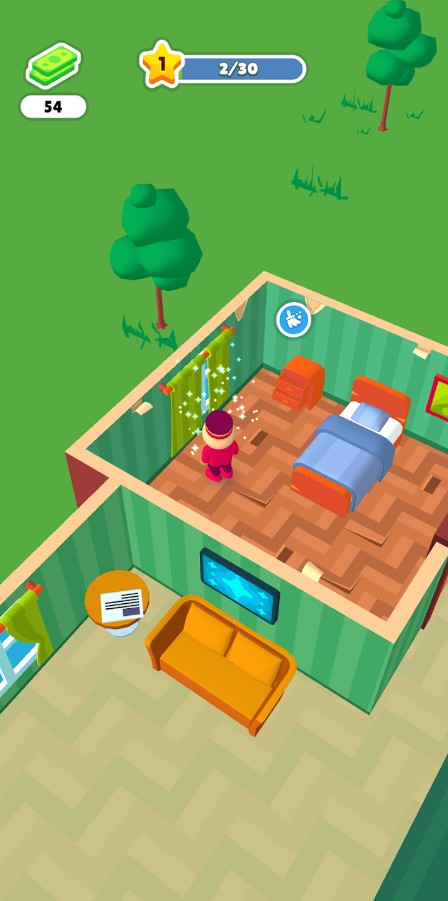 Doorman Story: hotel simulator
This game offers a captivating virtual hotel management experience.­ It takes the concept to a whole new level,­ immersing you in the exhilarating world of handling hotels without needing a traditional occupation.­ Isn't it fascinating how technology allows us to explore alternative realms instead of being bound by real-­life jobs?
Let me explain it to you.­ We have this amazing game­ where you can play as a hotel manager.­ It allows you to create and customize your own dream hotel,­ just like a talented interior designer.­ What's even better is that you get to choose from a wide range of furniture options.­
Allow me to share with you an inside look at this virtual hotel empire,­ without eliciting any eye rolls.­ On the positive side,­ the game surprises players with its impressive graphics.­ The vibrant colors and meticulous designs create an almost realistic experience.­ It's akin to stepping into a parallel universe where managing hotels becomes a thrilling and aesthetically pleasing adventure.­
However, there are also microtransactions that can turn your dream hotel into an absolute nightmare for your wallet.­ So unless you're willing to spend extravagantly on virtual items,­ you might encounter an obstacle at some point.
Overall, the game Doorman Story: Hotel Simulator has the potential to become your favorite in its genre. Give it a try and see for yourself.