Do you want to live in a beautifully designed home? Do you like creating something unique and then turn it into life?
By the way, if you want to renovate a house, consider looking at 11 Best Home Renovation Apps (Android & iOS).
Then you can't do without good house layout apps. In this article, we have collected the best options for iOS and Android users. Check them and create unique layouts for your home, even if you don't have enough experience.
Ikea Home Planner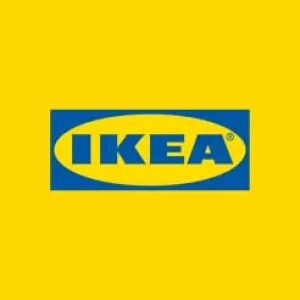 This is a product from a legendary supermarket. It will help you to make a cool design for your house or apartment. The site has a pretty nice UI with a simple navigation, enabling you to start at once.
The algorithm is super easy. It consists of three steps:
Plan your design. To do it properly, you need to measure your room. You can't do it using the website, meaning you have to do it manually. Once you have done it, make sure you put the measurement into the app.
Design your space! This is the most exciting part of the activity. Let your imagination and taste be your guides. There are no limitations. You can get inspiration from other people's works or create your design from scratch.
Finish with buying items you need for your future apartment.
As you see, this website gives you all the tools to create a layout and design of your home and turn it into life. Go to the website and start creating something new!
However, there is also an application if you want to download Ikea on your smartphone or tablet. It is available both for iOS and Android users.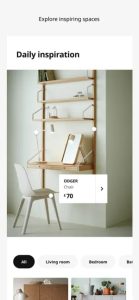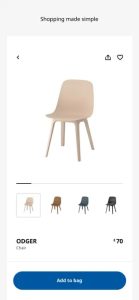 You may also like: 11 Best home painting apps for Android & iOS
Houzz – Home Design & Remodel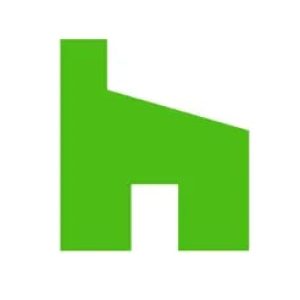 This is one of the best home design and layout applications available at no cost. It consists of an impressive set of options combined with a simple UI. One of the coolest things is that you don't need to be experienced in design to succeed here.
Let's check what you can do with the help of Houzz:
Get inspiration from other people's photos and ideas. In Houzz, you can browse through a big number of files and learn something new about modelling.
Check featured sales. It is great to create layouts for your apartment or house. However, you will also need to buy items to turn your dreams into life.
See Visual Match. This is a new technology that allows you to find out if one thing matches another.
Read informative articles. All of them are written by professional designers. All the experts try to write articles that are easy to understand, even if you hardly know anything about layouts, designs, and modelling.
Get some piece of advice. It is ok to have doubts, even if you know a lot. This is why don't forget to ask for this advice, and the community will be happy to help you.
Houzz is one of the best applications in this category. For instance, it's rated 4.8 out of 5 on the App Store. Users love Houzz for its simple UI and powerful set of options that we have already described.
You can get the app now on the App Store, as well as Google Play.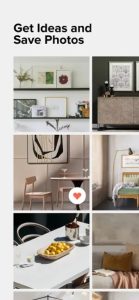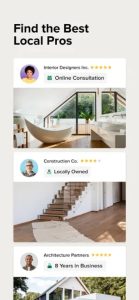 Homestyler-3D Home Decor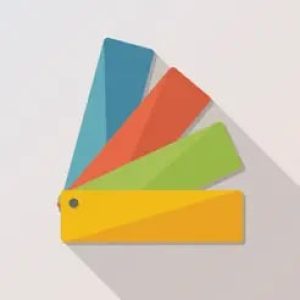 Here comes a great application for people who want to create a layout and a design for their apartment. Homestyler works just like a game, providing you with a simple but fun designing tools.
Let's look at them more closely.
Choose the room you are going to plan and design. This option will be effective no matter what you do – whether you renovate the house or do it from scratch. It can be any room – a kitchen, a bathroom, a hall.
Try 3D modelling. This might be hard, especially if you do it for the first time. But the result is worth it – you can plan the room with no limitation. There are no complicated features – just drag and drop items.
Ask questions to a big community of engineers and designers. You can get precious advice and use it for your project.
If you feel you can't create 3D models from scratch, feel free to explore 3D model library. You can just choose a model and change it.
Share the result with your friends. To do it, just press the 'share' button. You can place your works on Instagram, Twitter, Facebook, Pinterest, and some other social networks.
The app is free of charge if you choose the basic version. If you need more, you can always go for any of the subscription plans.
There is one downside, though. It is the size of Homestyler, you will need over 450 MB of memory.
The application will be a perfect option both for Android and iOS users.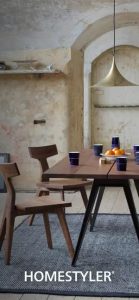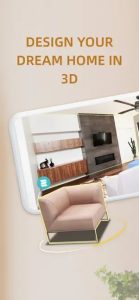 Planner 5D: Interior Desig‪n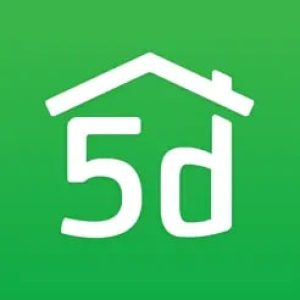 Do you want to create things yourself? Do you have some experience in modelling 3D objects? Then Planner 3D is the best tool you can try.
This app combines a huge set of options. Most of them are pretty simple to use and require no expertise. Others are harder to use, but still quite available for most of the users.
Here is what you can do with the help of Planner 5D:
Create a digital plan for your house or apartment. And you won't have to do the layout manually – it's a waste of time. Just give access to your camera and take a photo.
After you have created a layout of your home, it's high time you started being creative! Think about what you may change for the best and edit the layout.
Try a snapshot option. It will show you what your room will look like after you turn the changes into life. This is a good way of visualizing the result. Many users say it helps them with their final decision whether they like their work or it should be improved.
Use furniture templates. There is a full library of them so that you can easily choose the items that will match your room style. You can customize the templates as well, changing their size or color.
Let the world know about what you have already done. Share your final layout! It might inspire other people and give them new ideas. What is more, you can also get precious advice and improve your work as well.
However, Planner 5D might be a bit hard to start with if you have never created layouts. Still, we recommend it due to its vast set of powerful options.
You can download the app on the App Store or Google Play at no cost.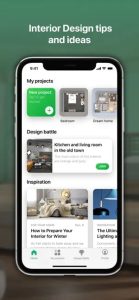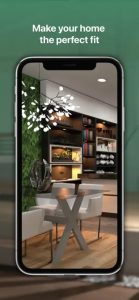 magicplan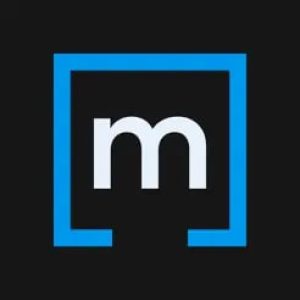 If you were looking for a good residential contractor app, this one is for you. It doesn't matter what aim you have. You might like to create a layout from scratch or make a new design for your room.
Magicplan has great tools for a full cycle of room plan development. Thus, you can easily take a photo of your room, turn it into a plan, add new 3D objects, create a layout and then bring it into life.
Let's take a closer look at the options provided by magicplan:
Digitalize the room you want to work in. To do it, use your camera and take a photo. This is much faster than doing it manually and creating a model from scratch.
Save your time. It is hard to take care of your home. In Magicplan, you will find ready-to-use templates. You can customize the objects if you need. This is much easier and faster than doing it in a traditional way, drawing the items.
Integrate Magicplan with over 2 thousands applications. This might come in handy if you lack options or need to get data from other sources.
The app will collect some data about you, including your location, contacts, purchases, and the content of your device. Magicplan can't function properly without such permissions.
Both Android and iOS users can enjoy this cool application.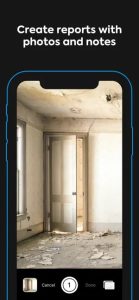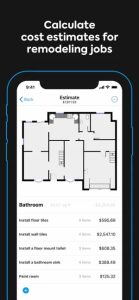 SketchUp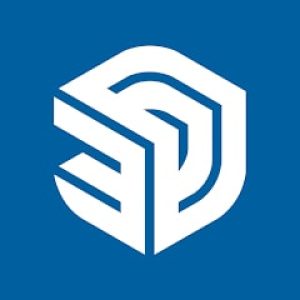 Do you have some experience in 3D modelling? If yes, SketchUp will be quite useful for you. It has a smart navigation and simple UI.
Why should you give SketchUp a try? Well, it's all about its great options! Here are some of them:
Create a 3D model. If you are a professional designer or architect, it will be better to do it from scratch, as you can create a good model that will match your expectations.
Import a 3D model from 3D Warehouse, Dropbox, or any other application. This is a nice option if you have already worked on a model somewhere else.
Use multi-touch gestures to work more effectively. You can zoom in and out, change the angle, and do many other cool things.
After the latest update, SketchUp works with Android's Storage Access, enabling you to import the models and layouts directly from Google Drive.
Make sure you try the Tape Measure option. This is a must when you begin making a layout and you need to know the size of your room.
If you create layouts and designs all the time and you plan to have many, make sure you use unlimited cloud storage. To enjoy this option, you have to get a premium subscription.
Plase note that you can hardly use this app on an old phone, as you need to have at least 1024Mb of RAM.
By the way, if you have too many things in your apartment and you don't know if you can keep them properly, you might find 11 Best Home Inventory Apps For Insurance quite useful.
SketchUp is free with its basic features. You can download it on the App Store, as well as Google Play.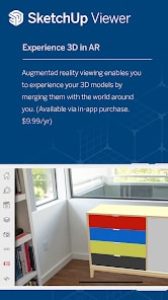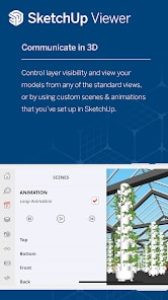 Floor Plan Creator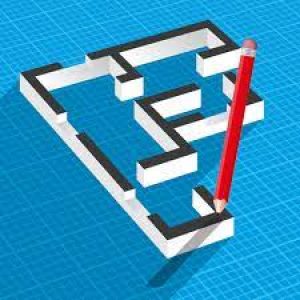 This application might be useful when you need to create a good and accurate room plan for your apartment or home.
The UI is simple, but it might seem a bit outdated to some users. However, let's focus on the options you will find in Floor Plan Creator:
Create a layout and then add some furniture to your room. All the furniture items you can find in the library.
Enjoy a 3D tour. This is a good way of checking if your final layout looks how you want.
You can create multiple projects or merge a few projects into one. If you have a few floors in your house, you can create separate layouts or do it in the same project.
Floor Plan Creator is full of great options, but there is a pretty serious disadvantage. For instance, there are no good roof models in the libraries.
At the moment, Floor Plan Creator is available for Android users only.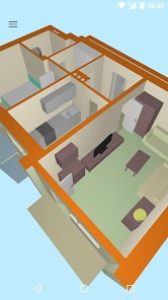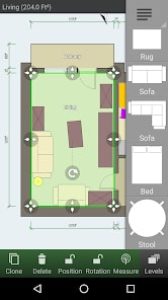 Floor Plan 3D | smart3Dplanner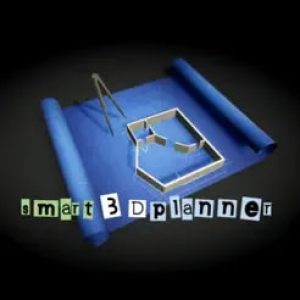 It is high time you started creating the layouts for your apartment! With Floor Plan 3D, you can make 3D plans that look real.
How do you furnish your room? To do it, follow these steps:
Open a new project and then set the measurements of your room. It will help you to create the plan that will accurately reflect real size.
If you don't want to create the project from scratch, you can always upload a jpg picture. You can use it later as a template.
You will see your plan from a different perspective – you will look down at your room plan as if you are standing on the roof and somehow can see the room.
Start interior decoration. You will explore vast furniture libraries with thousands of furniture, plants, as well as other objects.
Make sure you try the photo option that allows you to get high-resolution images.
The app will need some data about your location. However, this info won't be linked to you.
At the moment, you can download Floor Plan 3D on your iOS device.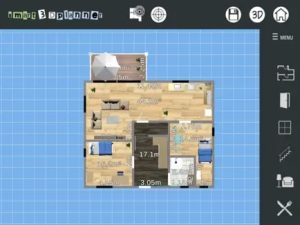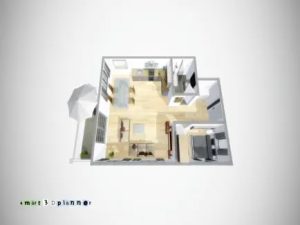 Keyplan 3D Lite – Home design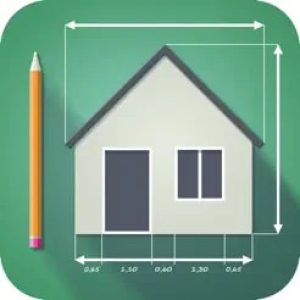 This is another good application to plan your room or a full apartment or house. You can create a plan that you will later use during designing.
The interface of the app is colorful and simple, enabling all the users to enjoy the service. Let's see what you can do in Keyplan 3D Lite:
First of all, you have to draw the rooms. It is the base for your future project. Use House Builder – with its tools, you can just draw a line, and the wall will appear in the plan. That's it!
Add pieces of furniture or more walls if you have to separate one space from another.
Do interior design yourself. You can either use templates or just customize the ones you already have.
Export the plan you have made. You can print it or share with other people.
Look at the layout from different angles, zoom in and out, rotate the image to study all the little details and fix mistakes.
Keyplan 3D Lite is a relatively small app for such a big range of options. You will need about 160 MB of memory to install and work properly.
You can download Keyplan 3D Lite on any of your iOS devices and start creating great layouts!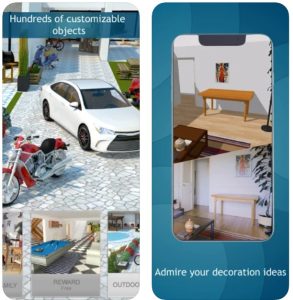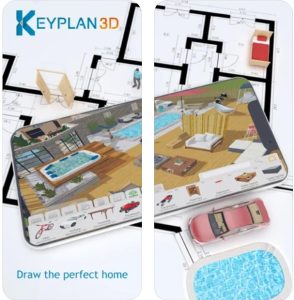 Live Home 3D – House Design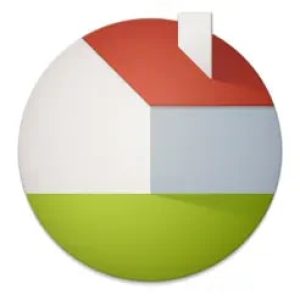 Here comes a great application for people who want to create a house layout or a room plan from scratch. There are many templates, but you can create objects yourself as well.
The interface is friendly and simple, so that you can start working right after you downloaded the application.
Here are the best options provided by Live Home 3D:
Create a precise 2D floor plan layout for your future or today's home. If you want it to be 100% accurate, set the right size you have measured beforehand. If you don't feel like doing it, use the Room scanner. It will create a digital model of your room using just a single photo.
Try a 3D rendering. This will allow you to see how your design and plan will look like in real life.
Explore huge 3D model libraries. There are pieces for the kitchen, living room, halls, and other places in your home.
If you create layouts for the first time, you might enjoy educational video tutorials, as well as useful articles.
If you have two or more floors in your apartment, you can also reflect it on your plan.
The app supports multiple measurement systems, including inches, meters, feet, and many others. Use what is better for you.
If you want your plan to look realistic, make sure you turn shadows on. They look just like in real life.
The app also provides you with roof and window models. It helps to create a real plan with all the details.
Share the result of your work. To do it, you can easily share right from the app or export the file first. Then you can share your saved 3D views. You can also choose between different formats, such as bmp, png, jpg, or tiff.
What is more, Live Home 3D supports iCloud and many other cloud services. It might come in handy if you plan to have many projects.
Live Home 3D is available on the App Store.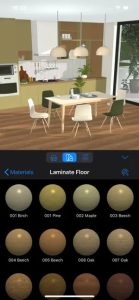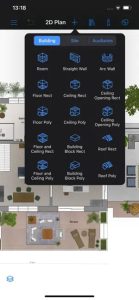 Housecraft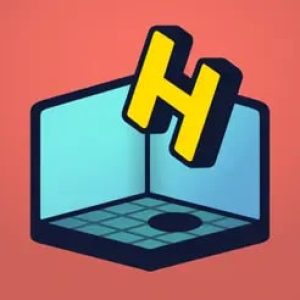 This isn't a professional house planner, but it can still help you with creating a layout for your future rooms. You don't need to have any special education or experience.
The interface is easy to understand. The options are also super useful and powerful:
Choose a room you want to work with. At the moment, there is no way of creating a room that you want to decorate or plan.
Add some objects to your room plan. There are lots of them. You can easily add pieces of furniture and plants. Resize objects so that they fit the room perfectly.
When you are done with your layout, you can save it and open later. You can share the result of your work with others as well.
Housecraft has a pretty serious downside, though. The final layouts might look a bit cartoon-like, which doesn't look real and is hard to analyze whether they'll fit the room or not.
You can get the app on the App Store at no cost.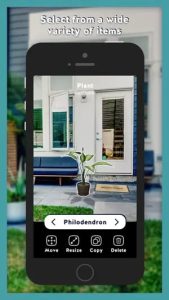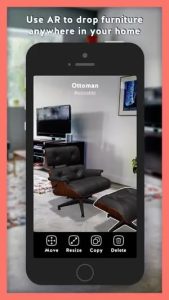 You can also check: 25 Best Home Design Apps for Android & iOS