Have you ever deleted some apps from your phone and regret it afterward? Yeah, we've all been there.
There are many reasons for you to regret deleting an app. First of all, you might need the app again but you've already forgotten what it was called. Plus, you might need some data out of the app or the app might've been deleted by an accident.
Whatever the reason is, don't hurry to be upset, this article has you covered.
In case you wonder how to get an older version of your fave apps, check out this article: 3 Ways to get older versions of apps
Here's how to see recently deleted apps on Android in 2023. Have a look!
View the apps through the Google Play
So the easiest and the most obvious way to see all your deleted apps is to go straight to the place where you've installed them from. As you might've known, Google Play actually keeps records of all the apps you've ever downloaded (regardless of whether you've deleted them afterward or not). All these records are being saved in your account's history and here is how to view them:
Open the Google Play Store app on your device and log in with your acc if you haven't already. Then, click on the "Menu" bar in the upper left corner that looks like this (☰) or just swipe right anywhere on the screen.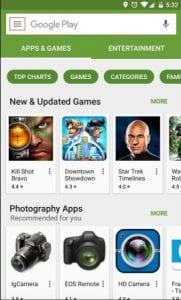 Once the menu is opened, tap on the "My Apps and Games" option.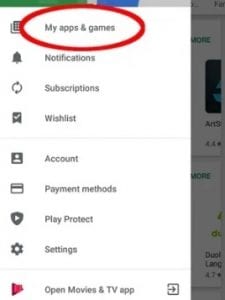 Next, pick the "Library" tab and that's all — here's the list of all the apps you've ever had. You can view the list and recover any apps if needed. Therewith, if you've ever bought any app and deleted it afterward, you won't need to pay for it again. The list can also be arranged by the date or alphabetically by your will. In case you'll pick the date option the most recent apps will appear on top of the list.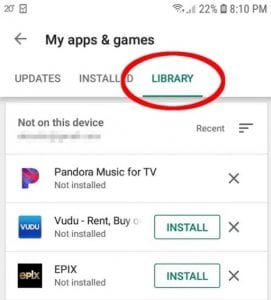 It needs to be said, the apps' list is attached to your Google account, not your device so if you can't find a particular app try to log in to your previous Google accs. But on the other hand, if you've been using the same account for years on multiple devices you can view the list of apps on all of them.
You may also like: 3 Ways To Get Refund on Google Play
View the apps through the PhoneRescue
In case the first method doesn't sit right with you or you need to restore all the data from the deleted apps, you can try to do it via PhoneRescue.
PhoneRescue is professional recovery software that can help you get back any deleted data without much effort. This software supports a wide range of file types and you can try it for free. Besides, PhoneRescue has a strict privacy policy so no worries about the safety of your data. Follow these steps to view and recover your deleted apps:
Download the PhoneRescue software on your PC or laptop (yeah, that's right — this is a desktop software). Then you'll open the program for the first time it will quickly guide you through all its features. Next, connect your phone to your PC via a USB cable (make sure to allow the debugging and root your mobile).
Then, you will see the list of files that can be viewed and recovered. At this point, you need to mark the "App Documents" option in the menu. Once it's done — click "Next" and you will see a detailed report list with all the data and apps that can be recovered. Therewith, you can recover the apps straight to your phone which saves lots of time. Unfortunately, the apps might not be perfectly arranged by the deleting date but you will still be able to view them all.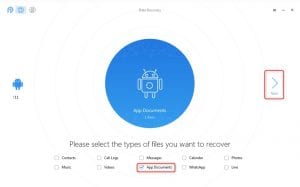 Check also: How To Set Up Dark Mode On Your Favorite Apps
View the apps through the Galaxy Store
Another way to see the deleted apps without the Google Play Store is to do it via the GalaxyStore (yeah, there's another app store build-in all the Samsung devices). And if you've logged in to your Galaxy account you can find the list of previously installed apps in there.
Just like with Google Play Store, go to the GalaxyStore's home screen and tap on the "Menu" in the upper left corner of your screen. Then, you just need to toggle the "Show installed apps' option off" to see what apps have already been deleted from your phone. Plus, you can also restore any app from the list if needed.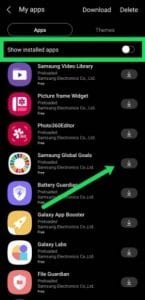 You may also check: How to Root Android without PC (7 Best Apps)
What if all my apps have disappeared?
And lastly, let's quickly consider what to do if one day you'll find out all your apps have gone missing from your phone.
This may sound impossible, but operating systems may have crashes and glitches from time to time so you'd better know how to act if something like that ever happens. Here's what you should do:
Put your phone in a Safe Mode — just hold down the power button till the power-off option appears and put a longer press on the button till the Safe Mode screen appears.
After that, your phone will be reloaded. In case all the apps will reappear once it's done you might have a software problem. Don't turn off the Safe Mode, go to the phone's settings, and search for any types of Launchers. If the search will show you the Launcher you don't remember downloading- delete it. And if there are no undesired Launchers found — clean your regular Launcher's cache and reload your phone again. Once it's done, the problem should be solved.
Hopefully, one of these methods will help you to see the deleted apps and restore the ones you need.