The game "Influency" is perfect for young bloggers who want to try out making dome posts and see the reaction that may appear.
You may also like: 11 Best Aesthetic Photo Apps for Instagram (Android & iOS)
The application downloads and opens in just a couple of seconds. The first thing the player sees is the field where you need to choose and enter your username. Next, you can see how a young girl is standing on a colorful road in the sky.
Level 1. The game provides players with short guides and instructions on how to play the game. Developers talk about possible player's movements (the girl can go on the left or to the right with the movements of your finger). The main idea is to have as many followers as you can.
The player can first choose the category and further create interesting posts by going through the related objects, appearing in front of the player.
You may also like: How to See Who Doesn't Follow You Back on Instagram
After creating the first post, on the bottom of the screen the first reactions will appear. The left side of the screen is showing the differences in the interest and level of happiness of your followers. The top left corner is responsible for the difference in the followers' amount.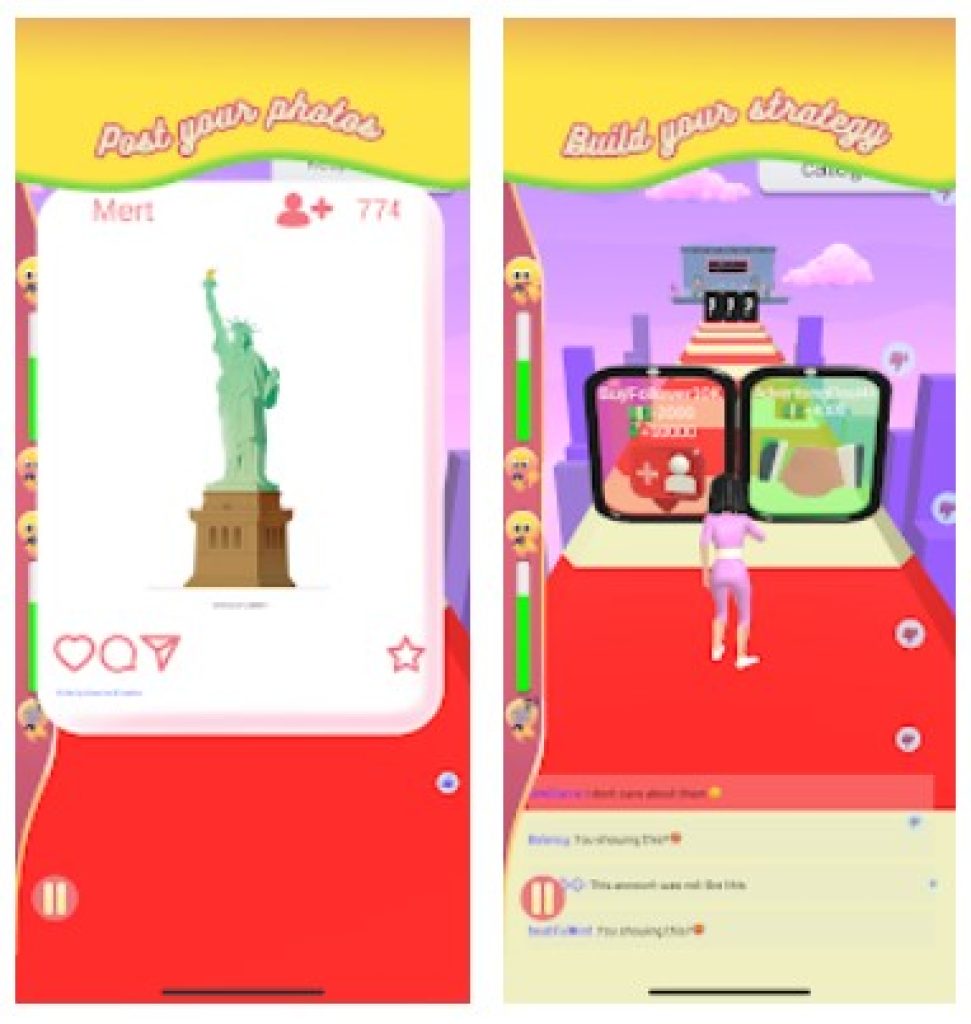 There are also obstacles in the form of "Corona-Virus" or "No internet connection". Both of the barriers are movable and cause temporary slowdown and dissatisfaction of followers; it is though possible to "heal" yourself by three upcoming moving tools.
The specificity of "Corona-Virus" is opposite movements directions; for "No internet connection" is the disability to create posts for a while.
At the end of a level, the girl is running straight to the green circle, surrounded by the major amount of people, then your high score appears and you can see the other "famous bloggers" and their rating among others.
With the following levels, "Influency" is becoming more interesting and challenging. The overall appearance is very positive, with good music in the background and simple usage.
You may also like: 11 Free Fonts for Instagram Apps (Android & iOS)
As for the graphics and overall gameplay, the game belongs to the category of hyper-casual games which are so popular at the moment. The design is made in a cute cartoonish style and no bugs were detected during the game process.
Overall, Influency is a fun and nice game to play in your free time and reduce your daily stress.