The keyboard is the app that most phone users use the most. But sometimes the system keyboard that was originally installed on your device may be uncomfortable for you, or it may have a rather primitive and boring design.
There are many keypad customization apps out there, but many of them are no better than the system version, so we present you with a selection of the best keyboard customization apps. And for fun, we also recommend you explore the article about the best GIF keyboard apps.
Gboard – Google Keyboard
Gboard – Google Keyboard is sometimes a system app on some Android devices, so if you have a Huawei or Samsung, it's likely that this app is installed by default and you just need to launch it.
In addition to the standard features and basic settings, the Gboard app contains a large number of advanced keypad options.
For example, in the app you have access to a whole menu with a variety of gifs, pictures, sticker packs and emoticons that you can use in absolutely any messenger or social network.
Such a function will certainly make the correspondence with your interlocutor brighter and more interesting.
The Gboard app is available in more than seventy languages, so you can instantly switch to another language of your choice and continue working or chatting with a foreign interlocutor in another language.
But if you do not know the language, you can select the automatic translation function, which is located in the top taskbar of the main keyboard. With this function, you can type text in your native language, and the input line will have a ready-made translation into the foreign language you need.
You can completely customize the Gboard keypad for yourself, that is, choose the desired design, key size, and also create your own personal dictionary with autocorrect abbreviations.
You can also use voice input or the continuous character input function, which will facilitate and diversify ordinary typing.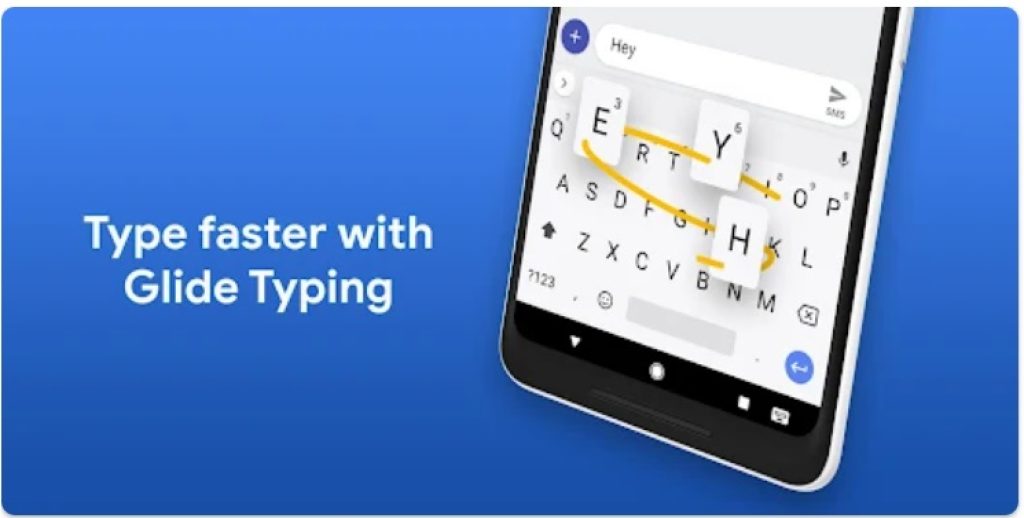 You may also like: 7 Best Apps to Convert Voice Messages to MP3 on Android & iOS
Microsoft SwiftKey
Microsoft SwiftKey is a smart keyboard with lots of extra features and colorful designs and layouts.
The SwiftKey app fully adapts to your typing style and creates customized word suggestions based on your habits and preferences. This feature will help you type faster and save you time.
You can choose the size and color of the keys you want for comfortable use of the keyboard and typing.
Also in the Microsoft SwiftKey app there is a separate menu with stickers and gifs, which the keyboard also generates and offers you, based on the frequency of using a particular sticker.
The main feature of this app is the ability to create stickers yourself, that is, you can create stickers from your photos and use them in all messengers to communicate with friends.
The Microsoft SwiftKey app also has a built-in translator that allows you to communicate in foreign languages on absolutely all social networks and instant messengers. A voice input feature that will allow you to type text several times faster and save your time.
The only downside is that you need to be signed in to Google or Microsoft to use the app. And also, the fact that every few months the app offers to transfer user data to Microsoft, which many users do not like.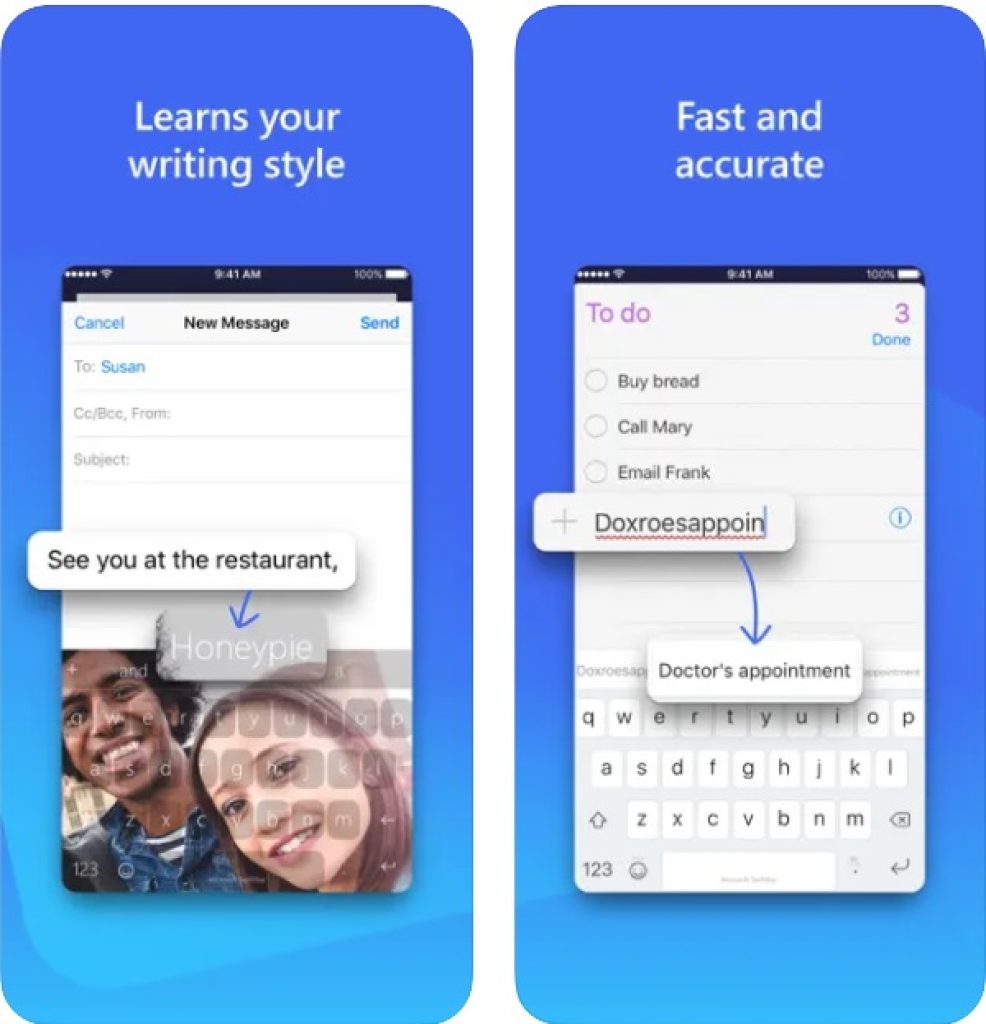 Typewise Custom Keyboard
Typewise Custom Keyboard is a unique app developed by the Swiss startup Typewise with the aim of increasing typing speed and reducing typing errors.
The main feature of the keyboard is the non-standard shape of the keys: Each key has a hexagonal shape, which increases the size of the key and increases the accuracy of hitting the desired character. The developers say that thanks to this layout, the speed of typing increases by more than thirty percent.
Typewise Custom Keyboard is built with artificial intelligence technology so it corrects your mistakes and can make predictions for your next words, and remembers abbreviations, slang and colloquial user vocabulary.
With Typewise Custom Keyboard, you can type in many languages because there are more than forty foreign languages available in the app.
For ease of use, the Typewise keypad comes with special gestures to help you type faster. For example, to capitalize a letter, you need to hold down the desired character and swipe up.
That is why, immediately after installing the app, you must go through a brief instruction on using the special functions of the keyboard.
This will only take you a few minutes. Also, the developers of the Typewise Custom Keyboard app guarantee 100% security when using and confidentiality of personal information.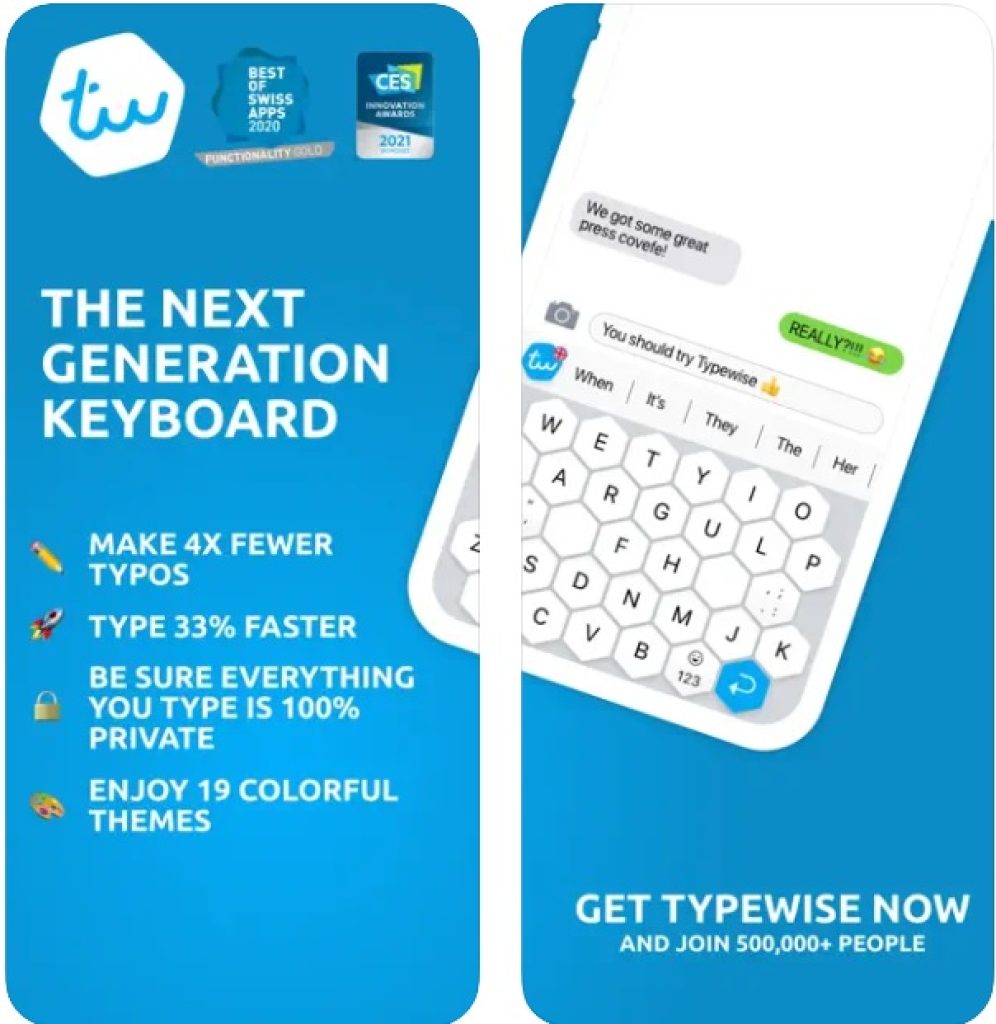 GO Keyboard Lite
GO Keyboard is an app designed specifically for mobile devices. The app helps to increase the speed of typing and reduce the number of typing errors.
The GO Keyboard app uses smart auto-correction to help reduce errors and improve typing.
The GO Keyboard app allows you to type in over sixty foreign languages. You can also change the size, color and transparency of the keys. In the app, you can use voice dialing and set the sound or vibration when you press the keys.
You can choose the design you like from the gallery of the app. The developers try to add new themes every week.
The developers guarantee the confidentiality of personal data, so your information is not collected or sent to the cloud and other storage.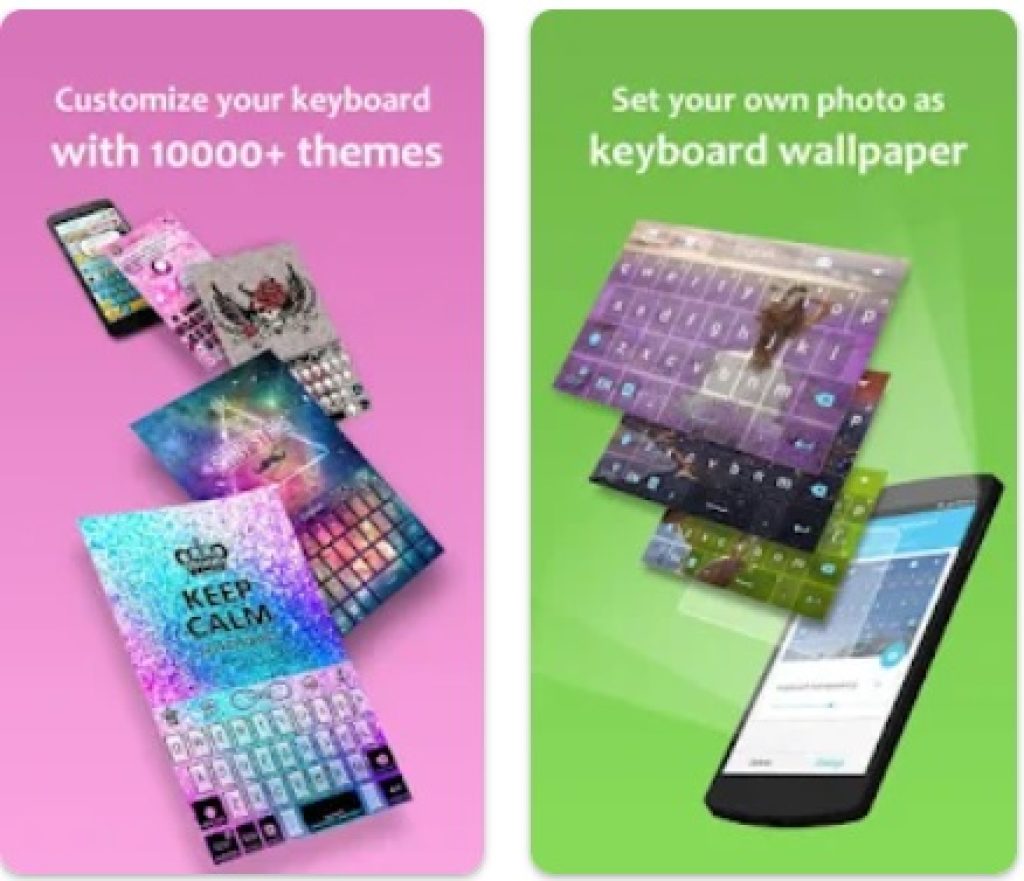 Keyboard with Custom Buttons
The main advantage of the Keyboard with Custom Buttons app is its incredibly deep design customization, so the user can set or create their own background for their keyboard, and choose the character design, font, and also sound emitted when pressed.
The app has a convenient search for GIF images, which is built in above the main keyboard, there is a search for stickers, symbol compositions, and funny pictures on any topic.
The Keyboard with Custom Buttons app has an intelligent error correction feature that helps you type correctly. A customizable keyboard layout has a positive effect on typing speed and text quality.
The app will also have many foreign language layouts at your disposal, so you can type in other languages.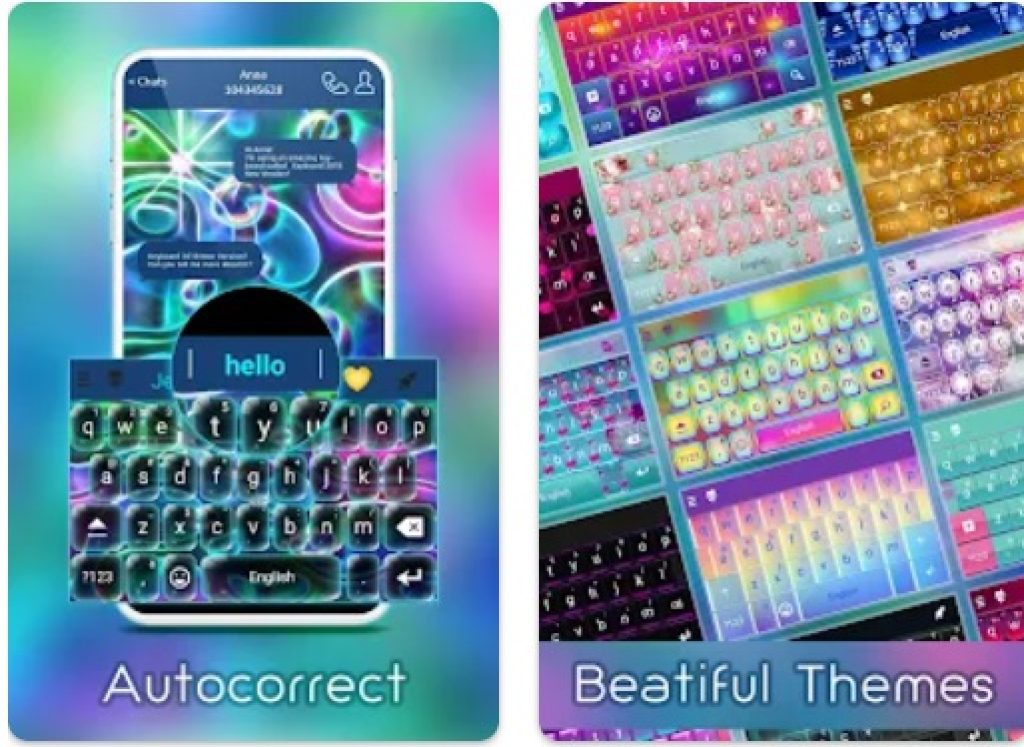 iKeyboard
iKeyboard is a powerful new customizable keyboard that combines a rich interface with a bright, stylish design.
The iKeyboard app has a very handy menu for finding stickers, emojis, and GIFs. The iKeyboard gives users access to over 3,000 different themes and over 1,500 emojis.
Users of the iKeyboard app can also access over one hundred and fifty dictionaries for the most commonly used languages.
The app also has a number of interesting special gestures for various features such as correction, punctuation, and more.
Customize the size and font of characters on your keypad, or turn your keyboard into a musical instrument with sound settings. Set various funny sounds or vibrations when you press keys.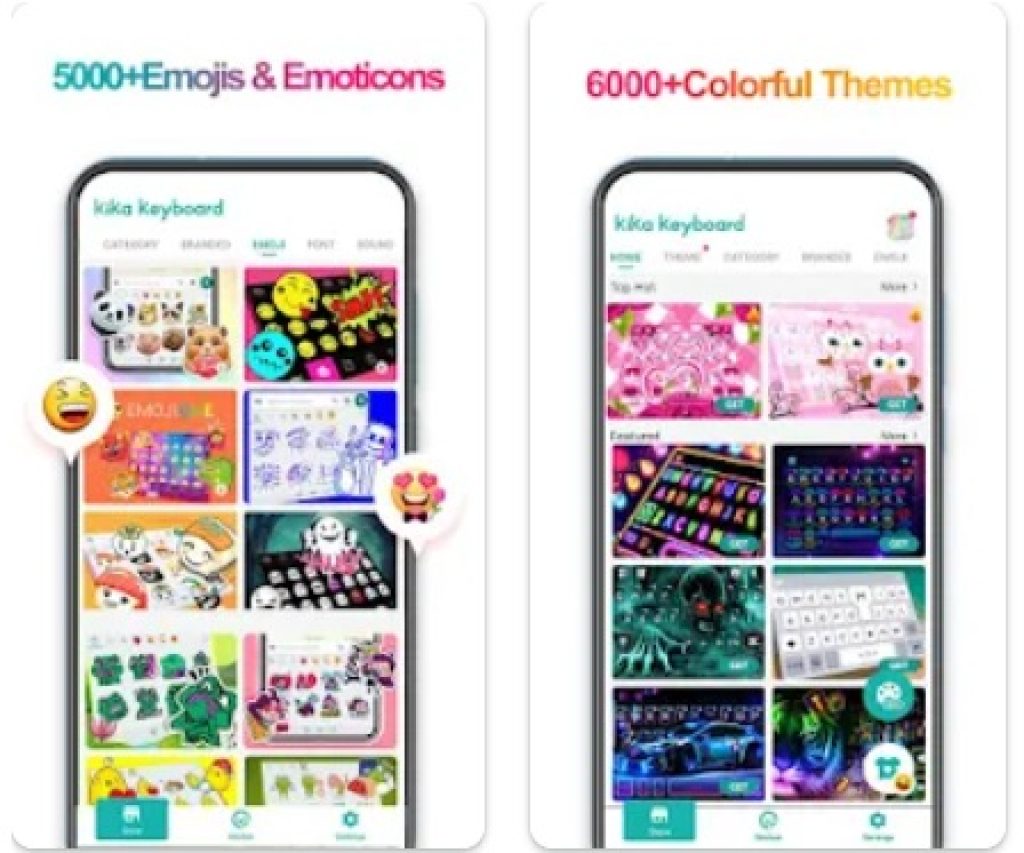 You may also like: 10 Best Calligraphy Apps for Android & iOS
Fleksy Keyboard
Fleksy is a new smart keyboard based on patented technology that makes typing on any device fast, accurate, and easy.
The keypad combines many useful additional features and amazing custom design, which you can choose from a variety of options offered to you.
In addition to appearance, the Fleksy app allows you to customize the size of the keypad. It also contains extensions such as hotkeys that allow you to add a range of characters or emojis that you use frequently.
In the keyboard itself, you can search for GIF files, as well as many stickers and emoticons.
The Fleksy app supports the most popular keyboard layouts such as AZERTY, QWERTY, Dvorak, QWERTZ, and Colemak.
The Fleksy keyboard has a voice input function, the ability to control gestures, as well as an impressive list of interface settings.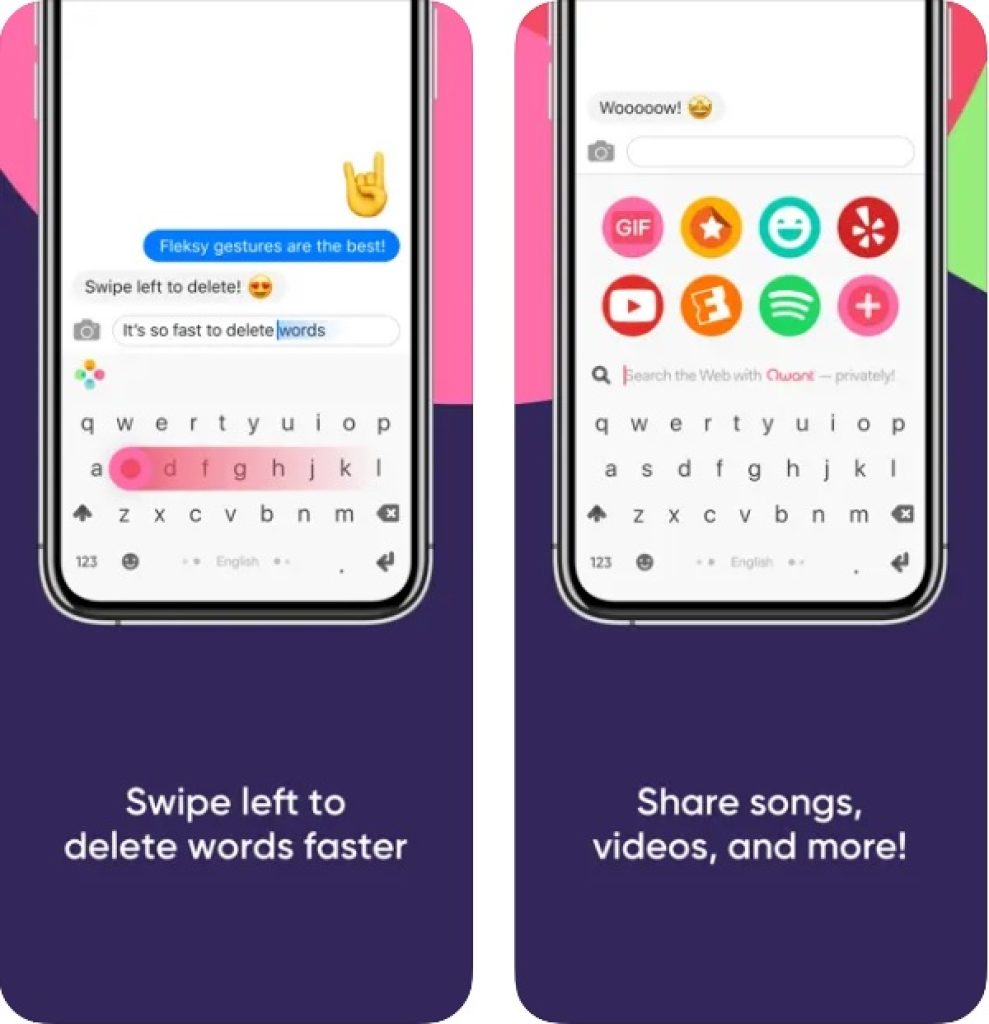 Ai.type keyboard
Ai.type keyboard app has the most features on this list. Many people say that such a variety of functions is too much for a regular keyboard.
Ai.type keyboard app has a separate menu to search for GIF animations, stickers, emoticons and whole symbol compositions. This menu is placed in the upper panel above the main keyboard and is available at any time.
Users of the app have access to a huge functionality and range of possibilities, for example, a translator is built into the keyboard, which allows you to conveniently communicate with foreign users without knowing the language.
There is also a voice input feature that uses punctuation algorithms to make typing faster and easier.
You can choose the keyboard style that suits you, customize the interface and display special characters, set up auto-correction, tooltips, special gestures, widgets, and more.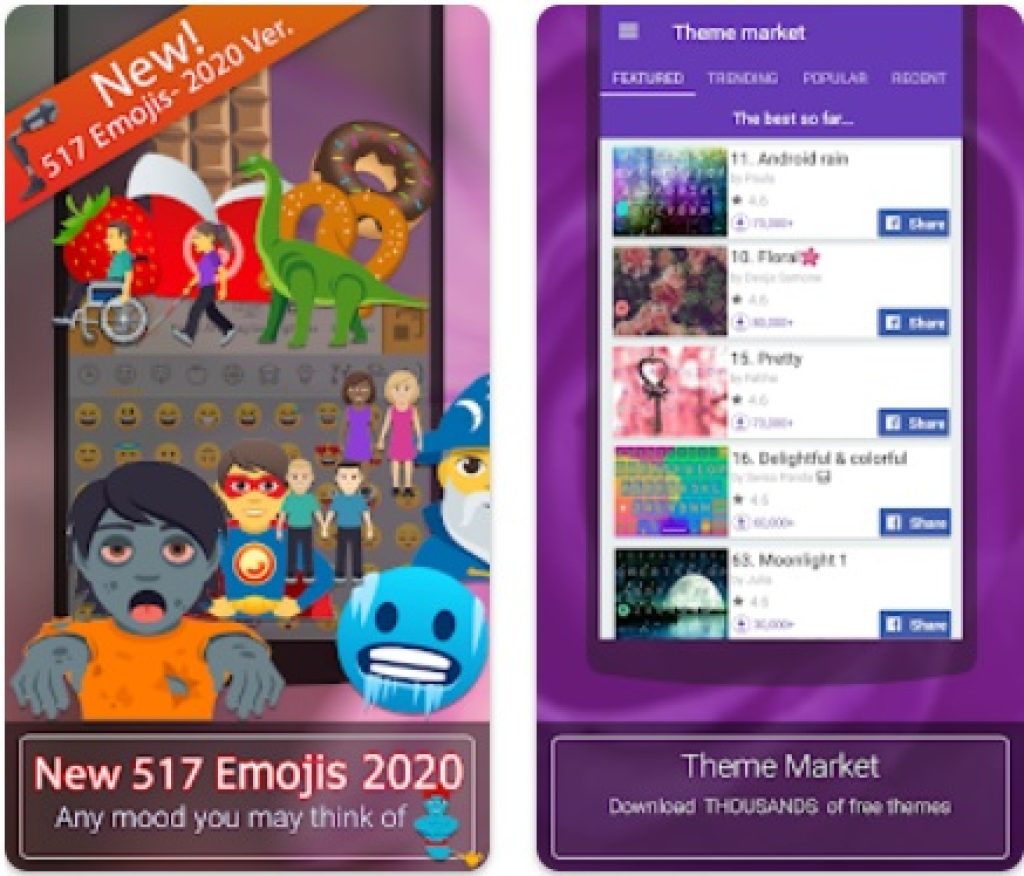 Touchpal
TouchPal is a virtual keypad that has a lot of GIF animations, stickers, emoticons, and funny symbol compositions.
The app has all the basic functions and also has many additional uses.
You can customize absolutely everything related to the keypad: sound and vibration when pressed, font thickness, and color. The app also allows you to use custom keyboard keys.
You can also install a weather widget that can be accessed with a simple gesture on your keyboard. You can also sync your personal dictionary to the cloud so you can get them even if you switch devices.
The app supports more than 150 foreign languages, and the TouchPal keypad is equipped with a built-in translator, so you can write text, and the keyboard will automatically translate this text into the foreign language you need.
The app has more than a thousand keypad designs for any theme, among which you can choose what you like. Developers regularly add new and vibrant design themes. You can also set your photo as your keyboard background.
The app has a paid service package, in which users have access to more different themes and features.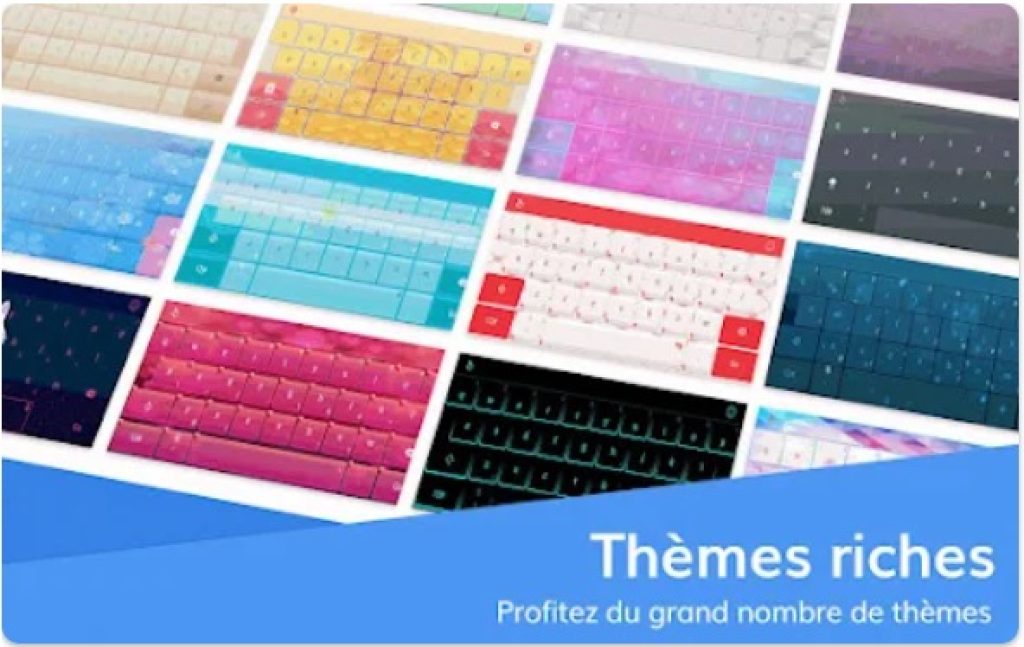 Chrooma Keyboard
The Chrooma Keyboard app boasts a very convenient menu for selecting stickers, emojis, and GIFs because you can customize the line with additional keypad functions to your personal preferences. For example, you can remove the translator start button, and remove those buttons that you will not use.
The Chrooma Keyboard app has a built-in buffer to store important information that you often use while typing. The app also has a convenient search for GIF animations, a Google search bar with results on the keyboard itself, and a translator.
You can use auto-correction as well as continuous typing.
For variety, you can choose the keypad theme you like, as well as adjust the key sizes as you like.
But, unfortunately, the app also has disadvantages: there are a lot of keyboard themes, but most of them are paid or available only in the Premium version of the app.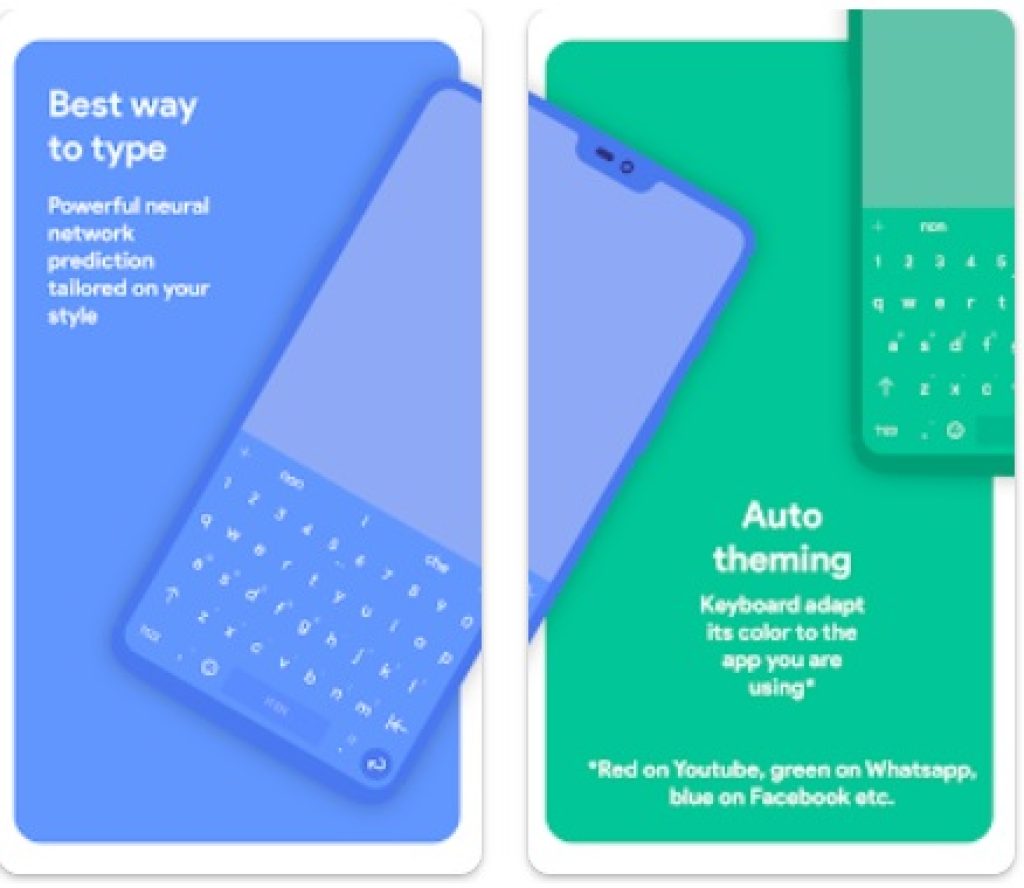 You may also like: 7 Best Reverse Text Apps for Android & iOS
Ginger Keyboard
If you are looking for a keypad with great and useful functionality and a stylish appearance, then Ginger Keyboard is made just for you.
Ginger Keyboard gives you the ability to type in a foreign language and translate text directly without leaving the app.
But not only the built-in translator can please Ginger Keyboard users, the app also has auto-correction, so as soon as you make a mistake, but the app will also immediately point out it. The app corrects errors regardless of the language you use to type.
In the Ginger Keyboard app, you can use a huge number of different emoticons that you can use in any messengers and social networks at any moment. Also, you can customize the keypad and make it comfortable for you to use.
The app has many designs from which you can choose the one that suits you. Enter words without lifting your finger from the keyboard, this will make entering characters several times faster. Also, the app can voice the entered text in English.
An interesting feature of the Ginger Keyboard app is that you can play many mini-games without having to close the keyboard tab.
The keyboard supports more than fifty foreign languages, allowing you to type and communicate in foreign languages.