When reading recipes, we are often confronted with the wording "boil until cooked," "fry until crispy," or "simmer until cooked". Unfortunately, not all of us easily know when a dish is ready, because of small mistakes in time we are disappointed in the result and our culinary abilities.
People have invented a great solution to this problem – kitchen timers. You simply determine the time period you need, and the timer will remind you in time when you need to take out the meat or eggs when it's time to turn off the oven, and so on. Clock widgets may also help you time your meals.
We found 9 Best Kitchen Timer Apps for Android & iOS that also include some handy hints for kitchen newbies.
Simple Egg Timer
Simple Egg Timer has the best looks and functionality over other apps in this category and we recommend you to pay attention to it. Whether you are an experienced chef or an aspiring chef, this app will help you get perfectly cooked eggs every time.
The app has a number of features, including the ability to set individual cooking times, choose between soft, medium and hard-boiled eggs, and get alerts when your eggs are done. Moreover, it provides the pleasant user experience, making it easy to use for everyone.
But of course, the calculations can be a little bit different form the real life facts, so keep that in mind and keep in mind the power of your stove.
And we didn't really like the fact that we cannot set the reminders here or save the customized cooking times for the eggs.
Despite these limitations, Simple Egg Timer remains a popular choice in this category of apps because i doesn't have any bugs.
Its simple design and intuitive interface make it a great option for those who want to quickly and easily cook eggs without the hassle.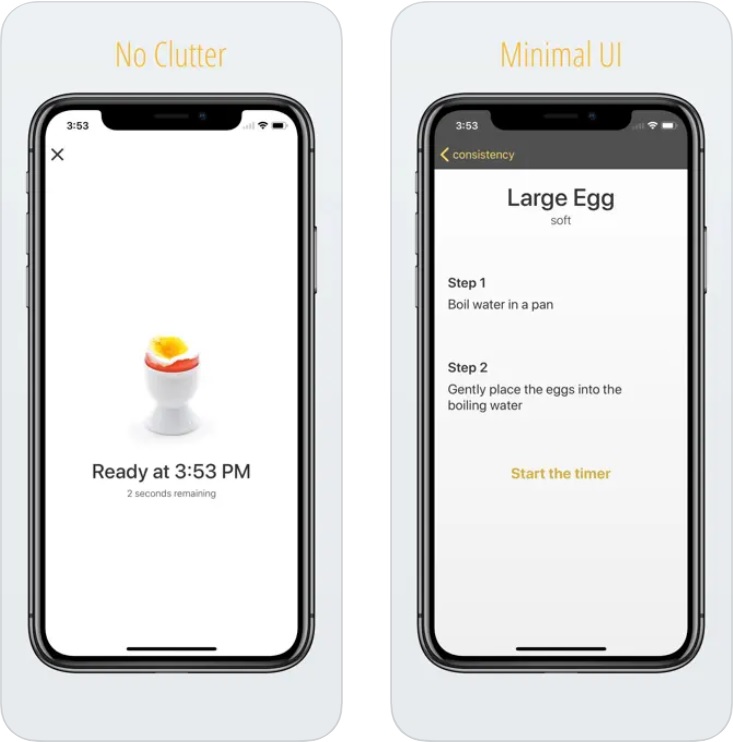 You may also like: 11 Best Recipe Organizer Apps for Android & iOS
Egg Timer by SimpleInnovation
It would seem – what could be easier than boiling an egg? In fact, a lot of people still don't know how long it takes to boil eggs to your favorite condition. The Egg Timer will tell you how long you need to keep them on the stove to get the perfect consistency for your favorite dishes.
Eggs for salads, hard-boiled, liquid yolk or fully cooked, poached, and so on – you'll come across a huge variety of cooking options.
The Egg Timer is capable of showing you the time it takes to make egg sauces or poached eggs. You will need to start the timer with a single touch, selecting the cooking option you want to get the result.
Egg Timer also has variations on how to prepare eggs for sandwiches. In the app, you will need to select the type of egg you are cooking – quail or chicken, its size, the approximate temperature (maybe you just took it out of the fridge or kept it warm), as well as the end result.
The Egg Timer will ensure that you are never mistaken about the right consistency or density of the resulting egg!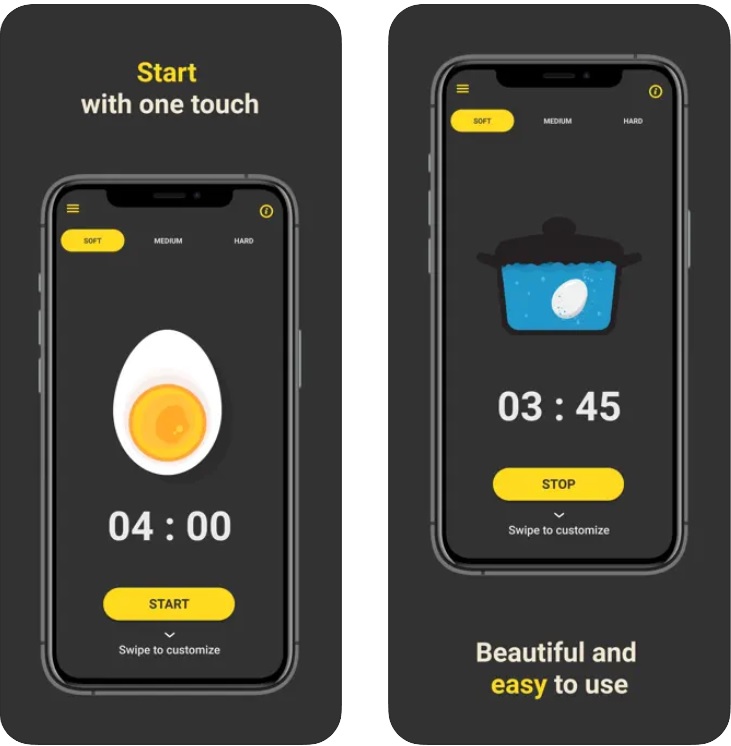 Time Rise
Another app that you can use as your kitchen timer, is Time Rise.
If you ever wanted to track a period of time on your device without frills, then this app is perfect for you. It is worth noting that the utility interface is created as simplified and high quality as possible. In addition, this program takes up a very small amount of space in the storage of your phone.
Several advantages of the program, receive the most attention from the developers:
the main option of the app, which consists of the main purpose of the utility – working as an hourglass using digital technologies
one of the unique functions of this utility, which allows you to turn the device literally upside down
the ability to choose your favorite color from the unlimited number of built-in color palettes and put it as the main one
the presence of day and night mode inside the app, which saves vision and health
Thus, we can say that this app is great for those who want to gain constant control over their time. And also, this utility is completely free and does not require you to invest any money.

Egg Timer by Egg Farmers of Canada
It's easy to find special timers on online stores these days that help you time your eggs right in the pot. If you don't want to buy a special device, you can simply use the Egg Timer app. It turns your phone into such an unusual timer that controls the cooking time of eggs and makes them just perfect for you.
First, it's worth noting right off the bat that Egg Timer allows you to do more than just boil eggs. You can cook scrambled eggs, glazed eggs, boiled eggs in different variations and create unique sauces.
Egg Timer is a fully customizable app where you can choose your own cooking methods and determine the time it takes to cook. Secondly, Egg Timer helps you adjust the time depending on the size and weight of the egg, the desired hardness of the boiled yolk, and other parameters.
You will also get to know some interesting recipes in the app that you may not have even seen anywhere before. You can find a dish according to the type or style of cooking, using your favorite eggs and other products.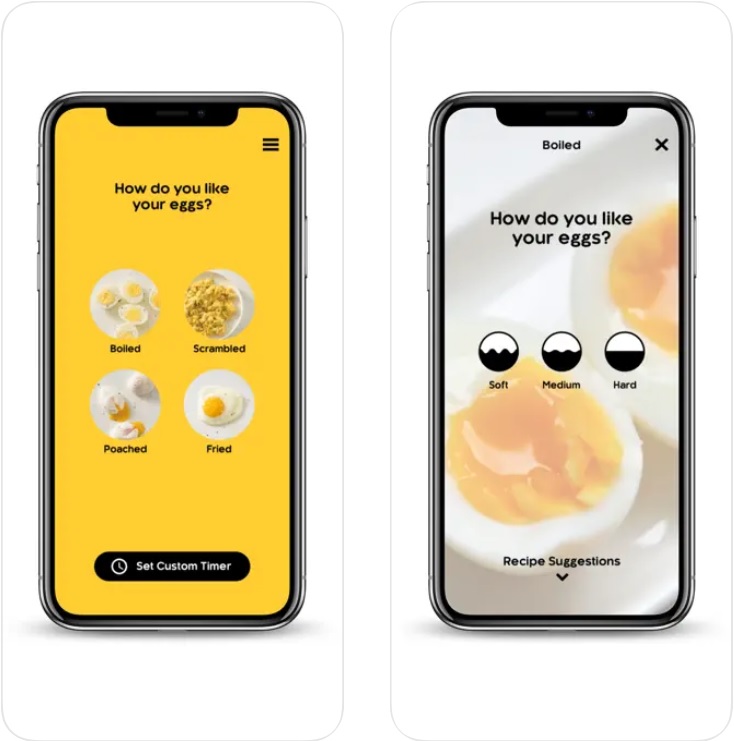 Oven Timer: Kitchen Multi Timer by RoboFrog Studios
Housewives know how difficult it can be to keep track of several dishes on the stove at the same time. Each one can have its own cooking time and conditions, and the burners on your cooking surface can be set to different temperatures.
The Oven Timer app has now been created to help you take complete control of the entire cooking process – no matter what you're cooking at the moment.
Oven Timer has several variations of the hobs that are the most common in kitchens around the world. So you can set your own time for each of the burners and get a notification at a certain point that it's time to turn off the fire.
The Oven Timer also has the ability to time baking and cooking in the oven – perfect for making big holiday dinners, pies, and biscuits. All the timers in Oven Timer work simultaneously, letting you control literally everything.
The app also works in the background, so you can text or use your phone for other things while you're cooking.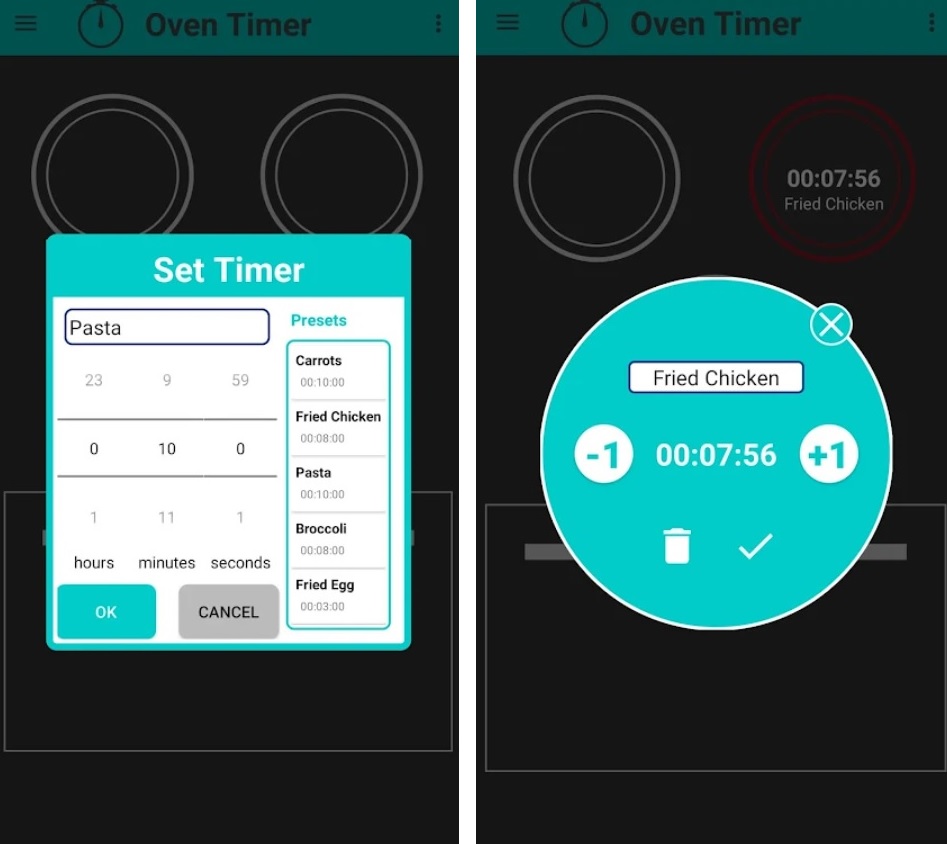 You may also like: 25 Best cooking apps for iPhone & Android
Thyme – A Modern Kitchen Timer
It seems like you don't have to time the kitchen – you can do it yourself with a clock and the app becomes useless because it has only one function. However, the developers of Thyme don't think so.
Their view is that the service really only does one task – but it does it perfectly. A lot of people who like cooking and chefs already use this app to always take dishes off the fire in time and not to let sauces thicken too much by overholding them for a couple of minutes.
The Thyme app has also been highlighted by Lifehacker, a service you definitely visit from time to time. The app is really simple and easy, so it won't take you long to figure out how it works or how to properly set a certain time.
Just like the previous app, Thyme prompts you to choose the type of your stove and the number of burners on it – so you can control several dishes at once and never make a mistake.
Good food requires the right cooking time, which you can see for yourself. Thyme with its beautiful interface will be firmly fixed on the desktop of your smartphone and you will use it regularly.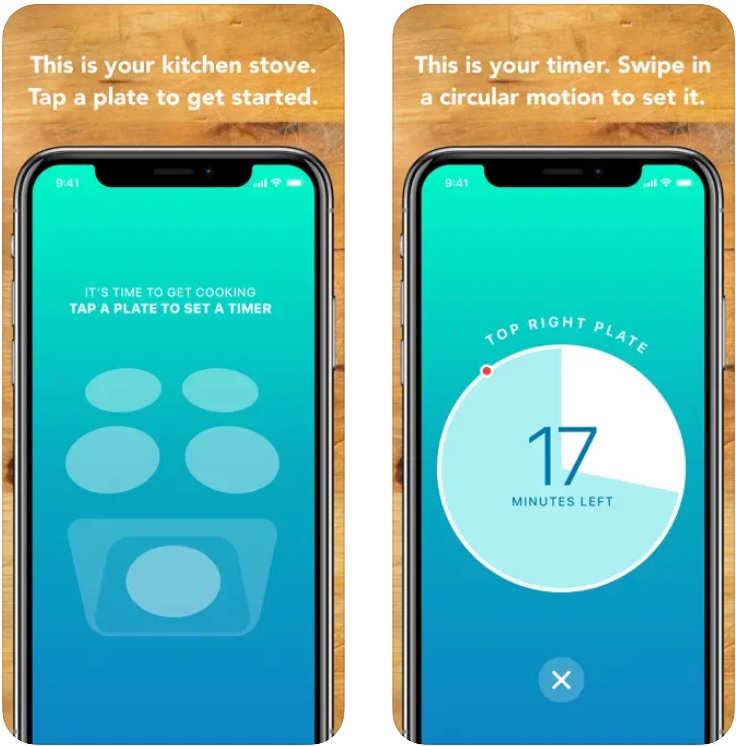 Pepperino – Kitchen Timer
Pepperino is a bright orange app with a nice user interface and an easy-to-use control and monitoring system. This kitchen timer will allow you to set as many alarms as you really need – maybe you are making 4 dishes at once and you need to control every little thing!
At the same time, Pepperino will work in the background and will not consume the battery of your device, allowing you to work, watch a video or communicate right in the moment of cooking.
The timer in Pepperino is rather funny – on the screen while the application is running you will see a kind of graphical jars of spices, which are filled with a certain amount of time left.
The countdown can be carried out for several dishes or ingredients at the same time, and you yourself will give them a name. Spaghetti, chicken, soup, or potatoes – set as many alerts as you see fit. Pepperino will trigger at a given moment and remind you to stir the sauce, add salt or turn off the heat.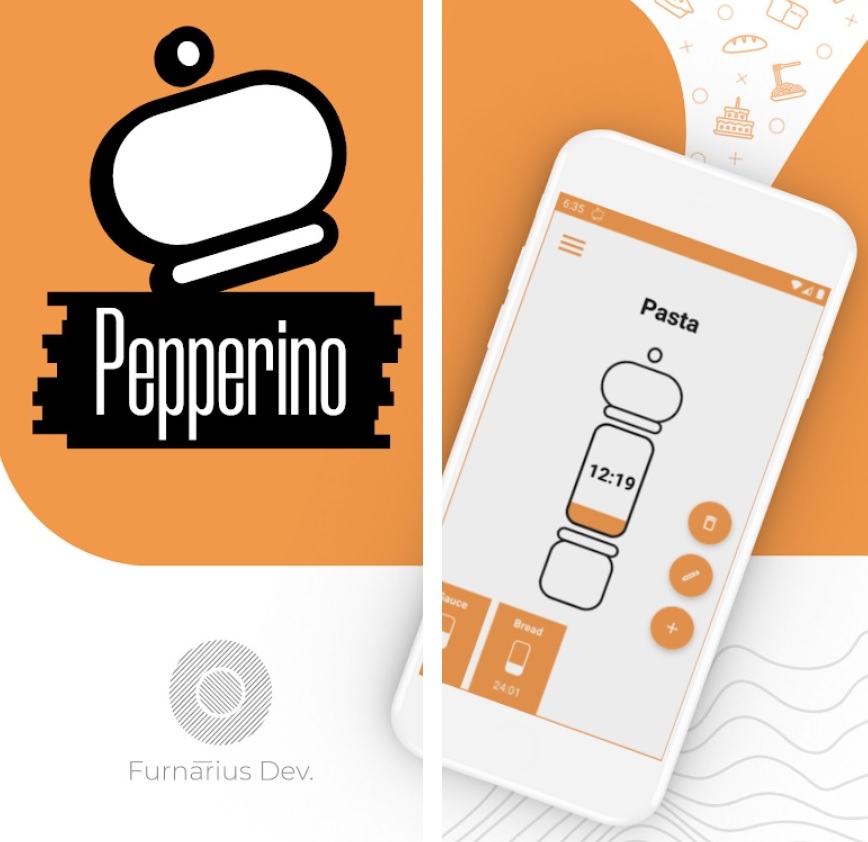 Steak Timer by SimpleInnovation
At some point, any cook feels the urge to cook the perfect meal. Unfortunately, the perfect steak does not come out the first time – especially if you do not know how to work with it and how long to cook it.
The Steak Timer app will tell even the most inexperienced cook how long and how much steak should be cooked to the desired doneness. It takes into account many nuances that can affect flavor and doneness – the type of meat, the thickness of the steak, degree of the desired doneness.
Based on the results of those data and parameters that you set in the Steak Timer, you will get the time required for cooking. It is recommended to measure the thickness of the steak at least approximately – because this parameter is the main one for grilling.
The Steak Timer has all the degrees of doneness that are claimed for steaks in the best restaurants – you may even get tender meat as if it was cooked by a real chef.
The app also has a cooking progress bar that shows you visually how long you have left to fry it. The modern design of the service will also please those people who are used to using cool apps.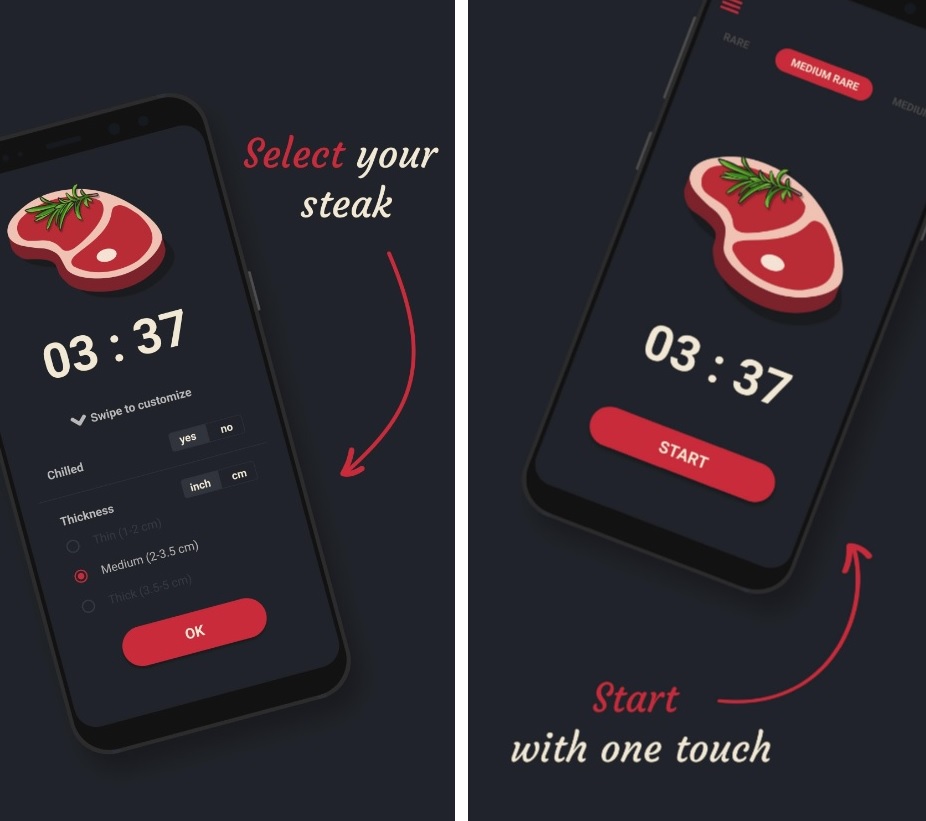 You may also like: 7 Best Food Safety Apps for Android & iOS
The Egg Timer
The Egg Timer is a handy tool for those who are struggling to make the perfect boiled egg. This simple app helps users set a timer for their eggs, ensuring they are perfectly cooked every time.
Here you can choose the desired degree of frying of eggs, from soft-boiled to hard-boiled. It also gives you the option to select the size of the egg, which changes the cooking time accordingly.
Users can even choose to be notified when the timer expires, ensuring they never forget boiling eggs on the stovetop.
But it seems like this app has the very typical flaws of all the apps of this type – it lack customization features and acuracy.
However, these criticisms are few and far between, and most users seem to find the app a useful addition to their kitchen.
All in all, the Egg Timer app is a solid tool for anyone looking to make the perfect boiled egg. Its simple interface and customizable features make it an essential addition to any egg lover's kitchen.
So, whether you like to keep your eggs soft and runny or firm and hard, the Egg Timer app has got you covered!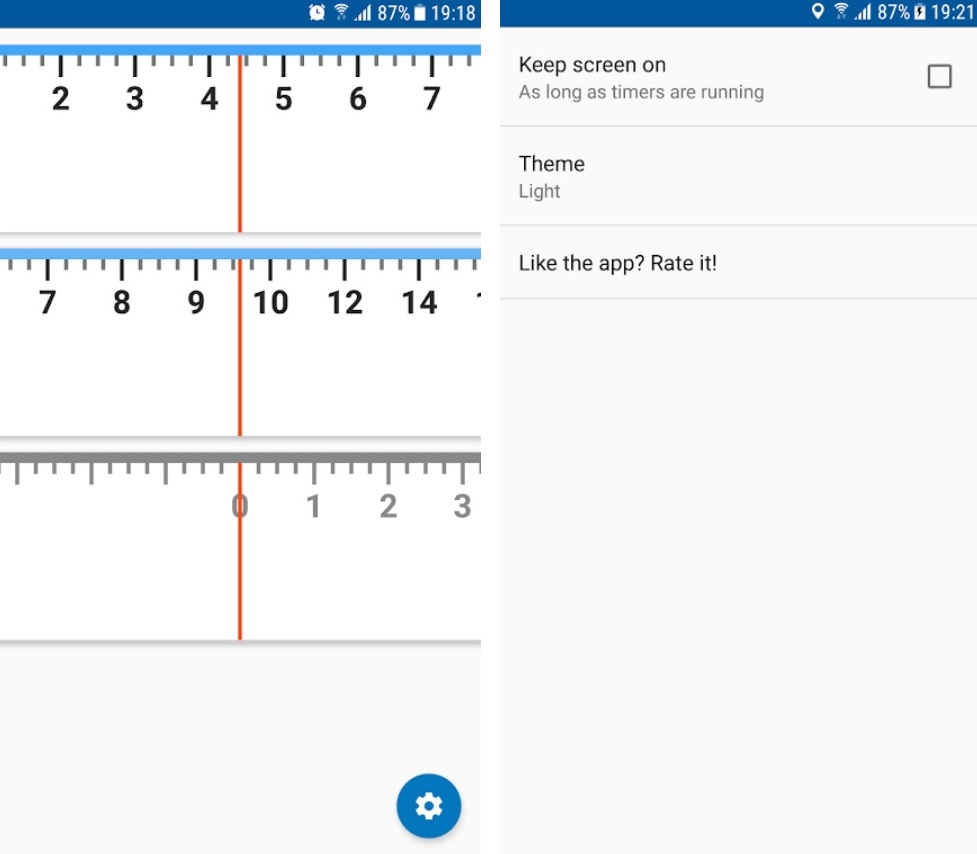 To avoid getting confused about the cooking time of a dish or certain ingredients, the best solution is to use a special timer. This way you will not forget about the dish on the stove or in the oven and you will be able to turn it off or add the next ingredient in time.
We have tried to find apps that allow you to not only check the time but also to see how long it will take to cook a particular food. Of course, not all apps have this feature – some of them are designed for people who just forget to turn a dish off, but can set a certain time on their own.
In any case, we hope that our article was useful for you and you will definitely use a couple of timers presented in the selection.