11 Best Lip Sync Apps for Android & iOS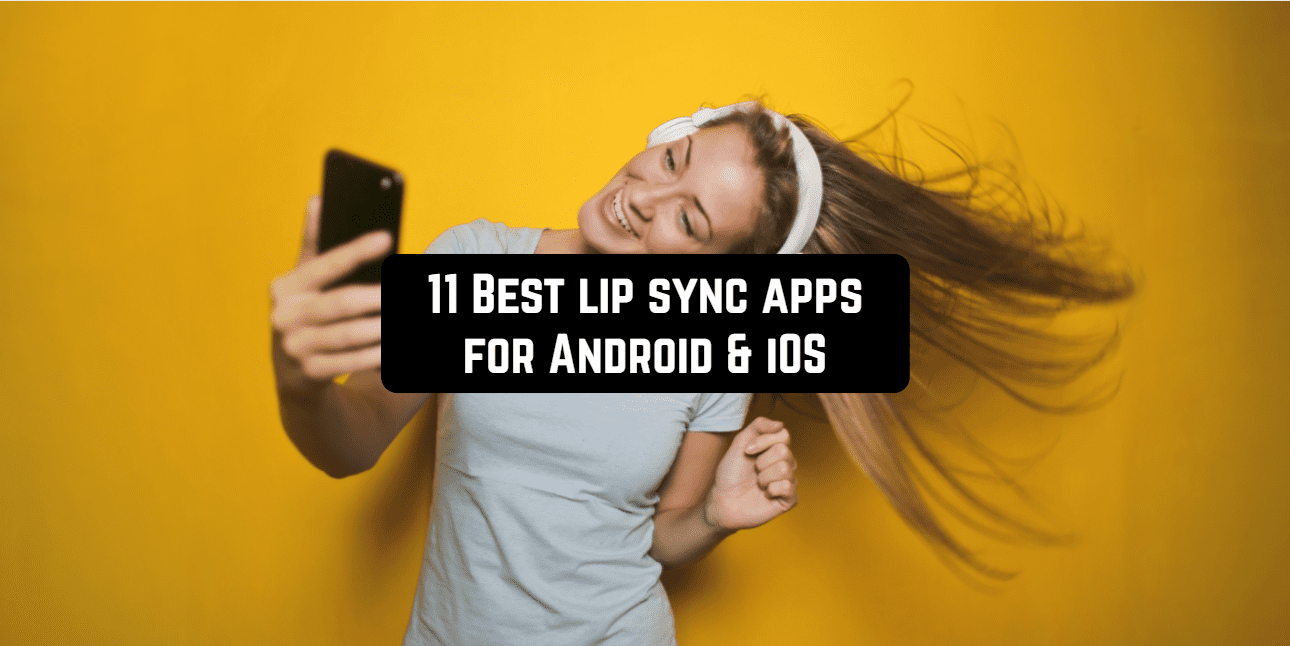 Always dreamed of getting fame? Your dream can be realized right now! Download one of the top lip-sync applications on your phone and get ready to get tons of likes and recognition!
You may also like:  15 Best microphone apps for Android and iOS
Funimate
Funimate is an application for editing and creating video clips with the addition of stunning effects and music.
You can join the community of 5 million users – just download Funimate today. This is an excellent video editor that allows you to make music videos, synchronize lip movements, do slow motion, and much more. You can add text or a sticker, make your relatives and friends happy with your creativity.
Download the application and check your capabilities. Try to create a fantastic video for a friend or soulmate. No experience in creating clips is required. Funimate will teach you the subtleties and turn gray everyday life into a spiritual impulse of creative nature.
The developers used a unique video processing technology to create clips with high-quality effects online. Send the finished work to a social network to surprise your girlfriend.
You can count on two dozen advanced effects in the application. Search for special music for a unique evening and create masterpieces right at home. Add your favorite music for short clips or tell your story, decorating with an unusual effect. Apply emoji, stickers, and text notes.
Then synchronize them with the opening of the lips – get funny comics with the participation of your friends. Don't forget to try creating a combined video with the materials of loved ones. Use the standard video editing tools to cut, merge, rotate the clip. Funimate can provide everything you need.
Fans of Instagram or Youtube will like the possibility of creating short tracks and editing them. Daily, post new videos, and show everyone what you've achieved. Become a popular video maker and earn recognition.
You can also check: 22 Best singing apps for Android & iOS
Triller
Triller is a video editing application that allows you to create incredible clips in just a few seconds. The application is a kind of portable studio for users who dream of becoming celebrities. In the musical library of the project, there are many demos of famous artists, which can be superimposed on the recorded video.
The process of creating music videos is very simple. To select a song, you can enter the name of the artist, song, and album. You can also import music from your mobile device.
After selecting a song, you need to select 15 seconds – this will be the duration of your music video. After that, you can start recording. You can use the front or rear camera, as well as zooming in to add interesting effects.
If you shoot a video only once, then it will be the final version, but if you make several doubles, then Triller can edit them together, which will give the video a more professional look. You can also use different filters to customize your video.
Triller is a fantastic video editing application that can produce very interesting results. Its interface is simple and intuitive, allowing you to create video masterpieces in less than five minutes.
Dubsmash
In fact, this project is an atypical video messenger, thanks to which people can share funny videos with each other. The recipe for a funny video, according to the developers of the program Dubsmash, is very simple: the user records the video with himself and his beloved, using numerous audio tracks from popular films, TV shows, TV shows, as well as fragments of well-known compositions, musicals and even opera performances.
You can artistically move your lips, or pick up sounds that will harmoniously (or, conversely, absurdly and therefore funny) combine with the video. The content base is constantly expanding with the efforts of numerous users.
Dubsmash works very simply: you only need to select one of the thousands of audio files that are available through this application, activate the camera, and then try to move your lips as if you are saying a phrase.
After you record your short video, you can watch it (to make sure it's perfect), and then save the resulting video to your device or share it with friends. The result is always quite funny.
Dubsmash is a very fun application, thanks to which you can record a funny video in a couple of seconds and immediately share it with your friends.
StarMaker
StarMaker is not exactly is a lip singing app, it is a karaoke app, with the function where you can lip sync as well. It has a wide choice of tracks and the database is constantly updated. In total, there are around 2 million songs. Or, you can record your natural voice and polish it with all the effects that StarMaker provides.
Probably, it's not going to be worse than lip-sync this way! There are more than 50 million users in the app, so you can sing solo or in duets. The process of creating lip sync videos with this app is simple, as you just have to find a song, fine-tune audio and video settings and tap the Start button to get the video recording session underway.
Moreover, for the vocalists or just for everyone who wants to show off with their vocals, there is a live streaming function, so you can sing in the live broadcast so the whole world is listening to you.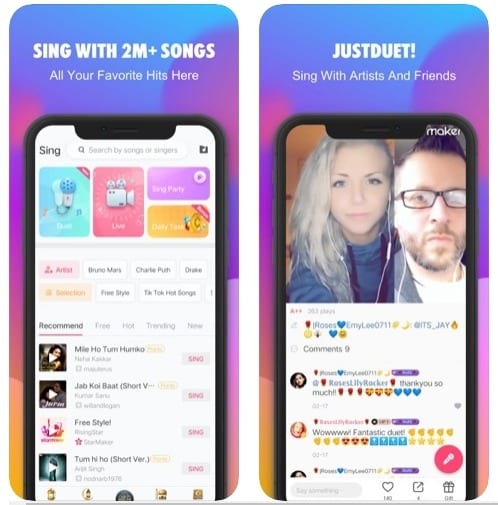 Kwai
Now users don't want to write – they want to shoot video and share it on the network, want to communicate with friends and subscribers through more direct contact and the Kwai social network gives this opportunity.
The main feature of this social network is the emphasis on video content – they don't publish photos here and don't write posts with philosophical overtones. Users come here in order to post their video – with singing, jokes, some life situations, and so on.
Actually, for this reason, the network has become so popular among users – there is no difficult content, there is nothing that would make you think and tense.
Use the app to record videos of the best moments of your life, edit them adding wonderful filters and stickers, discover new aspects of life, make new acquaintances and watch their short videos every day and share your work.
Renowned Lip-sync and Dubbing function is also realized here. Lip-sync to your favorite dramas, songs, and movie scenes. You will get access to Kwai's extensive media library.
Take advantage of the free tutorial, where you will know about what tricks you might use to shoot daily videos, decorated with highlights, blurred background, and bright stickers.
Become popular, show what you are capable of in the field of video shooting and its processing!

You may also like: 7 Best Music Sync Apps for Android & iOS
LIKE Video
LIKE Video is an interesting social video network, where users can share short videos and impose effects on them. The presented creation is in many ways a competitor to a similar video network Kwai.
The application LIKE Video is very simple and intuitive to use. After downloading the user will not take much time to master. The first thing you will see is a feed with the most popular posts rated by users. Above, there are several tabs: favorites, where you can add your favorite video and record button.
You can shoot your own short video and put magic effects on it, for example, add a mask, bunny ears, rain simulation, and so on including lip sync. These are completely new features, funny dialogues. Show your acting skills and translate them on the screen.
As in any social network, the rating system with the help of likes operates here. The more likes a movie has, the higher the chances of getting into the main application feed.
This product is completely free, but it supports in-app purchases. It's worth noting that this product has received wide recognition among users, it received the mark "Editor's Choice" of Google Play and it has already been downloaded by more than fifty million people worldwide.

MagoVideo
Mago Video is the best video editor and video producer with effects and music for Android. With Mago Video, you can easily add magic touch effects, mixed effects, and a frame to your video or photo.
Mago Video Features:
Edit multiple videos with touch effects;
Add text on videos to create cool lip sync videos;
Surprise your friends with a beautiful, spectacular mix;
Add music to your video, tell your story in a completely new way;
Decorate your video or photo with a funny frame;
Create a unique video with a photo, like a GIF;
Choose the background you like for your video or photo;
Preview video or photo in real-time;
Share videos directly to Music, YouTube, Facebook, and more!
You can use Mago Video to create a unique video at any time to have fun with your family or friends.
Dubshoot
We've chosen this app for our review, not by chance. Dubshoot is one of the best apps to show your creativity with short videos. Working with the application is a pleasure. You can record selfie videos and mix with a variety of sounds including dialogues or songs of famous actors or actresses.
It can also be a dance video or you can record your daily routines. Anyway, you will like it as the interface is simple and clear. Make dub videos and share them with others.
Zoomerang
Zoomerang is the coolest video editing app that will help you to create amazing lip sync videos for your TikTok or Instagram. Just upload/film a video here and play the song over. Or, you can choose the song to play while your filming, so the lip sync effect would look more natural.
Another great feature here is the possibility to add transitions to the videos. This is the feature, that TikTok and Instagram lacks. Moreover, you can add funny stickers to your video. Overall, there are more than 100 special effects that you can use. Don't forget to share the video on your social networks!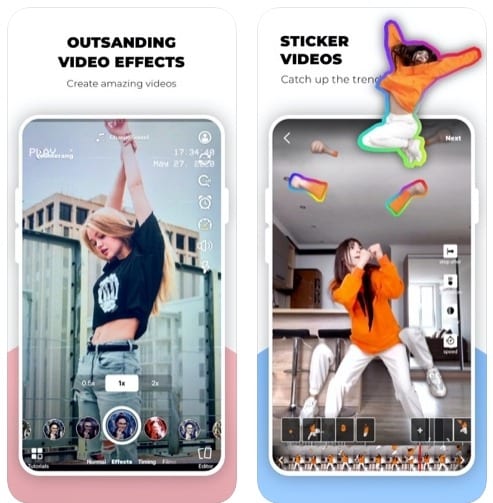 TikTok
Fans of TikTok shoot videos on which they dance and open their mouths to music, imitating their favorite performers. This seemingly trivial occupation amuses millions of people from all over the world.
Users record videos directly in the program using the sounds of the selected song or import videos from the gallery, and then cut, apply filters, music and add stickers. In the service, you will find an extensive music database, the compositions of which can be used for free.
Although this "singing" is most popular in the TikTok community, you can shoot any short video. The main condition is to add music to them. The application allows you to publish videos for all users, send them to selected friends or export to other services.
In addition to videos synchronized with music, in which authors pretend to sing or voice popular videos, there are other formats in TikTok. One of them is Duets. As the name implies, they mean acting with other users.
To record, you should choose a video with the original sound, which takes up half of the screen, and the rest is given to the second participant. After shooting the video is combined, and you can put it in your feed. Some of these paired performances gain no fewer views than the original clips.
To shoot a duet, you need to press the "Share" button on the video in the feed and select "Duet". During recording, you can use effects, filters, stickers and other features that are available in regular videos.
As in any other social network, TikTok has algorithms that, depending on likes and subscriptions, recommend new interesting content and talented users. And, of course, there will always be viral videos and major trends in your feed.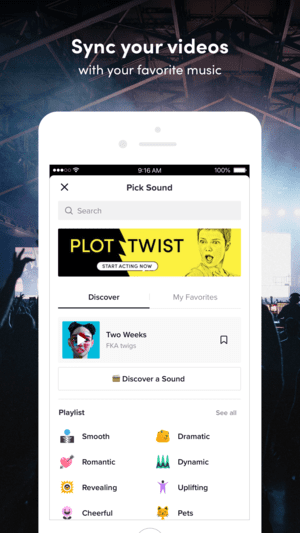 You can also check: 11 Best apps like Flipagram (Android & iOS)
MuStar Lip Sync Musical Battle
The MuStar application will help you to become famous! It's a fun lip-sync clips game where you'll create video clips and battle with others earning stars.
Just choose your favorite track and lip sync on your phone camera. Use cool video effects and create amazing music videos that you can share on Instagram, Snapchat, WhatsApp, Facebook, and other social networks. The application features are free and there is no need to register.