Do you want your child to feel himself an adult? In this case, the Little Zebra Shopper app will help you to carry out this task. This tool is full of excellent functions, so let's take a look at them.
Little Zebra Shopper app is a unique and real barcode scanner for your children. However, the app is compatible only with Little Zebra Shopper products.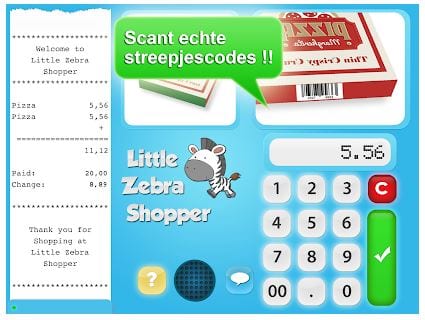 There is nothing complicated in this app. On the website, you will find a great number of various products – candies, pet food, toys, and others. After that, you should download preferable ones and print them on thick paper. Cut, fold, and glue the products and let your children enjoy the process.
Due to the Little Zebra Shopper app, your mobile phone or tablet becomes a real cash register. Moreover, it can even make real cash register noises.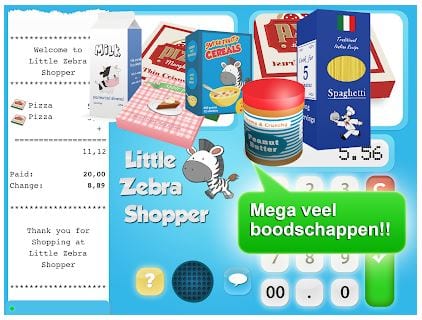 Tap on the yellow question button, if you face any difficulties while using the app. We have to mention that this small guide is presented in clear and simple language. Little Zebra Shopper app is available for IOS and Android devices. It comes with both a free version and a premium one. In the paid version, you can use the full list of products.
Moving on, the app offers a special announcement button to make real announcements. Click on the blue button and hold it as long as you speak.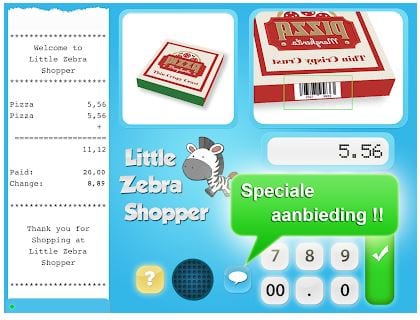 The manufacturer constantly updates the app version to satisfy all users' needs and wishes. The app boasts a colorful and intuitive design that makes its interface quite easy to use. We believe that your child will fully enjoy it.
Create your shop, scan bar codes, calculate totals, and change – all these things you can do in Little Zebra Shopper! To conclude, the Little Zebra Shopper app is an entertaining and educational app that will teach your children how to manage the budget and boasts mathematical skills. Hurry up to try it – we hope you will not regret!