At the moment, music in a person's life is one of the essential things that can both develop a more perfect sense of beauty and help in self-realization. However, no song is complete without such an important component as the lyrics. This article will feature a number of best free lyrics writing apps and websites.
And in order to gain offline access to your favorite songs' lyrics, you can use these apps.
Lyric Notepad – Write Song Lyrics, Poetry, & Rap
Have you ever considered recording a song that would shoot and rattle in every world chart? Such a song is called the word hit or banger (in youth slang).
If you have not found the answer to your question, then Lyric Notepad – Write Song Lyrics, Poetry, & Rap – is your lifesaver, which will help you find both a creative solution to the problem and future popularity.
This app is one of those utilities that can really be called all-in-one because this program has absolutely everything that you implement your ideas.
Just take a look at the functionality:
Recorder, which is capable of performing the functions of a tape recorder and inserting what has been recorded anywhere in your text
Syllable counter that has in its capabilities non-standard forms of selecting syllables to enhance emotional shades in your creation
Rhyme corrector that selects the most appropriate words in any context as clearly and accurately as possible, as well as word lookup, which allows you to search for new rhymes for those words, and allows you to search for new rhymes for those words that you have already used.
In a word, in this app, there is a place to roam both young ambitious talent and experienced professionals in their field.

It should be added that the program uses a tool such as rhyme matching, which marks all rhyming words in your text with a special marker. This helps you identify many things in your text, say size or rhythmic pattern, and perhaps something else.
Do not forget about such a mode as Measure mode, which allows you to execute your texts for a certain amount of BPM, which will increase your self-confidence and set a feed.

The presence of such a mechanism as "notes" will solve the problem with the possibility of replacing narrowly directed words with more common ones, so that your listeners can fully understand the essence of what is heard in the song.
Thus, this app set a huge bar in the field of music many years ago and still holds it, because all competitors of this program are simply not able to be even comparable to it.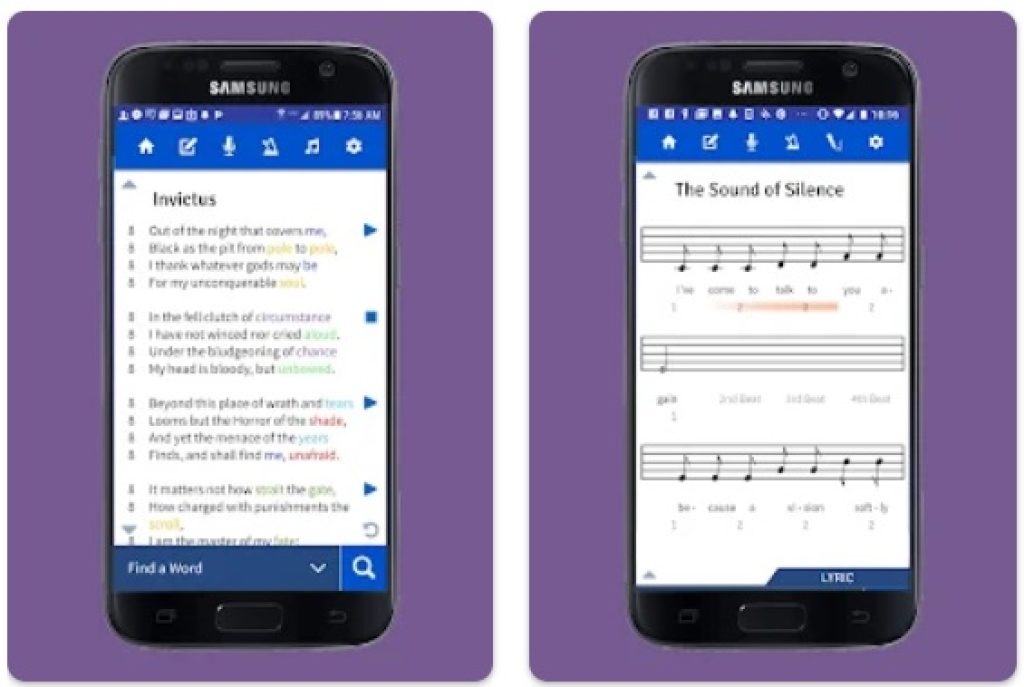 You may also like: 22 Best singing apps for Android & iOS
Tully
Tully is the best-developed app from Vertical Craft at the moment for the possibility of implementing the ideas of young and hungry artists, as well as for structuring the created content and competent distribution.
The convenience of the interface and ease of use will make this program number one on your phone if you are advancing in the field of musical creativity.
We can say that this app is also an all-in-one utility. One of the most significant and most necessary advantages from the point of view of the artist is the ability to record text while listening to the recorded audio file since in this way changes to the text are made much easier.
In addition, the app has the ability to save your recordings in a special cloud with a high degree of protection, so that no one can have fun with your works. Try using the free bits available in the program for your tracks to be able to find your style and write an amazing banger.

It is important to say that Tully has such a property as cooperation, because if you heard a track by another artist that you enjoyed, then you can write them about the offer to do something together.
As an additional plus, you can note the ability to upload your tracks to all streaming services like Spotify or text sites such as Genius.
One of the distinctive features of this app is the presence of a special diagram that shows the frequency of use of the service, which helps developers constantly improve the program in order to bring it to the ideal.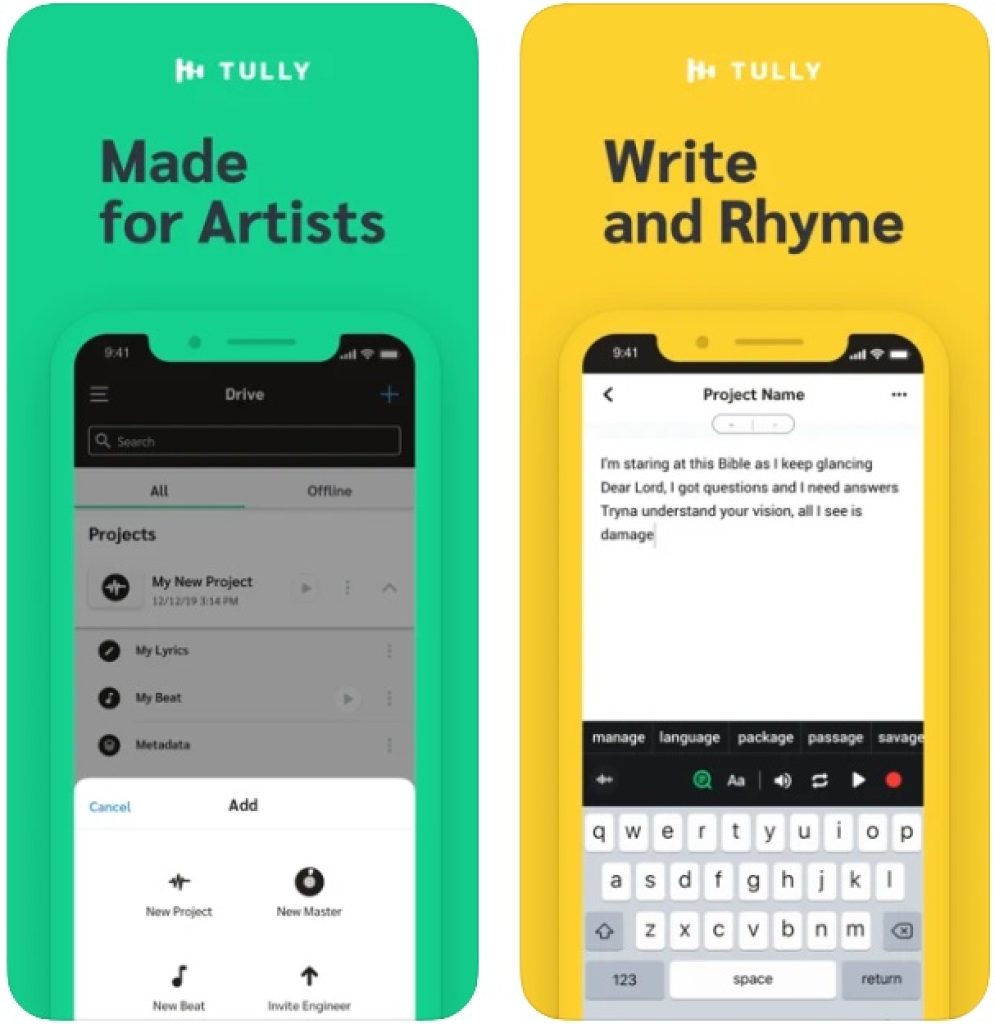 Rhyme Time Rhyming Dictionary
You came up with a truly gorgeous verse for your song, but you don't know how to rhyme it? Small problem!
Rhyme Time Rhyming Dictionary is the same service that can solve such a difficult problem as clearly as possible and with grace worthy of the texts of poets.
By downloading this app, you get the most extensive dictionary, including more than a hundred thousand words with different definitions, meanings, contexts, and even semantic fields.
We can say that this program has good assistance both in the initial stage of recording a track to find a suitable sketch and in the final part to competently complete your verse or find a word that will harmoniously complement your text component.
Note that this app has an option that distinguishes it from other programs on similar topics – the largest volume of the dictionary allows you not to miss a single rhyme that suits you.

It would be essential to say that this utility has as many as 9 different types of rhymes, which allows you to change the rhythmic pattern and build text size literally on the go!
Add to this the ability of the app to voice all selected rhymes, and then all doubts that you will not be able to find what you need will dissipate literally in a matter of minutes.
If it is desired, there is an option for smart word selection, in which the app can help you rhyme all verses yourself, and possibly write a whole song.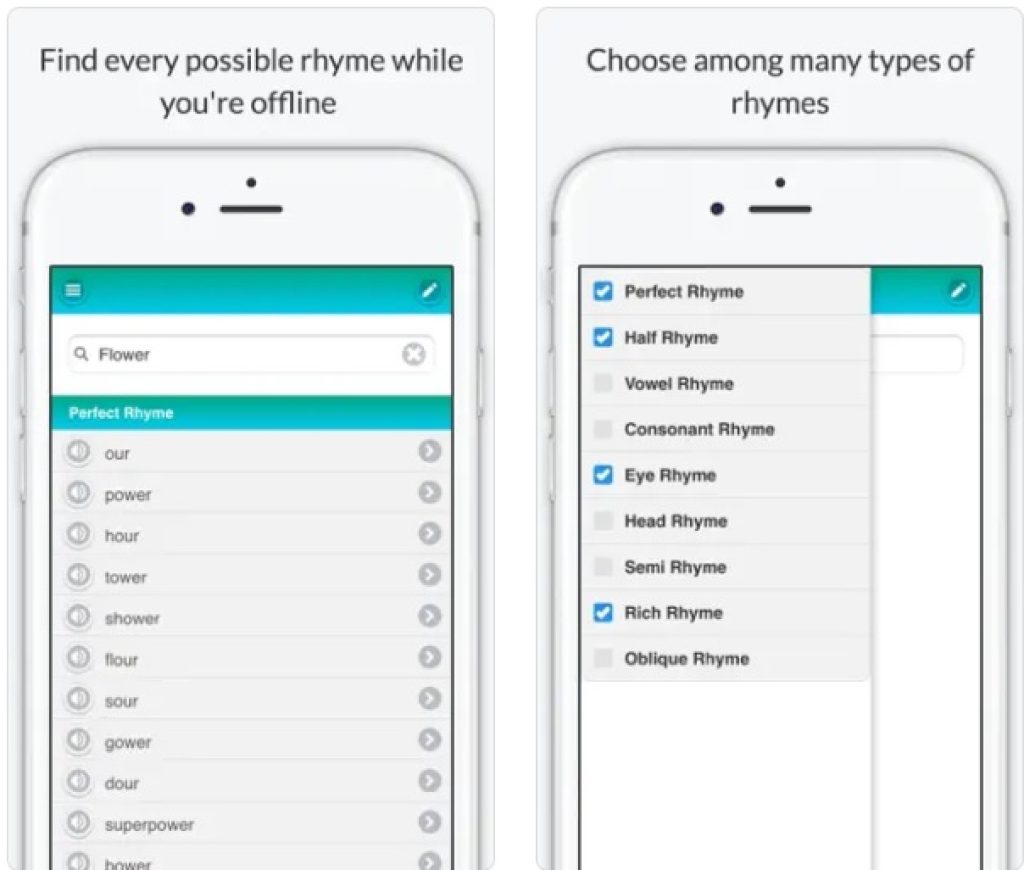 WordPalette
Have you ever felt the hidden talent of a poet, writer or maybe a state writer? If this judgment is correct, then you probably looked for ways to realize such a quality.
In this difficult matter, WordPalette will be your best assistant, which will help you forever forget about any problems associated with choosing the right word or sentence.
The most important engine of creativity is the mind, but even such a tool is not always able to perform its work with maximum efficiency.
This app is designed precisely for such cases, because if you have lost many hours thinking about choosing the very word that will be the cherry on a piece of cake, then you should press one button to go into the program – and your problem will disappear by itself.
The versatility of the terms and concepts describing them in this utility is brought almost to the ideal.

This program has such associations, which the developers themselves called "Palettes."
You can upload various articles, works, scientific works, or any other types of writing creations into these associations in order to simplify your life in the selection of rhymes, because in this way the app takes information not only from its database but also from the sources that you upload to the utility.
Combinations of which words and phrases can be a great many, and some of them in the future may become the basis for an inimitable hit. Well, experiment and follow the thorny path to fame with WordPalette!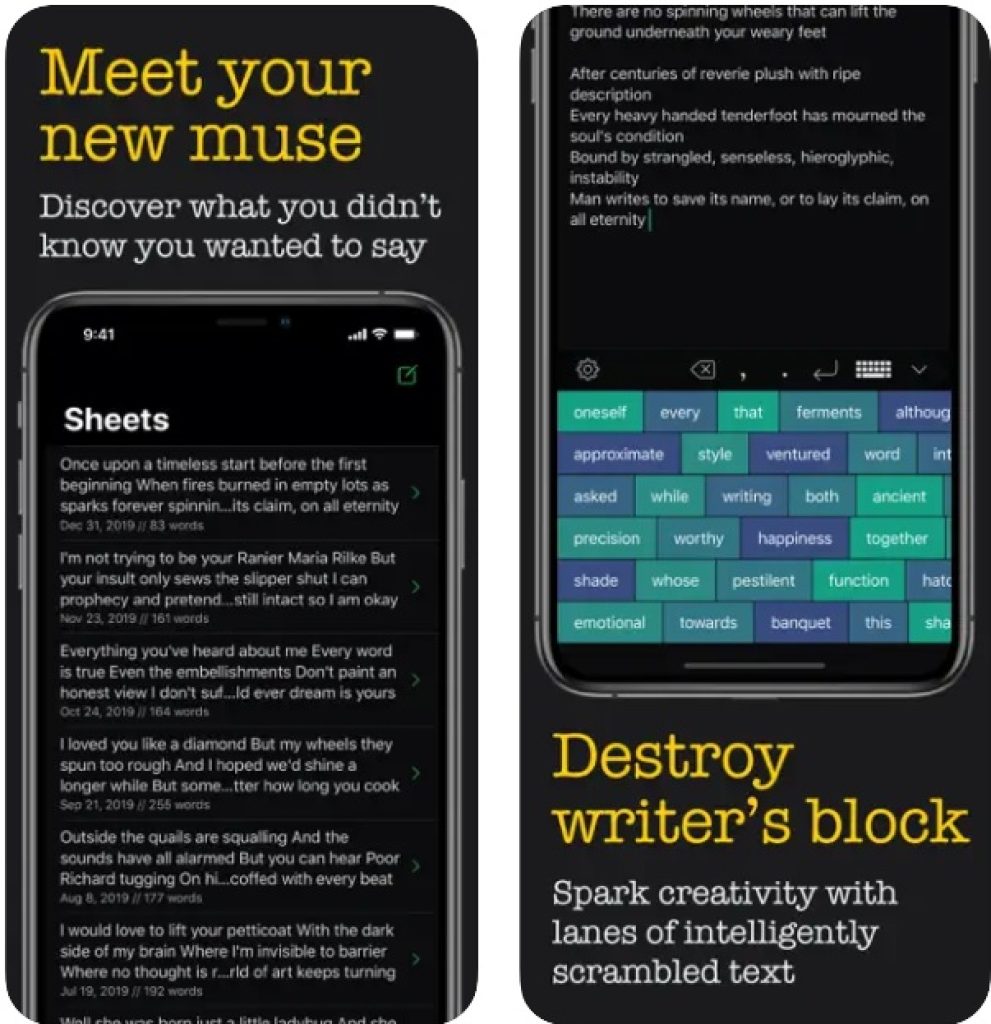 Songwriter's PadTM – Songwriting
This app is a real treasure trove of all kinds of rhymes and alliterations that can organically complement all your verses and choose all the necessary rhymes for various words.
The quality of this program is confirmed by the fact that it is still used by Grammy winners and nominees, as well as successful modern performers. We can say that this app combines everything you need to write a track that can become a hit in the future.
If you have lost inspiration for a while and cannot find the word you need, then it doesn't matter! Songwriters will offer a huge number of different options from which you can choose the one that you like.
Using special tools, the utility analyzes your preferences and based on them recommends most of the most suitable options for you.
The program differs in that it can generate texts based on your emotions.
Depending on how you feel, whether it's pain, joy, exhaustion, sadness, or anything else, you can make sketches of text made under the influence of these feelings in the app, and it will already combine it into a single whole and give out a practically finished song.
If you wish, you can add chords to your track, because this is also in the options of this app.

It is worth noting that Songwriter allows you to improve your organization because it is this app that saves all the files you need for you in one place. At the moment, the program has huge prospects, and, undoubtedly, it will continue to develop further in order to become leading in the field of rhyme art.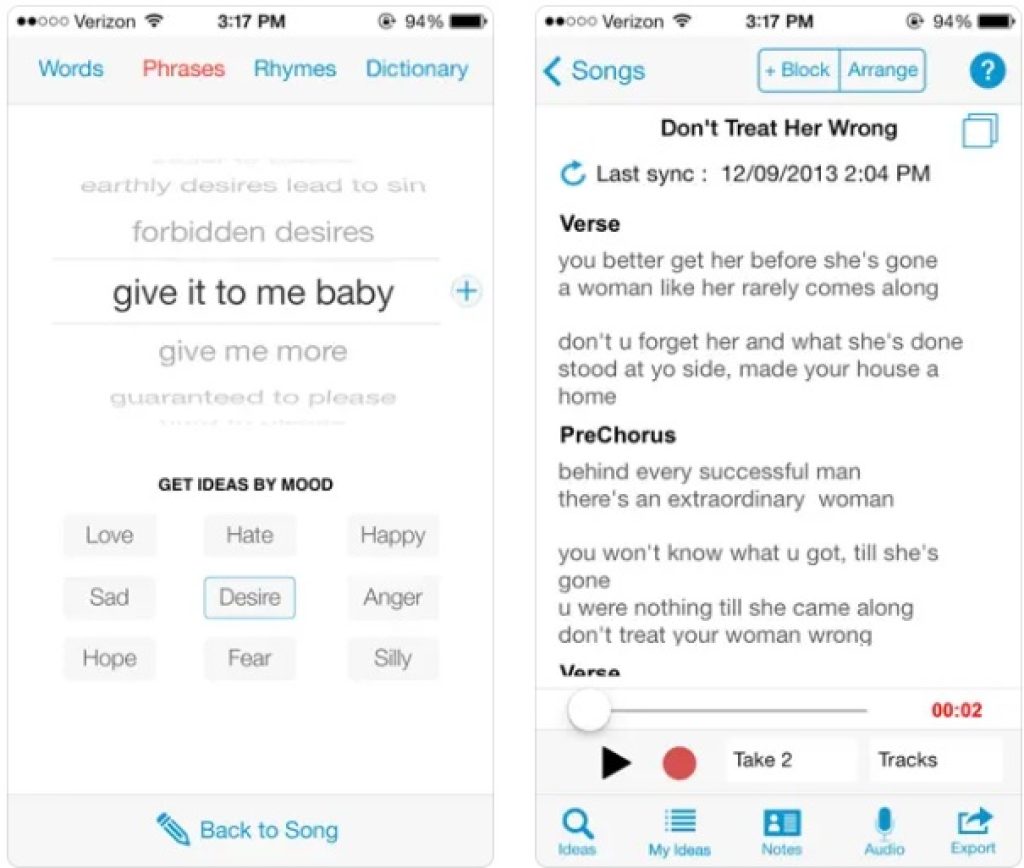 You may also like: 15 Best studio recording apps 2020 (Android & iOS)
Rhymer's Block
This app is a real find for those who have lost inspiration and have not been able to bring their creations to the ideal.
Inspiration can come anytime: at work, in the bath, at a party with friends, and if you do not have the opportunity to implement it in any medium, then it is quite possible that you will miss the chance of your whole life to become famous and become a great musician.
That is why Rhymer's Block, which has a convenient interface and ease of use, is able to protect you from such a risk. This program is able to choose a rhyme for absolutely any word because the base of this app is considered the most extensive at the moment.
For convenience, the program marks rhyming words with one color, which significantly saves your time and improves your concentration on your future hit, and plus the option of general text analysis helps you more clearly structure your thoughts and collect them into one single presentation of the beautiful.
An additional plus is that the utility works without an Internet connection, which can help you not to lose some inspiring lyrical sketches in your head.

This app also provides social networking features, because you can always create a profile in which you can upload your work, as well as share it with friends. Since this utility is one of the leading ones, the chance that your talent will be noticed will be truly high.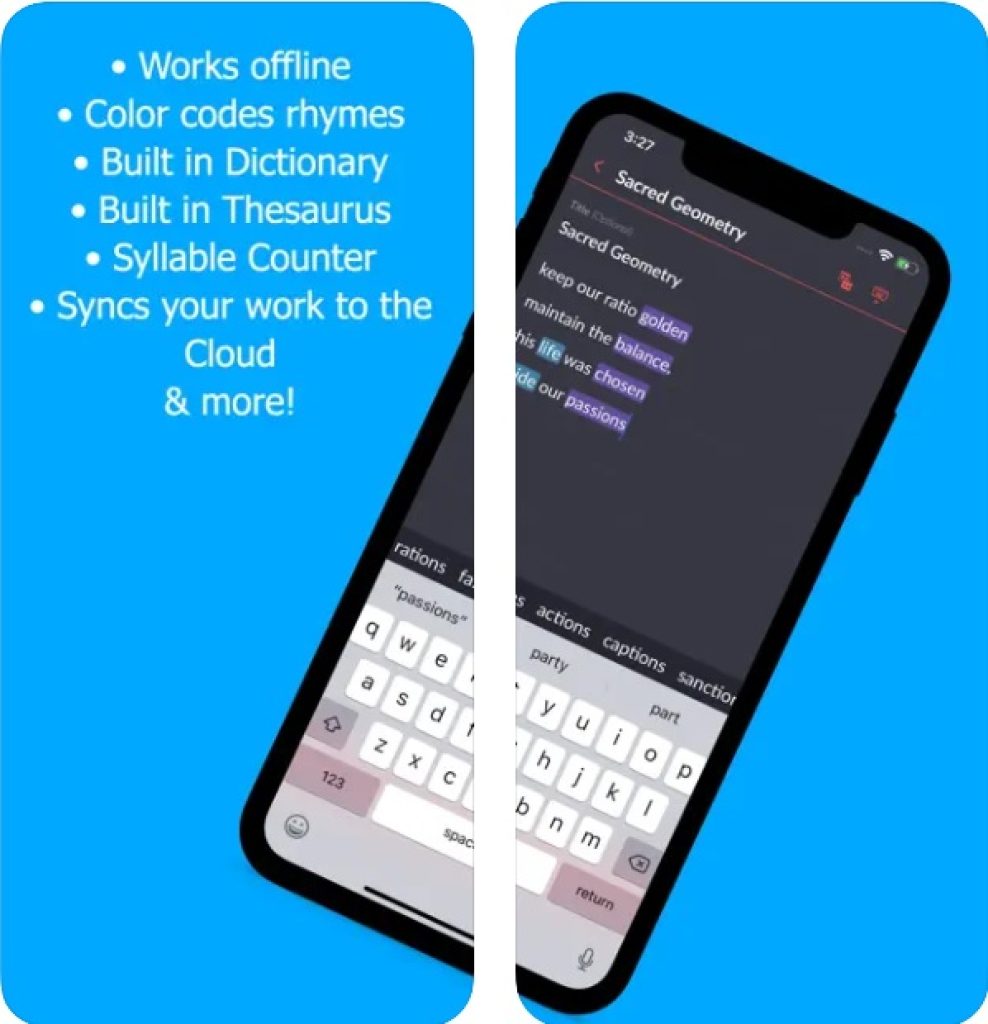 Roadwriter Lite – Songwriting
Every person who, at least once in his life, was involved in the field of writing, at least once faced the problem of the impossibility of choosing the necessary word. In this case, many are trying to turn to more qualified specialists, but this requires monetary and time costs, which is not always rational.
Roadwriter Lite – Songwriting is your solution for problems of this kind.
This app has a simple and convenient interface, as well as ease of use, moreover, for the most inexperienced users, the developers have completed step-by-step instructions so that everyone can figure it out and start writing really exciting texts.
In addition, the program has the option of auto-saving text, so you no longer have to re-make changes to the already created template.
It should be noted that the "Share" function allows the performer to share his creations with all visitors to the utility, which will significantly increase the fan reach of the musician, as well as give the motivation to work further.

As an additional advantage, you can call the synchronization function, which will eliminate the risk of losing texts, which is very important for the performer. The program is also characterized by a high data transfer rate, which will allow you to capture the best rhythmic patterns in just a matter of seconds.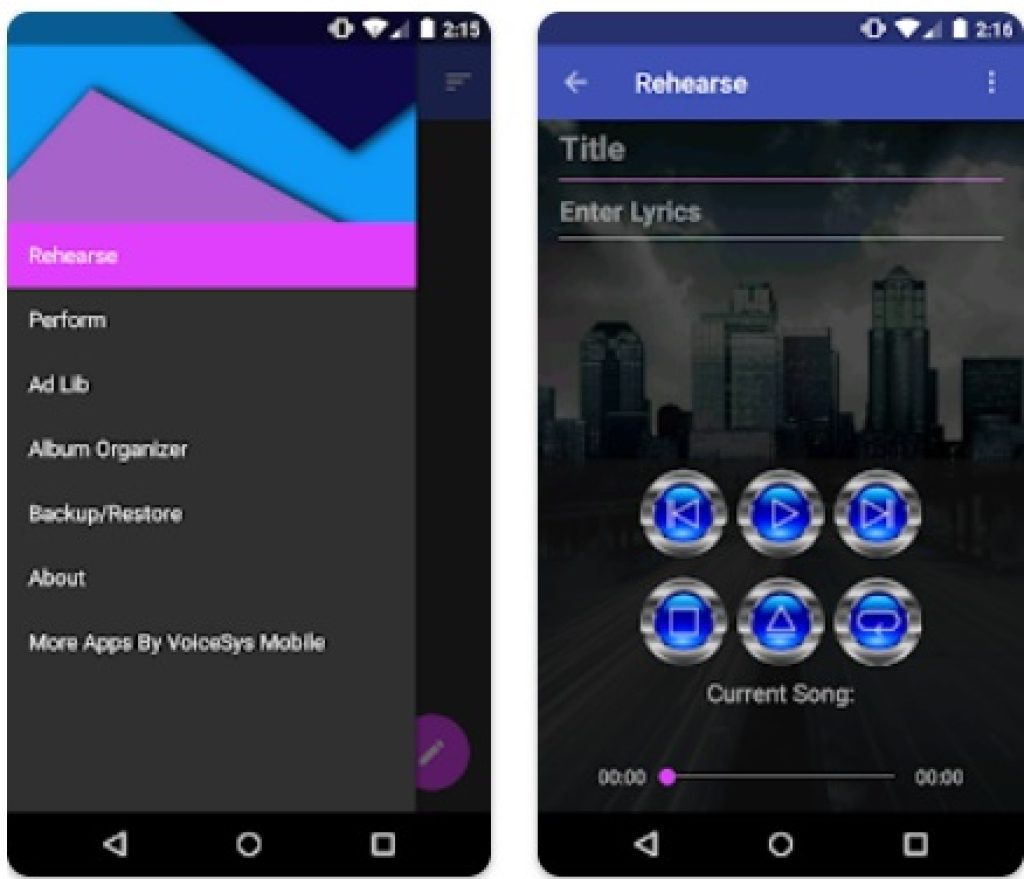 LRC Editor
LRC Editor is the tool that will help you write a song of absolutely any genre, be it rock, rap, hip-hop, or even heavy metal.
Thanks to the tremendous work of the developers and the high-quality study of each element of the program, you will no longer think about how to write spiritualized text for your creations.
The app has a built-in media player to improve the synchronization of your track with the text. One of the most important features of this app is the setting of time stamps, which allows you to clearly set the recording dates of your tracks.
It is important to note the fact that you can open your records through any file manager – the program supports all utilities of this type at the moment. If it is desired, you can use an option such as "batch editing," designed to simplify work with the track and audio tracks.

An additional advantage of the program is that the developers are really trying to take care of the health of users, and therefore offer two topics to choose from: dark for people with poor vision and light for people with good vision. The app maintains agreements with companies such as Xiaomi, Samsung, and others.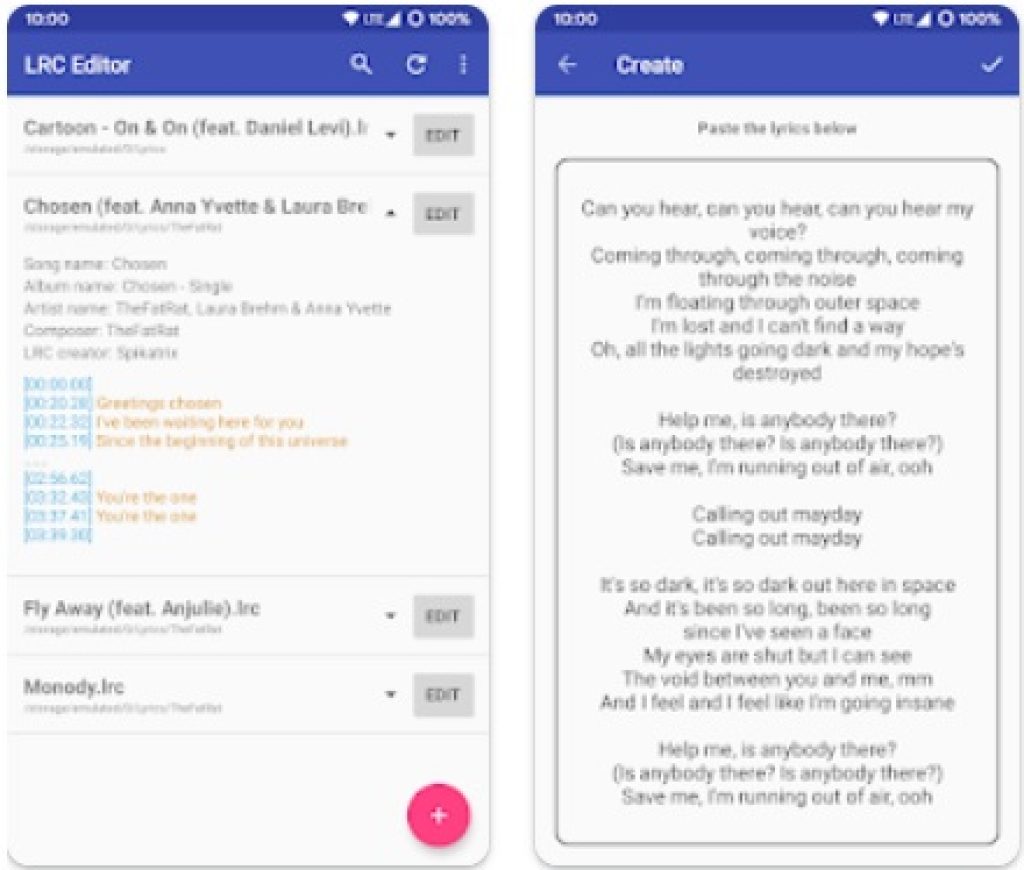 Write Songs Lite: Songwriting
A lot of musicians or guest writers involved in the field of music are extremely unorganized and often make a lot of mistakes due to a lack of competence and lack of a planned plan. If you belong to one of these professions, then Write Songs Lite: Songwriting is for you.
Thanks to this program, you will forever get rid of bad habits such as disorganization, dispersal or inattention.
This app allows you to create a clear structure of your recorded lyrics and songs by combining them into one whole folder.
Like all utilities of this type, there is a dictionary for a more accurate selection of rhymes if you have doubts about the accuracy of the appropriate words.
Also in the program, there is a smart song generator, which can give you inspiration for writing your own banger or throw a couple of ideas to improve something already available at the moment.

It is also important to note the security system, which allows you to set passwords on your already recorded tracks and lyrics, so you may not worry that a third party will try to play your songs.
The option to view projects that have been deleted for some reason is also noteworthy, thanks to which you can breathe new life into the ideas that have already died.
The app has a kind of generator of various words, which allows you to improve your musical and written literacy, which will be useful both in work and in later life.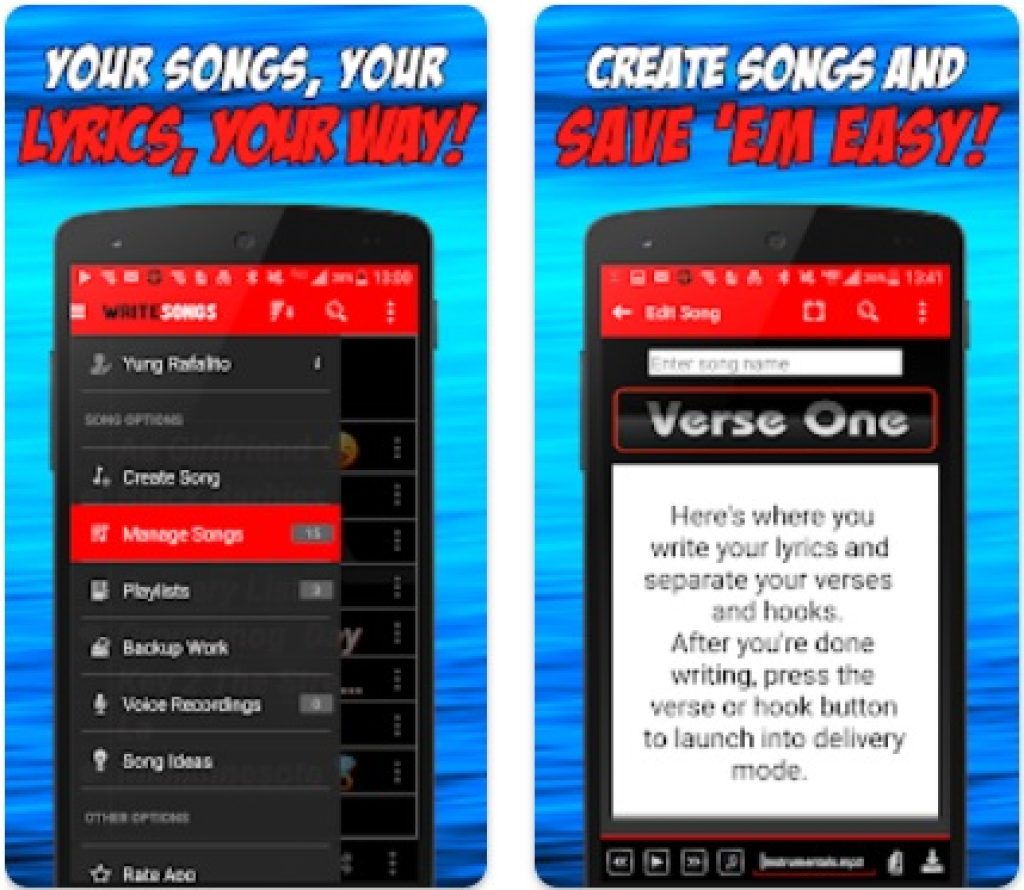 Free Song Lyrics
Imagine the situation: you wrote an almost finished track, picked up a suitable instrumental for it, there is very little to finalize, and… you've lost inspiration.
Many performers in such cases leave the work unfinished, which sometimes comes out sideways because it could be a potential banger.
Well, for such cases, there is Free Song Lyrics, which, if it does not return inspiration to you, will at least help you get new ideas, and perhaps can realize your thoughts about revealing the song from a completely different direction.
The website has lyrics for various genres of music, whether it be jazz, deep house, cloud rap, or even a love ballad. Thanks to the unused texts and preparations of other performers, you can find something for yourself, as well as bring one of the ideas of other people into your creation.
It is worth noting that the site does not charge you absolutely anything for using texts, which makes it possible to draw inspiration from other works literally every day.


You may also like: 12 Best daw apps (for music PROs) for Android & iOS
RhymeZone
RhymeZone is the best solution for both aspiring artists and experienced musicians, who sometimes have trouble trying to find a rhyme that fits the size and rhythmic pattern of their creations.
Still, because the website was created in 1996 and the year and still holds a quality brand. A simple interface, as well as an unthinkable dictionary in its volume, will help bring your creation to an ideal.
The site has huge functionality that allows you to create unique texts of any genre. The main functions include the ability to find various rhymes, synonyms, antonyms, and definitions, as well as various texts laid out in the open spaces of the utility in order to inspire you to new ideas.
The option of choosing various types of rhymes, for example, exactly suitable for the syllable or sound using smart filters, deserves special attention, because it is often the one that determines the compilation of texts.