Lyrics apps may come in handy in so many situations, but there are not so many of them you can reach offline. Well, it was damn hard, but we've done the work for you.
We've scouted the web to find the best offline lyrics apps for Android & iOS you could try. These let you save and access the lyrics of your fave songs at any time without any web connection.
Some of these apps even let you write your own lyrics if needed. You'll even get to save songs for offline use with these apps. Let's get into it!
Genius
This one is really dope! If you ever searched for lyrics online, through Google, or through any other search engine, then you probably know the most popular lyrics website which is Genius.
Good news – this website is not just a website. People who stand behind it also created an app both for Android and iOS that is able to recognize lyrics, find them, and show them to you in the most convenient way possible.
And it is not just the lyrics! There are explanations too. Like, for example, if you are not really sure what an author meant to say by that line, you can just tap on it and view various kinds of interpretations. This helps a deeper understanding of a song. If it sounds great, then you just must try the app or the website.
As for the offline mode, well, just like in many other apps of this kind, it is limited to saving your favorite lyrics so that you could view them later without an internet connection.
The search of the lyrics is quite simple – you can let the app absorb the sounds around it, type the info yourself or use a voice search if that is what you are used to doing.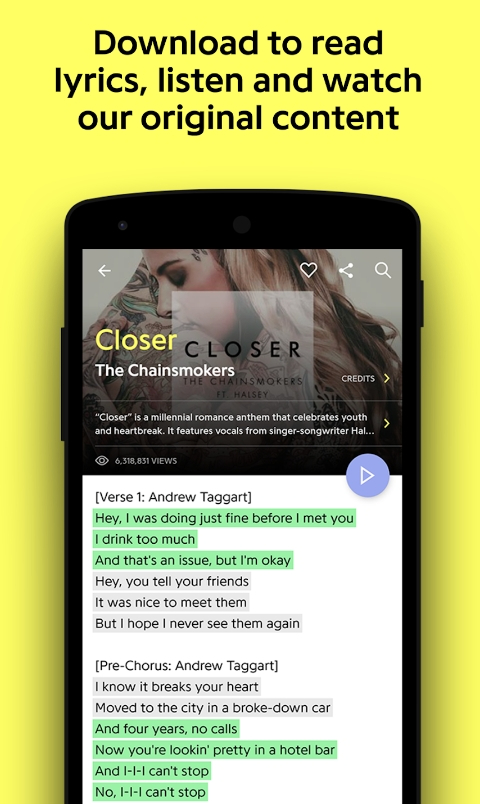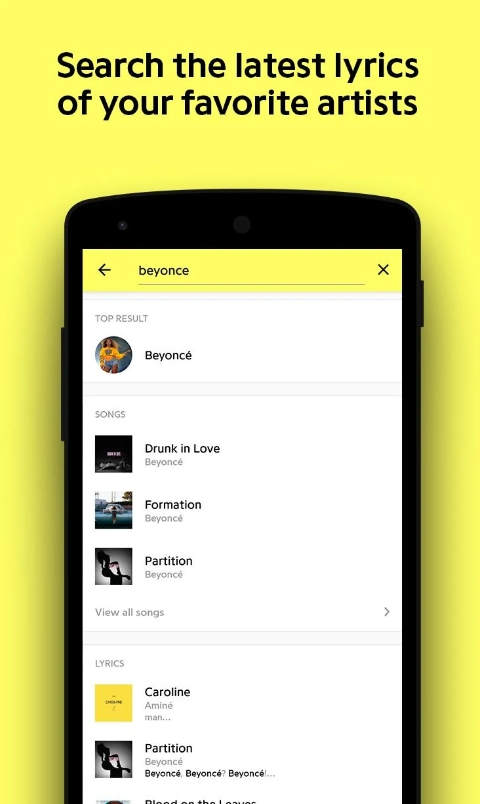 You may also like: 11 Free Karaoke Apps With Lyrics
ALSong
It's a music player with a wide collection of songs of all kinds. And the cool thing is, it comes with lyrics for all the songs, so you can sing along with the text. The newest tracks get added with lyrics as well, so no worries here.
In fact, the app comes with daily updates, so you'll always have smth fresh to listen to. There are over 7M songs already, so you won't struggle with the lack of options. The app's player supports all the formats, and you get to alter the playback speed and all that.
Another great aspect of this one is that it runs in the background. Thus, you can freely run another app and min your business while listening for your fave tracks. You can also save songs and lyrics to access these offline at any time. You'll still need to be web-connected for saving, so keep that in mind.
You can also modify the way lyrics get displayed, and there are a couple of themes you could try here. There's even a karaoke version if needed.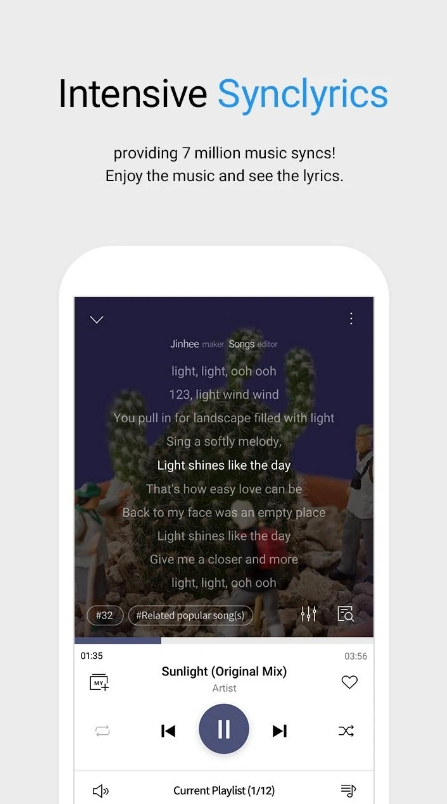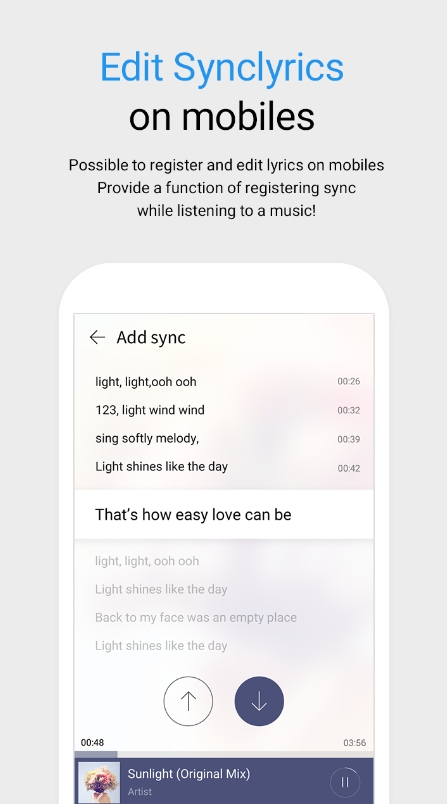 Lyrix
Lyrix is one more app for Android that is able to save your favorite lyrics and reflect them offline. The app is based on the community's added texts, so practically all the data that you'll find there was uploaded by other users.
There are millions of lyrics of songs from all over the world already, so you can be certain that in at least 80% of cases the app will do its job and find the necessary lyrics. If you don't find the necessary lyrics, well, you may contribute your verse!
The blatant disadvantage of this app, from my point of view, is that its search doesn't really work. Well, it is not like with the previous app, where you just play a song and the app gives you the lyrics.
Here, you need to enter the name of the song and sometimes the name of the author too in order to find what you need. It is strange that there's no such feature – it would be very handy, but alas. There is a voice search though – you can use it instead of typing if you want to.
The design of the app, as you see, is magical. The interface is really nice to look at. There are some ads though that apparently cannot be removed. One last thing that is worth mentioning about this app is that subscription or registration opens up new features such as submitting your own lyrics.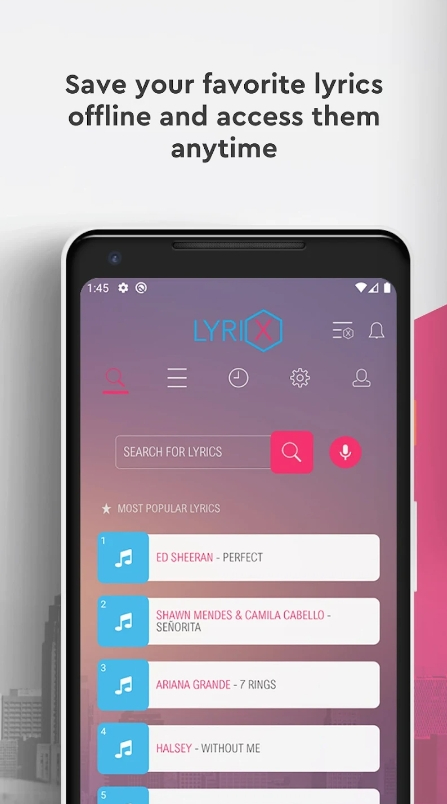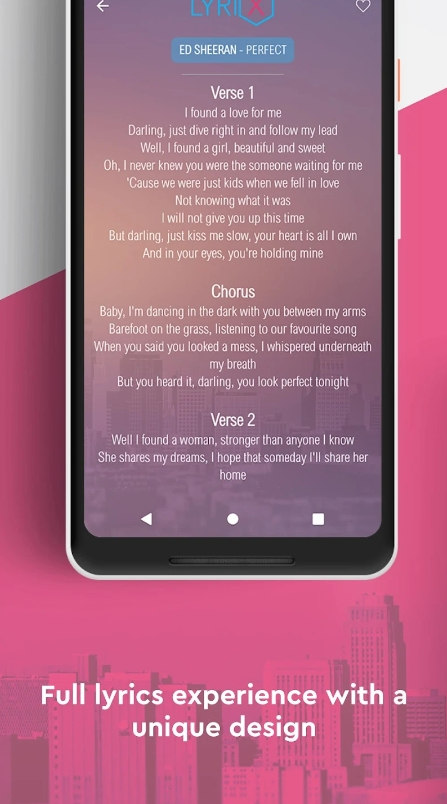 Lyrics Mania
Lyrics Mania is a lyrics app that has also got an offline mode. This app even allows you to download the lyrics of all the songs that you have in your library at once! How cool is that? No more online searching – everything is stored there already.
The app can identify music that is playing on your phone, which is great – it means you don't need to type words in order to find the needed song. The lyrics are reflected on the screen in a quite freaky manner – they go like in karaoke: one line after the other. But you can just go through the text yourself if you wish. Both variants are available.
The great thing about this app is that it lets you translate the lyrics right away, which means that it can reflect both lyrics of the original and the translated version. This feature is just wonderful for those who learn languages using songs.
Just like other lyrics apps, Lyrics Mania contains some advertising. To get rid of it, you need to buy a monthly or an annual subscription. If you don't want to do it, then alright – you can use the app for free if you like. Finally, both iOS and Android versions are out there. So, what are you waiting for? Push one of the download buttons below and enjoy the app!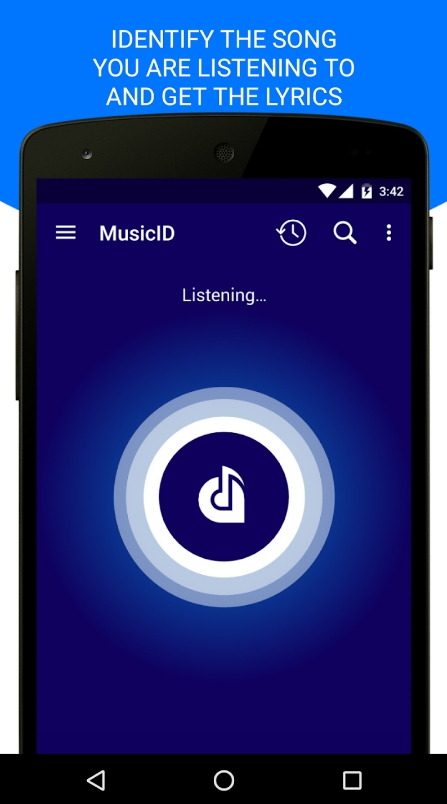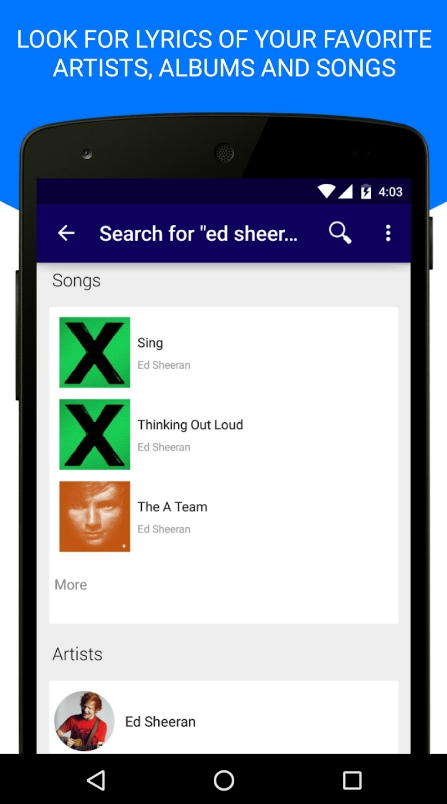 Offline Music Player
Offline Music Player allows users to play music files without an Internet connection. The app supports a great variety of formats – MP3, M4A, WAV, FLAC, OGG, etc.
When you have launched the app, you will be instantly transferred to the audio library filled with an extended list of your music files. Select the necessary one and open it in a full-scale player.
Here you can pause, resume, or rewind the audio. On the bottom of the screen, there are also several icons – e.g. favorites, lyrics, playing queue, sleep timer, etc.
Click on the second one to gain access to the integrated lyrics. Here you can edit the text or instantly find it on the web. Users can also cut a particular part of the song and set it as a ringtone.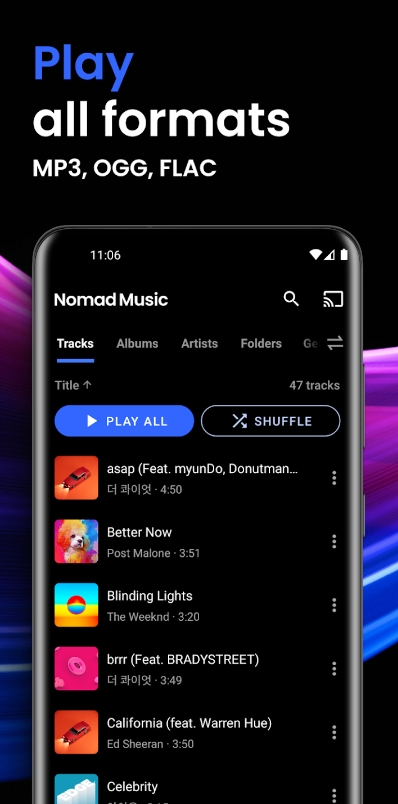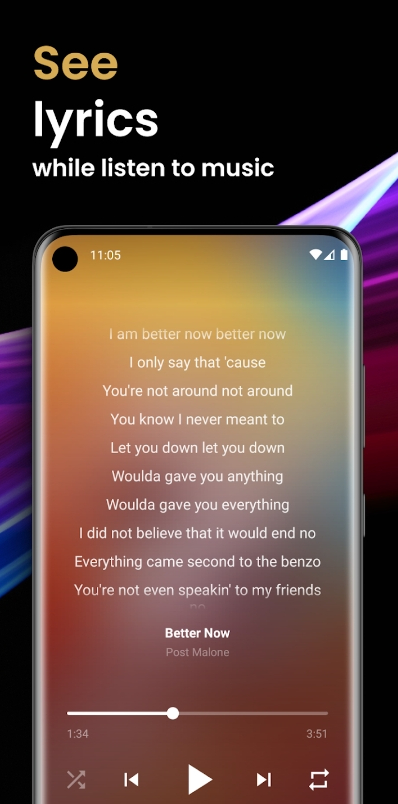 Check also: What song is this? 7 Apps for Identifying Songs
Musixmatch
And yet, one more popular lyrics app. Musicmatch is one of the biggest collections of lyrics out there. You can find practically anything you want. And what is great, the app can show the translations to your language or to some other language beneath the original text.
Since the app is so famous, it has already acquired all the features that go hand in hand with lyrics apps – identification of music, synchronization with other apps, karaoke mode, floating mode, and more. Everything is shown on a beautiful minimalistic interface.
Unfortunately, ads are also shown on this beautiful minimalistic interface. To make them go and to get an access to the desired offline mode, you need to buy a subscription. The price is biting! (Ouch) But wait, you don't need to ignore this option just because of the price.
If you can stand the ads, then you can just use that sharing feature described in the review above. A penny saved is a penny earned, huh?
Upon the whole, there is no particular need to say how wonderful this app is. Its popularity speaks for itself. Now that you know what other options are available to you, you can decide whether you want to check this one or not. I can guarantee you though that it wouldn't be a waste of time!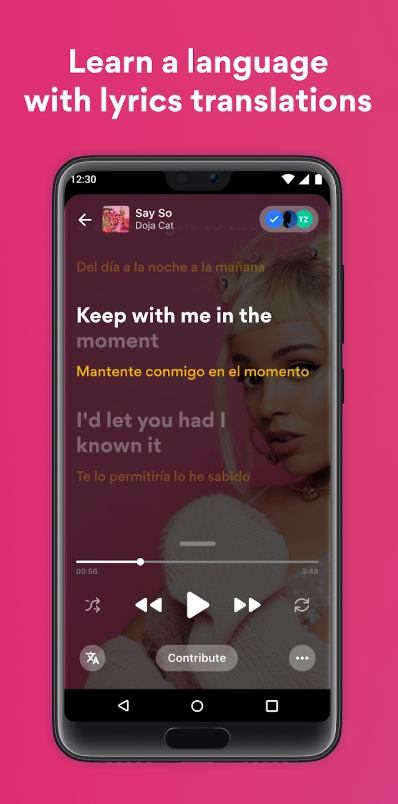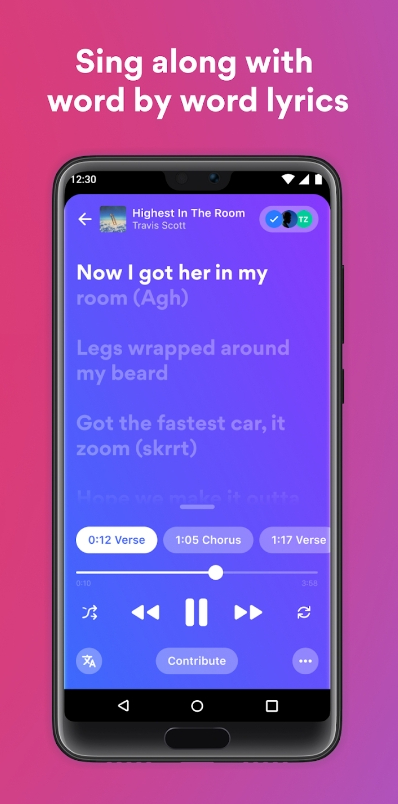 SoundHound
SoundHound is an identifying app, just like Shazam. It can identify even such subtle sounds as humming. So, for example, if you remember a tune of some song, you can hum it to the app and there is a good chance that the app will identify it. You see, SoundHound is powered by Houndify and therefore has some special abilities to recognize both songs and voices.
The app is great on its own. There is a number of great features, but when it comes to lyrics, well, it is not that good at it. That's why the app is closer to the end of our list. It can find the lyrics and, more than that, you can do it in an original way – just by saying "Ok, Hound, show me the lyrics to…", but there is no offline mode.
You can, of course, make screens or invent some ways to save the lyrics, but this feature is not stipulated so to say. Plus, there are ads. The ads can be removed, of course, and either way, you can enjoy the app, especially if its other features float your boats!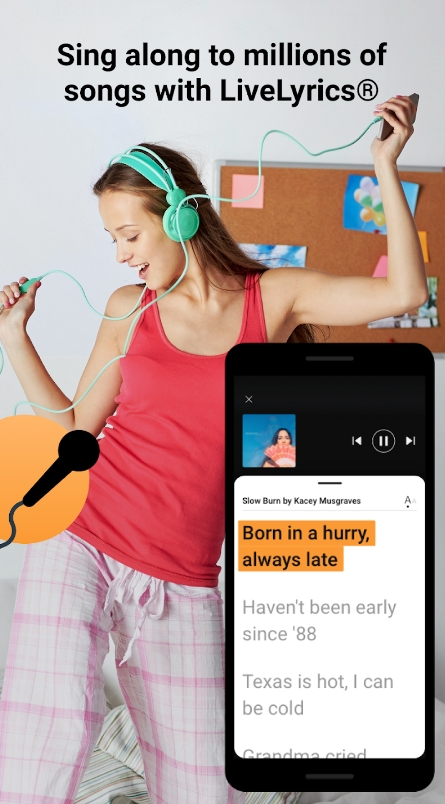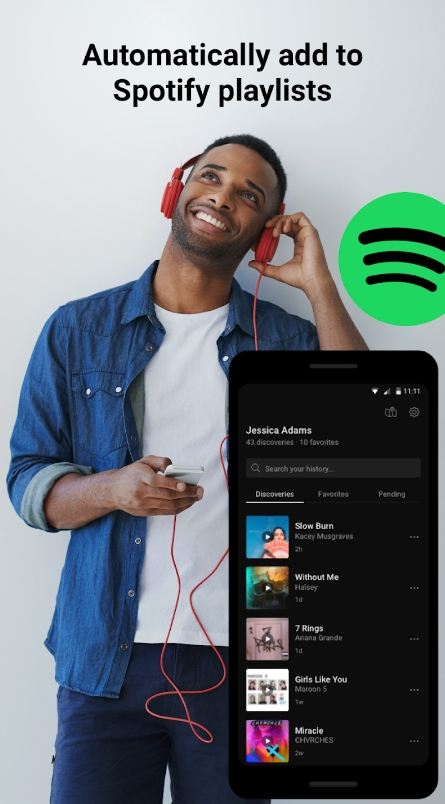 GoneMAD
Nowadays, you don't even need a separate lyrics app to read the lyrics of songs because all the lyrics can be stored in players. The only thing is there is a much bigger diversity of players for Android than for iOS. This is a very cool music player where you have the possibility to read the lyrics of each song while you're listening to it.
Make sure that you downloaded all the lacking lyrics before you're cut off from the Internet. The player has the standard Android-app design, but it is convenient and simple to use. Well, if you are looking for something more intricate, check out the last position on this list.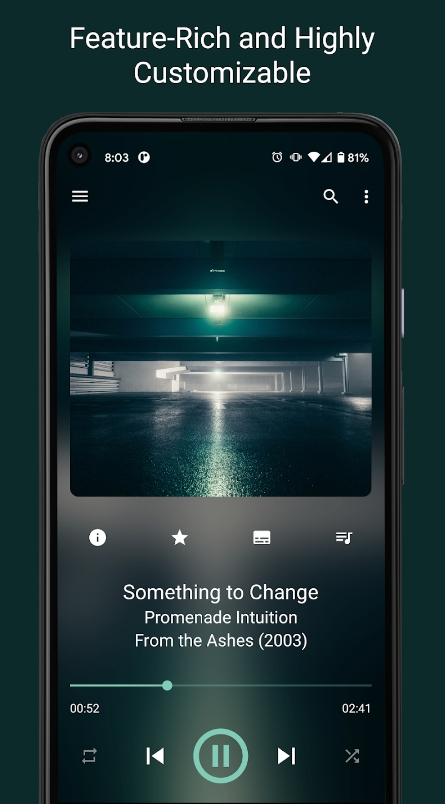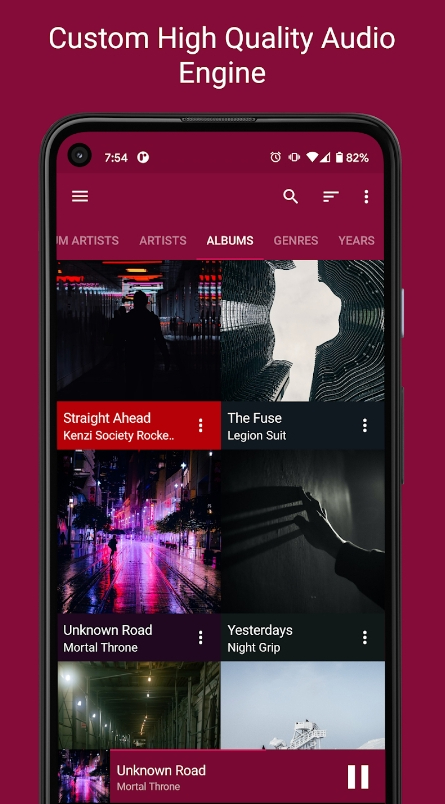 MetroLyrics
MetroLyrics is an iOS app. The app, as well as the website it is based on, has one of the largest databases of lyrics. This is a relatively old app that doesn't have those advanced features attributable to other lyrics apps. It has a search engine, of course, but only a manual one. It also can sync to last.fm. Well, you know, this is the kind of stuff old-schoolers would appreciate!
One of the most popular features of the app is finding out what other people in your region are listening to – it is called mapping and, by the way, can be found in SoundHound as well.
You can view biographies of musicians. their photos and albums, and the news related to them. As for the lyrics, it is not just dry texts – there are some interpretations as well, just like in Genius. On the whole, this is a good, stable app without any modern frills that can just do its job.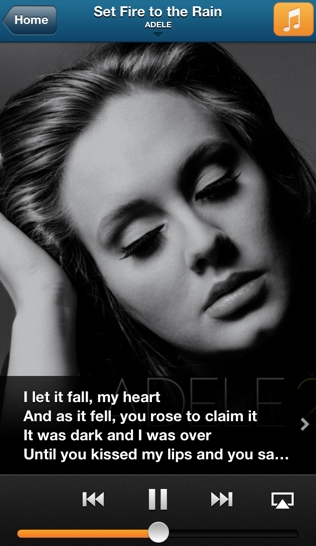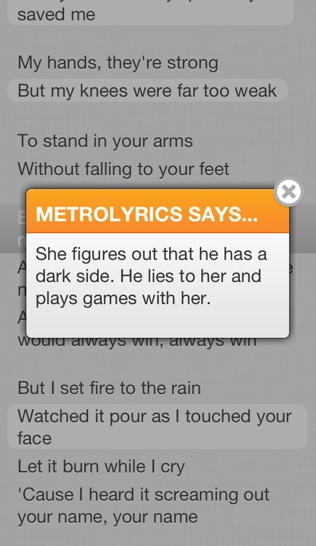 Tunifi Music Player
Lyrics Match is a smart music player that can import lyrics automatically so that you could view them while playing a song. You can even download the lyrics of all the songs that you have on your phone with just one tap! Ain't it great? The player itself is quite cool – it even has an embedded equalizer.
There are some ads, but they are not that annoying. You can get rid of them at any time if you want to. So, there we have it – a smart cool-looking app that shows you lyrics of the songs that you really love – I believe if you took the time to download something, then you must definitely appreciate it.
Well, of course, these days people tend to use such apps as Spotify to find and store music, but if you are picky as hell and like to choose everything with your own mind and with your own hands, then this app will definitely suit you.
No need to Google that song anymore – everything you need is inside the music player. If you like this idea, then go to the app store and see if it works out for you!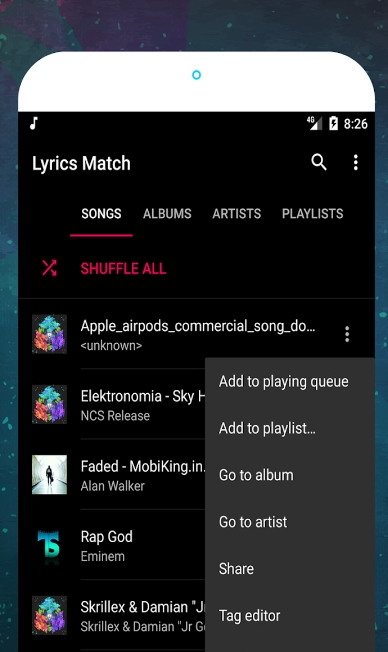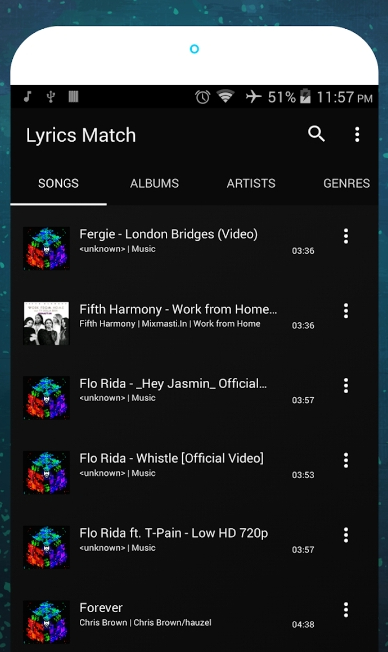 Muso
It's another player with a massive song lib for you to explore. There are millions of tracks you cold play here, and the list keeps growing every day. All the newest releases get added instantly, so you won't miss out on anything.
You'll get to browse and save full-on albums and individual songs of all your fave artists. You can also explore the lib by genres and even years if needed. The lyrics for all the tracks are included as well, but you can only access these offline if you've saved them first. The saving speed is pretty high, which is nice.
Plus, the app covers a sleep timer that is a gem for those who like to fall asleep while enjoying music. There's even an audio filter for quick search if needed.
And if you miss the time when everyone has cool ringtones, you're in the right place. The app lets you make ringtones and set them up within a few taps. You can also upload the tracks you've downloaded from the web if needed.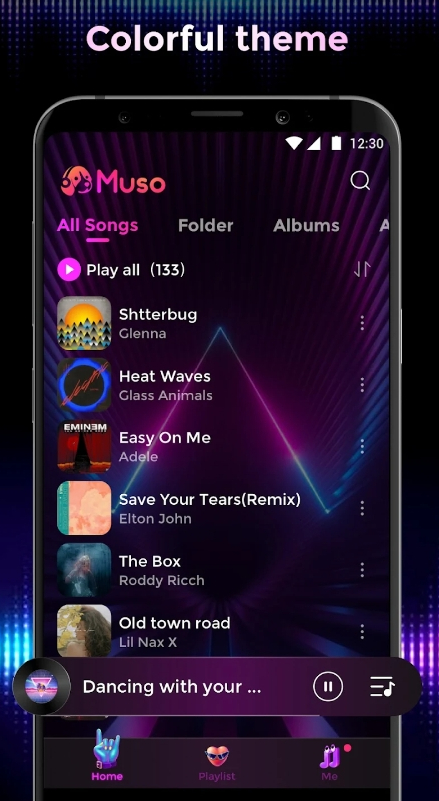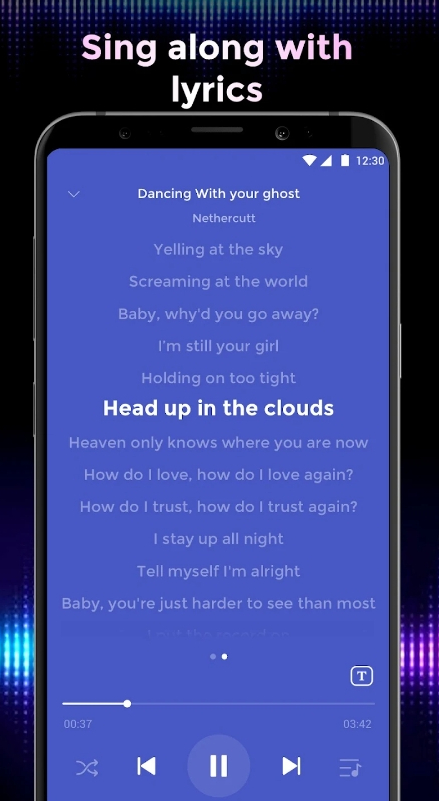 You may also check: 10 Best Songwriting Apps
Lyrics Library
Lastly, there's an app that lets you write, edit and read lyrics for millions of songs. The app covers a wide range of lyrics you can browse through. Just use a search bar and find songs via artists, names, albums, genres, and all that.
Herewith, the app is not a music player, you won't be able to listen to songs here. All the lyrics you find can easily be bookmarked or shared for further use. All of them are free, and the majority of them let you see chords as well.
What really sets this one apart is the fact that you can actually make your own lyrics. So if you won't be able to find a song or need to make lyrics for your own one, you can easily do it here.
Just make sure you download all the lyrics you would like to access offline, otherwise, you won't be able to do it. You can also organize the folder of your saved texts. You can make as may folders as you want and rearrange them to match our prefs.