Many people like to make impressive designs. However, making a design itself is not enough. Very often you need to add a text.
Nevertheless, you need to add original and outstanding calligraphy. It is proven that not only the content is important, but also the presentation of it.
But how to generate good and modern calligraphy? The first way is to do it yourself. In this case, you have to learn a lot about it, spending tons of money and time. By the way, we have an article about the apps aimed at learning calligraphy – 10 Best calligraphy apps for Android & iOS.
But there is also another way – to use a good app. And in this list, you will find many perfect options, which are available for iOS or Android.
Most of the apps are free of charge or they have a free trial period.
Calligraphy Penmanship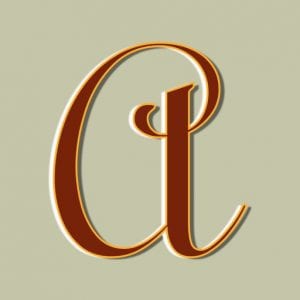 This app can provide you with two important features: learning calligraphy and generating it. You can generate whatever style you like, including the modern one.
It also allows you to practice your skills in calligraphy or to learn it from scratch. There are detailed instructions that will explain how to do it step by step.
However, this seemingly ideal app has one disadvantage – its big size. If you are running out of your phone memory, using 90 MB app will be a challenge, so keep this in mind.
Still, such a big size is logical, as the app is packed with features and functions. Calligraphy Penmanship is free with ads for 3 days. The beginning of the trial period starts when you try the first function of the app.
It also offers some in-app purchases. To unlock them forever, you need to pay 2.99$.
Calligraphy Penmanship is available in App Store.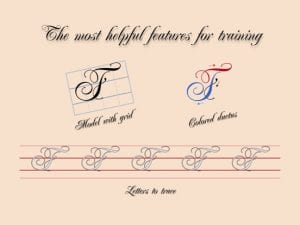 You may also like: 15 Best apps to Cartoon yourself (Android & iOS)
Calligraphy HD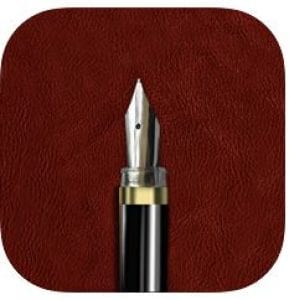 This is another great calligraphy app. It is different from the others mentioned in this list mainly because it is aimed at creating and developing your own lettering.
So use your imagination and creativity to make completely new calligraphy of any style.
Still, we can not say that the free version is a success. The number of nibs and brushes is limited, so you can hardly create something really impressive.
But if you purchase Calligraphy HD Full App (it costs 2.99$), the situation changes at once. Many useful features will be available at once, such as changing background and colors.
Calligraphy HD is available for iOS users only. It is best for iPad, as practicing and generating new calligraphy requires a big screen.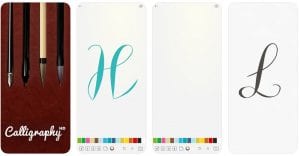 Calligraphy Calm – Ink Brush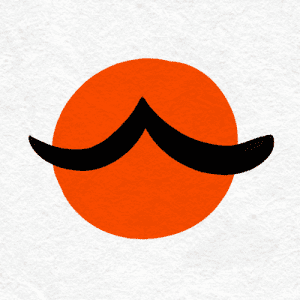 This app was created by the Japanese and Chinese calligraphy experts. If you were looking for an app that would enable you to generate new lettering, learn something about the calligraphy itself and calm down while practicing it, you have just found what you need.
The app is equally good for a tablet and a smartphone. In the free version, you will find the following tools and functions:
 Traditional black ink
 4 different brushes
 The function of saving 3 calligraphy works at a time
 Undo button
 2 basic paper textures
Calligraphy Calm is free if you use the basic version. Should you need more, get the PRO version (it costs 2$), where you will find:
 16 inks (you can change the gradient if you need)
 6 additional brushes
 Eraser
 Image downloading option (HD and PNG are available)
 More than 10 paper textures
 You can download as many calligraphy as you want
Calligraphy Calm is available in Google Play.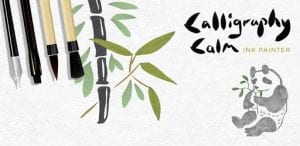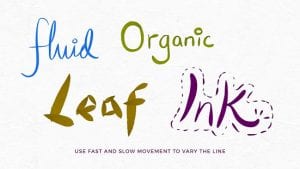 LazyDog Calligraphy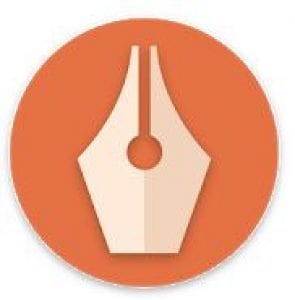 If you are interested in cursive writing and generating different kinds of it, this app is a must. There are many options of lettering available: Italic Script, Chancery cursive, Gothic script, Roundhand, and many others, including modern ones.
Even though this app is aimed at practicing writing, you can also generate calligraphy. And there is no need to pay for it. The app is completely free, all you need is Android 5.0 or later.
It is also very easy to download what you have created. Downloading an image will take only a few seconds.
Even though LazyDog Calligraphy is packed with features, its size is 24MB only. It's a great option if you try not to fill your phone memory too much.
The only disadvantage is that only Android users can enjoy the wide range of functions that LazyDog Calligraphy can provide.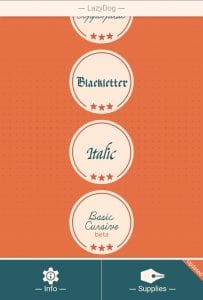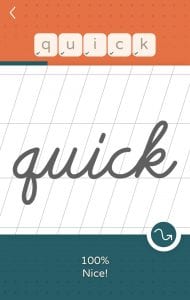 Calligraphy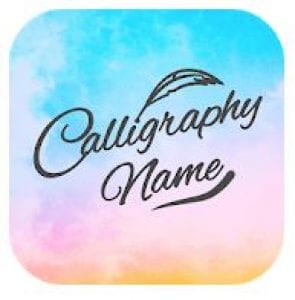 This app is a perfect solution for those who want to get to know calligraphy. While working with it, you will understand what calligraphy is and why your handwriting can not be called calligraphy.
The app was created for the users who hardly know anything about calligraphy, but are determined to learn different aspects of it.
You will learn a lot about the technique that is being used for creating calligraphy masterpieces. After this, you can generate your own lettering!
Calligraphy name has more than 20 basic calligraphy font styles so that you can choose whatever you like.
By the way, this app can also help you to create your signature if you haven't one so far.
When you finish your work, you can share it at a click of a button. You can share it via Facebook, Twitter, Instagram, and email. What is more, you are free to save the calligraphy you've created
Calligraphy Name is free with ads. It is available in Google Play.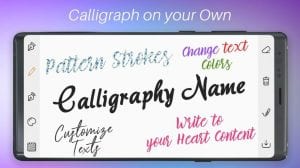 Calligraphy Art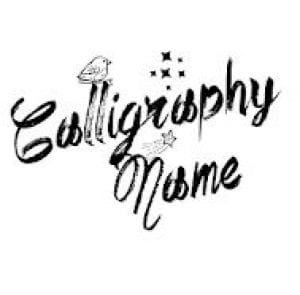 This app is a basic calligraphy tool. It is great for those who are interested in using calligraphy in their work or just as a hobby.
The app is packed with various features that you will find quite useful and interesting to try. The app itself is free with ads. You don't have to worry about your trial period or subscription – just download it and enjoy all the functions it can present.
There is an impressive amount of tools available:
 More than 100 Calligraphy Fonts
 About 60 unique backgrounds
 50 gradients
 15+ colors
 Different pens and pencils
 30 symbols to decorate the text
Calligraphy Art is can be downloaded from Google Play.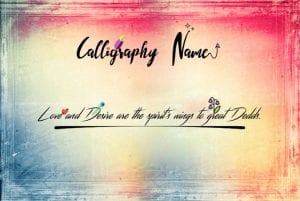 Cashgraphy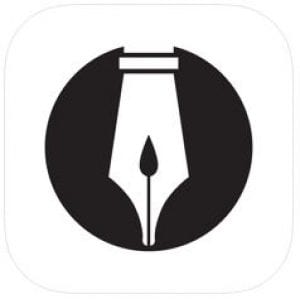 This is one of the best apps specializing in calligraphy. It has all the basic functions, including generating calligraphy.
The app is very reliable. You will never have to worry about bugs and any type of technical problem. Cashgraphy is rated 5.0 out of 5 in App Store, indicating that its rank is high.
All the basic stuff is free, but there are also some in-app purchases. They include various pens and colors (more than 100), gradients, and textures. Every in-app purchase costs 1.99$. If you want to get Cashgraphy PRO (it includes all the in-app purchases), it will cost you 6$.
It is easy to save and download the calligraphy you created on your device. By the way, we would recommend you  use iPad for working with Cashgraphy.
The app is available in App Store.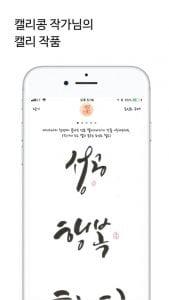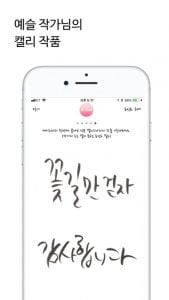 Calligrapher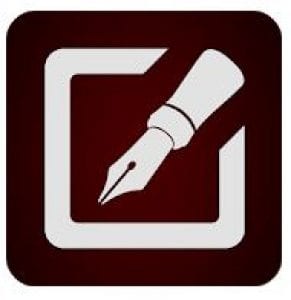 This is one of the best apps in this list. The reason why we say this has nothing to do with its functions, they are not too different from the others. Calligrapher has a wide range of pens, pencils, colors and background, just as most of the calligraphy generator apps.
The thing is that all of this is completely free. Imagine – there are no trial periods and no limitations imposed on you. That's precious, isn't it?
The only possible downside is that the ads can pop out of nowhere any time, even when you are practicing. This might be distracting for some of you, but this is what keeps the app free for the users.
Calligrapher is available for Android users.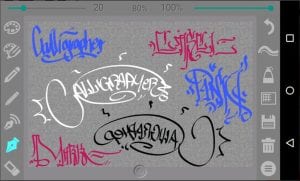 You can also check: 12 Best Transparent Images Apps for Android & iOS