In case you are looking for a user-friendly moon calendar tool, we have found an excellent solution for you – Moon Phase Calendar application. So, let's have a look!
One of the best parts there, you don't need a constant Internet connection. Moreover, the app is pretty lightweight, so you will install it in a couple of seconds!
More moon phase calendar apps can be found here.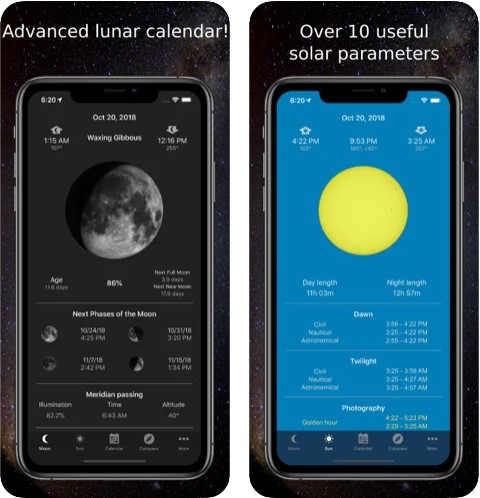 Apart from the moon calendar, the app also offers a wide range of useful features. For example, you can find out information about the moon's illumination, the dates of the moon phases, the rise and set of the moon, and so many others.
By the way, the app allows you to read interesting information about the Sun, dawn, twilight, and other light phenomena.
In this tool, you can also receive notifications up to 3 days before the Full Moon, New Moon, First Quarter, or Last Quarter.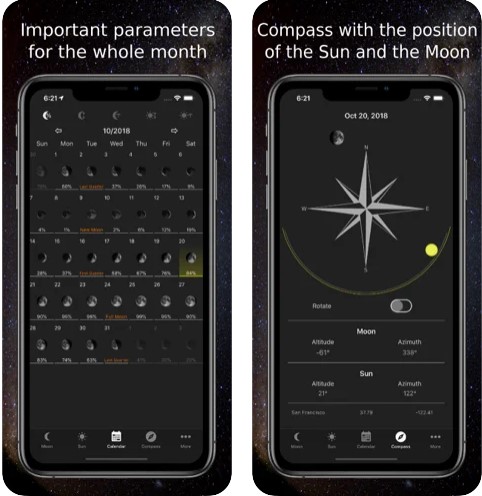 Another interesting option of this app is a compass view. This means that you can monitor the visualization of azimuths of the Sun and the Moon for the selected location.
We have to admit that we were really impressed by the modern app's design that guarantees a clear interface.
If you like this app, maybe you will also be interested in psychic reading apps? You can find them here.
Overall, Moon Phase Calendar is a must-have app for astronomy buffs, astrologers, or even professional photographers. Highly recommended!