The future has always interested many people. Since ancient times, they want to know their future or get hints. Many people think that predictions by cards and modern technologies are incompatible, but the developers of the Mystical Oracle Cards application think differently.
When you first start Mystical Oracle Cards, you will see at the bottom 6 options "Readings", "Browse", "Journal", "About", "Connect with Angels", "Get full Version".
If you're interested in this topic you can also check palm reading apps.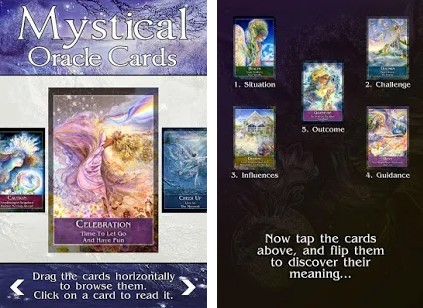 By clicking on "Readings" the user will see that the application will offer to choose 1 out of 4 offered options. Then read the hint and choose one of the cards. Touch it and read the meaning.
Moreover, the dropped out card can be shared with friends on social networks.
To memorize all predictions, the Mystical Oracle Cards application offers a special journal. This is a useful function that can remember all predictions and compare them with reality.
If you have questions or problems when using the application Mystical Oracle Cards, you can always contact the support service. The reply from the support services always comes fast so you don't have to worry.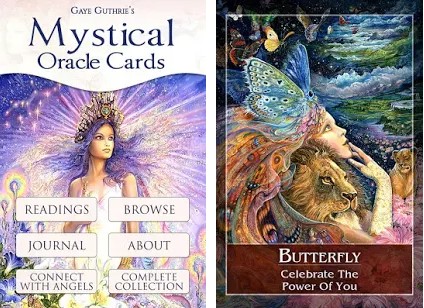 Another argument in support of Mystical Oracle Cards is that the app includes over 56 different cards. Moreover, in the "About" section you can read everything about the application and familiarize yourself with the principles of operation.
As for the interface, it is made in an artistic fantasy style with bright buttons and maps. A simple control system and interesting design will allow users to get inspiring predictions and share them with friends.
There are also psychic reading apps, that you will probably like if you like predicting the future with the element of magic.
In general, Mystical Oracle Cards is just an application that will allow you to get predictions for every day. Share the results with your friends via email, Twitter, Facebook and save the maps to a journal. Get inspired by the predictions you received and improve.