What can be more important than our health? Each person is well aware that the right selected diet and positive food habits can maintain a good health condition. Keeping fit is also depends on an active lifestyle and constant work out. Luckily there are plenty of different nutrition and diet apps that can help in being healthy.
You can also check: 11 Best Weight & Food calculator apps for Android & iOS
Such apps will count nutrients, plan a diet helping to lose or gain weight, suggest different recipes, and track on your exercises. There are many other features supported by such apps. This article will introduce you to the most popular Android and iOS apps in nutrition management.
Nutrifix
Nutrifix is a unique smart app that offers not an ordinary feature. When you are sticking to your diet and try to do your best to follow it eating out or order home delivery can be a hard job. Nutrifix will study your meal plan and provides you with appropriate places in your city offering meals that will suit your diet plan.
Main features:
The app requires to enter age, weight, height and aims to assess each meal on the menu and suggest what is more appropriate with your parameters.
Calorie calculator. Find out how many calories you take daily with different meals.
Expert reviews on different diets, with nutritional information.
Full nutritional facts about each meal in different restaurants of famous chains.
The app is available just for iOS devices for free.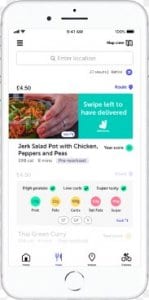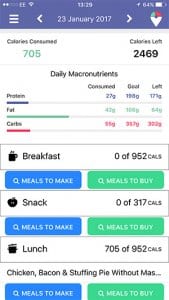 You can also check: 7 Best Apps to Track Food for Android & iOS
Noom: Health & Weight
Noom is the app that created to change your food habits, learn how to deal with triggers and urges, and loose weight. Most of its users lose 16 pounds average in 4 months.  The app operates on a psychological approach searching for your hidden thoughts in order to build healthy habits.
Main features:
Weight, nutrients, exercises blood pressure, and sugar are tracked.
A big variety of articles and other information related to a healthy lifestyle, losing, and controlling weight.
Coaches support with personalized meal plans.
Build-in pedometer to count your daily distance.
The app has is free with in-app purchases and subscriptions.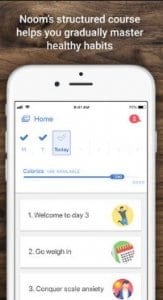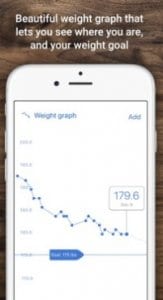 DietBet
The app is a sort of gambling game. It even has the word "bet" in its name. The scenario is simple. Participate in a game to lose weight and win money. There are two challenging scenarios: 4 % of your body weight in 4 weeks and 10% in 6 months.  When you joining the bet you put 25-30$.
Then if you reach the goal you get money back plus around 5$ for those who lost the challenge and didn't achieve the goal. The rule is simple and its sort of fun. Money probably motivates some players. Noone love to lose money.
The app also has a huge community where users communicate with each other posting some ideas, recipes or supporting phrases.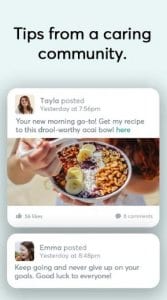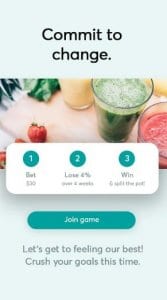 HealthWatch 360
HealthWatch is more than a diet planner and calorie tracker. It can help you to achieve absolutely different goals. It supports weight loss programs, blood pressure, heart protection, pregnancy diet support, diabetes supports, and Alzheimer's prevention.
According to your goal and health condition, the app will generate a personalized nutrition plan and follow daily progress. Moreover, it will monitor your blood pressure, sleep quality, and level of stress. On the ground of that, it will create specific reports about your health and the steps that you have to perform.
Besides, there are more than 30 different symptoms that the app can monitor including such complicated blood glucose levels, allergies, and rashes, migraines, or hair loss. Statistics will be shown in different reports that will reveal your health status.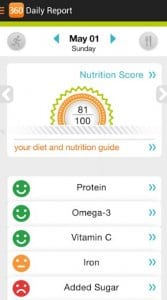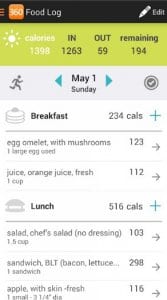 Protein Tracker
Protein is one of the most crucial elements of any diet. This is the main element building our new cells, and consuming enough of it is extremely important if you are working out in the gym and try to gain weight. However, if you don't go to the gym and try to lose weight it doesn't mean that you don't need protein as well.
As you already guessed from the name of this app, it will take control of your protein consumption. For accurate calculations, you have to enter your daily amount of protein that you have to intake.
If you're not sure about the portion, you can calculate that right in the app – just put in your height, weight, and your fitness goals and Protein Tracker will take care of the rest. Don't forget to put in the data about the meal you consume daily and the app will extract the protein mass from it.
After a while, it will compile the statistics of your daily consumption of protein – you will be able to see when you didn't take enough of it and how consistent you are. Remember that in any fitness goal the nutrition is the key!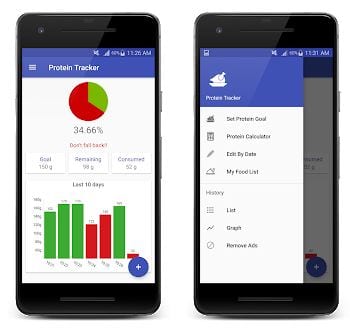 Calorie Counter
Probably Calorie Counter by MyFitnessPal is the most popular and trusted diet app for losing weight. It has been downloaded more than 50 million times all over the world just on Android Market. It remains high rated closer to 5 stars. Of course, it's available for iOS and Android devices.
Outlined below are just some of the app`s features:
Huge database with thousands of food products with nutrition facts including carbs, proteins, fats, and calories as well.
Bar code scanner as a particularly handy tool in order to recognize nutrients.
Calories Counter tool will track your calories daily taking data from meals you log into the app. This way you can log breakfast, dinner, lunch, and snacks. All macros will be detected and tracked from the meals, you enter.
Goal system – choose a target weight loss. Get an insight into a healthy lifestyle and losing weight plan.
In addition, there is a big community where you can invite your friends to keep in touch with them sharing ideas and achievements.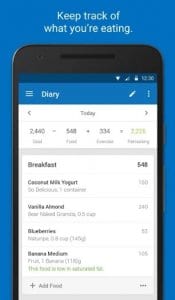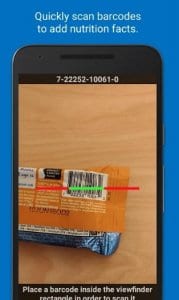 MyPlate Calorie Tracker
The app that was downloaded millions of times and highly rated can grab your attention and satisfy your needs as easy as to help you lose weight. Set the goal, choose the plan, and follow recommendations. Thousands of people have lost considerable weight with it.
Features offered by My Plate Calorie Tracker:
Bar code scanner and huge food database will demonstrate you the number of calories and macros for each particular product. It s simplifies the process of nutrients tracking.
Water intake, calories, and macros daily tracker.
Reminders for each meal and water intake.
The gigantic community of app users targeted to lose weight and discussing different problems and complications.
Moreover, you can log workout and track your progress in exercising. The app is available for Android and iOS as free and paid versions.4.99 $ per month will offer you all app`s features.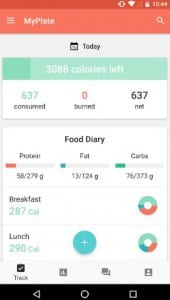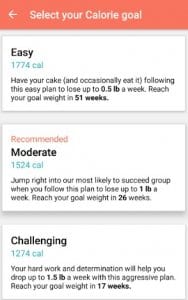 MyNetDiary
If you are searching for an app that will track your calories and macros yet providing you with healthy recipes, MyNetDiary is a perfect option.
It's considered one of the most convenient apps and has been downloaded a million times. The app does all the main and necessary features. Moreover, it has more than 600 thousands of different food in the database.
The process of losing weight is considerably easy with this app. Firstly, set a goal adding a target date. After that, you will receive a calculated calorie plane. Follow the app recommendations.
Check how many calories you have taken daily. The app also will create a weigh chart with apprehensive stats that can motivate you even more. Finally, reach your target following the daily rules and calory limit to become one of those happy users with fewer kilograms and significantly happier life.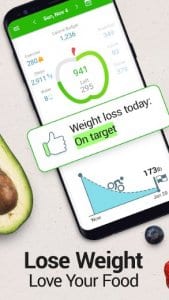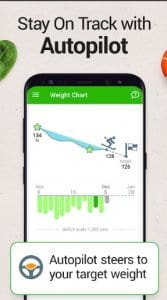 Nutrients – Nutrition Facts
If you like to exercise, willing to lose weight, or forced to follow a strict diet the Nutrients app is right for you. It will simplify the process of calculation the meal nutrients each time you prepare it.
The app is a step by step process of choosing the meal,  the serving size, or individual products. In the end, you will have a detailed report about each meal including all nutrients, vitamins, and minerals.
With the app, you can find out more about products and your own usual meals. You can have a summary of your daily nutritional intake and adjust it if it does not suit your goals. The app has a huge database and can be very cognitive.
Have you ever know how much vitamin A you receive with your morning omelet? Or how many apples fo you need to eat at once to obtain a daily amount of iron? The app is available only iOS and it costs $4.99.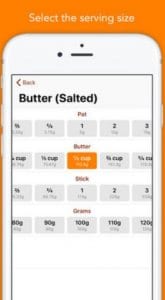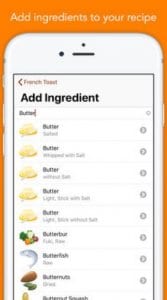 Lose It
Lose it is another popular and high rated application that compiles calorie counter, a huge food database supported with a barcode scanner, and of course important stats.
It can be more beneficial with a premium subscription and in integration with famous software like MyFitnessPal, Google Fit, FitBit, and RunKeeper. This can provide you with more advanced stats and charts imported from the mentioned apps.
Features of the app:
Barcode scanner +huge food database;
A photo of the food will add it to the list automatically;
Nutrients tracker( calories, carbs, fats, proteins, sugar;
Synchronization with fitness apps;
Meal planning and recipes;
The app will provide good support for maintaining good health and building new food habits.  Available for Android and iOS.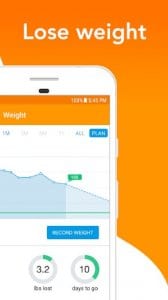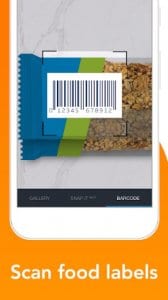 You may also like: 11 Free Weight Tracker Apps for Android & iOS
Nutrition Facts
Nutrition Facts is a simple app with a huge product database with detailed nutrition value. There are more than 8000 different food items with a full description including macros, minerals, and vitamins.
If you keen on calculating your daily nutrition intake the app is a good choice. It's free to download. The interface is so pleasing with lots of bright colors.
In addition, all food is categorized into a group such as fruit, veggies, nuts, grains. Meat products are also divided into types: pork, beef. etc.
The app is really very informative and will be helpful for those who are concerned about their intake. Its also nice for a curious person who just wonders about how many calories, fats, and carbs they consume.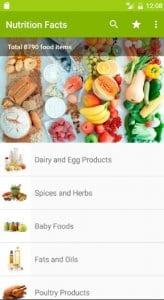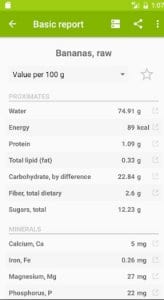 Keto
Keto is a very inspiring app because it shows real-life stories about successfully lost weight people. It helps to keep on tracking almost all kinds of significant nutrients including all macros and calories. Moreover, the app has features for diabetics. The app also represents a huge community of willing to lose weight users.
In the app you will find:
A personalized food diary right for you;
Automatically calculated carbs, calories, and other macros;
Goal setting feature and tracking on your progress with real-time stats;
Not less important water intake tracker;
Weight tracker as one of the most important features.
As well as all mentioned above users are able to record and track their exercises and any sports activities.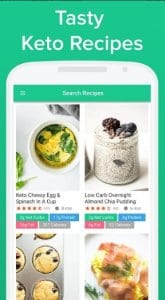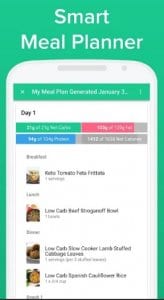 Calorie, Carb & Fat Counter
Calorie, Carb & fat Counter by Virtuagym is a real dietician and nutritionist. It's a real expert and helper for both losing weight and gaining weight. The app requires only log goals and health conditions. According to your data, it will generate a personalized nutrition plan. Definitely, it will help you to build new habits related to food.
Main features:
Huge database with food and meals with an option to add your own products. A Barcode scanner will simplify the process.
Calories counter. Logging what you ate will help to count calories. As well as carbs, fats, and proteins.
Advanced graphs and metrics to track progress in your weight moderation goal.
A great and distinguishing feature of the app is that it helps to achieve completely different or opposite goals. Losing weight, gaining weight, or muscle building for workouts fans. The app was created with help from experts in nutrition and trainers from sports clubs and gyms.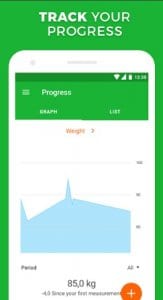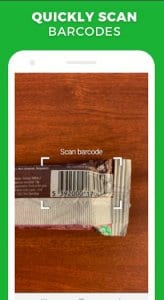 Lifesum
Lifesum is one of the most popular apps among nutritional and health caring mobile software. It has a bunch of functions and millions of people have already tried them. It has a free and paid version. The subscription is quite pricy yet worthy.
Main features:
Diet planning- organize your intake to maintain your health or lose weight;
Different types of diets: keto, vegan, etc;
Calory, carbs, fat tracker;
Barcode scanner for easier nutrients recognition;
Various recipes for different diets.
Those were just a few of the main features the app offers. On the round that our lifestyle nowadays is far from perfect with all this pollution bad food problems, we must pay more attention to what and how we eat.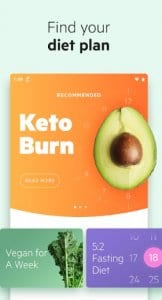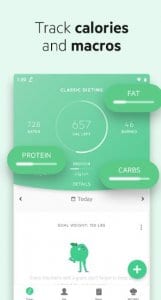 Calorie Counter & Diet Tracker
This is one of the most popular nutrition and diet apps even though it is available only for Android. First of all, here you got to track how many calories you consume per day. All your meal intakes will be divided into ingredients and the number of calories will be count for each ingredient separately.
What is more, the app contains lots of articles about nutrition and healthy foods – take your time to read them because they contain lots of useful information about how to form healthy food habits. Moreover, to get more personalized recommendations, you can always text one of the coaches in the app and get advice about your diet.
Besides, by installing this app you are going to become part of the big community where you are going to receive support and get motivation from other users. The app itself is free, however, it contains ads. If you want to have it without ads, you can upgrade to the Premium account.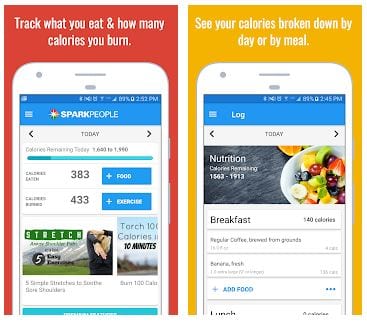 My Diet Coach
My Diet Coach is the digital dietician that won't only provide you with an eating scenario but also will support you with warm and self-esteem boosting phrases. Challenge yourself for losing weight and get a healthy body. The app will track how much water daily you drink to avoid dehydration. You can set notifications to remind you about the next cup of water.
The app, in general, is oriented on control of your intake. So if you have a huge appetite for some kind of meal the app will help you to control your cravings. Besides water control, the app suggests parking a car a bit farther in order to walk more. It also reminds you to serve your meal that way so half of the plate was occupied by fresh veggies.
In conclusion, you can set the goal, track it, get reminders, track your nutrients, and weights. All these are small steps and challenges to a healthier lifestyle.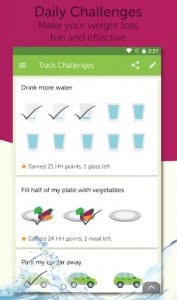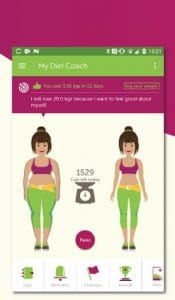 You may also like: 11 Free hiking apps for Android & iOS 2020
SuperFood – Healthy Recipes
Is there anyone in our time who isn't aware of how essential it is to eat healthy food? Well, at least if you're new to the subject and don't know how to start your healthy diet, this app can become your ultimate guide. Here you will find plenty of healthy recipes for any taste.
There is a calorie counter so you can have the full control of getting closer to your goals. If you want to lose weight – you need to create a deficit of calories, if you want to gain weight – make sure you eat more calories and more protein food. Each portion is described in detail considering the nutrients, ingredients, and calories.
Another cool bonus here is that the app includes the seasonal calendar for the recipes, which is really convenient. All kinds of recipes – vegan, vegetarian, high-protein and low-card are available in Healthy Recipes. In addition, in the app, you will find the cooking mode, that keeps the screen on while you cook.