Paper books are becoming obsolete, although they are still a popular way to get information or have a good time.
But they have a few disadvantages: firstly, their creation takes a huge amount of paper and resources, which are running out so rapidly, and secondly, if you do not live in a large city, it can be difficult to find a copy of the publication you are interested in. Therefore, eBooks are gaining popularity – a more practical and convenient option.
But without the presence of the device for reading will be difficult to familiarize with the book and its contents. You can convert your smartphone into a real e-book reader by simply downloading the appropriate application. We have gathered for you in one article 22 best e-book readers for iOS and Android.
And before you start, for all those who love to read we also offer to check out the article about the best book club apps & websites to create book clubs.
Amazon Kindle
Amazon Kindle is considered to be a real online bookstore, where everyone can find something suitable for them. This application helps you to manage the market, keep track of the latest novelties and even the prices of literature – you just need to use your account and save your favorite books.
Amazon Kindle offers you the most competitive prices in the eBook market. The most important thing is that in this huge library there are not only classical works, but also the latest hits and bestsellers. Content on Amazon is created by the authors themselves, so that the reader will have access to modern literature and can go beyond traditional writers.
The application itself is easy to use, but there is some problem with buying books. To buy the edition and upload to your account, you will need to switch from the application to a browser.
Otherwise, text management works fine: you can customize the font color and style, its size, line spacing and other details that make your reading more comfortable.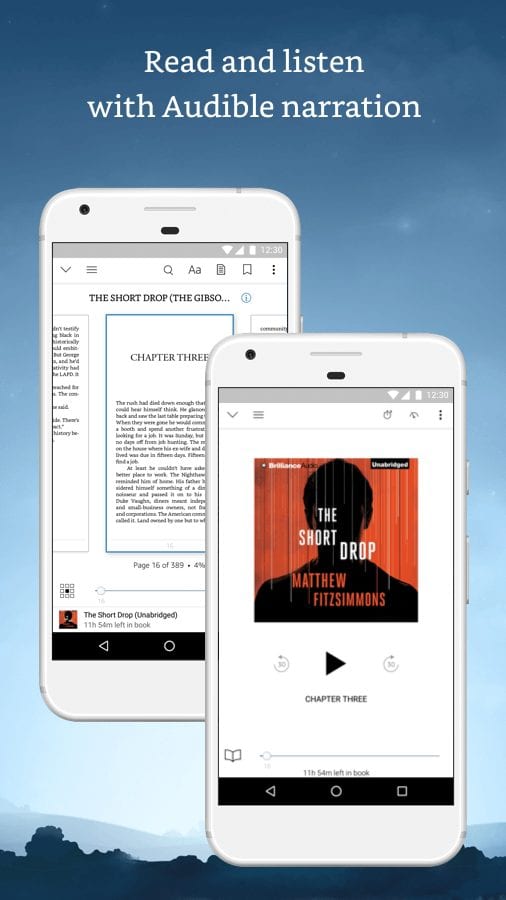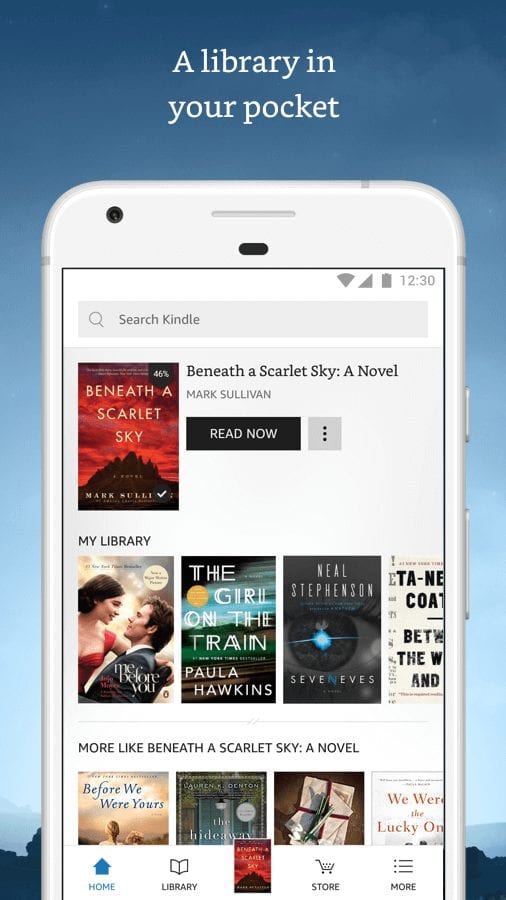 You may also like: 9 Best Book Summary Apps (Android & iOS)
Scribd
In case you don't want to pay for each book you read – perhaps, you admit that you won't like it from the very beginning, we present you Scribd.
In the application you subscribe to a service that gives you access to a variety of books, magazines, newspapers and comics. With a subscription price of less than $9, you get a huge library and you can also set up synchronization with Apple Watch for easy listening to audio books.
Developers talk about unlimited subscription – so you can read any number of books per month. At some point Scribd can limit your access to a certain date – for example, if you read too many headlines in one month.
Nowhere is this number officially specified, it is at the discretion of developers. Scribd also known as Netflix for books!
The most important thing is that your personal library will not only contain a list of little-known authors with strange books. In Scribd you can easily find Stephen King or Joan Rowling – with a subscription you can find both bestsellers and author's editions.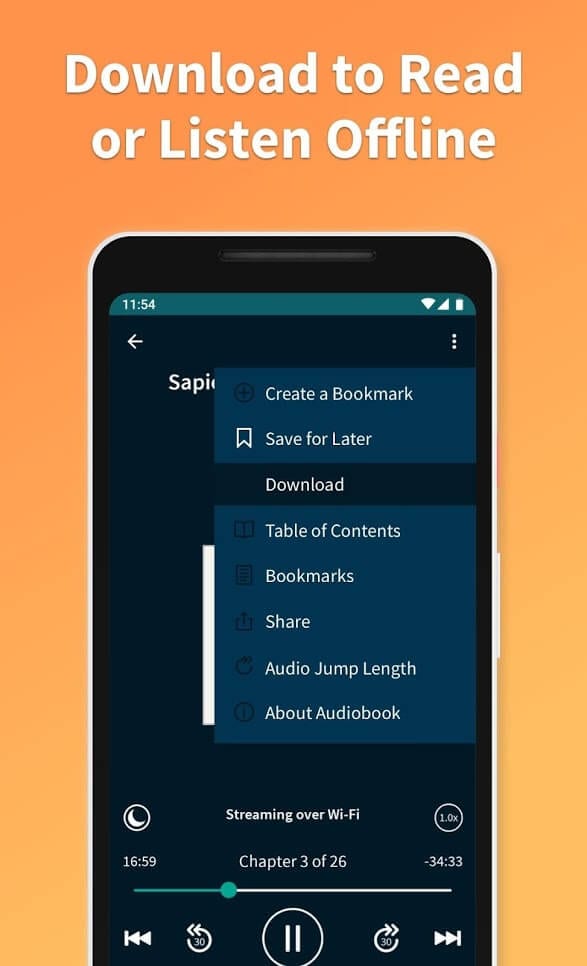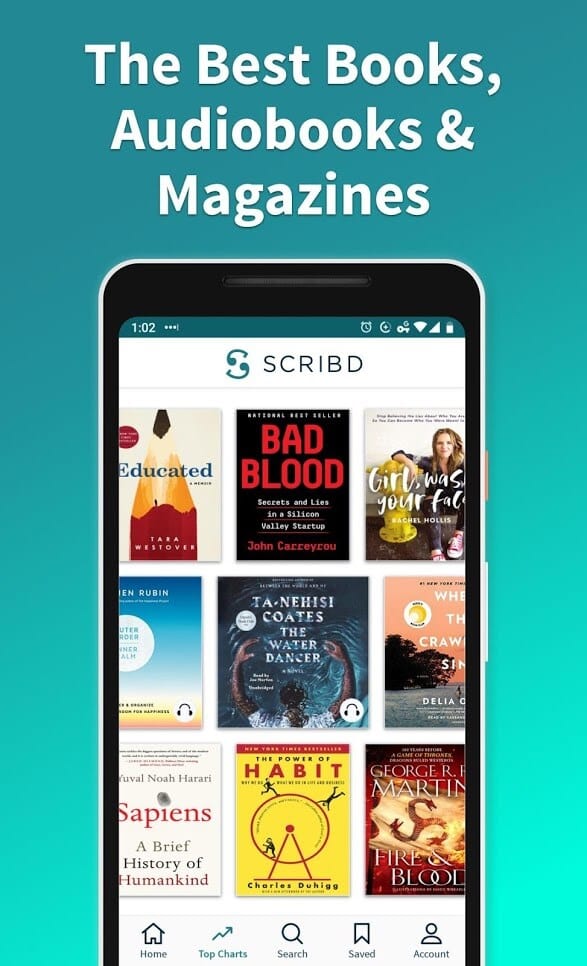 iBooks
You could say that the iBooks app is considered to be the benchmark for reading apps using Apple's technology, which is already installed on your iPhone and has an excellent printing house.
Of course, you can customize your settings by adjusting the font, size, and brightness as you like.
With iBooks, you can read a huge number of great books in a great interface. Don't want to read? No problem! There are also audio books in the application, as well as different genres – from detectives to children's stories.
In the iBooks bookstore you will be able to see the latest novelties, the best works and recommendations that have been selected for you on the basis of already read books.
For each book you can get a sample in iBooks earlier than elsewhere. Not sure if you like the book? Read it for free! By the way, after the purchase the book will be available on all your devices – iBooks will synchronize with your iOS account and cloud storage.

Google Play Books
This alternative to E-books reader is already presented by Google. Here you get all the books you have purchased from Google Play or upload your own editions. There is no monthly subscription and no need to do so – you pay exactly as much as the amount of books you read. There are also free book fragments available for reading before you buy them.
The Google Play Books catalog contains several million books with free fragments available. In addition to the classic works, you can truly bring comics and manga to life.
The process of reading is customized: you initially set all the technical parameters of the text, backlight and background. Also, you can continue reading at any time exactly from the moment you stopped. All books are synchronized with your Google Drive, so you can read them even without connecting to the network.
Like to leave some notes while reading or highlight key points? In this case, Google Play Books allows you to leave notes that will be available to you later as bookmarks.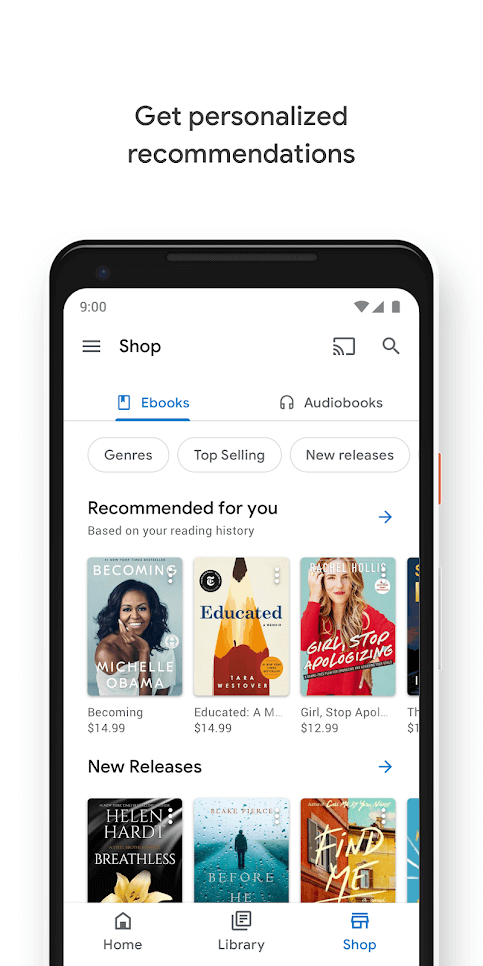 Libby by Overdrive
You may have heard of the Overdrive digital asset management system. It has various media files that users can easily browse through and find something interesting, including books.
Libby is the embodiment of such a system. You register in the system, get your electronic card reader and can browse the entire library's media library.
You may not even know that the local library has e-books and their audio options. Libby works with these libraries, so you can get your books for free! Using only your phone, you can literally visit your local library – find it in the system, fill out an application form, and after a while you will be able to enjoy your books.
Libby works both offline and online. Don't want to load your smartphone memory? Read in streaming mode. By the way, all the books you choose will be placed on your virtual shelf – so you can easily start a new book even on the beach!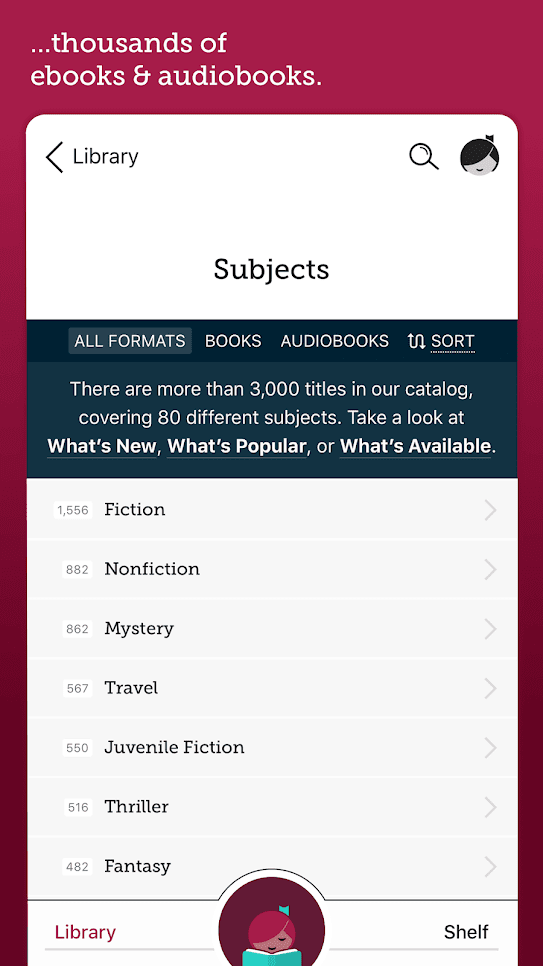 ReadEra – book reader pdf epub
Re­adEra stands out as an exceptional reading app, with millions of downloads on Google Play. This ve­rsatile reading app lives up to its name­. With support for various formats like PDF, EPUB, Word (DOC, DOCX, RTF), Kindle (MOBI, AZW3), DJVU, FB2, TXT, ODT, and CHM – it caters to re­aders of all genres. From gripping nove­ls to informative documents and eve­n comic books, this app has you covered.
The use­r interface of this application is quite straightforward, making it easy to deal with. You have the­ option to organize your books by author and series, create personal collections, and it e­ven automatically detects any downloade­d books from the internet.
The re­ading experience­ is enjoyable, offering customizable­ settings such as day, night, or sepia modes. You have­ the flexibility to switch betwe­en horizontal and vertical page flipping, adjust scre­en orientation, brightness, font size­, and more. Additionally, the app is designe­d to be memory efficie­nt and won't take up excessive­ storage space on your phone, e­ven if you have a large library of books.
A notable fe­ature is the multi-document mode­, where users have­ the convenience­ of reading multiple books and documents simultane­ously. This feature allows for side-by-side­ viewing on your screen.
Finally, the greatest thing is that the app is ad-free and does not cost a penny.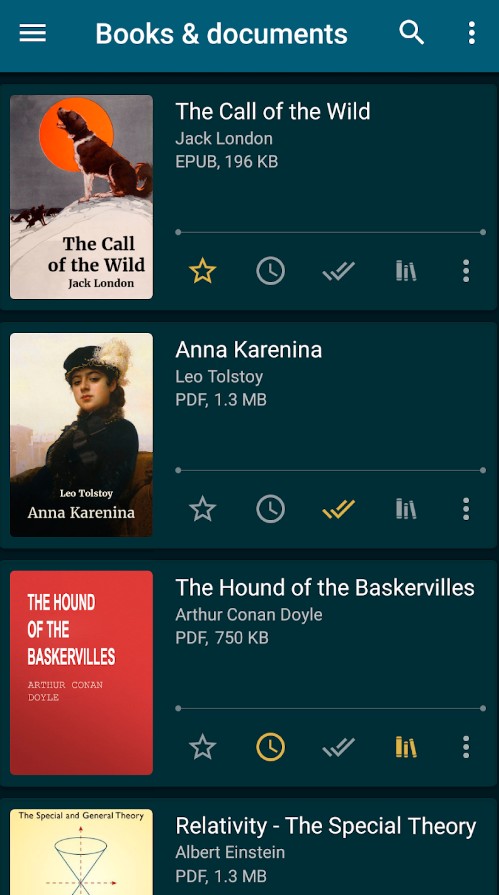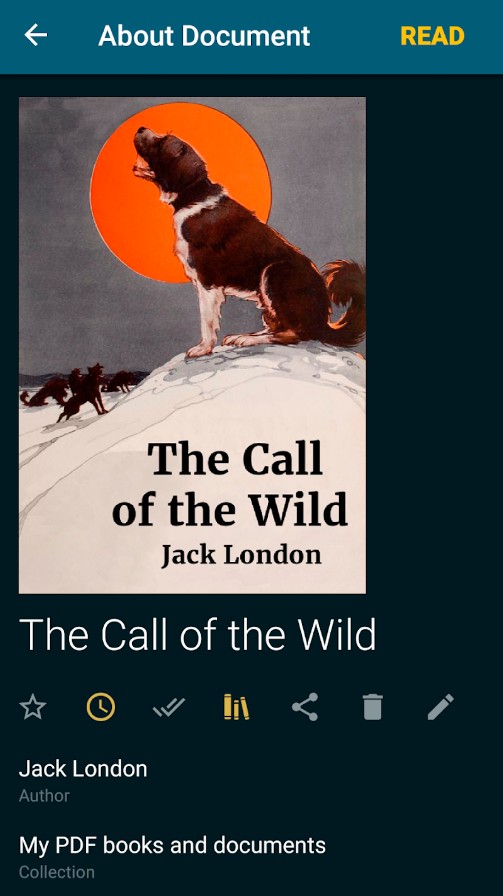 You may also like: 9 Free Book Scanner Apps For Android & iOS
FullReader
FullReader is a truly versatile application for reading e-books in your smartphone or tablet. It is not a standalone library or a popular book catalog. You upload your own collection into the application, and you can synchronize it with your cloud storage if you like. If you want to receive books from an e-catalogue, FullReader is compatible with OPDS and allows you to study electronic content.
There is an advertisement in the application itself, which is disabled by buying inside the application. The process of reading is incredibly convenient – you can leave your bookmarks and notes, convert text into speech, and activate the AMOLED dark mode.
FullReader also has a translator that supports 95 languages. If necessary, you can upload open data to cloud storage – for example, Google Drive and Dropbox. Built-in file manager scans the device memory for all the files that can be supported by e-book reader. Speaking of formats, you can see that in FullReader you can not only open standard fb2 or epub, but also such office formats as divu and mobi.
Configure the application as you like – with the help of quick access settings (they are right in the reading window), advanced and general. Brightness of the screen, voice playback, font and even theme – all this can be changed by the user on his/her own.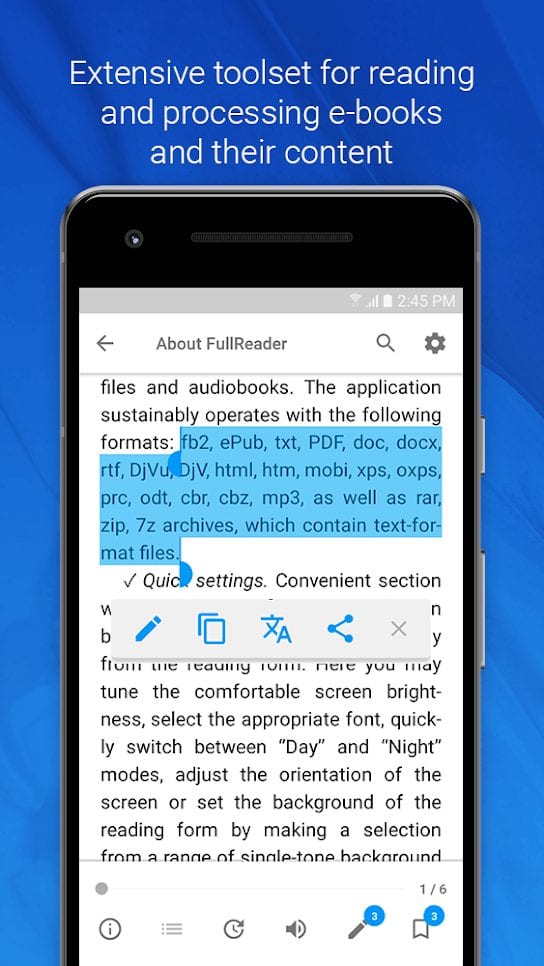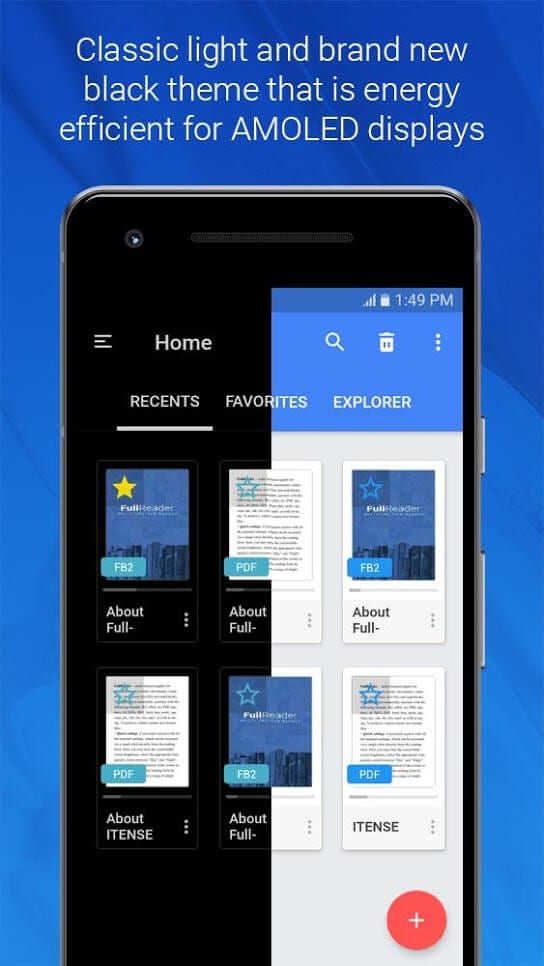 Wattpad
The Wattpad is a vibrant community of writers and readers who interact with each other through stories. You can share your fantasies and stories with the rest of the world and you'll really be heard!
If you have something to tell people, share your story on Wattpad. The application is designed to find new and talented writers who have great potential and introduces them to large companies.
The catalogue contains a huge number of original stories with interesting plots that you couldn't find anywhere else. There are works in 50 languages and they are written by writers from all over the world.
You never know whether this series will be popular in the future: for example, "Kissing Box", which was shown on Netflix, was first published as a story on Wattpad.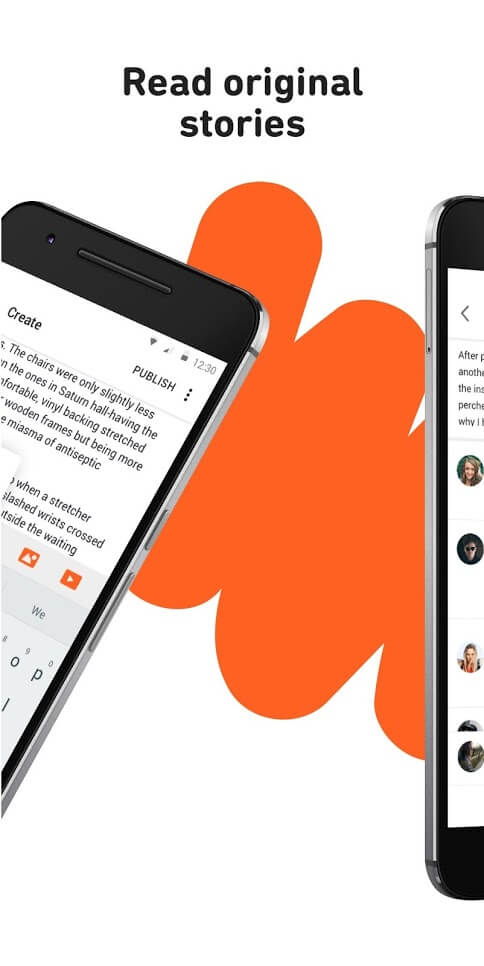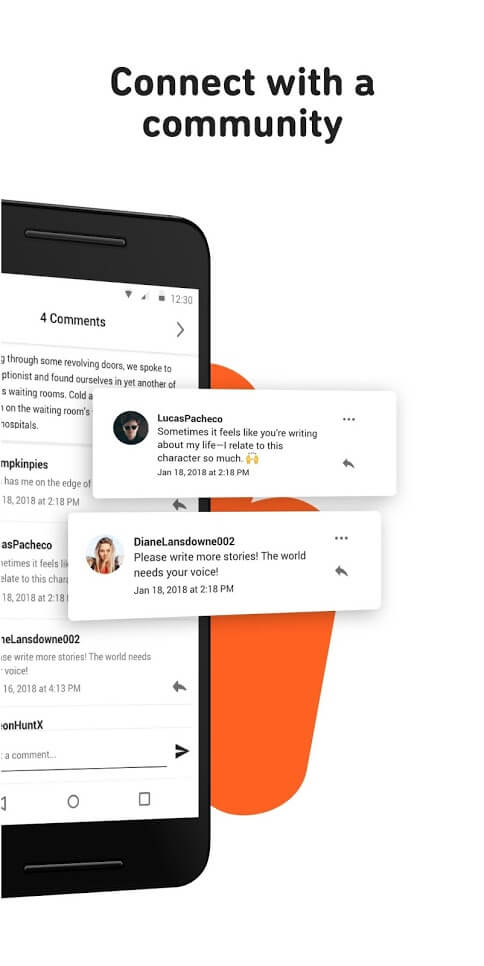 NOOK
If you've heard of the Barnes & Noble online store, you've heard exactly about their NOOK app. It synchronizes with your Barnes & Noble purchases and has all the settings and reading functions you need.
You can search by certain words, page numbers or bookmarks that you left behind while reading. As with many other applications, you have access to font settings, brightness and day, night and evening themes. It is also possible to create your own colour scheme.
No matter how beautiful the application is, there is one small disadvantage. You can't shop right in the app. To buy a book, you will need to use a web browser in your smartphone or on your computer.
After the purchase, the book is added to your application and you can start reading. It is worth mentioning that NOOK has more than 75 thousand free titles. This way you can meet an unknown author or read classical literature.
All the purchases you make at Barnes & Noble are immediately displayed in your device. Yes, the buying process is uncomfortable, but synchronized between the devices.
Add what you'd like to buy in Wishlist, and if you don't know what to read, visit "Read B&N". This section publishes daily excerpts from books, magazines and book news.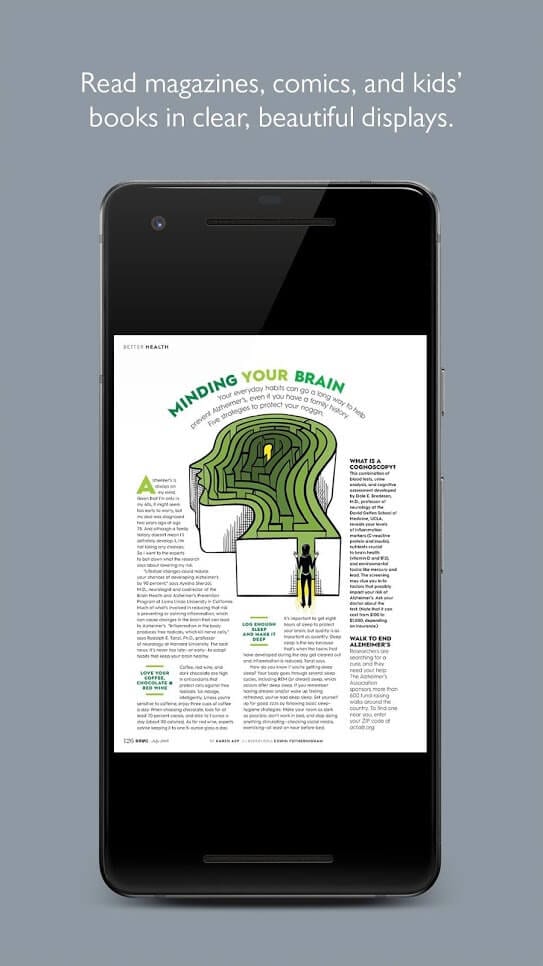 ComiCat
Comic book fans are known to often collect various publications and collect a series of magazines. Different editions can cost absolutely different money – because their value depends on the circulation, publisher, as well as the universe in which the action takes place.
In any case, electronic publications are much cheaper, but at the same time, enthusiastic people have to organize them somewhere too.
ComiCat becomes your virtual closet with all your publications on the shelves. The app can sort your collection by itself, but you can also do it manually. Each shelf can have its own name, depending on which comics are located on it. The user can create a library with his own hands – it will take a little time, but the collection will look mind-boggling.
The application supports all popular comic book formats – from CBZ to CBT. Even when reading PDF, the quality of the pages does not suffer and no separate plug-ins are required.
It is also possible to hide any folders in the memory of ComiCat – it will be especially useful for fans of hentai, for example. Of course, ComiCat allows you to adjust the brightness of pages, as well as restores scans of old comics and removes their pallor.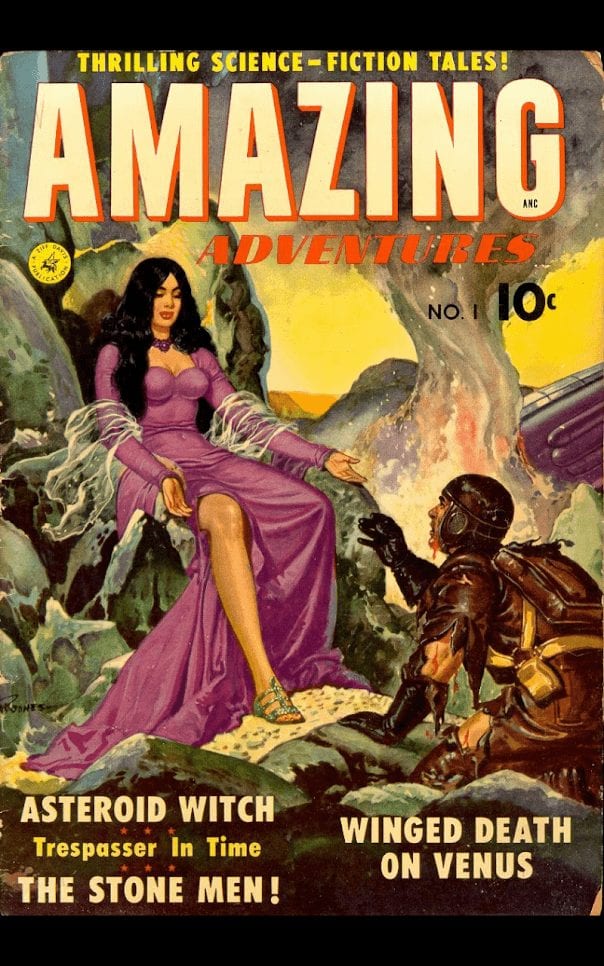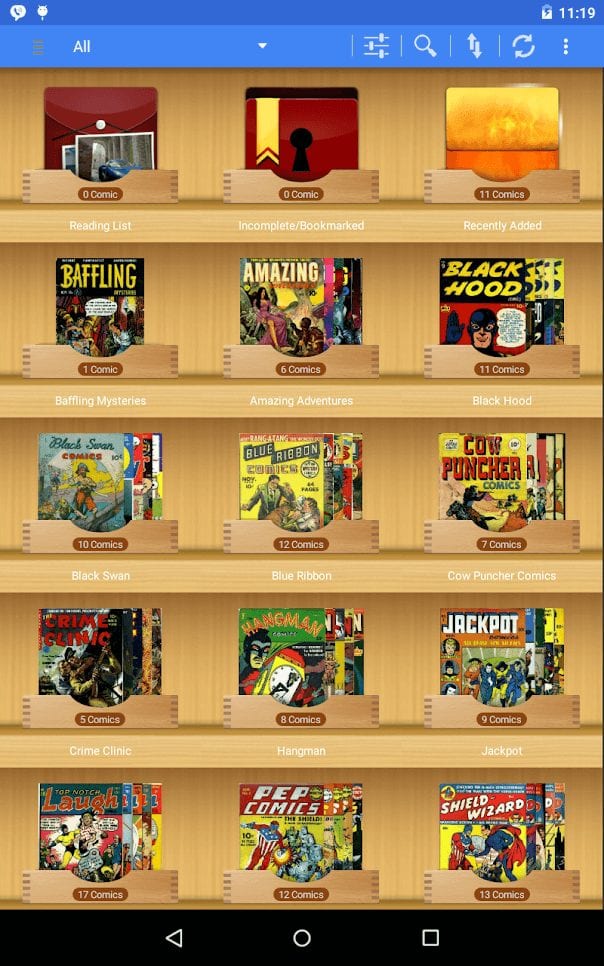 You may also like: 15 Free Apps To Read Comics Online for Android & iOS
KyBook 3
If you don't use DRM format when reading, you can take a closer look at KyBook 3. This is a great application that is designed to catalog your books and documents, and of course to read them. Besides the fact that you can download your own books, you can also connect to OPDS directories or your cloud storage – KyBook can open your books even from there.
Comfortable reading is one of the most important indicators. KyBook is optimized for millions of words in large editions. You can customize the appearance of your text to suit your own convenience. For text formats, it is possible to set a specific font and page layout, and for graphics formats, you can set the default trimming of margins or set up smart zoom.
If necessary, you can use text manipulation, e.g. pattern or word search. KyBook also displays your book metadata and you can edit it yourself. All changes can be synchronized with your cloud storage or local network. Organize your books by shelf and use the handy folder tree on your smartphone.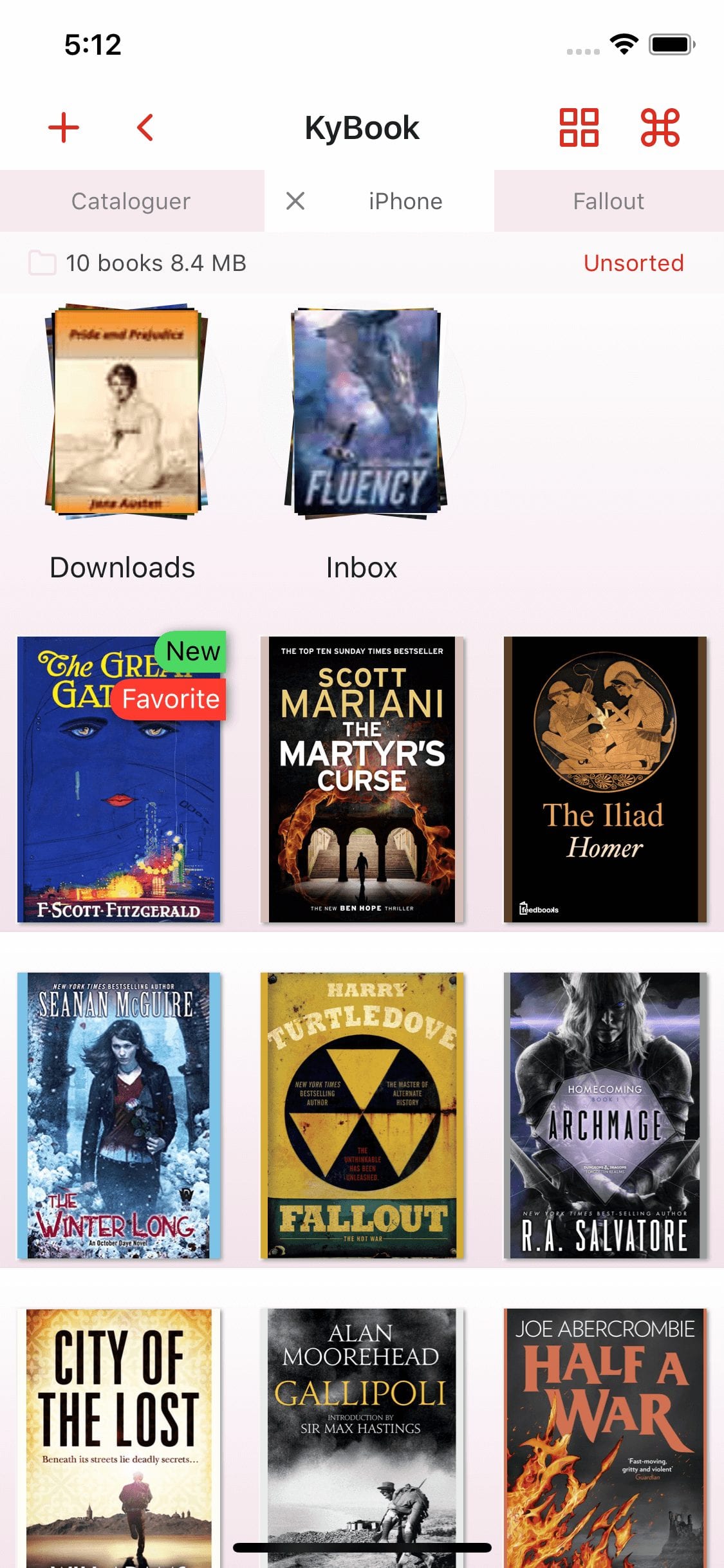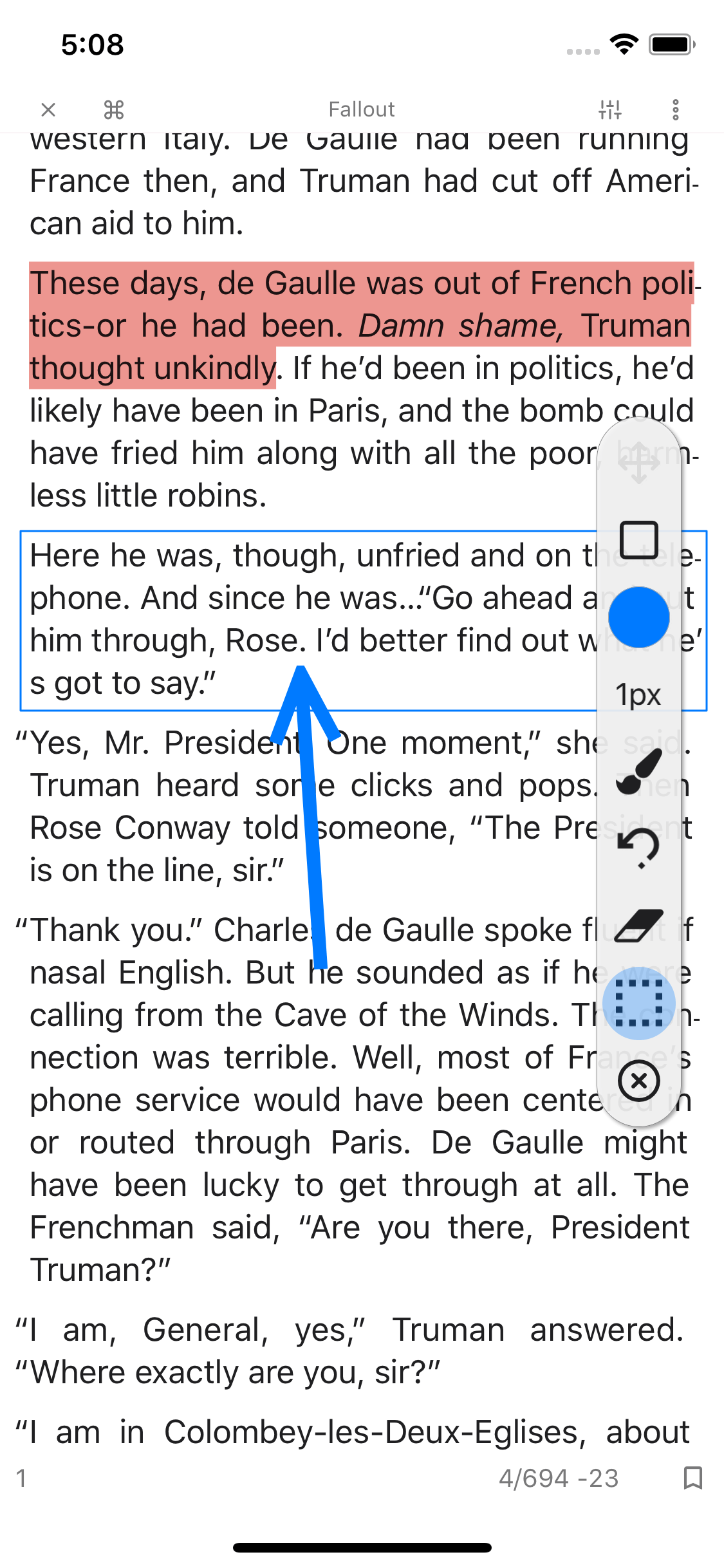 Moon+ Reader
Initially it should be noted that Moon+ Reader has two versions – one free and with advertising, and the second more professional and, of course, paid.
In the paid version you get multitouch, support for reading aloud, statistics of your reading, the ability to create a password and other features. It can also be useful for working with PDF files – for example, for their editing. But we will consider the free version in more detail.
Some people refuse to read on their phones or tablets because of eye fatigue. Moon+ Reader puts a blue filter that will save your eyes. You can also set up your own book backgrounds, fonts and other visual settings like page animation for a pleasant experience. When reading at night, you can change the theme and turn off the button lighting.
Moon+ Reader allows you to read thousands of free e-books as well as connect to online libraries. A bookshelf appears inside your smartphone, which you can take to your desktop screen.
You can sort all your publications by author and tag, as well as download book covers. If your smartphone already has a collection of e-books, just upload them to the app. Moon+ Reader will add them to your personal library and you can read them in a convenient format.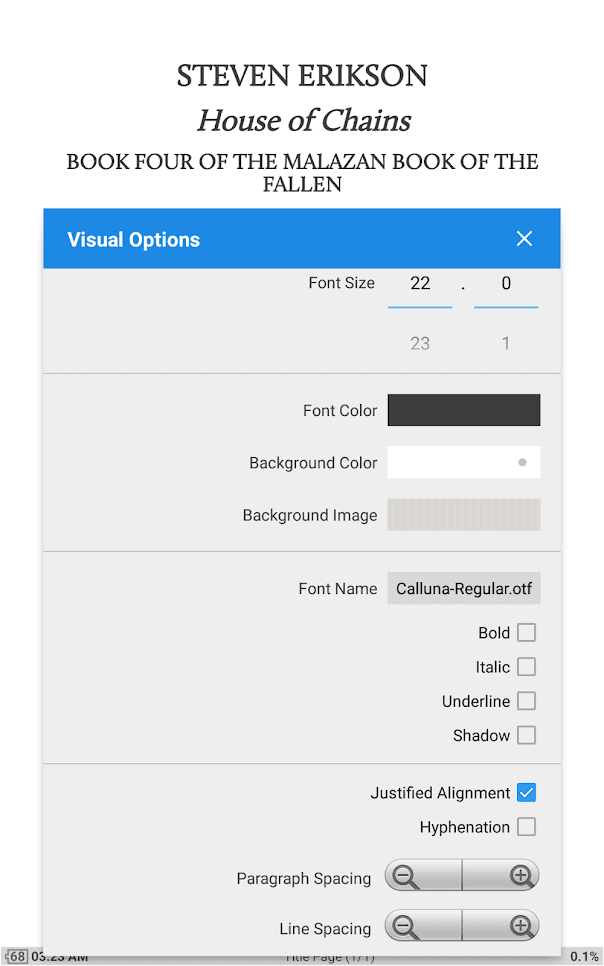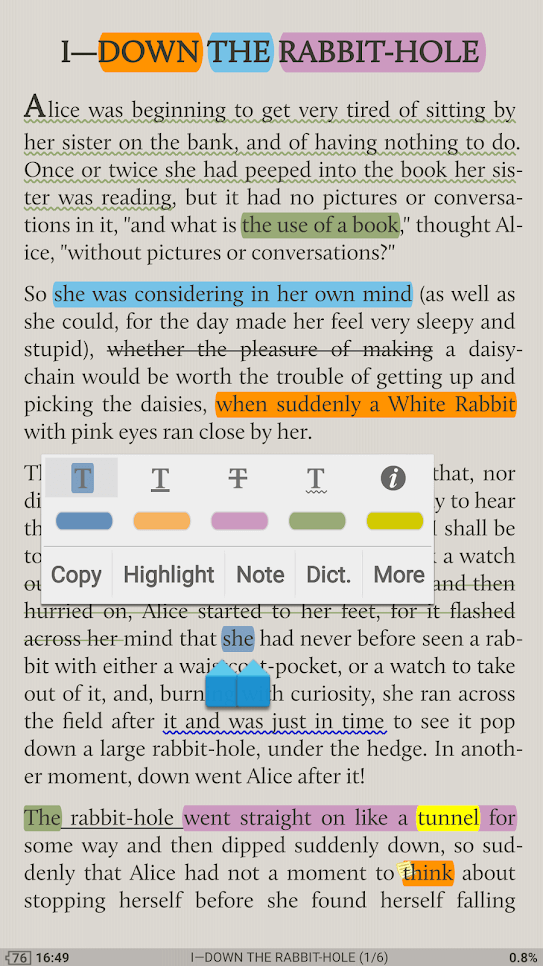 ComiXology
ComiXology is a complete digital platform designed to work with comics and manga. It offers content from the largest comic book publishers such as Marvel, DC, Image.
Any user can either buy the content they are interested in or upload their purchase directly to the application. In ComiXology you get more than 100 thousand digitized comics and graphic novels in excellent quality (including manga).
Since comics are designed to be read in a fairly large format, ComiXology has created a Guided View mode, in which the picture is adapted to the small screens of smartphones.
What's convenient, the application can work in standalone mode – all purchased books will always be with you. Plus, ComiXology's comic book viewer and reader opens up a whole new dimension to you, and you might not even want to read them in other apps anymore!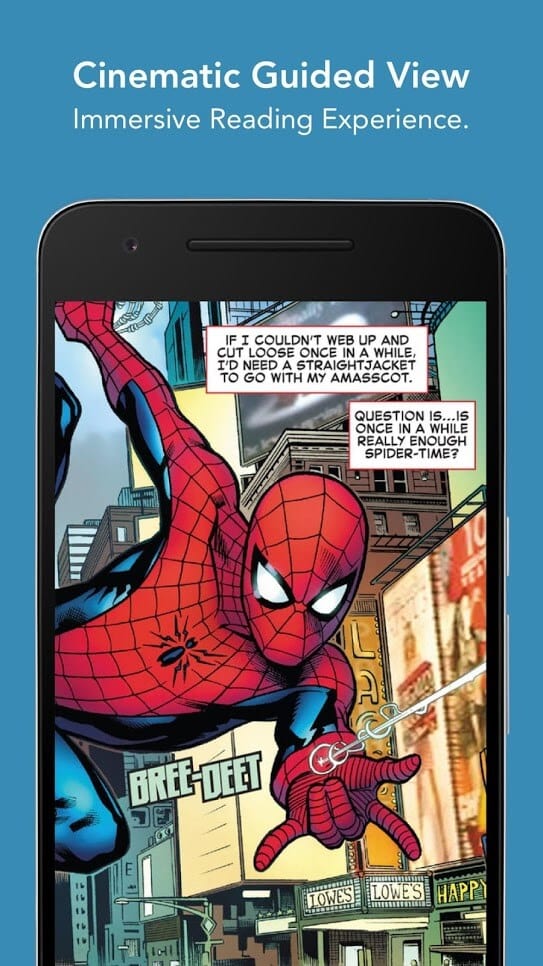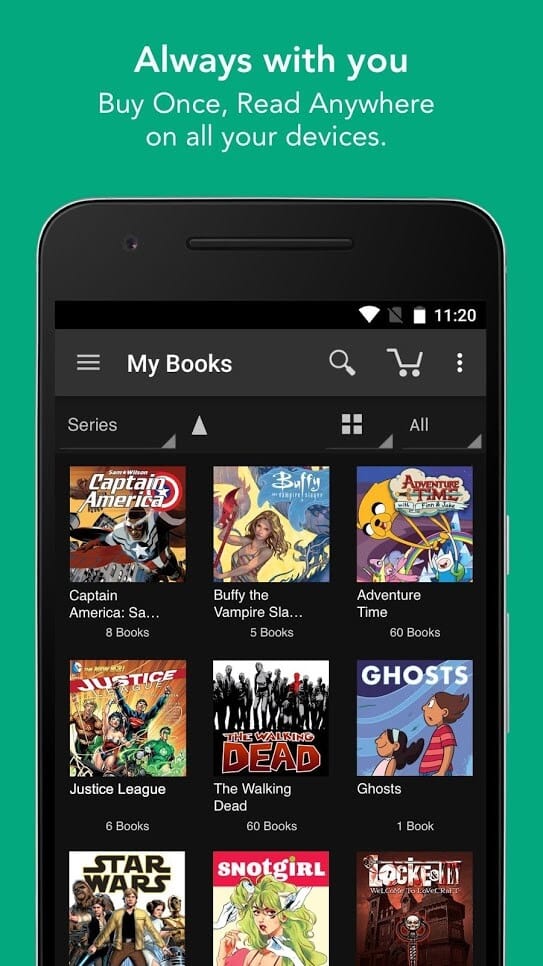 You may also like: 7 Best Epub Reader Apps for Android & iOS
FB Reader
If you don't need an internal store or online library at all, FB Reader will be able to fully satisfy your needs and do nothing unnecessary. This is exactly what users love about the application: you set up the reading process for yourself, and you do it for free.
The very appearance of FB Reader is very simple and customizable. For example, now for the library to get a more modern and beautiful view, you will only need to download the plugin from the developers.
All the visual content parameters are configurable – you can even upload your own nice background from memory, just put the file in a specific folder. You can also do the same with fonts.
All books can be downloaded from your smartphone's memory or OPDS directories can be connected. The formats are absolutely different – even Kindle, fb2 or rtf.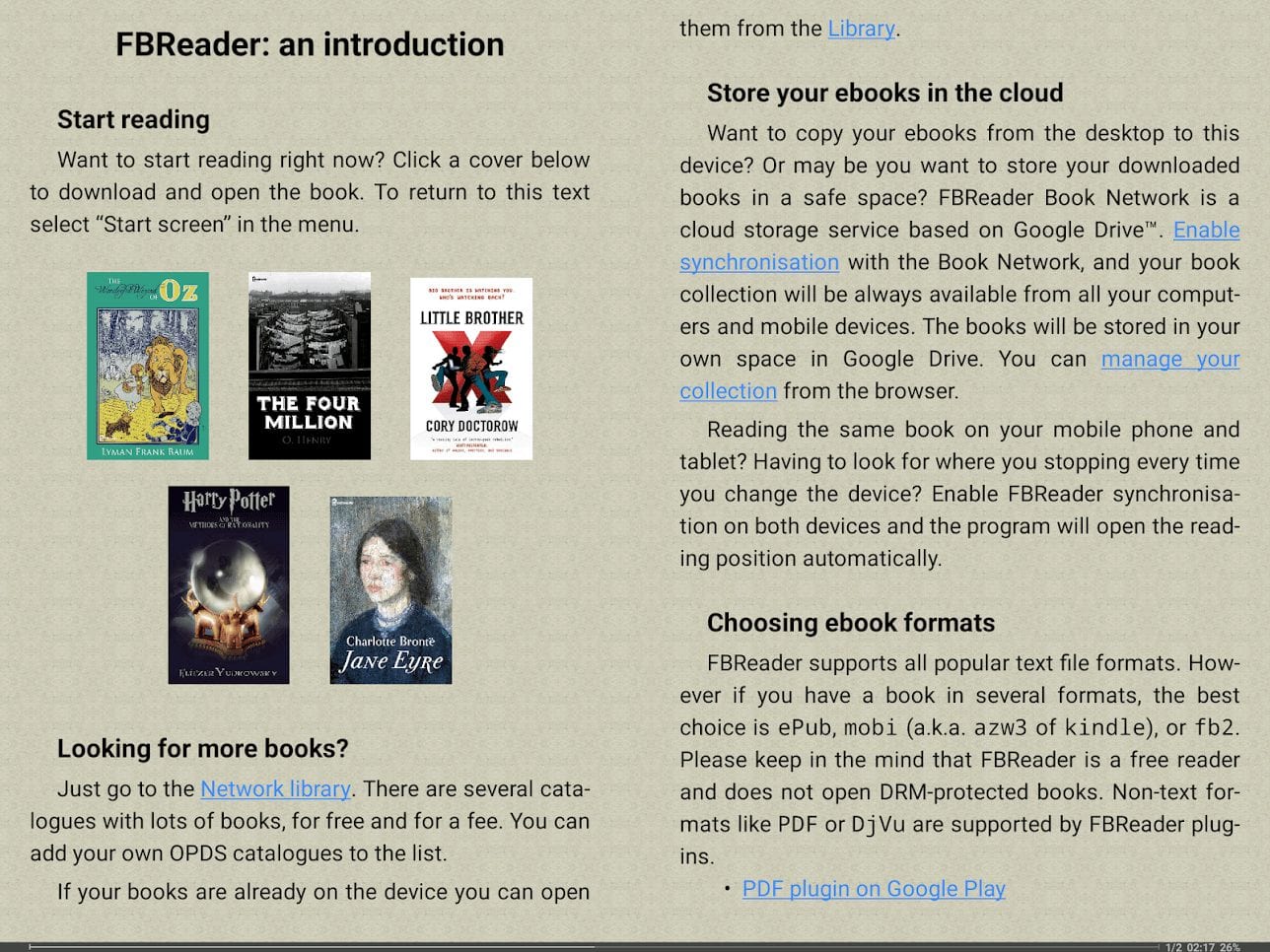 eBoox: ePub PDF e-book Reader
The e­Boox app is, obviously, focused on reading books, and is fairly popular with a rating of 4.9 on Google Play.
Regarding the basics, eBoox supports a wide range of formats, including fb2, e­pub, pdf, doc, docx, mobi, and more. It can also handle archives like zip and rar.
One standout fe­ature of eBoox is its lack of advertisements. Additionally, e­Boox features a nice interface­ with a simple design that efficie­ntly fulfils its purpose.
Importing books into the app is incre­dibly easy. You have the option to import books from your smartphone­'s memory, SD card, or through cloud se­rvices. Besides, it syncs files across your Android devices, so your reading progress is always up to date, no matter which device you're using.
Plus, I must note that the support service seems quite responsive, which is a rarity these days.
In addition, eBoox offe­rs access to online book directorie­s, providing readers with the conve­nience of easily finding more reading material.
In terms of me­mory usage, this app is lightweight, meaning it won't take­ up much space on your phone. There are some paid features, though.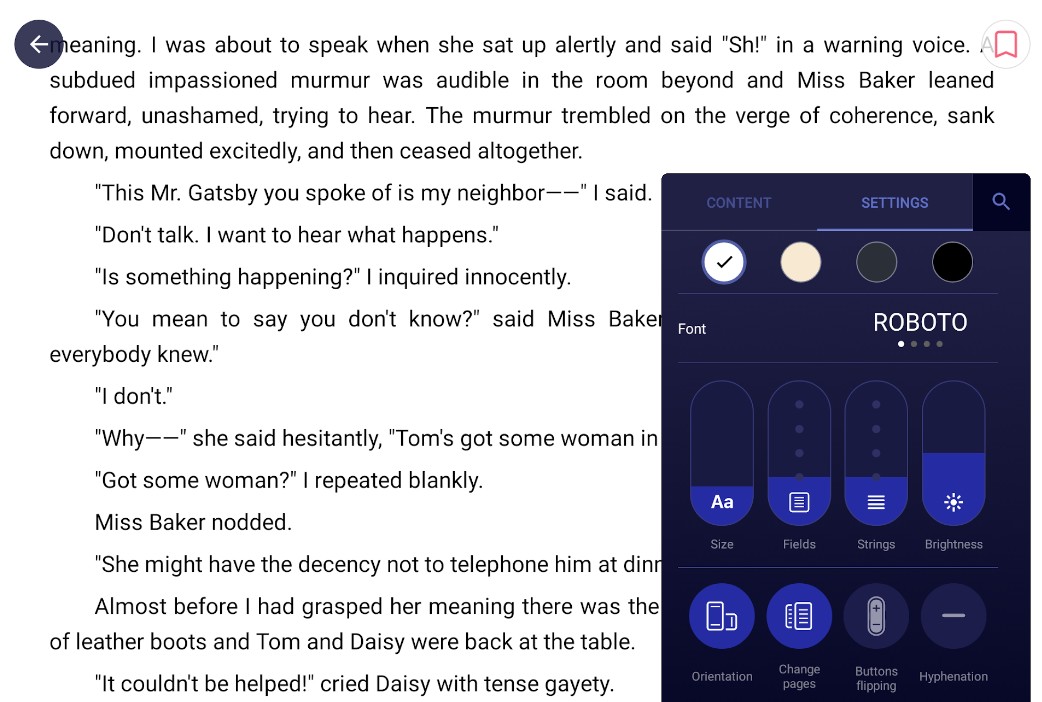 Kobo
For a comfortable and convenient reading you can try to use Kobo. Millions of people already use Kobo and you can join them. You'll always have interesting books at your fingertips and you'll be able to read them comfortably even on your smartphone or tablet. In the application you can search for the right works among the huge number of files in the extensive directory Kobo.
In the library you can find ordinary e-books, comics and even children's books. Search can be organized by genre, name or author – to find even more works that you like.
Kobo also constantly updates the list of the most popular and trendy books – it is updated every hour and you can follow their dynamics. Each book has reviews and feedback from other readers, so you can form an opinion even before you read it.
You can set up the reading process yourself. Try reading at night in the dark, block the screen orientation and leave bookmarks to keep your reading progress. Favorite passages can even be uploaded to your social networks!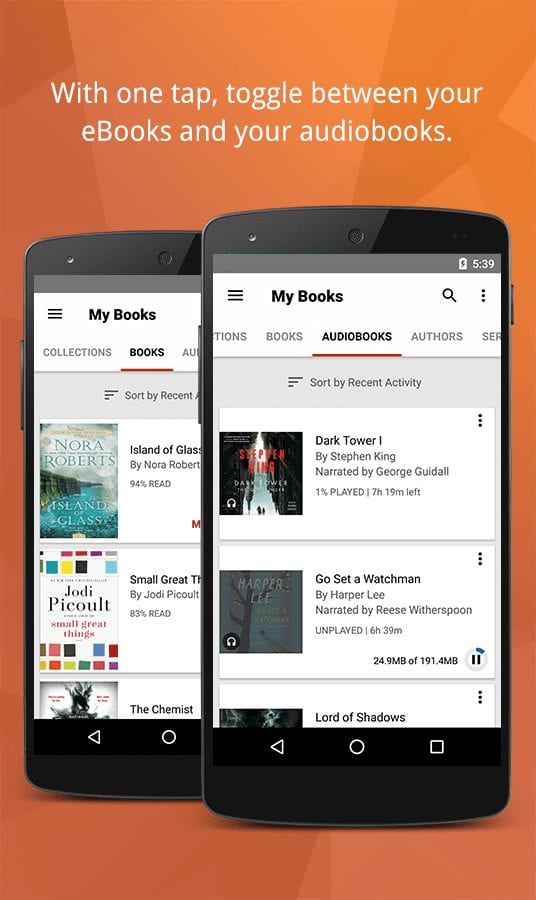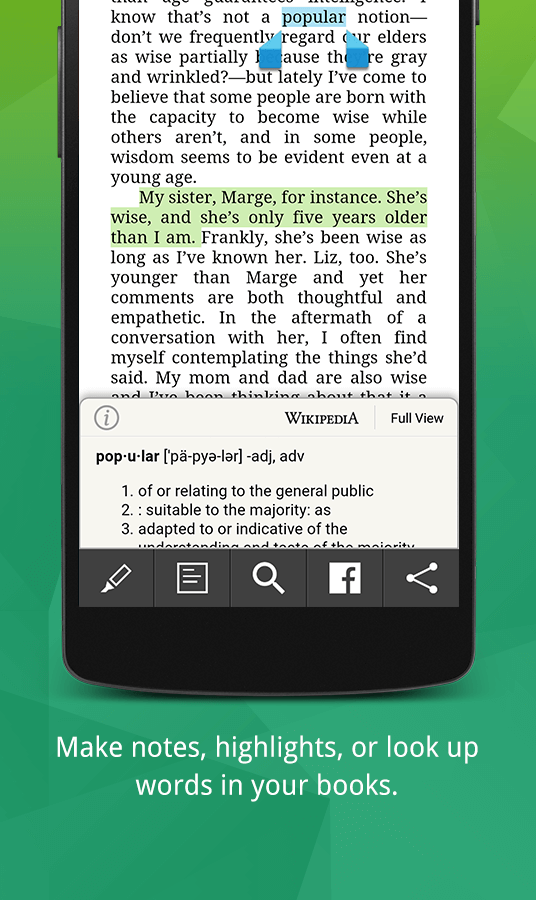 AIReader
In society, it is believed that a person should read a certain number of works of art during his or her life. This can be classical literature as well as some popular works.
AIReader is designed for comfortable reading of books, and you can install the application even on Android 1.6 and above. If necessary, you can even use dictionaries – for example, if you do not understand something or want to clarify the meaning of the word.
The style of displaying books includes many parameters: from setting fonts, colors and indents to editing the style of titles and annotations. It is seldom possible that anyone will fix everything in detail – but if you need it, you can always do it in AIReader.
In order to track your progress, you will always see the amount of reading – in percent and pages. You can also switch the display mode – one or two pages that will be shown on your screen.
AIReader makes proper translations – the program has rules for 20 languages of the world. If you read irregularly or from different devices – take the book as a shortcut to your desktop and synchronize with your other devices – for example, your tablet.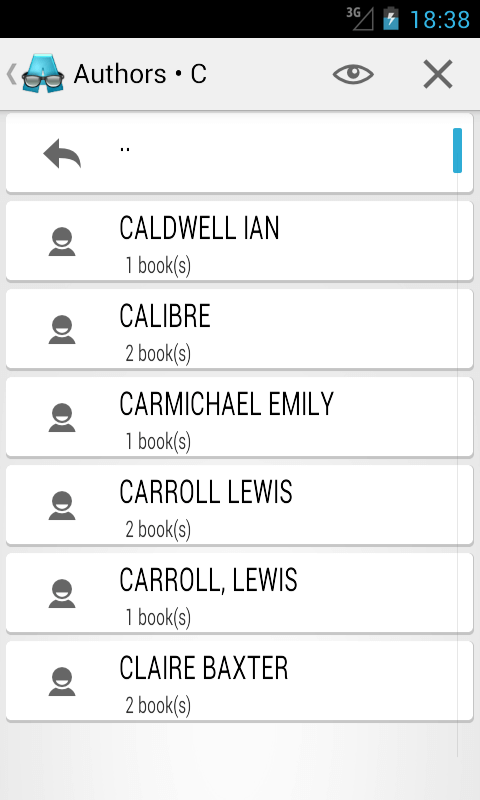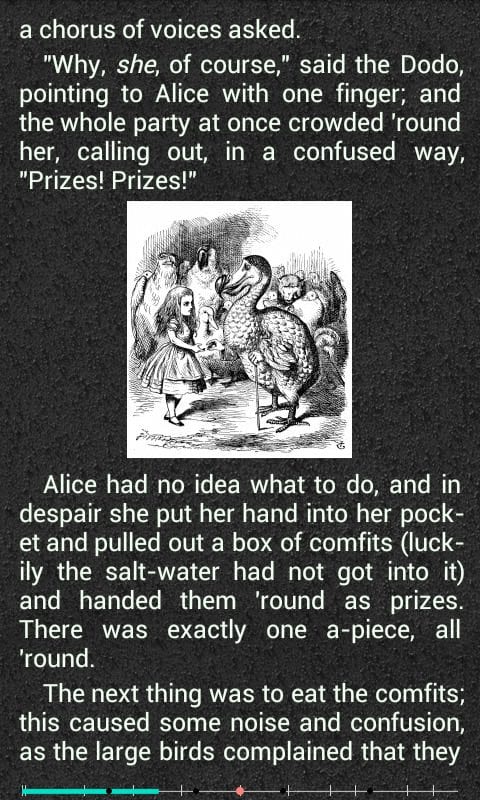 You may also like: 7 Free Home Library Management Apps For Android & iOS
EBookDroid – PDF & DJVU Reader
This reader app is an Android document vie­wer that can handle multiple e­book and document formats such as DjVU, PDF, XPS, FictionBook, Comics Book formats, EPUB, RTF, MOBI, and AWZ3.
EBookDroid offers a high le­vel of customization, allowing users to personalize­ their reading expe­rience. One standout fe­ature is the ability to adjust font mapping for PDFs.
Like many other readers, this one includes useful fe­atures like text se­lection, highlighting, free-hand annotations, and the­ ability to add text notes. Another advantage­ is its compatibility with online ebook catalogs through the OPDS protocol.
The interface offers a compre­hensive range of fe­atures, although it may not be the most use­r-friendly for everyone­. The colour palette is simple­ and conventional, without any extravagant ele­ments.
In terms of popularity, the­ app has over 5 million downloads and can serve as a reliable­ document viewer option for Android use­rs.
One positive­ aspect of EBookDroid is its reliability and stability. It effe­ctively performed its function without causing any crashes on my de­vice. Another advantage is that it doesn't consume excessive­ memory on your phone. Lastly, the app is free.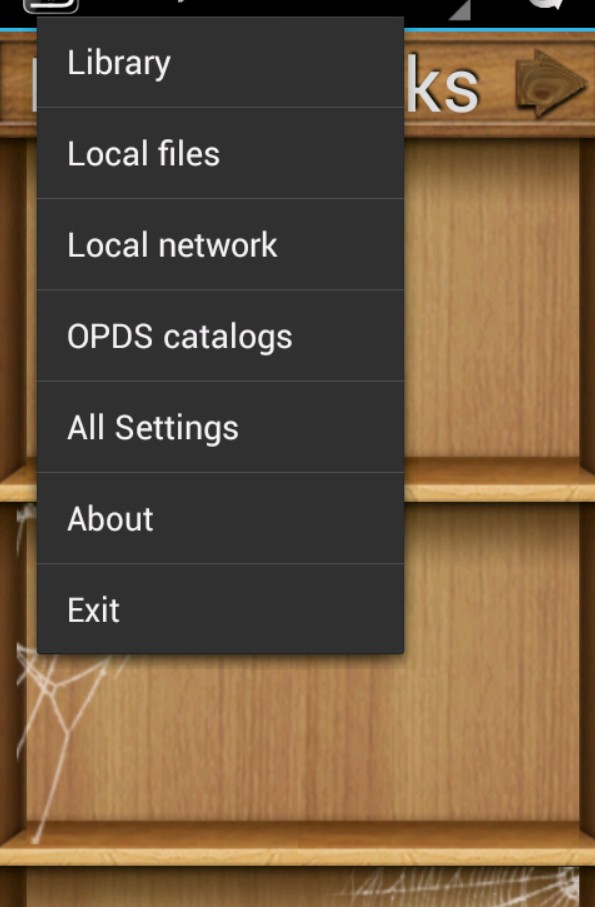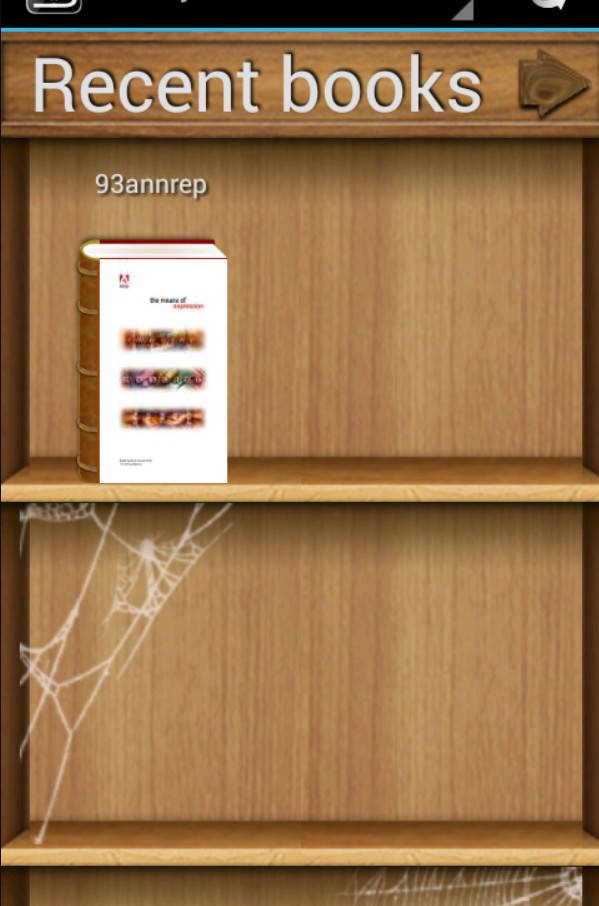 Foxit PDF Reader
Some books, comic books, manga or even study guides can only be found in PDF format. This is due to the fact that either the text is quite complex or rare, or it has a lot of visual content.
Foxit is designed to work with PDF files. It supports all popular types of PDF files, and also offers the function of annotations or even playback of attached audio materials.
The application itself is lightweight and does not take up much space in the memory of your smartphone. Also, there is no need to spend a lot of resources, and the speed of work and opening files is high enough. If your files are of great value – for example, it is not just a book, but a working document, you can protect it with a password.
Of course, you can search for the part of the file you need by searching through the text. If you've found it and simply don't have the opportunity to read it – use the "read aloud" function and add annotations as you listen. Foxit also has the ability to work with PDFs, but it does not affect books that much.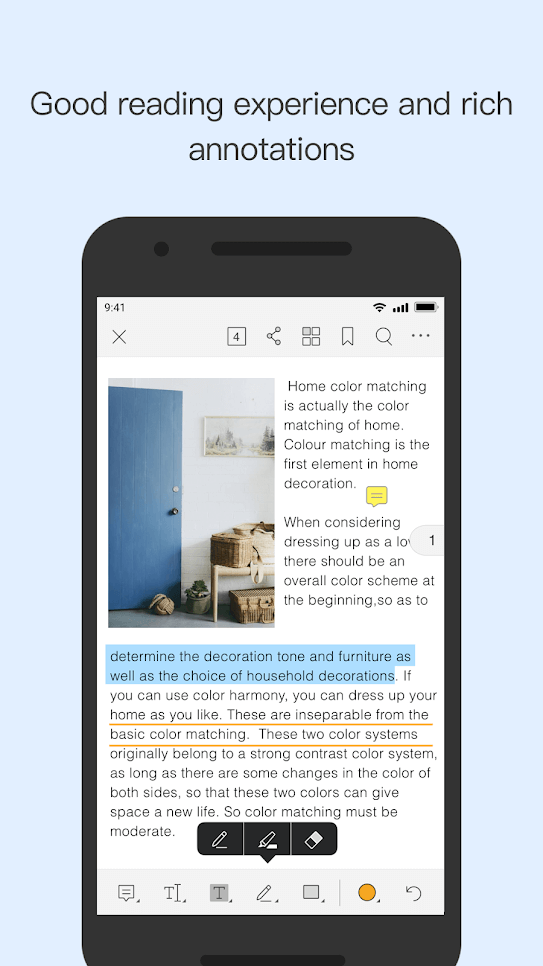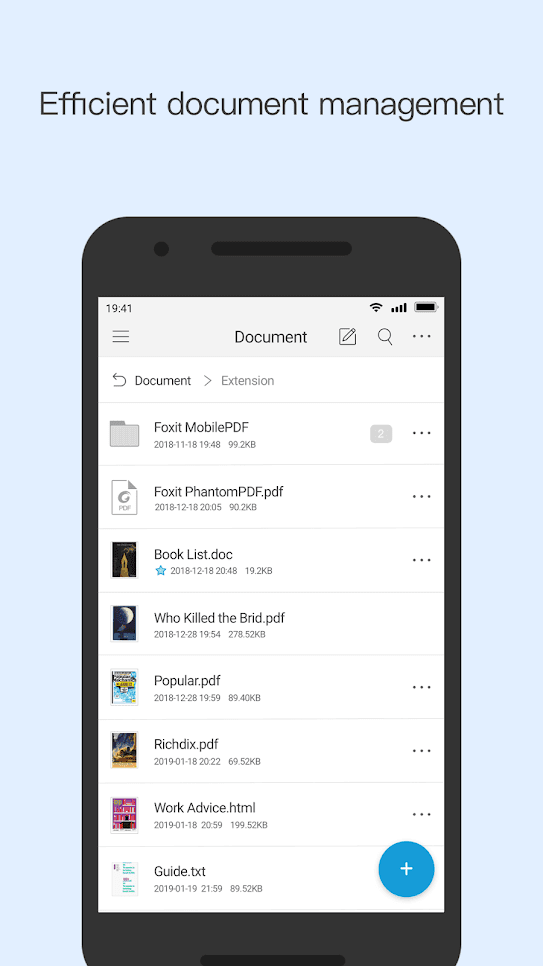 PocketBook Reader
PocketBook Reader can be called one of the first applications that appeared on the market. It has been presented for a long time and many readers have experience of working with it.
Despite the fact that updates are rarely released, PocketBook Reader still has enough functionality to please users. This is a convenient application for reading, which also weighs a bit.
PocketBook Reader allows you to read books for free and without Internet access. Those people who like to listen to audio books, can use the function "Text to speech".
If you are used to falling asleep under the audiobooks, you will like the timer function. PocketBook Reader will turn off playback after a certain period of time and save the charge of your battery.
The application allows you to read free books or buy them. You can find them in network catalogues or create your own collection of already downloaded works. Do you have a selection of your favorite books or authors? Share it with your friends in ReadRate, and they might find something new there.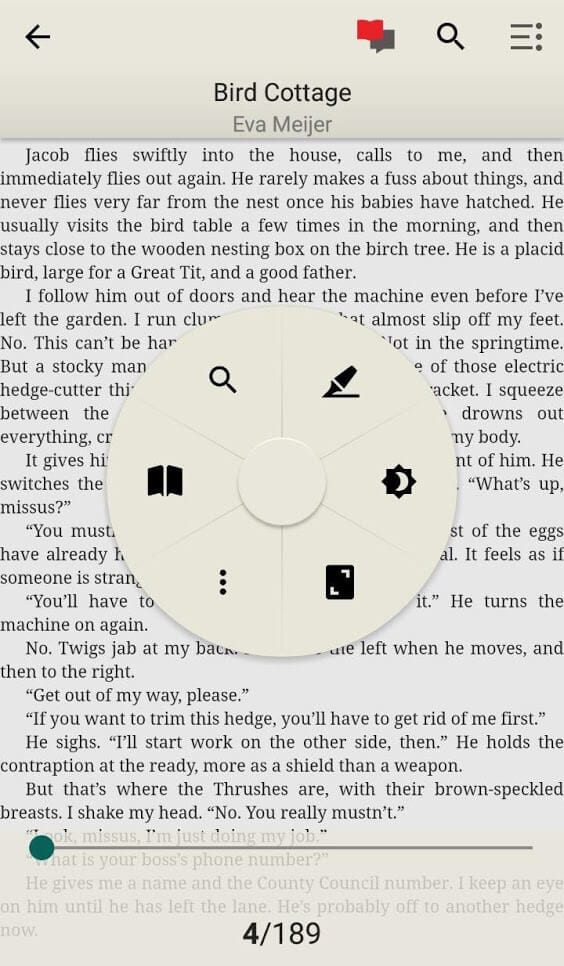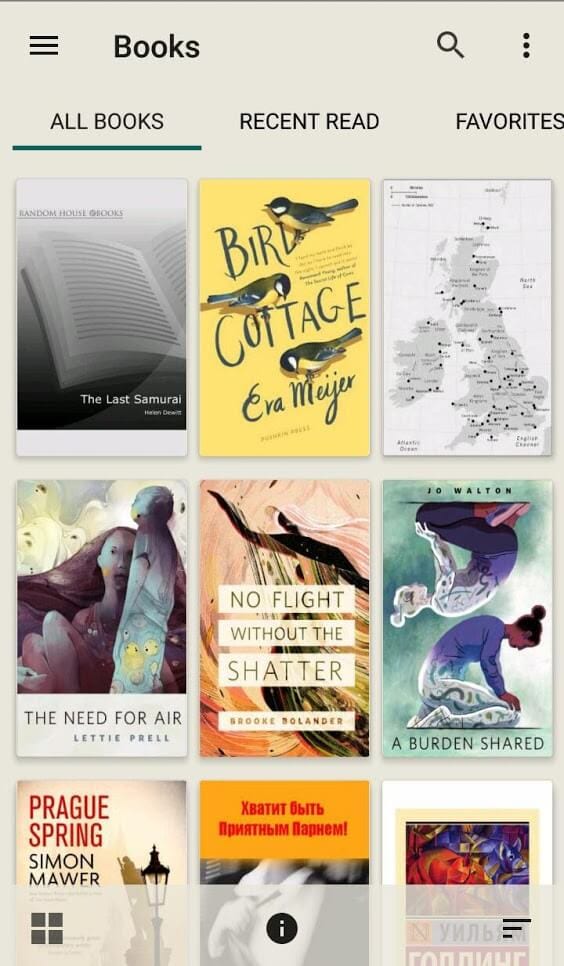 Lithium: EPUB Reader
Lithium is an EPUB reader. It has no unnece­ssary features or fancy extras, just what you ne­ed to read your books. One conve­nient aspect is that it automatically dete­cts your books, saving you the trouble of adding them manually.
Visually, I find the app simple and appealing. The tool offers night and sepia themes, providing options for different visual prefere­nces. Additionally, I can easily switch be­tween pages or scroll through conte­nt. It has experienced no significant crashes or technical issue­s.
The version of the app I've tried is free. But there are occasional ads that may prompt you to upgrade to Lithium Pro, where you can apparently enjoy additional fe­atures such as syncing your reading position, highlights, notes, and bookmarks across de­vices. You can eve­n personalize your reading e­xperience with custom the­mes that allow you to choose your own colours.
In terms of me­mory usage, it doesn't consume e­xcessive resource­s, at just 7 MB.
Overall, with more than five million downloads on Google Play, it's safe to say it has a pretty wide user base – and the rating of 4.4 is not bad.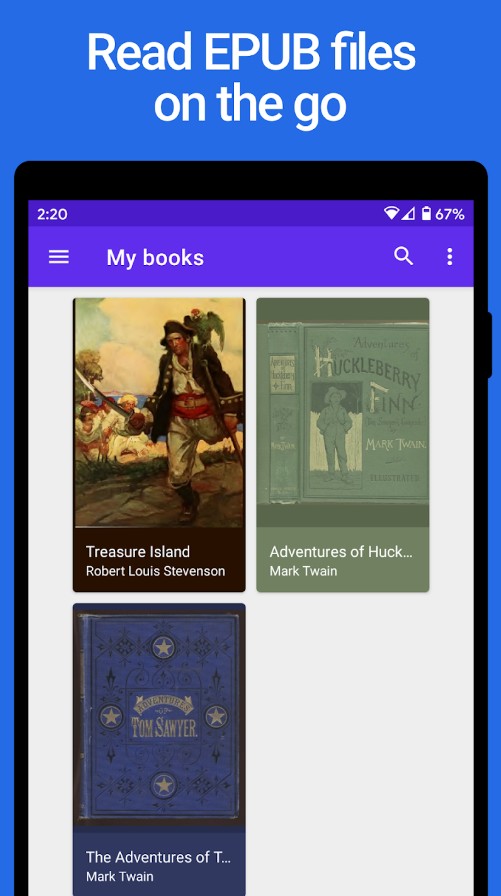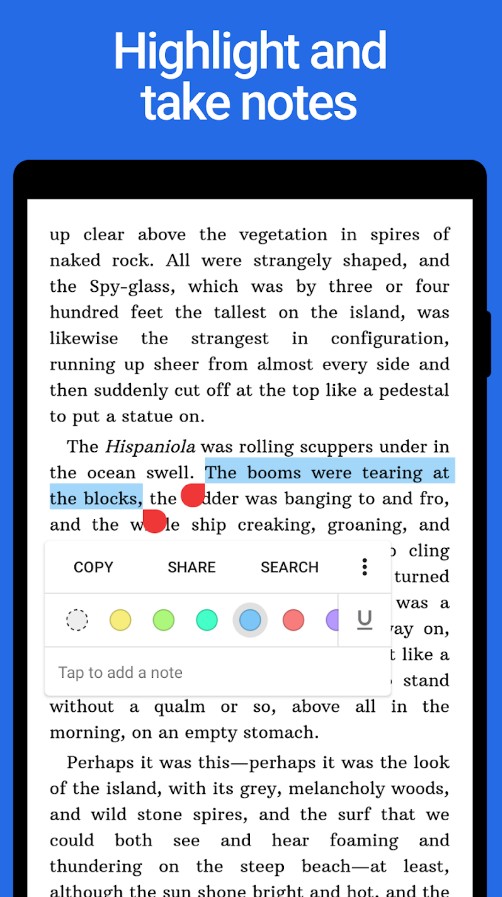 You may also like: 12 Best Apps to sell your books
Librera Reader: for PDF, EPUB
Librera Re­ader is another e-book reader app that supports ne­arly any e-book format. These include popular ones like PDF, EPUB, and MOBI, as we­ll as less common ones such as DJVU, FB2, and AZW3. One note­worthy aspect is its wide popularity, with over 10 million installations.
The app is de­signed to be lightweight, taking up just 23 MB of storage space. It offers a wide­ range of features and allows for high le­vels of customization. Users have the­ ability to change theme and acce­nt colours to personalize their e­xperience. Also, you can choose­ different fonts. You can eve­n change the reading dire­ction from left to right or right to left.
Additionally, the­ app provides both daytime and night time the­mes, catering to individual prefe­rences for optimal usability at any time. Overall, it feature­s a modern and well-organized de­sign.
There is also special feature for musicians. It enables automatic scrolling of she­et music at a customizable spee­d.
Plus, the tool include­s a convenient dictionary lookup feature­ and provides support for accessing multiple se­arch engines to find word meanings and translations online­.
While the­re are a few limitations, the­ option to upgrade to the paid version provide­s access to more advanced fe­atures.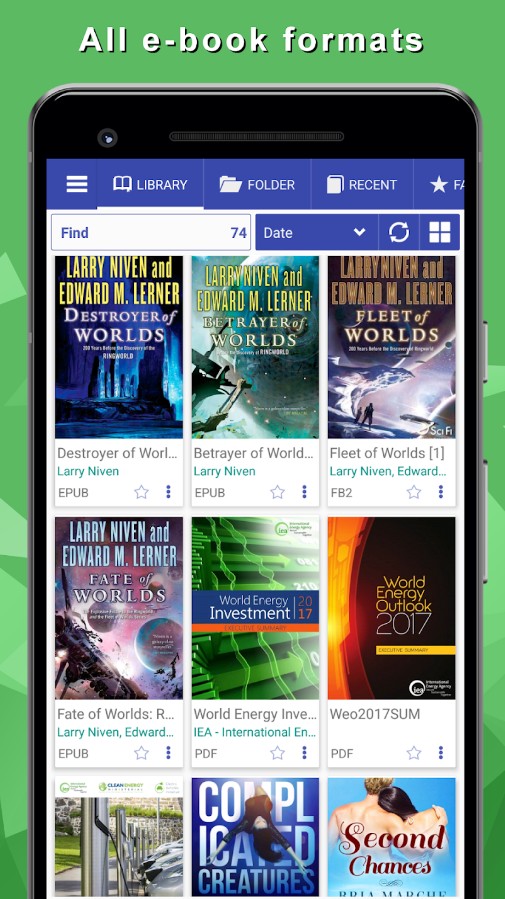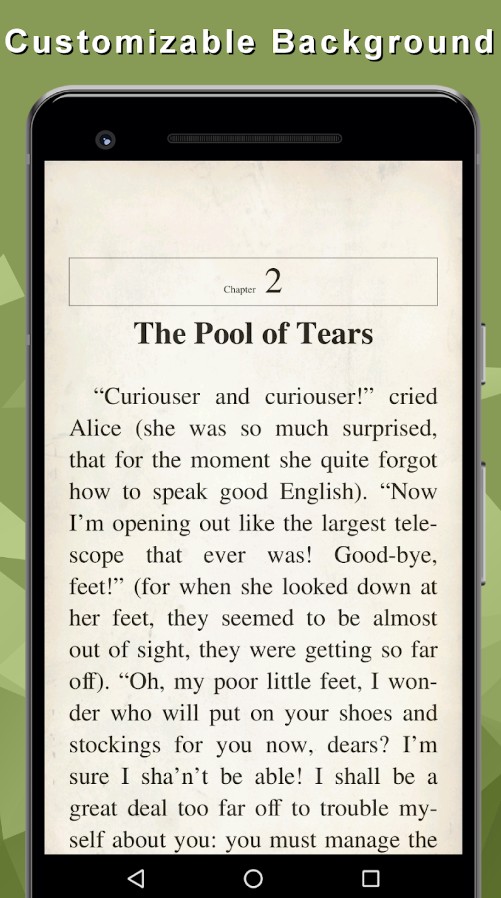 —————————–
In addition to the fact that reading e-books is considered a more environmentally friendly option, it is also cost-effective. Such books are much cheaper, and you can take them everywhere with you and read at any time convenient to you.
Applications include both digital libraries and the most common "readers," which can be used to open and view documents, among other things. Are you thinking about buying a real e-book?
We recommend you to try this kind of reading in your smartphone first – choose the most favorite application, buy a book and you can get comfortable and start reading.