Are you fond of drawing? In this case, we have to bring your attention to the magnificent tool – Paint Shapes. So, let's get a glimpse! First of all, we would like to mention that this app is pretty lightweight, so you will install it in a couple of seconds.
Check also our list of the best home painting apps.
In Paint Shapes, you can paint everything you want. But keep in mind that you have only a few tools – and all of them are shapes.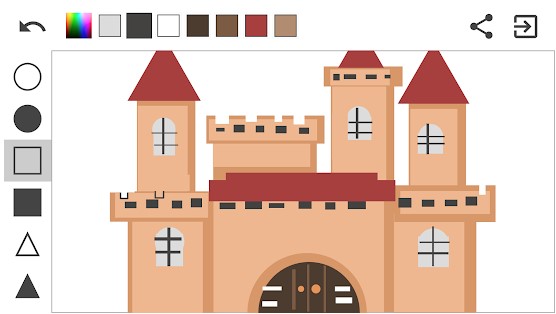 There is nothing complicated in this application, as it comes with a very clear interface, So, when you open the app, you will find several figures on the right panel.
But how does this app work? The first thing you need to do -just select the shape with a fill and a border. Then, you just need to place your finger anywhere on the screen and move it without letting go. The figure will increase in size, but you can adjust it with your finger.
If you want to delete a shape, you should click on the back icon in the upper right corner. The shapes will be deleted in the order you created them.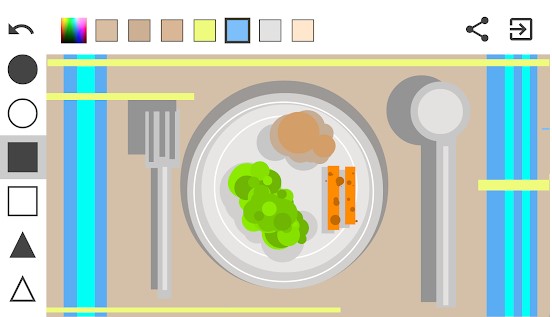 In case you want to change the color, you should click on the color square. Firstly, move the vertical bar selection and then the white/black intensity to a large square. When you choose the preferred color, you can tap on the screen and your color will be added to the recent colors panel.
We can surely say that the developer provides an excellent user experience, therefore the app comes with regular updates.
You should definitely check the list of the best coloring book apps for adults – for all of those who like a painting!
If you have faced any difficulties while using this tool, you can watch a tutorial video on the official website. Overall, Paint Shapes is truly worth downloading. If you want to relieve stress, Paint Shapes is will definitely help you with this task. This is a perfect tool for all beginner artists – both children and their parents. Highly recommended!