Do you want to keep track of the sunset or sunrise? In this case, we have a must-have tool for you. Suntime app shows you the correct time when the sun rises and goes down on any day you like. So, let's check out why this app is so unique.
Above all, the Suntime app features its simplicity of usage. When you open the app, you do not have to register a profile – you can get straight to the subject. On the menu page, you can find all your locations or choose a preferable option.
By the way, you can check out more weather apps picked for you by us in this article.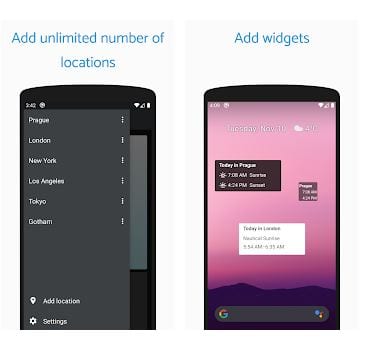 Suntime app provides a great variety of functions and settings. It enables you to keep an unlimited number of places and quickly add a widget on the homepage of your mobile phone. Plus, after choosing the location, you can use the app without a regular Internet connection.
Are you dependant on the weather? Then you should check your blood pressure on a constant basis! Use the right apps to measure your blood pressure.
What is more, the app allows you to check Astronomical, Civil, and Nautical sunset and sunrise. You can monitor the Sunshine duration and day length in comparison with previous days as well.  While using the Suntime app, you will not face any difficulties, as the app boasts a user-friendly interface that guarantees convenient navigation.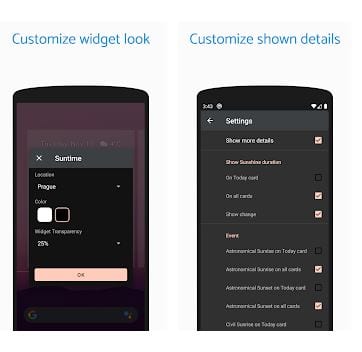 So, you will instantly understand how to use all the options of this app. The  Suntime app comes with a free version, but there are some integrated parameters, which you can purchase at a rather appropriate price. We have to admit that nowadays it is quite difficult to find such a useful app that would not ask for a constant monthly fee.
And do you wish to explore more apps that help you to figure out the landscapes? Check out these land surveying apps.
The manufacturers often update the app version to meet all the users' wishes. Its minimalistic design fully complements the major ideas of the app. Besides, you can choose both light and dark modes.
Summarizing all the points, the Suntime app is really worth trying. We have not found any flaws in this app, so we believe that you will enjoy using it!