Every girl in this world wants to have a beautiful manicure. It gives you self-confidence and makes you feel beautiful. If you ever wanted to become a manicure master or are just interested in this topic.
If you have a lot of unimpressed manicure design ideas. Great! Because today we will disassemble the best nail design apps in 2023 with which you will find your style and make dreams come true!
Girls can also check out the article about the clothing designer apps and express their creativity.
YouCam Nail
This is a game app, but it can be used as an inspiration for nail design as well.
The developers of YouCam Nails provide large quantities of tools to create a lasting manicure! For example, 65 colors are there to create a unique design, 25 patterns (including French manicures, flowers, leopard print, etc.), stickers: 50 in geometric and floral shapes, and five nail shapes.
There is a function for transforming nails with one touch: 20ready-made templates for a quick transformation.
You will be pleasantly surprised by the following feature – video tutorials on making manicures.
Here you will find not only tutorials on making manicures., but also a variety of technicians to create cool designs and an incredible number of interesting facts – therefore, this game might serve not only for entertainment purposes but as a nail art guide as well.
To start creating you need to choose a model of the hand and pick up a skin tone, or just take a picture of your hand. Next, select the color of the varnish that you like.
Decorate your nails with rhinestones, you can also draw something. If you do not know which design to come up with, feel free to use already prepared templates.
After all, you've done, is edit the resulting manicure. In YouCam Nail you can change the background and take a picture of the job, then share it on social networks.
The gameplay in the game is good, with no annoying ads. In YouCam Nail, all items are available.
There are some bugs in the game though, for instance, it doesn't save your designs from time to time.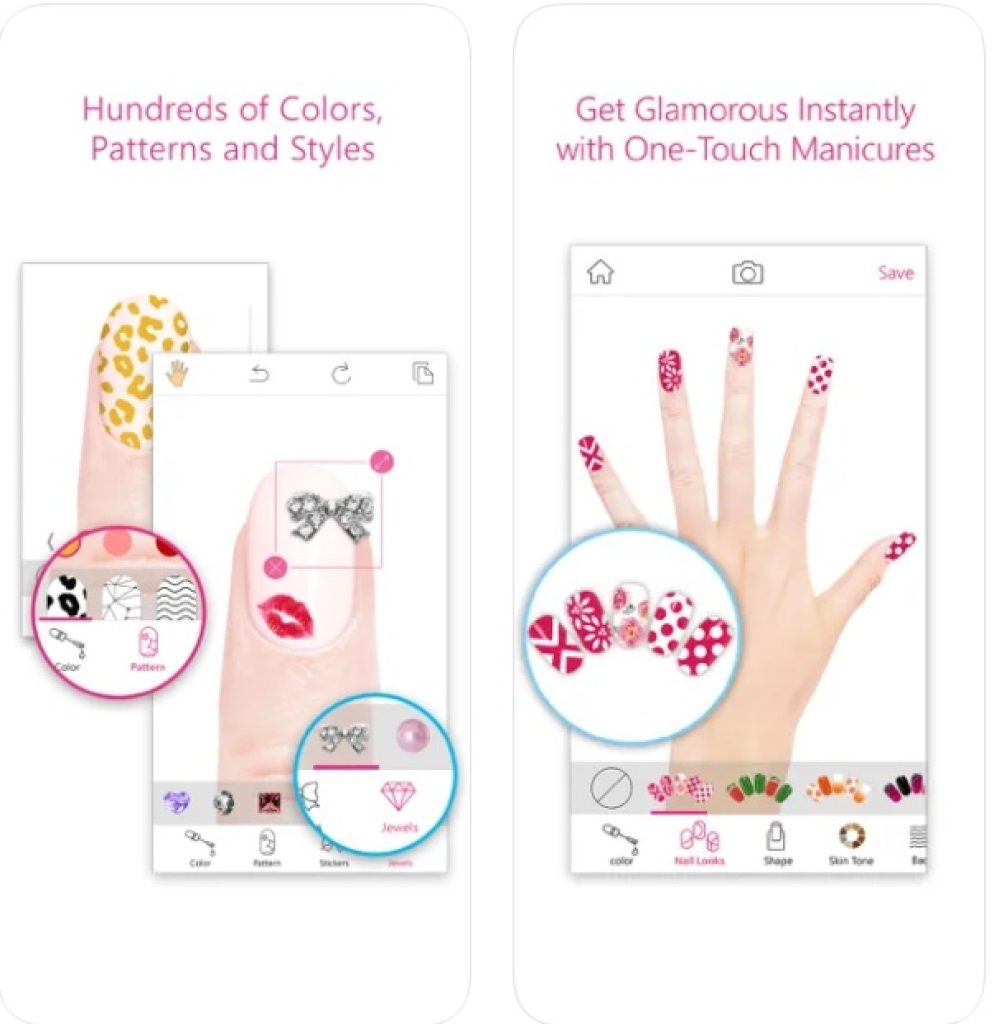 You may also like: 15 Best Tattoo Design Apps for Android & iOS
Nail Art Design
This is a full and simple guide to the world of nail art. The app is like a gallery where you can view pictures of various designs, and the app is updated on the regular basis, so you will never get bored with it.
When you open the app you get to the main menu – there you can select which type of art you want to see and in which color. For example, you can choose glitter nail art, black nail art, or even foot nail art. Tap on the images to zoom them in and see the whole work in the tiniest details.
The app is not extremely popular on the market, but if you need a library of nail arts for inspiration, you can go for this one.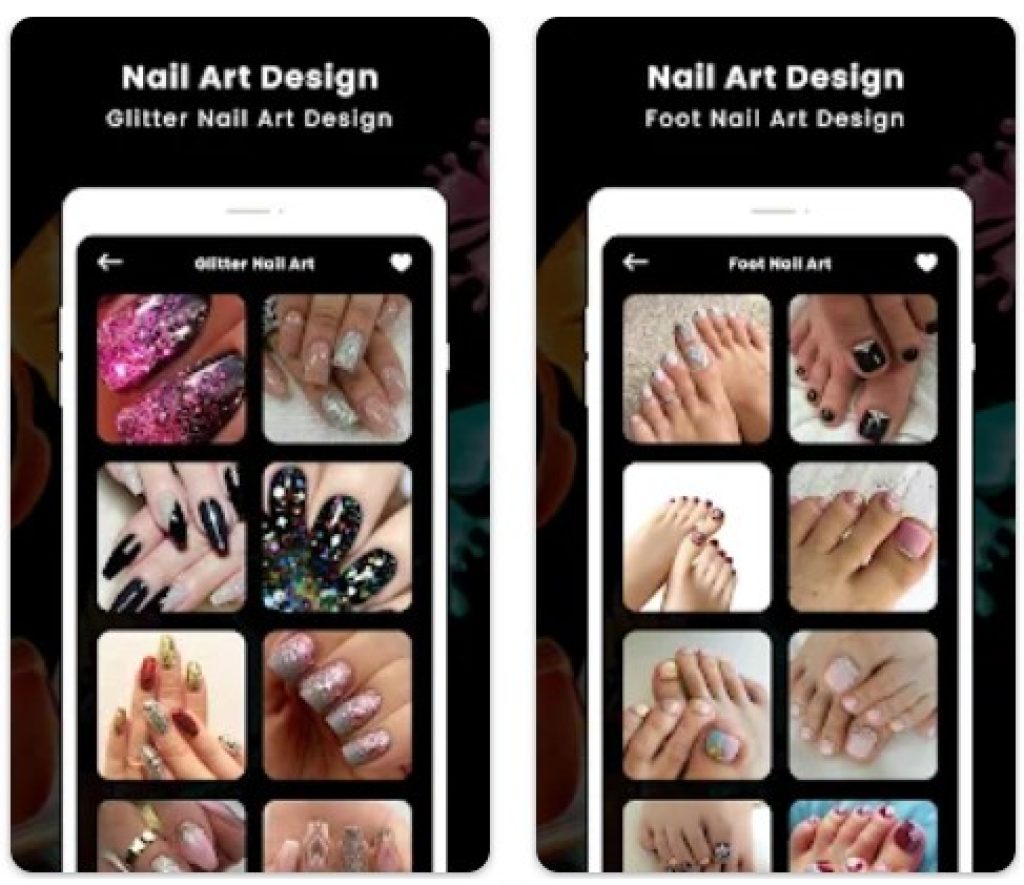 Nail POP – Playground for Nail
If you have a cool manicure idea and time to create it in POP nails – Playground nail. Great! After you have created a cool manicure design, you can immediately print it on your nails and pop it as stickers on nails.
This app has a rich inventory with which you can create your unique manicure. The developers provided a large number of lacquers, incredible templates, several shapes of nails, and a variety of decorations.
For the convenience of players, you will be able to change your hand during the manicure process. This app can also serve as a mini-game, but it surely includes lots of inspirational ideas for the nail design.
Pastel tone background and a pleasant melody will relax and relieve stress. However, it seems like it is available only to the chosen ones – the game doesn't run on a number of devices, so you never know.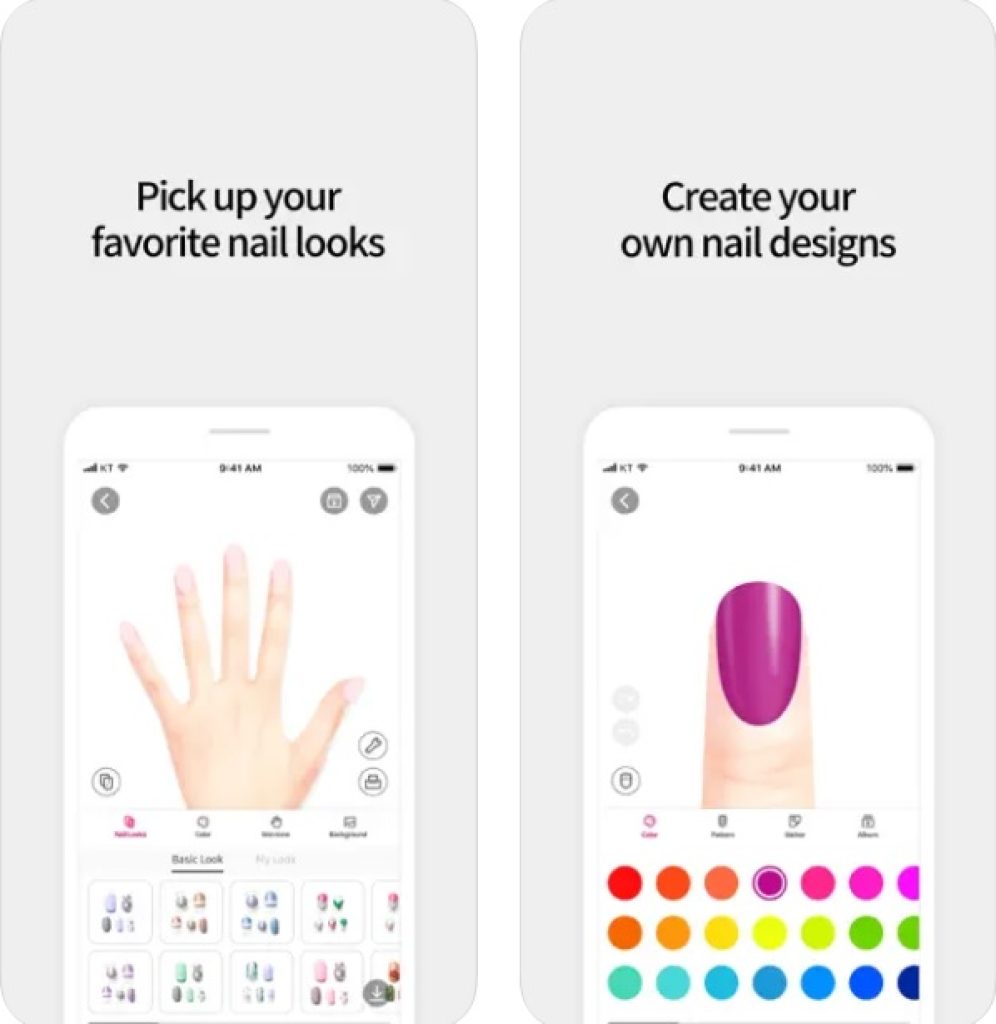 Fashion Nail Salon
Now, this is a game with nail art ideas for little girls.
Here you can create fabulous designs of nails on your feet or hands. As in all games of this type, there is a rich palette of colors and shades, incredible templates, stickers of different shapes and styles, decorations, and even tattoos! For convenience, during the process, you can change the position of your hand or foot.
Overall, the professionals should skip this app, since it's made for children in the Barbi style. Moreover, Fashion Nail Salon includes lots of ads – you can buy a subscription to get rid of them.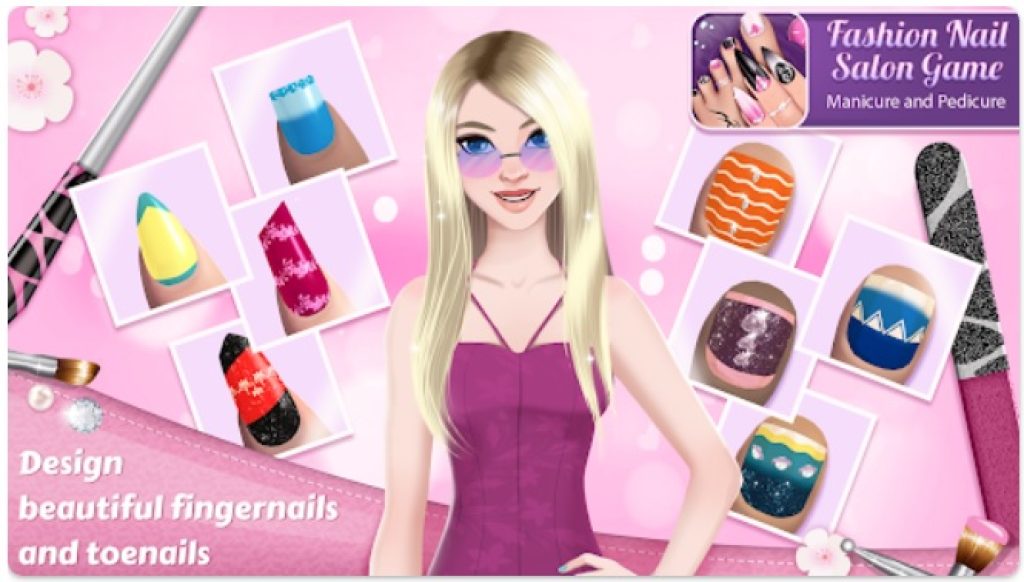 Nail Salon games Acrylic
This is a relaxing manicure simulator where anyone can feel like a manicure master. It is really a good try before you actually want to go for a job like this.
To begin with, you will have to prepare your hands for an incredible design. The first thing is to remove the old nail covering and dust off the acrylic nail. Cut and write acrylic nails, so they will look much neater.
Next, make acrylic nails until they reach the desired length. And then the matter of taste and desire of the customer! Decorate your nails as you like. For this, there is an extensive color palette, stickers, and rhinestones in the game.
Once again, the app has ads and if you want to remove them you will have to pay.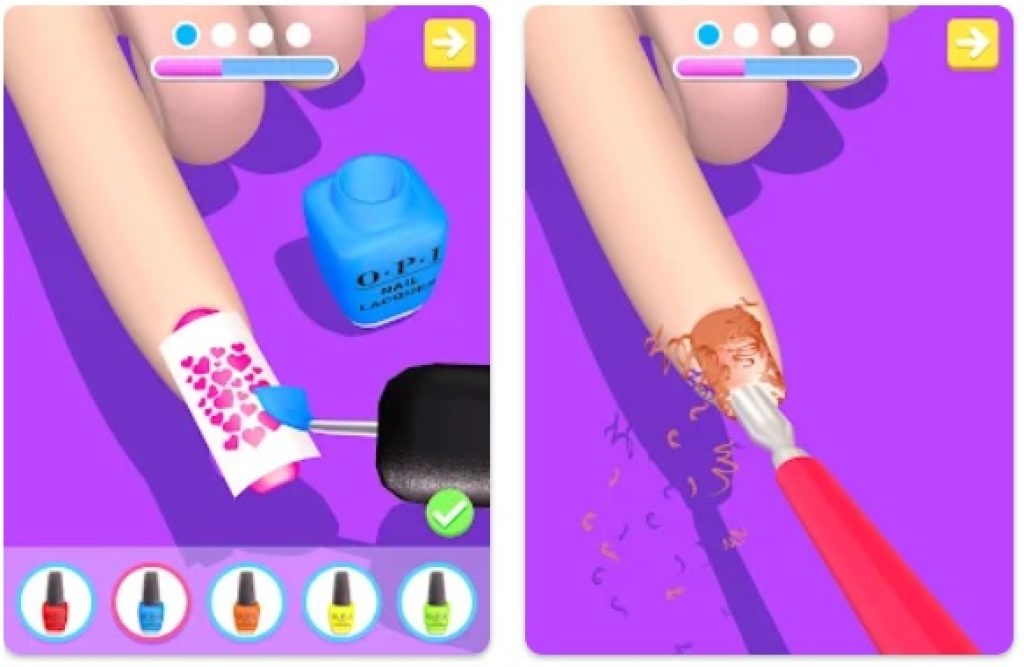 You may also like: 7 Best Design Apps to Customize Your Own T-shirts
Acrylic Nail Games: Nail Salon
Another nail salon simulator, but this time this is more a game than a storage of the designs. However, it allows you to learn all the process of this craft quite well:
Before starting the creative process, prepare the hands of the model. To do this, wash your hands and remove the old cover from the nails. Re-shape the nails. Then cover them with a varnish that you like and decorate.
For this, there is an extensive color palette, stickers, and rhinestones in the game. After finishing your nails you can take pictures of them and post them on social networks. In addition, you can decorate your salon.
The graphics are quite poor in general, and the choice of nail design is quite limited.
Nail Salon games Acrylic is a free app, but some features and materials are blocked. To purchase these materials you need to watch advertising or pay with real money.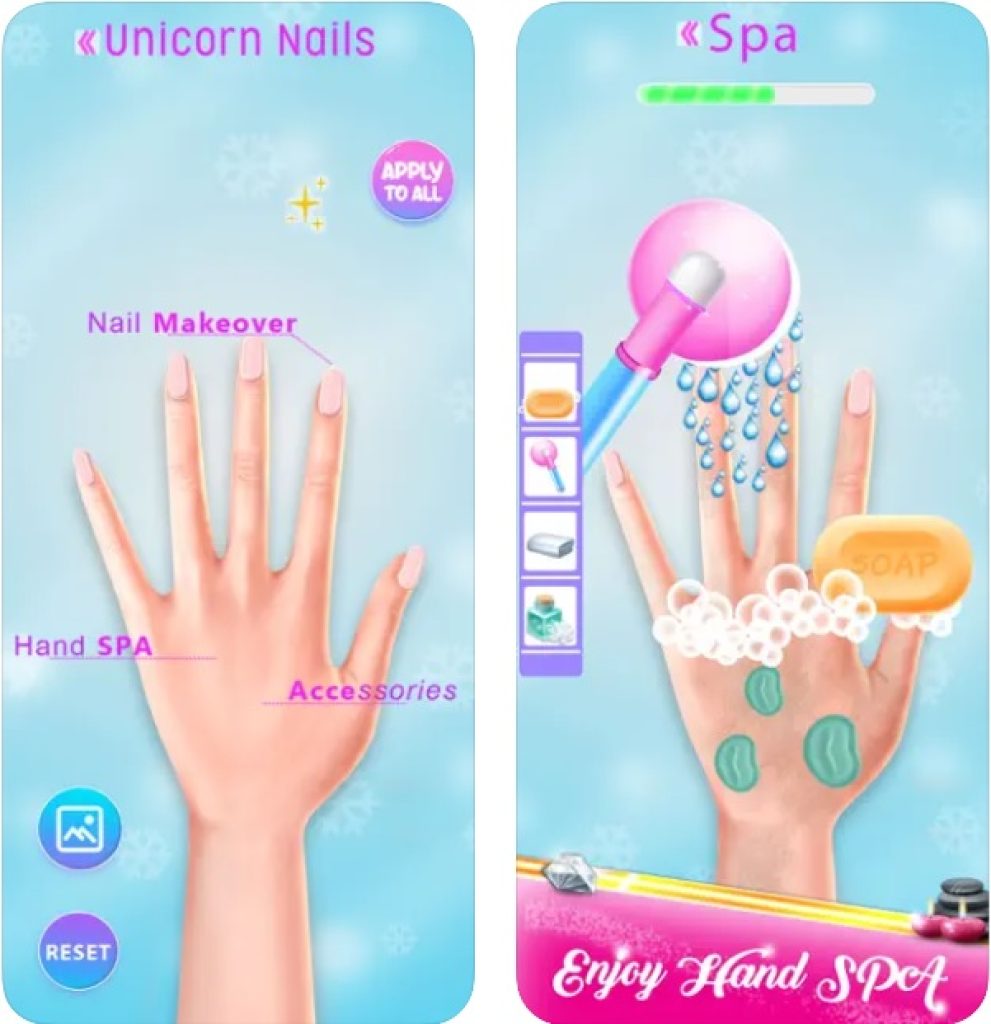 You may also like: 11 Best logo design apps for Android & iOS
Nails Done!
The main task in this game is to make the correct shape of the nail, which with each level will become more and more complex. After you have made the form go to apply the nail polish on the nails, here is already playing your imagination.
Have you already done your manicure? Then get to the design! You can come up with your design or take ready-made templates.
A large number of patterns, drawings ( flowers, zombies, and more are already waiting for you in this game!), and rhinestones. This is a cool way to find the inspiration for your next real life work.
After the work, you can safely share it on social networks. Users who have already started playing this game complain about a large amount of advertising, perhaps this is the only problem that players have encountered.
This game like the previous ones is free, but if you want to unlock some trophies then pay.